In today's world, finding reliable and high-quality auto parts can be a challenging task. With so many online auto parts stores claiming to offer the best products and services, it can be challenging to know which ones to trust. For your convenience, we have put together a list of the best auto parts websites. These websites have everything you need from OEM replacement parts to aftermarket upgrades to keep your car running smoothly. So, whether you're a professional mechanic or a car enthusiast, discover the best online resources for all your car parts needs.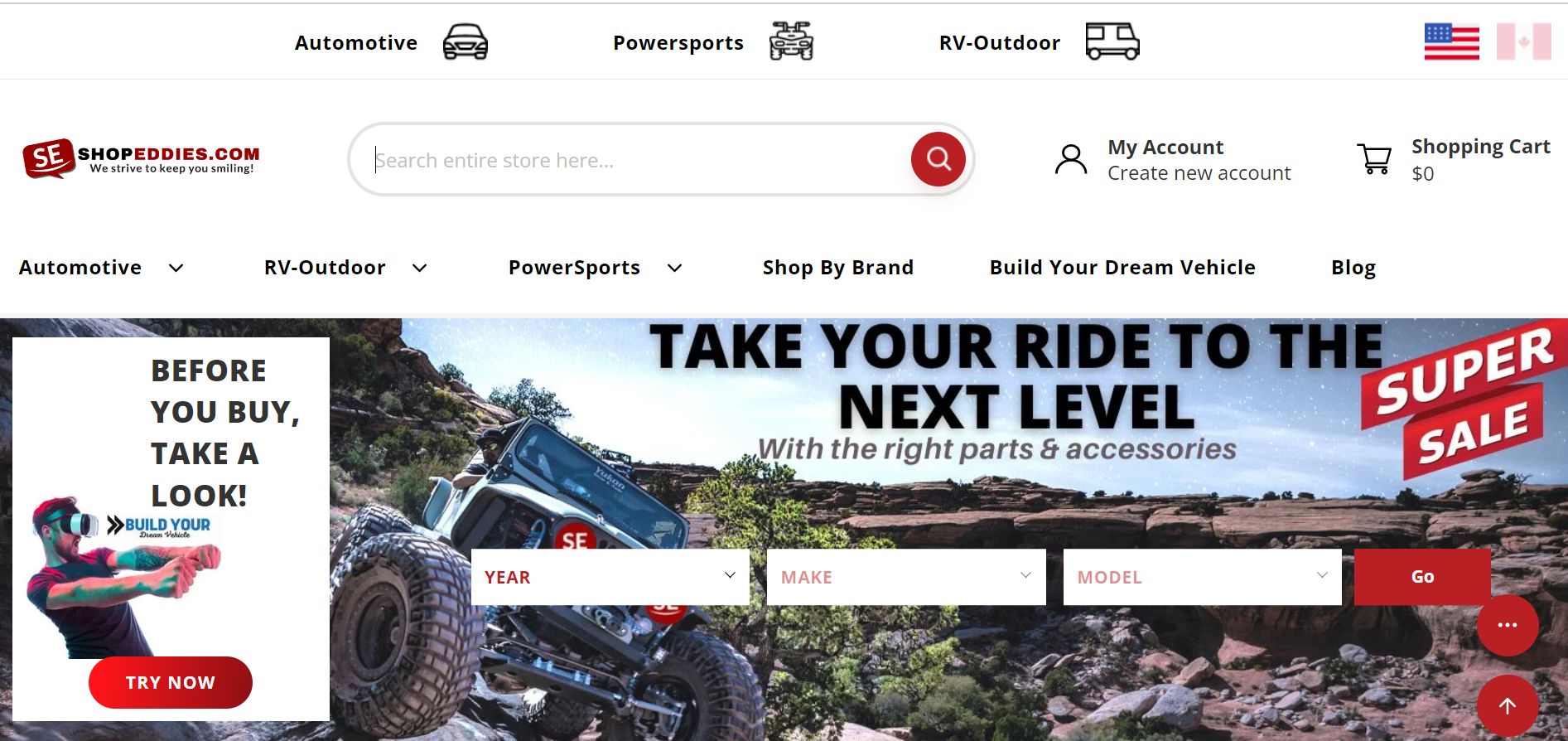 Shop Eddies is one of the best online auto parts stores that offers a wide selection of top-quality parts for different kinds of vehicles, including cars, SUVs, trucks, Jeeps, RVs, motorcycles, dirt bikes, boats, and golf carts. The shop is dedicated to providing customers with affordable and premium products while upholding Ed's legacy of outstanding customer service, which he was known for in his local community for more than four decades.
Following the passing of Ed, his son William (Bill) decided to expand the business to create Shop Eddies. The shop's main goal is to continue Ed's tradition of providing the best products, services, and prompt delivery. With thousands of accessories and parts in stock, Shop Eddies collaborates with top-performing brands to offer competitive prices without compromising quality or service. Ed's three sons were raised with the principles of superior customer service, fast delivery, and top-quality products, which they continue to uphold to this day.
Outstanding features:
Places significant emphasis on developing robust back-end infrastructure to maintain precise inventory levels, simplify the processing of refunds
Prioritizes locating products at the most competitive prices available.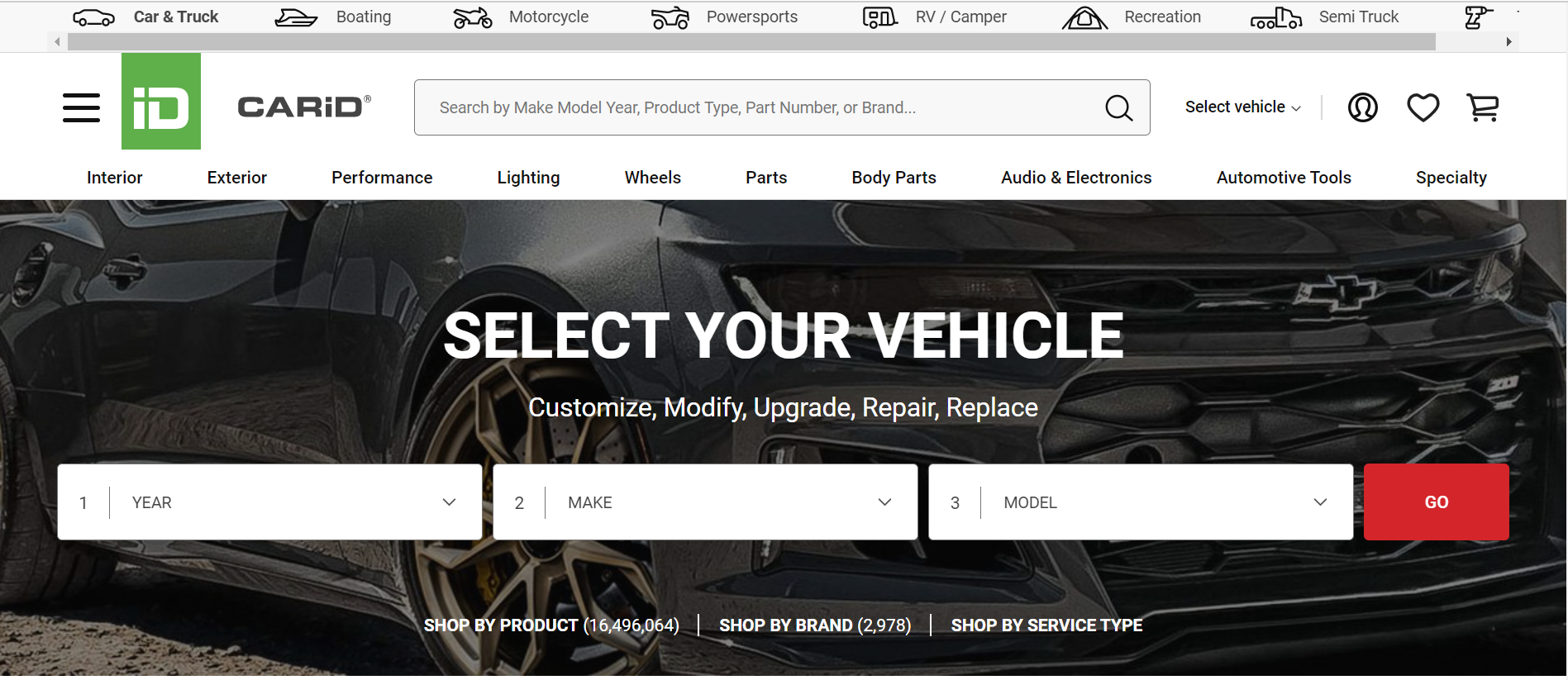 CARiD is one of the most typical auto parts websites specializing in automotive parts and accessories. The company offers a wide range of products for cars, trucks, SUVs, and other vehicles. These products include replacement parts such as brakes, suspension systems, and engines, as well as aftermarket accessories such as lighting, floor mats, and audio systems.
The company's website features an extensive catalogue of products from leading manufacturers, as well as customer reviews and installation videos. Customers can search for products by make and model, and can also use the site's vehicle configurator tool to find compatible parts and accessories for their specific vehicle.
Outstanding features:
Provides free shipping for a majority of orders that exceed a certain amount.
Reach out easily to their customer support team through email or phone for prompt assistance.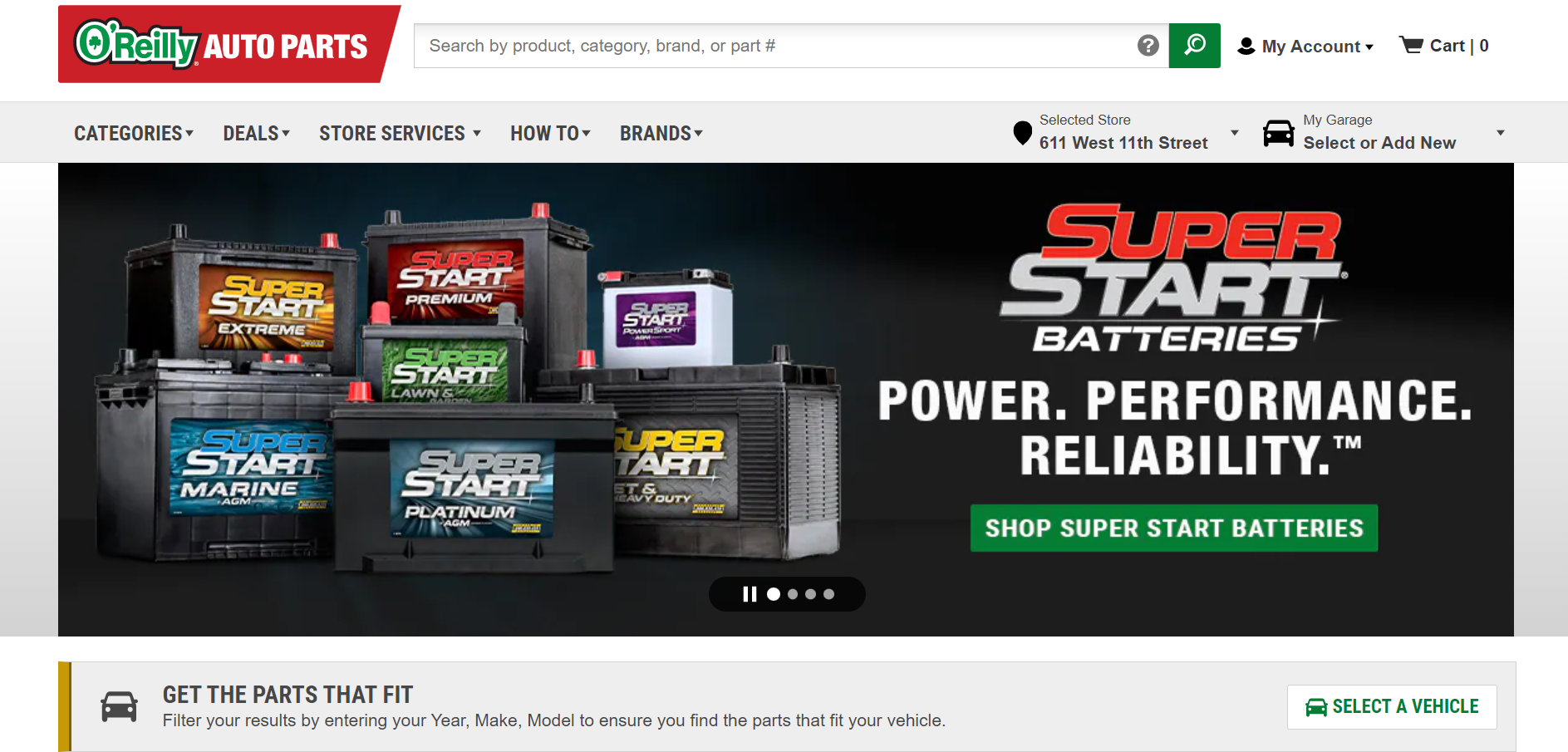 O'Reilly Auto Parts is a retail chain that specializes in a vast array of automotive parts, tools, and accessories. The company operates over 5,929 stores across 47 states and offers a diverse range of automotive products from leading brands like Mobil 1, Bosch, and Castrol. They provide a comprehensive selection of products, including steering and suspension, brakes, engine parts, belts and hoses, fluids and chemicals, and many other items.
In addition to its retail stores, O'Reilly Auto Parts also offers car parts online shopping through its website, where customers can browse products, order online, and have items shipped to their homes or to a local store for pickup.
Outstanding features:
Exceptional customer service and knowledgeable staff.
Has a team of ASE-certified professionals who can answer customer questions and provide expert advice on automotive repairs and maintenance.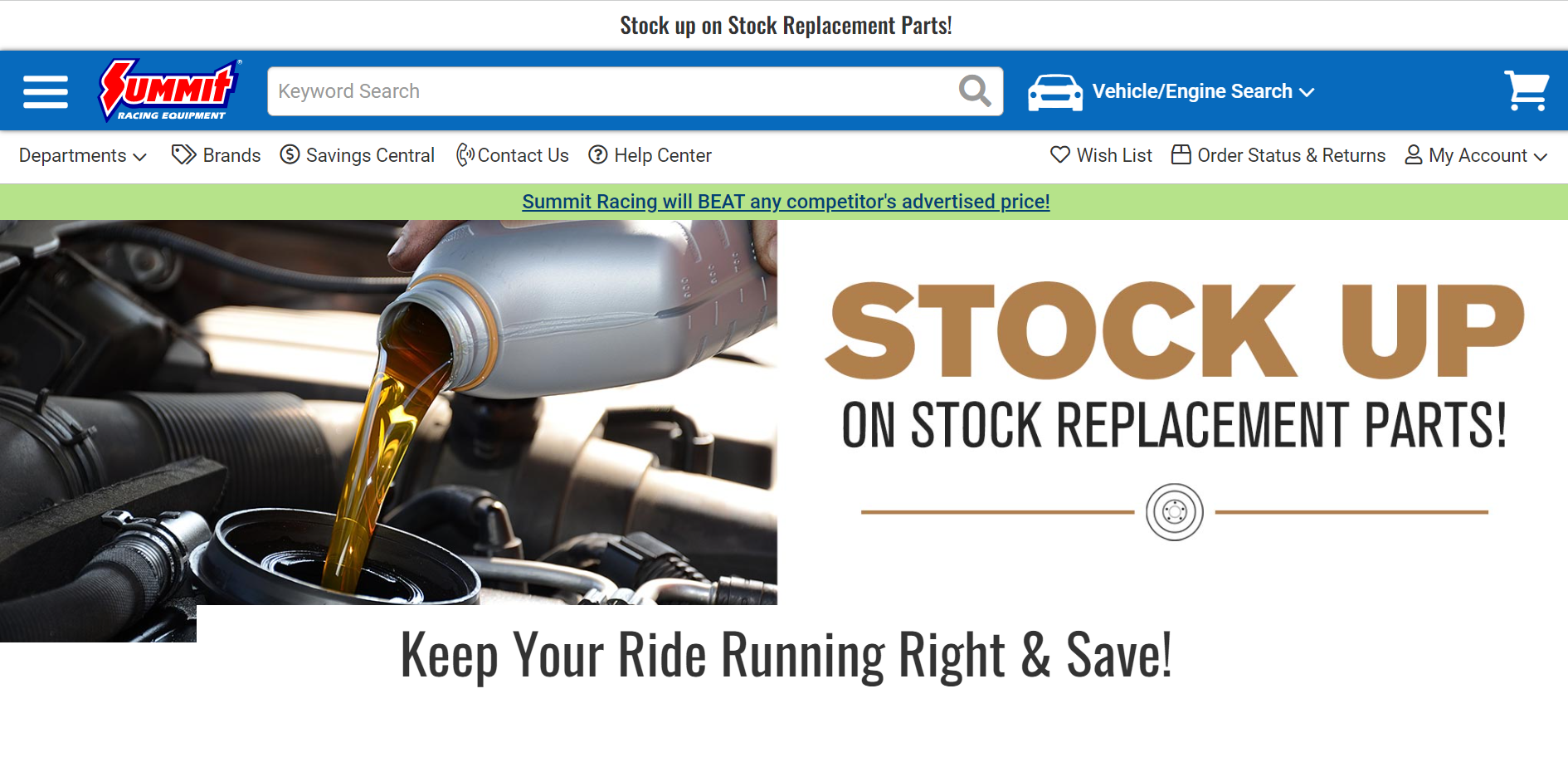 Summit Racing Equipment is one of the top auto parts websites for high-performance auto parts and supplements. Founded in 1968 by Paul Sergi, the company's headquarters is located in Ohio and has several retail locations across the United States, including Georgia, Nevada, Ohio, and Texas. Apart from its brick-and-mortar stores, Summit Racing has established a formidable online presence, offering a broad range of products and resources for automotive enthusiasts.
The company boasts a vast inventory of parts and accessories for different vehicle categories, including hot rods, muscle cars, off-road vehicles, and trucks. This inventory includes exhaust systems, engine components, brakes, suspension parts, drivetrain components, exterior and interior accessories, and much more.
Outstanding features:
Has a highly proficient team of sales and support personnel who possess a wealth of knowledge and experience in the industry.
Provides outstanding customer service and technical support to its customers.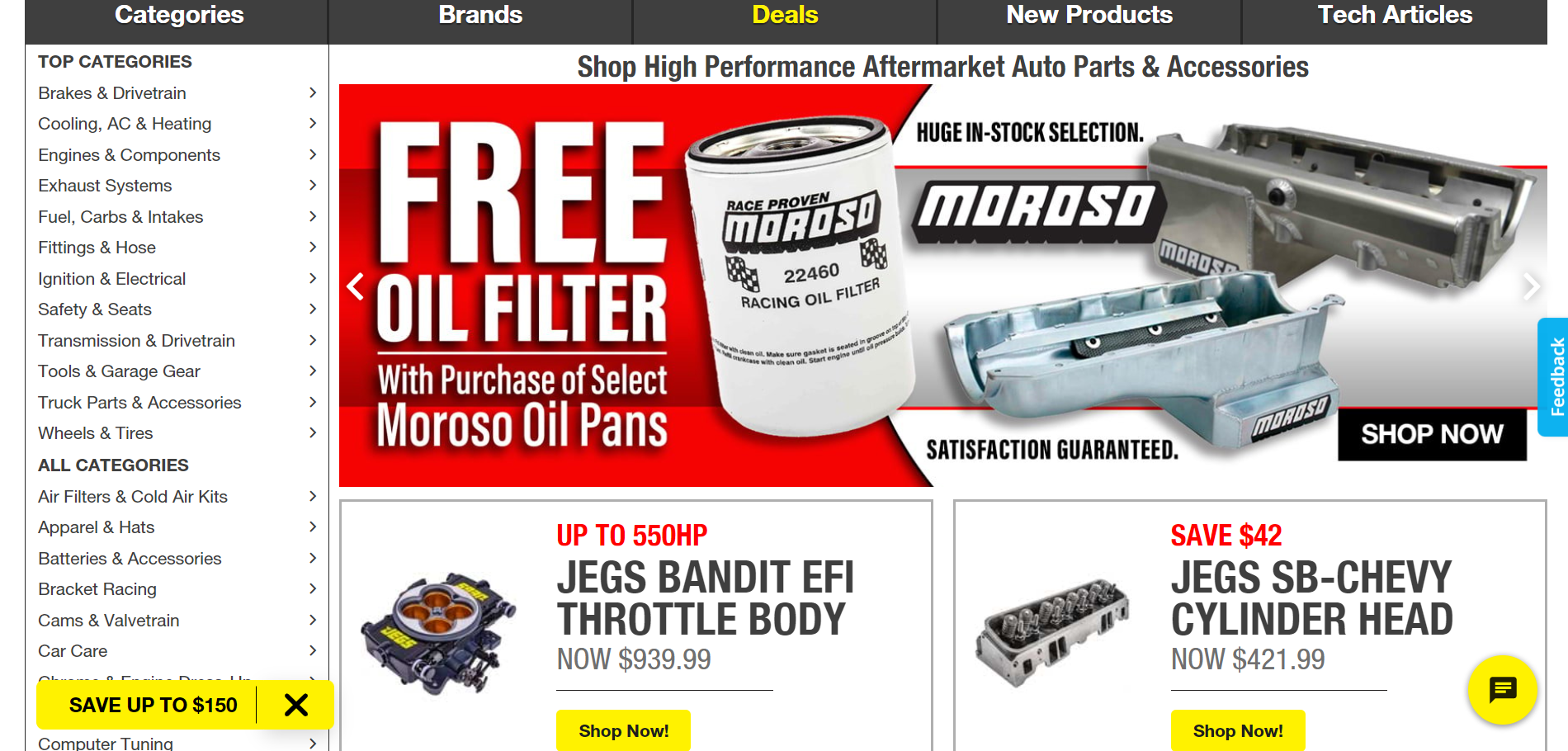 The company was founded in 1960 by Jeg Coughlin Sr. and has since grown to become one of the largest and most respected names in the automotive industry. JEGS offers a wide variety of products for cars, trucks, and motorcycles, including engine components, exhaust systems, suspension and steering parts, brakes, transmission and drivetrain segments, interior and exterior accessories, tools, and more. The company sources products from some of the most respected manufacturers in the industry, ensuring that its customers receive high-quality, reliable parts and accessories.
Apart from its retail business, JEGS has established a formidable presence in motorsports by sponsoring numerous racing teams and events nationwide. The company's dedication to the racing community has fostered a sense of loyalty among its customer base, helping it to gain recognition as a reputable brand within the industry.
Outstanding features:
Runs multiple retail outlets throughout the United States, alongside an extensive online store.
Concentrate on quality products, competitive pricing, and exceptional customer service.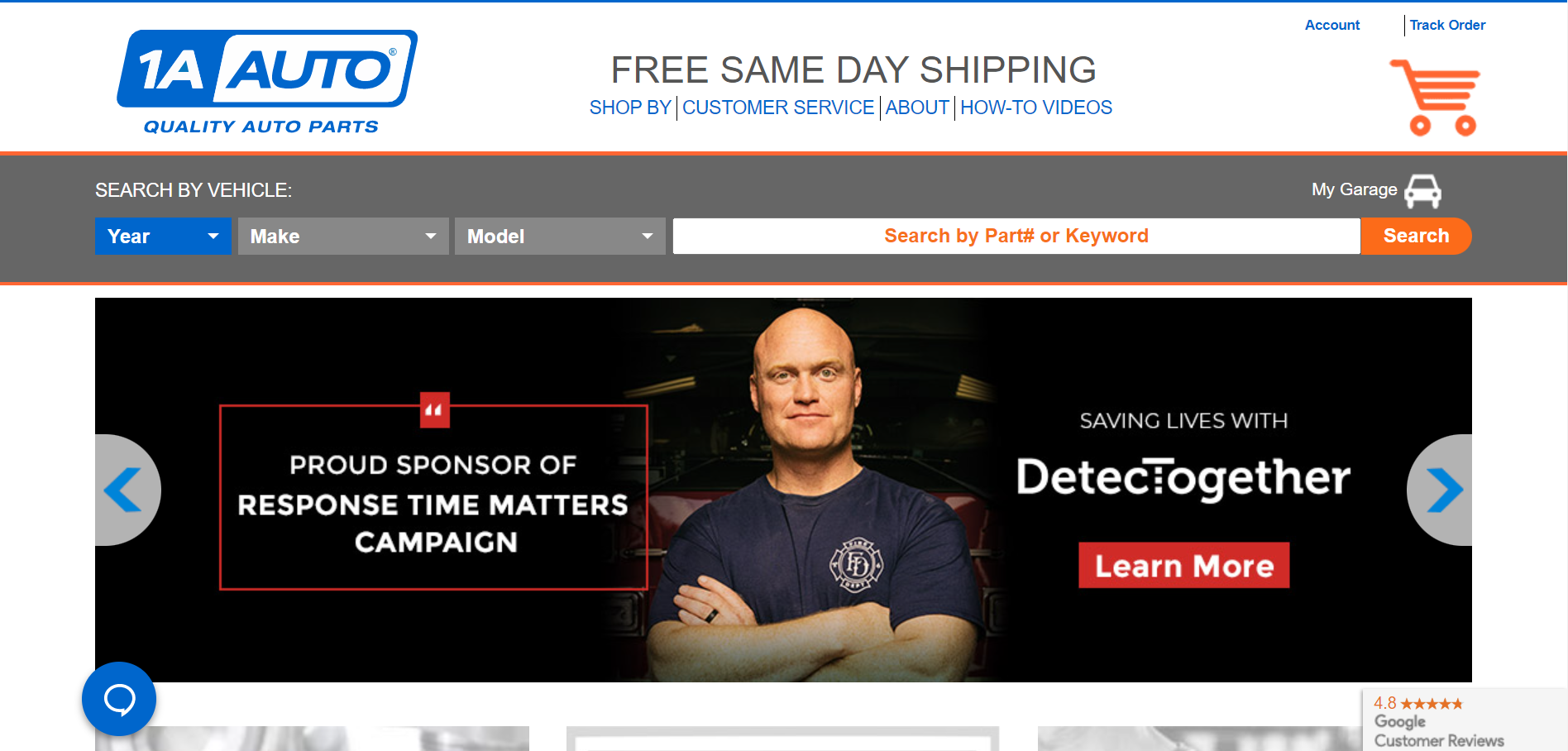 1A Auto is a specialized used auto parts website, with tools, and accessories for a wide range of vehicle makes and models. They have been in business since 1999 and have grown to become one of the best auto parts websites in the United States.
One of the key selling points of 1A Auto is its commitment to customer service. They offer a lifetime warranty on many of their parts, as well as a 60-day no-hassle return policy. They also provide a variety of resources on their website, including how-to videos and articles, to help customers install and maintain the parts they buy.
Outstanding features:
Fast shipping, quality parts, and helpful customer service.
Offers the most trustworthy segments, made of the best materials.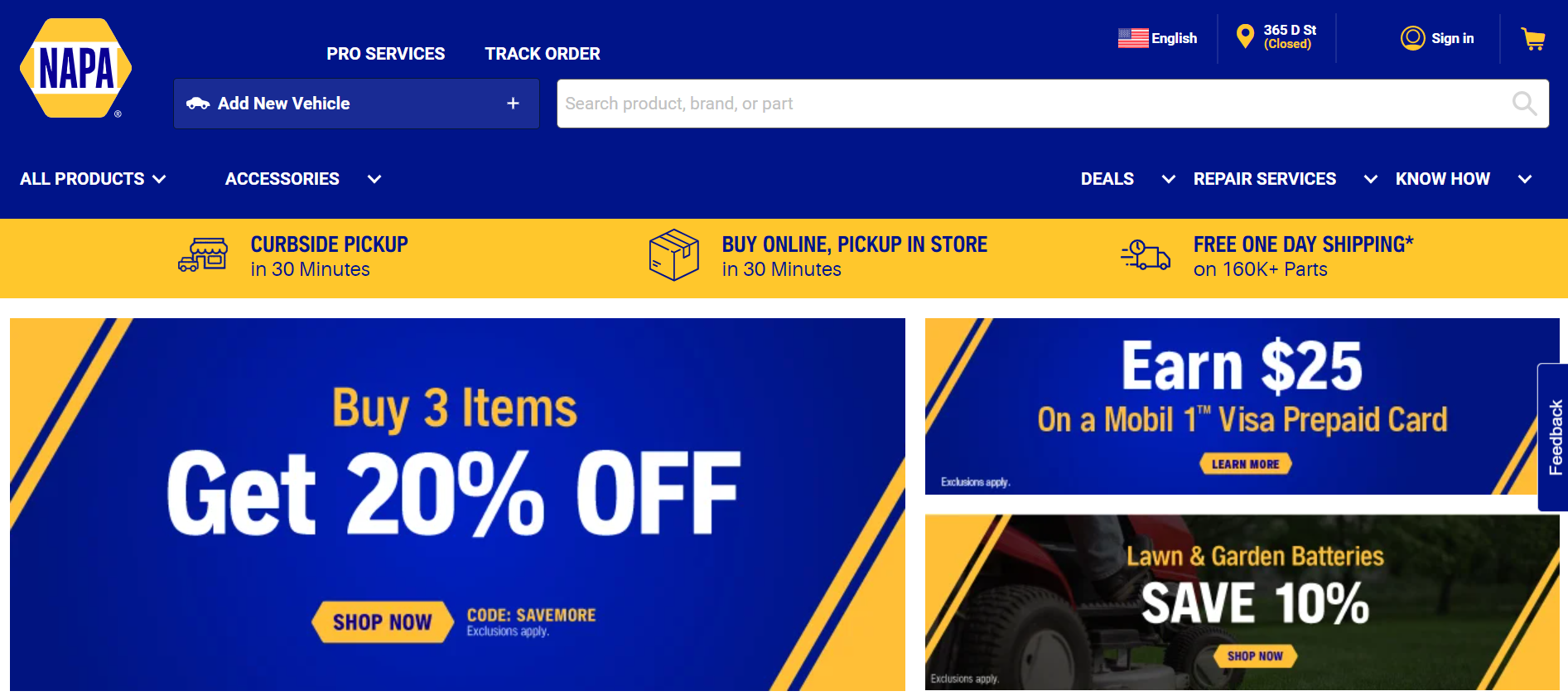 NAPA Auto Parts is a retail chain of automotive parts, accessories, tools, and equipment with over 6,000 locations in North America, serving both professional mechanics and do-it-yourselfers. It was founded in 1925 and its stores offer a wide selection of high-quality automotive parts, including brakes, batteries, oil and filters, engines, and more, from leading brands such as NAPA, Raybestos, and Moog.
Their online auto parts stores offer a variety of automotive tools and equipment, including diagnostic tools, lifts, and jacks. NAPA's reputation for quality and reliability has made it a trusted brand in the automotive industry, and its stores are staffed with knowledgeable professionals who can provide expert advice and guidance.
Outstanding features:
Operates a distribution network
Provides high-quality parts and products to automotive repair shops, fleets, and industrial customers.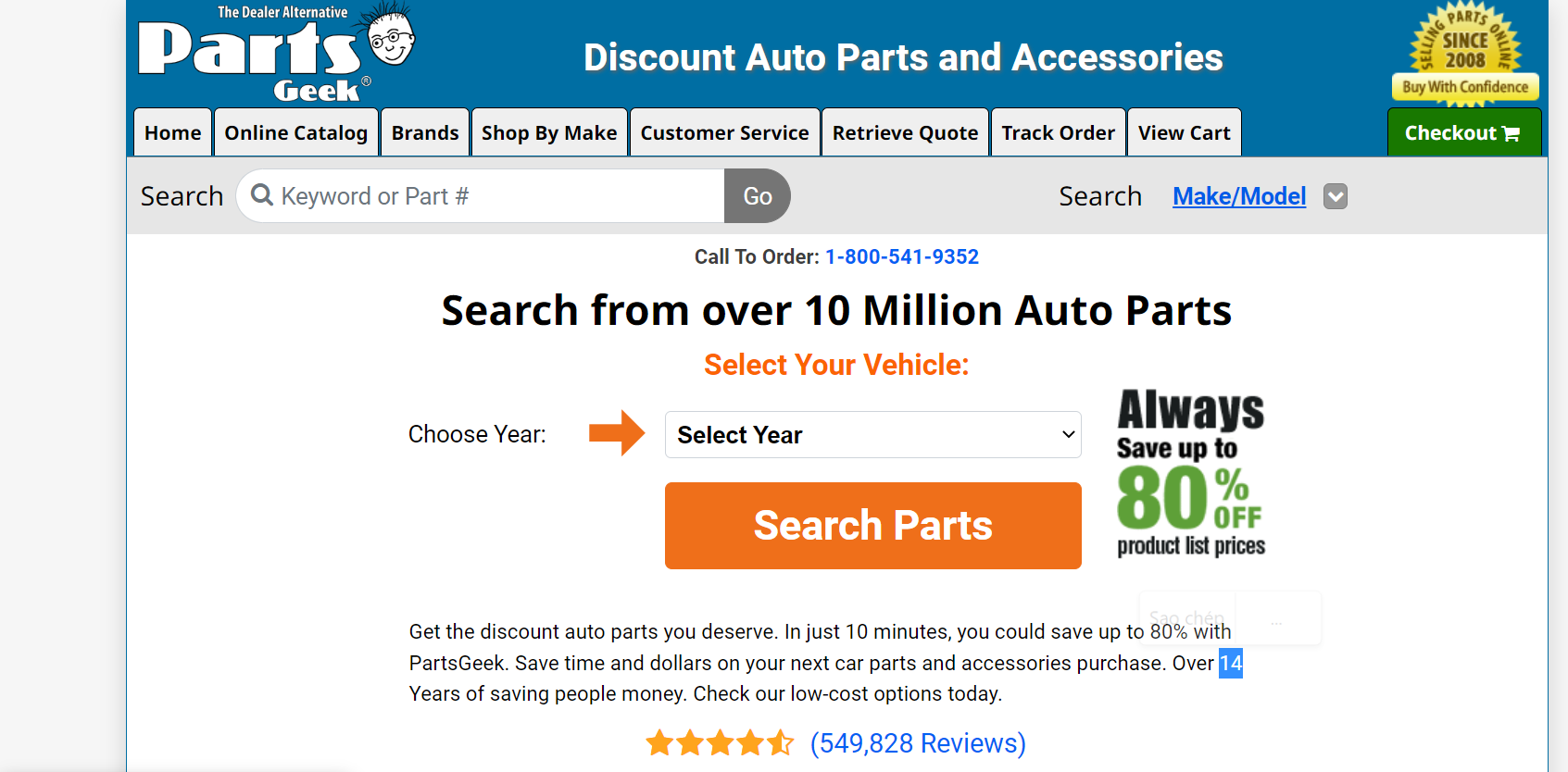 Parts Geek is among the best auto parts websites specializing in the sale of auto parts and accessories, established in 2008 and headquartered in Doylestown. They provide a comprehensive selection of car parts and accessories for various domestic and foreign cars, trucks, and SUVs, covering the engine, transmission, suspension, brakes, steering, electrical systems, and more.
Their website is designed to be user-friendly, with a search function that helps customers to locate the auto parts they need easily. They offer competitive prices, and customers can use promo codes and coupons to save even more.
Outstanding features:
Provides fast and reliable shipping services, with online order tracking available for customers.
Employs a team of experienced and helpful representatives who are ready to assist customers with any inquiries or issues they may have.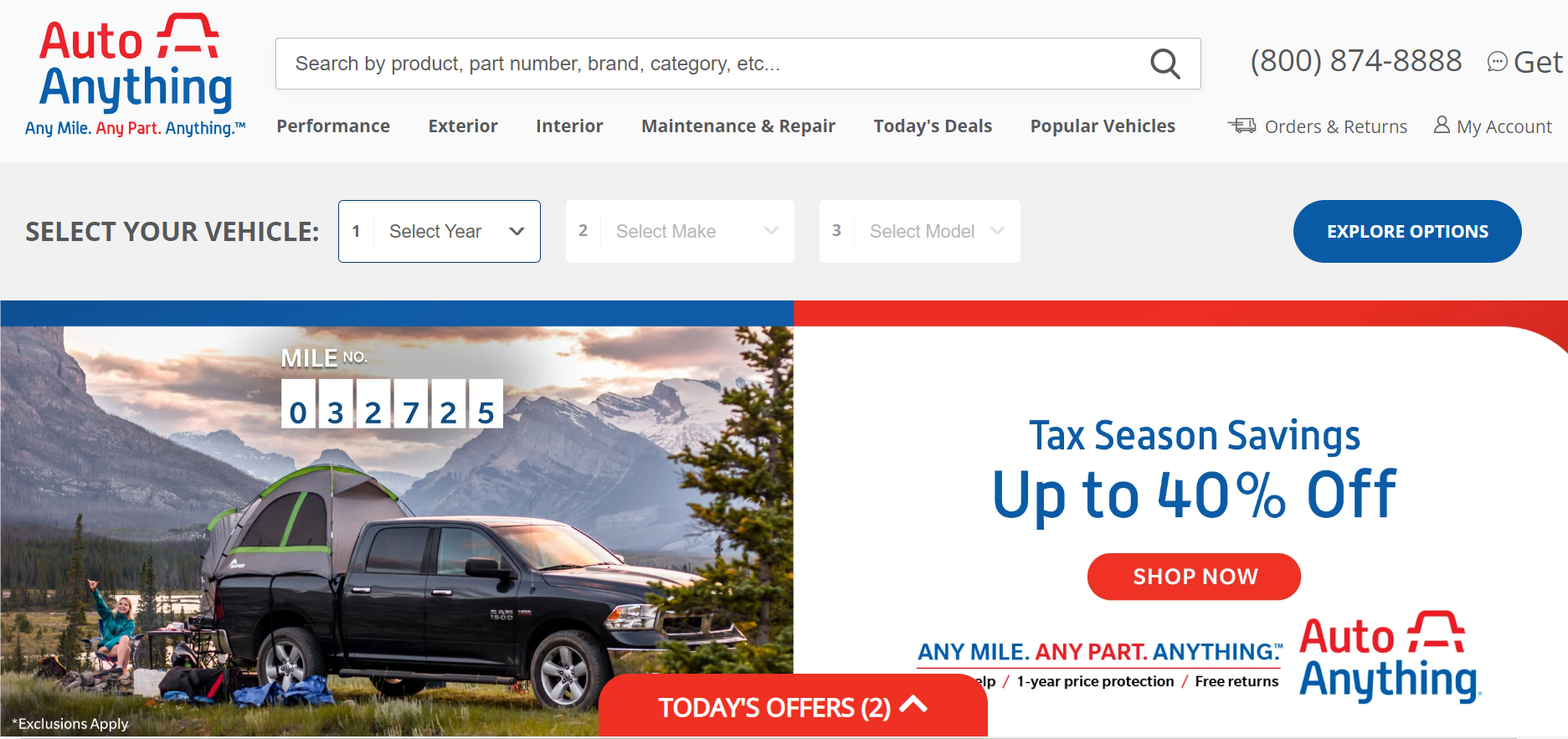 AutoAnything is an e-commerce company, specializing in automotive accessories and products. It provides a vast selection of performance parts, replacement parts, exterior and interior accessories.
The website is designed to offer a smooth and effortless shopping experience to customers. Its intuitive interface allows users to search for products according to their vehicle's make and model. They also provide free shipping for most products, and a low-price guarantee ensures customers get the best possible prices for their purchases.
Outstanding features:
Provides a hotline where customers can obtain professional guidance and support.
Excellent customer service and a commitment to customer satisfaction.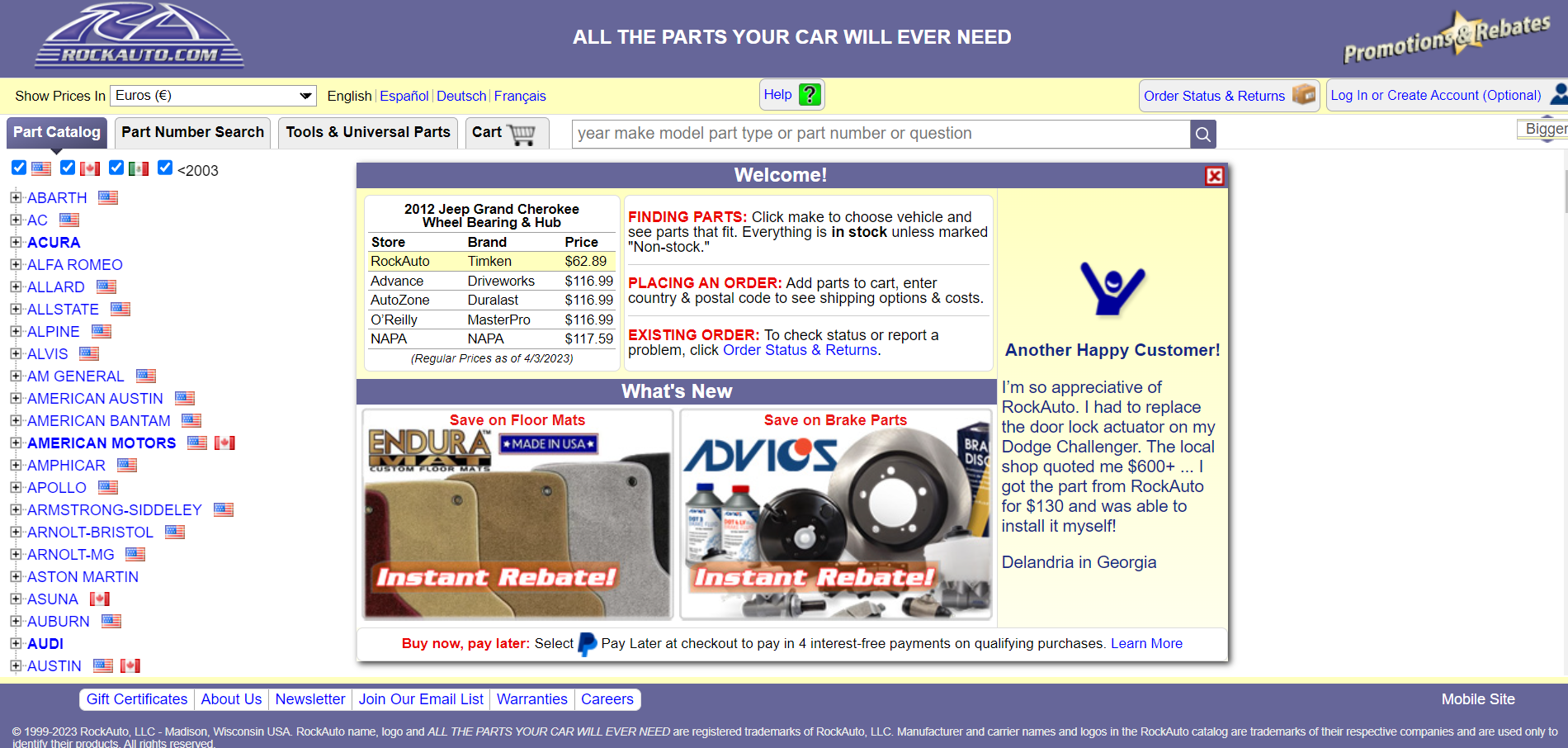 Rock Auto is among the most famous online auto parts websites that offer a wide range of parts for almost all types of vehicles at affordable prices. The website has a simple and user-friendly interface that allows customers to easily find the car parts they need. Rock Auto offers different search options to find the required part including a part number, keyword search, and VIN search.
This auto parts website offers a vast selection of auto parts, including engine parts, brake parts, suspension parts, and many others. Rock Auto offers affordable prices on their car parts, often beating competitors' pricing. Moreover, it offers a variety of brand options to choose from, allowing customers to select the right part for their vehicle and budget.
Outstanding features:
Offers shipping options at affordable prices, including expedited shipping for urgent orders.
Responsive customer service team that can assist customers with any questions or concerns.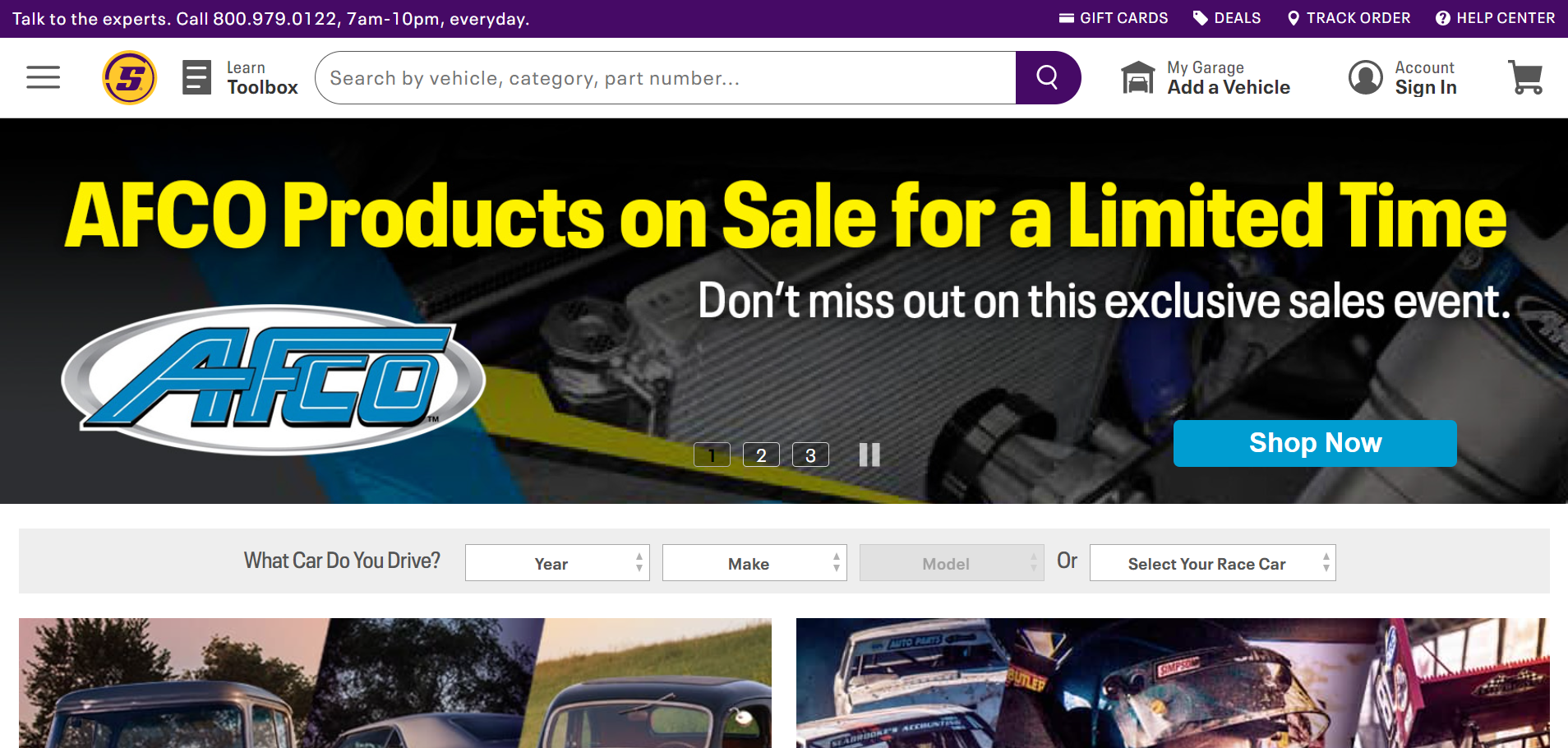 Speedway Motors is an online retailer of auto parts and accessories based in Lincoln, Nebraska. Since its establishment in 1952, the company has become a top supplier of racing and street performance parts. Its website offers a broad selection of products, ranging from engine parts to interior and exterior accessories, designed for different applications such as classic cars, hot rods, muscle cars, and race cars.
The website is user-friendly, featuring a search bar at the top of the page that allows customers to search for products by keyword, part number, or category. Customers can also browse products by make and model or specific product categories.
Outstanding features:
Offers competitive pricing and fast shipping on all orders.
Features a variety of resources for customers, including articles and how-to guides, videos, and a forum.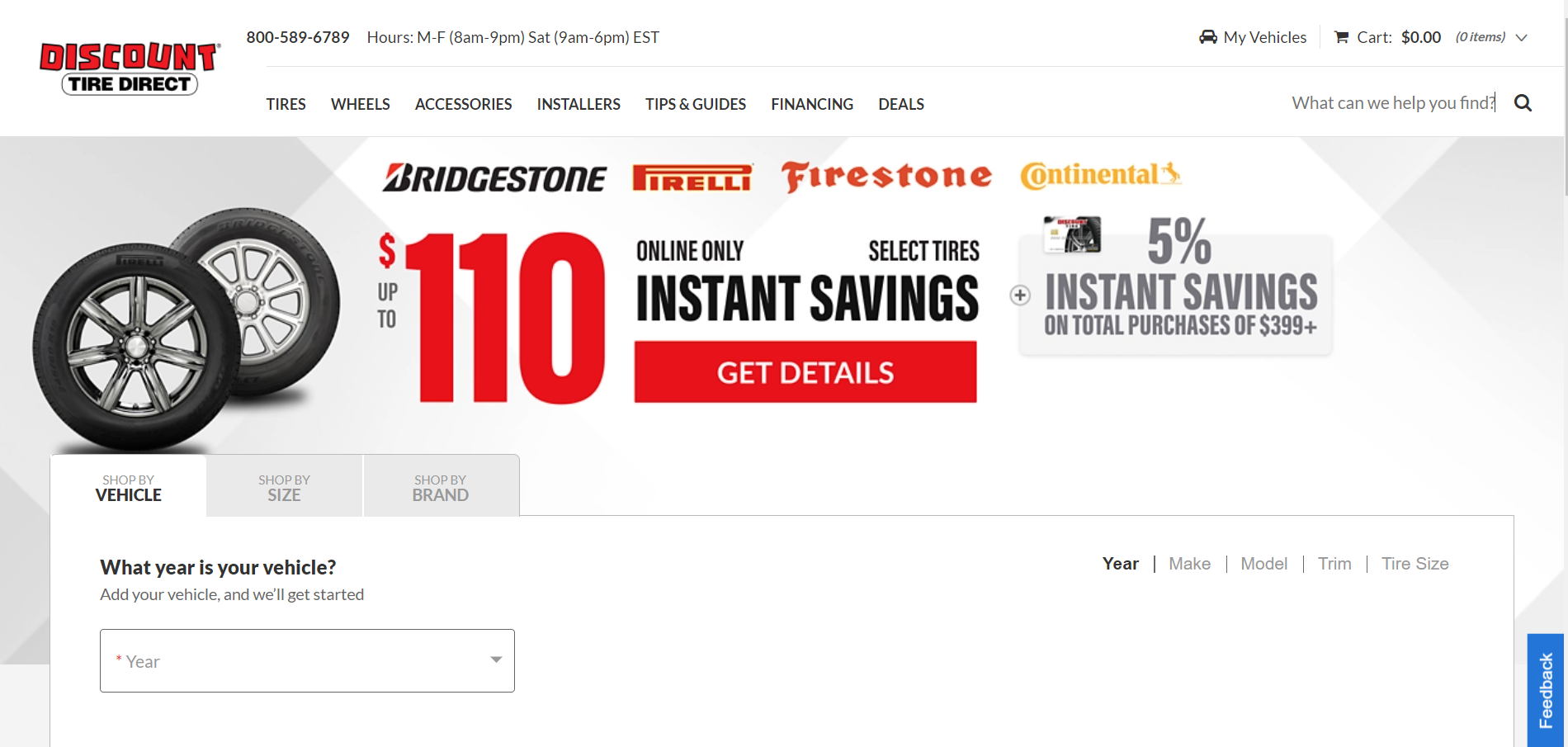 Discount Tire Direct is an auto parts website and wheel retailer that offers a wide range of products from various brands. The website provides a user-friendly interface that allows customers to search and filter products based on their vehicle make and model, tire size, and other preferences. The homepage features a prominent search bar, where customers can enter their vehicle information and find products that are compatible with their vehicle.
Read more: 10+ Must-have Auto Parts Store Features To Improve Your Website
The website also includes links to top-selling products and promotions, along with a dedicated section for customer feedback. Its tire selection encompasses a broad range, spanning from all-season to performance and winter tires. Furthermore, customers can choose from a variety of wheels, including alloy, steel, and custom wheels. The website provides free shipping on most items, and there is a 30-day return policy.
Outstanding features:
Provides various services, such as tire installation and balancing, alignment, and flat tire repair.
Offers a convenient and reliable online shopping experience for customers looking for tires and wheels.