Initially built for large enterprises, An increasing number of small businesses adopt enterprise Resource Planning (ERP) to be a centralized system for daily activity tracking. Today's article will help you answer two questions: Will ERP adoption for SMBs be worth the money and implementation? And if so, what is the best ERP for small business?
First, let's explore why more SMBs these days choose ERP to help them boost growth and whether it's a suitable fit for emerging online businesses.
Benefits Of ERP To Small Business
ERP helps smooth out critical business operations. It serves as a single source of database storing, updating instantly as each department makes a real-time action on the computer. Thus enabling managers to have a broad central view to monitor and make crucial decisions.
It keeps all crucial functions such as finance, manufacturing and inventory, HR, sales and marketing, etc., all in one place to make sense of how they interconnect and influence others.
In a fast-moving environment of competition like today, ERP's reporting and analytics function are preferable to keep businesses in the right lane, backed by data.
Problems Of Small Online Businesses
Managing Workflow
This problem is viable in almost any growing company. When you move from the owner to a business leader, you can't be anywhere they need. So how can you work on the major strategies while managing your staff effectively?
Businesses can save up on physical investment when moving online, but they still keep the operation simple. And because they don't own enough resources to manage and support the human factor well, it'll reveal in the unproductive year-end profit and growth report.
But when done right, it pays off more than you can imagine. Hubspot finds that the sales team can bring more than 400% revenue increment with marketing automation.
Financial Planning
Accounting and finance require a huge amount of time for papers generating to compare and calculate. So understandably, these teams may make mistakes once the business grows.
Surveys point out that the condition of cash flow or capital deficiency was the number one concern for SMEs. Moreover, data shows the low rate of approval for small businesses by large banks; as of March 2021, it's only 13,5%. In other words, SMEs struggle with financial planning, which may result in more issues later when asking for loans/investments.
Scaling
In either product development, marketing, or hiring and other areas, if there's a demand for scaling, that means changes and challenges are coming after.
In particular, most executives want to push growth at all costs. However, that upward trend needs to be adapted to the workforce's pace. If your business grows quickly in quantity but not in quality, you'll lose that momentum, and it's harder to retrieve.
Without the support of technology, you'll have to hire quickly in response, and here's come the biggest challenge for small businesses: find, acquire talents and get them on board fast. On the flip side, getting new customers every day remains the strongest struggle for businesses.
How ERP Can Help
No Business Is Too Small For ERPs
Any business must have data, whatever industry you're operating in, and you'll depend on human resources and technological tools to make sense of those data to put it to work. Tasks like reporting and analytics should be handled mostly by technology to avoid mistakes.
But you'll need time to master those tools. You can choose to invest early on before exploiting growth opportunities or staying unprepared and finding a way to adopt them later. It's obvious which one is better!
ERP provides multi-purpose value for SMBs, from being a system to access and gather info to effectively communicating and collaborating across the workplace. It systemizes, and streamlines your business resources for a productive, cost-efficient, and profitable operating process.
Make Smarter Decisions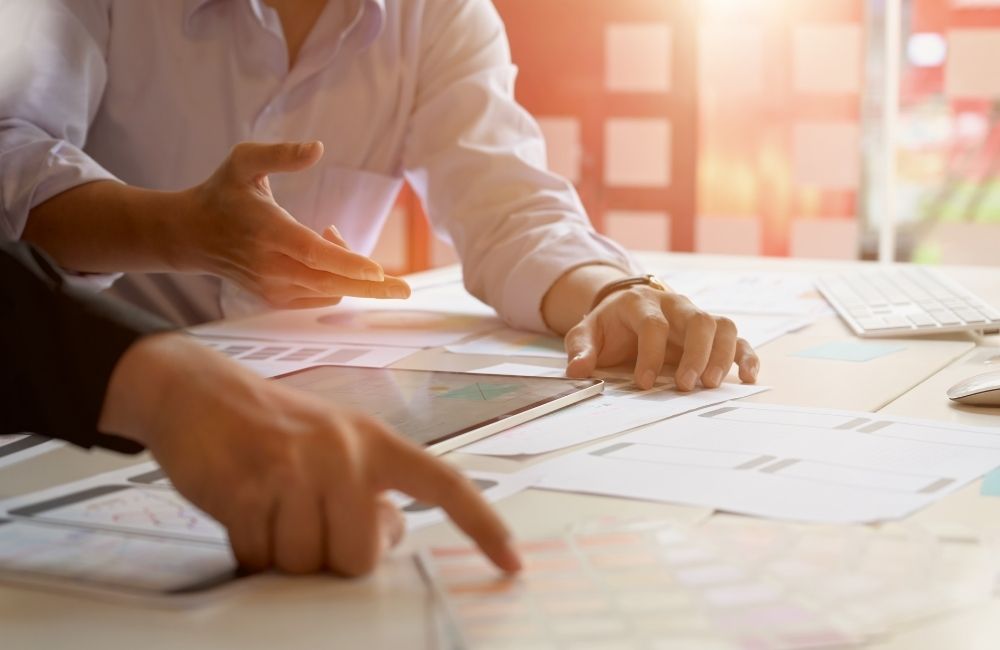 Data proves that the early years of the start-up are the hardest years to overcome. Around 20% of small businesses collapse after one year. By the end of their 5th year, another 50% fail, and in the next 5 years, almost 30% go down.
Business leaders need to make strategic decisions driven by sufficient data and timely reports to remain competitive and prepare for the maturity phase.
This decision-making process is getting shorter when the marketplace moves faster than ever. An ERP system can help you access the needed data at any time with automated analytic reports and figures of high accuracy to help your business stay on the competitive edge.
Take Control & Reduce Operating Costs
Growing businesses can easily fall for mistakes when getting used to constant changes. Inventory shortages, overdue shipping, slipped customer complaints, and a few lacks of comprehensive control struggles.
By inputting all workload and progress made into a single-source system, everybody can see the finished tasks, ongoing work, and timeline for each job.
It works well for every industry, consistent and goal-oriented, thus saving owners the bigger investment for sole-purpose management software for each department.
Increase Sales And Long Term Planning
Manual operation leaves room for falsies if everything's not being checked frequently, especially when there's too much on one's hands. Imagine how difficult it is for a salesperson not to miss hundreds of emails or messages and other tasks a day without the help of technology. When forgetting to confirm a payment or accept a receipt, sales members can cause a loss of revenue.
With an automated authentication mechanism, ERP helps you precisely handle these tasks and even send the person in charge daily reports, allowing on-time actions to be executed and preventing all these little things.
Budget-Friendly ERP For Small Business: Top 5
Now you know why small businesses love ERP, it's time to choose which system is right for you.
In general, an ERP that is low on cost and easy to use can be suitable for small businesses. Considering that many owners care more about the price and fee, we will focus on it.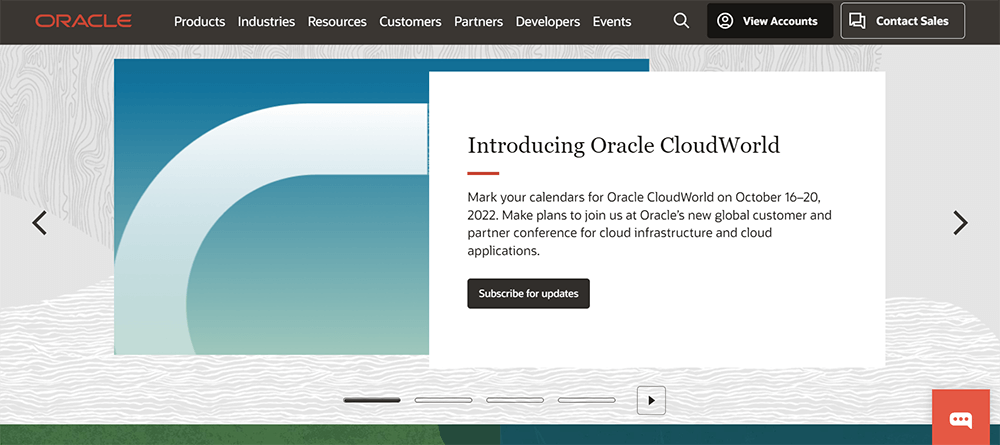 Best for organizations with complex, bulk supply-chain requirements.
Pricing starts from $175/user/month. No free trial.
Best to integrate into a SaaS system and easily leverage Oracle's wide range of technologies.
One application suite includes material planning, financial accounting, and business intelligence.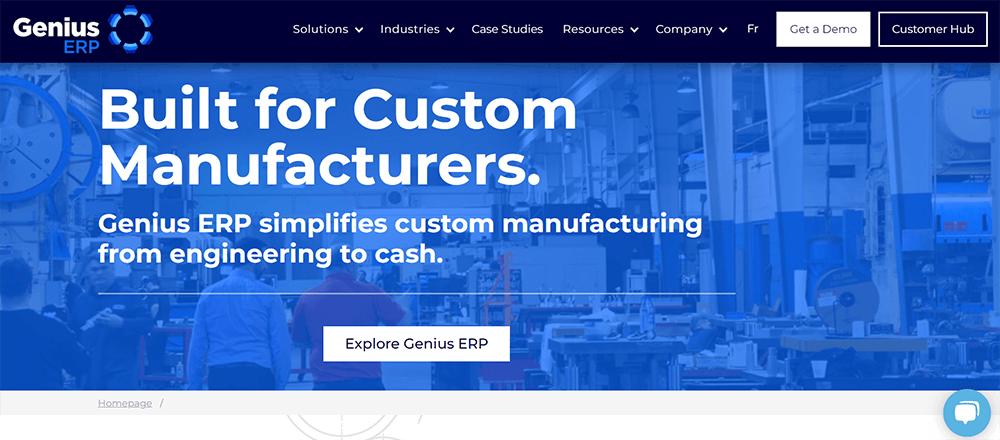 Starts from $125/user/month. No trial option.
Built for manufacturing and distributing companies, ideal for make-to-order, custom-to-order, engineer-to-order, and assemble-to-order operations.
Notable features comprise accurate forecasting, procurement planning, inventory monitoring, accounts, and order management.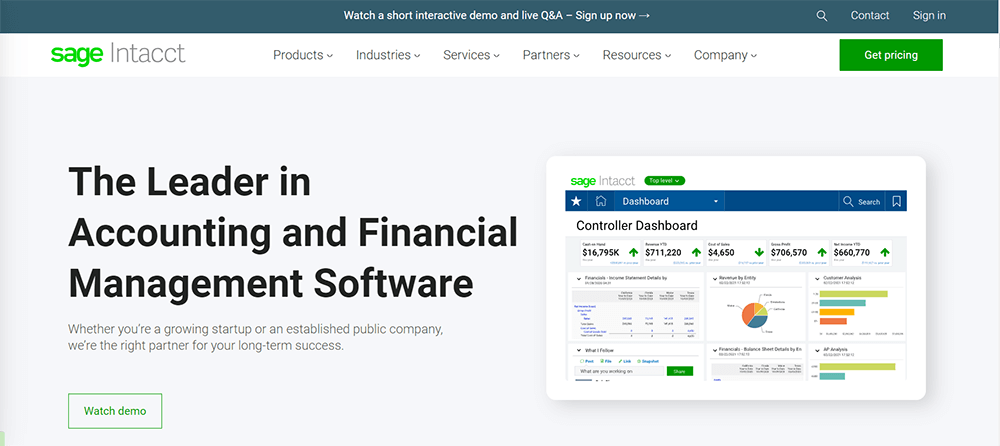 About to release an open-source version Sage X3.
A free trial is available.
Ease of use and setup, high quality of support.
Notable features: Supplier management, inventory reporting, and pricing, audit trail, purchase order.
Integration for data import/export tools.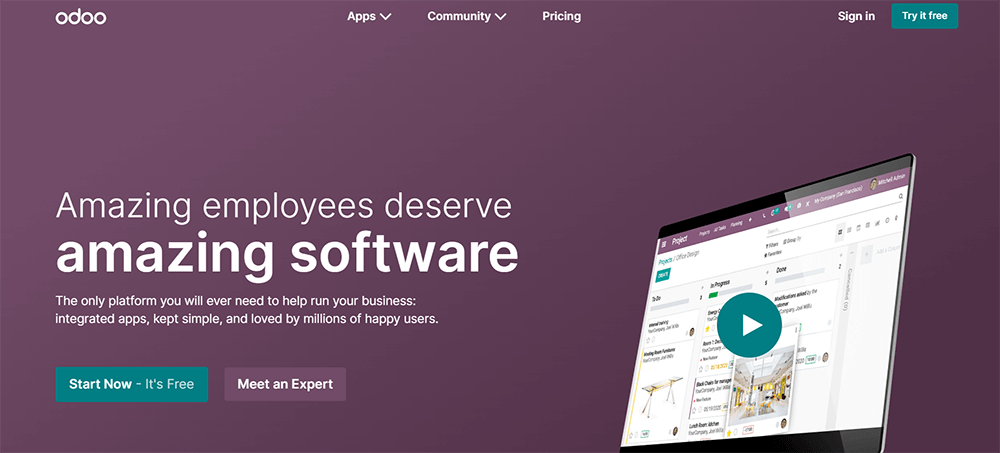 Odoo's Community Edition is available free of charge.
The Enterprise Edition is priced at $24/user/month, including a free trial of 15 days.
Open-source can be used as the complete solution to streamline your entire business without any extra software.
Odoo owns ERP modules for manufacturing, inventory, projects, and accounting.
The native Odoo applications allow 23,000+ third-party apps to be integrated seamlessly.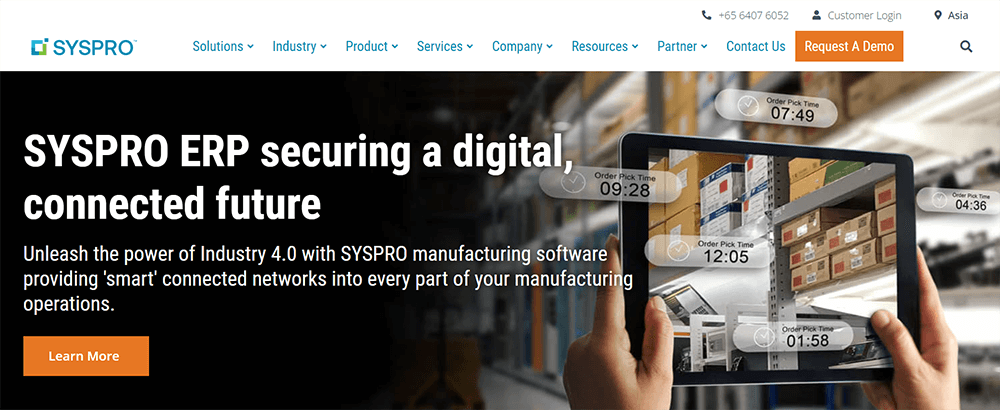 From $199/user/month. No free trial.
Best for flexibility, powerful customization, and ease of use.
This ERP focused on helping SMBs in manufacturing and distribution.
Extra beneficial options include warehouse management, and inventory control can be added when needed.
How Small Businesses Can Thrive With ERP
Deciding on the Right ERP Integration Strategy
First of all, it's best to choose the ERP made with your industry in mind. This way, you can elevate powerfully with these tailored technology solutions.
Then consider the budget strategy that works for you in the long term. In other words, you must consider the options to scale up your business. And take integrations into account.
Suppose the current ERP doesn't support the kind of integration you need. Is it economical to customize the ERP or find another solution that you'll judge between the value needed for investment.
Craft A Successful ERP Integration Strategy With Tigren
Tigren has been the leading agency in e-commerce development in Vietnam for over 10 years. Our specialization lies in the ability to provide high-level solutions for online SMBs but some at reasonable prices.
We create dedicated integration solutions tailored to every business need. With our secured, highly accurate, and short time built integration projects, businesses can quickly and effectively adapt to the increasing complexity and thus, leverage their business performance.
Wrap Up
So those are the names on the list of best ERP for small business. Without ERP integration, small businesses will face the manual laborer, stifle decision-making, and low agility with a high risk of changes. When it comes to choosing the best ERP for small businesses in terms of price, we hope this article has been a great help.
Tigren's ERP integrating solutions overcome all the challenges and provide long-term professional collaboration with short and precise processing time. Most importantly, we offer a competitive price that hardly any company can surpass.
Accelerating your business performance with Tigren's solution today!
Related Posts:
ERP vs CRM: Which One Should Your Business Prioritize?
Finding The Best CRM For Small Business Needs