Print-on-Demand is a fun, low-cost way to enter the world of running your own online e-commerce business. You can quickly set up a business or hustle to sell a wide range of quality items printed with your design. But choosing the best print-on-demand services can be a daunting task. There are many to choose from; How can you make sure you make the right decision?
If you don't have enough time to research each company, we've listed the best print on demand services to help you narrow down your options once you've decided to start your business.
What Is a Print-On-Demand Service?
Print-on-demand, or simply PoD, is a fulfillment service. You will be responsible for sales, marketing, product sourcing, and design processes. On the other hand, print-on-demand companies and affiliates are responsible for production, printing, inventory management, packaging, and shipping within their network.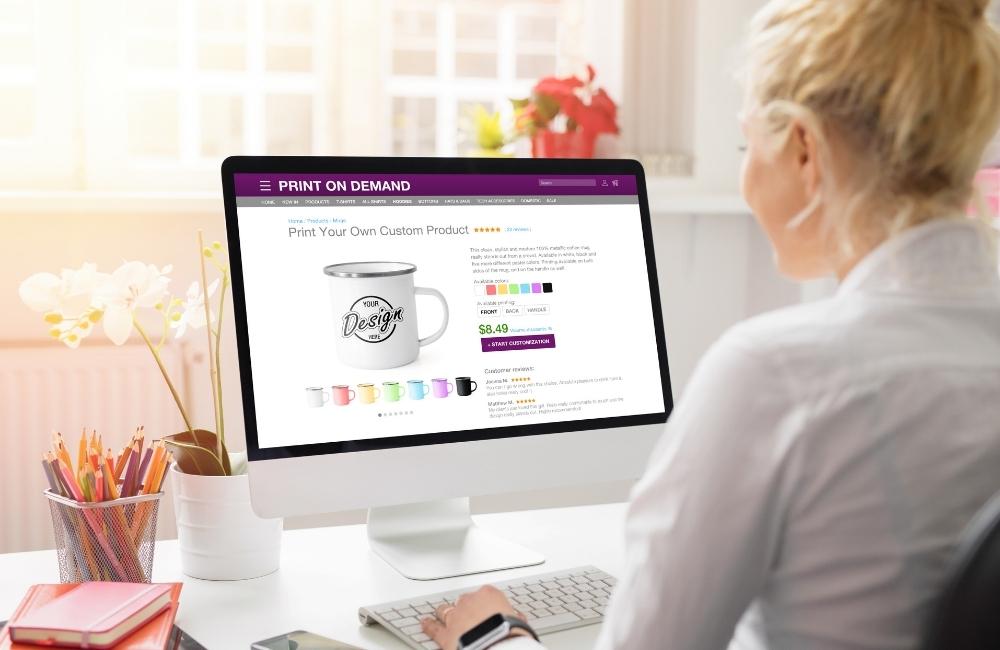 How To Choose The Best Print On Demand Services?
1. Pricing plans and flexibility
You are looking for a pricing plan you can afford. But more than that, you need a company that offers some flexibility. For example, discounts on bulk orders can help you make more enormous profits.
Shipping costs are also substantial. Search for flat rates for specific geographic areas and product categories. Companies should have transparent shipping and pricing policies that make it easier for you to tell if it's worth it.
You should also choose the company that offers the most integrations in terms of flexibility. If you don't have the budget to build your website and sell custom products using the API, you need an easy way to import products into website builders and content management systems.
2. Range of products
The range of products available for sale also ensures greater flexibility. Comprehensive offerings offer more opportunities than limited offerings, especially if you are a beginner and starting your first e-commerce business.
Providing each customer with a valuable product is the best way to build a good reputation and ensure repeat customers.
Although we are in the product range, you should also pay attention to the quality of the product. The quality of materials, inks, and packaging contribute to a great customer experience. Pay close attention to the fabrics and threads used for the product. Quality products look good and last longer, which can help you build a good brand reputation.
3. Fast and reliable shipping
Since you plan to run a dropshipping print-on-demand business, you likely have no control over the packaging and shipping. Your print-on-demand partner handles these services for you.
To not disappoint your customers, pick businesses with credible shipping services.
4. Good return/refund policy
Even a bulletproof print-on-demand product sourcing strategy can't guarantee that your customers won't return products.
See if your partners have a return or refund policy in case of damaged packages, late delivery or missing items, etc. Suppose a situation happens, can you or your customer get their money back or be compensated in any way.
5. Reliable and available customer service
Choosing a print-on-demand company with reliable and available customer service is critical to your success. You can contact the customer support team directly to test their services – whether they're helpful and timely. Some services even offer 24/7 support, which is fantastic.
Besides, a self-service center is a bonus because it lets you troubleshoot common problems yourself.
6. Good track record and social-proof
When you're about to start your online business venture, you should know that many customers look for online reviews before making a final decision. Purchasing a print-on-demand service can also make you an online customer. Fortunately, you can easily keep track of any business' track record online.
Be sure to visit the company's official website and check out the reviews. You can extend your research to other internet platforms like Google Business. Not only the ratings but also the number of reviews.
The best print on demand companies in the niche often has a social proof section right on the homepage of their official websites.
List Of Best Print-On-Demand Services
Print-on-demand mega-stores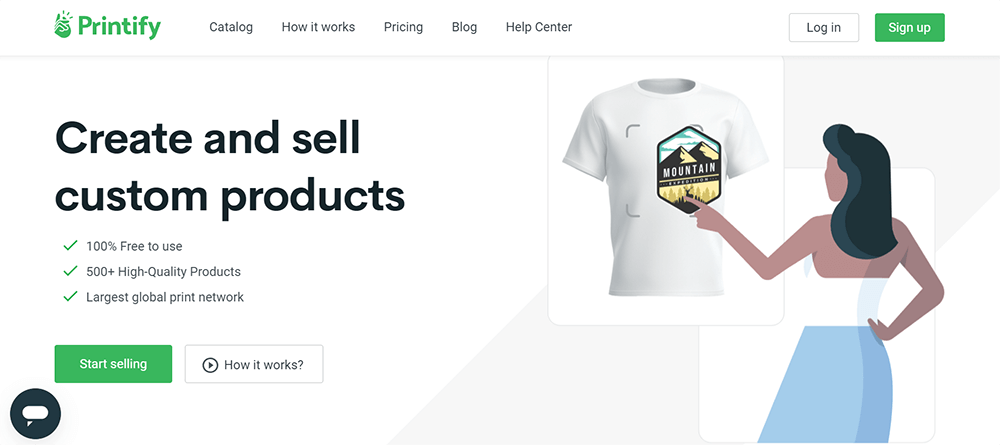 Printify is a well-known name when it comes to POD. Even during the holidays, the company has enough resources to optimize the expansion of its customers. Printify offers a selection of more than 300 products from well-known and quality brands.
Printify's design tools are easy to use. You can use it to add custom designs to hundreds of products, from t-shirts to phone cases.
Features
Design mockups – upload your designs for model previews.
Powerful integrations – support for Shopify, Etsy, and eBay integration.
Create manual orders – easily choose what to deliver from already created products.
Self-service Help Center
Great discount – up to 20% off all products.
Plans and Pricing
Free: unlimited product designs but limited to 5 stores per account.
Premium ($29/month): It comes with everything in the free plan plus 20% off all products and 10 stores per account.
Business: Custom Pricing – everything in the Premium plan, plus an unlimited number of stores per account, a dedicated account manager, and custom API integration.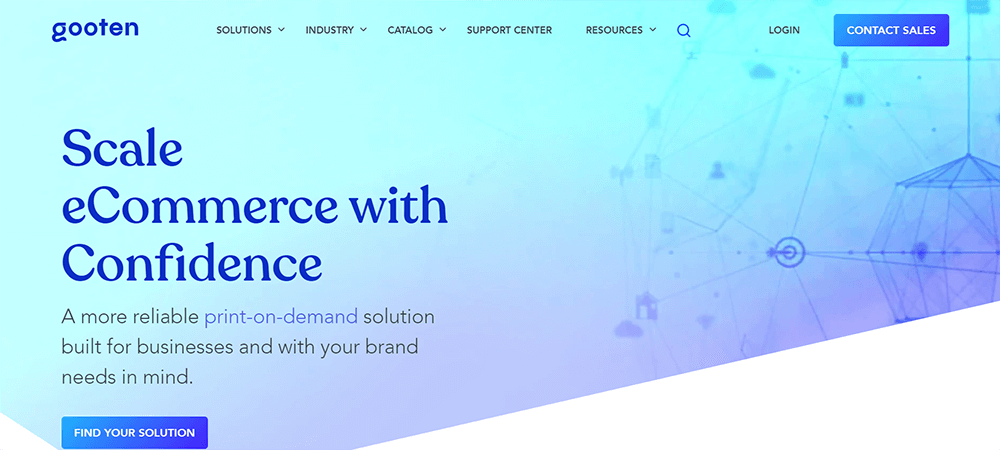 Gooten has streamlined its supply chain process to help brands utilize print-on-demand manufacturing. It also offers a VIM loyalty program for customers who choose to stay with the company as it grows.
Features
Comprehensive Support Center
Integrations – import your products into Shopify, WooCommerce, Etsy, and Gooten APIs.
150+ product lines – test different products in your market to find the best ones.
Fast turnaround time – Average 4-day delivery.
Gooten VIM – The loyalty program for all-important merchants gives you more helpful resources.
Plans and pricing
You can use Gooten for free. You only pay for the product and shipping. Contact the sales department for the VIM service price.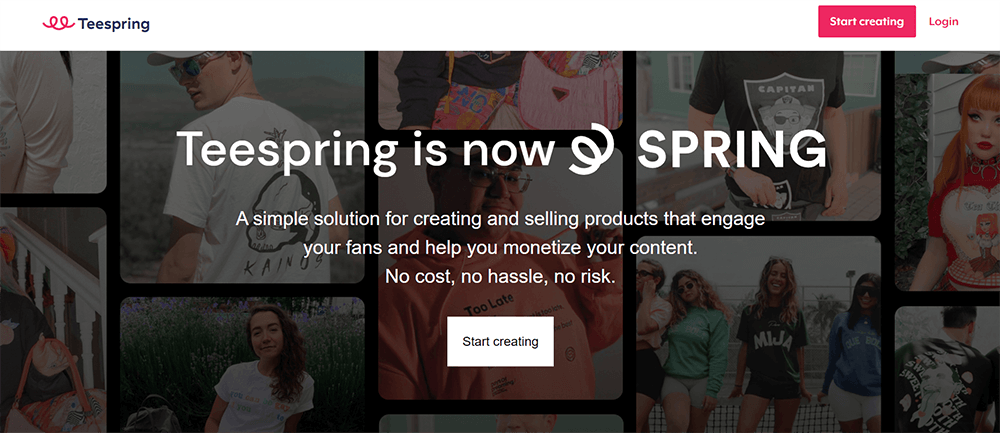 Teespring makes it easy to create, sell and order custom products. The platform operates according to best industry practices and meets the needs of modern customers.
Features
Physical and digital goods – you can sell your digital creations, asides from physical ones.
Social integration – sell directly to your social network followers.
Custom store – leverage the Teespring wizard to create and launch online stores.
Strategic Partner Manager – expert guidance to prepare for product launch.
Plans and pricing
Free plan: Free. You only pay for the base price of a product and maintain the margin.
Premium: Premium service rates are available upon request.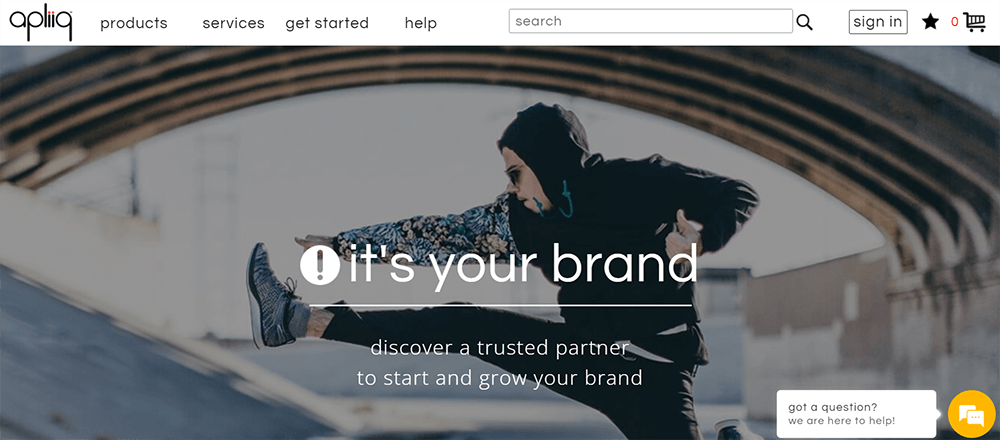 Apliiq strives to provide high-quality retail clothing through its print-on-demand services. Its unique offering is rooted in the provision of great apparel products.
Apliiq guarantees the premium quality of the prints. It uses industrial printers directly for the most delicate garments. The business even has a transparent shipping policy that you can check to assess whether your product is competitive enough in the market.
Features
Embroidery support – Apliiq embroiders wool products, hats, and t-shirts.
Private Label – request that your products be relabeled with your brand tags.
Instant Quotes – as soon as you select a product and print, the website will generate a quote.
Bulk discounts – a progressive bulk discount model that can help you generate more profits as your business grows.
Guaranteed delivery date – you can pay extra to get your order shipped faster.
Plans and pricing
It is free to use. You can see exactly how much it costs to print and distribute one of your products on the website. The customer must speak to the sales department for private label and guaranteed delivery.
Print-on-demand home and accessories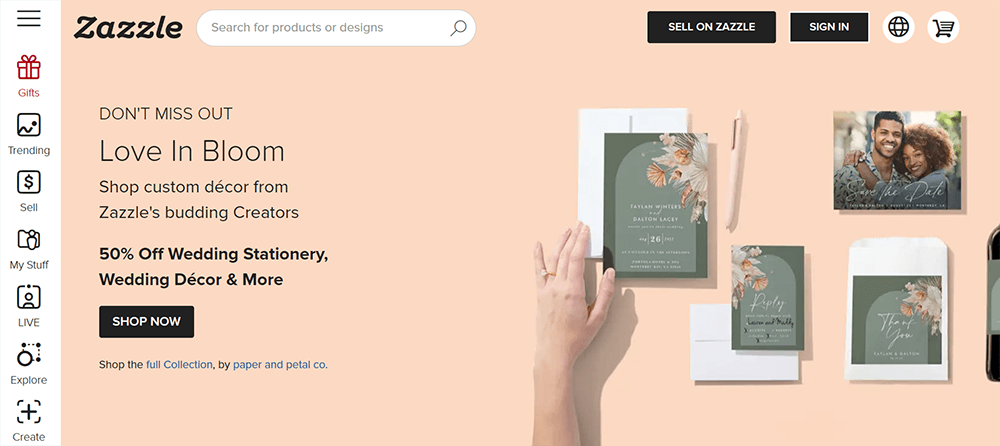 Zazzle is a print-on-demand marketplace to sell your designs through their website. There is a wide range of products to choose from in various categories. And when your store is on their website, you will earn a commission payment based on your sales.
Features
Dedicated to online stores – set up an online store with all necessary functions and images in no time.
Unlimited storage – No limit for digital products store.
No transaction fees
Can be embedded anywhere – you can embed your store on your website, social media, blog, and more.
Easy to use
Plans and pricing
It's free to sign up and create products to sell. You earn a 15% commission on each product sale.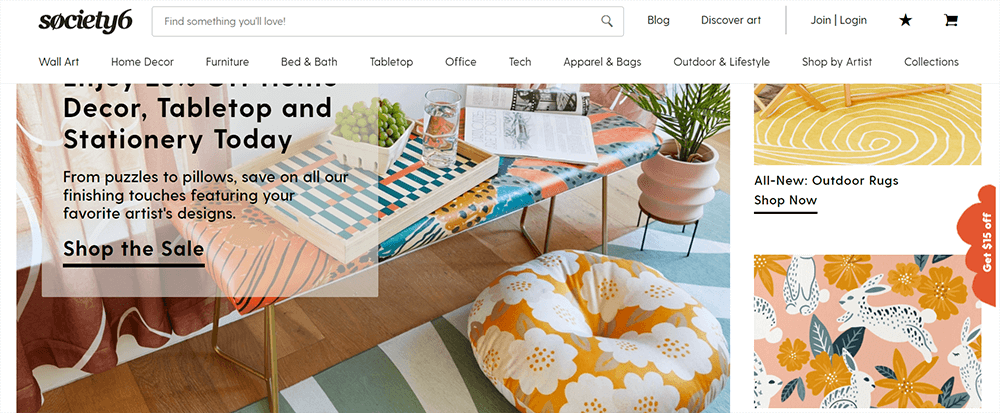 Society6 has fewer products, but they focus on quality and originality.
Primarily aimed at artists and designers, Society6 provides a community and marketplace to support artists and help them make a living with their art.
Your products sell through the Society6 website, and you cannot integrate with Shopify or Etsy. However, nothing can stop you from listing your products there and shipping when you make a sale.
Features
No minimum order – You won't need to pay minimum order or set up costs.
Design tools – create stunning designs and models with easy-to-use tools.
Great product deals – choose from hundreds of products available in tons of colors, sizes, and brands.
Integrations – integrate with Shopify, Etsy.
Direct to garment printing
Plans and pricing
There is no monthly fee for selling on Society6. You earn a 10% commission on the base price of your artwork.
Print-on-demand clothing and accessories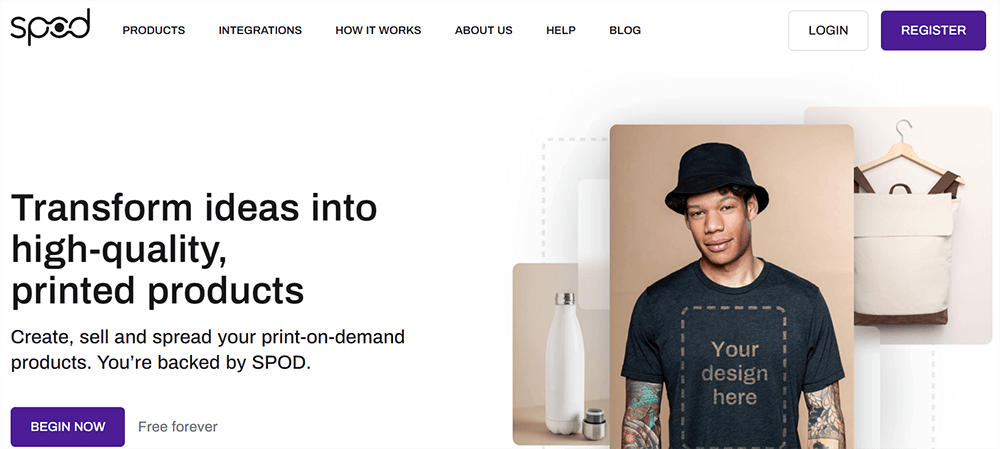 SPOD supports entrepreneurs worldwide. The company has changed its dropshipping print-on-demand service to make it affordable, outstanding, and reliable.
The company has affiliated with seven quality brands to ensure the availability of a wide range of products. The partnership with Spreadshirt allows SPOD to leverage 20 years of industry experience and provide reliable services.
Features
Production under 48 hours
Integration – integrate with Shopify, Order Desk, WooCommerce, Magento, oSPOD API.
Help Center – get free access to actionable information.
Wide range of products
Shipping Calculator – see exactly the costs to ship products to your customers.
Plans and pricing
You can use SPOD for free. You only pay when the customer places an order.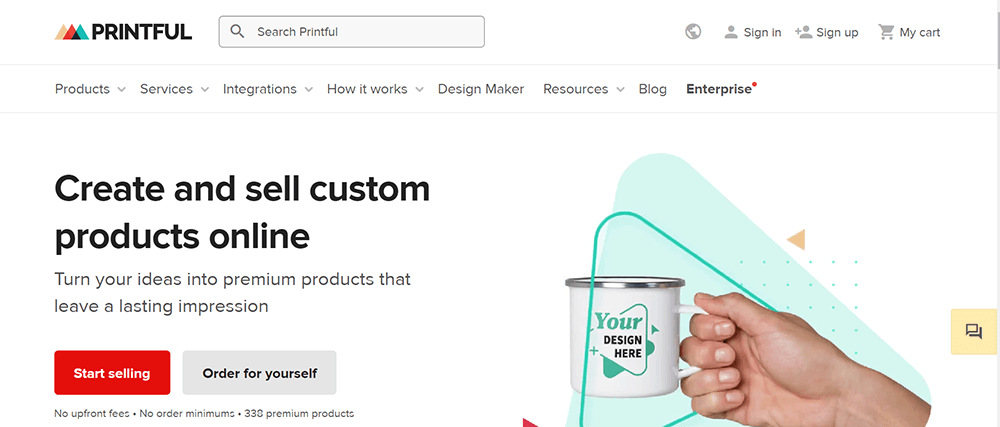 Printful is another popular print-on-demand solution. The company has various tools to help you monetize your ideas and turn them into best-selling products. It will handle your printing and shipping logistics.
Printful gives you access to 293 customizable products, including t-shirts, tank tops, hats, hoodies, face masks, and more. You can upload your designs or create them directly on the website.
Features
Design Generator – a free tool to model and design products.
Integration Support – integrates with major eCommerce platforms, online marketplaces.
Free to use – no upfront fees, fulfillment, and shipping costs incurred when receiving your order.
No minimum orders
Custom branding – sell customized products under your brand.
Plans and pricing
Printful is entirely free to use. The company will only charge for shipping and fulfillment after receiving your order.
Bottom Lines
We hope you've found a suitable one from this list of best print on demand services. However, to make a successful POD business, you also need to have a good website, which makes your company outstanding from others and leaves an excellent impression on customers at the first time. If this task is challenging, you can use Tigren's services.
With nearly ten years of experience building sales websites, We provide a wide range of excellent quality services at reasonable prices. Our professional teams will take care of your website with many years of experience, especially working with Magento – the most famous platform for e-commerce.
Let's check out some of our previous successful projects. Don't hesitate to contact us if you want more information.