Congrats! You made the right choice when deciding to choose PWA theme for Magento 2 out of many other PWA solutions for your store. Now it's time to move to an equally important task, choosing a suitable Magento PWA theme.
A suitable PWA theme creates a positive and smooth experience for visitors. Thus, it increases their buying intent when visiting your eCommerce store.
Understanding the importance of picking the fitting Magento PWA Theme, the article shows merchants seven things they should have in their minds at this stage.
6 Factors To Choose PWA Theme For Magento 2
Frameworks For The PWA Theme Development
Magento PWA themes can be categorized into two types: Themes built with Magento PWA Studio and the "rest" – other PWA frameworks.
Each framework has its unique perks which suit the requirements of different PWA theme building projects. However, it is highly recommended to use Magento's PWA Studio as a base to develop themes for Magento stores.
Why is that so? Because PWA storefronts based on PWA Studio are developed on top of the Magento 2 backend. Thus, they adhere to the Magento principle of extensibility by always being equipped with the latest features as the said platform evolves.
This also acts as a future-proof to help avoid the code conflict with other types of frameworks in later stages of Magento development.
In other words, PWA-Studio-based themes have the Magento framework at their roots with the latest storefront technology. They offer a more flexible solution for brands than traditional Magento themes and eliminate future compatibility issues. These are the common issues with other PWA frameworks.
To sum up, you should choose PWA theme for Magento 2 which is based on the official PWA Studio tools.
Design of Magento PWA Theme
Another criteria to choose PWA theme for Magento 2 is the design of the theme. An attractive storefront is a helpful tool for making your store stand out and creating an excellent first impression with your "website passerby". Thus, it increases the chance of acquiring a new customer.
There are several things to keep in mind when you look into the design of a theme. They include but are not limited to a clean and clear design, an effective color scheme, and easy-to-read fonts.
A user-friendly interface
A quality storefront is not only just stuffed with beautiful graphics and appealing decorating elements but also needs to have a user-friendly interface. It should have a clear visual hierarchy and navigation ease that does not confuse customers when browsing your eCommerce store.
An effective color-scheme
The color scheme you use also has a massive impact on customers' feelings toward your website. When looking at a theme's colors, consider if these convey your store's voice and image. Try to take your store's product category, target audience, and branding into account to pick the best color options for your storefront.
An easy-to-read font
Don't ignore the theme's fonts because it plays a critical role in grasping your store visitor's attention. It would be best if you always opt for unique but straightforward and legible fonts. We highly recommend san serif fonts because they are more modern, approachable, and clean. It makes the visitors more comfortable browsing your store.
All in all, whatever you look for in the design of a theme, make sure to go around the demo, and try and feel if the design represents your store and product's characteristics.
Also, keep in mind that once you develop the PWA Storefront, you can't reuse your old Magento theme because it isn't compatible with the new storefront. Your web dev agency might customize the new PWA theme to resemble your old theme, but it will cost a lot of time and effort.
Magento PWA Theme's Technical Attributes
Jot down the desired features that you are looking for in the theme and scroll through the providers' websites and their live demos to check the availability of these on your list.
We can divide the technical attributes of a PWA Theme into two types:
Core features of Magento Store that every theme must have
Add-on features that are optional upon the Magento store owner's preference
The suitable theme should fulfill every PWA theme's default function, including responsiveness, browser compatibility, fast load speed, internet connection independence, push notifications, installability, etc. Let's go over some must-have functions of PWA so merchants can get a more precise understanding before choosing a theme.
Full responsiveness and browser compatibility
PWA is built on one base called progressive enhancement principles. With these, PWA can provide functionality and content to everyone no matter what browsers and devices they use, Chrome or Safari, desktop or tablet, and mobile device.
App-like experience
Besides inheriting website advantages, PWA also adopts the native app experience, particularly its navigation and interactions.
Moreover, users can download the web app and add it to their phone's home screen by tapping on a popup notification. The process cut out the hassle of going to the app store to download or requiring ample device space like a native app.
Ultra-fast page load speed
PWA claims for its high load speed that allows visitors a nearly instant entry to your website. Upon their second visit, the speed will drop significantly. It makes visitors more comfortable and convenient to engage with your content and spend more time on your site.
Connectivity independence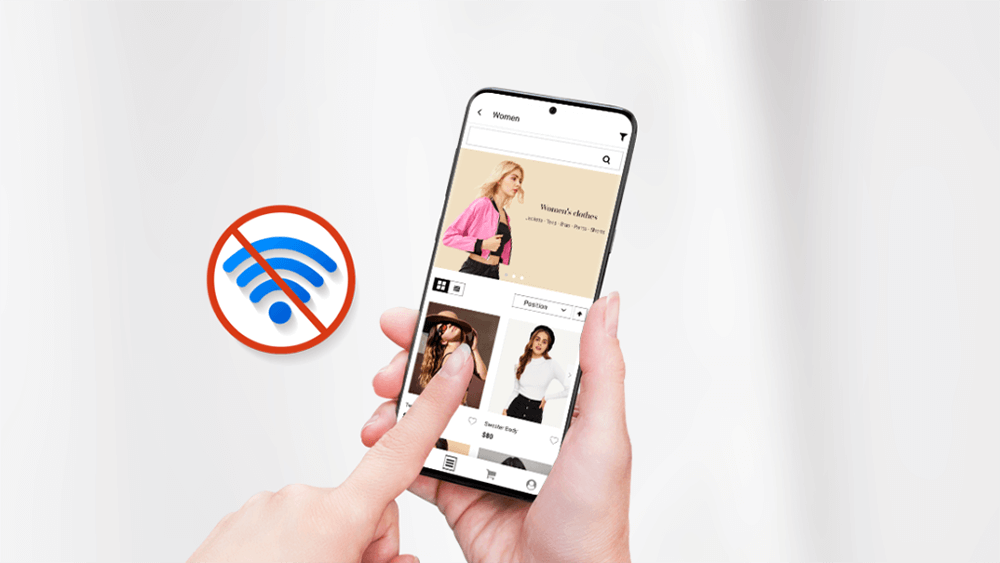 The PWAs load super fast and work smoothly under an offline environment or unstable internet connection. This is possible because the web app can store data locally and retrieve them whenever they sense a loss in the network connection.
Push notifications
This feature helps your messages reach customers timely even when the web app is not running. By triggering push notifications with customized and personalized content, merchants can re-engage their users to open their site and browse it more.
Automatic updates
Automatic update is a relief for both merchants and their customers. For merchants, they will not need to get permission from the developers of the digital app distribution services for the update. Get rid of the hassle by uploading new files to their server, and that's all of the PWA updating processes.
Regarding customers, they often worry about updating the native app. Because it will take up a considerable device memory as well as the amount of cellular data. But with PWA, site visitors will receive a popup message notified of the newly available update. And once they refresh the page, the most updated version of the web app is ready to use.
Safety
Using HTTPS protocols ensures the site's safety and security by encrypting the transmitted data; thus, preventing unauthorized users from accessing the web app. This will help you gain the trust of your customers and improve your position on the Google search ranking.
Discoverability
You may think about how customers can find your web app when it does not appear in any application stores. Here is the answer. A PWA is still a website, so it can be discovered through regular search engines. It might be so much easier for your PWA to improve its ranking on a search engine result page than to get noticed in piles of native apps in the app stores.
Not limited to these core features, PWA theme providers often offer a wide range of added values. In other words, they are add-on features that may suit the needs of different eCommerce site owners.
Test, test, and more test
By testing before deciding to buy a PWA theme, you will minimize the risk of purchasing a poor-quality product. You may become the victim of fraud/scammers when you find out the beautiful theme they display on their website is nothing more than a picture.
You may wonder, "I understand that testing carefully is crucial but what exactly do I need to check?". The answer is pretty simple. Ensure to check all the things that we have mentioned in the above three sections, including the framework, the design, and the theme's features.
However, if you still feel not sure where to start, then check the following four things first:
Cross-browser compatibility
Lack of browser compatibility may make your site visitors raise some eyebrows and risk sending them away. Your PWA theme of choice should be compatible with at least the major browsers, namely Google Chrome, Safari, Opera, Mozilla Firefox, or Microsoft Edge.
Test the live demo carefully and settle on the theme that performs consistently on the above five browsers.
Responsiveness
According to Statista, web traffic from mobile devices accounts for 54,8% of the total global web traffic. That means if the theme you intend to buy does not have a responsive design that looks great and performs well on any device, there is a high chance that your leads will not come back after their first visit.
Or it can be even worse when you cannot reach your potential customers because your site is placed lower on the Google search result pages since Google ranks mobile-friendly websites higher in mobile search.
So make sure to check whether the theme is responsive and automatically adjusts itself to any screen resolution. It is even better if the provider designs the theme separately for mobile users.
Navigation
Intuitive and straightforward navigation will help your site run smoothly and enhance your customer experience. So it is crucial to put yourself in your site visitors' shoes and conduct an in-depth theme review with the live demo.
Note if the navigation streams make sense and check all the menus and widgets to see whether they are easy to navigate. It is better if the theme has a site map and its sections, categories, or sub-categories are clearly and visually defined.
Page speed
Testing the live demo carefully to identify and fix any loading time issues will help your site avoid irritating visitors with slow site speed.
Consider requiring your provider to move any unnecessary or underperforming pages, and elements may also help decrease the loading time.
A little reminder, periodically evaluate your site loading time to ensure that your user experience is always positive even when you make the deal and launch your PWA site.
Price Plan For The Magento PWA Theme
The best advice here is to find a theme that works for your business growth strategy and wallet.
Free themes are most suitable for small or newly-formed businesses. They help Magento store owners to save money for other expenditures while still offering some essential features of a PWA theme. However, businesses may risk that the coding quality may not be guaranteed, and the theme may not be updated regularly.
Paid PWA themes are more feature-rich, responsive, and secure. Store owners can enjoy the benefits of having access to full ongoing technical support and regular updates that ensure compatibility with the latest Magento updates.
A quality theme with an affordable price should range from $500 – 1,000. It would be best if you did not go for themes under the recommended price and definitely should not choose overpriced themes no matter how fancy they look. Be aware that besides the above upfront payment, you may need to spend additional expenses for customized features, extensions, extended support, etc.
Post-purchase Support
Take after-sales customer support into consideration when you choose a PWA theme for Magento 2, especially in case you don't have an in-house developer team.
Most free themes do not offer much support, while premium ones come with a few months to a full year of free customer support. Make sure to ask yourself a few questions before making a purchase decision:
Does the theme offer free or charged support? How long will the free support period be?
Does the theme provider provide a lifetime update? Will there be any charges for the updates?
Will the developer team respond quickly to your support request? It would be best to look thoroughly for user reviews or ratings on tech forums, blogs, and websites.
Magento PWA Theme Provider
The last but less critical criterion to choosing a PWA theme for Magento 2 is ensuring your future service provider is valid and trustworthy.
There are a few things to keep in mind to avoid fraudulence and protect your money:
You are most likely to encounter the PWA theme provider on the internet environment, right? Try to go through the provider's website to see if they are transparent about their price and service.
A professional and reliable theme should come with complete documentation, for example, user manuals, detailed videos, live demos, etc.
Check the company's credentials (personnel, years of experience, case studies, customer testimonials, etc.) by going through their portfolio and checking the reviews on different online communities.
Try to contact the company to get consulted. Choose the one who gives detailed and precise consultation.
Among the theme providers on the market, Tigren is proud to be one of the leading Magento PWA development companies. The company has been developing PWA for Magento 2 since 2017. And Tigren has served clients worldwide from various categories in the eCommerce industry.
The TigrenPWA theme satisfies all the criteria for a top-notch Magento PWA solution at an affordable price. TigrenPWA boasts a clean and clear design and is responsive to various devices. It offers all the core Magento and PWA features, together with advanced e-commerce functions, allowing businesses to thrive.
Wrap Up
Switching to PWA is a wise choice to improve customer retention and secure a positive customer experience when browsing through your online store. And store owners only get desired results once they choose PWA theme for Magento 2.
Before you get too attached to a particular theme, make sure that you go through this checklist and tailor the listing to meet your business requirements best. We hope that this article can help you make the right decision.