PWA, or Progressive Web App, is a fresh concept that many retailers are showing interest in today. Progressive Web App is the most regarded and promising technology. Many retailers, however, are wondering: "Does Magento support PWA?" This article will answer and demonstrate how to implement PWA into Magento.
What Is A Progressive Web App?
Without a doubt, Progressive Web App is one of today's most popular technologies. So, what makes it so prominent?
Mobile commerce has obviously surpassed desktop, with over 6.3 billion mobile consumers worldwide. As a result, consumers spend more time on their phones than ever.
This trend will continue the rise, gradually leaving the use of computers behind. That's why a mobile-first approach is a driving force behind the development of any online store. Correspondingly, the Progressive Web App will conform to today's market demands.
A Progressive Web App is a perfect blend of a website and a native app. Many store owners have to integrate this innovative technology into their e-commerce websites. PWA is a promising concept since it leverages modern design patterns to achieve remarkable capabilities.
PWA will transform your website's interface into a native app-like experience optimized for mobile consumers.
Not only that, but Progressive Web App also brings significant benefits to your e-commerce website. It can include:
Add to the home screen
App-like experience
Offline mode
Background sync
Push notifications
Does Magento Support PWA?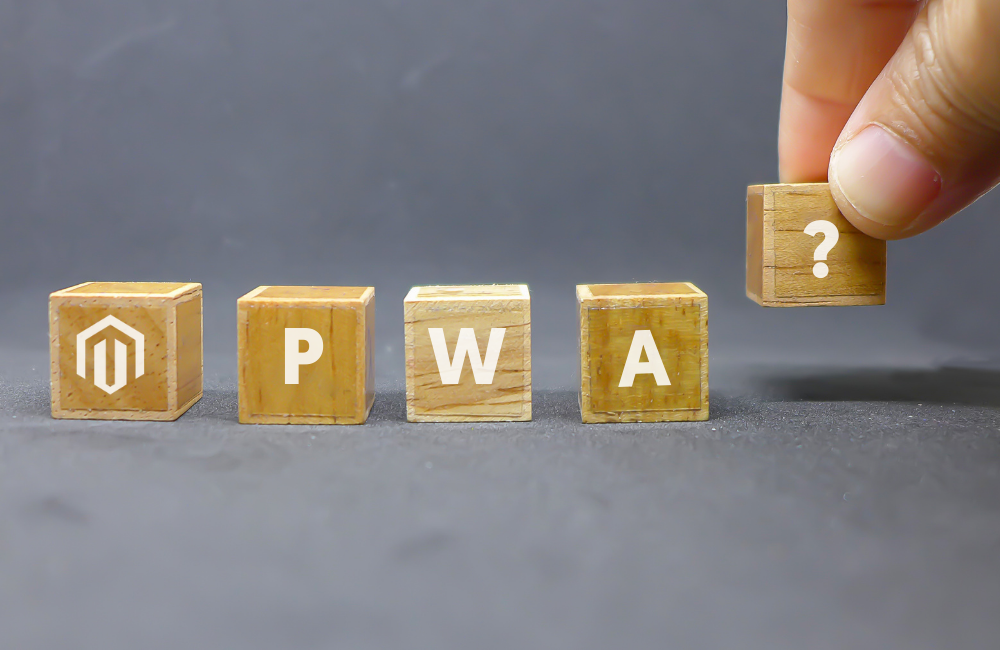 The answer is Yes!
Not only that, Magento has released Magento PWA Studio, a professional toolbox for integrating Progressive Web App technology into Magento 2 websites.
Magento 2 PWA Studio will provide your Magento website with all the basic features of a standard Progressive Web App. It is the only official Magento tool supporting the development of PWA for the Magento website. Therefore, using Magento 2 PWA studio will not cause conflicts with your original site.
Not stopping there, Magento continuously provides updates and fixes to optimize this technology. So, if you convert your Magento 2 website to a PWA, your online store will always be on top of the latest trends.
However, Magento 2 PWA Studio has its limitations. First, the interface of the PWA when applying this toolkit is not optimized on the desktop. Not only that, compared to normal Magento, Magento 2 PWA studio still lacks basic e-commerce features such as product comparison, wishlist, or review. The demo that Magento 2 PWA Studio released is currently only checkout as a guest.
Finally, if you use Magento 2 PWA Studio, you will have to hire outside developers to develop additional features to make your Progressive Web App ready to use.
How To Integrate PWA Into A Magento Website?
Knowing the answer to "Does Magento support PWA", now you might wonder how to build a Magento PWA for your business.
There are many ways to integrate PWA technology into your e-commerce website. However, today's article will cover the two most suitable methods for websites developed on the Magento 2 platform. Both ways below are generated based on Magento 2 PWA Studio, so the probability of conflict with the current Magento website is almost zero.
1/ Use the PWA Studio Tool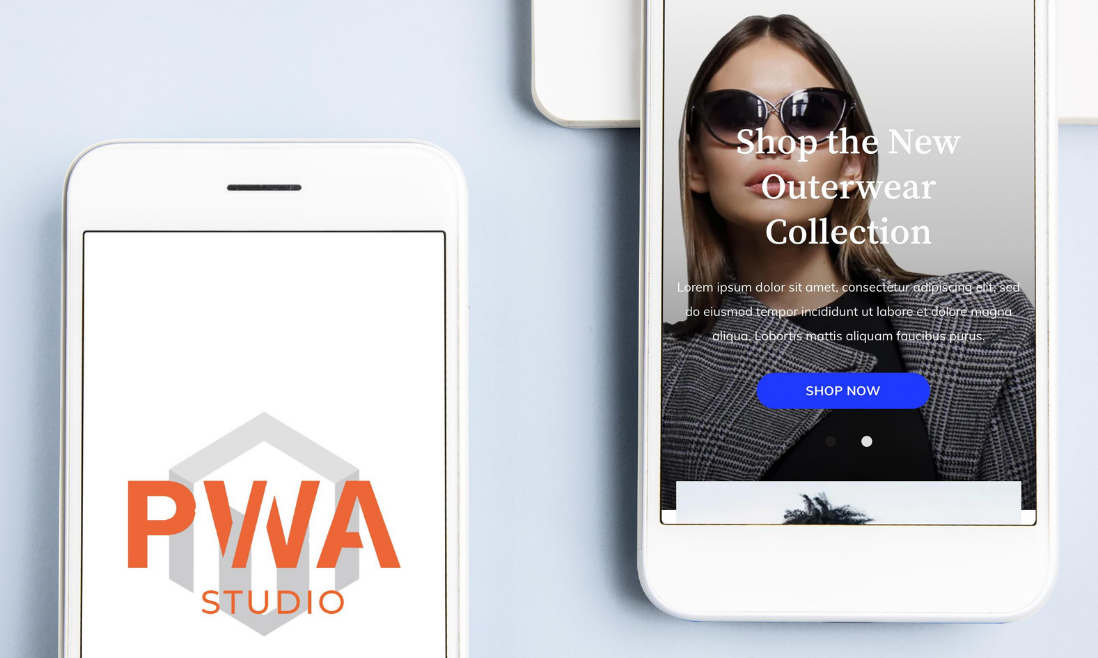 First, you can use Magento's tool, PWA Studio, to build your Progressive Web App. In simple words, a developer will create a custom PWA from scratch using PWA Studio.
For this approach, the developer will custom design, restore the missing core functions and develop more necessary features for your Magento 2 Progressive Web App.
The plus point when using the PWA studio tool to build custom PWA is the uniqueness. Your Progressive Web App can be customized entirely according to your preferences and aspirations. It also guarantees to deliver an almighty PWA with full-box Progressive Web App functions and Magento default functions.
However, the Progressive Web App interface is not 100% optimized for computers. Therefore, the user's shopping experience on the computer will not be perfect. Not only that, but developing a custom Progressive Web App also takes a lot of time because the developer will have to build everything from scratch.
2/ Use a PWA Theme based on PWA Studio
Launched with the mission to overcome the cons of PWA Studio, applying the PWA Theme is the most recommended option today. Most PWA Themes are developed based on Magento 2 PWA Studio so that they can avoid possible conflict with Magento websites.
PWA theme will deliver all the great features of the Progressive Web App to your Magento online store. App-like experience, ultra-fast speed, offline mode, push notification, and so forth are precisely what the PWA theme promises to bring to your Magento 2 website.
Besides, the PWA Themes also provide many modern and advanced features for your Magento 2 website like Improved layered navigation, Shop by brand, Banner manager, Fastly CDN, and Live chat.
Compared to using PWA Studio, the PWA theme will help you bring a more seamless, satisfying experience. That's why PWA themes are much more widely used. It is better to convert a Magento website into a Magento 2 Progressive Web Application.
3/ The best method to integrate PWA into your Magento 2 website
When it comes to the best PWA development solution today, it is impossible not to mention TigrenPWA Themes for Magento 2.
A feature-rich Progressive Web App is the promise that the TigrenPWA theme brings to your Magento 2 website. It is the only pre-built PWA theme for Magento 2 that includes a plethora of built-in functionality and storefront customization options.
The plus point is that our theme will bring along a well-designed and eye-catching PWA storefront. Tigren's Magento PWA theme adheres to five fundamental design principles: simplicity, uniformity, accessibility, mobile-friendliness, and ease of navigation.
With our TigrenPWA themes, you can also customize your favorite color scheme, fonts, banners, logos, and icons to create a perfect brand identity design for your business.
If you are worried that the cost of the TigrenPWA theme will be high, then you can take a rest. Compared to other Magento 2 PWA development companies, Tigren offers the most cost-effective solutions while delivering guaranteed results.
If you don't want to apply a ready-to-use theme but develop a new PWA from scratch, our custom Magento Progressive Web App development service is another perfect match.
Integrate PWA Technology For Your Magento 2 Website Today!
Now, you already had the answer to "Does Magento support PWA?"
Currently, Progressive Web App is a promising technology. PWA will undoubtedly empower you in optimizing your customers' shopping experience as well as enhancing the efficiency of your online store by bringing a native look and feel to your Magento 2 website.
Undoubtedly, Magento shows a lot of interest in Progressive Web App technology. So, integrate PWA into your website if you do not want to fall behind and enjoy the magic PWA has to offer.