Online shopping is gradually becoming a big trend in recent times. Many businesses are trying to set up online stores to catch up with this trend. However, you will need e-commerce site design tips to build your shop correctly. This will help you avoid many mistakes and increase your chances of conversion.
10 Fundamental E-commerce Site Design Tips For New Owners
Simple Is Enough
Simplicity is one of the core elements of modern design style. By removing all the extras, you'll be able to create a polite, formal atmosphere but still cozy.
Besides the emotional advantage mentioned above, simplicity also helps reduce confusion for customers during website access. Thanks to this ease to use, they will have the opportunity to view more products. The number of products they want to buy will also increase.
In addition, eliminating distractions in the buying process also helps your customers focus more on their main job, finding more products they like.
You should use simple textures with little or no decorations to reduce the complexity. Pay attention to the website's colors. Use only one or two dominant colors and preferably neutral colors.
Be Your Customers
This is one of the most important e-commerce website design tips, but new website designers often overlook it. They often design based on their preferences, not the thoughts and feelings of the shopper.
However, this is a mistake because your shoppers may not have the same desires and preferences.
For example, let's say you sell products to mothers such as milk, baby clothes, etc. Your website should have soft colors instead of black and white. This neutral color tone will not create a connection with mothers.
Remember to put yourself in your customers' shoes. Try to think like them. You can do this by reading more research articles and observing people's behavior similar to your target customers on forums and supermarkets.
Show Your Brand Personality
Branding is a fundamental factor determining your store's success in the future. Even if you offer good products with a high-quality website, you can still fail if customers don't remember you.
It would be best if you made customers remember you immensely. Don't be afraid to invest time and effort into this as it can lead to an unexpectedly high acquisition rate and many loyal customers.
To do this, it's best to prioritize adding elements related to your brand in plain sight, such as the color, the name, the slogan, etc.
Invest In Your Image
Scientific research has shown that websites with high-quality images have a 40% increase in conversion rates.
Think about it, you don't need to spend extra money on advertising campaigns, nor do you need to spend money on product improvement.
All you need to do is post better and more relevant photos. Then the conversion rate will increase up to half!
Make Your Content Easy To Skim
If you often write lengthy descriptions but forget to leave lines, we have sad news for you: Customers are too lazy to read such paragraphs.
Research shows that most e-commerce website visitors only read about 20% of the text. This means they only scan your product information and find the important points they want.
Therefore, you must make this description scannable. Two tips for you are writing more lines and using words that are easy to understand. You can even bold or italicize important words to attract customers' attention.
Make Your Website Professional
Trust plays a crucial role in e-commerce. When customers decide to pay for your product, they are convinced by your credibility. Therefore, during their tour of your website, you need to make them believe in you.
The fastest way to achieve that is by showing your professionalism. You absolutely must not make mistakes in spelling and editing. Make sure your site only uses specific fonts and check for font errors.
In addition, the links, buttons need to be guaranteed to work. This common mistake can make your professionalism in your customer's mind disappear in no time.
Credible Review Corner
Besides being professional, there is still another way to make your website more reliable. You will achieve it with previous customer reviews.
Most customers, before buying, have a feeling of hesitation. They consider the quality of the product, the real-life appearance, the size, etc. To eliminate confusion, your website must have positive affirmations from previous customers.
Therefore, you should ask for feedback from every customer. You can nicely ask them for review via email or directly on your website.
In addition, you can also add a star rating scale for customers to evaluate the product quickly. Don't forget to improve product quality and service quality to get as many five stars as possible.
You combined two e-commerce site design tips that make your website professional and proper review corner to achieve the best result.
Diversify payment methods
The payment process is also a critical issue. Diversifying the payment process will give your customers more options. This helps increase the likelihood of customers buying.
Banks and fintech businesses are trying their best to attract more customers. Therefore, they often offer their users a lot of discount codes. If you create payment gateways associated with these units, your customers will buy more without you losing in terms of profits.
In addition, you should also simplify the payment process as much as possible. A process that is too long can affect your customers to give up.
Eye-catching Conversion Path
Although this is one of the most simple web design tips for e-commerce stores, quite a few new owners ignore this. They often color the conversion buttons to be similar to the website's color.
Having an eye-catching conversion path will make it easier for users to find it. In addition, it also has the effect of stimulating people to click. So invest some time to find the color that best suits these buttons!
These buttons' color tone doesn't have to be contrasting with the web page. You can choose neutrals or colors that stand out on the page. However, remember to choose ones from your brand color palette.
Consistent User Experience On Multi-Platform
An interesting report on consumer behavior has shown that 85% of customers buy on a device other than the one they initially visited. In other words, if they access your store from a computer, they will probably purchase products on their phone.
Therefore, to ensure that your customers don't get confused when they switch to another platform, you should create a consistent experience across all operating systems and channels.
This still holds for your real-life store (if you have one). Preferably it should offer the same experience as your online store.
How To Have A High-performing Website?
The 10 tips above will only work for your customers if your website is already performing well.
It is difficult to provide your customers with a good experience if your website has a bad foundation.
For example, customers will not be able to patiently buy goods on your website if the website speed is too slow or lag.
Another bad news, it is almost impossible for you to create a high-quality e-commerce website if you do not have coding skills. However, we have two simple ways for you.
You can use ready-made theme websites. Those themes are usually cheap and short time to market.
In addition, if you want your website to have more branding elements, you can choose custom services from businesses.
About Tigren – A Credible Web Design Agency
For the following 3 reasons, we – Tigren – are confident that we are fully capable of being your companion to help you develop optimized websites.
First, we have ten years of experience providing website design solutions for businesses.
Second, we have a professional team using modern tools. We can bring you websites with the latest technology. We also profoundly understand design tips for e-commerce websites.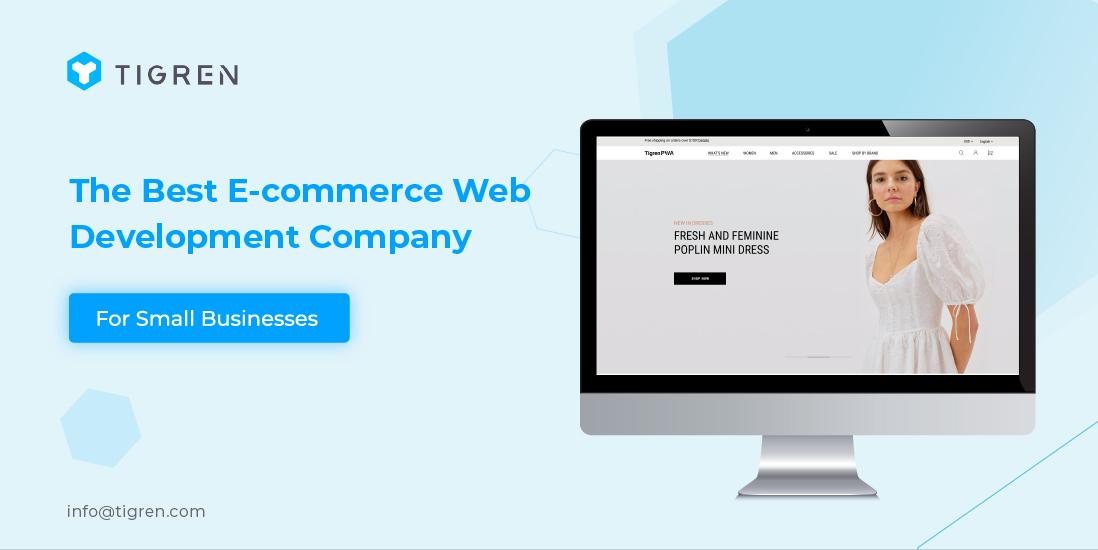 Bottom Line
As mentioned initially, the online channel is gradually becoming a required buying method for customers. They don't have to move anywhere but still have what they want. Therefore, you need to design an online store to satisfy their shopping needs. This is not simple. However, you now have our e-commerce site design tips. We believe it can make the process of building your website less complicated. Thanks for reading!
Read More:
E-commerce Web Design Tips For An Outstanding Site
7 Criteria That Quality E-commerce Web Design Services Should Meet
10 Key Steps Of A Successful Web Design Process For New Businesses