Building an e-commerce website isn't an easy task. It takes time and money, and lots of effort. Are you confused with every scattered info about e-commerce website cost all around the Internet? Are you overwhelmed with the irrational numbers you look at?
Well, the truth is you have quite a big room to decide how to build your online store. You can efficiently allocate the right proportion to fit your budget if you know all the possible options. And that's exactly what we want to provide you with within this article.
What Are The Factors Affecting Your E-commerce Website Cost?
Your Business Vision
Goal
Your overall goal will determine the level of complexity you want for the e-commerce website. Many decisions contribute to this result that the owner has to go through.
From how big your company will be, your business focus, and the strengths you want to utilize with the website. Taking all of these factors into consideration to gain a general view of how you will build your online presence.
Capitals
This section is to remind you of the importance of capital balancing. You should decide a certain proportion of the budget to ensure you are not overspending on your website development.
There are numerous possible expenses as the existence of a variety of services available on the market, all depends on your need. The business goal will act as the guide for this part.
Strategy
Strategy implies the marketing strategy and how you will use your website as a powerful tool to achieve business goals.
Based on the long-term marketing plan, you will know what to request from the development team, such as marketing tool integration or the necessity of embedded codes for campaign measurement.
E-commerce Hosting Fees
E-commerce platform
You can choose from these 3 main types of e-commerce platforms: PaaS (platform-as-a-service) like Magento open-source, SaaS (software-as-a-service) like Shopify, and the local-hosting platform. Except for the open-source, the rest will require a license fee.
Hosting requirements
Domain name
The cost for a domain name varies from platform to platform. If any place offers you free registration, then it's either they charge you indirectly, or you are exempted for a certain amount of time.
A new brand domain often falls around $10–20/year.
Hosting fee
The hosting fee depends on the service you use: cloud, shared, or dedicated, then considering the operation storage needed by your chosen e-commerce platform. An average range for the e-commerce hosting price is $10–50/month.
For a reliable website that protects customers' information, you should purchase an SSL certificate, which often costs $50-$300 annually.
E-commerce Website Development
Developers
Because there's a disparity in currency exchange between regions, owners from high hourly rate countries will benefit from using web development services in lower hourly rate areas.
Functionality
Depending on how powerful you want your web to perform and how versatile it is to operate, you can choose :
Third-party extensions: cheap, easy to install.
Theme built-in features: these are advanced functions that are added to support expanded e-commerce needs, often available when purchasing premium themes from development agencies.
Custom development: this most pricey option allows you to co-work with developers to build your website from scratch. The result is flawless, but the journey can be arduous and may generate some conflicts.
Data management
This fee is for web data storing services, data integration to a new website, data filtering system, etc.
Updating and maintenance
Platform providers will make periodic updates to better adapt to new changes. You might need to pay extra for this updating service if you can't do it yourself.
Maintenance is all about bugs and errors fixed, annual security strengthening, and performance optimization.
Promotion
There are 3 types of media, and you only need to pay for one: paid, owned, earned. Paid is for running ads to reach new prospects online, and to expand your target customers. You can run ads on social media and ads displaying on web browsers via countless channels out there.
You can also leverage owned media to receive earned media, such as word-of-mouth, mentioned by e-newspapers, or voluntary influencers.
E-commerce Web Design
The Quality Of An Effective Web Design
Easy-to-follow
A carefully designed web with a strong focus on details will help customers easily navigate your site to search for items they want. If they fail to understand how your pages work, then they'll probably leave.
Leave a unique personal mark
It's crucial to leave your unique brand impression on visitors. They need to know how your brand is different from others and remember your brand name. Only then they'll come back in the future.
High-performance user experience (UX)
An engaging, novel, fun, and uninterrupted on-site experience will keep your potential visitor staying around longer and more frequently. Thus increasing the rate for sales conversion.
Creative and eye-catching UX also contributed to your brand's image. Remember, your online store is the most significant touchpoint between you and future customers that brings about almost everything.
Design for mobile
Mobile users are increasing these days rapidly, and the demand for mobile shopping rises followingly as it is convenient, easy, and fun, at any time.
Your website needs to be mobile-friendly if you don't want to lose many prospects out there who only purchase online via portable devices.
What Are The Steps of E-commerce Web Design Development?
The process you need to consult and work with a web design agency includes, commonly but not necessarily in this order:
Decision on 'wireframe' layouts
Selection of color layouts
Brand concept and guideline: fonts, image, style, characteristics
UI, UX options
Functionality: page numbers, features positions
Demo based on what has been approved
Custom touch-up
Final result
How many pages does an online store need?
Here are compulsory pages for any e-commerce website:
Homepage
Category pages
Product landing pages
Checkout page
About us
Besides, your website should have these features to enhance customer experience:
Search bar and results page
Account registration and login forms
Email subscription form
Wish list
What Are Options For Web Design?
Theme design
Theme is a complete solution for installing and public the web right away. It includes a fixed design with several customizable areas that you can interfere with. For significant changes, you should ask the theme provider to handle them.
Custom web and app design development
This service allows you to go through every step of the web and app design journey. You can decide on each detail on your site under suggestions from developers or research online. This is the most pricey and time-consuming solution.
E-commerce Website Pricing Schemes For Specific Needs
Below is the estimated pricing schemes for each business sizes:
| | | | |
| --- | --- | --- | --- |
| Factors | Small business | Medium business | Large enterprise |
| Website design | $5,000 | $15,000 | $35,000 |
| Database Management | $0 | $5,000 | $10,000 |
| Back-end programming | $2,000 | $25,000 | $75,000 |
| Extensions | $500 | $8000 | $20,000 |
| Website updating and maintenance | $3,000 / year | $12,000 / year | $60,000 / year |
| Promotion | $0-$10,000 | $10,000 – $50,000 | $50,000+ |
| Total | $10,500 (min) | $75,000 (min) | $250,000 (min) |
As seen from the table, on average, the costs for building and maintaining an e-commerce website can range from $10,000 to $250,000.
Tips For Building Your Best E-commerce Website At A Reasonable Cost
Because creating an e-commerce website is more complicated, and technical than a personal website and better requires a professional touch-up to it, it's recommended you look up some web development agencies and pay attention to these aspects.
Hourly ratings
A Magento usually charges per hour rate, which varies considerably.
According to RLT Square, the average rate an agency in North America charges is $125 per hour, while an Asian demands about $75 per hour.
Thus, outsourcing the website development agency from another region can save you a huge budget.
Pricing transparency
The pricing scheme should be determined before the developers start to work. Depending on the complexity of the project, you should count an amount for additional customization as well, and you would like to point out to the agency that it's the top deal.
Also, you should be specific about the support fee and after-service maintenance. If their extra service expenses are unjust, changing the agency will cost you more as the new team needs to learn about your website's existing framework and technology.
Meet business's need
Profitable
The ultimate reason for considerable investment in website development is to increase sales online. But it's all about the prospect. If you get to know them well, show them you got just what they need, then the possibility that they will become your customers is higher.
Consumers are wiser and wiser, they know that they have tons of choices. So the best thing to do is to assure the store is well-navigated, the on-site experience is fast and engagingly smooth, and the transaction is highly secured and convenient by diversified payment methods.
Always-on service connection
Certain errors or issues that occur with the web are unavoidable. But they need to be fixed urgently to reduce the visitor's uncomfortableness. Or sudden changes from your new design idea. At times like these, a customer line that is quickly accessible would be very much helpful.
About Tigren
Tigren is an innovative and dynamic e-commerce website development agency supported by skillful and dedicated developers from Vietnam. Since established in 2012, we have always strived to leverage online businesses by bringing the most creative, diversified solutions to the work that we never hesitate to look back.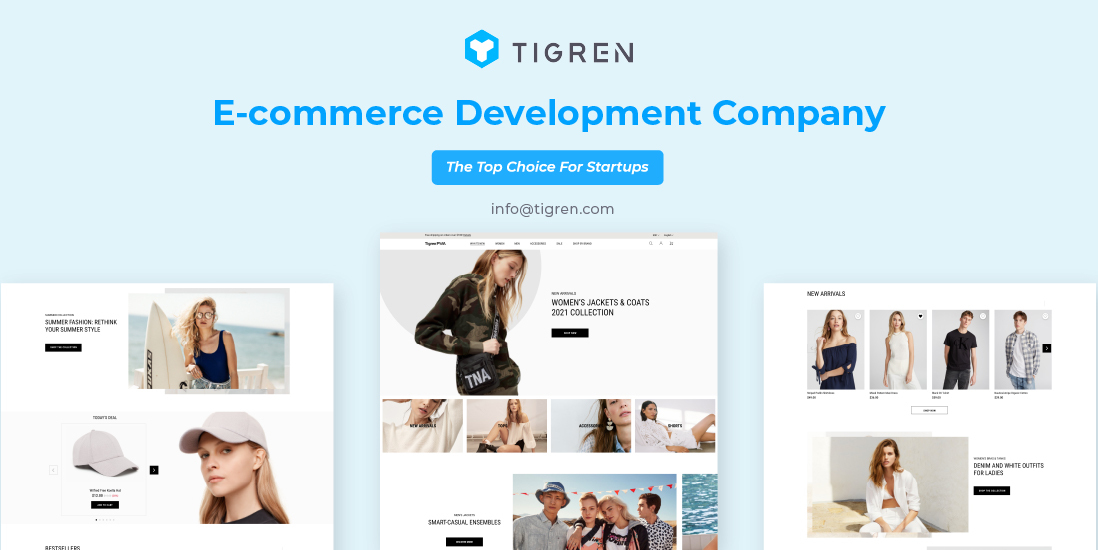 What We Offer
Magento is the most prominent open-source e-commerce platform, with a high standard system and powerful core features. We believe Magento is a solid foundation to create a great-performing website while retaining excellent stability.
We provide Magento 2 web design and development services to ensure you have the best Magento website in hand.
The World-class Service At A Reasonable Price
We offer outstanding services at a much more reasonable price than agencies in Europe and the US. As explained, this is solely due to the currency difference, thus you can rest assured about our expertise.
The key directions that Tigren always follows in designing a web for high conversion are consistency, simplicity, engagement, mobile responsiveness, and ease of navigation.
Whether you own a cosmetic shop or sell technology spare parts, we will conduct detailed research about you and your competitors, strategically sketch out valuable ideas and orientations to consult with you, and release our best effort to fulfill your needs.
If you are interested in designing your best-ever website with Tigren, contact us!
Read More:
Inspiring Ecommerce Website Design: How To Make One?
What Is A Headless eCommerce Website and How Does It Affect eCommerce?
How To Create Cosmetics eCommerce Website Successfully?
How To Make An eCommerce Website For Electronics Store In 2022?