What Is Ecommerce?
Over the last 5 years, we have seen a significant change in the shopping habit of consumers, from going directly to "brick and mortar stores" to buy stuff to just staying at home and making online purchases. Especially, in developed countries like the US, UK, or Australia, nearly 70% of buyers prefer online shopping to traditional shopping. As the result, there is a boom in Electronic Commerce, or eCommerce development worldwide.
In short, eCommerce includes the acts of both selling and buying, or in other words any sort of transaction taken on the Internet. There are millions of e-businesses who are trading their products and services on their website, social networking sites, or auction sites. There are six typical types of eCommerce, including Business-to-Business (B2B), Business-to-Consumer (B2C), Consumer-to-Consumer (C2C), Consumer-to-Business (C2B), Business-to-Administration (B2A), and Consumer-to-Administration (C2A).
If you are running a business without an online presence, you should join the eCommerce innovation now before all of your competitors do and let you leave behind. Without a doubt, there is a variety of operating online stores; however, it's always difficult for beginners to start. Therefore, in this blog post, we will give you "all you need to know" about eCommerce development.
Before opening an online store, you shouldn't miss any parts that we mention in this post. Now, let's get started!
Why Ecommerce?
It is true to say that eCommerce has been revolutionizing the way that most firms are doing business. Owing to the strong development of eCommerce, customers now can purchase almost everything online while getting an ultimate shopping experience. Here are 20 obvious and significant benefits that you can enjoy from eCommerce websites:
1. Break down all geographical barriers
Assumed that you are running a physical store, it might be easy to attract the people living around to visit your store but it would be very hard to draw the attention of consumers staying in other regions unless your items were very special. If you were a customer, would you travel a lot of miles to get something that you can find in nearby areas? We guess you wouldn't, right?
Now, let's suppose that you are owning both a physical and an online store. Moreover, the buyer can look for his favorite item in both your online store and a physical one nearby their house.
If you were that customer, would you prefer staying at home, ordering the item online and waiting for its delivery, or going down to the street to pick up the item? Actually, either option is possible but at least the possibility that the consumers will buy from you is much higher than in the first case.
Moreover, by opting for eCommerce website development, you are able to expand your business, not only market your products and services in local areas but also approach the buyers in other regions, or even across the globe.
2. Welcome the customers anytime throughout the day
Now we are living in a busy world when a great number of people don't have enough time for hanging out and buying goods directly at physical stores.
For those who have already had a family, might be too tired of taking care of their children as well as completing tasks at the workplace, there is almost no time left for them to buy things for personal purposes at shopping malls (e.g.: clothes, accessories, bags…). Because of that, online shopping becomes a "salvation" for them.
On the one hand, the buyers might not be able to go to your physical store since it opens too late and closes too soon (10 a.m. – 7 p.m.) while they have to go to work at 8 a.m. and finish their lunch with their family at 8 p.m.
On the other hand, they can access your online store anytime – in the early morning (to buy groceries for instance) or late at night after their children sleep.
As you can see, by developing an eCommerce store, you are bringing about an amazing "shopping solution" for your customers. Conversely, your profits might increase notably due to approaching far more purchasers.
3. Optimize the financial cost
Compared to running a physical store, it might take significantly less money to invest in an eCommerce one, especially in the long-term, since you don't have to pay the expensive renting fee, store design and maintenance, sales, and supervising equipment, and so on.
On the contrary, the major cost of possessing an eCommerce website is the initial design and development cost that we will discuss more specifically in the next part. Owing to this huge advantage, e-commerce is very alluring for start-up businesses that have a limited budget.
4. Minimize the cost and effort to hire employees
Running physical stores requires a/several staff (e.g.: cashier, shopkeeper, shop assistant, store detective…) to work at each location. The more stores you have, the more employees you need to hire and manage.
On the contrary, there is no need for employing such a lot of staff for making an eCommerce store work. From the inventory management, checkout, billing to the payment process, you can enjoy the convenience of automation. For order handling, if your store is small to medium, you can even check yourself without hiring extra staff.
5. Easier to stimulate customers' buying
One of the biggest advantages of the online store is that you can apply more ways to draw the shoppers' attention and affect their intention to buy.
Assumed that you are a shoe store owner, if you can show the visitors tempting photography of your products – not only the shoes but also how great they look "on feet" of real purchasers, the viewers would be more likely to buy.
Moreover, if you can tell the customers that your items are limited or almost out of stock (by showing the time countdown or quantities), it even urges them to make purchasing decisions quicker.
6. Get free customer data effortlessly
It's always hard to gather information about physical store visitors since most people are not willing to provide their private information. However, in order to purchase stuff online, they are forced to offer their information (name, address, phone, and email). Therefore, the owners can easily gain this precious customer data and use it for other purposes such as email marketing.
7. Easily scale your e-business when it grows
Growing and expanding the business to meet higher demands is the thing that all firms strive for. For a physical store, business scaling means that you need to rent a larger space to accommodate more items as well as hire more staff if necessary, which all take time, money, and effort.
On the flip side, for an eCommerce store, you just need to get support from the eCommerce experts/ developers to implement some methods to boost the site performance and ensure the operation of the store as the beginning. Also, updating new products on the website is not complicated at all.
8. Acquire new customers from search engines
Nowadays, people have a tendency to find "anything they want" by… searching on Google or other search engines. This is good news for the online store owners as they can take this opportunity to approach more and more potential customers and promote their products.
9. Analyze customer behaviors and improve the store functionality
By utilizing certain ecommerce tools, you can easily track and analyze the behaviors of the visitors, and then apply several methods for sale conversion improvements. For example, you can know exactly the buyers who abandon their cart and in which step in the checkout that they leave the store. From that, you can either enhance your current checkout process or remarket your items with the cart abandoners via emails.
10. Give the buyers a personalized shopping experience
Taking advantage of personalization into shopping is a huge pro of eCommerce stores. Firstly, you can divide all of the customers into multiple groups based on their amount and frequency of purchases or locations so as to offer different price strategies and promotions appropriately.
Secondly, you can apply up-sell and cross-sell at ease to suggest the buyers to get more (valuable) items based on analyzing what they looked at.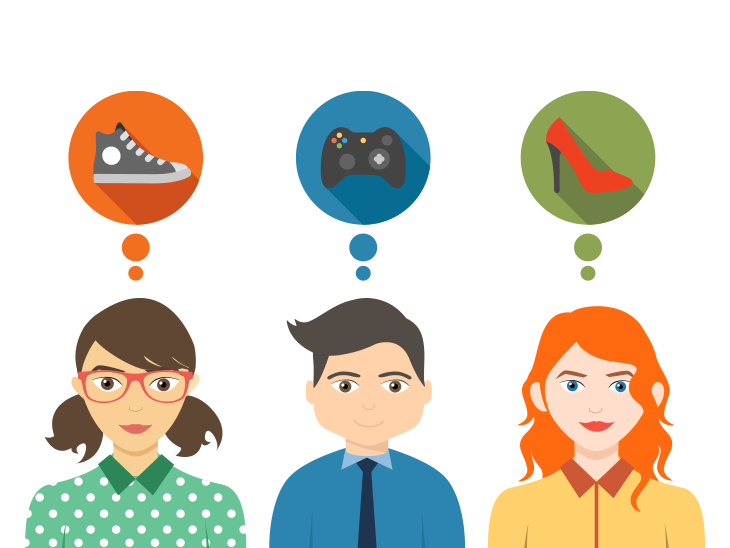 11. Create effective promotions with deals and coupons
After a few minutes of setup, you can create a new promotion campaign on the website at ease. In order to use the coupons, the buyers just need to enter the coupon code when checking out or even do nothing if the deals are applied to all orders without any conditions. There is no need for printing the coupons.
12. Provide detailed product information
Showing detailed descriptions for each item on the shelves is impossible for traditional shops while it is an easy task for an eCommerce store. You can freely write a long product description and display it on the product page.
Moreover, for some special items, you can show your certificates related to product authentication or safety directly on the web to gain customers' trust in your store.
13. Draw traffic to store with no-cost blogging
Another powerful unique tool for eCommerce websites is using blogging to attract customers and boost traffic without spending a penny. You are allowed to write promotional posts as many as you want on your blog and share those via social networks to draw attention.
A tip here is not only to advertise your products but also create articles related to the interests of the readers in order to increase their engagement.
14. Let the customers "sell" products for you
More than 50% of buyers often check for product ratings and reviews as well as store testimonials before purchasing an item. Fortunately, ecommerce store allows its users to leave a review for any product on the site so that other customers can take it for reference.
Besides, as a store owner, you can easily manage all reviews from the back-end – selecting which one can be shown or hidden on the frontend.
15. Create and manage multiple stores from a single backend
Some big ecommerce platforms such as Magento allow the owners to create as many stores as they want and manage all in a single backend.
All of these stores can have the same domain (being set up as the sub-domains of the same domain) or use unique domains but share the same backend for more effective administration.
16. Highlight the hot or featured items on the store
Many businesses might want to focus on selling some certain products among their hundreds of products since those can bring about higher profit. In this case, they can easily showcase their outstanding items on their online store in banners or eye-catching positions on the site.
17. Restrain unworthy conflicts with the customers
In comparison with a physical store, there would be less unsatisfying shopping experience in an eCommerce store. For instance, you might hear about lots of complaints about the staff's attitude in traditional stores, which would be no longer be a problem when you go online.
18. Cut time and cost for traveling of the purchasers
Ecommerce development makes things much easier and simpler not only for the store owners but also for the shoppers. They can access any online stores and look for their favorite items after just a few clicks, and more importantly, don't need to travel (long) distances to reach the physical stores.
19. Sort and locate the product in the store quickly
On a physical store, the customers will have to ask the shop assistant to show them where to look for the item or find it themselves. At the same time, they just need to type the item name in the search box on the ecommerce store, and then the site will return what they want a few seconds later.
20. Easier to seek rare products
Ecommerce can connect sellers and buyers from everywhere. It empowers the purchasers to look for almost anything that they might never find in the actual stores.
For example, a person is searching for a limited version of shoes that are no longer produced, he can't find how to buy it at regular stores but an online old shoe store on the Internet.
What Is The Ecommerce Development Process?
running a successful ecommerce business isn't just about having a great idea and being at the right place at the right time.
Yes, those things matter too, but without hard and focused work, and a thorough business plan, it's hard to get the business off the ground.
We're breaking down the process of an ecommerce website development project into 7 major steps, each filled with detail and tips to help you understand the process and get it right.
Step 1: Clarify your products/ services and target customers
Step 2: Prepare your budget
Step 3: Select an ecommerce platform that suits your business needs
Step 4: Choose a proper ecommerce website hosting
Step 5: Buy a domain
Step 6: Seek a prestigious ecommerce agency
Step 7: Design, develop and test your ecommerce website
Step 8: Launch and promote your site
Step 9: Support and maintain the best site performance
How Much Does It Cost For Ecommerce Development?
Actually, this is a very hard question. It depends on which platform you want to build your site on, which development company you want to work with, how complicated your website design is, which function you want to have, which hosting service that you choose, and so on.
Nevertheless, from our experience, the cost of hiring an ecommerce agency for website design and development will make up the most in your investment. If you prefer web development company in the US, UK, or Australia, it would take at least $20,000 to possess a basic online store. Simultaneously, you just have to pay from $2,000 to get a similar one from an Asian company (e.g: Vietnam, India, Thailand, Singapore…) where the labor cost is immensely cheap.
How To Choose Ecommerce Development Platform?
As we have mentioned, electing the Ecommerce platform is the third step in the Ecommerce development process. Now, there are plenty of platforms on the market – both free and paid ones.
For example, you might hear about Magento, WooCommerce, Prestashop, 3dcart, Drupal Commerce, OpenCart, VirtueMart, Xcart, ZenCart, Pimcore, Reaction Commerce,… to name as a few. Find more platforms and their information here.
However, among these platforms, we highly recommend you to go for Magento Open Source for many reasons, but the major ones include:
Magento has become one of the most popular ecommerce platforms so far, which are widely used by more than 250,000 e-businesses over the world.
Magento ecommerce is feature-rich and easy to use.
Magento community is huge so we can easily find help when needed.
Magento has the world's largest application marketplace.
There is a wealth of choice for prestigious Magento development companies and Magento developers.
What Are Ecommerce Development Services?
There is an abundance of the Ecommerce development services and solutions offered to meet your needs and requirements such as:
Ecommerce strategy & consulting
Ecommerce web development
Ecommerce design & redesign
Ecommerce app development
Ecommerce integrations
Ecommerce migrations & upgrades
Ecommerce support & maintenance
Ecommerce website optimization
All of these services will help you to build and take care of your businesses from A to Z.
How To Choose A Reliable Ecommerce Agency/ Ecommerce Developer?
From our perspective, it would better to the website development company once you have already chosen a platform. Read here to know our reasons.
Besides, there are 10 recommended steps and tips for you to opt for appropriate ecommerce web designers and ecommerce web developers:
Clarify your needs and requirements of ecommerce developers for hire
Check the expertise and experience of the web developer
Examine the portfolio of the designers/ developers
Find real testimonials and feedback
Ask for post-development Support & Maintenance
Figure out development process before hiring programmers
Evaluate developer's communication skills
Get the balance between your budget and the developer's offer
Define the developer specialization
Ask for certifications (optional)
Recommended Ecommerce Development Company
Without a doubt, there are hundreds of ecommerce website development companies worldwide. Nevertheless, if you are looking for a reputable ecommerce web development company that can provide you with high-quality services while offering a reasonable price, partnering with Tigren Solutions is the ideal choice.
With more than 10 years of experience in ecommerce website design and development, Tigren has become one of the best ecommerce solution provider in Asia. We are providing a variety of ecommerce development services from ecommerce consulting, custom ecommerce development, website optimization, mobile app development, extension development, website migration to website support and maintenance. Moreover, we are specialized in Magento ecommerce development and have contributed to a great of businesses' successes. In addition, since labor cost is our competitive advantage, we offer very affordable pricing for ecommerce websites development projects.
Contact us now to get free consultation and estimates for your project.
Let give our ecommerce experts a chance to build an awesome and unique store for you!
5 Ecommerce Trends To Watch This Year
Ecommerce continues to evolve at a rapid pace, and you need to keep up with the latest online shopping trends so as to boost your sales and stay ahead of the competition.
Which ecommerce trends are prevalent? Can you guess?
Omnichannel
"Same-day" delivery
Animation
Shopping on Social Networks
Augmented Reality
Automation (Email MKT, Chatbots)
Machine learning
Voice search
Mobile commerce
Cryptocurrency