Fraudsters are taking advantage of the eCommerce boom to collect your money. To prevent fraud from harming you as a business owner, take protective steps, eCommerce fraud prevention software is what you need here.
This program safeguards profits by assisting organizations to detect and stop unlawful activity before it occurs. In this article, we've compiled a list of the top 15 eCommerce fraud prevention solutions in 2023. continue reading to learn more!
What Is Ecommerce Fraud Prevention Software?
Ecommerce fraud prevention software is a collection of tools that help companies prevent and detect eCommerce fraud. It assists enterprises in monitoring their channels for possible fraud, detects and inhibits fraudulent activity, and informs them of problems as they occur.
Click fraud occurs when fake clicks are placed on ads or links that lead to fraudulent websites, and it is one of the most prevalent forms of eCommerce fraud. Fictitious products may also be developed by fraudulent vendors and then sold at exaggerated costs, with the money intended to go back to the firm.
By identifying unusual behavior and reporting it to management, eCommerce fraud prevention software helps companies avoid such schemes. eCommerce fraud protection software may help companies recover from fraud as well as prevent it in the first place.
The program may automatically delete unlawful transactions and return the customer's money if they are discovered. In this manner, organizations may reduce their financial losses while still delivering the services they need.
Most Common Ecommerce Fraud Types
Payments fraud
Payments fraud happens when dishonest people buy things with stolen credit cards and then resell them for a profit.
Transactions where the card is not physically present (CNP) are most vulnerable to this kind of fraud since the fraudster can make the purchase without having to show the card. Without taking proactive measures to stop payment fraud, businesses run the danger of incurring losses from chargebacks, false positives, and operational inefficiencies.
Friendly fraud
When a customer makes an online purchase and then challenges the charge with their bank, friendly fraud has occurred. Chargebacks for the retailer are a common result of these conflicts.
Sometimes a customer willfully wants to contest the payment and keep the products or services. But more frequently, customers phone their banks or credit card issuers to challenge unauthorized payments.
Friendly fraud is typically not connected to criminal businesses, yet it can nonetheless hurt revenues and have an impact on stock. With a real-time chargeback prevention system, however, companies and merchants may stop friendly fraud, settle disputes, and prevent chargebacks.
Account takeover (ATO) fraud
When a human, bot, or botnet uses stolen credentials to access client accounts, account takeover fraud happens. Once they get access, criminals can use it to withdraw money or reward points, steal user information, or make purchases of products and services.
In addition to the financial losses, account takeover theft harms brand reputations and can break the faith of loyal customers.
The demand on the dark web for stolen email addresses, passwords, and other confidential personal information is the cause of the surge in this type of non-financial credentials fraud.
A malicious person can access legitimate customer accounts and take advantage of them if they figure out the proper username and password combination.
Refund fraud
Any business that ships products or accepts returns faces a serious challenge with refund fraud. Refund fraud basically occurs when dishonest actors use social engineering techniques to obtain free or discounted items, commonly through committing chargeback fraud when requesting a refund for a product they have not purchased or don't intend on returning.
Refund fraud can take many different forms, such as did-not-arrive (DNA), empty or mostly empty boxes, and fraudulent tracking ID (FTID). Some dishonest individuals are a part of larger, more structured organizations that abuse return regulations or offer consumers refunding services.
But not all criminals belong to such larger organizations. Some clients are opportunistic. In fact, according to a recent Kount survey on social engineering trends, 40% of consumers have utilized social engineering techniques to pressure customer care staff into
Top Features Of Ecommerce Fraud Prevention Software
Ecommerce fraud prevention software is a valuable tool for businesses of all sizes. Here are the top features that make this type of software so special:
It provides real-time alerts and notifications to help you stay on top of any potential scams or frauds.
It has powerful detection capabilities, which means that it can quickly identify any suspicious activity and take appropriate action.
It has a comprehensive reporting system that makes it easy to track and analyze your data in order to identify trends and patterns.
It offers various customization options, so you can create tailored alerts and notifications specifically for your business needs.
It's fully customizable, so you can easily add additional layers of security by implementing new filters or rulesets.
It offers 24/7 support, so you can always get help if needed.
It's affordable and easy to use, making it a great choice for businesses of all sizes.
Best Fraud Prevention Software In 2023
There are a number of top eCommerce fraud prevention software options available in 2023. However, the ones that stand out the most are likely to be those that can identify and prevent malicious activity before it has a chance to happen.
ClearSale is the most comprehensive eCommerce fraud protection solution on the market today. It's a cloud-based platform that helps you protect your business from all types of online fraud, including unauthorized credit card transactions, fraudulent orders, and more.
In addition to its robust fraud protection features, ClearSale also offers a number of other benefits, like real-time visibility into your sales and customer data, automatic order tracking and shipping notifications, and more.
Overall, ClearSale is the perfect solution for businesses looking to protect their eCommerce operations from fraudsters.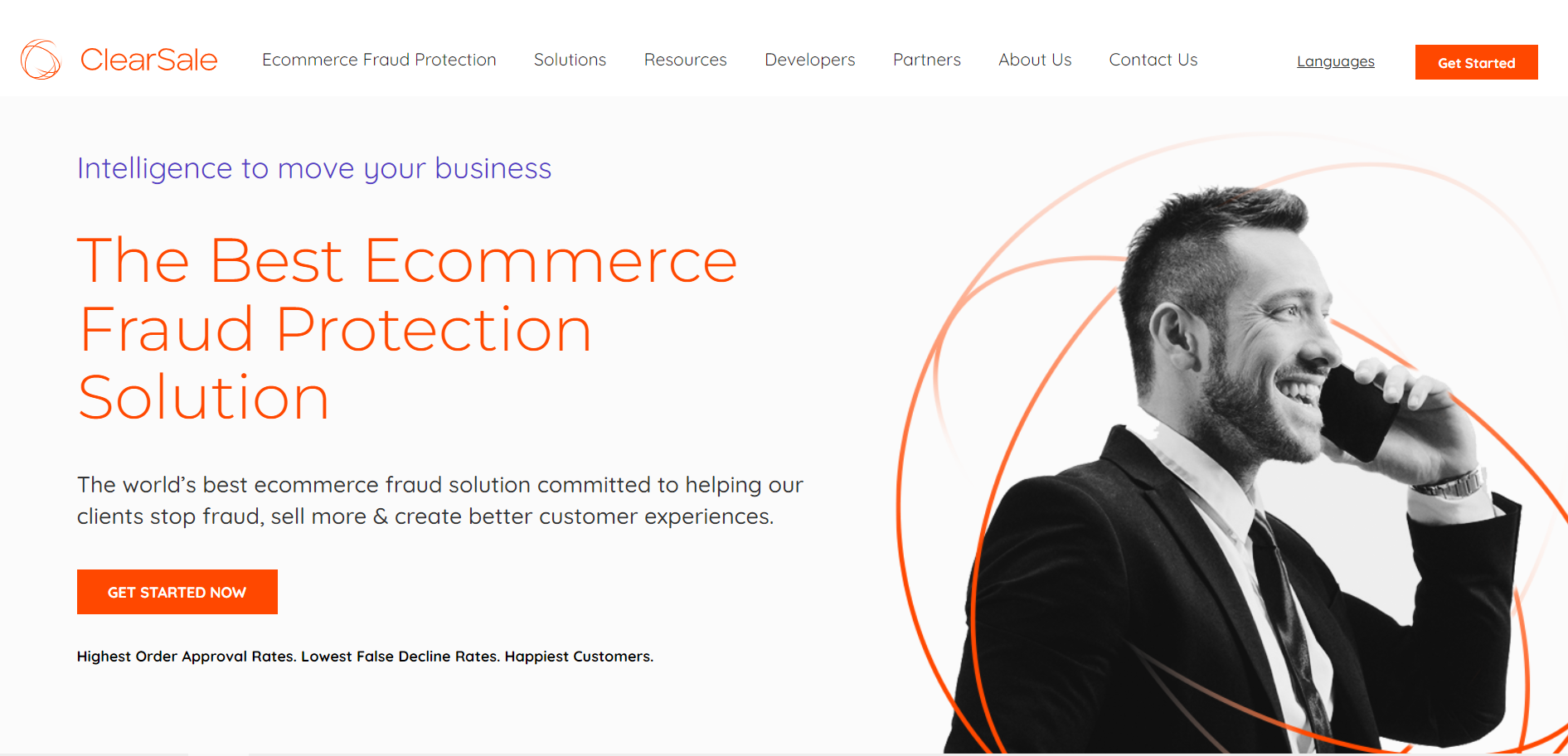 Pros of ClearSale
Cons of ClearSale
Hard time validating an order
Not allow the autonomous download of reports
Pricing
With Signifyd's crew, you'll be in great hands. Two engineers, who had worked at PayPal, decided to focus fraud software development on large corporate Ecommerce clients after leaving the company. Revenue Protection, Abuse Protection, and Payments Optimization are three products that Signifyd now supports 10,000 online businesses globally.
They automate chargeback protection via a chargeback-guarantee model, where they assume payment for chargeback admin fees, and their products are specifically geared toward high volumes of transactions. eBay, Illy, Birkenstock, and Samsung are among the notable Signifyd clients.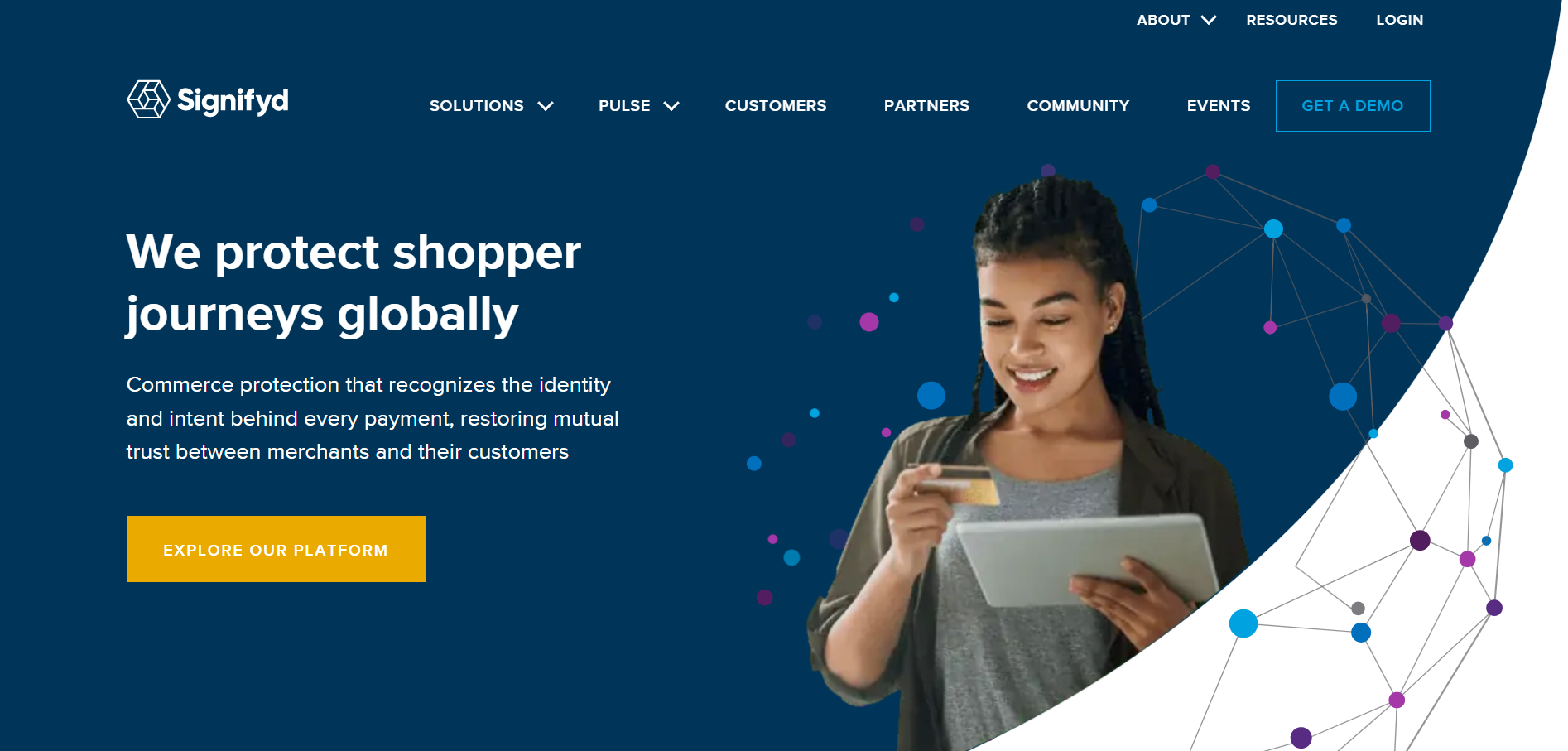 Pros of Signifyd
Chargeback prevention is automated, eliminating the need for credit card payments.
Other eCommerce fraud mitigation issues are covered
Cons of Signifyd
Pricing
With a machine learning platform powered by a worldwide merchant network to minimize fraud and maximize net revenue, supported by true chargeback protection and premium partnership models, Riskified is the market's smartest and most precise eCommerce prevention software.
Riskified verifies millions of transactions every day thanks to our platform's coverage of more than 400 million consumers in 180+ countries. Our platform gets smarter with each transaction because this data is fed back into our system. All of this data benefits our merchants, not just the information in their own database.
The company has created a comprehensive portfolio of services to safeguard and assist merchants across the whole customer cycle, in addition to our powerful Chargeback Guarantee product. They are willing to assist merchants navigate and stay ahead of the quickly changing world of eCommerce fraud with our Account Secure, Policy Protect, and Payment Optimization solutions.
Pros of Riskified
The user interface is straightforward.
Accurate identification of fraudulent purchases.
guarantee approved orders in case of fraud
Cons of Riskified
Needs graphical linked accounts overview
Sometimes red flags are not correct
Pricing
Being transparent, granular, and industry-agnostic are all qualities of SEON. SEON offers comprehensive data enrichment based on an email address, IP address or phone number, as well as a way to check 50+ social media and internet networks for related user information that will show your consumers' true intentions.
Several companies even employ SEON as an additional layer of data enrichment protection (accessible via a Chrome plug-in, among other things) thanks to the API calls' flexibility. You also have complete control over the risk rules, and a powerful machine-learning engine will suggest them based on your historical business data. Patreon, Air France, Avis, Ladbrokes, and LeoVegas are just a few of the notable SEON customers.
Pros of SEON
Cons of SEON
Pricing
NoFraud is an eCommerce fraud prevention software and checkout solution that protects businesses from fraudsters, eliminates chargeback losses and provides smoother, more frictionless checkout experiences for trusted shoppers.
NoFraud checks every order for fraud indicators in real-time, and it works straight with your eCommerce system. They provide a simple pass-or-fail decision for every transaction using a mix of advanced algorithms and active human review, so you never have to manually review orders or monitor fraud scores. NoFraud offers a 100% financial guarantee because we are so confident in our decision-making. If you get a fraud chargeback, we will refund you.
With NoFraud Checkout, you can boost conversions by designing a checkout experience that is beautifully designed to put reputable customers on the fast track.
With one click, any shopper in the NoFraud network can autofill their information, with no tedious account creation required. NoFraud Checkout automatically varies the number of input fields for each person based on customer risk factors. Riskier customers must supply more information, while more dependable consumers are processed swiftly.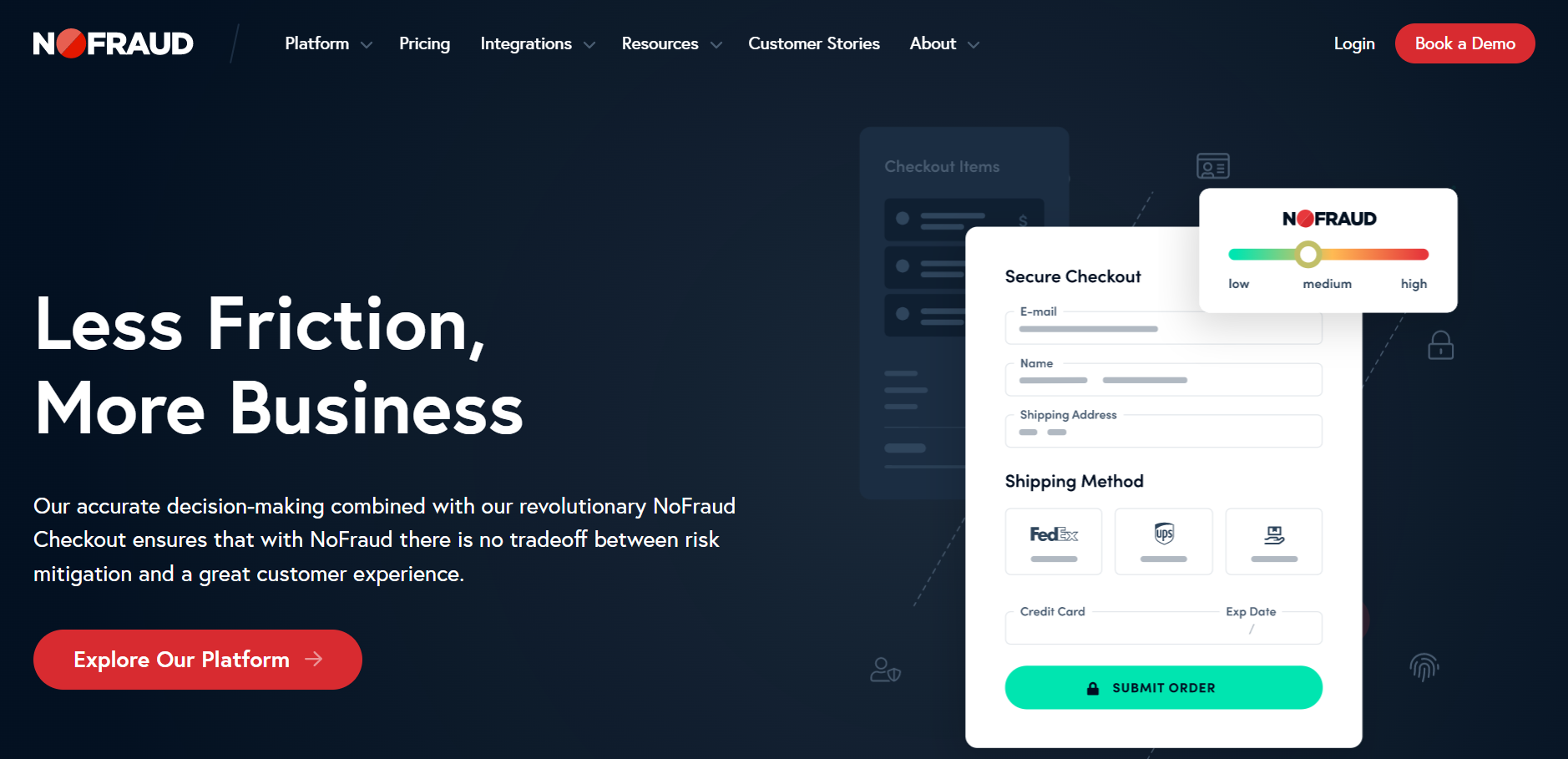 Pros of NoFraud
quick and consistent review of pricing
Cons of NoFraud
The fee structure is % based on sales which get expensive when scaling up
Pricing
Sift, which was founded in 2011 and is now worth $1 billion, received investment from startup accelerator Y Combinator. They cover 34,000 websites and apps, including well-known companies like Airbnb and McDonald's, for fraud protection.
A Digital Trust and Safety Suite, which combines all the individual API tools into one comprehensive solution, is one of its main offerings. After that, there is a module that allows you to enable 2FA at the same time and is specially built to verify users and prevent ATO attacks.
Sift provides a Payment Protection service that uses the information from its worldwide network for all of your chargeback problems. Machine learning creates new risk criteria and analyzes payment information in real-time.
Lastly, when going through a chargeback resolution procedure, you may also buy the Dispute Management module, which will help you monitor and record as much data as feasible. Airbnb, McDonald's, and Doordash are among Sift's clients.
Pros of Sift
Chargeback resolution module
Cons of Sift
No real-time social media checks
Pricing
Available upon request to the sales team
Kount was founded by Brad Wiskirchen after he came up with the concept "on the back of a napkin over a sushi meal," and it quickly expanded into a fraud-detection colossus with 9,000 clients across the globe. In early 2021, Equifax purchased the company.
Kount caters to corporate clients such as Barclays, PetSmart, Staples, and Chase, among others. It specializes in cutting-edge risk technology (it owns 30 patents). Via Kount Command, they provide everything you need for CNP (card not present) monitoring and protection.
To verify your identification, you'll need to purchase access to the Kount Identity Trust Global Network, which has been capturing data from 32 billion user interactions every year for the last 13 years. Kount Central is a payment processing solution, whereas Kount Control is an account takeover prevention solution that works with Barclays and Chase.
Pros of Kount
Strong chargeback prevention
Protect the whole customer experience
Customizable solution
Cons of Kount
No phone or media check
Nontransparent pricing
Pricing
Ekata Inc., a Mastercard company, empowers businesses to enable frictionless experiences and combat fraud worldwide. The Ekata Identity Engine, which combines sophisticated data science and machine learning to help businesses make fast and precise risk judgments about their consumers, is the foundation of their identity verification products.
Businesses can securely and privately verify customers' identities while maintaining privacy using Ekata's solutions. Their tools help more than 2,000 organizations and partners fight cybercrime while creating a seamless, frictionless experience for consumers in over 230 countries and territories.
Pros of Ekata
A thorough manual review method
Easily recognition
Cons of Ekata
Expensive, lengthy contracts
No real-time data analysis.
Pricing
Starting at 12.99$ for the advanced version
TruValidate (previously TransUnion and Iovation) is a well-established iGaming fraud prevention specialist that has been operating since 2004.
They are best remembered for their device recognition technology, which is used by iGaming companies to verify users and is essentially the defacto fraud detection software. The fintech, credit union, healthcare, and eCommerce industries are also using the software.
Authentication software, document verification using a proprietary database, and biometric validation are among the company's key products. Kaidee, Playcherry, and Gocompare.com are among the companies represented by TruValidate.
Pros of TruValidate
Users connecting to your website rely on the configurations of software and hardware.
iGaming specialization
Cons of TruValidate
No real-time data collection
No free trial
Pricing
The first invoice intelligence platform, Xelix, was created. It streamlines your defense against overpayment mistakes (such as duplicate payments, payments to wrong suppliers, incorrect sales tax, and other tasks that are heavily manual) while also automating significantly complex processes like supplier statement reconciliation.
Threats and errors may be investigated and fixed in real-time before payments leave the company by surfacing high-risk transactions in real-time. Xelix's artificial intelligence learns the rules and specifics of each firm over time, resulting in fewer erroneous findings.
Xelix willing to report that their market-leading accuracy rate ensures the customer team won't be wasting time following actual transactions. Moreover, Xelix enables users to make smarter decisions by providing them with relevant AP analytics, both retrospective and predictive. Get real-time email alerts and a fully customizable business intelligence dashboard.
Pros of Xelix
A fully customizable business intelligence dashboard
Free trial
User-friendly
Cons of Xelix
Pricing
Custom pricing based on the number of invoices
Bolt One Click checkout allows you to convert 50% more customers and increase revenue. One-click checkout, a 100% fraud chargeback guarantee, access to the Bolt Network's tens of millions of customers, and more are just a few of the features you get with Bolt.
Bolt is simple to use and can be customized in various ways. using BigCommerce, Magento, and PrestaShop without any issues. Let customers check out in seconds by simply turning it on.
Millions of delighted customers will benefit from Bolt's democratizing commerce by making online buying simple, safe, and consistent.
Pros of Bolt
Various services
Fast checkout
Less time vetting credit card transactions.
Cons of Bolt
Chargebacks are still a chore
Pricing
Contact sales teams for more information
The hopes for this program are naturally great since it is Visa's proprietary fraud solution. When Ecommerce became a reality in 1994, CyberSource established itself as an early adopter of online payment, then substantially expanded its scope by buying Authorize.net in 2007.
CyberSource provides four core modules to combat payment fraud, all of which are run by Visa's Decision Manager software and processed 2.2 billion transactions in the past year. Automated end-to-end service for Ecommerce payments is provided by these major payment acceptance, fraud management, payment security, and unified commerce payment solutions modules coming together.
In addition, the integrated payment solution offers companies flexibility in switching between payment systems like BNPL and fraud protection for new forms of payment currency.
With functionality for currency conversion, worldwide tax compliance, and customer lifetime management, other granular modules in the suite are also aimed at assisting merchants to expand their reach. Zoom, Rimowa, and Colgate-Palmolive are among Cybersource's clients.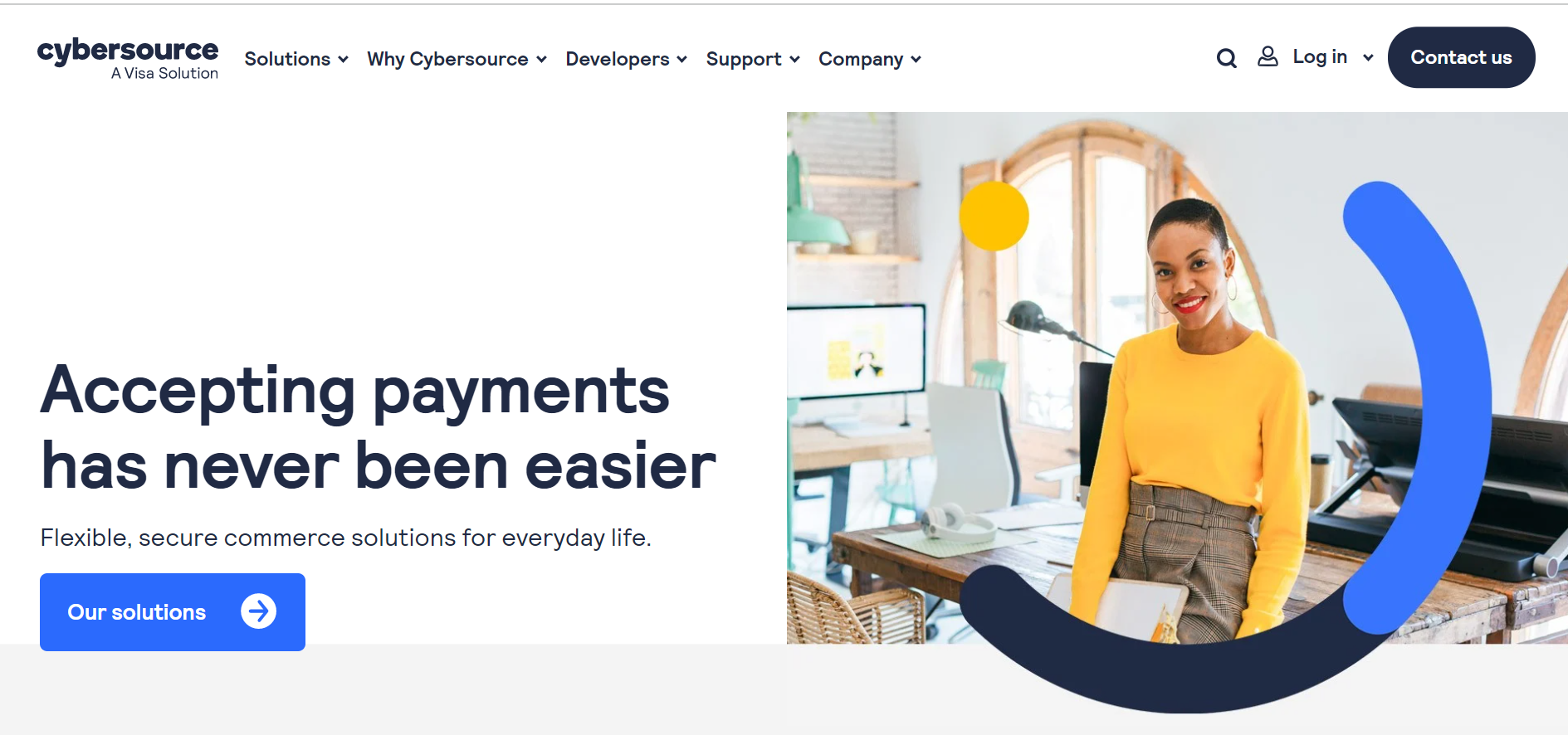 Pros of Cybersource
Software modules dedicated to growth
Interactive data analysis
Cons of Cybersource
Concentrate on large businesses
Pricing
To get a price from Cybersource, you'll need to get in touch with the sales staff as the company does not presently provide its pricing online.
FraudHunt was created to offer emerging countries a light and cost-effective fraud prevention technology. To do so, the data analyst and developer team created a platform that offers a dynamic security solution for Ecommerce marketplaces of all sizes and industries, including well-known clients Crediexpress and DataBrain.
FraudHunt's risk management solution is based on using risk factors in their device and browser fingerprint to evaluate incoming traffic. Each user's score is computed based on whether or not they successfully flip certain switches, such as proxy detection and the recognition of data from operating systems, browsers, and their shopping behaviors inside the marketplace.
Each lookup is then assigned a score to segment the traffic into quality, low-risk, or potentially fraudulent customers. The software creates a real-time score based on lookups performed throughout the customer journey.
Pros of FraudHunt
Relative low pricing
Possibilities for integrating Google Analytics and an easy-to-use reporting tool.
Cons of FraudHunt
Not the best for growing enterprises
Pricing
Bronze plan prices start at $25 per month and go up to $2,500 per month for up to 10 million unique users.
The American Express company's eCommerce fraud prevention software is Accertify, which touts itself as a true end-to-end fraud solution provider, from customer authentication to SCA optimization, and even chargeback management for those inevitable occurrences.
Accertify is one of the prevention solutions with the most legacy available today, having processed its first transaction almost 15 years ago. Several of its clients were start-up brick-and-mortar businesses that chose to turn to a recognized credit provider for reassurance as they grew larger and added eCommerce services.
Accertify Digital Identity is the name of the company's primary fraud detection mobile. Machine learning algorithms use community user behavior analytics and device intelligence to predict how to label each user in order to generate insights.
This is complemented by chargeback and reputation data from across the eCommerce ecosystem, which Accertify uses to inform its day-one tactics in order for results to be observed as soon as possible. Southwest Airlines and StubHub are two prominent Accertify clients. Urban Outfitters and Torrid are two stores nearby.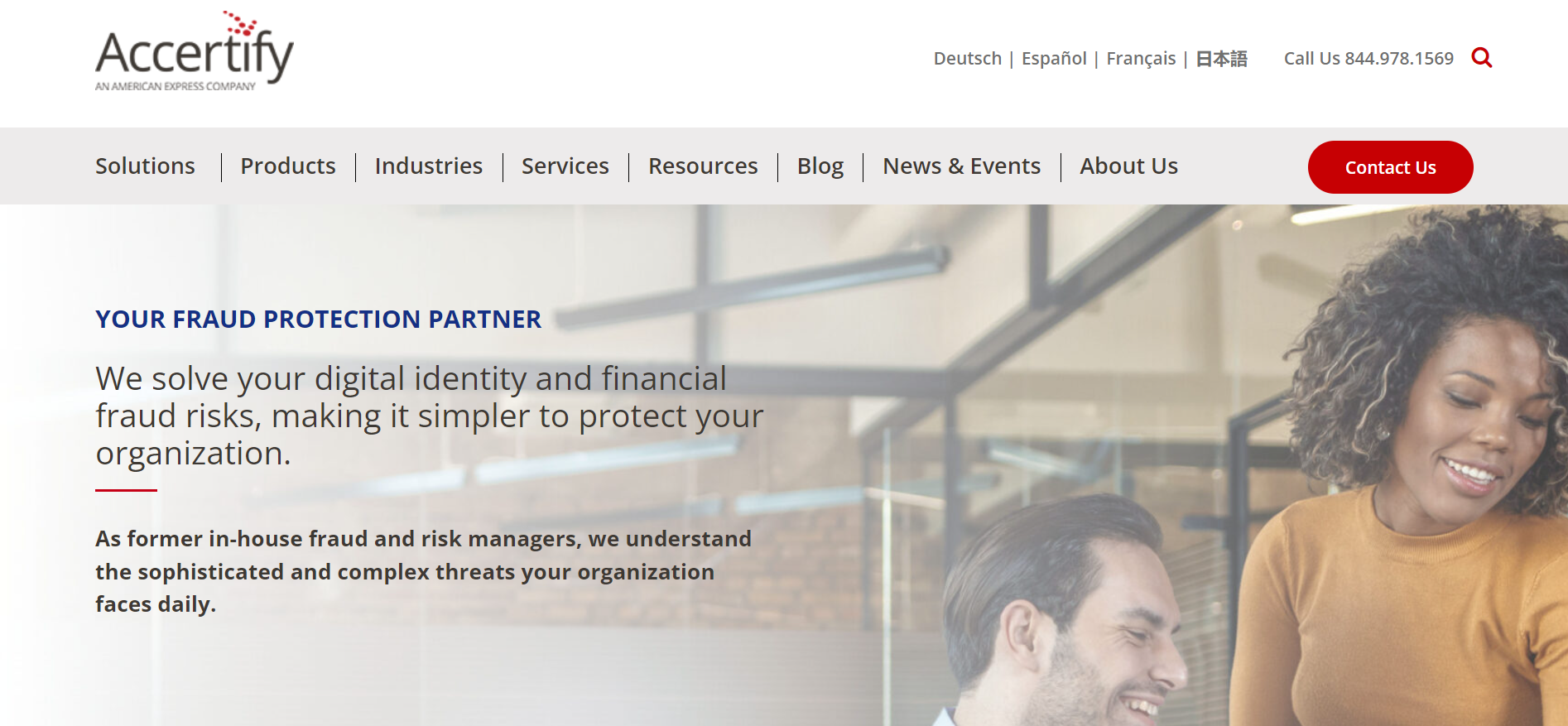 Pros of Accertify
Dynamic automation
Huge databases
Cons of Accertify
No social media augmentation
Pricing
Contact the company for more information
ThreatMetrix was founded in Australia in 2005 and acquired by LexisNexis Risk Solutions, which also includes Emailage. ThreatMetrix's trust decisions and fraud detection are informed by 78 billion records, with 270 million transactions being processed and analyzed every day.
ThreatMetrix uses the massive databases of LexisNexis' parent firm, RELX Group. With modules covering device intelligence, identity authentication, community-based data enrichment, behavioral biometrics, and automated decisions, the software suite's main products are intended to be a comprehensive fraud prevention platform.
ThreatMetrix provides services that can meet the needs of various industries and large-scale enterprises in particular at the contract level. SunTrust Banks, United Healthcare, and The North Face are among the companies that use ThreatMetrix, according to sources.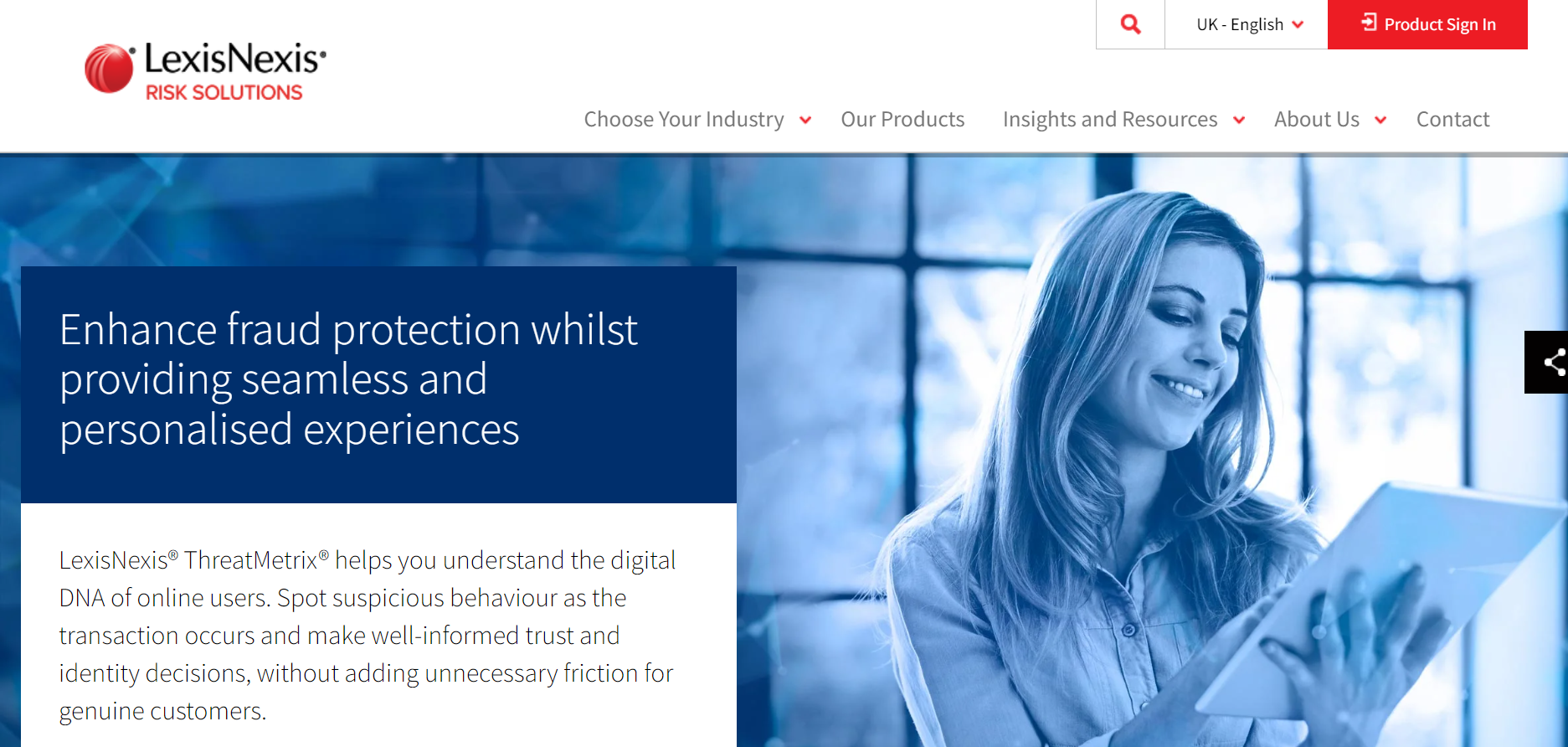 Pros of ThreatMetrix
Consortium ThreatMetrix
In-person integration
Cons of ThreatMetrix
A component of a bigger software portfolio
Pricing
FAQs
Why is fraud detection software vital?
Fraud detection software helps businesses to identify and prevent fraudulent activity, including online fraud, financial fraud, and identity theft. This technology can be used in a variety of ways, from preventing unauthorized access to company data to protecting against cyberattacks.
One of the key benefits of using this type of software is that it can help reduce the cost of security by identifying and blocking suspicious activities before they lead to any damage or loss. In addition, it can also help detect trends and patterns that may indicate a potential for fraudulence.
By implementing eCommerce fraud prevention software into your business procedures early on, you can put yourself in a better position to avoid any costly consequences down the road.
When shopping for fraud detection software, what should e-businesses consider?
When shopping for eCommerce fraud prevention software, it is important to consider the features that are most relevant to your business. This includes things like detection rates, triggers, and AI capabilities. Additionally, you should ensure that the software has a wide variety of integrations so that you can easily connect it with other systems in your company.
Another key factor to consider when selecting an eCommerce fraud detection software is whether or not it has been successfully used by others in your industry. By doing this, you can get an idea of its performance and reliability. Finally, be sure to ask questions about how the software will be supported and maintained over time.
Who needs fraud detection tools?
Anyone who is involved in the business world, especially those who are using online platforms or working with customers remotely, may benefit from fraud detection tools. These tools help to identify and prevent fraudulent activities from occurring which can lead to financial losses for both parties.
One of the most popular types of fraud detection software is called Malwarebytes antivirus. This program scans your computer for malicious files and viruses, helping you protect yourself against identity theft, data breaches, and more. It also helps protect your online banking credentials and other sensitive personal information.
There are also programs that monitor social media accounts for suspicious activity such as fake reviews or marketing tactics that could be harmful to your business operations.
How can the risk of eCommerce fraud be reduced?
E-commerce fraud is a growing problem that businesses of all sizes are facing. It can be difficult to detect, and even harder to prevent. There are a few things that you can do in order to minimize your risk, including:
Establish an eCommerce safety policy that includes measures such as shipping security protocols, product authenticity checks, and proper customer communication channels;
Implement electronic payment options that protect your customers' information and account credentials;
Use strong authentication mechanisms for users who have access to sensitive data or transactions;
Monitor user activity closely to identify any fraudulent behavior early on
Which is the most effective way to prevent and detect fraud?
Fraud prevention and detection can be a lot tougher than you think. The best way to prevent fraud is to adopt risk management principles, which include setting up effective controls, monitoring activity, and regularly reviewing your results.
Additionally, do your research before making any decisions that could impact your business or personal finances. You should also keep an eye out for red flags such as unusual account activity, sudden changes in financial status or behavior, and suspicious emails or phone calls.
If you detect any signs of fraudulent behavior, don't hesitate to contact your organization's security team immediately so they can take appropriate action. In the meantime, try not to panic by taking a step back and assessing the situation objectively.
This will help you make informed decisions about how best to protect yourself and your business from future fraud outbreaks.
Wrap Up
According to the data from fraud prevention software providers, 2023 will be another year of unprecedented growth for these products. Therefore, it is highly recommended that Ecommerce platforms equip their website with these tools in order to prevent any kind of fraud attack that can cost them a lot.
These tools provide real-time alerts about suspicious activities and also have powerful automation features so you don't need to worry about running manually every day. In addition, many vendors are offering free trials or discounts on certain purchases now as an incentive for implementing these efficient anti-fraud systems.
Besides preventing eCommerce fraud, there still exists a variety of problems when launching and running an eCommerce website like SEO, website updates & upgrades. Fortunately, Tigren provides eCommerce solutions from A to Z, you may rely on us when it comes to issues with your eCommerce sites. As a group of professionals in eCommerce development, we are always delighted to assist.
You can read more on Tigren's blog to find more information that you may use. For individuals who are serious about succeeding in the enormous eCommerce business and have a wealth of knowledge in the field, our team is constantly releasing new, helpful material and guidance. Our articles cover a wide range of eCommerce-related topics, from software development advice to online marketing strategies.
Related Posts: