There is no better time than now to join the global online marketplace, but it's not as simple as it seems. It's actually a complex process with many nuances that greatly influence eCommerce site rankings and overall success.
There are hundreds of bad eCommerce websites with good products that fail to get on top simply because of poor SEO. So what are these nuances? In this article, you'll get an idea of common SEO mistakes and how to avoid them.
1. Slow site speed
One of the biggest SEO mistakes is slow site speed. Not only does it affect Google rankings, but sales as well. If a website takes more than three seconds to load, it's likely to lose 53% of customers. People hate waiting, and the very concept of online shopping was created to make the whole process easier and faster. With the rapid development of the market these days, every detail matters if you want to be the best.
What could possibly stand in the way of a light-speed eCommerce website? There are several reasons for the process slowing down:
Large image sizes
Outdated plugins
JavaScript loading issues
Too many HTTP requests
Most of these problems are manageable even without help from a developer.
First, you need to understand what exactly is slowing the page down. The SE Ranking audit tool is a convenient way to analyze a website's performance and structure and identify issues related to speed, SEO, accessibility, and security.

The tool will give you a list of issues on your site that need to be fixed. All you have to do is go about fixing them.
2. Poor mobile optimization
The next common SEO mistakes have to do with mobile optimization. In this mobile-first world, many users rely on mobile devices rather than computers. Websites that are not mobile-friendly may suffer from lower search engine rankings and decreased user engagement. Shopping via smartphone is much faster, and you can use this to your advantage.
The more convenient the site, the easier it is to make money – it's that simple. It's a real pity when you load a site, click on a button, then another element loads, and you end up clicking on it instead. Put a little time into following Google's Core Web Vitals and choosing plugins that make the content fit on any screen.
3. Failing in keyword research and optimization
It is crucial to prioritize your audience in eCommerce SEO keyword research. Despite this, many companies disregard their target audience and instead focus solely on predetermined keywords that they think customers will search for.
However, these keywords may not align with actual customers' search queries. It is important to address search intent issues by analyzing search terms and the SERP to determine user intent.
For instance, are they seeking information, a specific product, or a local business? Are they interested in getting basic information or a detailed guide? This information can help you determine what products and content to offer on your eCommerce website.
Additionally, it's worth noting that while keyword optimization is crucial for SEO, overusing keywords can actually harm eCommerce websites. To speed the whole thing up and get better results, try using a keyword research tool.
4. Poorly optimized product pages
Typical errors, such as inadequate product descriptions that lack uniqueness, poorly written or missing meta titles, and a failure to optimize keywords have a great influence on a customer's desire to buy anything from the site. Another critical aspect that can significantly affect a user's purchasing decision is the presence of product reviews and user-generated content.
When customers can see other people's opinions on an eCommerce website, it gives them a feeling that the service is reliable. Reviews also show up on the SERP, which may increase the click-through rate.

Even if some of the reviews are negative, this feature still helps to gain trust.
To start dealing with a problem, try developing a checklist for all the SEO tasks you need to do for images, titles, descriptions, and additional functions. When you have everything structured, it'll be easier to manage it step by step.
5. Duplicating your content
Among other on-page SEO issues, duplicated content can hurt eCommerce websites by confusing search engines and lowering the eCommerce site rankings. This can happen when the same content appears on multiple pages (you have issues with URLs) or when content is copied from other websites (e.g., a manufacturer).
When fixing this issue, try to avoid copy-pasting and aim to have individuality in the text info on your page. You can either do it yourself, hire a copywriter, or use tools like ChatGPT for rewriting.
You can use a specialized tool to crawl the page for duplicate content and fix it. A good SEO tool like SE Ranking will highlight duplicate content and lead you to pages you have to update.
Although it may take some time, it will definitely boost the performance of the website.
6. Long messy URLs
Disorganized URLs can pose difficulties not only for human readers but also for search engines that rely on the data in the URL for indexing purposes. In most cases, lengthy URLs are generated dynamically through the use of publishing and content management systems. It's best to use semantically meaningful short URLs with no numbers in them.
Here's an example of a well-written URL.

Another essential step regarding URL quality is purchasing an SSL certificate. It serves as evidence that the connection between the server and the user is secure and encrypted, indicating that your website is safe to use. If your eCommerce store lacks an SSL Certificate, buyer-sensitive information, such as a credit card number, becomes more susceptible to hacking and theft.
7. Ignoring local SEO
Local SEO is a specialized approach to search engine optimization that aims to increase the visibility of a business in local search results. It involves optimizing a website and its content to rank higher on the SERP in location-specific searches.
Building local citations can be done by submitting your business to local directories, creating profiles on social media platforms, and reaching out to local websites and blogs to request a mention.
Another deciding aspect of local SEO is to solicit reviews from customers. Positive reviews not only improve the reputation of a business but also signal to search engines that the business is relevant and trustworthy. Encouraging customers to leave reviews on platforms like Google My Business, Yelp, and Facebook can significantly impact local search rankings.
Prioritize GMB reviews because they're displayed by default in all local searches and can increase the click-through rate.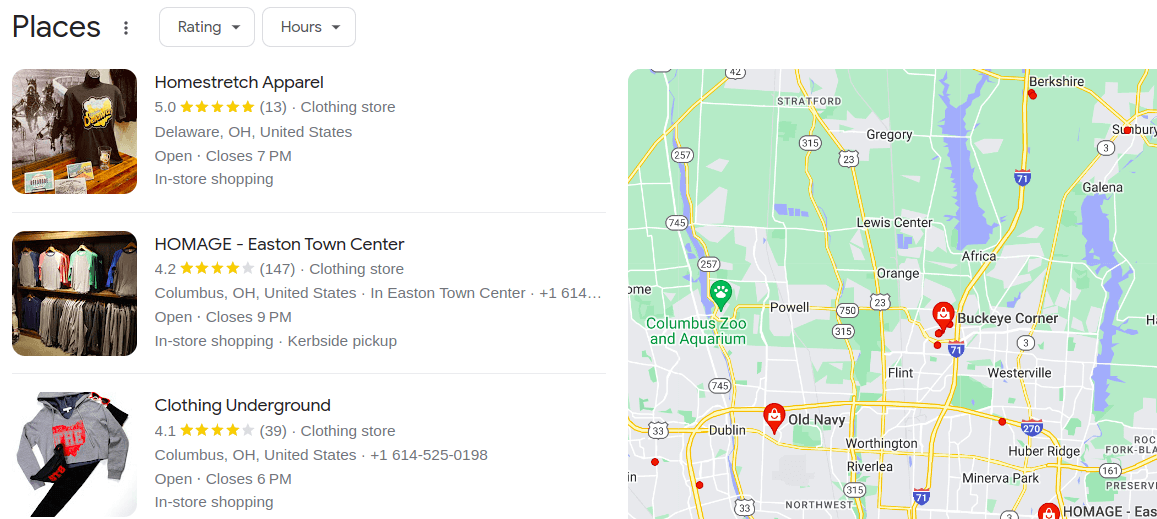 8. Not optimizing for voice search
With the rise of voice assistants and smart speakers, it's important for eCommerce websites to optimize for voice search. Otherwise, they may miss out on potential traffic and sales from users who prefer to search using voice commands.
To capitalize on the rise of voice search, eCommerce websites should focus on optimizing their content for natural language queries. This involves incorporating long-tail keywords and phrases into product descriptions, titles, and other on-page content.
Additionally, websites should ensure that their site structure and navigation are optimized for voice search, with clear and concise product categories and subcategories. It's also important that the website is mobile-friendly and loads fast. Voice searches are often conducted on mobile devices, and users expect a quick and seamless experience when using voice assistants.
9. Not creating a blog for your store
Blogs are a powerful marketing tool that can help eCommerce websites drive traffic and build a loyal following. When done correctly, a blog can attract potential customers who may not be ready to make a purchase but are interested in learning more about a particular product or topic.
By providing valuable and informative content, businesses can establish themselves as experts in their industry and build trust with their audience. By creating high-quality content focused on the right keywords, businesses can improve their visibility in search engine results and attract visitors who may not have otherwise found their site.
One effective approach is to write about topics that readers are likely to be interested in, such as using your products, choosing the best products, how-to's, and lists. For example, if you sell athletic wear, you could create blog posts about topics like how to choose the right workout gear, the benefits of wearing compression clothing, or tips for staying motivated during a workout. It is also effective to focus on creating shareable content.
Lists, infographics, and other visually appealing content can be highly shareable on social media and other platforms, helping to increase your reach and attract new visitors to your site.
Summary
A business should never stop looking for new ways to improve. Making your service convenient for both you and your clients will drastically change the direction of your business and take it to a whole new level.
Although some problems are easier to fix than others, you should never hesitate to put in the time and effort. Improving eCommerce SEO is a long-term strategy that requires ongoing effort and attention. It's not a one-time fix but a continuous process of monitoring, analyzing, and optimizing your site to ensure that it's performing at its best.
While common SEO mistakes can be detrimental to your business, they can always be improved upon. By focusing on identifying and fixing these issues, you can improve your site's visibility, drive more traffic, and ultimately increase your sales and revenue. So welcome the progress and get the most out of it!