Within short periods of time, eCommerce has boomed exponentially worldwide, especially in Canada. During the Covid lockdown, eCommerce starts thriving greater and redefining our current daily behavior of shopping. Now is such a great time to find the best suitable eCommerce web development companies in Canada to turn your ambitious business idea into reality.
Look no further as in this post, you will get detailed info about some of the top credible and highly capable Canada-based web development services, along with our useful tips and reviews when choosing the best match for your eCommerce store. Keep scrolling till the end!
What To Consider Before Contacting Ecommerce Web Development Companies In Canada?
Your Requirements
Knowing what you want for clear also ensures that you can keep track of the work from the providers. So we advise you to do some background research, set clear goals and actions, then turn those strategies into unique and concise requests to send to the agency.
For instance, if you operate in the B2B world, such as wholesale, then your website should focus on performance to showcase a massive range of products. But if you do wholesale clothing for the mums, it's important to take care of the storefront design as well, not only focus on functionalities like technical products.
The same applies to retail, B2C focuses heavily on building trust and relationships with visitors right when they land on site, through extra features such as testimonials, social media integration for reviews push-up, and notifications on who just bought things.
The Cost
In general, mostly the eCommerce web development cost depends on how many hours the developers put into the work, or how complex the project is.
Data points out that an average income of a Canadian developer is around $79,654 per year, which is $41,59 for the common hourly rate. With that said, entry-level developers will charge you a minimum of $15-$20/hour while the price to hire the most experienced ones is $60-$80 per hour.
When classifying the cost based on the project's complexity, normally we will have 3 types: the basic, the advanced, and the custom eCommerce web development. The basic range starts at $8,000 and the custom range starts at around $20,000 and $22,000.
After-Service Support
Launching your website isn't the finish line. Bugs and errors are like a daily occurrence, new web owners might need more instruction on how to manage an eCommerce store, or they would want to have a close-by team to contact in urgent times.
The last thing we want customers to see is the unprofessionalism when letting them encounter any error on-site which might lead to doubts or frustration. This is when post-service support becomes critically vital.
That's why eCommerce web development companies also provide the cost of maintenance, which is for recurrent check-ups and optimization. These costs might range from $7,000 to $20,000 per year.
Top Reliable Ecommerce Web Development Companies In Canada
Now let's dive into some names that you can choose to look up further.
Main address
1331 Ellis Street Unit #1
Kelowna, BC V1Y1Z9, Canada
Services
They provide full-stack eCommerce development, end-to-end inbound marketing from SEO, SEM, content marketing and blogging, marketing automation, training materials and services, sales-focused strategy, to DevOps.
Strengths
Meticulosity is the expert in their industry and they focus on delivering the best quality possible for their client's own good. They value great teamwork and a sustainable relationship with the community.
They specialized in the field of mid-market, enterprise businesses, and online retailers. Meticulosity has been recognized as HubSpot Platinum Partner Agency, Magento Solution Partner.
Main address
2600 Skymark Ave Unit, 5-104, Mississauga, ON L4W 3T7v, Canada
Services
Ecommerce software development (custom web solutions for retail businesses, dropshippers, small businesses, and big enterprises).
Magento and Shopify development (premade and custom templates/apps, data integration), Woocommerce (specialize in WordPress Woocommerce Development for SMB).
Digital marketing services (content strategy roadmap, SEO, email marketing, SMS and influencer marketing, and paid marketing).
Strengths
They have more than 8 years in the eCommerce web development industry with 290 satisfied clients and 321 completed projects.
All their work is under 3 principles: Simple, Tailored, and Affordable. They have strong experience in diversified categories: hospitality, travel & tourism, legal, architecture & design, real estate, entertainment, industrial, and technology.
Main address
Great Lakes, Toronto, Ontario, Canada
Services
Technical operations and support (cloud services, website hosting, data analytics, application & data migration, security services..).
Website, app design, and development (UI, UX design, creative concept design, responsive web,..).
Business strategy and planning support (market research, product management, budget control, strategy planning..).
Digital marketing strategy and solutions (digital ad production, SEO, social media marketing, content marketing, CRM..).
Strengths
Lush Concepts has a rich quality in providing digital services since 2001. Almost every client comes to them through word of mouth with 86% of their projects being from existing businesses.
They laid a strong foundation with the businesses they worked with, proven in ongoing projects up to 5+ years.
Main address
Toronto West: 2275 Upper Middle, Rd. E, Suite 101
Toronto Downtown: First Canadian Place, 100 King St. W. Suite 5700
Services
Digital strategy (cross-functional leverage of technology, digital marketing, and UX).
Design (logo, custom web, brochure, and business cards, print, UIUX design, signage design, infographics).
Web development (eCommerce platforms: Magento, Shopify, WordPress, or custom web development based on frameworks: React, Laravel..).
Mobile and app development (native apps, web apps, cross-platform mobile apps, progressive web apps, enterprise apps, customer-facing apps).
Strengths
Optasy is a full-service software provider specialized in crafting new emerging technologies to provide web owners with innovative and unique solutions. They embrace the novelty and the uniqueness in the digital world.
They own a rich history being a Drupal web development of full-cycle projects from structure planning to maintenance and long-term support, with 2 international presences in the US and Netherlands.
Main address
229 Niagara Street Toronto, ON, M6J 2L5
Services
Ecommerce development (web and app design, payment gateways and marketing tools integration, custom features build..)
Drupal and WordPress design and development (SEO, CMS features build: multi-lingual website, custom user development system..)
Mobile development (native app, hybrid app, adaptive UX development,..)
Strengths
VerticalWave offers high-end solutions for global online companies in a journey of 8+ years. Their expertise is wide with different industries, and they support from little requirements to complex projects.
Their main project management approach is based on Agile strategies namely Scrum and Kanban. They work closely with clients through feedback to ensure a tailored result that is highly satisfied.
How Canadian Businesses Can Save Cost On Ecommerce Web Development?
As you can tell, legit eCommerce web development companies in Canada love to bring about top solutions that are rich in creativity, and disruptive technologies. Being one of the top developed countries in the world, we know that their services are highly chased after by many big names out there globally.
But what about freshly emerged and fledgling businesses with a limited budget who just need simple and minimum viable solutions to set foot in the door of eCommerce? What about developing an effective site based on well-proven platforms and old-but-gold technologies?
So if this section catches your eyes, you must be eyeing the ways to cut down eCommerce development costs without sacrificing the quality of your site. If there's one way that you can worry-free pay for top-tier services, it's outsourcing your web development.
Why? Because of the low labor cost that gives you a tremendous edge over businesses in these low hourly rate countries. With the same services provided, same quality and time built, or even faster.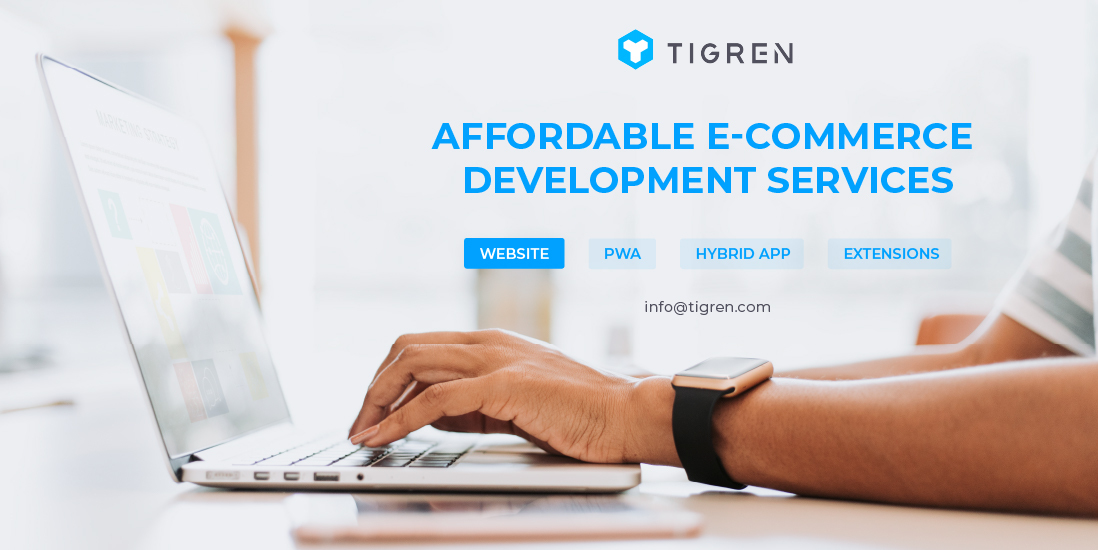 Here at Tigren, we understand your desires and concerns. And we can help you kickstart a powerful, highly scalable eCommerce site to sky-rocket your sales in no time. We have accompanied numerous global small and medium businesses to thrive in the digital environment.
Starting from 2008, we set the vision to make dedicated services available for everyone in need. Until now, we had become the world's eCommerce web developer with satisfied 800+ projects carried out.
Our eCommerce development packages come in variable pricing options with full cornerstone features. You will get day in and day out updates from us, and feel comfortable to ask us any inquiries, at any time even after service. You also provide free support from 3-12 months to ensure you soundly set up the online business.
Drop us a message! We would love to hear your sharings.