As a business grows, the scale of work and management tasks may become overwhelming. To solve this issue, businesses turn to ERP and/or CRM. They are the two most common software allowing businesses to manage their resources more efficiently. Yet, many want to compare ERP vs CRM to conclude which one works better for their company.
Choosing what to adopt into the business's procedure is not easy, especially when it affects many people. In this post, we'll help you make the right decision by thoroughly covering a number of points between ERP and CRM.
Understand The Two Systems: ERP vs CRM
Similarities
The main reason to use either ERP or CRM is to improve your business process efficiencies. In general, by integrating them, a business will have a structured system to manage and allocate resources among each department effectively.
With management software, now you have a better place to search for customer data, track monthly activities, or make mistake-free quarterly reports.
It enables closer-deal management and helps executives know what is happening with a real-time outlook. This would bring much value to growth-oriented companies.
Differences
Overview
CRM or customer relationship management was built initially to improve sales activities. Customer interaction is a central field of modern marketing, hence multiple systems were being developed to manage customer service.
With innovation, some CRM providers now offer more complex sales performance management systems and sales incentive compensation in separation for ease of control.
The earliest ERP, or enterprise resource planning, mainly tracked inventory and production. It then took on other business functions from accounting, sales, engineering, and human resources, serving as a single source of corporate data with high accuracy.
While ERP systems can provide a part of CRM, there's no other way around. ERP takes on a broader view of business resources allocation. And CRM is more about customer-centric processes.
Target
The outcome of CRM is to drive customers' satisfaction and loyalty, supporting the sales and marketing teams in making quick, proper decisions. It represents the business frontline, taking care of each touchpoint in the sales funnel.
On the other hand, ERP focuses more on the backline. It is deployed across multiple departments but primarily supports the finance and accounting team, handling enormous data.
Specialization
From the target, we can tell that to facilitate large sales volume and better customer services, we need CRM. ERP will deliver the optimal solution to optimize business resources, thus driving the functioning process streamlined, effective, and cost-efficient.
By managing an effective relationship with customers, CRM helps ensure a regular flow of sales revenue. By focusing on the in-and-out of cash flow, ERP offers you have better control over your most important resources, time, and money.
How Each Software Works
ERP
ERP serves as a centralized system for one database, allowing core business processes to be managed corresponding to each other. This way, employees can focus on valuable data.
Updating and receiving real-time standardized info, with issues being sent directly to the person in charge, makes fewer errors and faster.
ERP touches all areas: inventory and order management, supply chain system, from production, distribution to fulfillment, e-commerce, HR management system, and customer service management.
With the role-based function enabled, sensitive data can be accessed only by the ones with permissions, improving audit tracking and avoiding risks.
CRM
CRM tracks every record made with the customers, forming a complete script of the interactions between corporates and customers. To illustrate, a salesperson cold calls a prospect, they would take note of the conversion crux. Then a marketer uses that info for marketing activities to convert the lead into a customer.
It's easier to recognize where has gone wrong and how to fix it when an issue occurs with customer service. Similarly, all data is standardized and easily accessible across departments.
The value of CRM is to acquire businesses with a central record holding all customers' data and the interactions made.
From there, the marketing team uses analytics to understand more about their target segment, thus fostering strategic decisions to be made.
Based on previous performances, businesses can also generate valuable implications of preferable tactics, frequencies, and quantities to their customers.
Key Features
| | |
| --- | --- |
| ERP | CRM |
| Financial management/Accounting | Marketing automation |
| Order management | Salesforce automation |
| Supply chain management | Contact centre |
| Production management | Customer self-serviced area |
| Inventory management | |
| Procurement | |
| Human resources | |
Benefits
ERP
ERP helps businesses pull out multiple kinds of reports in a blink of an eye because all data is gathered in one place.
An ERP system helps accountants improve both the speed and accuracy of closing the books. This is the most profound change in outcome visible by shortening weeks of progress into a couple of days.
They can conduct analysis and report in time. Consequently, businesses make more reliable, data-backed decisions to respond to the market's fluctuations faster. This means more opportunities for success and turns them into profitable actions.
CRM
A CRM system can produce sales projections, nurture leads, track sales funnel, manage invoices, automated communication, and more. CRM helps improve task efficiency, accurate customer data and enhances customer relationships with as many satisfied touchpoints as possible. As a result, sales increase.
Making The Choice: ERP vs CRM
It depends on your business model mostly. For a company with a large-scale customer database or operating in a luxury field with high-value customers, it's best to upgrade your performance with a CRM system.
Some companies that have failed to save enough for reinvestment or have problems with complex financials might like to go for ERP. However, the case is not that simple, and businesses always want to drive more revenues while reducing costs to the minimum.
So both systems are, frankly, quite essential for most companies. An ERP smooths out the operation, cuts off wastes, and lets employees handle the actual work. At the same time, a CRM nurtures prospects into buying customers and maintains value-added connections with them.
Most businesses tend to acquire both solutions to accelerate their growth more critically and sustainably when having a chance. Of course, CRM is a part of ERP, but only if you require it. You must pick the ERP package that includes CRM from the get-go or integrate CRM into your ERP, or customize ERP to add some CRM features.
But as we move into the cloud computing stage, things yield a new situation: overlapping features and functions. So clearly, you don't want to make mistakes in such a significant endeavor, here's our suggestion in choosing the right system to integrate into your business structure.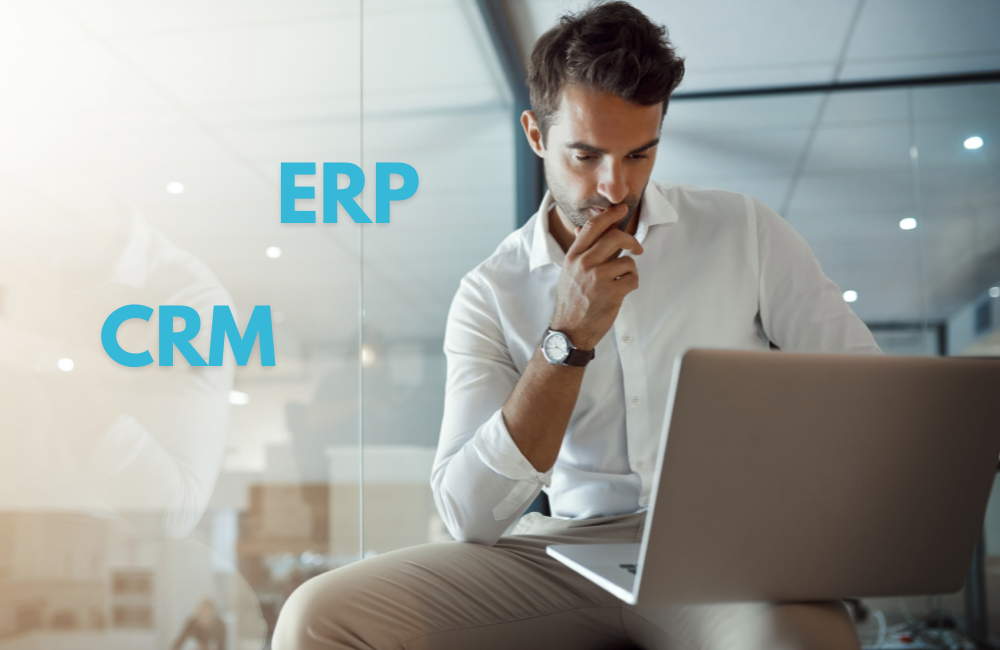 Pick An Interconnected Solution Strategy
Systems that come from the same place or are closely related and well-combined tend to get more compatible and powerful than unrelated solutions.
As there's overlapping between ERP and CRM in these decades, the same-branded solution can help you save time on making a new integration run accordingly with the existing technology structure and work process.
User-based Decision
If it's beneficial to support users with processes that require data from both systems, then a valuable practice would be focusing on the most demanding solution and corporate into one.
This would minimize the need for licensing while simplifying the employees' tasks. So after the training on that solution, they can free themselves from data and tracking, focusing on the core stages of the process.
Get Help
It's reasonable that you rely on your integration partner: they know deep and wide about what's going on around their field. All the ins and outs of CRM, ERP that you might take quite an amount of time to master the roadmap.
So standing in front of such a threshold that will impact your business future, why don't you ask experts to finalize which system to use, any suitable adaptation available, any way to optimize the system with your structure, or any advanced solution like so.
ERP vs CRM Integration Solutions
ERP and CRM integration connects this system into your business structure and synchronizes it with other software applications. Finish the first half of the journey, now it's time for you to turn strategy into reality.
Choose Your Suitable Integration Platform
Each business has no identical conditions and therefore requires a different choice set. However, one common denominator of every process is to find an integration platform that can best afford the needs both in the short and long term.
Regardless of B2B or B2C integration, app or data, or SaaS deployment, the unified platform should be robust enough to support diversified EDI and non-EDI data formats along with the patterns. This is the key qualification for a successful integration strategy.
Decide Your Business Integration Strategy
Every move you make must align with your business goals and operating model. There are 3 common strategies that businesses use: single CRM integration, single ERP integration, and an ERP-CRM joint integration.
You can build CRM features into the ERP system, as we've pointed out. But to choose what to apply first, CRM or ERP, depends 100% on your goal and needs. You can even pick a combined solution from the beginning if your structure can handle the complexity of both.
Contact A Reliable Integration Service
Choosing a name to help you integrate ERP or CRM follows the same way when you look for a business partner. You look into their experience, testimonials, prices, and demo work. To make matters worst, ERP/CRM integration service providers are numerous on the market, but it's still hard to choose the budget-friendly one with the quality and the offerings you need.
If the service fee is some big thing on your mind, but you also don't wish to sacrifice the quality, reach out to Tigren. We are one of the leading names in e-commerce development for over a decade.
With the low hourly rate benefit, our mission is to support as many business owners and entrepreneurs as possible to achieve their goals. We're striving to make the time working with us helpful to you: transparent process, short-time development, dedicated service with in-need support.
We also offer a free consultation to help you with everything you need. If you have any questions, don't hesitate to reach out to us at [email protected].
ERP vs CRM – Takeaway Keys
In conclusion, deciding between ERP vs CRM can be a daunting task for any business. However, it's essential to remember that both systems play a critical role in managing and improving your business operations.
While ERP is great for allocating resources and enhancing the cost structure, CRM excels in managing customer relationships and driving quality connections.
Ultimately, the choice between ERP vs CRM will depend on your business needs, goals, and budget. If you need help selecting and integrating the right system for your business, contact Tigren. Our experts can guide you through the process and ensure that you get the best ROI from your investment in ERP vs CRM.
Related Posts:
Finding The Best CRM For Small Business Needs