Facebook Ads are a great way to reach your target audience and boost your online sales. But which agencies are the best at creating effective Facebook Ads? In this article, we'll provide you with a list of the top 20 outstanding Facebook Ads agencies for eCommerce businesses. We'll also give you a brief overview of each agency and its strengths in creating effective ads. So what are you waiting for? Let's get started!
How Do Facebook Ads Benefit Ecommerce Companies?
Facebook ads are a great way to reach more people with your products and services. They allow you to target people based on their interests and behavior, which means you can reach those who are most likely to be interested in what you have to offer.
There are a number of different types of ads that you can use on Facebook, and the one that's best for your company will depend on the kind of audience that you're trying to reach. For example, product ads work well for businesses that sell physical products. You can target customers based on their location, age, gender, or even interests. You can also run ads targeting people who have recently made a purchase or visited your website in the past.
You may also want to consider running paid search ads on Facebook. These ads allow you to target people who have already searched for specific keywords in Google or other online sources. This is a great way to get clicks from people who are specifically looking for what you have to offer.
Overall, Facebook Ads are an effective way to reach more people with your products and services and increase your conversion rates.
Why Hire An Ecommerce Facebook Ads Agency?
There are a few key reasons why hiring an eCommerce Facebook ads agency is a better idea than trying to launch these ad campaigns by yourself. Here are just a few of them:
First and foremost, an eCommerce Facebook ads agency will have a vast amount of experience in this area. They will know how to target the right audience with the right message, and they will be able to adapt their campaigns as the market changes. This is something that you simply cannot do on your own – you'll be constantly chasing after the latest trends instead of sticking to what works.
Another big advantage of working with an eCommerce Facebook ads agency is their deep understanding of users' interests and behaviors. They'll be able to identify which keywords and phrases are being searched for most frequently, and they'll be able to craft ads that focus on those topics. This means that your ads will be more likely to reach your target audience, and you won't have to spend hours tweaking them until they're just about perfect.
Finally, an eCommerce Facebook ads agency knows how to drive traffic back to your website. They'll use all sorts of different strategies (pay-per-click, social media advertising, email marketing) in order to get people clicking through your ads and checking out your products or services. This way, you can finally start making some real money from your website!
How To Find The Best Ecommerce Facebook Ads Agencies?
Finding the best eCommerce Facebook ads agencies can be a daunting task, but it's vital that you do your research beforehand. Below are some steps you should follow when looking for your partner.
Ask about their experience
To find the best Facebook ads agencies, you first need to assess their experience and track record. Ideally, an ad agency should have a lot of experience with Facebook advertising and be able to provide you with good advice on how to maximize your campaign's potential. They should also be able to help you troubleshoot any issues that may arise during your campaign and offer solutions.
Ask about their process
When you're looking for an eCommerce Facebook Ads agency, it's important to ask about their process. This will help you get a sense of how they work and what kind of results they are able to achieve.
You want to make sure that the agency you choose has a well-defined process for creating and executing effective Facebook ads campaigns. This way, you'll know exactly what to expect from them and you won't have to worry about anything unexpected happening.
Some key questions to ask your potential agency include:
What kind of research do they do before starting a campaign?
How do you decide which ads to run?

What kind of data do you use to make decisions about ad campaigns?

What kind of insights do you provide clients about their ads and marketing efforts?

How often do they update their campaigns as new trends emerge?

What kind of targeting options are available to them?
How do you measure the effectiveness of your ads?
What kind of tracking capabilities are available?
Ask about their strategy
The next step to seeking your perfect eCommerce Facebook ads agency is asking about their strategy. This will help you to determine whether they are targeting the right audience and creating effective content. Some common questions that you can ask an eCommerce Facebook ads agency include:
What are your overall objectives for the campaign?
How do you plan to measure the effectiveness of the campaign?
What kind of targeting do you use?
What kind of content do you think is most effective?
Ask about their pricing
Another important factor to consider is the eCommerce Facebook ads agency's pricing. It's important to find agencies that charge a fair price for their services. It's also important to make sure that the price you're charged reflects the quality of their work. You don't want to end up spending too much money on ads that don't produce results.
Another important thing to consider is how often the agency updates its prices and services. Make sure that you're always kept in the loop about any changes or updates so that you don't end up overpaying for something that's no longer necessary.
Top 20 Facebook Ads Agencies For Ecommerce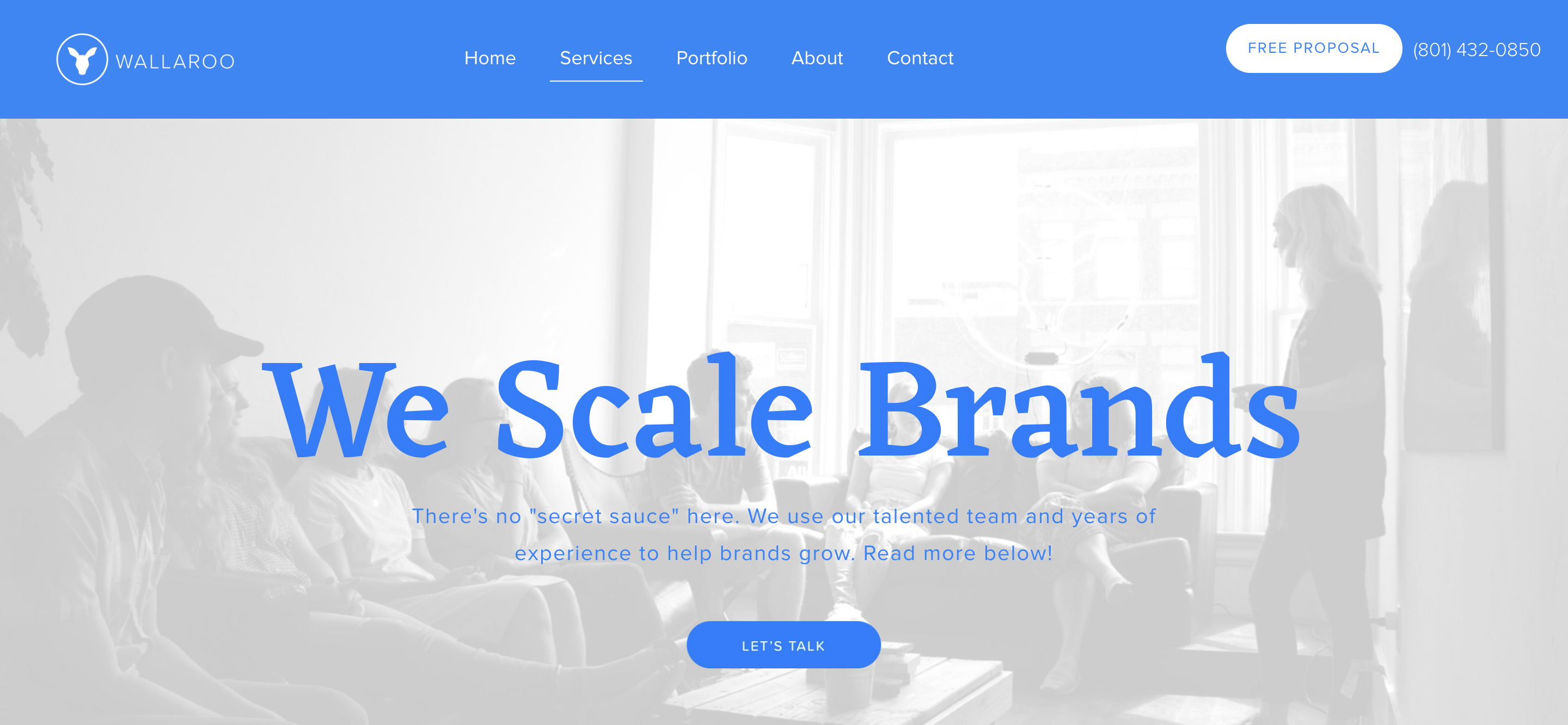 Wallaroo Media is a full-service digital marketing and advertising agency that specializes in scaling eCommerce brands. They do Facebook paid advertising since 2012.
One of the main benefits of working with Wallaroo Media is their experience and expertise with Facebook paid advertising. This allows them to target your ads precisely to reach the people who are most likely to be interested in what you have to offer. Their targeting options include demographic, interest, location, and even behavioral targeting.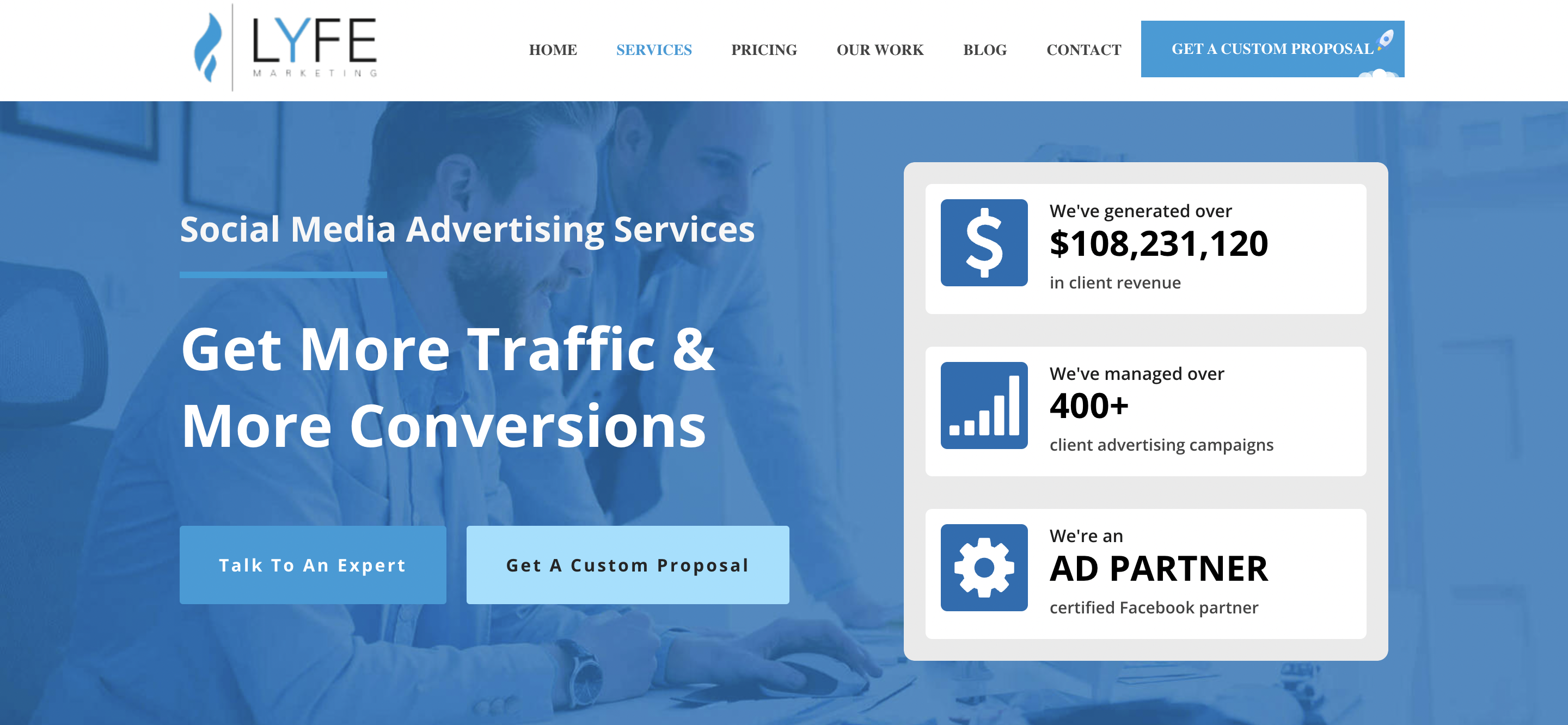 Lyfe Social Media Advertising Services offers a range of expert help with optimizing your social media ad campaigns. They offer four different packages that are perfect for different needs: the starter package, growth package, scale package, and custom package.
All of Lyfe' packages are designed to help you save time and get results. They also offer a free consultation so that you can see how they can help you achieve your desired goals. Contact them to start getting the most out of your social media campaigns.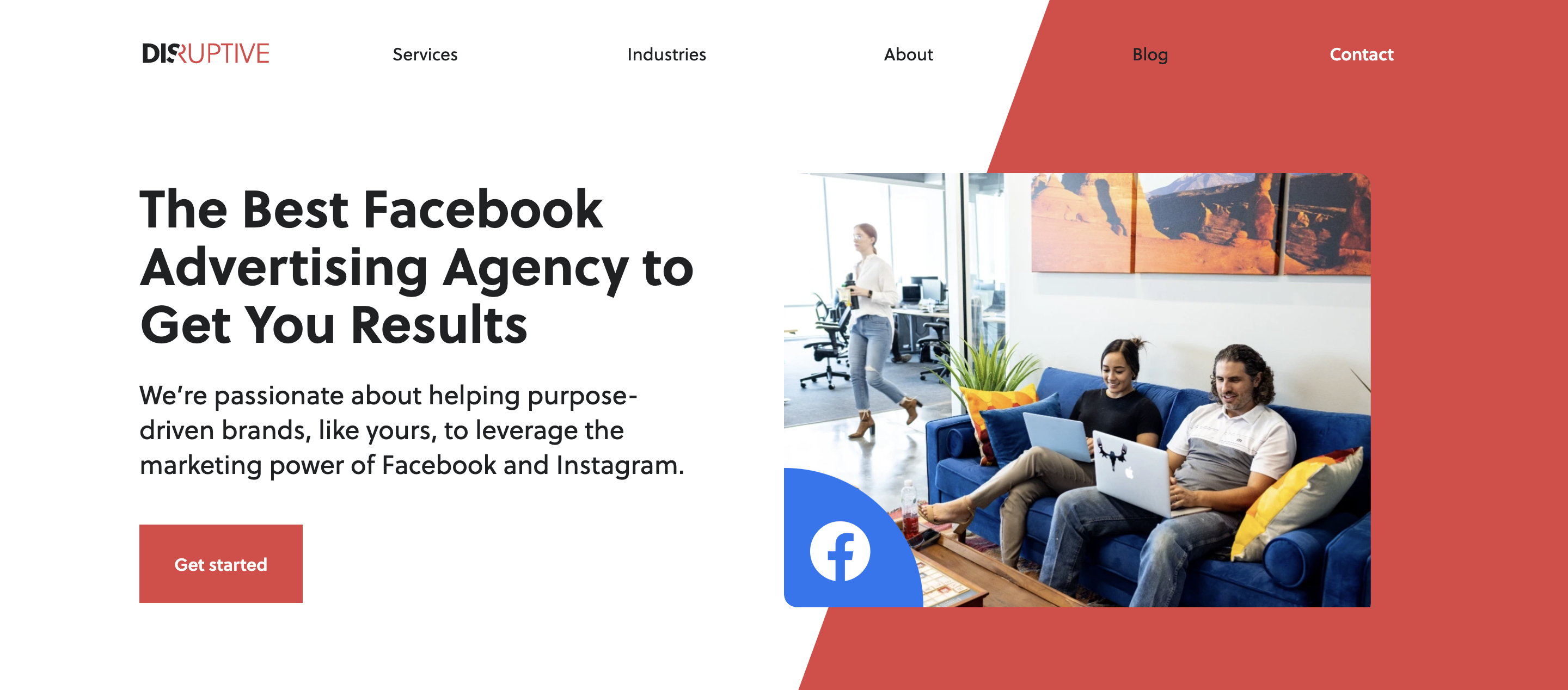 If you're looking for a reliable paid social advertising agency that can help you improve your Facebook ad strategy, then you should consider the Disruptive Advertising agency.
Their audits are specifically designed to identify any gaps in your Facebook ad strategy and are provided for free. This helps ensure that your ads are reaching the right people and achieving the results that you're hoping for. In addition to this, they also provide free strategy proposals so that you can get a better understanding of how they can help you achieve your goals.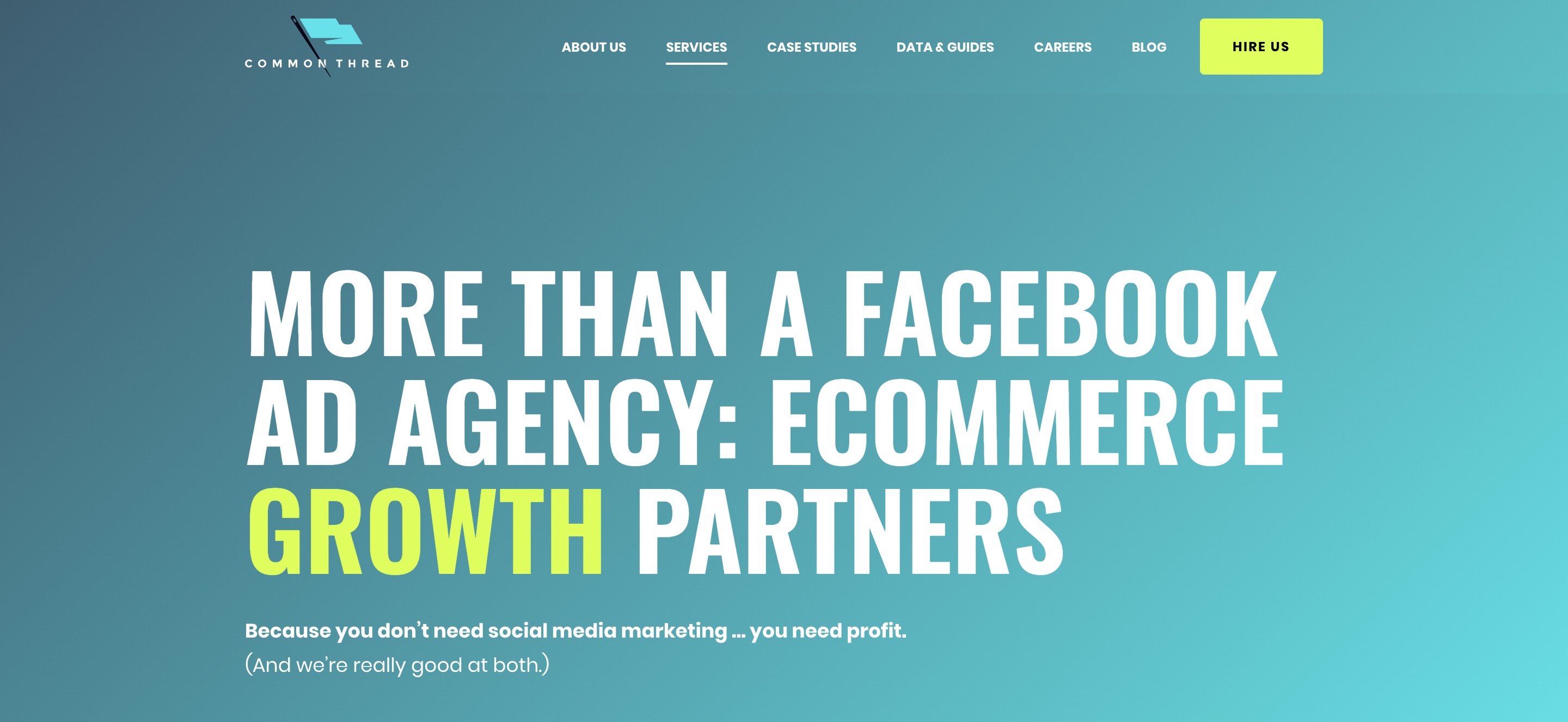 Commonthread is a digital marketing agency that specializes in bringing stability and efficiency to businesses currently spending below target or constantly tinkering with Facebook Ads Manager. They provide real-time communication and weekly reviews to help you prevent wasting money on ineffective and irrelevant ads while providing the insights needed to grow your business effectively.
This is a remote company of creatives, data geeks, and leaders that's ready to serve you across any timezone. They're based in the US & Canada and expanding rapidly across the continent.

MetricTheory is a Facebook ads agency that uses metric theory to improve your ad performance and track and maximize the impact of your marketing campaigns. They have a team of 150 employees and 500+ clients over the world, and they have managed to spend over $275 million on behalf of their clients. You can meet them in five offices in San Francisco, Denver, New York City, Salt Lake City and Orange County.

Titan Growth Agency provides a complimentary Facebook ads audit and opportunity analysis to help you decrease your unproductive spending and propose strategies to improve your results. This will help you save money while reaching more people with your message.
Plus, their team is composed of experts who are passionate about helping clients achieve their goals. They'll work tirelessly to make sure that your campaign is running as smoothly as possible and that it reaches its full potential. So if you're looking for a reliable and effective way to grow your Facebook page, then Titan Growth is the perfect choice for you!

Unlike other Facebook ads agencies, Stryde has years of experience in the advertising world, and their team is composed of mostly women who are dedicated to helping their clients achieve the highest possible results. They use a combination of tried-and-true methods as well as cutting-edge technologies to successfully target and engage with their audience.
By taking the time to understand its client's businesses and goals, Stryde is able to create campaigns that not only achieve their desired outcomes but also stay consistent with overall brand images.

Facebook advertising is a great way to reach a wide audience and Kogneta helps you maximize your return on investment (ROI) by streamlining the entire process. First, they will develop strategies based on your target market and the product or service that you're selling. This involves identifying keywords that your target audience is likely to use and researching which brands are already targeting these keywords.
They also create ad copy that is effective and relevant, as well as appealing to your target audience. Once all of this is figured out, they will set up ads with high-quality, relevant content. Finally, everything will be launched in an optimized way so that you can get the most out of your advertising campaign.

If you're looking for a comprehensive Facebook ads agency that can help you connect with your target audience, then SevenAtoms is the perfect choice for you. They will help you develop a comprehensive ads strategy, focusing on how to best allocate your budget for maximum ROI. This means that you'll be able to reach your target users and make sure that you're getting the most out of your investment.
SevenAtoms has years in the advertising industry, which allows them to create effective Facebook ads that target your audience perfectly.

If you're looking to increase the reach of your Facebook Ads campaign, then you should consider using the services of Envigo. This is a Facebook Ads Agency that specializes in targeting users based on their demographic characteristics, then generates maximum traffic for your brands. This ensures that the ads are most effective and that your brand gets the most exposure possible.
Envigo also has a team of 10-year-experience professionals who are knowledgeable about Facebook Ads and can help you create targeted campaigns that will be successful in reaching your target audience.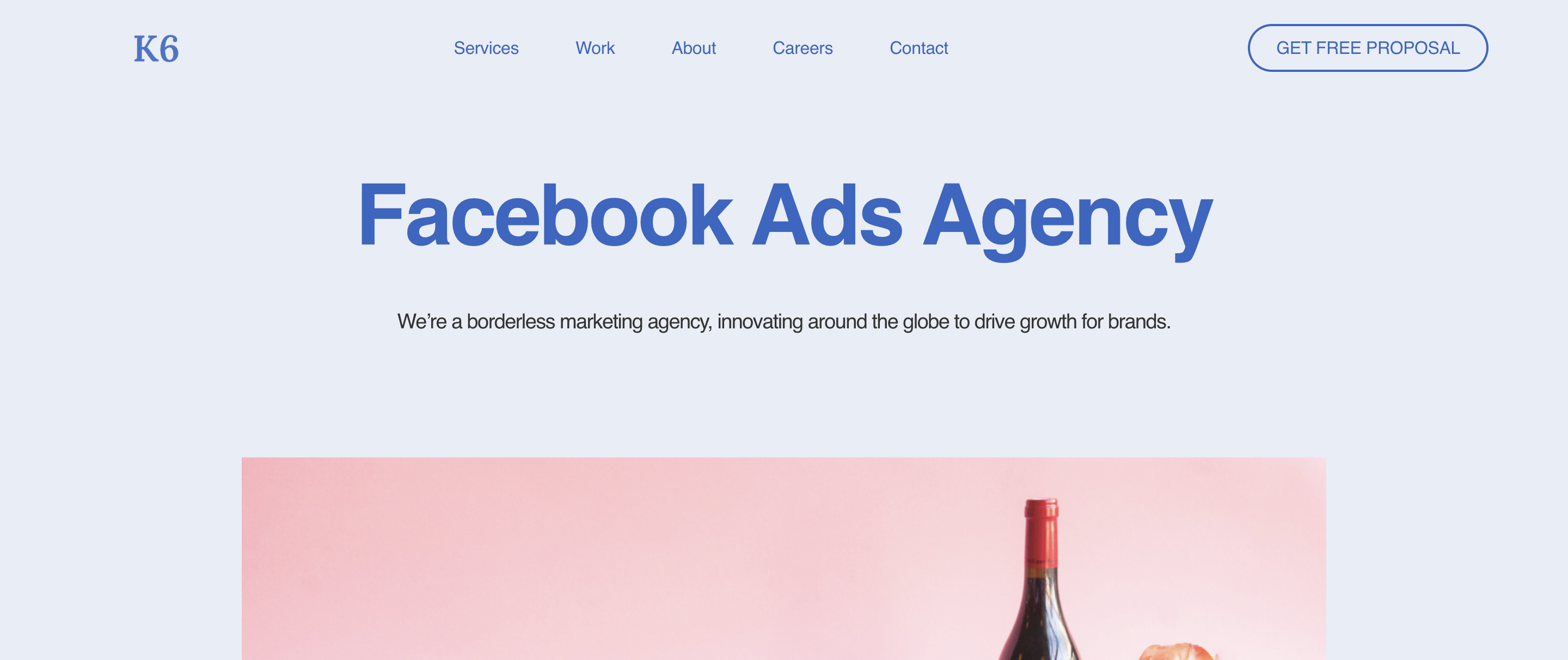 K6 is a great Facebook Ads Agency if you're looking to increase your brand's reach on Facebook. They have a team of experts who can help you create effective ads that will get your message out to as many people as possible. Plus, they offer a wide range of services, so you can be sure that everything will be taken care of from strategy to implementation. You can schedule a free consultation with their team before moving on.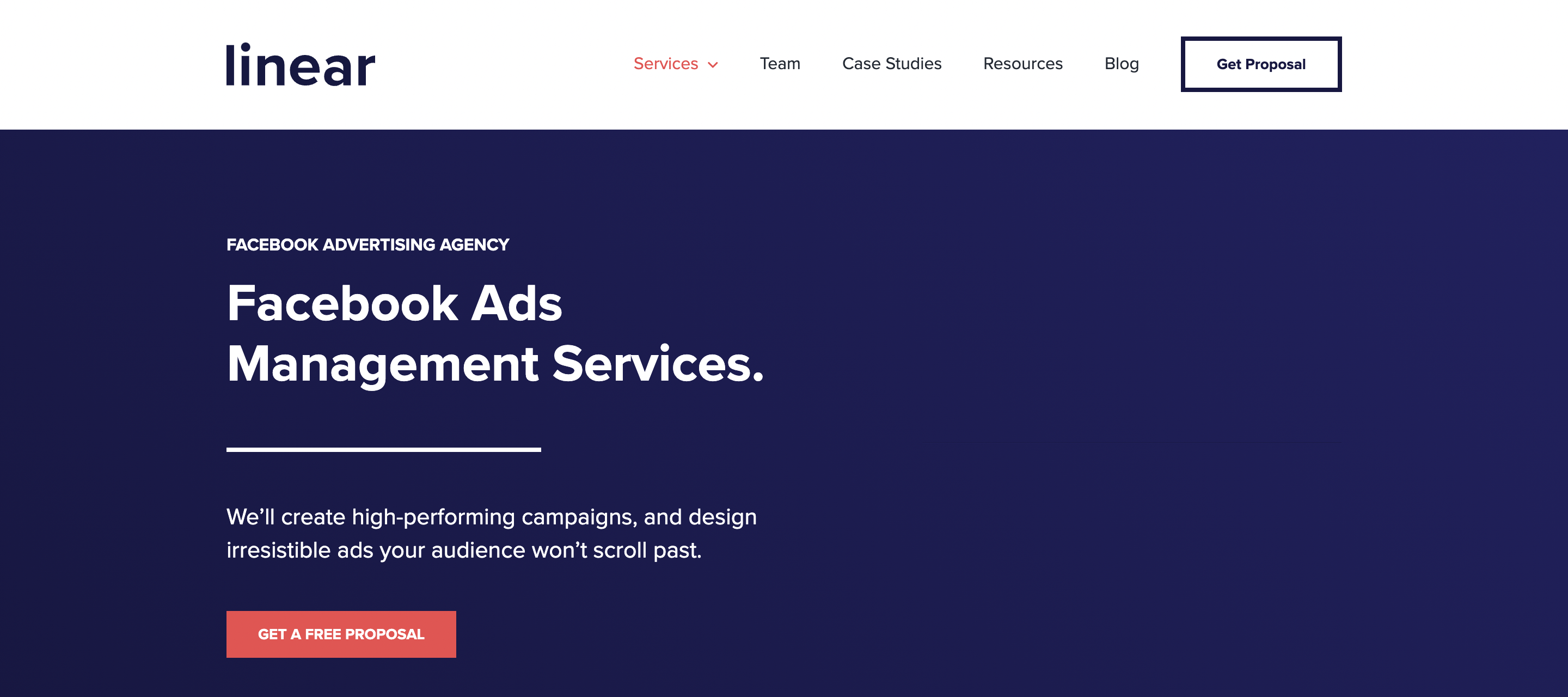 Linear specializes in creating high-performing campaigns that will get your message in front of your target audience fast. Most of their clients see improvements in the first 3 months.
By using Linear's services, you'll be able to directly target your fans based on specific interests and demographics. You'll also be able to create ads that are visually appealing and compelling enough for your audience to ignore everything else and keep scrolling down. It's true to say that Linear is the perfect Facebook Ads Agency for anyone who wants to increase their reach and ROI quickly and easily.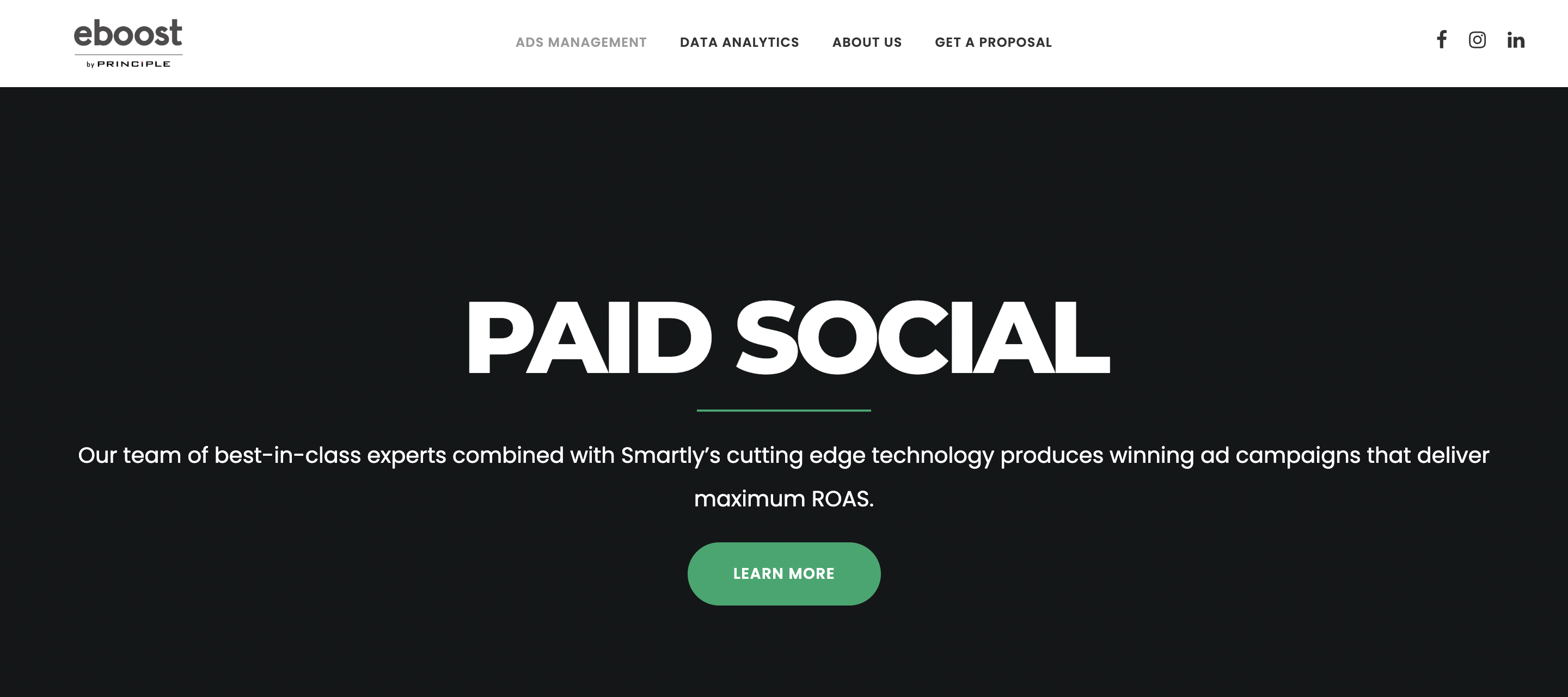 Eboost is a Facebook Ads agency that provides results-driven advertising solutions for businesses of all sizes. Their team members have 7+ years of experience in Facebook Ads, which means that they are experts at creating effective campaigns that reach your target audience.
Every member of their team is a Facebook Blueprint Certified Media Buying Professional, so they are fully qualified to provide you with accurate and up-to-date advice about Facebook Advertising. They also use the latest artificial intelligence tools to analyze your data and identify trends so that you can make better decisions about your campaign strategy.

Lilo Social provides perfect solutions for businesses looking to engage their highly-targeted audiences on Facebook. They use cutting-edge technologies to analyze your target audience's social media activity, and then create optimized Facebook ads that are specifically tailored to reach and engage them. This results in increased demand and new customers, who are more likely to become repeat customers thanks to our exceptional customer service.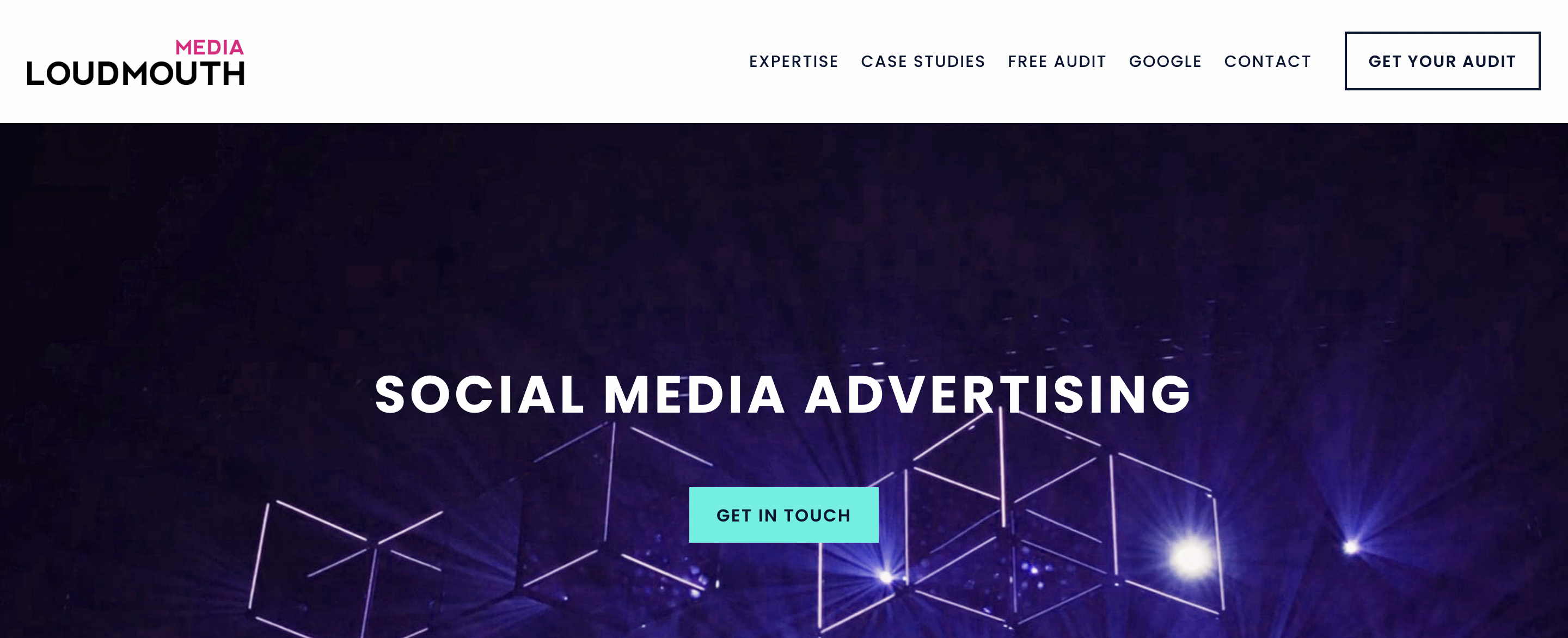 Loudmouth Media is one of the most potential Facebook Ads agencies for eCommerce that can help you achieve your marketing goals. They have years of experience working with brands in the creative industries, and we know how to generate brand awareness, drive traffic, promote an event, encourage sign-ups, or boost conversions.
Their team of experts can design custom Facebook Ads campaigns that are tailored to your specific needs. They also have access to a wide variety of ad tools and formats and get your campaign running as quickly as possible.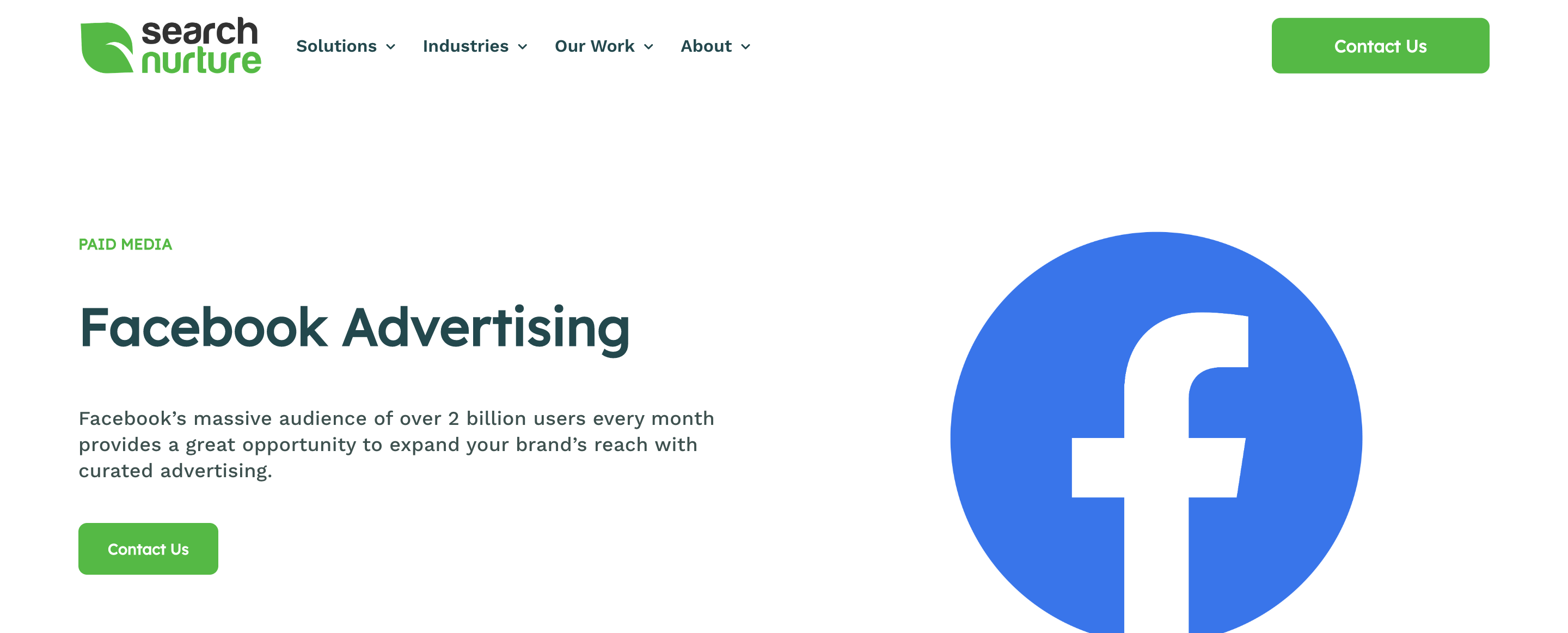 Looking for Facebook ads agencies for eCommerce that can really help you to achieve great results? Look no further than Search Nature! They offer a wide range of services that will help you to get the best results from your targeted traffic. From customizing your ads to creating effective campaigns, they can help you reach your targets and boost your sales!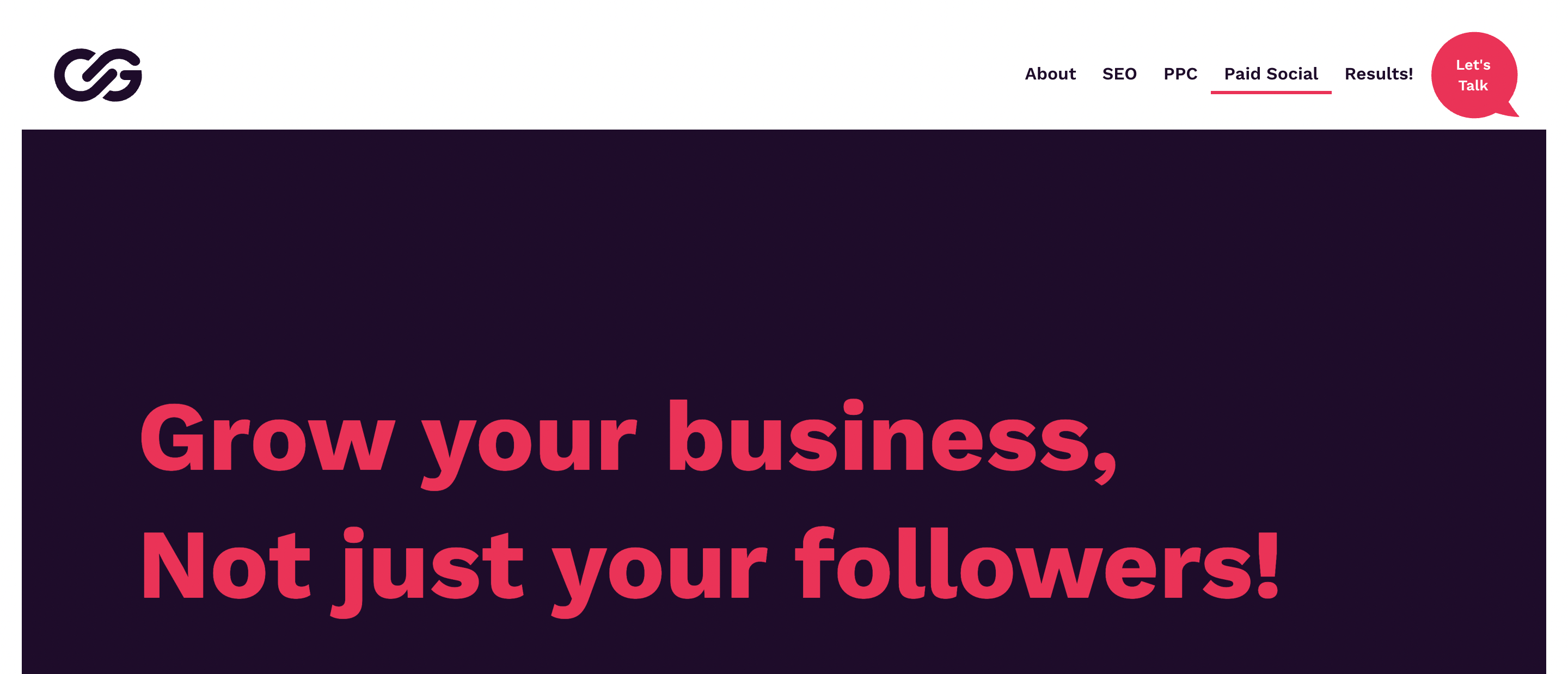 If you're looking for an effective Facebook ads agency that can reliably produce results, then you should ignore Common Ground. Over the past 12 months, they've achieved more than 95% of their client objectives, which is a testament to their hyper-focused methodology.
Their approach is based on a few key principles: they focus on customer acquisition rather than just running ads; they use unique targeting methods to find the right audience, and they constantly test and evolve their campaigns to ensure that they're providing the best possible experience for their clients.
All of this leads to quick and consistent results across any market – meaning that you can be sure that your money will be well-spent with Common Ground on your side.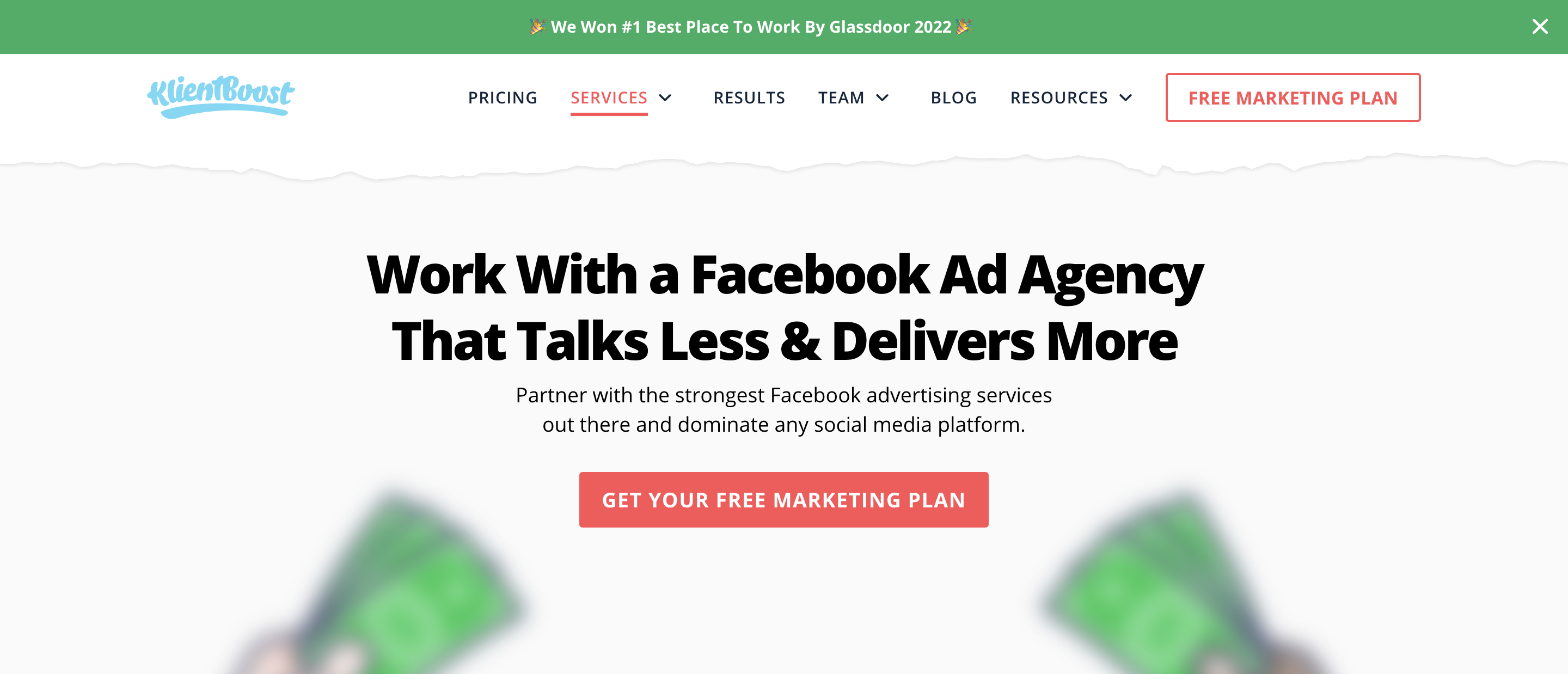 Klientboost provides different services related to Facebook ads for eCommerce stores. They have over 200 published case studies and 600+ reviews to back up their claims.
One of the most important things Klientboost does is provide comprehensive advice and support for each step of the campaign process. This helps ensure that your campaigns are successful from start to finish. Additionally, they have a team of experienced professionals who are able to create engaging ads that will attract the desired audience.
If you're looking for a reliable Facebook Ads Agency that can help you generate results, then Klientboost is definitely worth considering.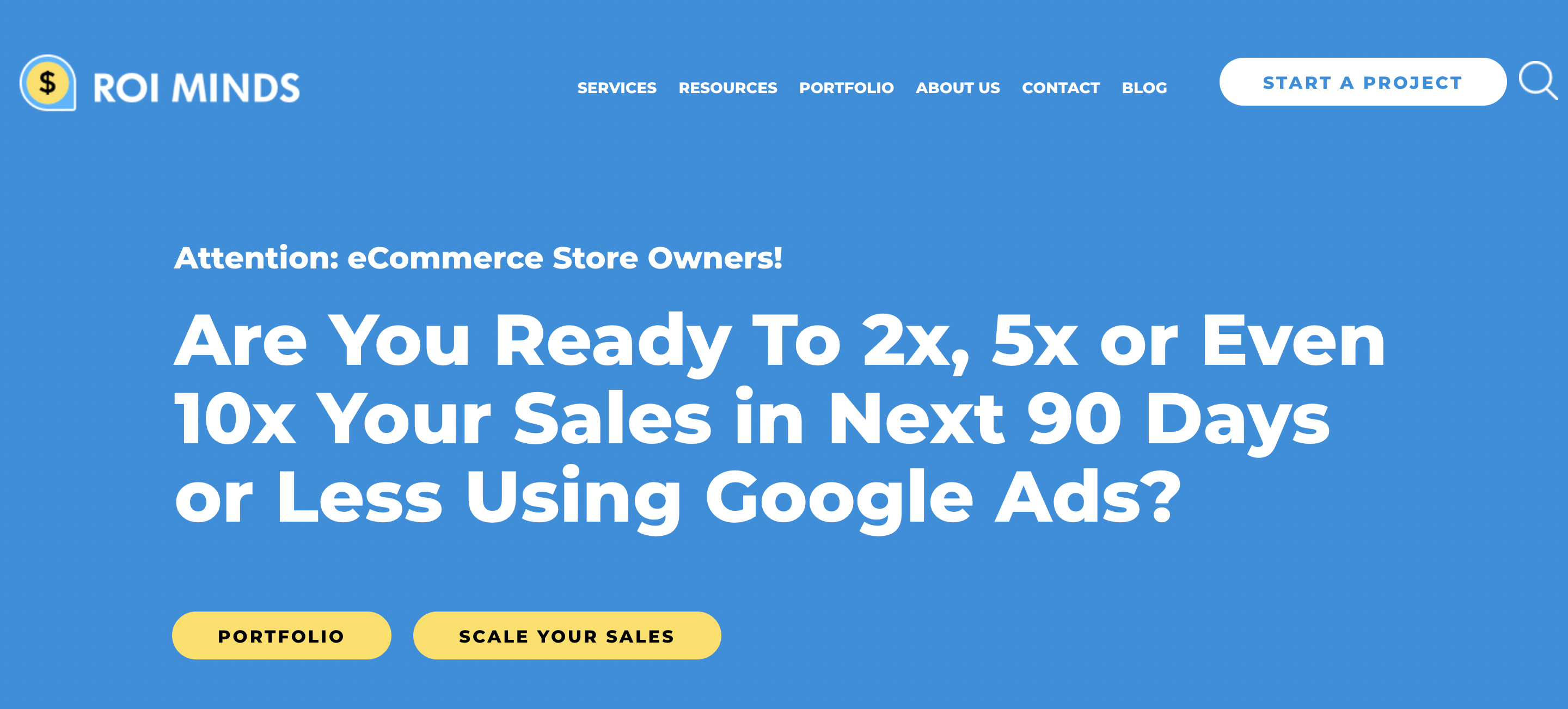 ROI Minds has been providing quality services to businesses of all sizes for over 8 years now. They have a wide range of skills and experience, which means that they can help you achieve your business goals in the most effective way possible.
One of the main advantages that ROI Minds has is that there are no long-term commitments involved – if you don't see results immediately, your money is back. This allows you to take risks and try out new strategies without fearing any financial penalties. Additionally, ROI Minds is Google and Facebook Ads certified, so you can be sure that they have the knowledge and experience necessary to deliver great results.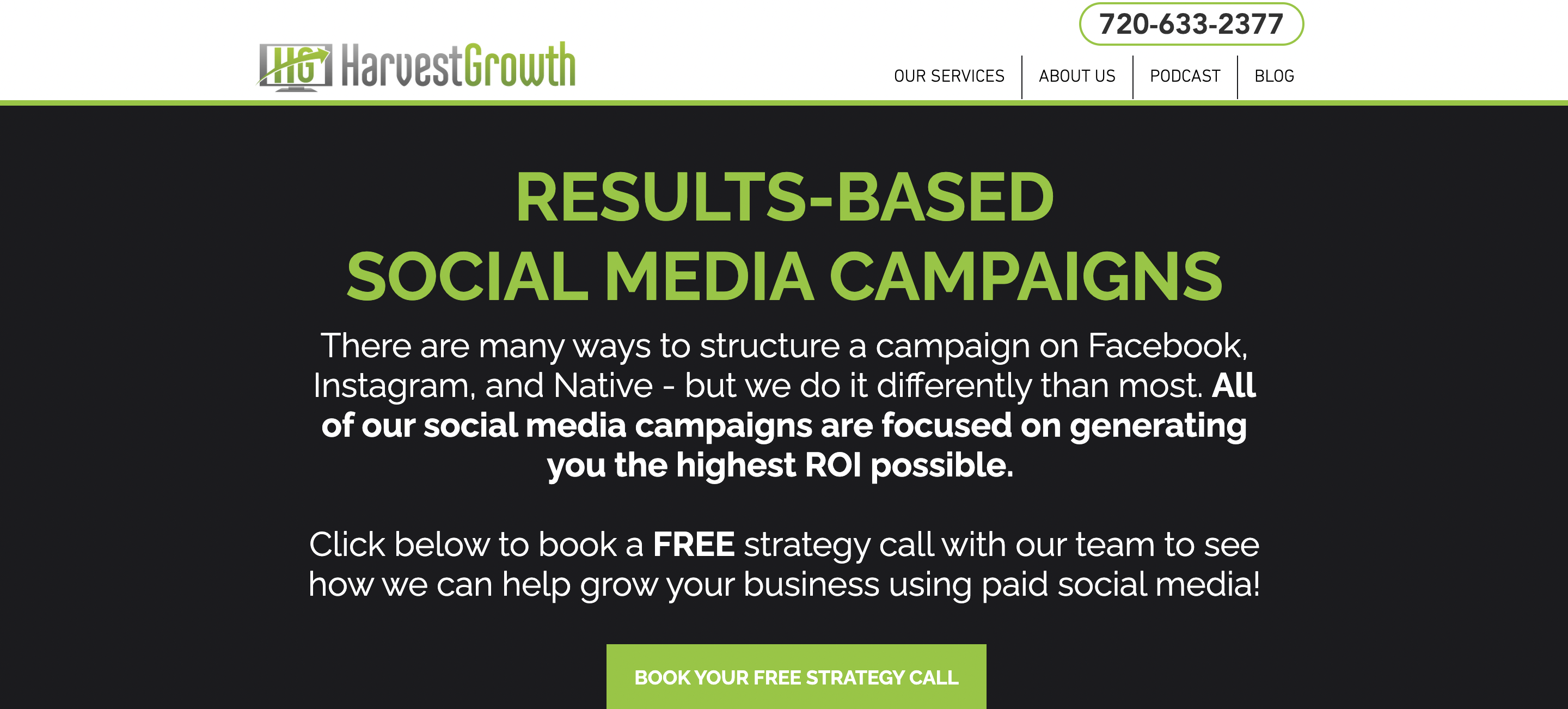 The last name on our recommended list of Facebook Ads agencies for eCommerce is Harvest Growth. This is an official Facebook partner agency that employs Facebook Blueprint certified buyers to help clients achieve high ROAS (return on advertising spend) results. They use effective strategies and tactics that have delivered stunning results for our clients time and time again, so you can be sure that your advertising will be handled in the best possible way.
If you're looking for a partner agency to help you maximize your Facebook Ads campaigns, then Harvest is the perfect choice for you! Contact them to learn more about how their team can help you reach your goals.
Wrapping Up
From the Facebook Ads Agencies that we listed above, it is clear that each one of them has years of experience in helping eCommerce brands expand their business on social media with amazing campaigns. Therefore, you can trust these agencies to handle your brand's ad campaign and help you reach more people.
In case you are also looking for an agency for a new ad campaign, just search online or visit their websites as they have brochures detailing everything about their past performance that speaks volumes.
Apart from it, if you want to enhance your existing eCommerce store in terms of its design and functionality, or integrate it with the latest technology like Progressive Web App, then Tigren can help. With extensive experience in eCommerce development, we will make your site look good and feel great!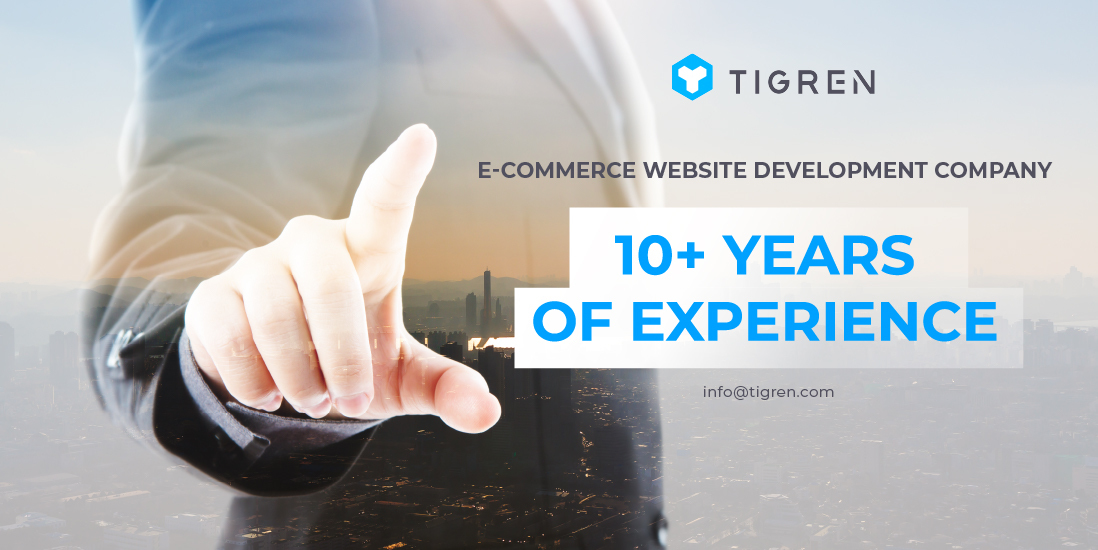 Read More:
The Definitive Guide On Facebook Ads For Ecommerce
Facebook PWA: What You Need To Know