With the development of technology and e-commerce, selling online has become a trend. It helps merchants access more customers, which can even cross their boundaries while reducing certain costs compared to physical stores. One of the most common e-business today is clothes since these are not too difficult to sell and do not need lots of capital, staff to begin with. Moreover, although we are now suffering from the COVID-19 pandemic, the fashion industry continues to have strong positive growth. That's why this post would like to suggest a comprehensive guide to start an online clothing store from the ground up.
It's crucial to know how to do it right from the start, and then everything will be on the right track. So, let's get started!
I/ The A-to-Z Steps To A Successful Online Clothing Business
There are 11 critical issues you have to clarify and deal with when you want to start an online clothing store.
1/ What is your target market?
Before entering the apparel market officially, you have to conduct thorough market research and analyze the potential market. There are plenty of potential customers that you can reach in every demographic.
However, instead of selling clothing for everyone, you should narrow your target customer groups based on subjective factors such as your interests, capabilities, and business goals and the objective ones such as the business environment and current trends.
Business Environment
Before drawing the picture of ideal customers, you should understand the business environment. All the situational factors which determine day-to-day circumstances impact your business. So, you must constantly analyze the trade environment and the market. Some countries have specific standards or policies about clothes and textiles.
Additionally, you must keep an eye on the competition, including present competitors, new entry (future rivals), and substitution. Cloth, in general, is a popular product and has a low barrier of entry. Therefore, if you want to join this competitive industry and survive, there is no way to find your niche and aim for only a small-to-medium group of clients.
Customer characteristics
After defining your market, you have to depict your ideal customers. Here are a few questions to help you to portrait your clients:
Demographics: Age, gender, occupation, income level.
Psychographics: What are their hobbies and habits? What are their consumer behaviors?
Purchasing motivations: What is their motivation to buy your product? Example: for special occasions/ workplace/ or work from home?
Pain points: What are their problems? Example: want to find clothes to conceal their body weakness.
Current Fashion Trends
The fashion industry is facing change every day. Some trends emerge and persist over a period of time, but some others are not. So, you have to keep up to date with the trend and distinguish what trend you should invest in.
A tip for you is to watch the Youtube channel and blog of proficient fashionistas, fashion influencers, and fashion experts. They will give you advice about fashion trends and how to make your clothes adapt to consumer tastes.
Virtual community sites are an effective channel, too. Merchants should join communities, positively contribute to the site, and exchange relevant information. Most of the information at these sites is reliable and useful because of the control and censor of admins. They often update fashion trends and give you helpful knowledge about clothes. So, you don't have to worry.
2/ What is your product and what makes it different?
That stage is indispensable for merchants who want to start an online clothing store. After collecting all the data about your customers and understanding them deeply, you should learn how to adapt your product to customer needs.
A clothing seller has to answer four main questions:
What is the type of clothing?
What is your style?
What is your clothing made from?
What is your unique selling point?
There are plenty of types of clothing and different ways to clarify them. Based on seasons, you can divide into summer clothes, winter clothes, etc. Based on occasions, clothes are classified as holiday clothes, party clothes, wedding clothes, etc. So you have to decide how to classify them and which type of clothes you want to sell.
Besides, style is your outstanding mark and identifies you in thousands of other stores. Selling the same type of clothes, however, merchants will have distinct styles. Style is something you really love, understand, add your value, and have a potential niche.
Some clothing products have specific materials (e.g.: wool, silk, or recycled materials). So if you want to start an online clothing store that is likely to succeed, let's sell something distinctive.
Last but not least, you have to find your unique selling point – the things that make your product special – than any other product out there. For example, if you want to sell used men clothing online, you can "mix-and-match" those following your distinctive style. It starts from yourself, so other stores might find it hard to imitate.
3/ What is your product supplier?
If you want to have high-quality and reasonable-price products, you have to care about your supplier, which is vital for starting an online clothing store.
Various books teach you how to sell your clothes, but few mention how to find/ buy products to sell online. Here are some tips for you.
Buying from overseas manufacturers with low production cost
If you will find it hard to find reasonable supplying sources, just expand your searching scope to manufacturers in the following countries:
China
Vietnam
Thailand
Indonesia
Philippines
Myanmar
Malaysia
Pakistan
Sri Lanka
…
You should ask about 10 suppliers and choose the 3 best suppliers for you. Don't mention too much about price at first, asking a lot about the product quality instead. Owing to that, suppliers will consider you as a professional buyer and might give you a good price after spending time convincing you to buy their products.
Buying samples
After choosing a suitable supplier, don't rush to buy in bulk instantly. You should buy some samples to test the quality of the product and the responses of customers to your selected items.
Also, remember that you have to keep at least one sample for you as proof. Next time, if your supplier gives you worse quality products, you can bring them into comparison. Then, the supplier must exchange the goods or make compensation for you.
4/ What is your business plan to start an online clothing store?
You cannot start an online clothing store without a comprehensive business plan.
In general, there are four common ways to start an online clothing store:
Dropshipping
Print on demand
Custom cut and sew
Private label clothing
Dropshipping
Dropshipping is considered the easiest business model to start an online clothing store. Dropshippers act as middlemen. They update their item on their website or large e-commerce marketplaces (e.g., Amazon or eBay).
When an item is ordered, the drop shipper then orders from a third-party company for delivery directly to the customer. Many drop shippers work with sites like Alibaba to have low-cost products to optimize their benefit.
Print on demand
Print on demand is when you sell your own custom designs on different types of products. Print-on-demand products include T-shirts, hoodies, cups, cases, and many other items. In online clothing stores, merchants often sell T-shirts and hoodies (easy to print).
Your work is designing your clothing to print and uploading them to your website or E-commerce platform. Your team will combine with a fulfillment party covering all services, from printing your clothes to shipping directly to your buyers.
Custom cut and sew
Custom cut and sew refers to companies that design and sell their own products. This method requires a significant investment in the acquisition of materials and manufacturing space. However, it is the best way for you to launch your own unique brand.
Private label clothing
Private label clothing companies work with manufacturers to order unique products marketed under their brand. Merchants don't usually design themselves but require a selected third party to design, produce, and brand for individual sale. Merchants have only the mission to sell these clothes online and ship them to their buyers.
5/ What is your selected e-commerce platform?
You can start by selling on well-known e-commerce marketplaces without having your own website.
However, building a website will be better to build up your brand and reputation, especially in the long term. That's why many online clothing businesses think of developing their website right after they found what to sell and how to get it.
Building an e-commerce website starts with selecting an e-commerce platform. A good e-platform will help you manage your business more effectively and approach more potential customers.
There are plenty of e-commerce platforms for you to choose from; you should consider Magento and Shopify. These platforms have the largest number of users globally and are considered the greatest choices for online sellers.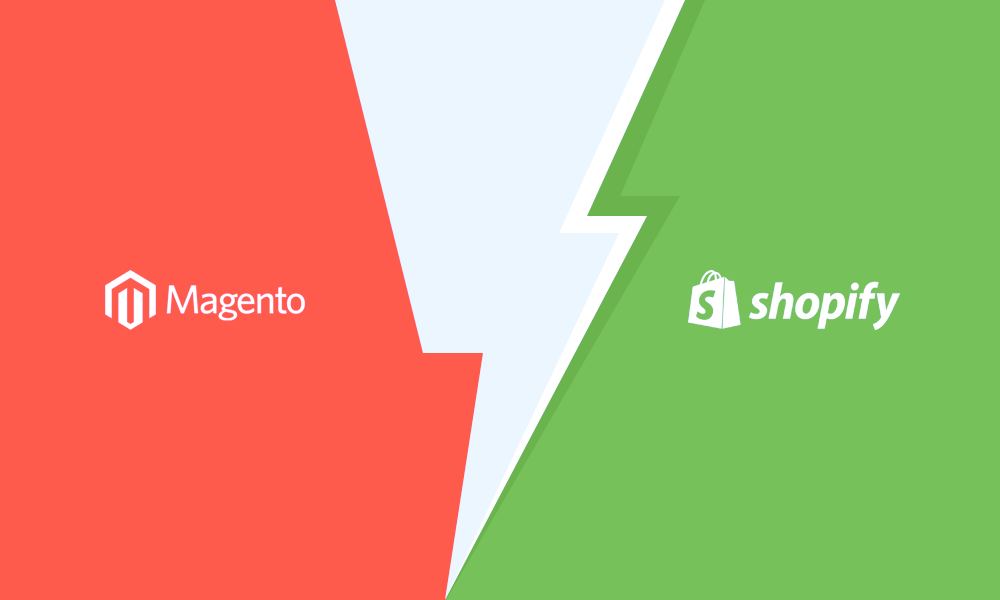 Nonetheless, there are lots of differences between Magento and Shopify. We will help you to make the selection easier by making a quick comparison below:
Level of difficulty in use
Shopify might be a little easier for you to start an online clothing store because it allows non-technical users to set up their sites quickly.
On the other hand, Magento requires coding knowledge, and you have to hire developers to build the site for you. However, when the site development finishes, there is no difficulty learning to manage a Magento store.
Functionality
Magento has 5,000+ extensions, while Shopify only owns over 100 apps and add-ons, both free and paid. Moreover, it's easier to customize the core functions of Magento to totally meet your needs, while it's less flexible to modify the default features of Shopify. As a result, Magento seems to outweigh Shopify in terms of functionality.
Multi-language support
Magento allows merchants to enable multiple languages to their stores while it's impossible for Shopify users. Therefore, Magento is more suitable for brands that want to go global.
Security
Shopify is closed-source. Only Shopify can control its framework, and no one can access it. Shopify has its security team and comes with DSS compliant. This site will secure customers' information during their shopping experience.
On the other hand, Magento is open-source, and you can improve your website security by yourself. Although Magento's security is tight, you have to follow PCI compliance strictly. Magento also often updates to keep you secure. You can also add Magento Security extensions to enhance the protection of your website.
Themes and template
Both of them have a significant number of attractive fashion themes and templates. Therefore, you can easily choose an eye-catching design.
Nonetheless, Shopify only provides 9 free themes and 72 premium themes. Meanwhile, Magento offers hundreds of options. Furthermore, you can build a custom Magento theme from scratch but cannot do a similar thing on Shopify.
Price
To start an online clothing store with Shopify, you will have to pay the monthly fee ($29/ $79/ $299 per month). The cheapest option ($29/month) is only suitable for new occasional e-commerce businesses, so it might not be for you. You should consider the two remaining options.
On the contrary, you don't have to pay monthly but invest a certain amount from the beginning (for hiring a web development company). And then the website is yours, forever. Additionally, the cost for developing a new clothing store on Magento starts from $699.
In short, Shopify's website might require a lower cost to achieve at first, but in the long term, it would be more expensive than the one-time investment of Magento.
6/ How can you choose the domain and hosting service?'
An online clothing store needs a reliable platform and a trusted domain and hosting service. You have to search for available domain names and find an excellent hosting service provider.
An impressive domain name
Your website needs a name and domain that audiences can acknowledge, find, and access. You can understand simply that domain is your website's address that people type in the browser to access your website. For instance, "tigren.com" is our domain. In most cases, the domain name will be the same as the company or brand name.
Besides, there are a few tips for you to create an impressive and easy-to-remember domain name:
Easy-to-spell
There will be an obstacle for customers to find your store if they can't spell your name. Using primary and easy-to-remember words will avoid your customers accessing the wrong sites or even your competitors' sites.
Unique
There are tons of brands already existing in the clothing industry. So you need to make sure that your brand name cannot be confused with the competition. Being unique helps your domain stay in the customer's mind. They can recognize you quickly with a domain name.
Not too specific
After a while, merchants want to expand and scale up their business. However, a domain name that is too specific and detailed will make a problem with your business because it attaches to a particular product, market, or style.
For example, when you start an online clothing store, you decide to sell baby clothing only, and your domain name relating to the baby only. But after a few times, you realize that maternity clothing is potential and want to scale up your business. So, the advice for your domain name is to choose a scalable name.
An appropriate hosting provider
If you want to build a website, you have to choose a website hosting provider. It will help your web live on the internet so that people can assess it. More specifically, they will provide you with three main things:
Domain.
Server: The server is a computer program or device that runs your website live on the internet. Your hosting provider will make sure your server is up and running.
Storage Space: Hosting providers will help you store all your files, assets, and database (image, video, text,.) onto your server.
There is a range of hosting services for you to choose and you will take a significant amount of time to know what is suitable for you. Choosing the wrong host often ends with a messy and expensive divorce. Thus, before picking up any provider, you should have a plan about hosting.
The monthly amount of traffic
You have to estimate your traffic and know what kind of hosting you need. If you begin opening a small online clothing store and don't need high-traffic capabilities, you should choose shared hosting – affordable and suitable. But If you want to grow and scale your store in the future, you will have more customers. And that is why in that case, your best option is dedicated hosting or cloud hosting.
Security
Cybersecurity is a significant issue that almost all businesses concerning about, especially important for smaller businesses. Because they don't have the resources to fix errors or gain stolen data, if websites are attacked daily, your customers can't reach your store and have a terrible impact on your business. And my solution for you is SSL Security. SSL certificate will encrypt your website, and no outside hacker can steal it.
Cost
You have to know your financial resources for renting hosting service supply. There is a range of prices for you. But remember, good quality can go at a reasonable cost, not cheap.
Specific need
Besides the three issues above, you have to clarify your other need:
How many email addresses do you want?
How many disks do you need? It is based on the number of media elements on your website.
How long do you want to complete the website?
Do you want to delegate the management of your site? There are some providers of managed service who will make sure your system is complete probably.
After creating your hosting plan, the final step is deciding what the best provider is. You should focus on what kind of services and support your web hosting provider will give you when you work with them. These are some issues you should look at.
Unlimited offers: Some hosting providers offer unlimited storage, bandwidth, and space just with a small adding fee – a few dollars per month. Be careful! They can restrict them at a certain level to make you purchase more money.
Custom support: You have to care about:
Do they support you regularly and respond to you as soon as possible?
Do they have expert staff?
If the question is "Yes", you have found a good provider. There are plenty of problems and errors you can have. Thus, you need experts to fix them soon.
Additional Services: Your provider should make sure that they often backup your data, fix your bugs and update your server-side software. You will save significant time for maintenance.
Reliability: A reliable provider should ensure they will protect the data collected from your website and your website is live on the internet every time. They will help you to protect your website from hackers and keep it safe on their server.
7/ Which payment gateways will you integrate into your clothing store?
Most online businesses now allow their customers to make online payments via credit cards besides cash on delivery or bank transfer.
If you want to do the same, selecting trustworthy and popular payment gateways is first and foremost.
There are two common solutions for an online clothing store: Hosted payment gateway and a non-hosted payment gateway.
Hosted payment gateway means that a third-party check-out system directs your customers to the payment service provider website. After their transaction is done, the customer is redirected to your website. PayPal and Braintree have hosted payment gateways.
Hosted payment systems will manage and secure customers' information, so you don't have to worry about securing them, and no PCI compliance is required.
But, hosted payment gateway can have problems with customers' trust if the third-party payment system is not trustworthy, so you need to carefully opt for your payment service provider.
Non-hosted payment gateway
With non-hosted payment gateways, customers do not need to leave your site to complete the payment. Online store owners can install a payment gateway solution available on the online store site. This kind of payment gateways are integrated via APIs to your server, and it has integration guides that help you install them. MasterCard, Hips, and Stripe are non-hosted payment gateways.
With non-hosted payment gateways, you can completely control the transactions on your website. You can customize your payment system as you want and tailor it to fit your business. However, you have to be PCI compliant first because you manage your customers' data on your own site. Be careful with customers' payment info! You will be punished heavily if they are leaked.
There are some elements you have to focus on when you choose suitable payment gateways.
Safe and secure
This is the most important element of a payment gateway. Customers' information must be secured. You (with non-hosted payment) and the payment gateway provider (hosted payment) must execute the rules and regulations about payment and users' information security. Make sure that they are certified for following information security standards like PCI-DSS.
Besides, no one wants their data to be leaked and exploited. Customers always emphasize security issues, and they will put your store on their denylist. If they know their payment information is not secured. As a result, your online clothing store will be closed. Thus, please remember, security is an indispensable problem, and you have to choose a trustworthy payment gateway.
Popularity
Do you remember the story I told above about customers leaving their items after checking out completely? Popularity is the reason for this problem. There are tons of payment gateway providers, but just a few ones are popular. So, your work is choosing one having the greatest number of users and used a lot. There are some familiar names you can choose as PayPal, Stripe, Skrill, 2checkout, etc.
Customers always expect to have a full experience, and online stores have to meet all their demands, even the payment issue. If not, they will leave your store and choose another with similar products and suitable payment gateways.
Check-out easily on mobile
Mobile payment has become common, and it will replace credit card buying, even in point-of-sale environments. Especially in the e-commerce industry because most people use their phones to shop online more than desktop or other devices.
That is easy to understand when mobiles are convenient and can access online shops as desktops. According to DataReportal, mobile commerce statistics from July 2020, more than 91% of internet users ( approximately 3.8 billion people worldwide) use their mobile devices to gain access online.
Thus, online clothing stores should choose payment gateways optimized for mobile devices like phones and tablets. Payment gateways that add support for all major digital wallets are the greatest choice for online merchants.
Accepted payment methods
It is great if a payment gateway accepts more payment methods because the customers will have more choices to purchase their items and avoid payment barriers.
For example, your customer is a foreigner, and they only pay via Visa. So, if your payment gateways accept Visa, your customers can pay for their products. The more payment methods are accepted, the more customers you can access.
Fees
Fees for payment gateways mainly include monthly fees and transaction fees. The monthly fee is just a tiny part, and it is reasonable. Some payment gateways don't require you to pay a fee monthly like Paypal or Stripe. However, the transaction fee is the problem. Merchants have to pay a percentage of transaction value and little adding money on each transaction.
For example, Stripe requires 2.9% of the value on each transaction and 30 cents for each successful order.
So, you have to care about the transaction fees and choose payment gateways suitable for your order volume and product value.
Easy to integrate into your site
Online payment gateway integration isn't a process that can be done by yourself only. Most payment gateways provide detailed instructions for users to integrate into eCommerce platforms such as Shopify or Magento.
8/ Which website development company will help you build your online clothing store?
Creating a website is not easy, especially when you want to build your website on famous open-source platforms like Magento. That is why you should hire a development team to develop your store from scratch.
To figure out the ideal web development company for your business, you have to consider the companies' portfolio, experience, cost, related services, and testimonials (feedback from the previous customers).
Delivering Magento web development services since 2012, Tigren stands among the leaders of the industry and appears as the most trusted solution provider for e-businesses.
Moreover, affordable solutions are one of Tigren's competitive advantages. That's why lots of startups coming to us to help them set up their businesses.
By selecting one of our low-cost web development packages, you can start fast and make money fast.
After choosing a qualified development team, you will need to discuss your project requirements in detail so they can come up with the best solution for your website.
9/ How will your e-commerce website be built?
To start an online clothing store successfully, both you and your development team must make a significant amount of time and effort.
As the store owner, you are responsible for following up and discuss with the developers throughout the development process to keep things on track.
Additionally, you have to provide website banners, product lists (in CSV files), store information, page content, etc., for the coders to add those to the site.
One more point, you should prepare high-quality images for your online clothing store to look professional. It's worth noting that you should check with your developers about the best sizes and resolutions for all of your banners and product images.
10/ How will your site be tested before being released?
After your site development process completes, you might want to publish it immediately to start your clothing store as soon as possible. But hold on! You should check throughout the site yourself even though your developers have tested it carefully or not.
Below is the basic checklist for a new site:
The whole buying flow (from product search to checkout)
Website navigation
Website responsiveness (on desktops, laptops, mobiles…)
Website speed
Browser compatibility
Search engine optimization (metadata)
Customer sign in
Sitemaps
…
If you find any issue on the site, report it to the development team to fix it. As long as the arising problems are in the project scope, they will have to address all of those without extra cost for you.
Once the site is free of bugs, you can release it and officially start selling clothes online.
11/ How will you introduce and promote your online clothing store?
Social media – paid traffic and free traffic.
As you know, social media is a powerful channel to promote any product, even your online clothing sites. Merchants often spend more money on Facebook and Google ads to gain more traffic for their site. This kind of ad can help them reach exactly target customers and have more potential buyers for their online clothing stores.
Besides, merchants should often update their posts on their page or specific groups to gain more attention. Depending on each market, you have different ways to access traffic.
With the US young market, you should develop your account on Instagram and Tiktok because they spend a great amount of time surfing these social platforms. So, merchants have to really understand customers' habits to have the right plan to promote online stores.
Content marketing and SEO
This is a long-runway for all merchants to promote their sites. SEO and content will create perfect results for your site, but you have to put effort and spend a long time on them. As I mentioned above, you should use keywords for your description to enhance SEO for products and sites.
Not only that, you should optimize SEO on-page (on your blog and website) and off-page (on other blogs having your backlink). The important element is not only SEO techniques but also the content on each post. Google will appreciate and prioritize the posts that bring value to audiences.
Content is contained not only in words but also in images and videos. Posting viral images relating to your products or attracting your target customers will help you gain more buyers. The best content can transmit full information concisely and engagingly. Thus, merchants have to update trends regularly and learn to create engaging content.
Email marketing
This is the classic method that has existed for a long time. Instead of sending letters as before, merchants often send emails or messages for customers to convince them to buy their products. However, you have to collect superior customer data to send emails or messages via messaging applications.
A high-standard email or message is always short but offers value, stimulates curiosity, and relates to your customers. To have all this, merchants should apply their writing skills and understand customer insight.
II/ Common Difficulties In Starting An Online Clothing Store
1/ Attract the target customers
This is a common issue for all e-businesses, not only for clothing store owners. If you want to attract your customers, you should research and analyze their habits, hobbies, and related issues around them.
Then, you will have to take care of your website. If it is appealing, user-friendly, and easy to find, your customers are willing to visit and perhaps recommend it to their friends if they like your products. Otherwise, they might add your site to their denylist after the first visit and never come back.
Next, you need to carry out some activities to promote your site and products. As mentioned before, there are three main methods for you to have more traffic: Social media, content and SEO, and Email marketing. Especially, you should pay more money for social ads to attract the first group of customers. Working with influencers for CPA marketing might also be a good idea to promote your products.
Posting frequently on social platforms such as Instagram, Facebook, Tiktok helps you access customers easily, but you have to create viral content for each post.
2/ Optimize website for SEO
Besides social media, you have to concern about Search Engine Optimization, which will bring fruitful results in the long term. The thing is, SEO is not straightforward for beginners.
To optimize your SEO, you have to research basic e-commerce SEO and understand how to develop an SEO strategy. There are factors you have to focus on when growing SEO for your site and products.
Choosing Keywords: This is the first step in laying the foundation of SEO. The best keyword has fewer competitors and a sufficient volume of target customers searching. Identifying and using keywords is a clever strategy for all merchants.
Long-tail keywords are more descriptive and often related to your smaller topics. They usually get fewer clicks; however, they often get higher conversion rates. To do this, you should use specific tools to analyze keywords and help you to choose appropriate ones for your brand.
Using techniques: Adding metadata, naming your images correctly, adding internal links, and incorporating related keywords are the main techniques you have to notice. Besides, some tips for optimizing SEO include using more headings, writing shortly, headings having keywords, etc. You can see a lot of tips for you to increase SEO.
Polishing your content: If your contents are bad, your posts will be underrated by Google. It is hard for you to climb to a higher rank in Google, and customers can miss your posts. Not only that, unimpressive posts can draw customers' attention, and they will leave your site quickly.
Checking your competitors: Keep an eye on your competitors frequently and check out their SEO efforts. You cannot defeat your competitors with an SEO strategy worse than theirs. Identify ways to make yours better.
Following CRO: CRO (Conversion rate optimization) is the results liking to your sales. To evaluate the effects of SEO campaigns, merchants use CRO. Merchants check SEO campaigns weekly to see their results and adjust them to have better CRO.
If you don't have enough time and knowledge to do this, you can hire an agency to implement SEO plans for you. Besides, there are tons of SEO plugins bought and installed on your website. They will help you optimize your site, give you suggestions, and perform keyword searches. Thus, it will be easier for you to create posts optimized for SEO.
3/ Lack knowledge of operating an online clothing store
Merchants are sellers. They might have enough knowledge about business in general but from zero about operating a business online, or managing their website, in other words.
One of the solutions is to hire a trusted web development company to give necessary guides or training.
Understanding the difficulties of new store owners, Tigren always offers them free Magento training and detailed guides on how to control the site. Thanks to that, our clients find it easy to manage their product catalogs, customer data, orders, etc., without technical knowledge.
4/ Have a low budget to start with
Not all merchants have a generous budget, especially when they are just newcomers in the market.
Below are some suggestions to help you to start an online clothing store even with a small initial investment:
With domains, you can find some providers at low prices.
There are many payment gateways for you to choose having different ranges of costs. Some payment gateways don't require a monthly fee, just fees equivalent to a small percentage of each transaction value (around 2.5%).
You can use ready-made website templates to build your website instead of asking for a custom, unique design.
Besides, you should take e-commerce web development packages with rational costs into your consideration.
III/ More Tips For New Online Clothing Stores
1/ Make customers love at first sight
The first impression is critical. If your site is good, customers will be on your site longer and want to see your products. If not, they will leave your store quickly and never come back.
Initially, your website has to fast speed, so buyers don't have to wait too long to access your store or any products. They don't have enough patience and can exit your webs immediately. That is why all merchants want to accelerate the sites' speed.
Besides, website design plays an indispensable role in drawing customers' love. If you want customers to love your store, at first sight, your site should have an attractive design, and the product should be categorized clearly. After choosing products, customers want to check out and pay for their items. However, the internet connection can be disrupted, and buyers will lose their check-out information.
Not only that, a mobile-friendly theme is one thing merchants don't have to forget. Almost all mobile users usually search and buy products on their smartphone because it is convenient and their phone is attached with them 24/24. That is why merchants have to focus on both mobile and desktop website versions.
To address these problems, some merchants have integrated Progressive Web App technology with their sites. Their sites meet the criteria for an optimal website: fast load speed, mobile-friendly, offline mode, better design.
2/ "Make it simple" strategy
Start an online clothing store as a beginner; merchants always want to have a one-fit-all website with plenty of functions and requirements. It is not a good idea; however, you will take a long time to create your site. As a result, you can lose an opportunity in the clothing market and be beaten by competitors.
Not only that, the cost for the website is high, and it is hard for you to cover everything at the beginning. Merchants should have a clever cost application between one for building a website and one for others, like marketing.
After gaining money, you can invest more in the website and update it to keep up with your business size. The ideal solution is to focus on what are the important features of your website. You can create an attractive website with simple requirements.
Key Takeaways
In summary, the most important and specific element when you start an online clothing store is the website. It is representative of your business. An impressive website with lightning speed, attractive design, optimal functions, and affordable price will benefit merchants and help them attract more customers. That is why you have to choose your e-commerce platform and development teams carefully.
Read more: