The jewelry industry has grown and innovated remarkably to suit the diverse demand of people. Owing to digital technology, the number of successful online jewelry businesses has expanded extensively. Everyone has a chance to win. However, many of you are still unclear about how to start a gold jewelry business online. This article is a comprehensive guide to bringing your ornament boutique idea into a profitable business.
Opportunities For Online Gold Jewelry Business
Online shopping has exploded enormously, particularly during the Covid-19 epidemic. With restrictions set in many countries, most transactions are recommended to process online.
The gold jewelry business is not an exception in the online shopping trend. Gold jewelry can suit all audiences, with diverse sources of supply. Besides, it doesn't require much space to store and display. Taking photos to advertise is also easy. As a result, there are more and more online gold jewelry boutiques, and the market is forecasted to keep growing.
However, there are particular challenges to face when starting a gold jewelry business online. Getting it right from the start prevents you from any regrets later and optimizes your business performance. Let's analyze common mistakes to reduce risks when opening an online gold jewelry boutique.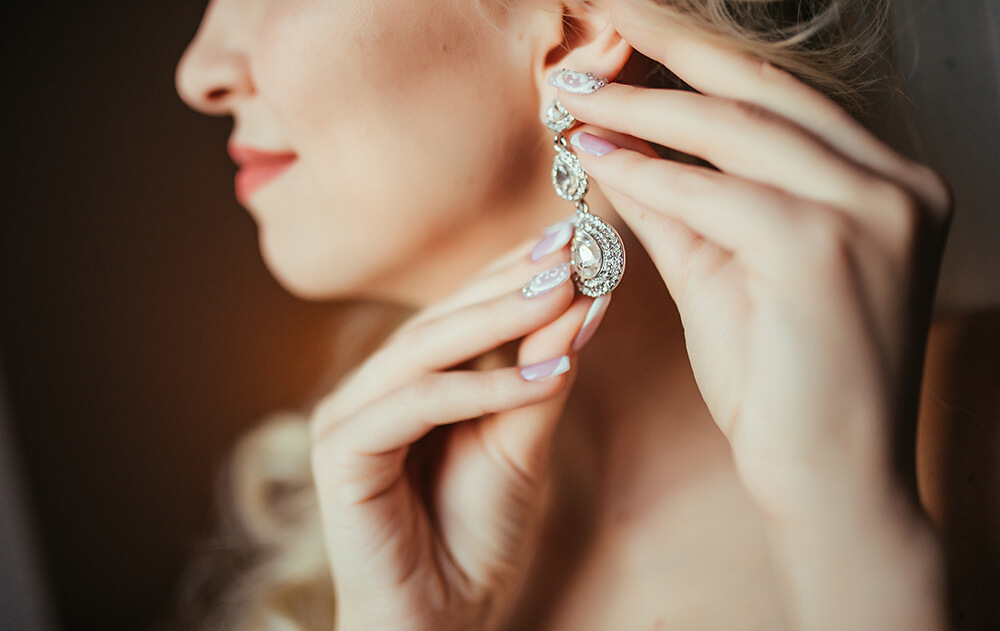 Rookie Mistakes When Starting A Gold Jewelry Business Online
Unclear Business Plan
Many newbie sellers have trouble with this first step, leading to poor management of the business. It is deadly wrong to assume that a plan is optional.
Opening a new online shop with no direction will make your business easier to drown. Gold jewelry has high trend characteristics, so the rate of inventory or refund can increase if you do not factor it into your business plan. In addition, a clear strategy needs the target segment, product type, inventory, and marketing detail.
Wrong Target Segment
The process of dividing target audiences into smaller groups that share similar interests, characteristics, or consumption behaviors is called market segmentation.
Wrong target segmentation leads to poor business performance as well as financial losses. Some assume that anyone can be a customer. This thought isn't entirely wrong but it will make the segment too broad and result in lots of work.
Not Being Different
When seeing a profitable business, some sellers start right away by copying everything from competitors. But there's no one-size-fits-all approach to business!
The online market is increasingly competitive. It overwhelms customers with a lot of options. If your product is new and does not have any advantages compared to available ones in the market, shoppers will not choose yours.
Therefore, what you need is to provide appealing and special offers.
Money Wasting
There are some unnecessary expenses that new online sellers may waste. These include hiring more employees than needed, purchasing high-priced software, negotiating inefficiently with suppliers, or outsourcing too many tasks.
There are lots of free and cost-effective tools to help your business. It only takes some effort and time to research and find the right tools for you.
Inefficient Marketing Channel
Choosing the wrong marketing channel not only wastes your money but fails to meet your expectations. Poor marketing performance lies in inefficient social media PPC advertising, wrong metrics measures, or inappropriate promotion. So research where your potential customers may be exposed to your business the most and start from that particular channel.
Poor Website
Jewelry conveys beauty. If it is not well-presented, customers aren't likely to purchase. A poor website design brings an unappealing and amateur sense.
A website with too many elements is not good either. Or a site that isn't optimized for mobile is also underrated since there are more and more people shopping on their phones now. The lack of simple navigation and slow loading speed affect your gold jewelry business performance, too.
A good website brings an excellent start to any online business. It should be well-structured with appropriate images, fonts, and layouts. They should also include interactive features to bring a pleasant shopping experience.
Selling jewelry requires aesthetic taste, especially gold jewelry. There are many website providers in the market. However, you need to find a suitable yet cost-effective builder for your gold jewelry boutique.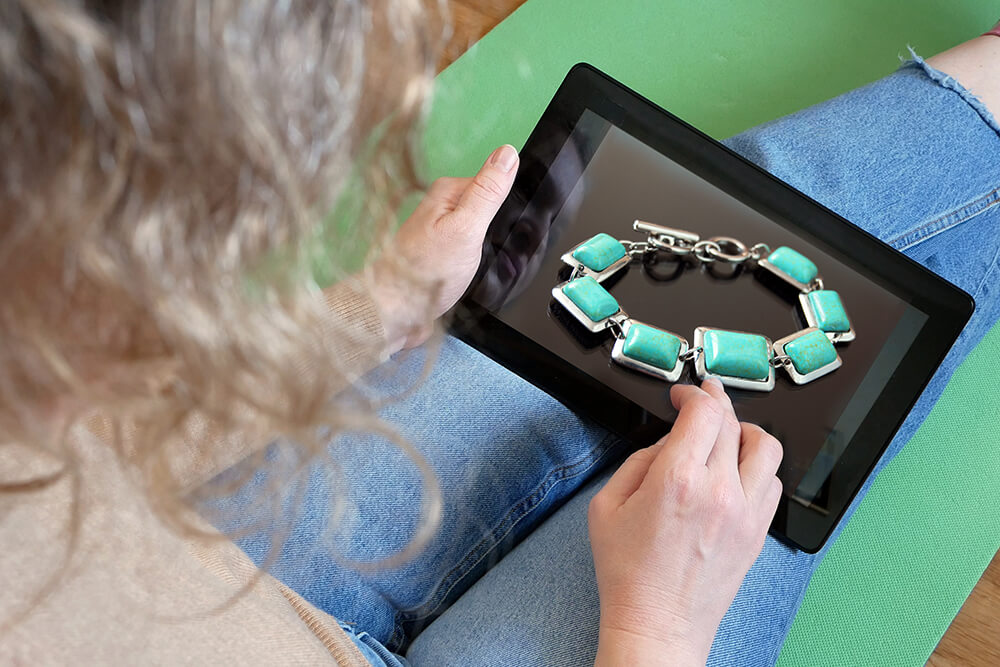 Step-By-Step Guild To Start A Gold Jewelry Business Online Without Mistakes
1. Identify a Market Opportunity
The first step of "how to start a gold jewelry business online" is identifying a market opportunity. When it comes to selling gold jewelry online, there are a few different ways you can go about this. You can either sell directly to consumers or work with businesses that are already in the gold jewelry industry.
If you want to sell directly to consumers, you will need to find a niche market. This could be anything from selling gold jewelry that is handmade to selling vintage or antique pieces. There are many different ways you can go about finding a niche market, but the most important thing is that you research the market and make sure there is a demand for what you want to sell.
If you would rather work with businesses that are already in the gold jewelry industry, there are a few different ways you can go about this as well. You can either work with wholesalers or retailers. Wholesalers will usually sell you gold jewelry at a discounted rate, which you can then sell to consumers at a higher price. Retailers, on the other hand, will sell you gold jewelry at a higher price but will usually give you a lower commission.
2. Specify The Right Target Segment
After having identified a market opportunity, the next step is to specify the right target segment. This simply means figuring out who your ideal customer is and what they are looking for in a piece of gold jewelry. Are they looking for something that is handmade? Are they looking for something that is vintage or antique? Or are they simply looking for the best deal possible?
No matter who your target segment is, it is important that you research the market and make sure that there is a demand for what you want to sell. This will help you determine what price point to sell your gold jewelry at and will also help you create marketing materials that are targeted toward your ideal customer.
Once you know who your target segment is, you can then begin to research the best way to reach them. This could involve anything from setting up a website to using social media platforms like Twitter and Facebook.
3. Create A Clear Plan
Once you have identified a market opportunity specify the right target segment, and the next step is to create a clear plan. This plan should include everything from your business goals to your marketing strategy. It is important that you take the time to create a well-thought-out plan so that you can be sure your business is set up for success.
You do not need a plan of 20 pages with too many words. Think about: what type of jewelry to sell, who is likely to buy, which platform to use, and how to promote efficiency.
For instance, you should consider:
Name, vision, and target of your online gold jewelry business
Product: determine the kind of product to sell, whether costume or fine or handmade jewelry. Each type requires a different investment.
Audience: specify customers that are likely to buy your jewelry
Inventory: find the suppliers, local or overseas
Price and cost: how much to set for your jewelry, considering costs to earn profit
Marketing: how to reach potential customers – emails, social media, or other platforms
Website: which is the best platform
Supportive tools and software
In a nutshell, building a clear plan is necessary when you head down on selling jewelry. It provides you with more responsibility and encouragement to achieve business success.
4. Choose An Appropriate Product
You need to do market research and evaluate the potential product that can bring a high-profit margin. Picking a suitable jewelry type depends on many factors. These include your current budget, supply source, or customer demand.
There are two types of jewelry. Fine jewelry requires a big investment since it is not mass-produced and often targets luxury customers. On the other hand, costume jewelry requires trendy analysis. You need to update on-trend items frequently to bring your customers a variety of choices.
You can also make your jewelry if you enjoy hand-craft things. There are many instructive videos on Youtube and Tiktok that help you to be more creative. It also makes your jewelry unique and easier to differentiate from others.
5. Start Producing Or Buying Products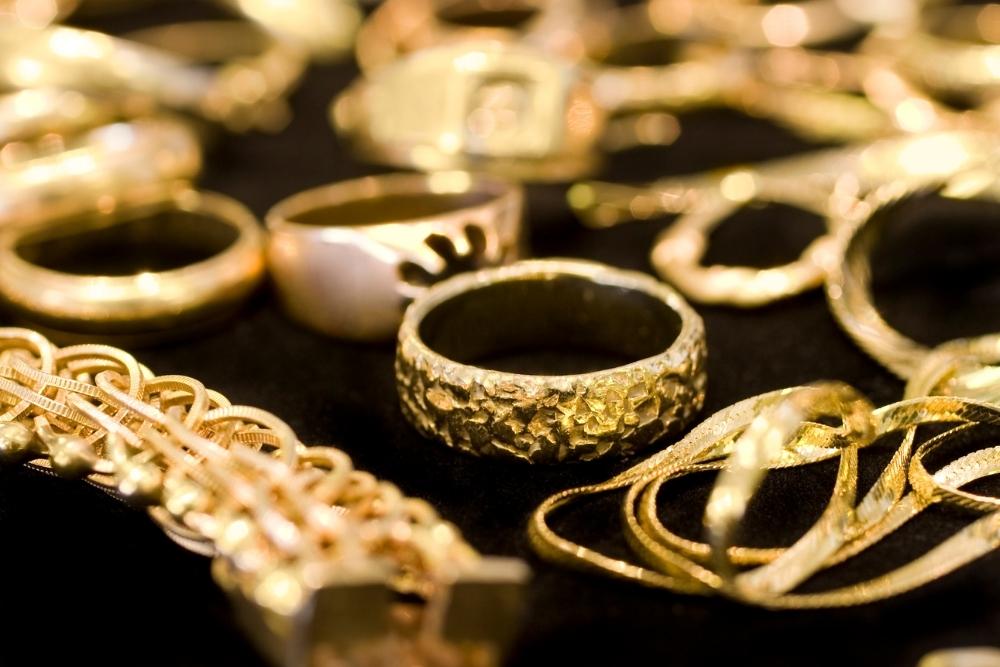 The next step of "how to start a gold jewelry business online" is to start producing or buying products.
Invest in some supplies and tools
If you are going to sell handmade gold jewelry, then you will need to invest in some supplies and tools. Here are a few things that you'll need to get started:
Jewelry clasps: these clasps hold your pieces together while they're being worn, so make sure to choose ones that fit your style and look good on your customers' wrists.
Hinges: hinged earrings or necklaces let you easily change the length of a necklace or earring without having to take them off entirely. This is helpful if you want to offer multiple different styles in inventory at once.
Studs: studs add dimension and interest to your designs, and can be used for both regular jewelry items (earrings, bracelets) as well as special occasion accessories (wedding dress jewels, bridal headpiece).
Wire cutters: If you plan on using wire for any of your projects, make sure to invest in a quality pair of cutters. They will help you shorten lengths quickly and easily without damaging the wire.
Once you've got all of these supplies handy, start brainstorming ideas for how best to use them! You could create unique pieces that feature unusual materials or try out some new styling techniques with hinges and studs.
Buy products from a wholesaler or retailer.
However, if you are going to sell mass-produced gold jewelry, then you can simply buy products from a wholesaler or retailer. There are a few things you should keep in mind when choosing the right partner:
Research the company thoroughly. Look into their background, what kind of products they manufacture, and how you will be able to contact them if there is any problem.
Make sure that the product quality is consistent with your standards. Check out reviews online to see what other customers have had to say about the quality of the product.
Always negotiate a good price before beginning production or shipping. Be willing to go lower if necessary in order not to lose money on your project later on down the road.
6. Create A Professional Website
Creating a professional website is crucial because it is the store window of your business. It showcases your products and services to attract customers. Your website should be beautiful, informative, user-friendly, and responsive.
A simple website should include the following:
An About Us page: tell your customers who you are, what you do, and why they should trust you. Include information about your experience, awards, and press coverage (if any).
A Products page: showcase your products in detail, with high-quality photos and descriptions. Be sure to include pricing information and shipping details.
A Contact page: provide multiple ways for customers to get in touch with you, including a phone number, email address, and social media links. You can also include a contact form on this page.
If you are not familiar with web design, there are many platforms that offer free templates and easy-to-use drag-and-drop features such as WordPress and Shopify. These platforms make creating a website relatively easy, even if you don't have any experience in web development or graphic design. Plus, these platforms often come with built-in marketing tools that can help you get started quickly.
If you are familiar with web design, there are also many more specialized platforms that offer more features and customizable options. These platforms may require a bit of experience in order to use them effectively, but they can be much more rewarding when used to create an engaging website.
You can also hire a web designer to create a custom website for you. Just make sure that you have a clear idea of what you want before starting the project.
7. Determine Pricing Strategies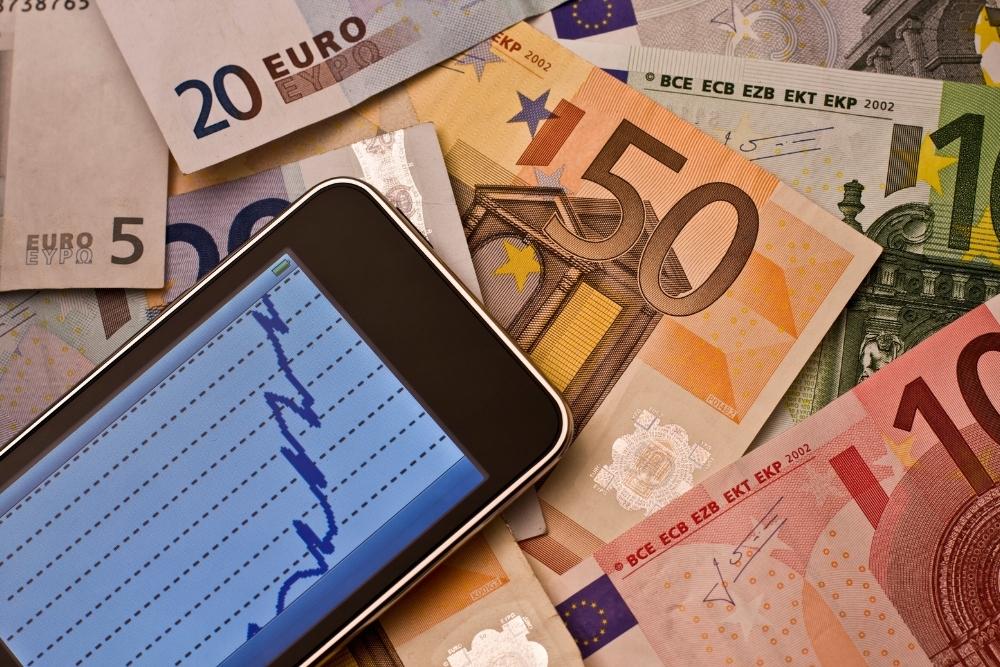 The next step of how to start a gold jewelry business online is determining pricing strategies. You need to make sure that you are charging enough to cover your costs and make a profit, but not so much that customers are turned off by the price.
Here are a few things to keep in mind when setting prices for your jewelry:
The cost of materials
When it comes to handmade jewelry, one of the most important factors that affect prices is the cost of materials. Not only do you have to consider the cost of metal (gold and silver are two common choices), but also founds beads, and wire. Make sure to factor in all these costs when estimating your finished product's price.
For example, if you're making a pendant made out of gold-plated brass sheeting and turquoise stones, you'll need to budget for the cost of gold plating as well as the stones themselves. You may also want to include an allowance for labor costs (such as wages for your jeweler or sculptor) in addition to material expenses. As always, be honest with yourself about what will make your project affordable and feasible.
The time it takes to make each piece
Creating jewelry is a complex and time-consuming process. It typically takes anywhere from one to two hours to create a ring, necklace, or bracelet. However, the amount of time it takes will depend on the complexity of the piece and the skill level of the artisan.
Therefore, it's important to charge appropriately for what you are offering. For example, if you can create a simple ring in minutes using basic tools and techniques, then charging less than $20 per ring may be appropriate. If your skills extend beyond that level, however (or if the item requires more than basic tooling), then you should charge more for your work because your time is worth something.
The price of similar products
When setting prices for jewelry, it's important to understand how similar products are priced. By studying other designers' work and looking at what customers are willing to pay, you can set realistic prices that will attract buyers.
Pricing your items below cost (or even making a profit!) may be possible if you're able to find the right market niche and design custom pieces that are unique to your brand. However, doing so requires a lot of hard work and commitment on your part. So consider whether or not this is the best route for you before starting up shop!
Once you have a good understanding of your costs, start setting prices for your jewelry. Remember to review your prices regularly and adjust them as needed.
8. Start Building Your Brand
Building a strong brand is the guide on how to start a gold jewelry business online, but it is especially important for jewelry businesses. Your brand is what sets you apart from your competitors and makes customers think of you when they are looking for jewelry.
Here are a few tips for building a strong brand for your jewelry business:
Choose a name that reflects your brand identity: choosing a name for your business or project is important, not only because it reflects who you are, but also because it can help people identify and remember your brand. There are a number of factors to consider when choosing a name, including what makes your business unique and how easy it is to pronounce. However, the most important factor is always comfort. You want the name to be comfortable for you and those who use it every day.
Create a logo that represents your style. Your logo is your business card, and it should reflect your unique style and personality. This means you need to select a design that reflects who you are as a business or individual. There are many options available when designing a logo, but the most important aspect is to be creative and original. Be sure to also include your company name and website address in the logo design so people know where to find you online.
Develop a color palette and use it consistently in all of your marketing materials. By using a consistent color scheme, you'll create a more unified look across all of your content, which will help you stand out from the competition.
Pick a typeface and use it on your website, business cards, and social media posts. Not only will the typeface help to organize and simplify your content, but it can also make your visual assets look more professional. There are many great types of fonts available today, so it's important to find one that works well with your branding and style.
Create a tagline that captures the essence of your brand. It's your brand's signature phrase or statement, and it should reflect the mission and purpose of your business. Taglines can be short or long, but they need to resonate with your target audience. They also need to be catchy enough that people will remember them.
9. Market Your Business
Once you have everything in place, it's time to start marketing your business. There are many ways to market a jewelry business, but some of the most effective methods include:
Creating a social media presence is essential for any business, and it's especially important for businesses in the digital age. Social media platforms like Facebook, Twitter, Instagram, and LinkedIn are used by millions of people every day to discuss current events and share personal thoughts and experiences. By creating an account on all these platforms and posting regularly, you can reach a large audience quickly and build relationships with potential customers or clients.
Developing an email marketing strategy: Email marketing is one of the most powerful tools that a business can use to connect with its customers and keep them updated on new products, sales, and promotions. By collecting emails from your customers and prospects, you can create custom email campaigns that are tailored specifically to their needs. This ensures that they always have fresh content to read and information about your company's latest updates.
Participating in trade shows: Trade shows are a great way to increase your visibility and connect with potential customers. By attending trade shows related to your industry, you can meet new people, learn about new trends, and sell your products or services. You also have the opportunity to gain feedback from potential clients.
Getting press coverage: By sending out press releases to local media outlets whenever you have something newsworthy to share (e.g., new product launch, special event, etc.), you'll increase the chances of getting your story published. Not only will this help spread the word about your business or project, but it also gives potential customers and clients an opportunity to learn more about what you've got going on. And who knows? You might even get some free publicity.
By using these marketing strategies, you can reach a wide audience and generate interest in your jewelry business.
10. Stay Organized and On Track
Running a jewelry business can be overwhelming, so it's important to stay organized and on track. The best way to do this is to create a business plan that outlines your goals and strategies. Review your plan regularly, and make adjustments as needed.
In addition, keep track of your inventory, sales, expenses, and marketing efforts. This will help you identify areas where you need to make changes or improvements. Finally, don't forget to set aside time for yourself! Running a business is demanding, so make sure to take breaks when you need them.
Conclusion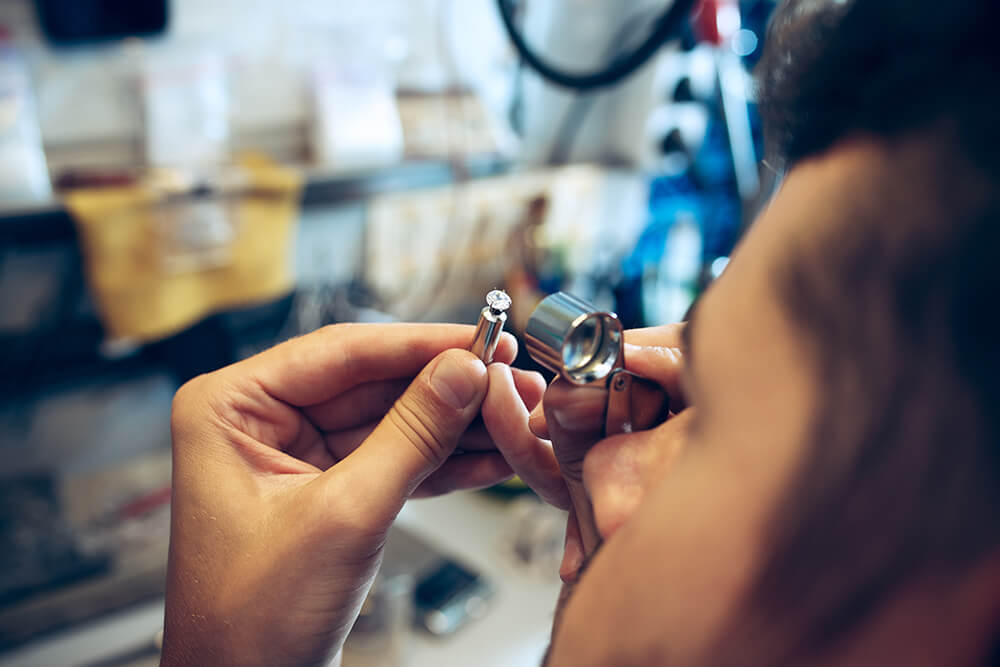 The jewelry market can be profitable if operated the right way. However, sellers can have trouble with many misdirections. With the mentioned mistakes and guide on how to start a gold jewelry business online, hopefully, you will be more confident in starting an online gold jewelry boutique.
FAQ
How much does it cost to start a jewelry business online?
You don't need a lot of money to start a jewelry business online. In fact, you can often start with just $100 or less if you are starting a home-based jewelry business. However, if you want to sell gold or diamond jewelry, you will need at least $20000 to get started. That said, there are many ways to make your first dollar in this industry – and it doesn't have to cost much at all!
There are numerous online stores that offer free trials so that you can see how the business works before making any investments. Once you know what type of jewelry style suits your personal taste and marketability, it's time to hunt for potential suppliers and start selling!
2. How to start a handmade jewelry business online?
There are several things to consider as mentioned above. You need to build a clear business plan, choose the target audience, optimize the budget, select the right marketing channel and pick the right website builder.
3. Where can I get my jewelry supply?
Many people turn to online retailers like Alibaba or Amazon for their costume jewelry needs. These platforms offer a wide range of products at competitive prices, and many suppliers have diverse items that you won't find in other stores. Plus, these sites offer quick and easy access to a large audience of potential buyers.
Another suitable place to start is your local mall. Many large stores carry a wide range of jewelry supplies, from costumes to everyday wear. You can also find specialty stores that sell only jewelry, or online retailers that offer a wider variety of items. Wholesalers often have lower prices than retail outlets and can provide you with more options in terms of quality and style.
4. How to start a gold jewelry business online?
Starting a gold jewelry business can be an exciting and lucrative venture. However, it is important to do your research first and make sure that you are ready for the challenges and risks involved in this line of work. Here are some tips on how to start a gold jewelry business online:
Learn about gold valuation. A gold testing kit and professional scale are essential tools for weighing precious metals, but they don't provide all the information you need. You also have to consider price fluctuation, weight, purity levels, buyer authentication procedures, etc.
Get familiar with the market conditions relevant to your region or country. Gold prices vary from place to place due to a variety of factors like economic stability or geopolitical events. This knowledge will help you decide when it's appropriate to buy or sell precious metal products.
Make sure that your company is registered with the proper authorities if you plan on selling any physical product (like jewelry). It's also important to have insurance in case of theft or other accidents during business operations.
5. Which is the best E-commerce platform for an online jewelry store?
When choosing an E-commerce platform for your online jewelry store, there are a few things to consider. First and foremost, you need to decide which platform is best suited for your business layout and features. Many popular platforms like Shopify, Wix, and WooCommerce offer a wide range of features that can be tailored to fit your needs. However, after a 14-day free trial period, these sites require monthly payments in order to function properly.
Additionally, many designers feel that Magento websites have better designs than the other platforms. So if the design is important to you (and it should be!), carefully compare all of the available options and pick the one that best suits your needs.
6. Which is the best website builder for an online jewelry store?
As mentioned above, the Magento platform is ideal for any E-commerce business. To start with your jewelry business, you can choose the Tigren E-commerce development service.