Traditional e-commerce business models often require significant capital investment and time to set up and operate. They also involve the management of inventory, packaging, shipping, and other tasks. Print-on-demand (POD) is an ideal business model for less liability and less risk. The question is how to start a print-on-demand business? What do you need to do to build your store, get your first sales and increase your income over time?
Do not worry. We've got you covered.
What Is A Print On Demand Business?
Creating custom products on demand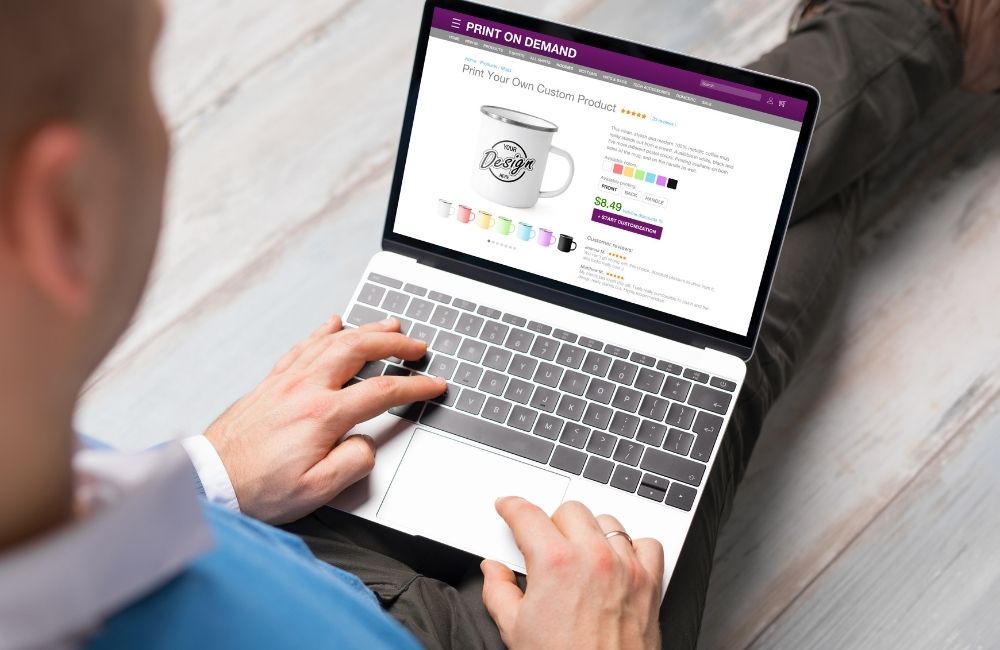 Print-on-demand provides a way to place your logo and custom designs on clothing, accessories, and other products when each customer places an order.
Like other dropshipping businesses, running a POD business means you don't have to buy or store inventory, keeping your overhead low. However, the difference is that items are not printed and shipped with print-on-demand until each order is received.
You can use the print-on-demand service to:
Test business ideas or new product lines for existing companies (without buying inventory).
Monetize the audience you build (POD is an excellent option if you're a content creator/KOL).
Create original products for niche customers.
Print T-shirts, books, shoes, bags, phone cases, watches, laptop cases, mugs, etc., as needed in one-off or small batches.
Prediction for the POD industry in 2022
Industry forecast shows POD remains a viable and profitable business model in 2022.
The POD industry has grown 12% in the last four years. There is no end to the growing demand for unique products and personalization options. Some consumers expect personalization as standard and are willing to wait longer for customized products (48%).
A Deloitte consumer study found that one in five consumers would pay 20% more for a personalized or exclusive product. Personalization offers something unique for each age group. Surprisingly, the 55+ age group is more likely to buy a customized vacation than the 16-24.
Pros And Cons of Print On Demand
Now you know what POD is and the future of this business, let's take a quick look at why this model is favorable by looking at some benefits below:
Pros:
Easy Setup: You don't have to hire the best designer for this business. There are tons of plugins, templates, themes, and guides you can use to start your online store.
Low start-up costs and low risk: Traditional stores require considerable investments to buy inventory and keep your business running. Since you don't hold physical stocks, adding or removing products, testing ideas, or changing methods is easier.
No Inventory/Shipping Management: Your suppliers are responsible for almost everything from order printing to packaging to shipping, so you don't have to worry about inventory. You can focus on marketing and gaining more orders most of the time.
Adaptability: One of the most significant benefits of POD is that it gives you the ability to create and sell unique designs.
Scale and test risk-free: You can easily extend, test, and change your design without substantial financial risks.
However, POD still has some disadvantages:
Cons:
Lower edge: Apparently, your cost per item will be higher than buying in bulk.
Less control over shipping: Shipping costs can be complicated as they vary from one print-on-demand product to another. Your options are also limited if you want to create a great unboxing experience.
Limited product: Your ability to customize your product depends on the supplier and product. When deciding which products to customize, you must weigh base cost, customization options, and available sizes.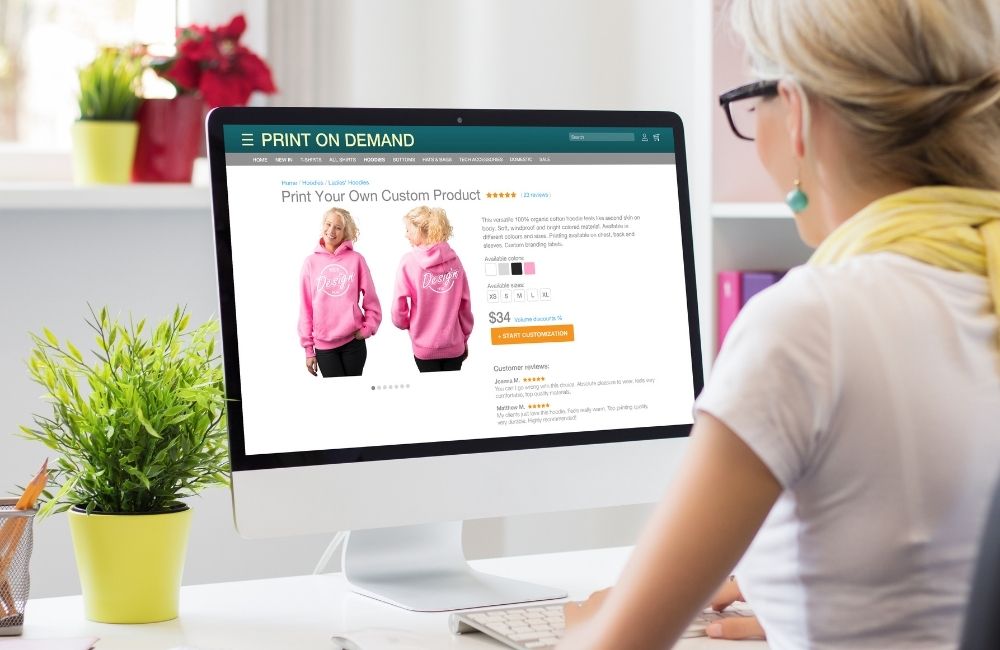 3. How To Start A Print On Demand Business?
While generally easier to manage, this type of business is still effort demanding. The following sections will show you how to start a print on demand business efficiently.
1. Choose your niche & products
First and foremost, you must choose a niche where you are most likely to succeed. If you're out of ideas, try listing some categories you like.
Once you've picked a niche (or narrowed your options down to a few), validate your idea using search engines and social media. Google Trends shows the number of searches for your niche. Facebook, Twitter, and other platforms also help identify your target groups.
Your POD store can focus on a specific niche. For example, you want to appeal to people who love dogs and the design around them. Analyze how people think, act, what they want, their demographics, personalities, and more.
Once you understand the needs of your target customer, it's time to come up with a clear idea and create a design.
2. Get your designs & store ready
Product mockups
In a traditional e-commerce store, products are already designed and manufactured. They are ready for sale and delivery to customers. But with a print-on-demand store, you need to create or buy art to sell your product. For POD, design is everything. You can make or break your deals.
Make sure to create attractive mockups for your products. Mockups give your customers an idea of ​​what your custom prints will look like. Done right, models can get people to buy.
The best part is that most POD sites have mockup generators that you can use to visualize your products. With a wide range of environments and models, you can create models that look as realistic as the real thing.
Website
Once you've decided on your product design, it's time to get your website up and running. This may take a few days to complete, but it is critical to the future success of your print-on-demand business.
First, choose a platform to host your website on. The most preferred e-commerce platforms are Magento, Shopify, and WooCommerce. Then you should reach out to a professional web service to build your store.
Pros of having a website:
Stores are customizable, from designs and contents to functions.
A customizable store will result in a stronger brand presence and create a unique shopping experience for customers.
You have complete control over your store visitors and can collect essential information to later use for marketing, customers support, and strategic decisions.
It's possible to integrate third-party tools to optimize your store.
The profits are all yours, there's no need to pay for commissions and such.
Cons of having a website:
A lot of marketing effort is required to promote your business because this is the primary traffic source.
Building your customer base will take more time.
It requires significant initial investment if you integrate extensions for additional features.
Accounts on marketplaces
There are many online marketplaces where you can sell your custom designs. For example, RedBubble and Zazzle offer POD services when you create a store on their platform. People also sell custom products on Etsy, eBay, and Amazon.
Pros of marketplaces:
Setting up your store is quick and easy.
Each marketplace has its search engine that provides an additional traffic source.
The marketplace offers valuable insights.
You don't have to worry about technical issues like the ordering process or payment methods.
You've already established your authority, so starting to sell custom products is an excellent option if you're new to the field.
Cons of marketplaces:
Every marketplace has its own set of rules that you must follow.
You have to pay monthly subscription fees and transaction fees to them.
You have less control over your brand and customers.
3. Find the right print-on-demand supplier
You can skip this step if you decide to sell via online marketplaces. However, if you're going to create your store, you'll need to work with a print-on-demand company.
The supplier you choose is the one you need to communicate with regularly about orders, fulfillment, returns, and many other aspects of your business. The good thing is that if you work with a supplier long enough, you may negotiate for more favorable conditions.
To choose the best print-on-demand company, consider:
Product Range: Are you going to offer services for several categories or just one?
Printing Services: Some suppliers offer the option to print text only on the front and back of the T-shirt, while others also provide full coverage printing.
Positive Reviews: See reviews about their services on their websites, social media, and forums.
Handling returns: Check their return policies and process carefully.
Pricing Model: Ideally, opt for a print-on-demand service that offers high-quality products while charging a flat rate for the actual cost of the order.
Fast Shipping: Today's customers demand speed and convenience. Therefore, you should work with a provider that offers quick delivery.
Take the time to research each print-on-demand company, and you'll find the one that best suits your needs.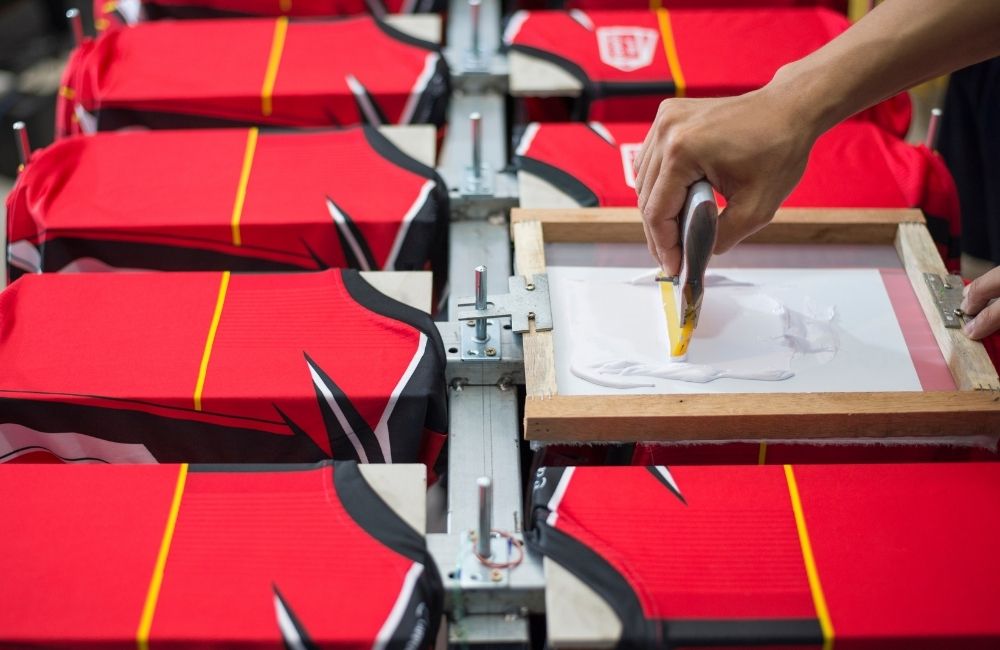 4. Release, promote and track
This is the last step on how to start a print on demand business for you.
With your designs, products, POD services, and platform in place, it's time to upload your creations to your products. It's not enough to have a POD store. You have to work hard actually to make money from sales.
You need to advertise your print-on-demand business to make a sale.
Here are some marketing tips to follow:
Set up social media accounts: Social media platforms have become the best place to obtain leads, and best of all, they are free. Set up a Twitter, Facebook, Instagram, or YouTube account to promote your business.
Improve SEO: SEO is a powerful tool for getting your brand on the first page of search engines.
Utilize customer ratings and reviews as testimonials: ensure the testimonials are displayed on key pages to boost customer trust and purchase intentions.
Write quality blog posts: By helping your audience, you can build positive relationships with them and make them trust as they learn and engage from your content.
FAQs On How To Start A Print On Demand Business
1. Is print-on-demand worth it?
Overall, the on-demand business model can be profitable. The honest answer to the question is your attributes. If your marketing and designs resonate with your audience, there's always an opportunity to make more.
2. How much can you earn from a print-on-demand business?
How much you earn from a print-on-demand business depends on the target market, needs, product demand, and seasonality. When determining how much you can make, you need to consider the selling price, the print service provider's fees, and the workload.
3. What is the difference between POD and ordinary dropshipping?
A business that provides custom services for the products sends the products directly to the customer when ordered. If that sounds like dropshipping, you're right! In the request is another format of dropshipping. The difference is that POD allows you to test more of the look and feel of the product, while media dropshipping is selling a product created with few or no options.
4. How do you price POD products?
The effectiveness of your brand marketing primarily determines the price of your print-on-demand products. When pricing your product, first base it on market demand. You may charge higher for products, but ensure their quality is worth the price. Otherwise, if you want to cover a larger target market and make a profit, you can rate the product as a safer bet similar to your competitors.
5. What is the best place for a POD business?
While you can run a store on marketplaces, having your own POD website remains the best solution.
And building a website doesn't have to be a painful process when you're with the right partner like Tigren.
We offer excellent e-commerce web development services at reasonable prices. Clients have always been satisfied with our services and support. So if you want to start your POD, let Tigren help you.
Why choose Tigren to build your POD website?
Excellent support: Attentive and helpful customer service, 24/7.
No Hidden Fees: We offer a variety of packages with affordable total prices.
Experiences: Our team have over 10 years in web development.
Detailed onboarding process: Set up a free live demo with a professional team.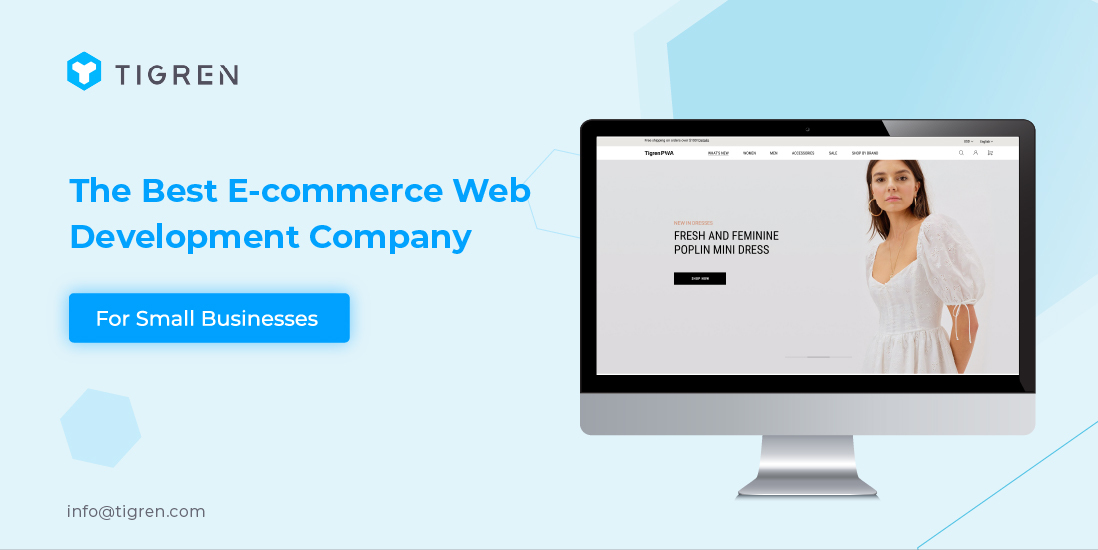 Conclusion
Now that you better understand how to start a print on demand business, time to act. Whether you're a sole proprietor or a company with many employees, setting up a print-on-demand product store is a great option.
By following the above tips and keeping the previously mentioned information in mind, you can build an online business with the proper knowledge. You can take the necessary steps to run a print-on-demand online store with the help of a third-party print-on-demand provider and an extensive social network that you're sure to own.
What are you waiting for? It's time to get to work, start selling, and make money! And if you want to build a fantastic e-commerce website for your Print-on-demand business, contact Tigren. We have everything you need.