Hybrid app vs progressive web app is currently a topic of interest for many business owners. This is quite understandable since both technologies have various strengths. For example, money-saving, time-to-market shortening, better customers experience building.
However, because these two apps have too many similarities (such as one web core, app-like experience, etc.), people usually don't know they were born with different purposes.
Let's dig in to find out what the differences are!
Hybrid app is a mobile application that perfectly combines the advantages of the native app and mobile web. Practical functions such as taking photos, playing games, connecting to social networks, etc., are operated smoothly on hybrid apps. This makes it no different from a typical mobile application.
The hybrid app has a unique feature in programming that makes it a top choice for SMEs. Although it is built using web technologies, it has a native app appearance. Developers will use tools to wrap the web core with a native app cover.
Thus, a hybrid app has a competitive advantage over other applications when its web database is not limited to accessing a single mobile operating system.
Progressive Web App or PWA combines the best parts of a web app and an app. As a result, PWA gives users a full-native-featured website with an app-like look.
Similar to the hybrid app, PWA is also written by web programming code, such as HTML, CSS, and JavaScript. It has only one codebase and can operate on multiple platforms, such as iOS, Android.
A unique feature only PWA has is: although it is an advanced version, this app is still a website. This means you can turn most of your website into a PWA in a short amount of time.
Hybrid App Vs Progressive Web App: What Are The Differences?
The installation process
A hybrid app is still a standalone mobile app, so users need to download it from the app store to their devices.
Once installed, the app can connect to all the mobile device functions through the browser embedded in the application.
With PWA, users can install it right directly from the device's web browser without having to go through any application provider platforms.
All they have to do is tap on the "add-to-home-screen" button and download PWA.
Consequently, PWA is more suitable for attracting search engines and social media users while the hybrid app can reach app market users.
Development & maintenance
The similarity between developing a hybrid app and a PWA is that they are both built using web programming languages. Web technology is more accessible, universal, and straightforward than native app programming languages.
Furthermore, both of these app types have only one codebase. As a result, it can work cross-platform after one-time coding.
Overall, the development, updating, and maintenance of hybrid apps and PWAs are all optimized.
Submission on app stores
As mentioned above, the hybrid app is still considered a standalone application. Therefore, they will still be distributed on application delivery platforms and need to go through censorship.
However, the submission process of a hybrid app is relatively fast because it can be uploaded to numerous app markets simultaneously.
Due to the advantage of shortening development and maintenance time, hybrid apps are also much more convenient than native apps in submitting to app stores.
Besides, app markets are now tending to favor multi-platform apps. You can gain more users thanks to this.
With PWAs, of course, they will not need any application platforms because they are distributed directly on web browsers. You won't need any permission or submit fees.
As a result, time-to-market and cost will be significantly reduced.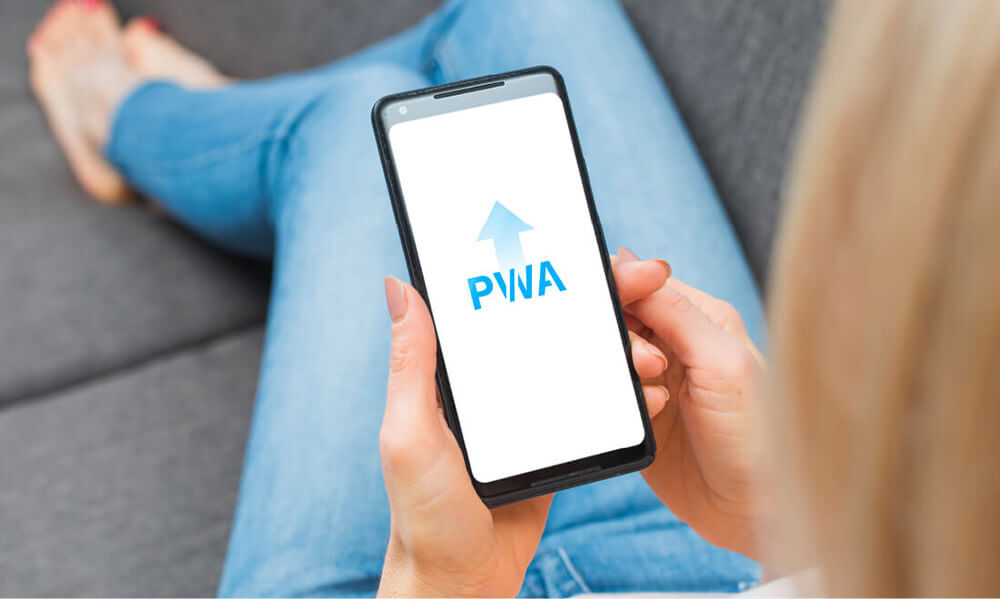 The ability to reach customers
Thanks to the distribution on platforms such as Appstore or Google Play, Hybrid App has a great advantage in reaching potential customers. On the other hand, this also helps in better marketing.
Unlike hybrid apps, PWA will better reach customers who use search engines and social media. In addition, because it is a website, PWA has the ability to share URLs on social networking sites. This has a positive impact on the marketing process of the business.
App functions
Working as a regular app, the hybrid has most native app's functions by connecting well with every device's features. Thanks to that, it can optimize the user experience in the best way. Yet, it will need specific plugins to link with the phone's features.
PWA has many special functions compared to a standard website, such as push notification and offline working. Although it does not have as many abilities as a hybrid app, these functions can still stimulate users.
Customer experience
Both these applications do an excellent job of optimizing the user experience with different features. Overall, they all offer a friendly interface, high speed, consistent experience, and the ability to work offline.
PWA will give a better initial feeling since customers don't need to wait for the downloading but still has a standard app.
The hybrid one will provide a good experience in the long term with excellent customer care and appealing features.
Hybrid App And Progressive Web App: Which Is Better?
It can be seen that PWA and hybrid app serve are different objects. As mentioned above, PWA helps businesses build a better online presence by reaching customers on search engines and social media.
As for the hybrid app, it helps businesses reach potential customers on the app market better, thanks to the favor from these providers. In addition, hybrid apps will also play an essential role in establishing a longer-term relationships with customers.
In short, PWAs help increase website performance but cannot completely replace an application.
Bottom Line
Hybrid apps and PWAs are not two similar types of apps that are competing with each other. They can complement each other and help increase profits for businesses. The client file they target is also different. So if you are confused about the choice, you should consider which customers you are targeting.
If you're looking for a professional service provider to develop a hybrid app or build a PWA, don't hesitate to contact Tigren. We've been working on developing these technologies for years, and our clients come from multiple industries. Your app will be built by our expert team and ensure a smooth performance that can help you to grow your business!
Read more:
Progressive Web App Architecture: Everything You Need To Know