Thinking about effective marketing strategies for your eCommerce website? You're not alone. One of the most common methods – email marketing, is considered less effective than it used to be. So owners are looking for new ways to promote their online store. The new marketing methods combined with email marketing have a better chance to attract customers for businesses. This article will thoroughly examine this topic and gives good advice on your marketing strategies.
What Factors Make Ecommerce Email Marketing Ineffective?
1. Spams
Not surprisingly, email users feel disturbed when they get many spam emails from attackers or marketers. Because email spam filtering can detect these types of communications, it can be a valuable tool for safeguarding people against unwanted messages.
There are different types of spam filters, including:
Content filter: examines the text of an email to determine whether or not it should be marked as spam.
Blacklist filter: prevents emails from senders added to a spammer's list.
Header filter: look at the header of an email to see whether it's from an unauthorized sender.
Language filters: emails written in a language other than the recipient's language are likely to be spam.
With spam filters, your email marketing could end up in the spam folder, resulting in a less efficient marketing effort.
2. Tighten Email Laws
The CAN-SPAM Act (laws of US government)
The CAN-SPAM Act was enacted by the US government to safeguard recipients' benefits from commercial emails. Receivers have the right to request that businesses refrain from sending them any electronic communication for promotional purposes. Otherwise, firms may face harsh penalties if they violate the law.
The GDPR of Europe is the strictest privacy and security law globally. The EU's new data privacy and security regulation impose duties on firms that target or collect data about their citizens.
It specifies the conditions under which it is permitted to process personal data, including explicit consent. Those who break the GDPR's regulations will face severe fines, with penalties ranging in the tens of millions of euros.
Email marketers who are not updated about the tightened email laws or breaking the laws can find no way to get their eCommerce email delivered to the recipients or process users' data.
You might want to read: The Ultimate Guide For Magento GDPR Compliance
3. Growing Email Receivers' Prejudice
As users are bombarded with advertising emails, they tend to prejudice emails when receiving them. Therefore, users are likely to:
Ignore them as soon as they receive an email
Classify such emails as spam
Unsubscribe email
Not surprisingly, this leads to a low click rate.
Tips For Effective Ecommerce Email Marketing
Though there are obstacles to successful eCommerce email marketing strategies, you can still make it with the following tips:
Research carefully to build emails that wouldn't be classified as spam to lower the chance of being filtered out.
Study and obey the laws related to email and personal data security. For GDPR, you can create a lead magnet, build a mainstream subscription list. For CAN-SCAM, you can make email templates with the required fields sufficiently.
Let users opt for email receiving frequency. Try not to send more than 2 emails per week.
Improve the content of emails sent, providing valuable information with advertisement.
Use reputable email marketing services such as Mailchimp, Sendinblue, Getresponse, Campaigner, HubSpot to increase the open rate.
Best Alternatives To Ecommerce Email Marketing
Besides eCommerce email marketing, you can look at other solutions to promote your business.
Social Media Ads
Paid social media advertising is similar to Google Adwords. It expands the reach of your existing content to a whole new audience. Depending on their market, a business may opt for advertising on Facebook, Instagram, Twitter, or Tiktok to meet their prospects.
Google Adwords
Google AdWords is a popular advertising network that allows businesses to place adverts on Google's search results pages. Google algorithm will rate a website's quality based on many factors, asides from the placed bids, to decide the position of the ads.
This is a common pay-per-click approach of businesses, and it's still very effective, especially for those whose goal is to gain leads for sale. The only downside is this approach can be pretty expensive if bidding for popular keywords is searched by users.
PWA Push Notifications
Push Notifications is an outstanding feature of Progressive Web App (PWA). They are pop-up messages that show on mobile phones. This feature has been shown to assist businesses in increasing site traffic, conversion rates and improving customer communication and brand recognition at no cost.
PWA Push Notification is an excellent conversion trick that e-stores can't ignore with regular marketing messages and a gentle approach. If you want to find the best PWA integration provider, Tigren could be your ideal partner.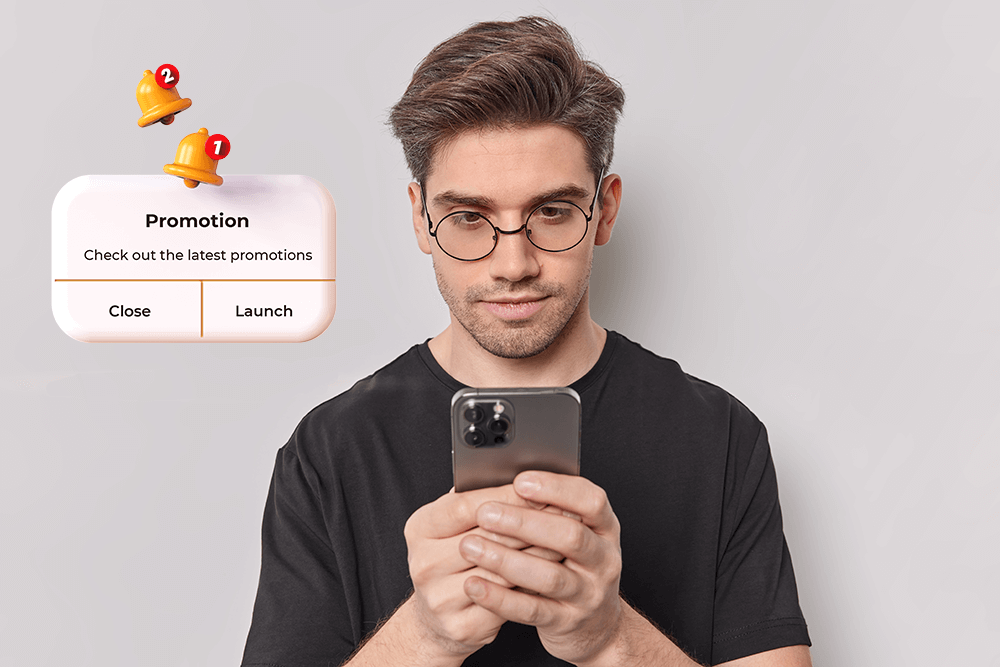 Wrap Up
Hopefully, you have found this article helpful with alternatives to eCommerce email marketing to your online business. PWA Push Notifications prove to be the most cost-effective strategy out of recommended solutions. If you want to start integrating your website with PWA, contact us at [email protected].
Read More:
How To Optimize Marketing Costs For Online Businesses?
Trending E-commerce Marketing Strategies To Liven Up Your Online Store