You may know that Magento is one of the best eCommerce platforms if you want to create an online store. Some of the world's biggest brands entrust their websites with Magento. We'll go over the Magento 2 benefits to answer why thousands of eCommerce business owners use it worldwide.
What Is Magento 2?

Magento is the most popular eCommerce platform for online shops. It's a high-performing, scalable solution with robust out-of-the-box functionality and a strong community that keeps adding new features.
Magento 2 was released in 2015, and it is a re-imagining of the platform that brings it up to date with the current development standards and serves as a basis for future additions and growth.
Users can take advantage of these Magento 2 features:
Adaptable website architecture
Engaging customer experiences
More efficient business experience
Loading times are 50% faster.
Safer payments
Maintenance and improvements are easier.
Magento 2 is a more advanced version. The Magento 1 was stripped down and rebuilt after the developers received complaints and feedback.
Why Is Magento So Popular?
Magento stands out due to its extreme flexibility and high level of customization. There is a total of over 730,000 websites built on Magento, with nearly 175,000 live websites.
Magento includes product grouping, SEO-related modules, email lists, CMS, and multi-store capabilities, making it a better choice for store owners. Furthermore, it is a user-friendly interface with easy third-party integration, responsive design, and different deployment options that provide clients with a pleasant shopping experience.
14 Magento 2 Benefits For An E-commerce Store
1. Higher conversion and Scalability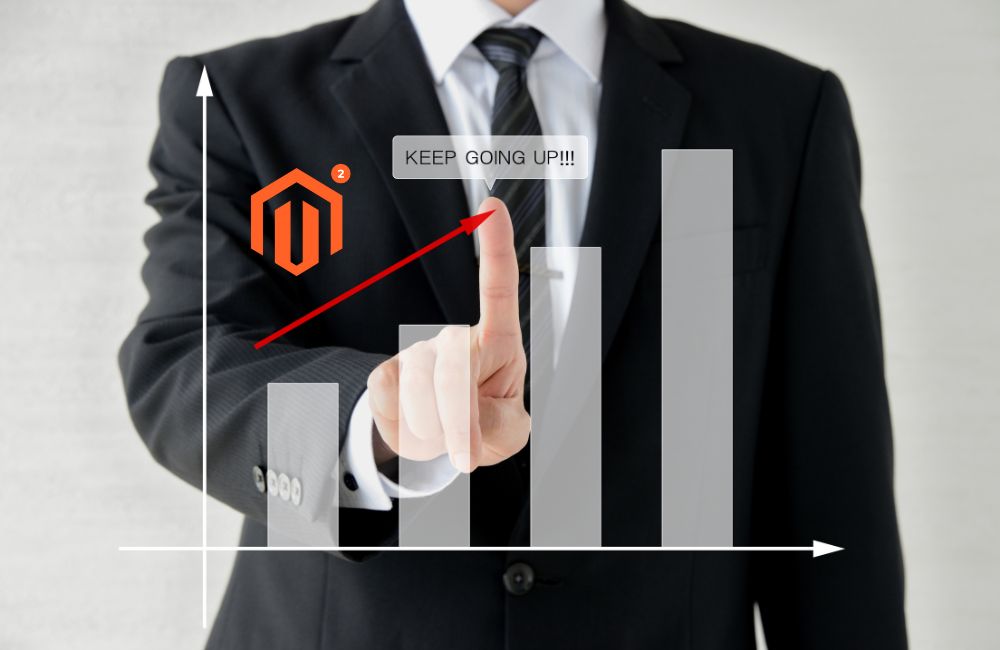 Magento 2 surpasses Magento 1 in all aspects. It comes with a faster indexer, which helps to improve query performance.
Magento 2 simplifies multiple admin users to create and amend e-commerce product information without causing data conflicts. Magento 2's performance and scalability have increased because it:
Optimizes web pages to make them load faster.
Increases the time it takes for a server to respond to all website activities.
Backend activities are more efficient.
Improves database scalability and flexibility to cope with high loads.
2. Upselling & Cross-Selling
Customers are more likely to explore your e-store thanks to the improved, faster, and glitch-free web journey, which brings you closer to leads and conversions. You can plan upselling and cross-selling strategies after studying consumer insights. Stock value increases, price reductions, and gifts or coupons – can all aid in achieving your brand's goal.
It allows you to display adverts on checkout pages, increasing conversion chances and decreasing cart abandonment. The media integration is also in place to entice customers to purchase.
3. Massive Catalogue Upload
Creating an eCommerce store that can smoothly display products is difficult, but it isn't so with Magento 2. You may also efficiently process a considerable number of orders at once. Extensive inventory management and payment channels are included as well.
The product uploading speed of Magento 2 is 5 times faster than its predecessor. Even the end-to-end checkout time is far faster than during the last version.
4. Improved Responsiveness and Mobile-friendliness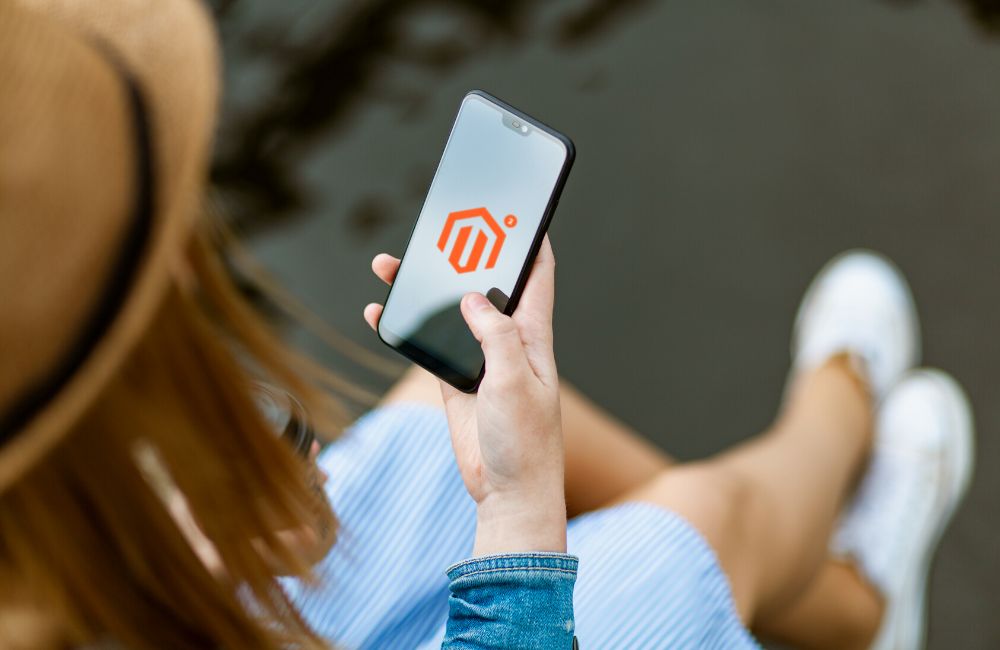 Companies must ensure that their online storefronts are readily available for mobile users as more buyers shop on mobile devices. Around 62% of mobile users have made online purchases on their mobile devices.
Magento is responsively designed with a mobile-friendly checkout process. With the Magento 2 platform's responsive design reference themes, you can now create and deploy sites compatible with all devices and screen resolutions.
The Magento 2 admin interface is touch-friendly, making managing your online ecommerce business simple. Regardless of the device, your store's catalog is easy to access.
5. Easy Upgrades
If you manage an ecommerce store, you'll need a platform that's simple to upgrade. This is because failing to boost your ecommerce website can harm your business.
Upgrades to Magento 2 are simple. It includes a standalone installer to support faster and smarter installation with preliminary checks.
The upgrade will help you and your customers have a better ecommerce experience. By improving customer experience, your sales will rise due to higher efficiency.
Regular updates also mean you'll be able to try out new and exciting features. When a new version is released, developers can immediately work on adding new features and improving existing ones.
6. SEO-friendly
Organic search is the most crucial source of traffic to eCommerce sites. This is why having a properly optimized website is vital, and Magento 2 has all of the advanced SEO capabilities you'll need.
Merchants can create SEO-friendly URL structures and implement meta-data throughout the website. Magento 2 introduces rich snippets, sets up and optimizes XML and HTML sitemaps, and a slew of other marketing features to help boost your search engine rankings.
7. Massive Community Support
As an open-source platform, it boasts a vast community of over 300,000 developers worldwide. In brief, you can access an extensive network of people who can assist you with web design/development and modification.
8. Enhanced Security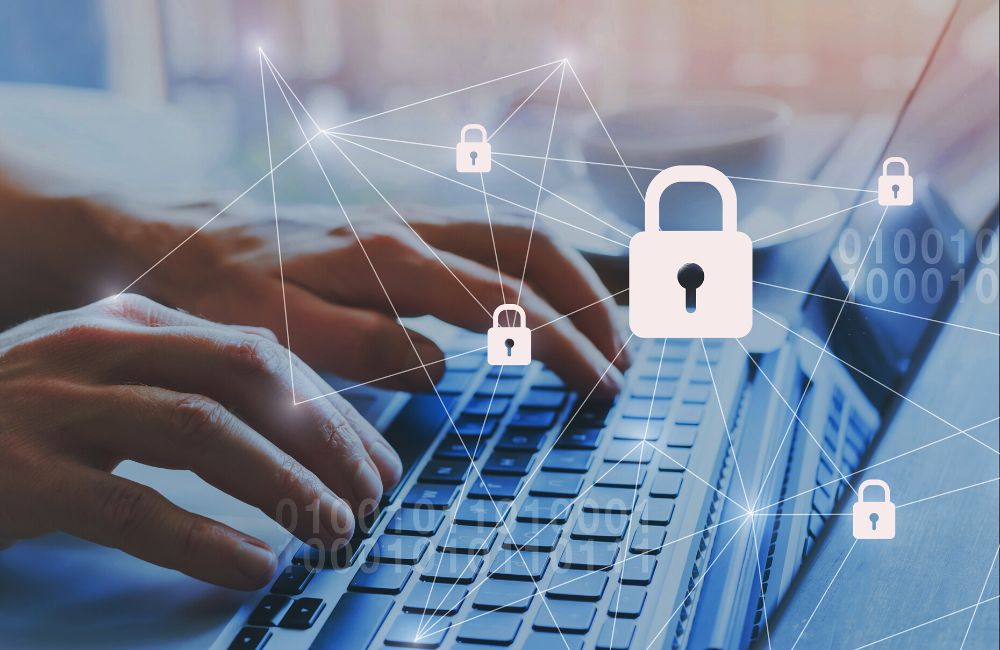 Multiple layers of security permissions can be customized with Magento 2. It also offers numerous security features, ranging from Google reCAPTCHA login screens to an additional password prompt and PCI Data Security as standard. This provides you with additional protection against security breaches and site attacks.
You may add an extra degree of security to your Magento store by employing technologies like two-factor authentication. To prevent unwanted intruders, establish a specific path for your admin area, and utilize an SSL to encrypt all your web pages to give customers trust when buying on your site. All of this ensures that your online store is completely safe.
Magento continually checks the security of its platform and provides new security updates to assist plug any vulnerabilities. Magento provides tools and documentation to help merchants and developers maintain the safety of their online shops.
9. High Customization
You can customize almost everything about Magento, from the store's appearance and feel to product categories. However, creating a fully customized store necessitates utterly new code. The platform also allows you to choose payment, shipping, and language options to serve your customers better.
An extensive library of third-party extensions is available to improve your online store. It also supports various third-party services, such as Sage Pay, World Pay, PayPal, Mail Chimp, etc., so you have more options for store customization.
10. Better admin interface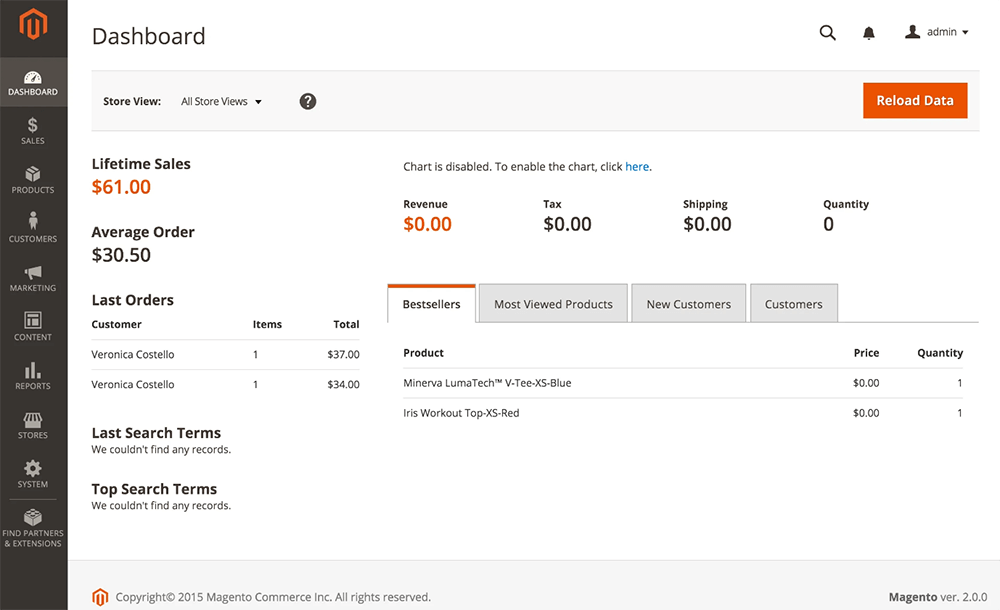 The new admin interface helps you manage your online store more effectively.
Admins can alter the panel to make it easier to access crucial company information. This personalizes each admin panel for each user, resulting in increased productivity when handling items, orders, and customer information. With 4x faster product import capabilities, creating products in the admin interface is easier than ever.
Drag-and-drop layout editing is now available in Magento Commerce's admin interface. This means that changing the appearance of an online store does not necessitate substantial coding knowledge. In half the time, you can create a great store.
11. User-friendly checkout
The checkout experience in Magento 2 is optimized, allowing clients to get from basket to completed order faster and more efficiently. It's very adaptable and takes fewer steps and information from customers. Reducing checkout time is critical for lowering cart abandonment and increasing conversions.
When customers purchase, they are taken to a standard guest checkout screen, where they must enter an email address. If this is a previous client, Magento gives them the option to check out faster using their saved information. From the Thank You page, guests can establish an account with just one click. These factors encourage people to return.
To make the checkout process more user-friendly, most Magento 1 stores have to modify it. Magento 2 now includes improved checkout options. As a result, every Magento 2 store will have a more user-friendly checkout process by default.
12. Marketplace Integration
This platform's best feature is its integrity, which allows it to connect with popular marketplaces such as Amazon, eBay, etc. This enables retailers to establish an omnichannel experience, allowing their products and services to reach a larger audience while benefiting from the Magento 2 platform's easy management.
13. Advanced Search Options
Its smart search option is another outstanding feature. Customers may now filter a specific product from an extensive catalog by using unique search phrases, product reviews, recently seen goods, tags, and much more to get what you're looking for.
Customers will frequently use your search tool to find what they're looking for when visiting your store, making it as quick and relevant as possible.
14. Advanced Reporting
Advanced reporting data is essential for ecommerce businesses. And Magento 2 gives you some of the best tools for this. There are 20 reports with a web interface, thanks to various reporting tools. Orders, customers, and products are the reporting tool's primary insights. The reports assist you in staying informed about various changes.
The number of orders, taxes, shipping fees, registered accounts, and product orders has changed. It also provides information on the best-selling products. Magento e-commerce enables you to begin managing e-commerce firms with the most up-to-date information, data, and KPIs.
FAQs
1. Should I use Magento 2?
Absolutely yes, because Magento 2 can improve both the consumer and admin experience. It keeps Magento's flexibility while also adding valuable features. Adobe constantly researches and releases new updates to meet the growing needs of businesses. It's quick, with a simplified checkout procedure that boosts conversions and encourages customers to return.
2. How long will a migration take?
The time it takes to move to Magento 2 depends on the store complexity, extensions required, and data migration requirements. It takes 3 – 6 months to migrate for a typical store with minimal extensions.
3. How much will a Magento 2 migration cost?
The cost of Magento 2 migration varies depending on the criteria, such as the size and complexity of your website, the number of products and customers you have, and the exact features and functionality you require.
The cost of migrating to Magento 2 ranges from $3,000 to $7,000. Merchants can separate the migration process into smaller parts and assess the cost for each stage to get an accurate estimation of the Magento migration cost.
We have another article to thoroughly explain how much will a Magento migration cost.
4. What are the steps in a Magento 2 migration?
Magento 2 has a different architecture and database structure. Many people refer to Magento 2 as "upgrading" or "migrating," however migration is actually a rebuild. This is because many themes and extensions for Magento 1 can't be reused for Magento 2, so a business usually has to purchase new themes and extensions if they decide to migrate.
There are 7 steps in a Magento migration process:
Define your business's requirements and expectations.
Prepare your budget.
Find a Magento 2 migration service provider.
Discuss the project requirements.
Start the migration process.
Test the new Magento 2 website.
Launch the new website.
5. Who is the right Magento 2 developer to assist your business?
Magento is a complex platform. To develop all the best features, you must choose a team with many years of experience and successful projects with Magento.
Tigren, a Magento solutions provider, specializes in guaranteeing the success of Magento 2 migration service that results in a better-than-new experience. We offer an optimized migration process and a transparent billing system. Working with Magento since 2012, we never fail to fulfill the most demanding customers and their requirements.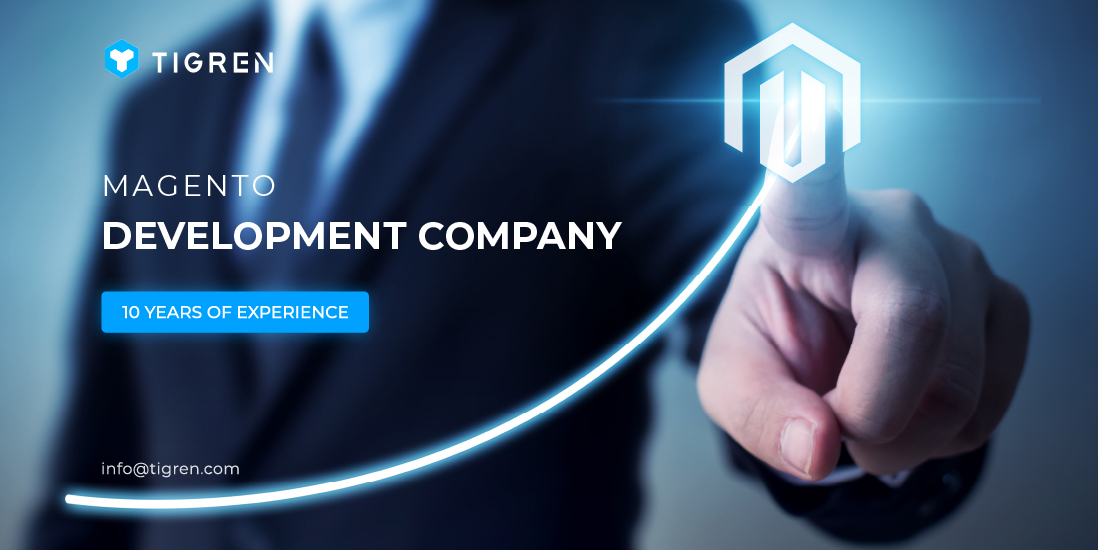 Conclusion
Magento 2 benefits improve the experience for both businesses and shoppers. Customers will appreciate shopping experiences that are aesthetically designed and user-friendly, as well as simple checkout processes and relevant search results.
These are just a few of the many Magento 2 benefits, proving why it's the world's top eCommerce platform. Magento 2 is the eCommerce platform for business owners, developers, and digital marketers, from small start-up businesses to massive corporate sites with thousands of products and several warehouse locations.
Tigren can assist you if you want a legit Magento website development company. We've migrated many websites, from tiny enterprises to major corporations. Our Magento developers will collaborate with you to achieve a smooth, seamless transfer that suits your requirements and budget. Contact us today to learn more about our migration services.