Along with the continuous growth of eCommerce and mCommerce, mobile apps are also becoming more important in online business activities. More and more retailers are looking for quality app-building support platforms. Thanks to its outstanding benefits, Magento 2 mobile app development is one of the most appreciated topics.
Want to know more about Magento 2 app development? Let's dig into this!
What Is Magento 2 Mobile App Development?
Definition
Before learning the definition of Magento 2 mobile app development, we need first to understand mobile app development and Magento 2.
Mobile app development refers to creating application software for wireless devices such as smartphones, tablets, etc.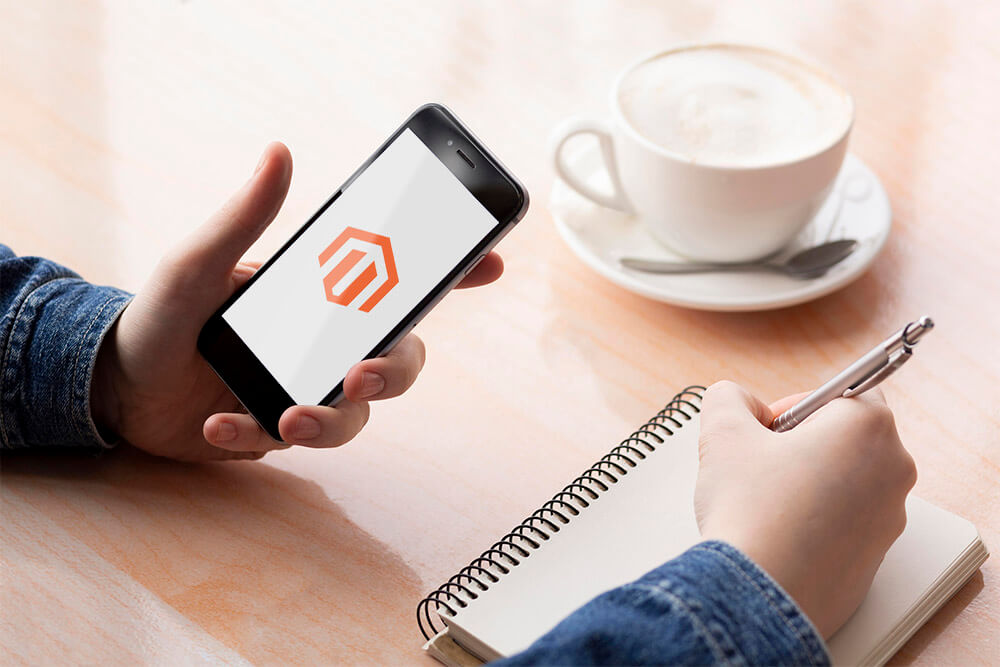 Like the traditional computer software building method, the app development process includes several stages, such as coding in programming languages, writing content, and designing the app.
On the other hand, developers design mobile apps to take advantage of user device functionality, such as cameras, alarms, biological clocks, etc.
Magento 2 is an open-source e-commerce platform that allows you to build your website, web app, and app from it. It is specifically used to create online stores for businesses.
From the two concepts, you can understand that Magento 2 mobile app development is the process of building mobile applications using Magento 2.
Benefits Of Magento Ecommerce Mobile Apps
Improve brand image
Mobile apps are probably the most powerful tool for enhancing the connection between customers and brands. Through color, sound, and service, it can upgrade and convey the most positive brand image in customers' eyes.
Imagine a mobile app as a world dedicated to your brand, users spend time on your app, meaning they are interacting with this world.
Even if they don't visit your app often, you can still enhance the relationship between you and them. There are many ways to do this like using push notifications to invite them back to the app. Even the app logo is also a way to impress customers.
Enhanced customer experience
Improving customer experience has been a top priority for mCommerce these days, and the case of mobile apps is no exception.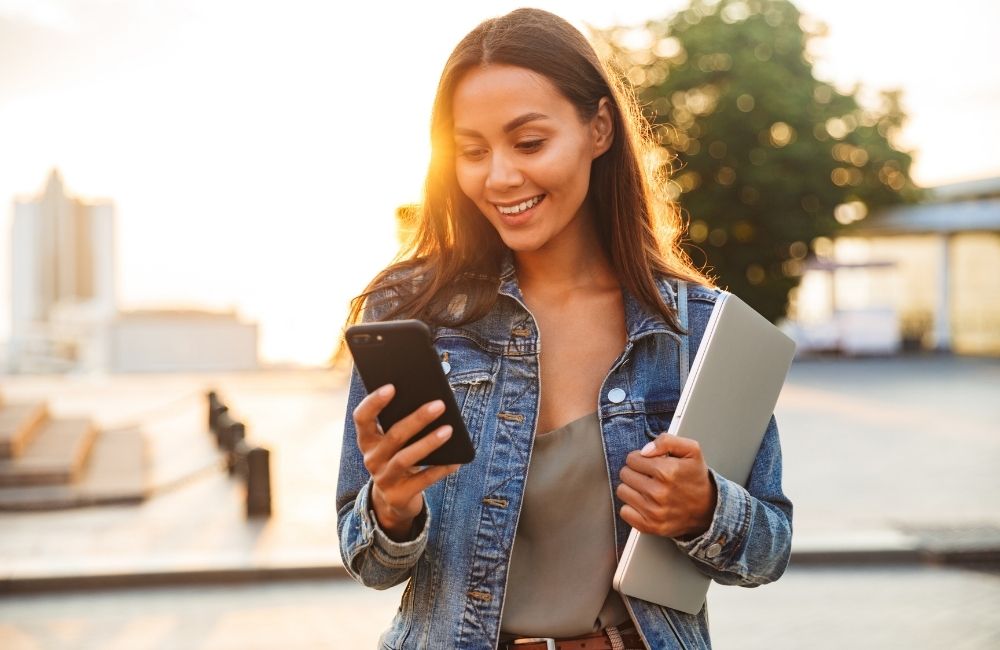 However, contrary to what many people think, to improve the user experience, you don't need to do big things. Sometimes small changes like more apparent effects, interactive buttons, and smooth loading effects are enough to enhance it.
You can refer to these factors from experts to own a user-friendly mobile app. It will bring a good result.
Better customer service
However, to increase the number of repeat customers and loyal customers, solely improving UX is not enough. It would be best if you also have effective customer care. Fortunately, mobile apps can satisfy this requirement.
With an efficient app, customers can fully service themselves through the app's features. On the other hand, if problems arise, they can solve them on their own through FAQs, chatbots, and online messages. Providing a hotline or email information at the "customer care" corner for users to contact themselves is also a good idea.
Customers can quickly make purchases and receive timely support without leaving the app with the above suggestions. Thus, they will feel less annoyed, and your customer care team's workload will also reduce.
In addition, the personalization ability of the mobile app is excellent. To generate appropriate push notifications and vouchers, you can continuously collect information about users. Customers will appreciate your service more because it was born just for them.
Raise order value
If the above strengths are not enough to convince you about the potential of the Magento app, now we will mention the most crucial criterion: revenue.
As discussed, mobile apps provide a great experience, high performance, a good brand image, and effective customer service. These factors all have an impact on retention and conversion rates. Your revenue will significantly increase thanks to it.
Besides, high-quality apps usually have advanced features like recommendations, pop-up notifications, and customized vouchers. They seriously impact user buying decisions and increase the order value right after the customer decides to buy.
Magento Ecommerce Mobile App Solutions
Currently, Magento 2 provides two app-building services: native app development and cross-platform app development.
Magento native app development
Native apps are applications built to run on only a specific operating system. More specifically, the native code of this app type is written for a particular core engine, so it cannot be used on any other OS.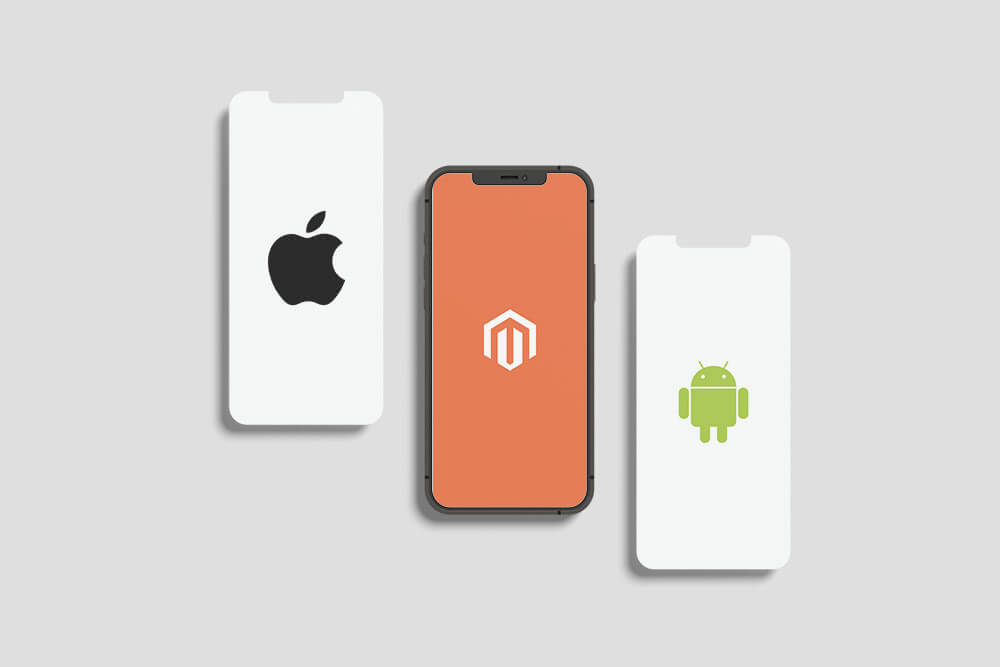 As a result, a native app often takes a company's app development team to work twice as much to publish apps on iOS and Android. Accordingly, the costs, complexity, and time also increase.
However, thanks to this structure, native apps can provide a smooth experience, high speed, and powerful features.
Cross-platform app development
In contrast to native apps, cross-platform apps can work on multiple operating systems. So, these apps' construction time and effort are significantly reduced. Currently, Magento 2 has two cross-platform services: hybrid app and PWA.
Their multi-platform working ability stems from distinctive architecture. Hybrid apps and PWAs both have web cores written in web programming languages ​​(like HTML, CSS, and JavaScript).
Specifically, a hybrid app has a web codebase wrapped in an app shell. It can connect to phone functions through plugins. As a result, this app has performance, appearance, and features are not much inferior to the native app. It can also be downloaded from app marketplaces like Google Play and Appstore.
With PWA, it is essentially an advanced version of a web app. However, it has an app-like look, feel, and functions. PWAs can use powerful native app features like push notifications, add to the home screen, and the like.
Magento Mobile App Price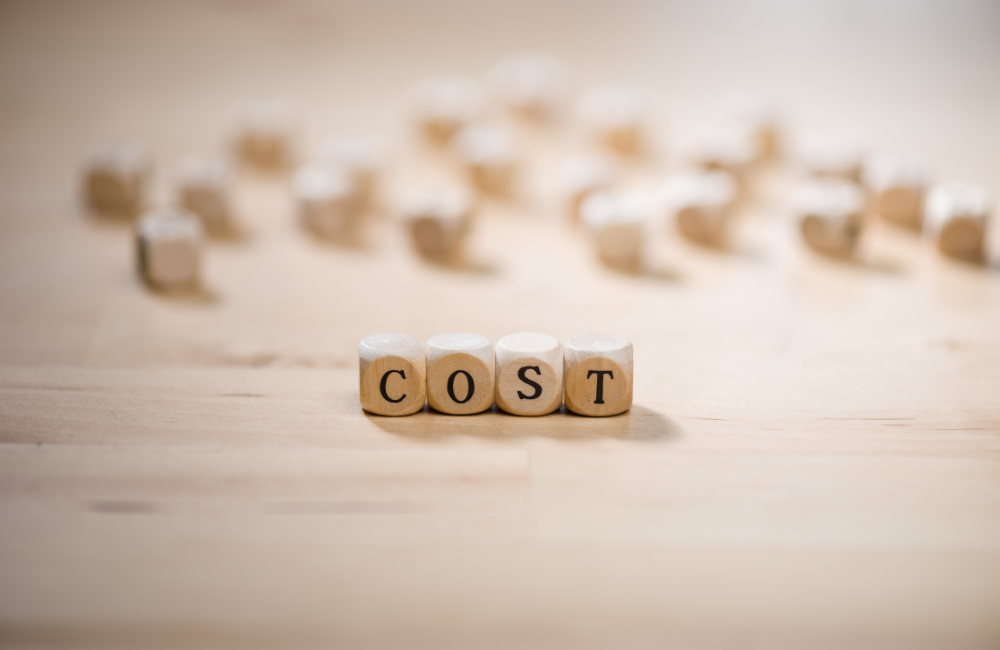 Magento native app development
You will need to prepare a much larger budget for a native app than a cross-platform one. This is expected since the Magento native app is much more complex than the other types.
Besides, you'll have to build two apps instead of one. So even if you don't consider the complexity aspect, you have already had to pay twice as much for a hybrid and PWA.
Ready to spend about $50,000 to $300,000 for an iOS or Android app. If you want your app to appear on both of these operating systems, it will cost you about $100,000 to $600,000. This is a figure that a small business can hardly afford.
Cross-platform apps development
The cross-platform Magento app's cost also depends on its complexity. PWAs are usually cheaper than hybrid apps. Since it's essentially a web app, the amount of job-to-be-done will be much less. The price will range from $1000 to $50,000, depending on the app's sophistication.
Regarding the hybrid app, costs usually range from $40,000 to $200,000. This price is relatively high compared to PWA, but it is less than a native app. The best thing is you only need to build a single application for both iOS and Android.
3 Tips For A Successful Magento App Project
Know your customer persona
To build your app effectively, understanding your customer is imperative. At least you should have a firm grasp of gender, age, job, marital status, and a few common behaviors and interests.
If you don't already have this information, launch a survey to customers who have purchased from you. You can also find essential details through old customer data.
A simple and intuitive UX/UI
Sometimes, a complex design can negatively affect users. It can cause glare, distraction, and even discomfort.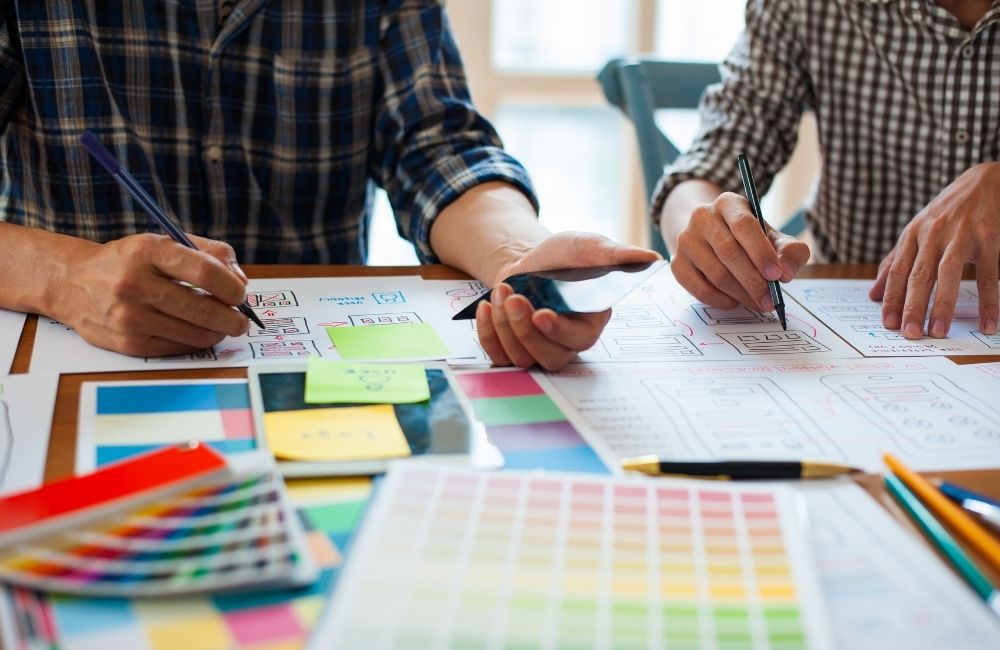 Ensure that the app design is simple enough to grasp after a few first interactions, including an onboarding page if necessary. See if users can quickly gather information and find what they need.
A tip for you is that if your brand personality is polite and mellow, it's best to use only three colors for your app. Two of the three colors are your brand colors, and the final one should be neutral.
Get A Credible App Development Agency
This is the most important of all the tips listed. If you are not a technology expert, you should hire companies that specialize in app development to assist you. An app designed effectively by a reputable company can help you make a profit in a short time.
If you still haven't decided on a name, consider Tigren. We hold everything that makes for a great companion: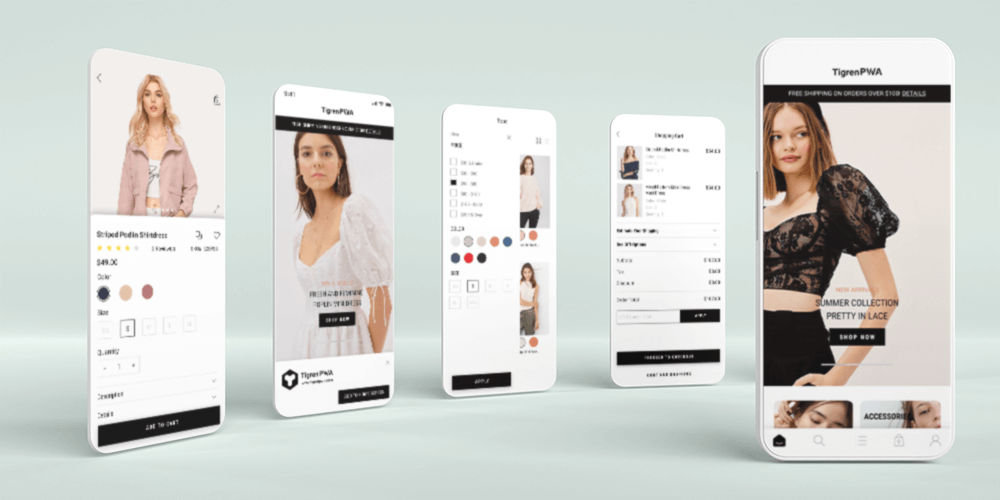 We have a team with 10 years of experience in Magento mobile app development (Hybrid apps and Progressive web apps) and Magento development.
After a long time of working, we have built an optimal workflow and building process, which minimizes the time and cost of work.
Bottom Line
Although only emerging recently, mCommerce has quickly risen to dominate eCommerce. Many studies have shown that today's shopping traffic mainly comes from mobile phones. Besides, users are now too lazy to remember the website and brand name, so having your logo available on the customer's device seems the most helpful solution!
Above is all information about Magento 2 mobile app development. We hope you find it helpful. Thanks for reading!