Magento 2 Progressive Web Application has shown its influential role in promoting responsive and app-like performance for online stores. Understanding its architecture helps merchants have a closer look at the flawless operation of Magento 2 PWA. This article will fulfill you with extensive knowledge of Magento 2 Progressive Web App architecture and assist you in making the right decision when integrating Magento websites with PWA technology. 
Magento 2 Progressive Web Application
A Magento 2 website integrated with PWA (Progressive Web Application) technology is known as a Magento 2 PWA.
Magento 2 PWA is well-known for its enriched functions like lightning speed, offline mode, and push notifications,… With advanced functions, Magento PWA is promising to be the leading solution for E-commerce businesses.
This solution has enabled many famous brands to generate higher sales revenue and enhance brand awareness. Some of these names include Shop Eddies, Eleganza, Peter Jackson, Selco, etc.
Magento 2 Progressive Web App Architecture
Headless Structure
The headless architecture of Magento 2 PWA is an ideal approach for Magento sites. It replaces the Magento front end with a PWA storefront and keeps the Magento backend.
And API (Application Programming Interface) plays as a bridge to connect these two components of a Magento site. This approach allows independent work and simplifies the web maintenance task for e-commerce merchants.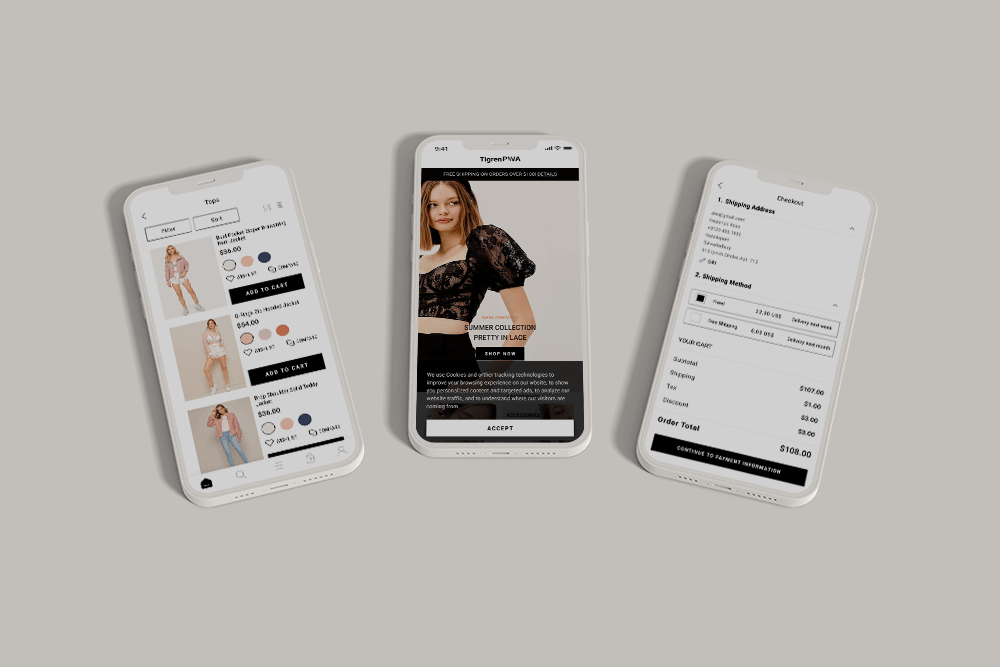 According to Forbes, headless e-commerce solution has attracted over $1.6 in funding in the last two years. And the demand keeps rocketing because of its massive potential for e-commerce business in the future.
Therefore, investing in Magento PWA is a wise selection to lead the trend of online business.
Pros
Magento 2 Progressive Web App architecture offers merchants many outstanding advantages.
Powerful Features
When converting your Magento front end into a PWA storefront, your website will have the benefit of many powerful PWA features.
Lightning Speed
Instead of waiting for 15 to 20 loading seconds (which will possibly turn your customers away), you can boost the ultra-speed in only 2 to 3 seconds with PWA technology. It will make customers more satisfied and enhance your SEO ranking in search engines.
Like-app Performance
With PWA, merchants can save thousands of dollars and months of development by investing in developing native apps. A Magento PWA can deliver a remarkable experience like any native app.
The header and footer of the website will be removed. And users can interact with your online store in the same way as using a standard app.
Moreover, they can save lots of storage thanks to the light installation, which only takes up to 1 MB.
Add To Homescreen
Users can easily install PWA on iOS and Android devices with quick steps. When they navigate to the Share button on browsers and click "Add to home screen," a PWA will appear with your brand's icon on the main screen.
Push Notification
Push notification is an excellent fit if you want your customers to stay informed about your latest discounts or new product launches.
Some popular tools (OneSignal, Firebase) often require an additional fee for every 1,000 subscribers. It is inconvenient and expensive to send messages to 100,000 people.
With PWA, you can notify unlimited subscribers with simple steps. Even when you are not tech-savvy, customizing your message is at ease with this solution.
Offline Mode
The PWA technology allows a practical engagement with users. Even if customers have no Internet connections, they can still access your online store. And their last interactions on your website will be saved in the data cache, then updated once the connection is back.
Stable Performance
A standard Magento website is structured tightly with two layers: the front and back. This approach is called the Monolithic approach.
Any modification in the Magento backend will directly affect the performance and interface of the front end. Consequently, every time you need to update a feature, the workload is likely to increase due to that tight connection.
And the development time can extend longer than expected with heavy codes. It is not an advantage for businesses considering the importance of well-timed delivery.
In contrast, the headless structure of Magento PWA enables stable performance for your online store. The front-end and back-end work is independent, so you can level up one layer without the risk of ruining the other.
And if there is a problem with the backend functionality, which is not linked directly to the function of the frontend, the PWA storefront will not be affected."
Flexibility
Magento PWA enables independent work between the PWA storefront and the Magento back end. And the API-based approach is efficient for developers to improve two layers separately.
You can customize the storefront frequently to meet customers' demands without interrupting the backend system.
In addition, it is also beneficial to reuse content from the back end and publish it on multiple digital platforms.
Easy To Update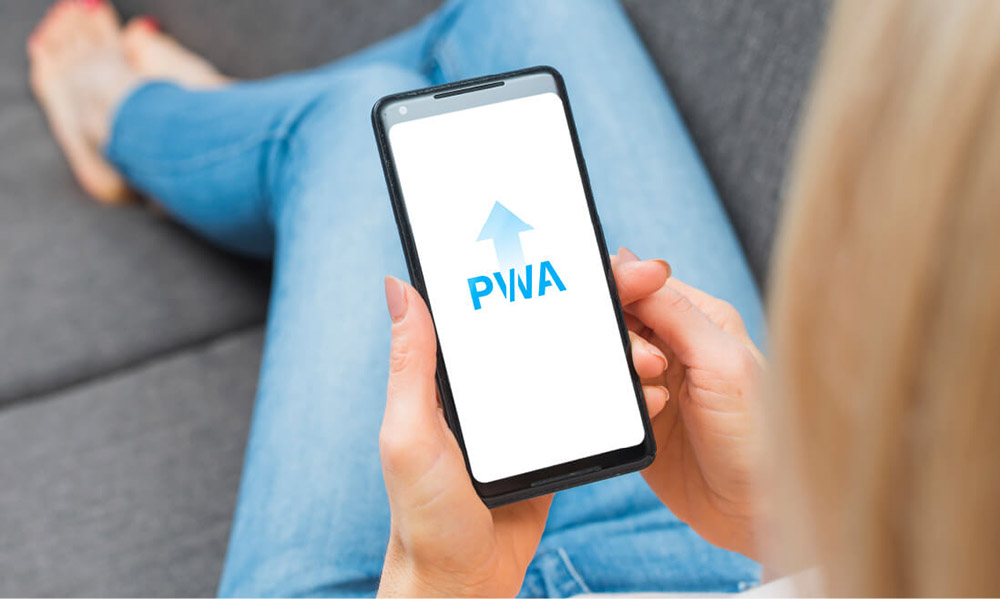 Standard websites require updates on both layers: front and backend. In contrast, with Magento PWA, e-commerce vendors can upgrade the PWA storefront and the Magento backend separately.
It reduces development time and saves remarkable resources for merchants. You can re-equip your storefront with new designs or functions free from the technical system.
What's more, the clean separation of headless structures is likely to save your operating budget while enhancing the fast and convenient experience for shoppers.
Users can also get the latest PWA update with a "refresh" click. With this method, you can build app-like performance without complicated steps or high storage requirements. It helps promote user-friendly interaction with your customers and increase brand awareness.
Cons
The headless architecture of Magento 2 also has some downsides. First, it requires a more complex installation process, and it is harder to integrate with other third-party extensions.
You need to develop the APIs and update your storefront to avoid conflicts. It is likely to extend the development time.
Besides, starting with a Magento 2 PWA can lead to an overbudget for new online store owners.
Whether you're looking to upgrade your website features, improve your site speed and performance, or update to a technology that will grow with your business as it adapts to new trends, shifting to Magento 2 Progressive Web App architecture is an ideal solution.
The headless structure is a trendy approach, and it also uses focused features to optimize UX.
There are many Magento PWA developers in the market. But it really helps if you choose the most prestigious partner to deliver high-quality web development for your site.
The Best Company To Deliver Smooth Magento 2 PWA Architecture
We aim to provide a seamless Magento 2 PWA development service at Tigren. For a quickly-launched site, it is excellent to use our ready-made themes, TigrenPWA.
We have gained tremendous success in providing premium e-commerce and Magento PWA services. Our partners are from many countries worldwide, including the USA, UK, Canada, New Zealand, Ireland, etc. We are proud of our work with Truclothing, and Shop Eddies to deliver efficient PWA storefronts with many exciting features.
We can optimize our Magento PWA theme to exceed your expectations. Your online store will have remarkable PWA features and full Magento standard functions:
App-like experience
Ultra-fast speed
Add-to-home-screen
Offline mode
Push notifications
One-step checkout
Improved layered navigation
Shop by brand
Banner manager
Product labels
Live chat
Our design is ideal for your business if you want a simple, consistent, and friendly theme (View our PWA demos). With minor adjustments (logos, colors, fonts, and banners), you can make the changes yourself to highlight your brand identity.
If you want to rebuild your website from the ground up and customize it, we are skilled to nail it. At a reasonable cost, your storefront will stand out from the crowd with a best-in-class design.
And at Tigren, we always put customer satisfaction as the top priority. Therefore, we will follow the project timeline strictly and clear any misunderstandings in the development process.
Final Thoughts
The headless structure is promising to be the future of the e-commerce business. And integrating your Magento site with PWA technology is ideal for picking up on this trend.
The decoupling approach allows Magento PWA to optimize your storefront and enhance customer experience. Therefore, there is no regret in developing Magento 2 PWA to scale your online business.
Do not hesitate to let us know your requirements for a well-structured Magento 2 PWA website.
Let us fulfill your desire for a highly functional and engaging website with our best-in-class ready-made theme TigrenPWA.