As the world of e-commerce is thriving with full potential and unlimited opportunities, it is essential for online businesses to have the best e-commerce platform to survive in the competitive market and attract more customers. Standing out in the run of e-commerce platforms thanks to its high flexibility and powerful features, Magento Commerce (or Adobe Commerce, and previously Magento Enterprise) is the perfect choice for many online businesses. In this article, we will provide you with everything you must know about Magento Commerce for you to determine if it is worth considering.
What Is Magento?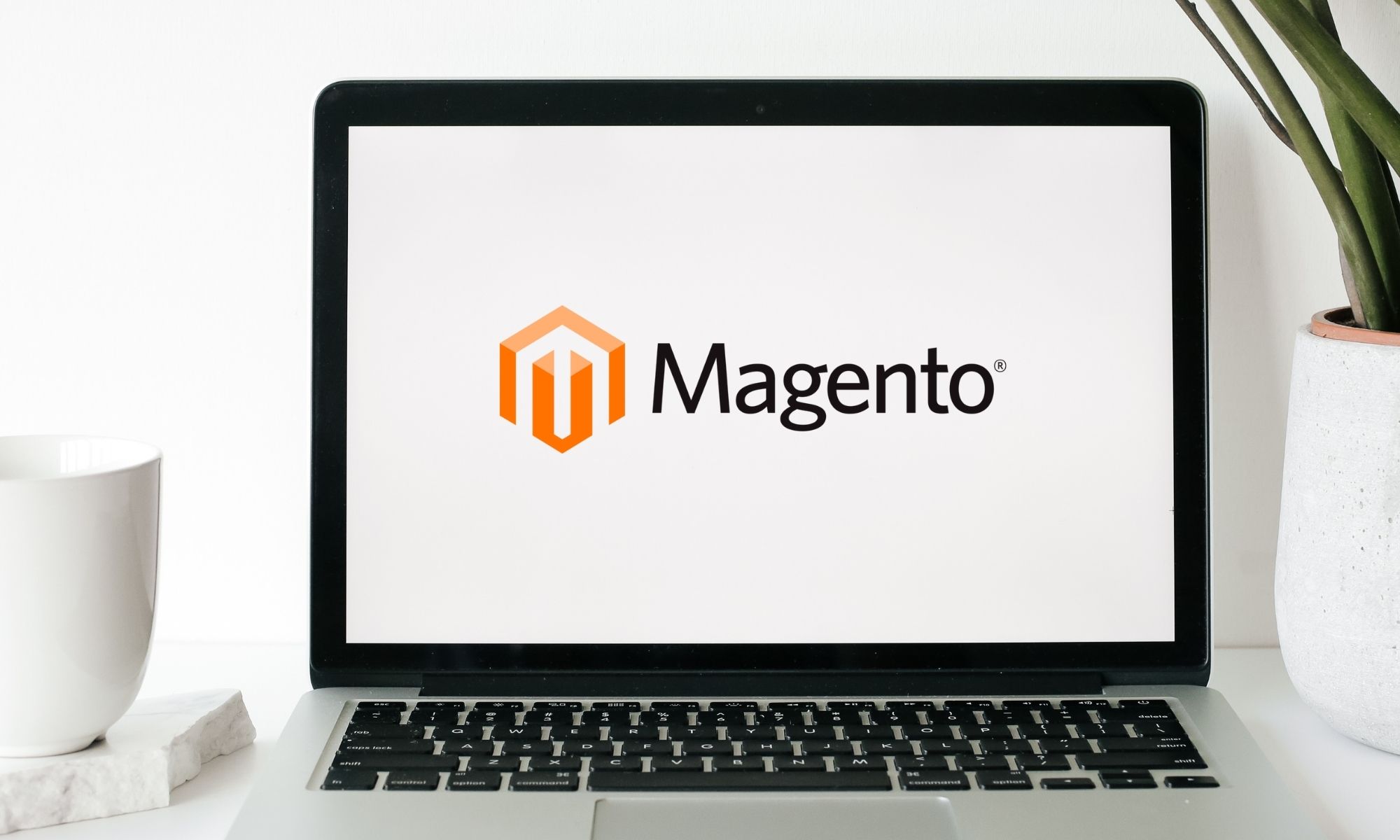 Magento is one of the most popular e-commerce platforms with built-in PHP that helps developers create e-commerce websites. At the moment, there are hundreds of thousands of businesses choosing this open-source e-commerce platform to build their online stores, including large companies and organizations like Byredo, Sigma Beauty, Cox&Cox, Helly Hansen, Adidas, Paul Smith, Harvey Nichols, Liverpool Football Club, etc.
Find out more: Top 20 Famous Companies That Are Using Magento
Magento e-commerce platform is well-known for the following five main benefits:
It is a feature-rich and powerful platform to cater to all business's needs and allow them to effortlessly manage hundreds of products and run their websites seamlessly.
Magento is SEO-friendly, which makes the process of optimizing product pages and product descriptions very easy for online businesses.
Magento provides businesses with fast-loading websites and keeps lower loading times.
Magento offers companies flexible content management, meaning you can edit the web pages without having much technical knowledge.
It is highly customizable, which means a business can configure and change a Magento store's design and functions to best meet their requirements.
What Is Magento Commerce?
Magento Commerce, also known as Adobe Commerce, is the paid version of the Magento e-commerce platform for enterprise-level. Like Magento Open Source, it is also one of Magento's platforms and is built on the same core platform. However, Magento Commerce offers a number of additional features and functionalities that are not included in the Magento Open Source version.
Read More: Magento Open Source Vs Magento Commerce: Which One Is For You?
Magento Commerce Examples
Some outstanding examples of companies that are taking advantage of Adobe Commerce include Coca-Cola, Moschino, Christian Louboutin, Hewlett-Packard (HP), Omega Watches, Land Rover, Olympus, Monin, Tommy Hilfiger, and many more. As you can see, this platform is favored by big brands from various industries.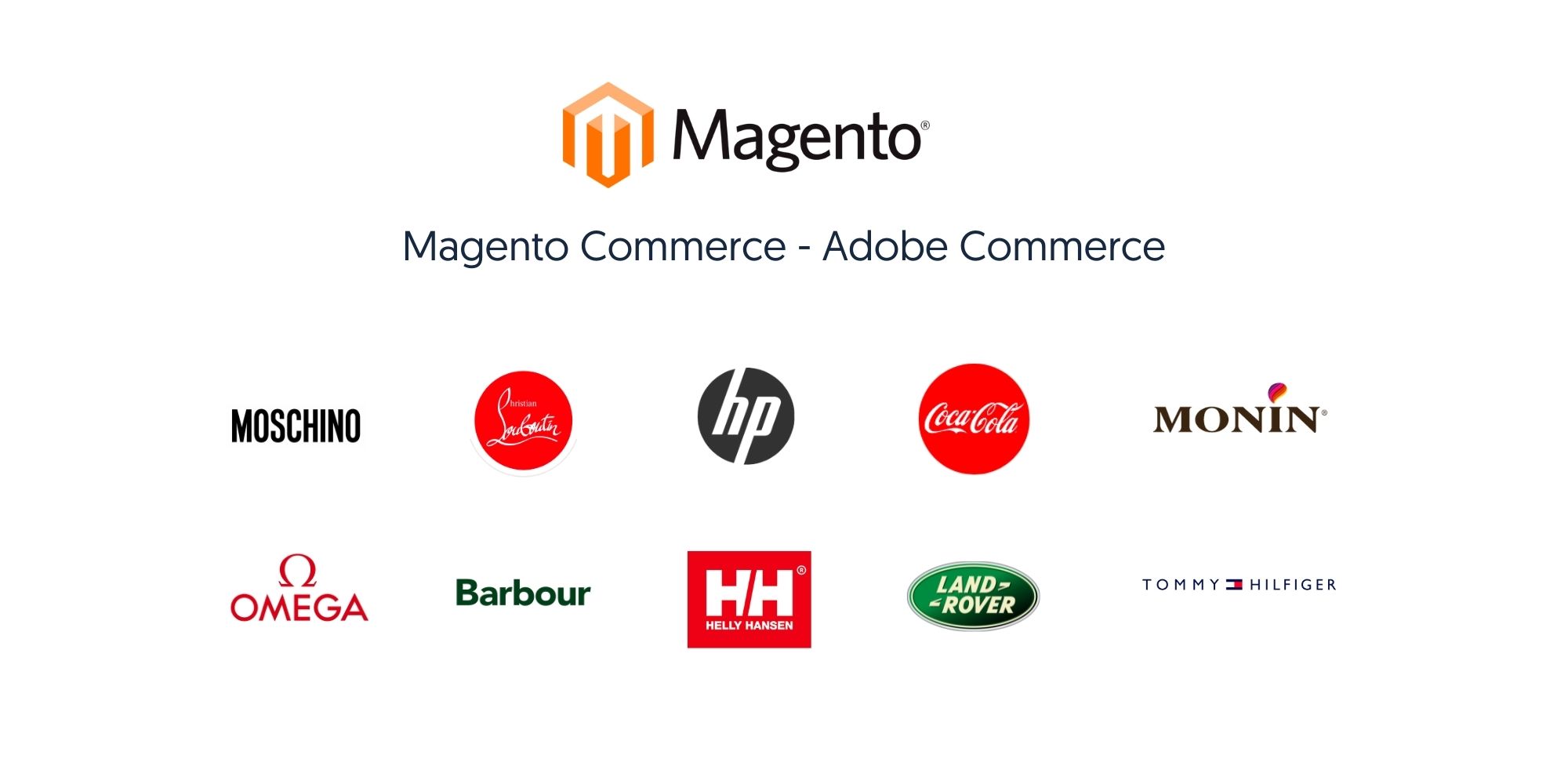 What Are The Differences Between Magento Open Source And Commerce Edition?
Magento Open Source is the edition of Magento that allows people to create a Magento website free of charge. The open-source version may be the best solution for small to medium businesses.
Below are some major differences between Magento Open Source and Adobe Commerce:
License Cost
Magento Commerce: from $22,000 for the license.
Magento Open Source: free for use.
Suitable for
Magento Commerce: medium and enterprise-level e-commerce businesses.
Magento Open Source: small to medium online businesses.
Official support
Magento Commerce: includes advanced and fast support from Magento.
Magento Open Source: you will get no support from Magento team.
Business segment
Magento Commerce: both B2B and B2C functionality.
Magento Open Source: mainly B2C sector. If you want to add B2B features, third-party extensions are needed.
Who Should Take Advantage Of Magento Commerce?
Although every type of business can use Magento Commerce, it would be a good choice for you if:
You own a big online business and you focus on wholesale
You have a business in the B2B sector
Your online store needs advanced marketing and analytics tools
A unique user experience is what you aim for
You are selling internationally or you plan to expand your business to other countries
You require 24/7 support to help you quickly address any possible technical issues
Magento Commerce's Feature Groups
Adobe Commerce gives you the power to create an online store with incredible shopping experiences. This platform provides rich and out-of-the-box functionality to your business ahead of the competition.
Site management
Content management
Catalog management
Order management
Catalog browsing
Product browsing
Promotions & pricing
Search engine optimization
Checkout, payments, shipping
Integrated B2B functions
Layout & theming
Customer service
Customer loyalty
Customer accounts
Support for global sites
Analytics and reporting
Data capabilities
Application architecture
Layout and theming
Performance and scability
In short, Adobe Commerce comes packed with useful functionality to let merchants build, manage, and grow their businesses.
Magento Commerce's Impressive Features
Among a variety of features provided by Adobe Commerce, here are the most exceptional ones that make it the leading e-commerce platform for online businesses at different scales:
Page builder and content staging
Customer segmentation and personalization
Dynamic rule-based product relations/ product recommendations
Instant purchase
Visual merchandising
Live search
Business intelligence capabilities
Responsive design themes
Progressive Web Application (PWA) Studio
Various B2B supported funtions
Inventory management & fulfilment
Managed cloud solutions
Channel manager
What Are The Advantages Of Adobe Commerce?
Magento Commerce comes with a lot of advanced features that can bring more value and provide a solution that can withstand high loads. There are some functionalities that only the Magento Commerce version has that are aimed at various e-commerce areas:
Efficient Product management
Unique user experience
Content management
Marketing and analytics
Secured payment gateway
Behind-the-scenes functionality
Efficient product management
Managing products is one of the main tasks any e-commerce business owners need to take care of. Below are some highlight features of product management in Magento Commerce:
Schedule changes: Magento Commerce allows you to schedule changes and choose the best time to update content, and also set a timer for price changes if needed.
Automate the process: You can automate the process and save time spent on adding products and assigning them to proper categories by creating intelligent rules.
Access limitations: With the catalog permission features, you can set prices for customers that buy products from you.
Offer related products: Magento commerce supports upselling and cross-selling, which means you can associate products in bulk by creating rules without having to set them up manually.
Set up gift cards: Magento Commerce offers you a unique feature called gift cards which lets you set up three kinds of gift cards: virtual cards, physical, and a combination of both to boost your sales and revenue.
Unique user experience
Magento Commerce enables you to create a unique user experience with these best practices:
Create a list of desired gifts: This feature gives your buyers a chance to choose what they want to get as a gift instead of receiving a gift that is of no use to them. When they receive your gifts, they are likely to purchase a product or present from your online store rather than surfing the Internet to buy that same product.
Add to wish lists: Customers usually browse through your online store without proceeding right to the checkout point and finishing the order, so if you allow your customers to create a wishlist and track the price and status of the products added to the wishlist, you can potentially increase sales and conversions. Magento Commerce even takes this feature to a next level by allowing your customers to create multiple wishlists, which make customers likely to come back to your online store.
Customer segmentation: one of the best features of Magento Commerce is customer segmentation, which allows you to create different content and showcasing for suggestions for different groups based on products viewed.
Collect customer attributes: With Magento Commerce, you can easily get more specific information about your customers such as gender, hobby, date of birth, shopping preferences, and so on. This feature can help you gain an in-depth knowledge of your target audience, which is crucial to the success of an online store.
Enter SKUs and shop with them: Magento Commerce enables shoppers to add products to carts by entering the corresponding SKUs to avoid tiresome browsing through the online store and looking for the products.
Manage goods returning: The process of returning, exchanging, and refunding a product when it is not delivered or does not meet the customers' expectations is simplified with the help of Magento Commerce. From a single admin panel, you can supervise all of these processes and offer your customers a flexible return policy, which can lead to increased customer satisfaction.
Archive old orders: You can keep the workspace of your online store uncluttered thanks to the ability of Magento Commerce.
Effective content management
Staging mode: This is a feature that allows you to preview all the materials and then create or plan promotion campaigns for your online business.
Customize banners: Highly customized banners can easily be created for each customer group, which can increase conversion.
Marketing and analytics
Automated email marketing: You can create effective email marketing campaigns based on live store data.
Advanced analytics reports: A combination of B2B-focused reports presented in the dashboard will help you easily track your business operations and facilitate your decision making.
Behind-the-scenes functionality
Automate the import and export process: With integrated features, you can automate fully the process of downloading and uploading data from your system into your online business.
What Are The Drawbacks Of Adobe Commerce?
Although Adobe Commerce is an excellent e-commerce platform, it does have some disadvantages that may make you have second thoughts. Check out its drawbacks to see if it's the right solution for your business:
The license cost of this edition is very high. However, it might be still worth your investment as it provides you with many more benefits.
It has a complicated management system and it may take you some time to get used to the Magento Commerce edition, but once you start getting familiar with it, you will see why it is the best e-commerce solution for your online business.
Most third-party extensions and themes that are compatible with Magento Commerce are more expensive than with the Open Source edition even though they provide the same functions.
The development cost and time of an Adobe Commerce website as a whole is higher than that of Magento Open Source since it's more complicated and time-consuming.
How Much Does Magento Commerce Cost?
There is no exact cost for Adobe Commerce since it depends on several factors, such as the number of features and customizations you'd like to have, the number of third-party integrations (extensions, payment gateways, shipping carriers, ERP, CRM, marketplaces), and so on.
Below are the main elements that can affect your Magento Commerce development cost:
Magento license cost: from $22,000 to $125,000 annually
Web hosting: from $500 to 6,500 annually
Domain name: from $10 to $400 annually
SSL certificate: from $5 to $300 annually
Website Design: $1,000–5,000++
Website Development: $10,000-50,000++
Magento Extensions: $60–600/extension + installation fees
Payment fees: depend on your selected payment gateway
So the total Adobe Commerce website development cost would be from $40,000 to $100,000 and more, depending on your actual project complexity and requirements. If you need a specific estimate for your Magento development project, don't hesitate to send us your request.
Key Takeaway
In general, the Adobe Commerce edition is a better solution than the Magento Open Source edition particularly for B2B businesses. If you have a medium-to-big budget, Magento Commerce is definitely what you should go for because of its advanced features and unique benefits. However, if you have a tight budget, the Open Source would be the perfect option for you. No matter what Magento edition you choose, always remember to find a reliable Magento development company that can take good care of your online store's e-commerce website.
Since 2012, Tigren has been delivering professional Magento services, from Magento website design and development, Magento 2 migration, Magento PWA development, Magento extension development, Magento third-party integrations to Magento support. Thousands of e-commerce store owners around the world chose us since we provide excellent quality, competitive cost, and amazing support.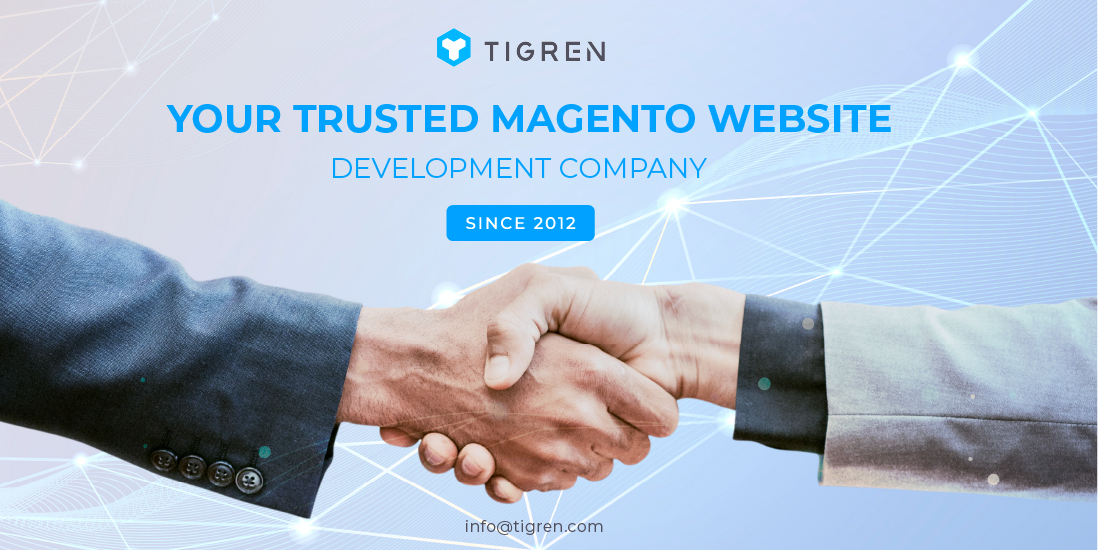 If you want to build a successful online business with Magento (either Adobe Commerce or Magento Open Source edition), we can help. Contact us ([email protected]) if you have any queries about this platform or want to start your project!
Related Posts:
The Future Of Magento: Trends and Predictions
A Step-by-step Guide To Set Up Fastly For Magento 2