Using Magento development services from a reliable supplier will be the perfect solution for those businesses who want to build a good Magento e-commerce website.
If you are searching for affordable and reliable Magento development services, here is a list of the top 10 companies for you to consider.
What To Look For In A Magento Development Company?
1. Reputation
With Magento, experience is required! This is why it is necessary to know how many years the agency has worked on Magento projects. The years may speak a part of their experience and knowledge.
Find out your shortlisted Magento organization's existence, reputation, reviews, and other information, and double-check with their previous clients if possible.
2. Portfolio
The Magento development agency investment portfolio and existing completed projects will show how it works with customers. Only experienced Magento development companies can provide you with high-quality and world-class Magento services.
By looking at their portfolio and customers' reviews, you will understand the efficiency, cost, and performance of delivering Magento projects on time.
3. Security Assurance
It is essential to pay attention to the security of sensitive data. The best Magento web development companies know this. They provide all the correct mechanisms to protect confidential information.
A non-disclosure agreement (NDA) is a practical data security approach. It ensures that customers' personal information will not be leaked out.
4. Quality & Deployment
Understanding how the Magento development company handles project deployment and maintenance is good.
The deployment process should be professional enough so that your customers will not be affected by any technical or functional issues in the Magento store.
After deployment, maintenance and deployment can ensure that your Magento store is up and running. Professional Magento development companies always provide continuous supervision and ensure that 24/7 support is provided.
5. Transparency & Customer service
Fair price and Cost estimation
The cost of any additional work, such as adding custom features or unique designs, must be clearly stated to avoid trouble later. Before any extra work, require an estimation from the agency.
Communication
No matter where the Magento agency comes from, communication is considered.
Communication is the most critical skill to look for in a Magento development company. It's recommended to find a Magento agency that speaks your language, or one that both sides can use (the most common is English). This helps tremendously in explaining the tasks and solving confusion.
Top 10 Companies For Magento Development Services
Founded in 2012, Tigren is a trusted Magento development company. They have deep expertise in Magento e-commerce and a lot of experience working with clients worldwide.
The company is willing to accept challenging projects with complex integration or partial construction of the site, and the team will ensure that your site workflows seamlessly. Tigren can satisfy the most demanding customers.
The provided services include Magento website development, Magento 2 PWA integration, Magento migration, Magento support, and Magento extensions & themes development.
Good quality – precise and reasonable price – and fast lead time are the top priorities of Tigren. The agency offers suitable service packages for a wide range of businesses at different prices and guarantees absolute quality for each service. Many businesses with small capital can still have a quality website at a reasonable cost when using Tigren's services.
This explains why Tigren is always considered the first choice of companies even who looking for excellent outsourcing development services and where startups put their absolute trust to develop their websites.
Since 1998, Interact One, Inc has supported retail businesses by improving e-commerce websites and marketing activities. With 20 years of business, they optimize the revenue of $200 million for merchants each year.
InteractOne's services include support and maintenance, migration and upgrades, e-commerce design, and marketing services handled by certified Magento developers.
Vaimo is a Swedish company founded in 2008. So far, they have achieved great success and become one of the top experts in Magento. To succeed, they concentrated 100% of their workforce in a crowded team of more than 450 experts distributed in 15 countries.
For more than ten years, the company has proudly supported more than 400 brands to find the best solutions for their online e-commerce.
The company provides full-service omnichannel agents, Omnidirectional services, and strategic consulting.
Gorilla aims to help brands and companies position themselves in the digital economy. The company has 400 employees (many of them are certified developers) and is mainly distributed in North America and Europe.
The services provided by the company are design experience, management services, optimization services, and managed hosting.
Gorilla is suitable for large and medium-sized companies. The team will help you create and maintain the best customer experience, combined with high-tech management services to build digital transformation and customer lifetime value.
Forix will help B2B and B2C companies grow through the ability to stabilize and optimize websites. They have helped big clients like Adidas, ASICS, and Sigma.
Forix's services include Magento Managed Services, Magento Managed Support, and ERP Integration. Also, the company's most popular services are e-commerce optimization and maintenance.
Working with Magento for over ten years, they can be your advisor and support your business for tremendous success.
Atwix was established in 2006 and became a Magento partner in 2011. The company has worked with many projects for over ten years, and they are confident to support clients for long-term success.
They are a reputable Magento Professional Solutions Partner. Services provided by Atwix include website design, website development, performance development, Magento maintenance, and CRM/ERP integration.
Founded in 2009, Fisheye Media is an in-house e-commerce design, development, and marketing agency. During these ten years, the company has become the UK's leading Magento Professional Solutions Partner, dedicated to creating the best experience for B2B and B2C customers.
They are committed to supporting the business for the long term through cutting-edge design, providing customers with a better-customized experience. Fisheye Media provides Magento Development, Business Strategy, Magento Security, and Magento Managed upgrades.
With 40 employees, Magebit is a global full-service agency specializing in Magento, designed to meet all your requirements. The company is trusted to support small local shops and popular companies, which can be seen through their existing customers such as Nissan, Volkswagen, etc.
They provide many strategies, development, support, creative design, and performance optimization through ERP integration and omnichannel digital marketing. Magebit can provide you with excellent service in a short time.
A&H is an Australian software development agency. It strives to provide "A" quality results in a short time. Although A&H is small, the people here have big hearts and a vision to improve the world.
If you are thinking about taking your business online, then A&H is one of the most appropriate Magento e-commerce store development agencies. This is a one-stop hub for your customers' Magento information and e-commerce needs.
Magently is one of the top Magento development companies officially certified as a Magento solution partner. Since 2013, the company has completed many projects to help SMEs develop to a higher level.
Specifically, Magently has a dedicated team of experts to provide e-commerce retailers with Magento-based solutions, including web development, custom modules, migration to Magento 2, and maintenance.
With Magently, users can easily set up Magento-based stores, and modules and customize extensions using the best UI and UX standards. However, as a novice in the competition, this solution provider still has a long way to go to gain proven expertise.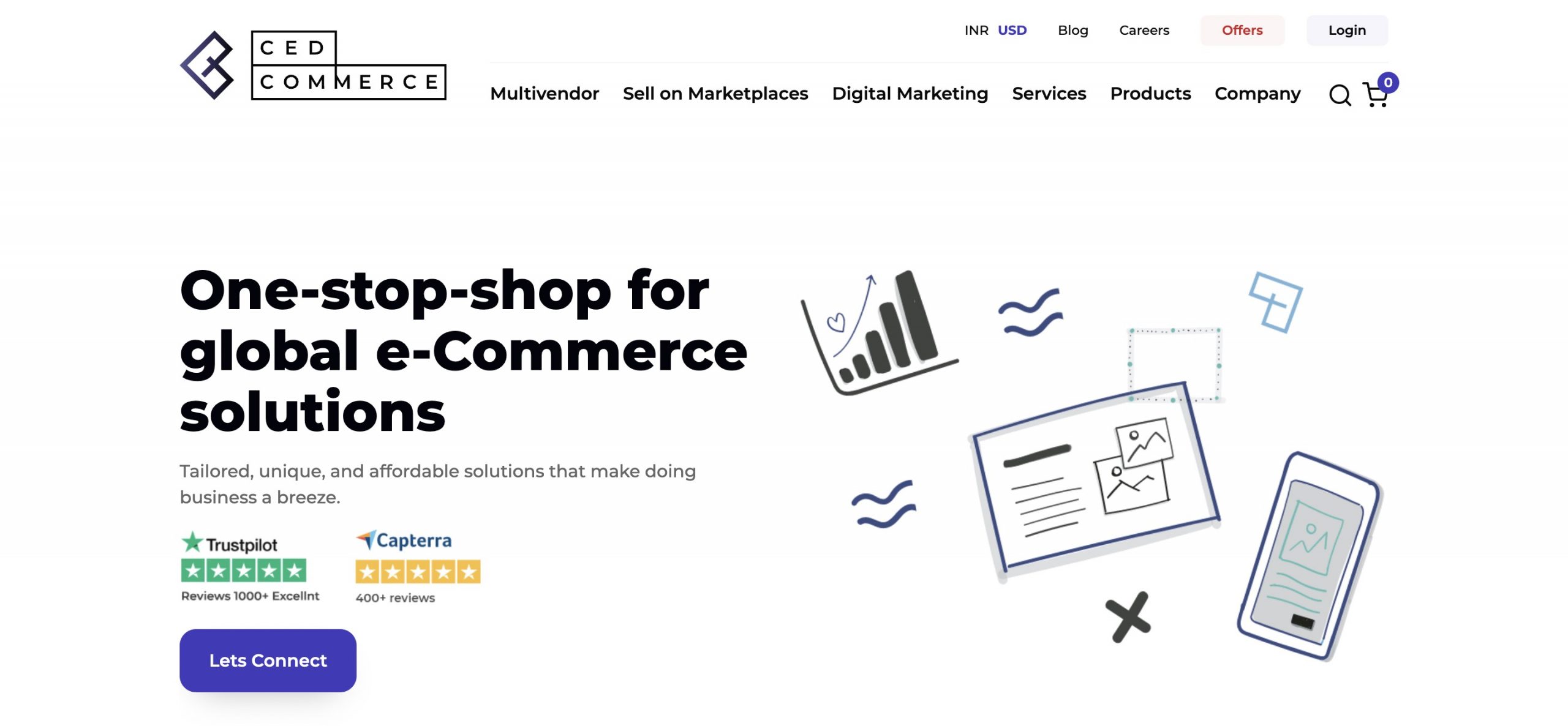 CedCommerce is a Privately owned company that is an eCommerce solution provider. CedCommerce's headquarter is situated in Lucknow, India. The company was started by two diligent members but this count reached 1,000+ employees in 2022 with additional offices in Portland, Oregon, US, Leicester, UK, and Selangor Darul Ehsan, Malaysia.
CedCommerce also provides Integration software for different marketplaces such as Walmart, Etsy, Google, Facebook, Amazon, eBay, and Hubspot. 
FAQs
1. Mistakes to avoid when hiring a Magento development agency?
Strive for lower prices: When hiring Magento developers for your company, providing the best quality service at the most reasonable cost should be your top priority, not the cheapest one.
Little attention to technical expertise: We highly recommend working with a company that has certified Magento developers. That validates the skills and knowledge essential to properly implementing the best Magento eCommerce store for businesses. Hiring Magento developers must be done with care, precision, and industry knowledge.
2. How much do I need to pay for Magento development services?
The cost to hire Magento developers depends on several factors, including the developer's skill, experience, qualifications, and others. Generally, Magento Developers are paid by the hour. An agency from Asia can charge $25-$50/hour, while one in the US may charge over $100/hour.
Wrap Up
Magento is an excellent choice for small and medium enterprises and businesses that require complex models to run their operations. If you are looking for a fully configurable company that can be tailored to your unique requirements, you have come to the perfect place!
With the 10 best e-commerce web development above, consider the company that best suits your requirements. Your project will get done with high quality according to the desired deadline.
Read More:
What Is Magento E-commerce Development?
Magento Development Agency Vs Freelance Magento Developer
Magento Web Development Cost And Tips To Reduce It