Magento is a reliable name behind the making of top e-retail players. And it's PWA's uniqueness in delivering an outstanding performance that makes the Magento PWA combo a great match. In this article, we'll break down the build of Magento PWA while comparing it to the Magento web development process so that you get the whole picture as well as the role of PWA in e-commerce.
Magento PWA And Magento Web Development Process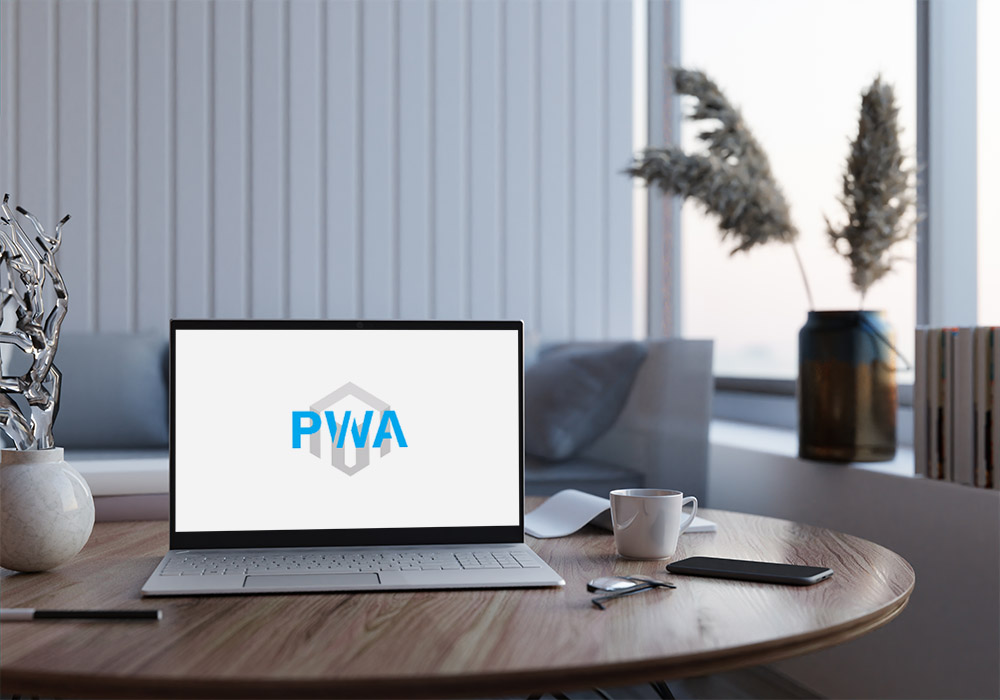 Since they're both e-commerce websites, they share some similarities in the development journey.
Step 1: Collect Inputs & Set Up The Development Site
Before starting to plan, we need to collect wide-sourced information as guidance. To create any website, merchants should have a general vision of what the store would look like, in other words, how owners draw their sitemap.
You'll need to think of how many pages will appear on your site. Apart from the key pages, what additional pages do you need, like CMS pages: About Us, FAQs, Refund policy?
Next, decide on the vibe and image your brand represents. From logo to a color palette to the store's design. Do you want a fully or partly custom design? Or if you need a premade theme, prepare a checklist of requirements on the template's ability to customization.
Then, are you clear of all Magento's default functions yet? What do you need and don't need? Do you want any extra functions? Do you want to use extensions or built-in features?
After that, set a due date for the project. On average, e-commerce websites take around 2-3 months to finish. Advanced build for either new-emerging technology, design, or performance will take a couple of hours more.
You should talk through with a reliable development team, see if they have any suggestions within your budget, and optimize the project result.
After finalizing every piece of info needed to create a Magento, only then the development site is being set, often on the developer's server.
Step 2: Build The Look
Whether a regular Magento or a Magento PWA, there are 2 common design pathways are using themes (partly customization) and designing from scratch (fully customization).
Templates are ready-to-use solutions with limited modifications like color, name and fonts, sizes, logo, etc. They're available in a wide price range. The custom design will require at least one professional storefront designer and developer to work closely with you.
Now are the differences:
Using Theme
Magento web themes are built to solely improve the look and feel of your site, to save you time, money, and peace of mind. The key purpose of Magento PWA themes is to deliver a powerful solution to improve the site performance.
That's why the design of a Magento theme can be more trendy, versatile, and attractive than a PWA template. However, you can ask for a tailored PWA re-design service.
While you can self-install Magento themes as they only change the default interface of the frontend, PWA themes are more complex and need experts' hands to adopt this cutting-edge web app.
The new PWA storefront will be connected with the Magento backends through APIs. Therefore, not only the instalment is complicated, but you also gotta make sure the default functions work well with PWA features.
Design From Scratch
Magento web
After considering your requests, the web designer will come back with 1-3 wireframes or design prototypes for you to feedback on. When the two reach an agreement, the frontend developers will get their hands on the real tasks.
Magento PWA
Designers also offer 1-3 designs but these will be perfectly in sync with PWA features and abilities such as push notifications, to deliver a closer feel to a true app-like experience and leverage your site performance overall.
PWA highly prioritizes mobile browsers, therefore the PWA design will require a separate made-for-mobile to fully take advantage of it. Normal websites will focus more on desktop and only do a re-organizing tweak for the smaller screens to look proportional.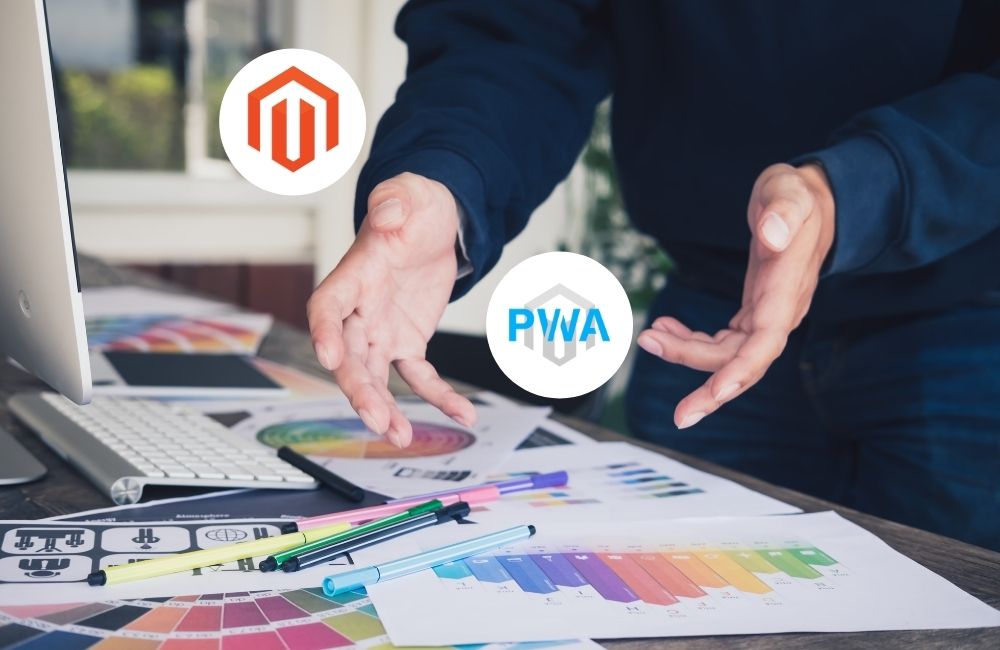 Step 3: Build The Backbone
Magento Web
After deciding what default functions to keep, they'll be configured to work the way you want. If there's a need for tailored functions, backend developers will work closely with the project representative to carry out these tasks.
The development team also provides you with a list of potential Magento 2 extensions so you'll find the right ones to enhance your site performance. You may need some management integrations such as ERP, CRM, etc.
Depending on your decision above about the site language, currency, and payment gateways, backend developers now can customize the needed on and finish the configuration with store info, email templates, etc for you.
If you need to transfer the data from the previous platform to Magento, then after the core pillars of the site are set, the developers will work on this.
Afterward, you can work on creating CMS pages. These extra but important pages can do a great deal in converting sales as users check out them to gain more information about your company and your product, and use them to generate a level of trust as well as their subjective assessment. So make sure you offer authentic, precise, and valuable insight on these pages.
Magento PWA
A Magento PWA development phase contains all of what's in the making of a regular Magento, plus the time and effort to:
Enable key PWA features to work: it requires your backend developers to know PWA technologies to handle service workers, manifest files, and storage APIs.
Build APIs: if APIs are fully equipped, they can powerfully boost performance, such as TigrenPWA APIs at the highest level can be customized to meet any need.
Even though most Magento PWA tasks are similar to regular Magento ones, they are more complex. For example, extensions can perfectly help a regular Magento be built powerfully.
But if you decide to use extensions for PWAs, the settings are more complex. One solution is to buy PWA-ready extensions (developers have supported them with Magento Studio compatible parts), then you only need few modifications after installation.
Another way is to purchase a regular Magento extension and a suitable PWA add-on to integrate into the Magento PWA. This requires extra work and checking to see if they really fit.
Step 4: Fail-Proof Testing And Optimizing
The development team will execute 2 types of tests. First, they will do an internal test where all the project's requirements are taken care of. The regular Magento test will conduct in less time with fewer errors.
The quality check for PWA will comprise more steps, such as making sure core Magento functions run smoothly, extensions, and custom functions work perfectly well in sync with the overall site.
Once everything is determined, the site owners are required to join the user acceptance testing where they construct feedback and improvement requests.
Step 5: Plug-And-Play Launching
Whether you use a theme or custom build, the Magento PWA code will be deployed and moved from the development site to the live site for final quality and security check. Final optimization is also conducted to ensure everything goes as planned.
Then it's time for the setup of a marketing campaign to attract visitors to the site. With PWA, the marketing plan needs to educate users about the advancement of PWA. This part is crucial as they must know what they can do with PWA then they cherish your investment.
Step 6: Nurture And Elevate Your Site
After launching, you need to keep in touch with your developers to get support in urgent times or if some issues are left out. That's why it would be a great help if any agency provide free support for a few months.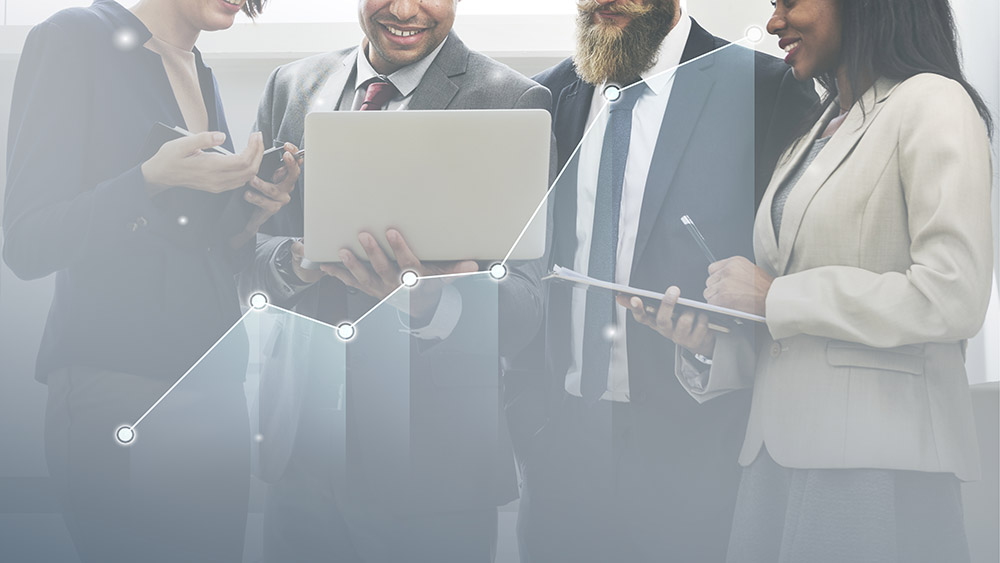 Comparing Outcomes Of Magento PWA And Magento Web Development Process
What Magento Websites And PWA Give You
Responsiveness
Mobile is such an important part of e-commerce right now, while PWA can leverage mobile to the next level, a regular Magento also must ensure the experience on smaller screen sizes is decent.
Highly Adored Management Tools
As being built on Magento, both sites are beneficial for the robust system that allows easy integration of management tools. Combined with frequent updates with improvement in multiple ways, site managing is surely one of a kind with Magento.
What Magento Websites Lack (But Magento PWAs Have)
Lightning Loading
The intervention of PWA first offers an impressive lightning loading speed. Built to precache the data as users interact more with the site rather than upfront, Magento PWA surpasses regular sites not only in first-page load but also the whole buying experience, starting from the second visit.
Browsing App-Like UX
With simple clicks, users can now install a PWA right to their home screen and view it independently on its window with a special URL that goes hidden. Just like using a true native app, you can see the Magento PWA in the task list and receive its pop-up messages on the banner.
Average Time For Magento PWA and Magento Web Development Process
Basic
Solutions used: open-source or low-cost themes, default features, extensions
The estimated time for the Magento website is about 1-2 weeks while Magento PWA is 2-4 weeks.
Hybrid
Solutions used: low-cost or premium themes with custom services to either design or functionality or even extensions.
The estimated time for Magento websites is about 3 to 4 weeks while Magento PWA is 1-2 months.
Advanced
Solutions used: build from scratch
Magento websites: estimated 1-2 months. Magento PWA: estimated 2-3 months
Wrap Up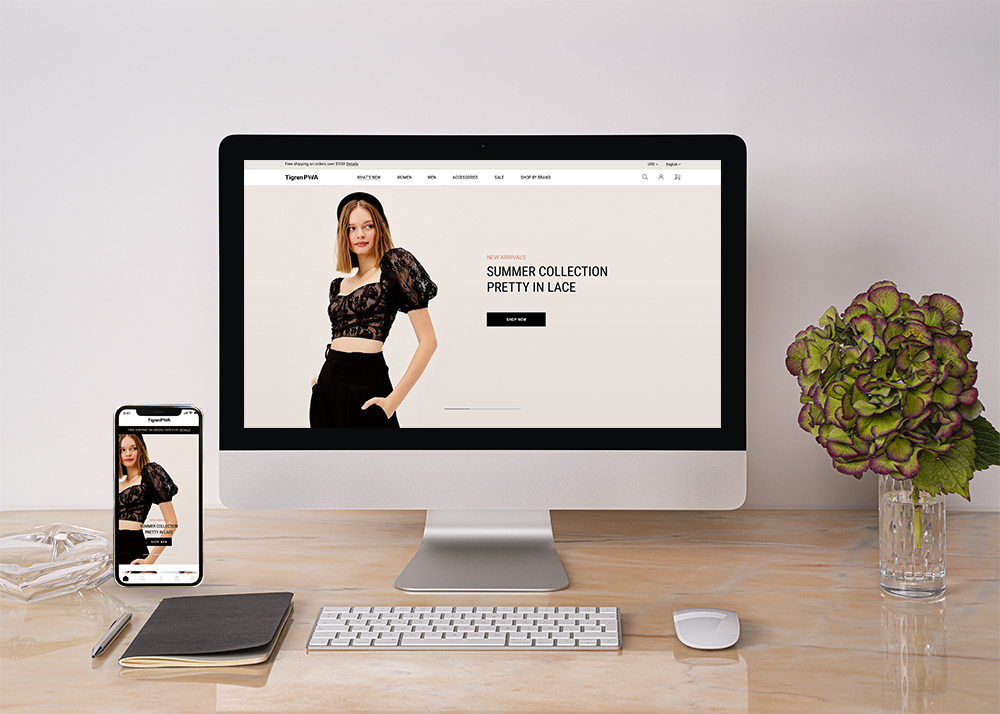 Even though the Magento PWA and Magento web development process have many things in common, the build of Magento PWA is more complicated, error-prone, and time-consuming than a Magento website development case.
The build of regular Magento mostly focuses on general e-commerce functions and attractive, high-quality design while Magento PWA cares more about the improvement of site performance and advanced e-commerce features.
So if you want to boost up your sales with a highly reliable Magento website or Magento PWA, Tigren can be the name you're looking for. We are one of the market leaders with nearly a decade of experience, carry 8,000+ projects, and successfully help online businesses thrive when their time comes. Find more about our Magento 2 PWA development and Magento 2 website development services.
Read More:
Magento PWA And Magento Website Structure Comparison
Magento PWA And Magento Website User Experience Comparison
Magento PWA And Magento Website Features Comparison
Magento PWA And Magento Website SEO Comparison
Magento PWA And Magento Website Design Comparison
Magento PWA And Magento Website Speed Comparison