There are a lot of discussions about Magento websites and Magento PWAs. One of the big questions is which approach is more friendly and optimal for your business? This guide will help you answer that quiz about the Magento PWA and Magento website cost to make better decisions.
What Do You Need To Pay Attention To?
Choose An Asian Agency
The cost to develop Magento PWA or Magento websites vary in different countries due to the distinctive developer hourly rate. And when outsourcing is on the rise, hiring foreign developers is an excellent option for businesses.
When it comes to Magento and Magento PWA work, you probably hear about many famous Western and Asian agencies. However, if your budget is not too generous, an agency from regions like Asia can be a more reasonable choice.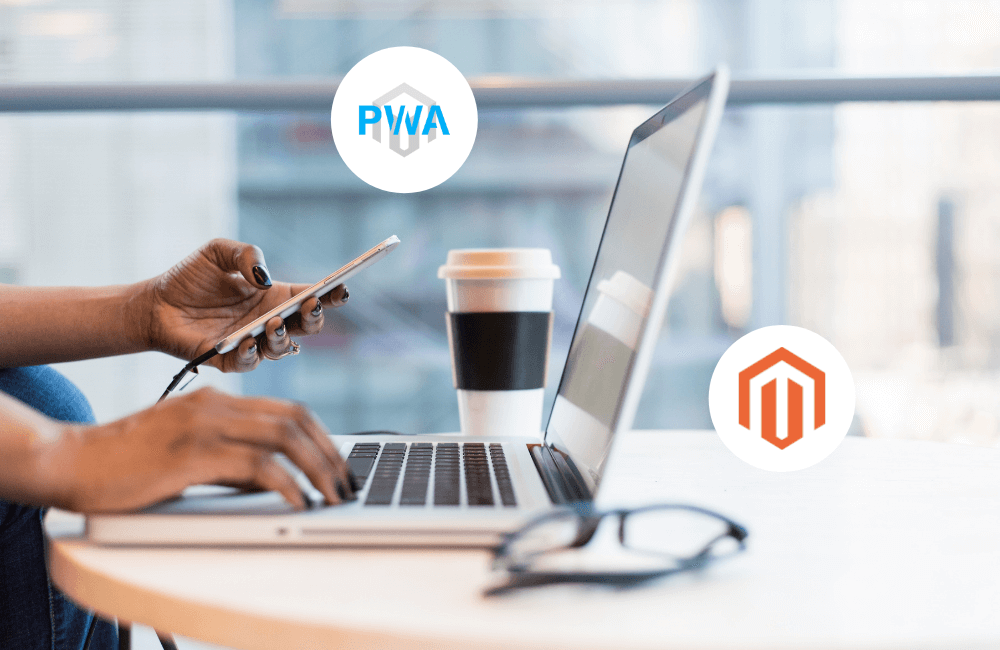 Overlook The Magento Cost
Whether you decide to use Magento websites or Magento PWA, you still need to pay money for using the Magento platform (Commerce or Open Source version). Therefore, this article will not cover the cost of maintaining Magento.
Magento PWA Extension: Not Recommended
Using a PWA extension, ready-made themes, and custom development are the three common approaches to turn a website into a PWA.
However, because a website can't become a complete PWA with just an extension, this article won't discuss the cost of this solution.
Now, let's head to the actual cost of Magento websites and Magento PWA development.
Magento Website Cost
Design Cost
Depending on your demand, the cost for a Magento design will differ. If you choose to install a theme, the price is from $100 to $200, and there are diverse templates in the market.
The cost for theme installation and customization is about $500-$1,000. If you desire a more advanced solution with a brand new design, it will cost you around $1,000-$3,000.
Extension Cost
To enhance your Magento store performance and keep it up-to-date, you may need to integrate it with some extensions. The cost varies, but it usually runs from $50 to $70 for an extension.
Development Cost
A Magento website development cost involves payment & shipping integration, site configuration, custom function development, third-party software integration, etc.
A basic development package with core Magento functions requires $2,000 to $3,000. A unique design with more advanced functions will cost $5,000 to $10,000.
Cost To Build A Magento PWA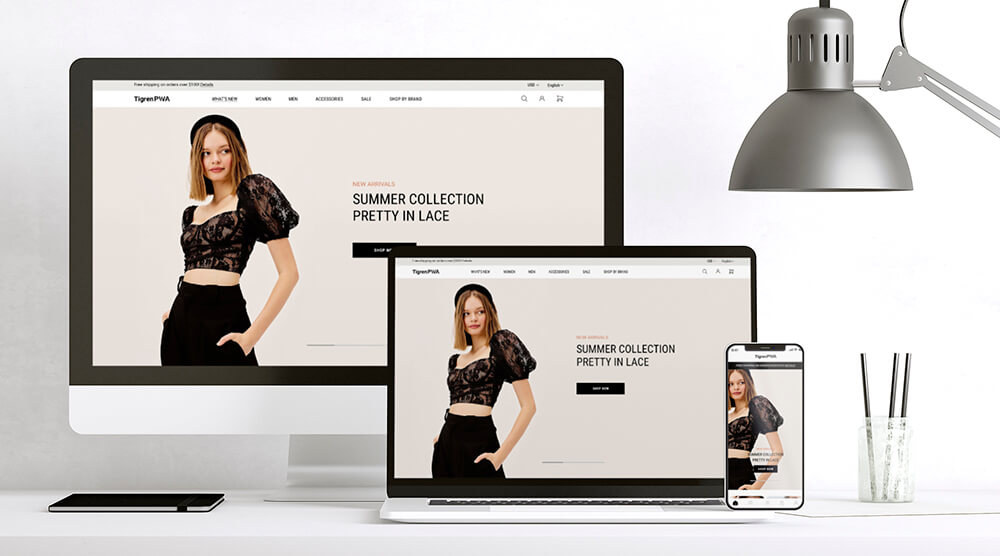 Design Cost
Magento PWA equips a website with both features of Magento and the Progressive Web Application. There are two options to build a Magento PWA: using themes and custom.
However, with the modern structure of PWA, the cost is undoubtedly higher, from $300 to $1,000 for a PWA theme. The PWA design includes both desktop and mobile versions since it aims to offer a responsive and consistent experience on multiple devices.
In short, a Magento PWA design cost is higher than a Magento website due to more complicated processes and advanced functions.
Extension Cost
There are three ways to install Magento PWA extensions.
The first one is to use regular Magento extensions to integrate into the website. Businesses have to develop APIs to connect the extension with the new PWA storefront with this solution. The regular extension is only compatible with the Magento frontend. In this case, you need to pay money for purchasing the extension, installation, and making it compatible with the PWA storefront.
The second choice is to use a PWA-ready extension already adaptable to Magento PWA Studio. This approach will save you time and money by not developing APIs from scratch. Installation and minor adjustments are all required to make the extension work properly.
The third option is to purchase a Magento extension and a comparable PWA add-on. If so, you need to install two plug-ins and run a thorough check to make sure they are well suited.
Overall, Magento PWA extensions' budget is higher than Magento website extensions. But you will have more choices, and your business will benefit more from a Magento PWA.
Development Cost
The development process of Magento PWA involves similar work as Magento websites. But integrating PWA requires more effort due to the complication of some steps.
For instance, fetching data to avoid conflict between the PWA storefront and installing third-party software integration is more complex.
The basic Magento PWA development demands a $3000 to $5000. The cost is higher for a more complicated PWA project, from $7,000 to $20,000.
Is Magento PWA Development Worth It?
Turning to Magento PWA solution can be a brilliant choice for e-commerce. Not only does it bring a responsive website, but the PWA technology also excels as a perfect alternative for native apps. So is Magento PWA development a good investment? Absolutely yes.
First off, the design of PWA storefronts promises to utmost the user experience on your website. The decoupled structure allows you to work independently in upgrading the shopfront without harming the technical system.
In addition, PWA equips your website with enriched features of the latest technology. Boosting ultra-fast speed is one of its powerful functions. Then there's its capability to send push notifications, be added to the home screen, and also work offline.
Avoid Wasting Money In Developing Magento PWA Websites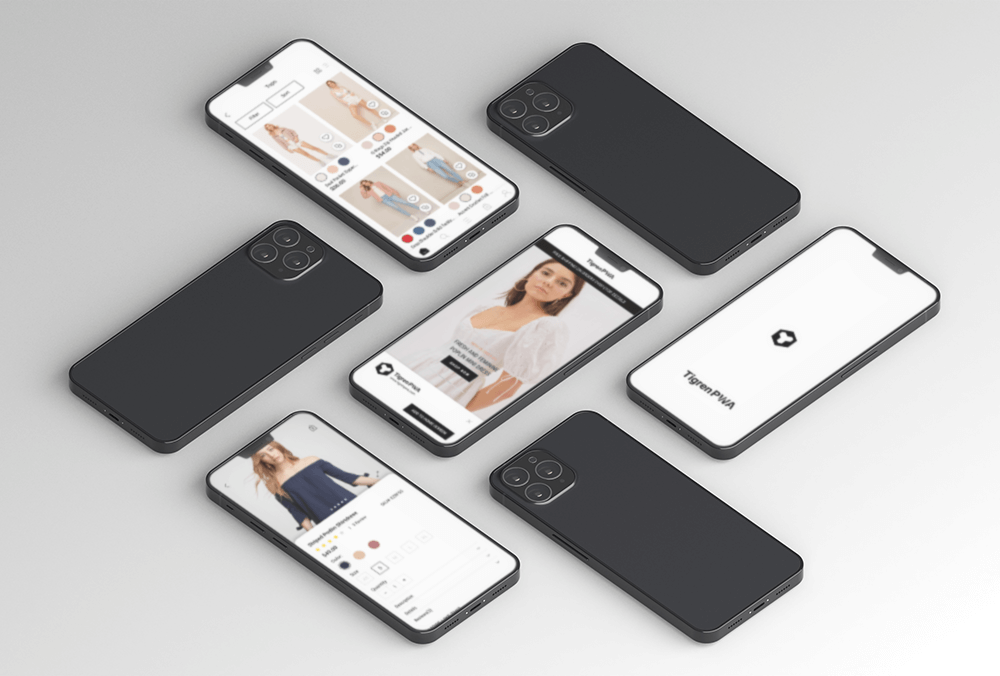 So you've understood what makes up the Magento website cost and the price for owning a Magento PWA, then you might want to know if there's a way to reduce the cost?
The answer is held in the provider choice. Choosing a prestigious Magento PWA developer can help you succeed with high-quality yet cost-effective website development projects.
If you are looking for a partner to develop your website, Tigren is the right option. Having worked with many famous brands, we understand merchants' s expectations of efficient and worthwhile Magento website solutions.
At Tigren, we commit to providing transparent pricing from the beginning.
With 10-year experience in E-commerce service and business know-how, we are confident to upgrade your website with premium solutions at reasonable costs.
Our theme – TigrenPWA will surely meet your demand for a modern PWA storefront and engaging interaction. The theme stands out as the best PWA template with enriched features.
With $799, your website will be dressed with powerful functions of Magento and PWA, including:
App-like experience
Ultra-fast speed
Add-to-home-screen
Offline mode
Push notifications
Advanced E-commerce functions
Magento key functions
We also provide custom Magento PWA development solutions that allow you to build brand-new designs following your requirements. Our experts will help your brand stand out from the crowd with distinctive and practical ideas.
Or, if you want to grow your E-commerce business with advanced development, you can refer to our Fly E-commerce website package, which can enhance your online store with outstanding functions.
We will support you dedicatedly in choosing appropriate Magento and Magento PWA solutions to suit your budget. Contact us at [email protected] to head down on a successful project.
Read More:
Magento PWA And Magento Website Structure Comparison
Magento PWA And Magento Website User Experience Comparison
Magento PWA And Magento Website SEO Comparison
Magento PWA And Magento Web Development Process Comparison
Magento PWA And Magento Website Features Comparison
Magento PWA And Magento Website Speed Comparison
Magento PWA And Magento Website Design Comparison
Magento Pricing 2022: Explore The Real Cost To Run An Online Store