Continuing our Magento comparison series, today's topic, Magento website design, is brought to the table. We'll further discuss the differences in the design of Magento PWA and regular Magento sites and their development solutions and their effectiveness in attracting more customers.
First, let's break into how a Magento PWA design can over-perform a regular Magento design.
Magento PWA Design Compared To Regular Magento Design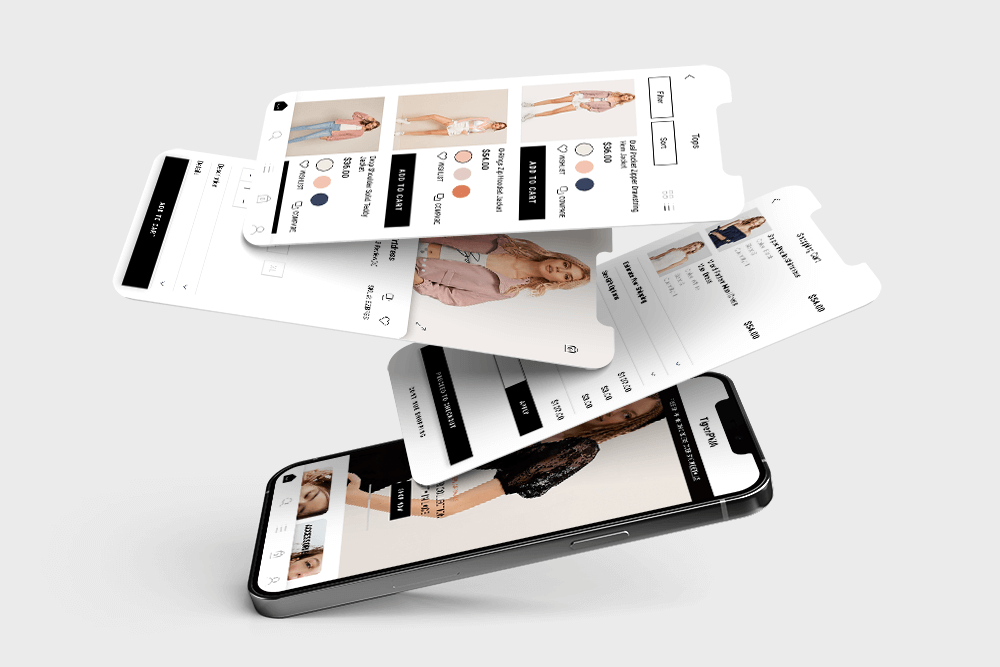 With the pros of acquiring only the best from websites and native apps, PWA is great for eCommerce because of its ability to start fast and stay fast, and engage and retain customers effectively with strong security protection.
The secret-no-secret of PWA that brings about significant benefit to eCommerce businesses is the high re-engagement power coming with powerful app-like features. Not only being more complex but integrating PWA also means that you'll change the whole site structure from the inside out.
This is why designing a Magento PWA requires your development team to have deep knowledge about the technology, alongside frontend design principles.
Because it is crucial to have the design match PWA's distinctive features so that these functionalities can release their full potential, not any web design developer can work with a Magento PWA.
How Different Are The Solutions To Magento PWA and Magento Website Design?
Here we'll show you all the ways you can build the look for Magento PWA and regular Magento, and the cost comes along. Note that this is merely the suggested cost for getting the solution, not the overall design process. Due to the complex nature of e-commerce websites, owners might need help with installation, customization, support, etc., to complete and launch a Magento website/PWA.
Magento Website Design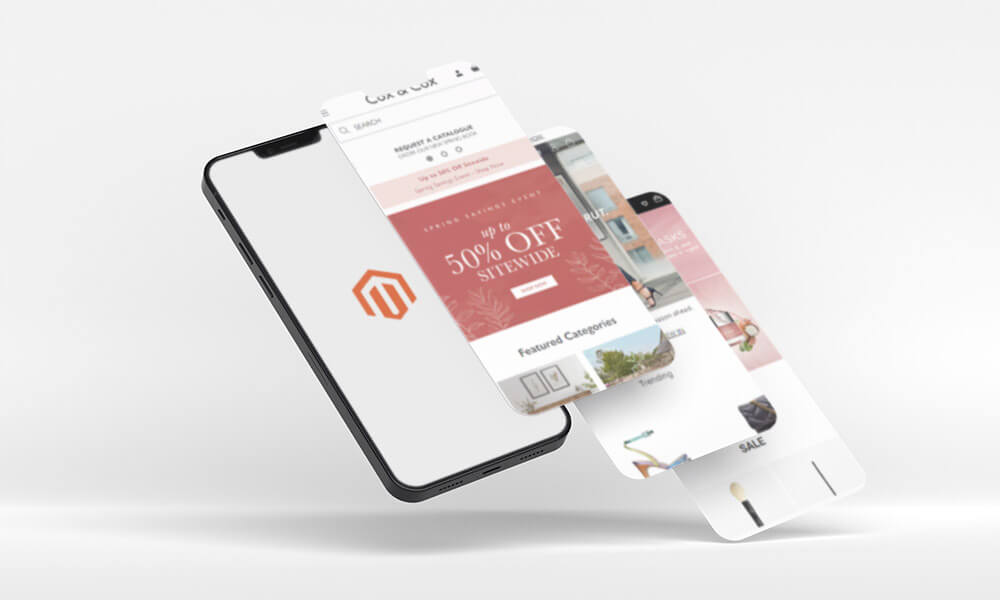 You can purchase from numerous high-quality, ready-to-use Magento themes out there. If you want a unique design from scratch, the custom services start at $500.
Price range:
Open-source: free but requires huge customization to apply in real life.
Basic: $50 – $300
The basic design is filled with a better view, more custom positions, and choices but they're still inefficient. Mostly suitable for individual branding.
The high-end theme is considered the best for e-commerce since it contains a professional-looking and meticulous user experience (UX) design to achieve more conversions.
Another solution is to hire Magento web design services. You can either build the look from scratch or ask for one to several custom changes to a ready-made theme. The price also varies significantly from specific locations to brands and skills.
Magento PWA Design
You also stand in front of 2 options here but more complex. The pre-designed solution is a PWA theme with a plug-and-play storefront. The flexible one is to build a PWA from scratch or partly.
To create PWA's authentic app-like journey, owners must provide a consistent look and feel throughout the entire experience. It is not only how the PWA performs but also how it looks for the closest feeling to native apps.
So instead of a regular website design, in which frontend developers only resize and give a slight tweak to the desktop version, PWA will require to have 2 separate designs for desktop and mobile. Custom design services for PWA usually start from $1,000 due to their complexity.
Price range:
Open-source
Basic: $300- $500
Advanced: $500 – $10,000
Magento PWA Design Demo
To illustrate how PWA can be leveraged on the mobile experience, here's a PWA demo from Tigren: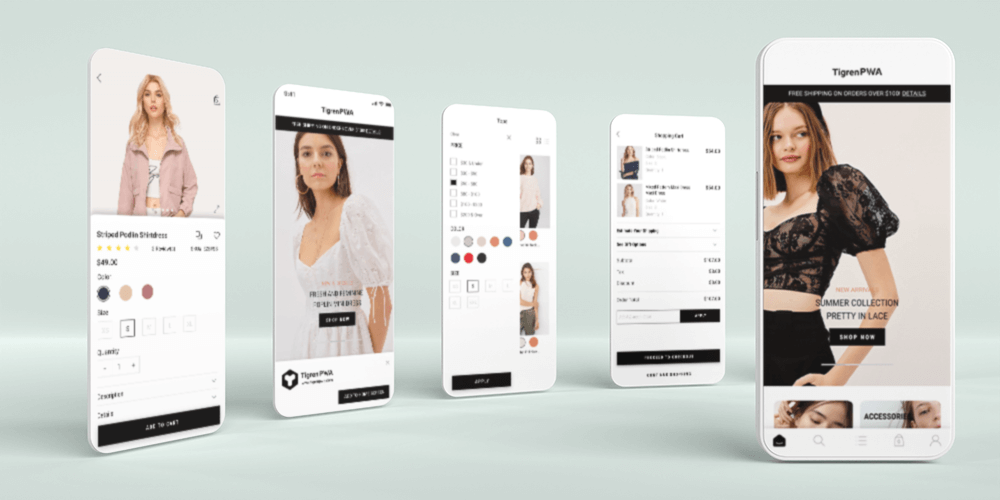 The developers have fully taken advantage of app-like features from PWA with the design of bottom navigation, pull-out side banner, etc. They decided to go with a close simulation of the mobile app, which is already highly addictive and familiar to users.
Therefore, almost any online shopper can immediately understand how this site works and enjoy hassle-free navigation.
How Effective Is The Design Of A Magento PWA and A Magento Website?
The efficiency of the design depends on what you need based on what you have. But these 2 designs aim for different goals, so first, let's get you to know each one's purpose.
Purpose
Magento PWA design is actually a performance aid. When you decide to go for PWA, it means you focus more on how your site performs, especially on mobile. A Magento PWA solution will let you acquire a speedy load, smoothness, high accessibility, and engagement.
Most PWA solutions are function-first. A PWA theme mainly helps invigorate your site's performance and less stress how your store looks. If they have both, it's a plus from purchasing the premium.
Even if you have a spare design or integrate PWA into your existing website, you still need to redesign the storefront to suit PWA technologies because PWA adoption will enable the build of APIs to connect the Magento backend and the new PWA frontend.
While on the other hand, the most significant purpose of Magento web design is to equip your storefront with a professional, trendy or aesthetic look, depending on the vibe and image you want to deliver. They focus on creating a visually unique and attractive journey for online users.
On Desktop
You might be unable to detect a Magento PWA from a Magento website on a desktop as they are pretty similar. They're responsive on each large screen, and both deliver the same buying cycles.
Not only until one experiences the site do they realize the differences. PWA loads faster and gets smoother the more time users stay on-site. For each site they revisit, the load could reduce to instant.
On Mobile
Here you can spot which one quickly. As you know, a regular Magento only restructures the site layout to suit the small screen, but there will be some limitations that mobile users can't experience.
A Magento PWA allows the mobile to be fully optimized, like Tigren PWA. Same with mobile apps, users can add your site to the home screen. They'll see a splash page first, then a full-screen view when clicking on it. Furthermore, Magento PWA can send push notifications and works when the Internet connection is unstable. Mobile PWA opens room for UI UX designers to thrive.
So, Takeaways?
If you want to improve the site loading and overall performance, go with the Magento PWA design option. And if the look of premade solution doesn't satisfy you or you want to cut down costs on a custom solution from scratch, you can always ask for a custom design service on the Magento PWA theme.
But if you focus only on the look and feel of your Magento store, go with the Magento web design. High-level options also provide you with some simple, functional extensions.
A Checklist For Magento Storefront Design
Whether you use a Magento PWA or a website, here are the noteworthy points to an effective storefront design:
Intuitive Yet Attractive
Sometimes, dynamic effects and complex site layouts can be a retention killer if it prevents customers from carrying out the wanted tasks. In practice, an easy-to-use design is the most attractive one for e-commerce. Don't let the techy stuff get in the way of your products or services.
However, by no means do we advise you to go with an over-simplified and careless design. Stay minimalist, authentic, and attractive.
Responsiveness
Without another reminder about the contribution of mobile usage to e-commerce sales, you already know that being responsive is today's standard for any website.
Stay In Touch With Customer
Leave space for connections on-site whenever prospects or customers want to reach out to you to minimize the redundant effort with email, phone, or contact form.
Another crucial point is to ask for their permission if your site uses cookies to track their activity.
If Possible, Be Conversion-Oriented
Designs that aim for direct responses usually take hours of researching, crafting, and testing the best way, from creating every site element, putting them into each block, to combining them well together in harmony and effectiveness. Therefore, they may be super-pricey, but it's super worth it.
For example, they will tweak the CTA with a clear message, an intriguing font, and a fascinating journey for clicking, such as putting them in 3 vital places. Furthermore, applying the proven tactics and directions can create a captivating look and feel for headline design.
Recap
A good e-commerce design of its own can attract prospects, generate trust and leverage the conversion rates if you let it a chance to do it right. An e-commerce design also represents your brand, helps deliver messages, and creates deep connections.
A Magento PWA design focuses majorly on performance-aid, while a Magento website design lies towards the look and feel of your site. You can get both of them through theme and custom design services. However, as PWA is more complex, more technical, and fully optimized, they are much more costly, especially if you reach out to local agencies in the US or Europe.
Tigren is the dedicated team of Magento experts that you can trust to acquire the utmost premium solutions, all at reasonable costs. We are one of Asia's prestigious e-commerce agencies. We have delivered Magento PWA solutions since this term was first coined and successfully increased numerous brands' ROI after working with us.
Read More:
Magento PWA And Magento Website Structure Comparison
Magento PWA And Magento Website User Experience Comparison
Magento PWA And Magento Website Speed Comparison
Magento PWA And Magento Website SEO Comparison
Magento PWA And Magento Web Development Process Comparison
Magento PWA And Magento Website Cost Comparison