Users have become more cautious and selective in shopping on E-commerce websites. As a result, merchants need to strengthen their websites with valuable features to keep them engaged. If you run a Magento website and want to upgrade it with more advanced features, you probably think about Magento PWA solutions. But can Magento PWA efficiently equip your site with better functions? Let's break down Magento PWA and Magento website features with the following comparison.
Key Features That A Website Should Have
Certain features contribute to the efficiency of a website.
Easy Navigation
Simple navigation to different pages will help you earn positive evaluations from online users.
Fast Speed
Will you be waiting 30 seconds for a page to load? Of course not, and your customers wouldn't either. That's why improving speed is crucial for a good site. Promoting an ultra-fast speed can keep customers engaged and increase SEO rankings.
Updated Design
Like traditional stores, having a nice layout for your shop can catch customers' attention and impress them positively. Therefore, it is essential to dress your website with an updated design. "Updated" here means the precise, professional, relevant feeling that the interface should focus on.
Optimized For Mobiles
The number of mobile shoppers keeps rocketing. Mobile commerce now takes the largest share of e-commerce. As a result, a good website should prioritize the mobile-first approach to enhance the user experience.
High Security
Cyber-attacks have raised the concern of online shoppers. For that reason, it is vital to enhance website security to make the shopping experience more comfortable and safer for your customers.
Magento Website Features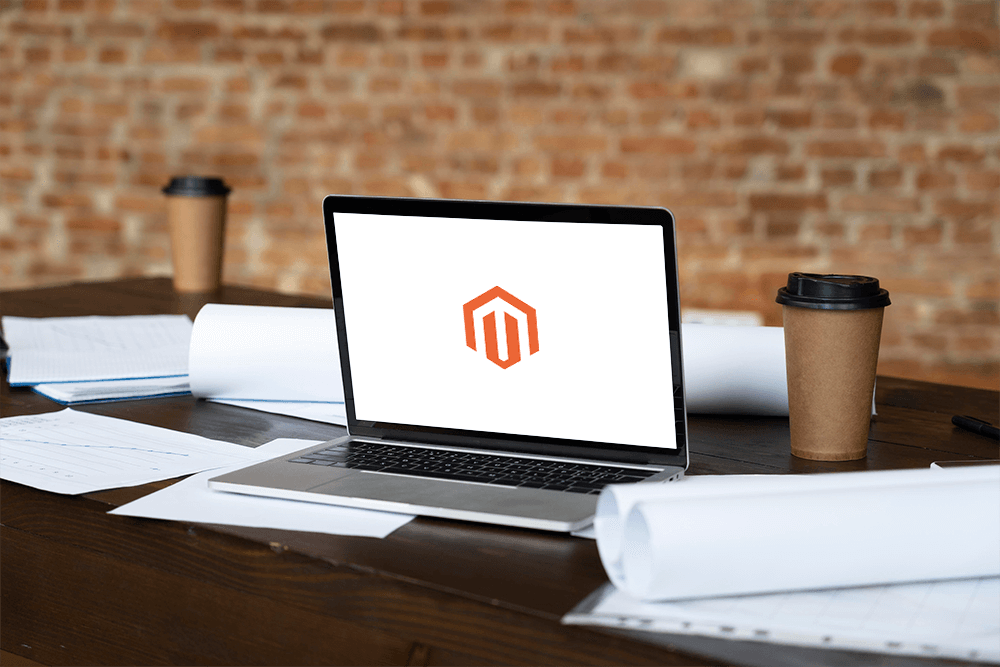 For Users
Catalog Browsing
Magento allows easy navigation to different catalogs, which creates a friendly and convenient experience for customers.
Product Browsing
The product name, price, description, and buy box are well presented so that users can switch for more details on Magento websites.
Checkout, Payment, Shipping
There are also many options for customers in adding payment – shipping methods or coupon codes. Also, Magento applies a straightforward checkout process for customers.
Customer Accounts
Users can create accounts to navigate different devices and platforms with saved information at high security. They can review all data, including address, newsletter subscription, and order history.
Customer Service
Magento websites allow customers to leave feedback or contact the support team instantly. It enhances the communication and relationship between users and vendors.
For Merchants
Merchants can keep track of all activities, orders, marketing tools, and reports thanks to the impressive features of Magento:
Catalog Management & Order management
Owners manage their inventory and process orders effectively from the backend of Magento. Businesses can customize functions to match their operation.
Marketing and Promotional Tools
Magento lets businesses efficiently configure their websites for the best possible marketing results – from SEO tools, and canonical links to integration with third-party tools like Google Analytics.
Analytics and Reporting
These are essential functions for every business, and Magento offers exactly what an owner needs to see to improve their operation. Default reports are generated automatically, and companies can customize which data should be shown.
Magento PWA Features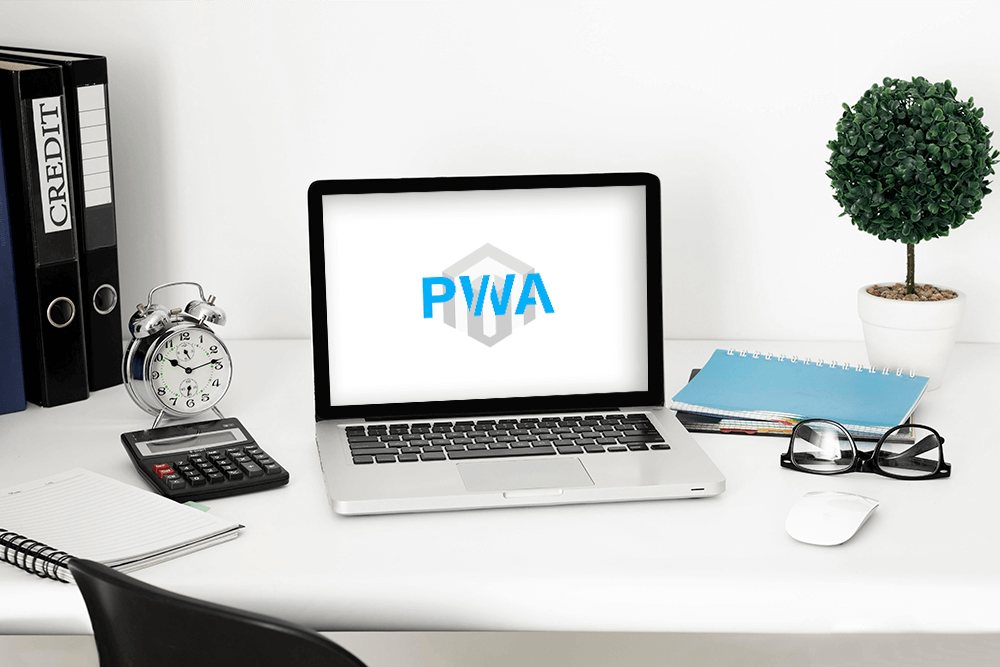 Magento PWA can deliver most Magento 2 features while enhancing the website with the advanced functions of Progressive Web Applications. Common approaches are using Magento PWA themes and Magento custom PWA development.
Features Of Magento
To keep full Magento 2 features for your website, you need to pick the right solution when upgrading to PWA. Most Magento PWA themes in the market will limit some critical functions of Magento that can affect your site performance.
It may result in unoptimized operation, unpleasant interfaces, or poor user experiences. In this case, using the TigrenPWA theme is recommended. This is one of the few Magento PWA themes that can help your site maintain all critical functions of Magento.
Features Of Progressive Web Application
It is not overstated that PWA is a perfect alternative to native app development with advantages of design, cost, and feature. This technology can enrich your online store with excellent features.
Add To Home Screen
The "Add to home screen" function enables users to "install" PWA like a native app. End-users simply click the "Add to home screen" button when a notification pops up on the web. The shortcut presenting your brand logo will appear on the main screen. And it will bring app-like interaction with low storage compared to native apps.
Splash Page
The splash page is an excellent function to bring a real mobile experience. Thanks to the manifest web file, it works responsively to fit different screen sizes and devices.
Ultra-fast Speed
Boosting lightning speed is a remarkable benefit of the PWA. Your website can instantly load within 1-3 seconds using this technology. It will make your page more friendly to SEO and likely reduce the bounce rate.
Offline Mode
A low Internet connection will make the shopping experience interrupted. However, the offline mode of PWA can fix this issue. When users access PWA, the data will be cached to allow instant load in the subsequent visits, even with no Internet connection.
Push Notifications
Unlike tools or plugins that limit the number of subscribers who can receive push notifications, PWA allows merchants to inform as many users as they want. Customizing messages to keep customers engaged with your brand is also easy.
Final Thoughts
In comparison with Magento websites, Magento PWA can undoubtedly enrich your e-store with more powerful features.
However, keeping full Magento core functionality when integrating Magento PWA is highly dependent on the solution you choose. And the number of prestigious Magento PWA developers is restricted. As a result, you need to pick the right partner with appropriate solutions to utmost your work.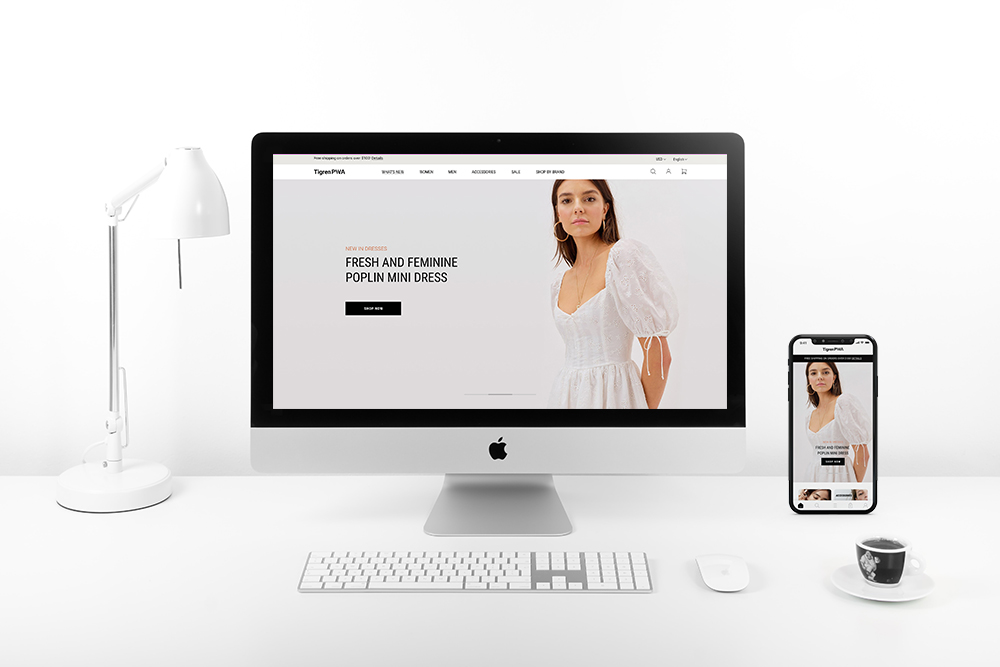 If you are looking for a trustworthy company to develop your Magento PWA, Tigren is the perfect companion. We have extensive experience with over 12 years in Magento eCommerce development and 5 years of Magento PWA development.
We ensure to bring the best-in-class Magento PWA theme to dress your website with outstanding features. Our TigrenPWA theme is at a reasonable cost of $799. It is the most cost-effective yet premium Magento PWA template.
Apart from that, we also provide PWA custom projects to build your online store from the ground up with unique ideas.
So contact us at [email protected]com to get the latest updates and promotions on Magento PWA.
Read More:
Magento PWA And Magento Website Structure Comparison
Magento PWA And Magento Website Speed Comparison
Magento PWA And Magento Website User Experience Comparison
Magento PWA And Magento Web Development Process Comparison
Magento PWA And Magento Website Cost Comparison
Magento PWA And Magento Website SEO Comparison