"Wow, such a fantastic website." What a motivator it is for E-commerce merchants. But by what means to upgrade your website's user experience to get that positive feedback? Is it a Magento PWA or a Magento website? Let's discover the differences between Magento PWA and Magento website user experience to find the answers.
Crucial Factors Contributing To A Great User Experience On Websites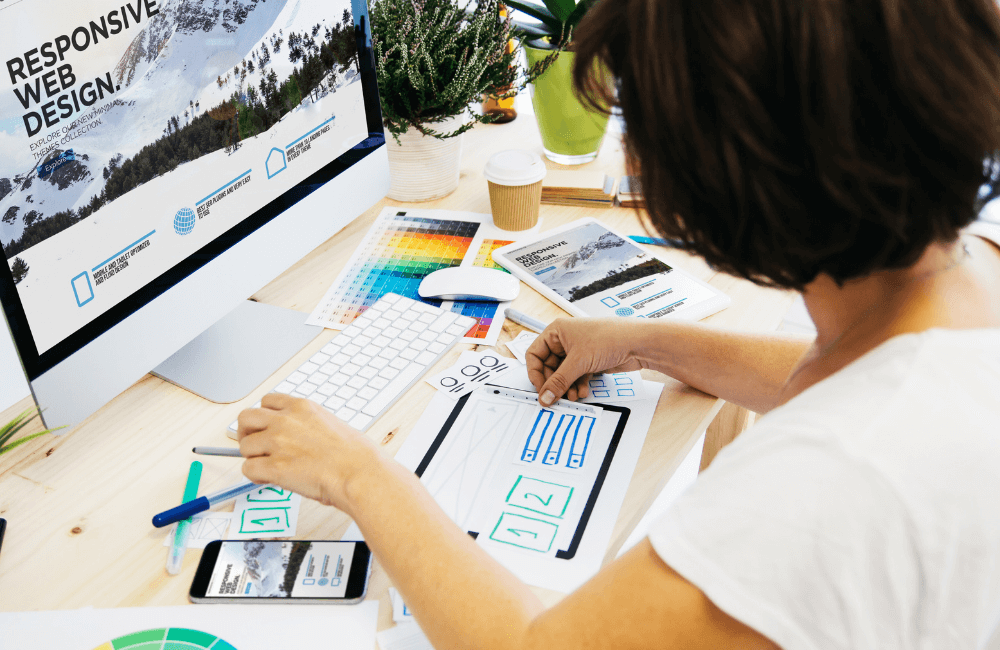 Consistent Design
A consistent design of a website is directly proportional to the user experience. The color tone, typography, images, and videos need to remain the same on multiple devices for customers to recognize your brand identity.
Ultra Loading Speed
No one wants to wait for 30 seconds to load an online page. Thus, boosting your site speed is of great importance. Merchants should consider the latest technologies to promote ultra loading speed for their websites.
Valuable Features
Features are means to evaluate your website's capability. If you can provide users with valuable features, their time-on-site and conversion rate will likely grow. For example, customers will leave positive feedback if your website offers smooth interactions and exciting features.
Responsive Interaction
The layout and content should be flexibly adjusted on different screen sizes for responsive interaction. It allows practical approaches for customers when browsing on multiple devices.
Easy Mobile Experience
As mobile buyers grow extensively, enhancing smartphone friendliness and responsiveness should be prioritized. It may also increase the ranking of your website in search engines.
Comparison Between Magento PWA And Magento Website User Experience
On Desktops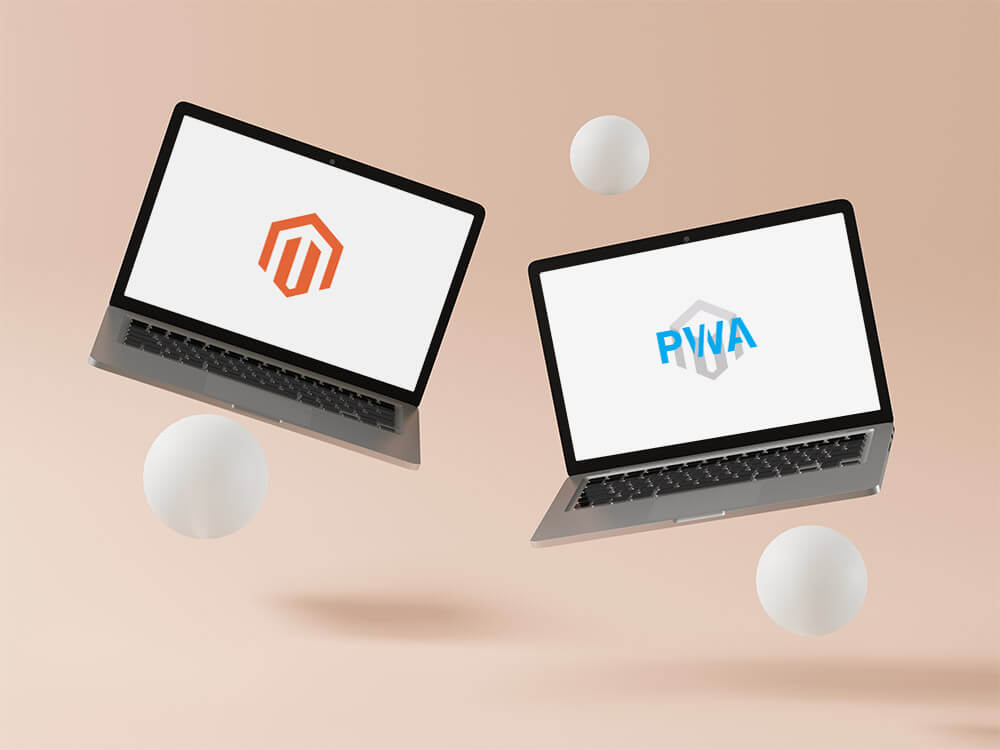 Magento Website
Design
With Magento websites, there are many templates to install. Therefore, you can optimize your shopfront look by choosing the appropriate theme and customizing it.
Speed
Magento websites are not slow, but they may not be lightning fast enough for your customers. If you have over 1000 products or integrate many extensions, a Magento website can become slow.
Features
Core features of Magento for users are:
Multi-filter
Product browser
Layer navigation
Add to wishlist
Payment & shipping
Security
Navigation
Magento is easy for users to navigate. Customers can browse and purchase items based on various sizes, colors, categories, etc., in the shortest way.
Magento PWA
Design
When users accept the "download" request, PWA is added to the home screen with a logo brand like a native app. It can be displayed full screen with banners and pop-ups. Though a PWA is still a website at its core, the header and footer are hidden to maximize the real-app experience for users.
Speed
The service worker (one of the key PWA components) can store necessary data when users open your page for the first time.
And when they revisit your store, the loading process to retrieve the information will be lightning fast. Consequently, it only takes users a few seconds to interact with your website.
Features
Push notifications and offline capacity are remarkable features of PWA. If users accidentally close the order process or make any changes when they lost connection, PWA can still manage them well.
Besides, you do not need to integrate third-party tools to send notifications since you can do it with PWA to unlimited subscribers.
Navigation
With Magento PWA, users can interact with your websites with lightning-fast browsing to all attributes such as categories, colors, sizes, etc. The app-like layout also lets them find information quicker.
On Mobiles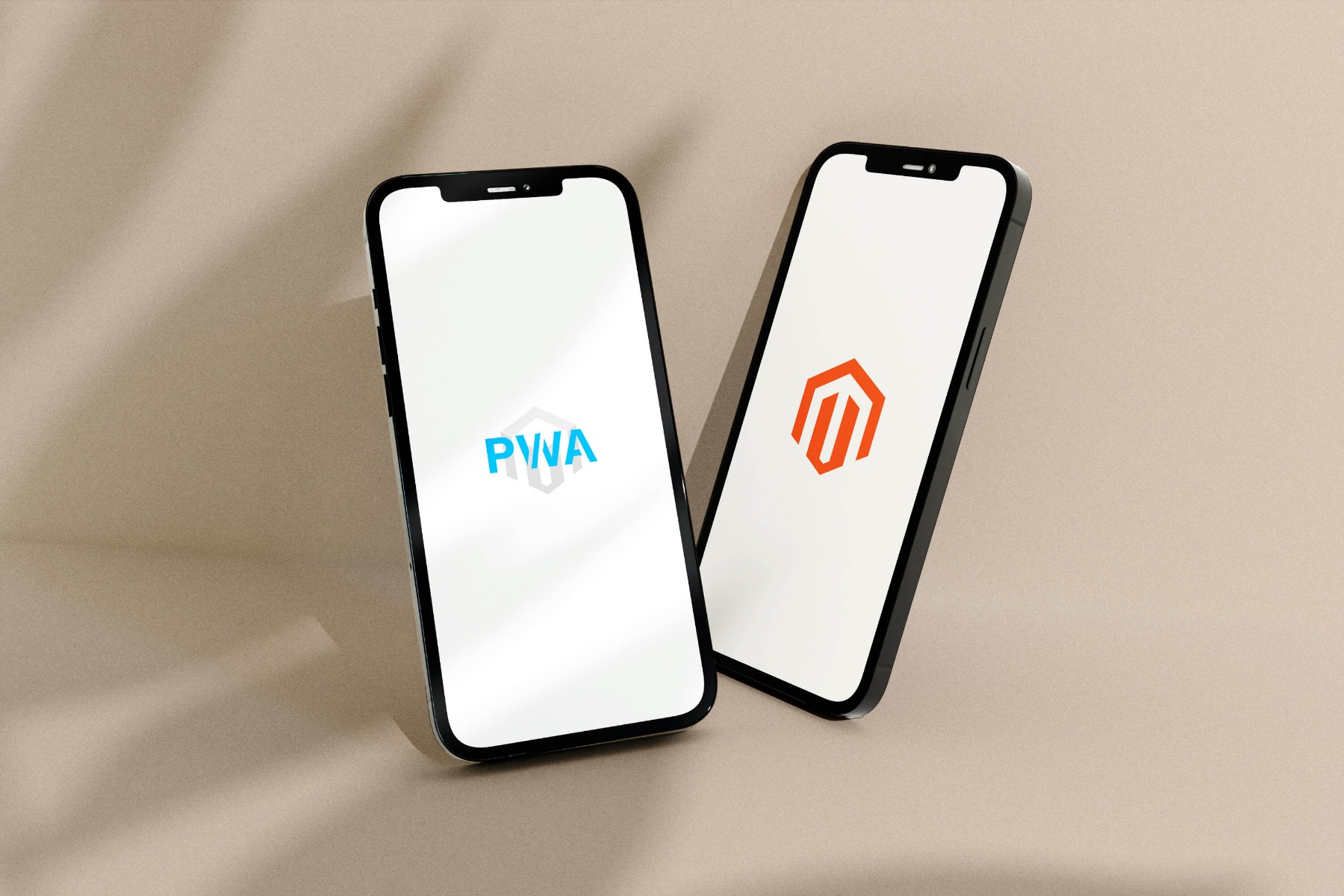 Magento Website
Design
Most Magento themes are responsive on mobiles, which means the web elements are reorganized for a better mobile view. However, if the Magento theme requires a specific screen style to match, you may encounter display issues.
Speed
The network connection can affect Magento websites' speed on mobiles remarkably. Users may face lag connections if loading the big files.
Features
Core features of Magento websites on mobiles are consistent as on desktops.
Navigation
It is the same on desktops when navigating Magento sites with mobile devices.
Magento PWA
The installation of PWA on desktops is not as common as on mobiles. However, with most functions supported, the desktop version of PWA may grant wide adoption in the future.
Design
The PWA design on desktops is also optimal for full screen. It is convenient to interact with PWA like native apps with big screen sizes.
Moreover, PWA is supported on most common browsers such as Chrome, Firefox, and Microsoft Edge. Users can install PWA on desktops through browser automatic install banners.
Speed
Like on mobiles, PWA can boost ultra-fast speed on desktops. It only takes one to three seconds for every load with PWA. The lightning speed keeps customers engaged and helps your site get better rankings on search engines.
Features
Installing PWA on desktops also allows powerful features for E-commerce sites, including offline mode, push notifications, and full responsiveness.
Navigation
There is not much difference when navigating on Magento PWA with mobile devices.
The Best Approach To Enhance User Experience On Magento Website
Magento websites are friendly on desktops and mobiles. However, some elements aren't optimal to deliver a great Magento website user experience.
Speed is first to mention, mainly if your page contains rich content or when you sell more than 1,000 products. In addition, Magento requires significant space, 4GB RAM, and 25 GB of SSD storage minimum to ensure smooth operation.
To take back Magento websites' flaws, using Magento PWA is advisingly ideal for E-commerce merchants. Your website will still function efficiently with Magento features but with an innovative PWA storefront that can work independently yet flexibly.
And to develop a "wow" Magento PWA project, Tigren's Magento Progressive Web App development service is the top option. With 10-year experience in Magento service, our team has tirelessly attempted to make customers satisfied with high-quality work.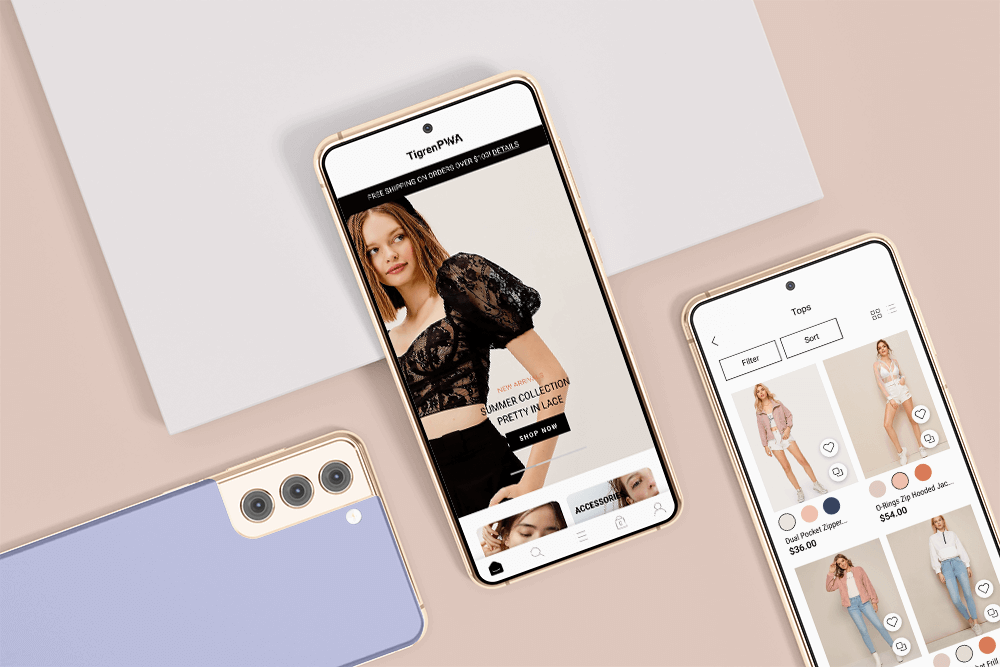 TigrenPWA theme is our best to-be-proud effort so far. It is well-suited for all industries, from clothes, electronics, or household items.
We have also included the most innovative PWA technology in this theme to ensure that users have a flawless shopping experience on your sites. Starting from $799, your online store will undoubtedly amaze customers with the best-in-class theme and valuable features.
Or, if you want to work on your ideas and decide how your store will look, our team can customize the development with the highest quality. Custom PWA projects are favored by many of our customers.
If you do not prioritize Magento PWA solutions, our various E-commerce packages can bring the most relevant values to level up your online store.
Share with us your needs for an upgraded website at [email protected]. It's our pleasure to work with you in fulfilling customer satisfaction.
Read More:
Magento PWA And Magento Website Structure Comparison
Magento PWA And Magento Website Features Comparison
Magento PWA And Magento Website Design Comparison
Magento PWA And Magento Website Cost Comparison
Magento PWA And Magento Website SEO Comparison
Magento PWA And Magento Website Speed Comparison