Converting the website to a state-of-the-art Progressive Web App is a wise strategy that many Magento stores have adopted in recent years. There are various Magento PWA benefits for merchants, from improving mobile experience and store performance, raising site traffic and conversion while decreasing input cost, to enhancing company reputation.
In fact, the phenomenal features of Progressive Web App bring tremendous benefits to not only those Magento stores but also a wide range of e-commerce companies worldwide.
AliExpress is one of the pioneer firms that implemented the Progressive Web App successfully. After a short period of time launching PWA, its conversion rate unexpectedly surged by 104%.
Lancome cosmetics also early built its PWA and has received lots of positive outcomes: a 15% decrease in bounce rate, a 50% increase in mobile sessions, 17% growth in conversation rate.
Although Aliexpress's and Lancome's websites are not based on the Magento platform, their desirable achievements have inspired most the Magento merchants.
This article will show you 10 incredible Magento 2 PWA benefits for merchants who apply this technology.
What Is Magento 2 Progressive Web App?
Magento 2 PWA is applying Progressive Web App to Magento 2 e-commerce website. In other words, it indicates Magento 2 stores that are integrated with PWA.
There are different solutions to transform a Magento website into a PWA but mostly, the owners will use Magento PWA studio or ready-made solutions based on Magento PWA Studio.
As you might know, Magento 2 PWA Studio is a set of tools supporting the development and maintenance of the PWA storefront on top of Magento 2.3 and above.
Proven Magento PWA Benefits For Merchants
There are 10 significant Magento PWA benefits for eCommerce stores owning it. Let's figure them out!
1. Improve shoppers' experience
Right after adding PWA on the mobile home screen, the customers will get the experience of using a native app with a quick shortcut.
This shortcut helps users access quickly to the store instead of opening their web browser and entering the website URLs as usual.
Moreover, there is no page that will reload on Magento Progressive Web App, just lightning Ajax loading to transit among pages/ content.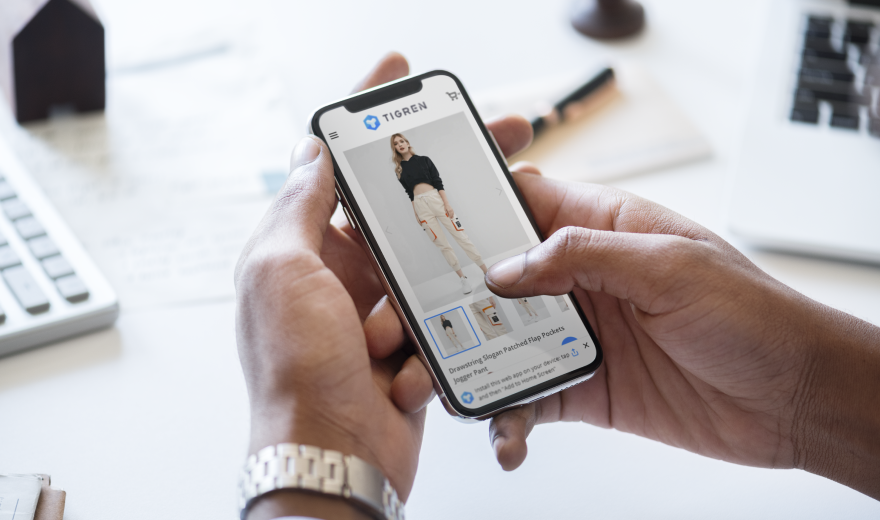 Additionally, when the Internet is not available, the users still can approach some cached content of PWA.
Furthermore, background sync gives end-users the ability to hold up their actions (e.g.: login/ register a new account, submit form…) when losing the network connections and complete those when getting the Internet back.
2. Consume less time in developing/ launching/ updating
Only a single codebase is required to develop PWA for Magento 2. On the contrary, for native app development, the store owners have to do it on two separate codebases (for iOS and Android).
Moreover, when merchants tend to launch a native app, their app must pass the strict requirements of app distribution services. Once the app gets approval, it will be officially published. In comparison, PWA is able to be released whenever the merchants aim to do it.
In terms of renewing the native apps, the owners need to update and re-submit both of their codebases to the app stores. Whereas, it's much simpler and time-saving for PWA since the only one source code needs updating without re-submission.
3. Pay no fee on app distribution service
Since Magento Progressive Web App doesn't depend on any app service distribution, merchants do not have to pay the submission fee for years like native apps – $99/year for Appstore or $25/year for Google play.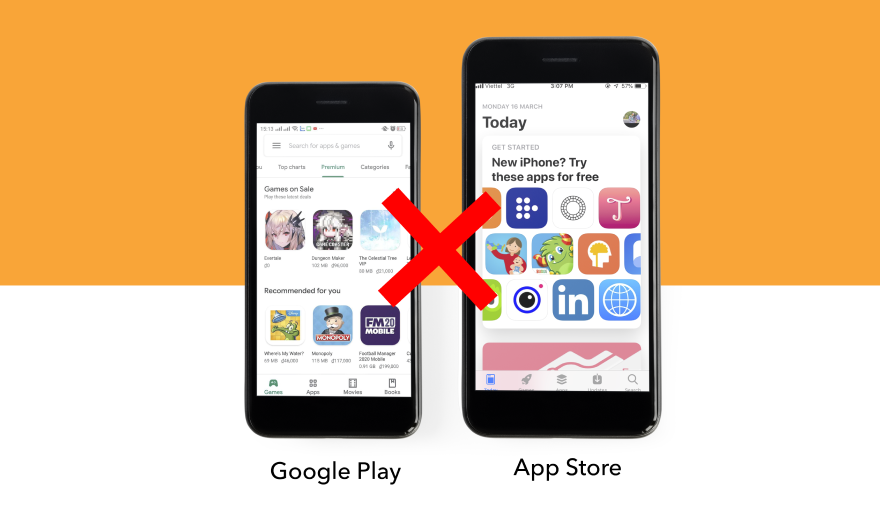 Besides, Appstore even gets 30% of the total income if that is a paid app, and Magento stores will not have to pay a penny thanks to the PWA.
4. Reduce marketing and advertising costs
Exploiting the push notification function of Magento PWA is an effective solution for Magento stores to cut down on expensive marketing fees and receive better outcomes.
On one hand, PWA's push notifications bring a way to approach more customers in the shortest period of time. The merchant just needs to prepare a message within a few minutes on the Magento backend and send it right away to the customers. As long as the users' devices are connected to the Internet, they will instantly get the news that the store wants to deliver.
On the other hand, instead of spending a lot of money on traditional methods such as running ads (either on Google or social networks) or sending emails for every advertising campaign, Magento merchants now don't have to pay a single penny to have their content promoted.
5. Re-engage customers in the store
Another benefit of using Magento PWA's push notification is to grab users' attention and bring them back to the store.
The merchants can use it as a tool to remind the customer of the products that they have browsed recently, their abandoned cart, their wishlist, and so on.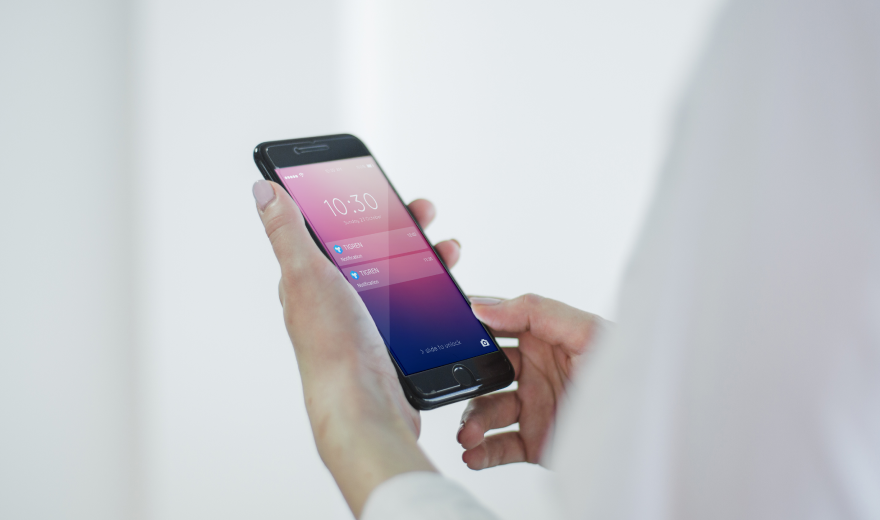 What is more, the store owners can show the customers that they really care by requesting valuable feedback or reaching out with meaningful "happy birthday" messages. In this way, the buyers will feel respected and be more likely to re-visit the store.
6. Support SEO for higher site rankings
Since Magento 2 PWAs have a specific URL for each of their pages, the business owner can still optimize the page content as well as build backlink.
Moreover, it is easy for merchants to share and promote their PWAs on social channels to increase website traffic.
In general, it is possible to implement SEO on-page and off-page techniques to raise the rankings and traffic of websites built with Magento 2 PWA.
7. Raise brand reputation in the e-commerce market
There are millions of iOS apps and Android ones, and this number keeps increasing every day. In terms of the Progressive Web App, the number has not been recorded as many so far.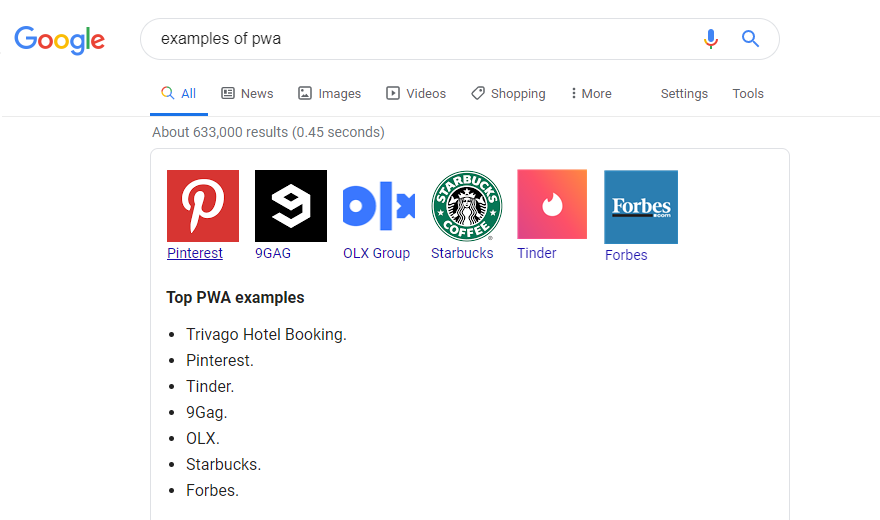 So, when people look for a specific example of a "real" PWA, there are just a small number of results on the search engines. From other perspectives, this is a one-of-a-kind opportunity for Magento merchants who are willing to adopt Progressive Web App to be recognized.
In addition, PWA is raising its popularity among the Magento community since the introduction of Magento 2 PWA Studio. Owing to that, the launching of the first PWA for Magento 2 group will definitely draw a lot of attention.
8. Enhance the conversion rate
When people access a website, they always want to get its content displayed instantly with no delays and alerts like "please wait, the page is loading". The statistic shows that 53% of users will leave the website if the page does not load in 3 seconds.
The way Magento PWA deals with a fast bounce rate is by saving the structure of the website and reproducing it in the browser upon the user's request. As a result, it saves vital seconds and makes the only pleasant impression on every visit.
Put it differently, PWA plays a significant role in decreasing the bounce rate as well as increasing the conversion rate of the Magento stores.
9. Push customer's purchasing motivation
Service workers' features allow Magento 2 Progressive Web App to send push notifications to the customers even when they are not opening the PWA.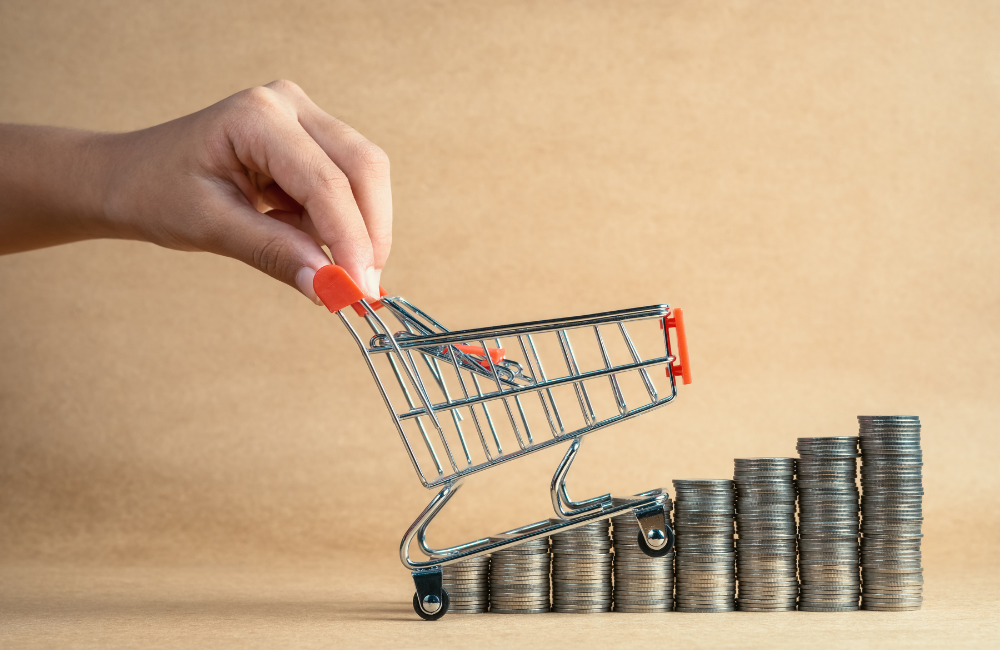 Hence, the buyers will be updated as soon as the merchants run a sale-off, promotion campaign, or release a new collection.
Then, people who receive attractive notifications will be encouraged to spend more money on those Magento stores.
10. Boost and maintain store performance
Finally, when it comes to Magento PWA benefits for merchants, it would be a mistake without mentioning store performance enhancement.
Firstly, Magento PWA contributes enormously to the whole store's performance improvement. Thanks to its underlying caching technology for served text, images, stylesheets, and other page content, PWA runs very fast.
Secondly, PWA also helps to maintain the high performance of Magento stores, especially when the site welcomes a high volume of traffic. The reason is that it can reduce server load time and prevent crashes or downtime.
With All These Benefits, Do You Want to Build a Magento PWA?
In essence, Magento 2 Progressive Web App is beneficial to e-commerce stores in many ways.
To begin with, it helps to attract more customers, then stimulates their purchases during the visits, and keeps them coming back again and again after the first purchase.
Compared to native app development, PWA for Magento is a more effective investment since it requires significantly less time, money, and effort to develop, release, and maintain.
Furthermore, Magento e-commerce businesses can spread their reputation widely by adapting PWA technology at its early development stage.
Are those motivations strong enough for you to decide to convert your site to a Magento PWA?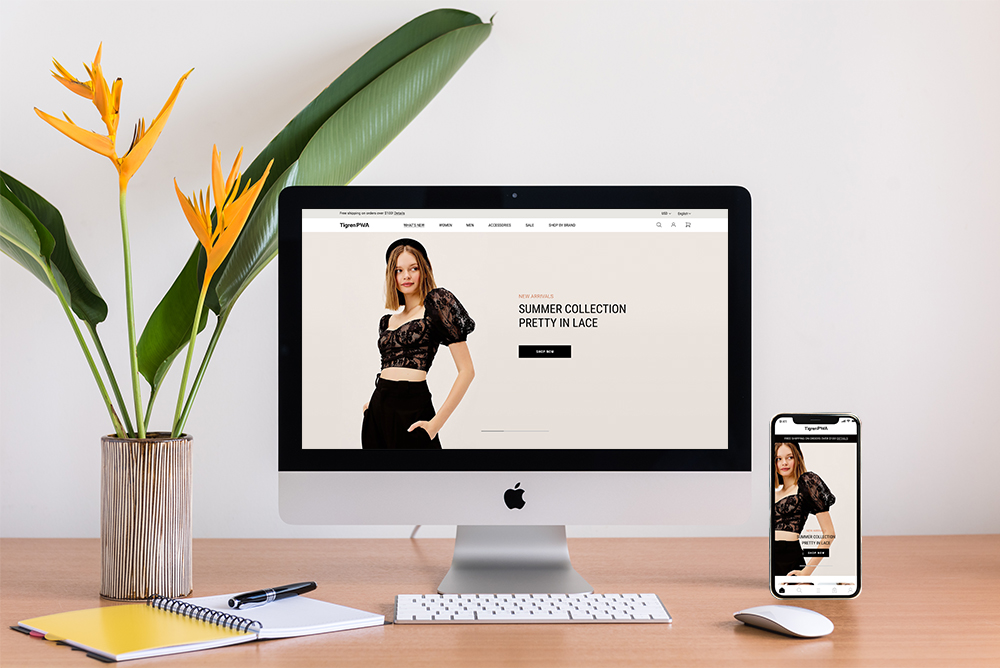 If yes, contact us!
When it comes to Magento Progressive Web App development company, Tigren is always on top of the list. With our exclusive Magento PWA Theme and custom Magento PWA development service, you can effectively and efficiently create a powerful PWA for Magento 2.
Read More:
Magento PWA Vs Magento Website – Which Should You Choose?