With a smartphone in hand, today's customers tend to purchase more on mobiles, leading to a need for mobile-first design and experience. Thus, with their perks of mobile-friendliness, Progressive Web Apps (PWAs) becoming the new standard for web development. For Magento merchants who either want to build a new fashion site or just want to upgrade the current one, with the help of Magento PWA themes, both are not difficult things at all.
In comparison with the traditional Magento fashion theme, a PWA theme for Magento clothing sites outweighs all aspects. Therefore, by using it your store will deliver a better user experience, especially on mobile devices, resulting in a significant improvement in conversions.
For this reason, we bet that after digging deeper into the magic of Magento PWA fashion themes with this article, you will soon forget the initial intention of searching for a Magento theme.
Criteria For Choosing A Theme For Magento Apparel Stores
Design
Do you know that users only need roughly 0.05s to give a snap judgment about your website, which affects whether they like it or not and whether they will stay or leave? Meanwhile, 57% of Internet users said they would not suggest a brand with a mobile website that isn't well-designed.
What do these numbers mean? In a simple explanation, the web's design is the first factor you need to prioritize. Moreover, we are living in a mobile-driven world. Thus, your site must be not only responsive, and attractive but also mobile-friendly.
This is even more important when you are working in the fashion industry, where only people who desire beauty gather.
It makes sense, after all. Improving the appearance of your pages is the greatest (and only) way to leave an excellent first impression. And a visually appealing website will be visited more frequently.
Speed
When it comes to a seamless digital experience, speed is one of the most critical components. On average, 47% of users expect a website loading time of no more than 5 seconds. In other words, impatient customers are more likely to quit your site if they have to wait.
That's true! Each year, retailers lose $2.6 billion due to slow-loading websites. Let's face it! If your page speed cannot keep pace, you're missing out on the opportunity to attract new customers.
Credibility
The feeling of trust is probably one of the most crucial elements. In reality, you must gain your consumers' trust through your website and social media platforms before they make a purchase.
Admit it, trust is the number one reason why we hesitate to purchase online. We all don't want to give away our credit card numbers or addresses to unauthorized parties.
As a result, a privacy policy on your site with an SSL certificate (HTTPS) will make your customers feel more secure when making an order.
SEO-friendliness
Like the Universe, the Internet is vast and ever-expanding. Without SEO, you'll be tossed to the far reaches of the Internet Universe, where no one will ever find you.
Sure, the search engines may index your website, but does it truly works if your audience never sees it? That is why SEO is so important. It will ensure that your site will be visible in your target customers' relevant searches.
Now you see, a good theme is one that can meet all of the above four criteria to make your clothing website spark.
Magento PWA Fashion Themes Can Meet Most Criteria
In terms of the aspects mentioned in the previous part, a Magento PWA theme soon demonstrates its superiority over a Magento (or Magento 2) theme, making it a better choice for all fashion stores.
What is a PWA theme for Magento?
Magento PWA is a Magento store that uses the Progressive Web App (PWA) technology. A PWA theme is a ready-made solution for online retailers who want to integrate PWA into their sites.
A Magento website after being converted to a PWA will see some changes in its structure. The website's front end is now replaced by the PWA's storefront, which is connected to the backend via APIs, leading to a more outstanding performance.
How does it differ from typical Magento fashion themes?
1. Design – Magento PWA fashion themes are more mobile-friendly
Everyone knows that mobile commerce is witnessing an upward trend in its popularity, demonstrating the role of mobile-first design. In this case, we insist that Magento PWA themes will give your fashion store better options.
Similar to regular Magento themes, Magento PWA themes' designs allow customization. To speak it another way, with either of them, you still can get a unique and appealing clothing site.
However, unlike the traditional themes, Magento PWA ones were made to gear toward small screens first. They have optimized UX designs, either a responsive or a separate version for mobile devices.
For this reason, your site will be more mobile-friendly, resulting in a higher position in Google's ranking and a boost in conversions in the long run.
2. Speed – Magento PWA fashion themes are much faster
Maybe you do not know that a PWA's page load speed can bear comparison with or even outweigh that of a native app. Websites that are converted to PWAs may see a 10-fold reduction in their page loading time.
When it comes to PWAs, speed is undeniably one of the most intriguing qualities. Magento PWA themes can do even more when they can improve another important speed factor – Time To Interact.
This is the time it takes for a user to interact with your website, even if it hasn't fully loaded. This is because PWAs use a cache known as a "Service worker" to store extensive information and app features so that they may load quickly when the app is accessed.
Additionally, this function makes it possible for customers to access their favorite app virtually any time, thanks to their capacity to work in offline mode. This contributes to a reduction in bounce rate.
3. Credibility – Magento PWA fashion themes might be more secure with HTTPS
There are many elements that affect a website's credibility. Besides a professional design, well-arranged content layout, and a secured link, the website's freshness is also a factor that needs to be put into consideration.
Magento PWA themes share another thing in common with Magento themes they provide pages secured by HTTPS protocol.
However, in terms of the site's trustworthiness, they somewhat outweigh the others with the ability to automatically update. Whenever your brand makes changes on the site, a pop-up message will appear on the customer's screen to ask for being refreshed.
So, with just a click away, your store website is updated, and customers will not miss any new information.
4. SEO-friendliness – Google loves PWAs
If you suppose that your Magento fashion store site cannot be SEO-friendly with a PWA theme, you're wrong. Magento PWAs can be indexed in the same way that any other web page does.
On the Internet, you can search for any piece of the information shown on your Magento PWA's pages. With a separate link, each of them can be shared just like a regular website.
The bottom line is that a Magento PWA theme can have extra positive impacts on the website's SEO ability. As we all know, Google's ranking can also be influenced by other factors such as security, mobile-friendliness, page load speed, or user engagement.
With PWA power, your Magento store can deal with all of them in the blink of an eye. Thus, Magento PWA themes are clearly more efficient than their counterparts.
5. Stability – Fashion Magento PWA themes maintain a sturdy performance with a headless structure
Because in Magento theme, its backend is intimately tied with its frontend, an update in the back end that goes wrong might ruin your entire storefront and paralyze your business for days.
A Magento PWA, on the other hand, thanks to the headless architecture makes the storefront (frontend) and the backend separate and communicate with each other via an API layer.
This means that the Magento storefront is now more independent from the backend. Thus, you can make every update on the back at ease without worries about breaking the front end.
6. Features – PWA themes for fashion stores deliver unique app-like features
Up to now, most of the Magento themes might only focus on the design instead of the functionality. Magento PWA themes, on the other hand, pay attention to both look and feel of the website.
More specifically, PWA-powered Magento themes utilize the latest technologies to provide features that were previously only available in native mobile apps, such as push notifications, shortcuts on the mobile home screen, and offline capabilities, and maintain the web's features at the same time.
PWA templates, or PWAs in general, even beat mobile native apps in some aspects thanks to their adaptability with any operating system, browser, and device.
What Is The Best PWA Theme For A Magento Clothing Store?
Among all PWA themes for Magento stores at the present, TigrenPWA is one of the most worth-mentioning names.
TigrenPWA
Tigren company is the pioneer that comes up with the idea of providing convenient PWA solutions for Magento merchants (from extensions, and ready-made themes to custom development services).
Since its introduction in 2019, the TigrenPWA theme (view its demo) has always been the best choice when it comes to Magento 2 PWA themes with a substantial number of downloads every month.
Why it deserves
Since PWA is still novel technology, many Progressive Web App themes and templates are still in development. Also, most PWA theme providers tend to focus more on coding functionalities rather than design at this moment. Consequently, their products are often poorly designed and not optimized, except TigrenPWA theme.
TigrenPWA has a more captivating design than most other PWA themes on the market, both in terms of style and mobile-friendliness.
Every eCommerce store, no matter the industry it is working in, can apply the theme to its website. However, its current aesthetic version is ideal for a fashion business.
While other PWA themes will require a lot of customization before coming into use; the TigrenPWA theme, in contrast, is 100% ready to use.
Further, coming to its features, TigrenPWA contains both Magento and PWA's core functions (add to the home screen, push notifications, lightning speed, SEO support, etc.).
Not yet, it offers a wide range of advanced eCommerce features such as banner manager, improved layered navigation, shop by brand, live chat, Instagram feed, and so on. All of which can help to boost your online clothes store's performance and sales.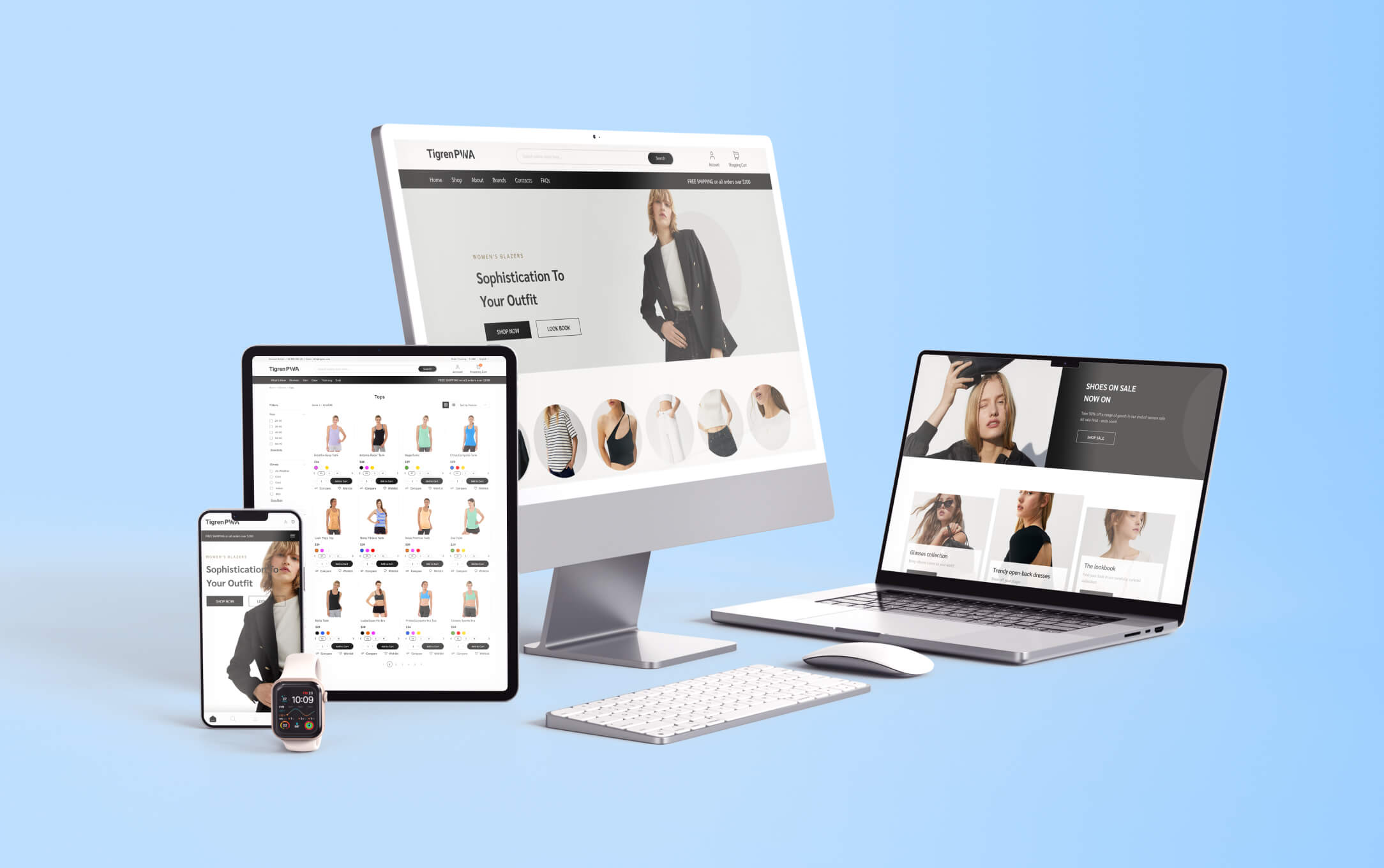 What is more?
Being created with the official Magento PWA Studio tools, TigrenPWA's stable performance is beyond question when it limits almost possible conflicts with the original Magento site.
Surprisingly, the TigrenPWA theme package is inclusive of free installation, which is, normally highly charged by other firms, and 3-6 months of post-installation support.
If your Magento website hasn't been updated to Magento's latest version yet, the company can also provide Magento 2 migration services at a very affordable price.
In brief, with all the above-mentioned things, Tigren's Magento 2 PWA themes can live up to all of your expectations for a Magento fashion store.
To Sum Up
As previously said, an increasing number of customers use their cell phones to shop online today. To keep up with the trend, every eCommerce business went for a mobile-first strategy with PWA. Even top-performing brands such as Puma or Lancôme are no exception.
If you are (or are going to) own a Magento fashion store, you should take advantage of this innovative technology with a high-quality Magento 2 PWA theme such as TigrenPWA. The benefits of using it will definitely surpass that of using conventional themes. Apart from it, if you want to build a unique PWA without using our ready-to-use solution, our custom Magento 2 PWA development service can meet your need.