If you are into the e-commerce world, you may have heard a lot about Magento PWA, right? To those who have no idea what it is, Magento Progressive Web App is the development and maintenance of a PWA storefront based on Magento 2.3 and above, which helps boost the performance and efficiency of the website by multiple times. But there is more information about this technological breakthrough remains unclear to many people, one of which is the cost and time it takes to apply Magento PWA solutions. Let's break down the price and timeframe to see if there are any differences between solutions!
1/ Benefits Of Magento PWA Solutions
Design Benefits
PWA technologies offer well-designed storefronts for diverse usages from PC, and laptops to phones or tablets. Thanks to the mobile version that PWA provides, your Magento storefront will be compatible with any screen size, small or large.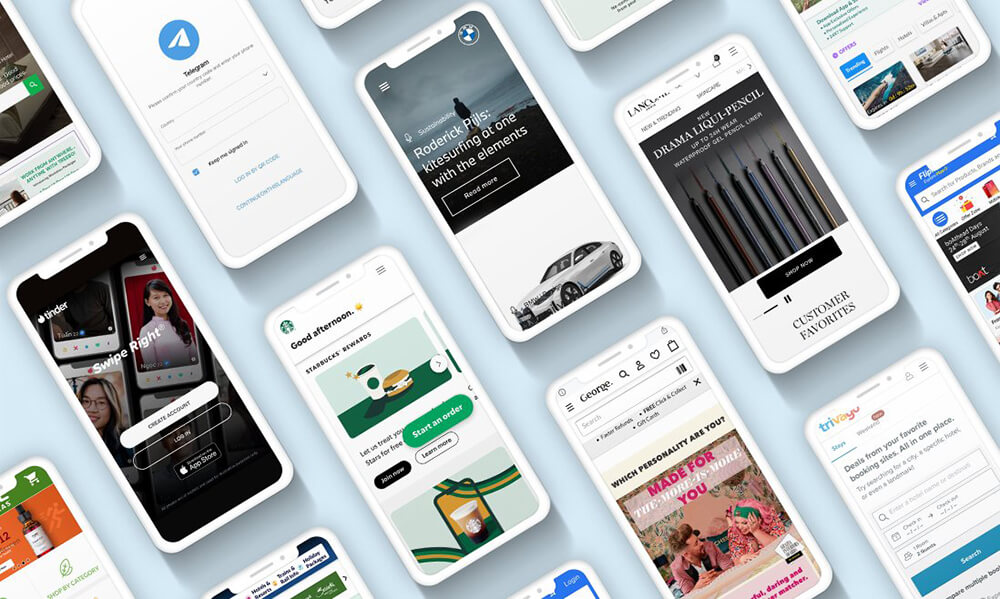 Features Benefits
PWA technology has widely been praised for its app-like experiences and innovative functions. Some of the most outstanding features are:
Because PWA offers a separate design for mobile users instead of making website adjustments, your Magento store becomes more responsive no matter what devices your customers are using.
PWA runs over HTTPs, and these are well-protected browsers. Therefore, users can be reassured about the security of the Magento PWA. Their private information relating to address, age, or name is also unrevealed by any chance.
PWA technology helps Magento stores perform much faster with a page load time of around 3 seconds only. When users stay longer on your website, your site will enjoy an increasing engagement rate and lower bounce rate.
By caching data, these templates help users continue to surf the previously loaded content in a weak or even non-existent network.
PWA themes allow Magento websites to update themselves. Therefore, users won't have to access the App Store or Google Play to update the new version anymore.
It appears on your screen right the moment you click on the web app icon as if you are using a native app.
Users can easily click on the pop-up that says "add to home screen" and have the icon added without downloading. It takes low storage as well.
This feature helps send handy push notifications to users even when they are not using the devices, encouraging people to visit your Magento website more frequently.
2/ Two Common Types Of Magento PWA Solutions
Using ready-made PWA themes
PWA themes are an all-inclusive solution that helps businesses convert their regular website themes into progressive web app ones in a short amount of time.
Merchants will download these themes from trustworthy providers on the Internet and integrate them into their site by themselves, or they can hire a team to do it.
One advantage of this solution is that most PWA templates are available at a reasonable price, and some are even free. Besides, these themes are usually customizable to meet multiple demands of business owners.
Using custom PWA development service
This comprehensive solution allows merchants to build their own Magento PWA entirely from scratch. Your original Magento website will change its frontend-backend structure to the storefront-API-backend version of PWA. This new structure helps the storefront stay out of heavy control from the backend, thus performing better and quicker.
Business owners won't even need to lift a finger to the process because a professional development team will be in charge of it for them.
The most significant advantage of this solution is that it creates high personalization for those merchants who want to have a unique and innovative online store. Moreover, in the long run, this approach is convenient, time-saving, and cost-effective.
3/ Time & Costs: Detailed Comparisons
Time
The time to apply both two abovementioned approaches differs quite a lot from each other. Overall, using the PWA development service will take longer than using PWA themes.
Let's look at the table below to get more insight:
Costs
Ready-made Magento PWA themes ($0-$5,000)
Many PWA themes are available at no charge. Some outstanding examples are Magento 2 PWA theme by TigrenPWA, VueStorefront or ScandiPWA. All you need to do is to download these themes and integrate them into your Magento sites. However, note that these free packages usually come with only basic essentials for your e-commerce store. So if you have a large store, the included features may not be enough for your business.
Other Magento PWA providers offer professional packages which provide attractive themes along with a team of skillful developers. Merchants usually need to pay an average salary of $50-$80 per hour for these developers. Considering the whole process, business owners are expected to spend at least $2,000 if they choose this type of package.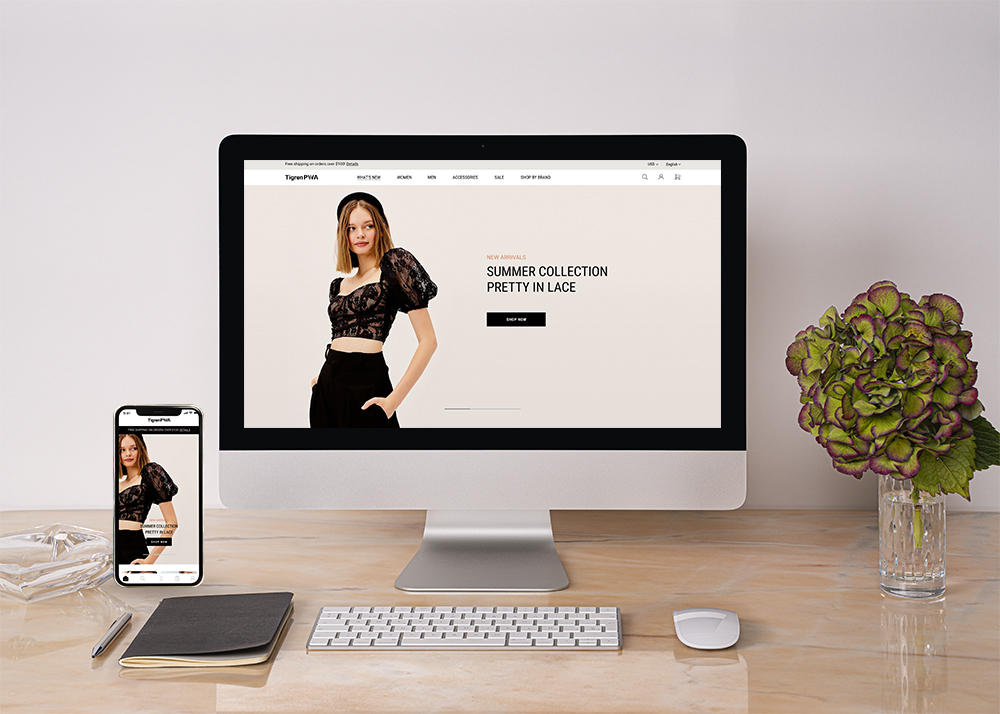 If you're looking for an ideal ready-made solution, then the Free PWA theme for Magento by Tigren would be recommended. You'll get a theme with elegant designs for all essential pages, from the homepage, and categories to the product page and checkout. This theme is highly compatible with Magento as well as third-party extensions, all for the goal that your new PWA store will have the best performance. With the Pro version, the theme will be installed by Tigren to ensure top quality and a free-support period is also offered after the project completes.
Custom Magento PWA development service ($10,000-$50,000)
The whole process includes a lot of components, each costing differently based on the number of hours. For instance, the product planning step takes 40-50 hours, while the storefront design part accounts for an average of 200 hours. The average cost per hour starts from $45, depending on the skill level of the developers and the size of the business.
What are the best Magento PWA solutions?
Each method has its own advantages and drawbacks. Those small businesses that are looking for a cost-effective method can resort to using ready-made templates. Meanwhile, big companies with huge budgets should invest in high-quality Magento PWA development.
Among several PWA providers on the market, TigrenPWA distinguishes itself from the rest by offering both Magento PWA solutions above at a reasonable price along with high quality. Find more about Tigren's Magento Progressive Web App design and development service now!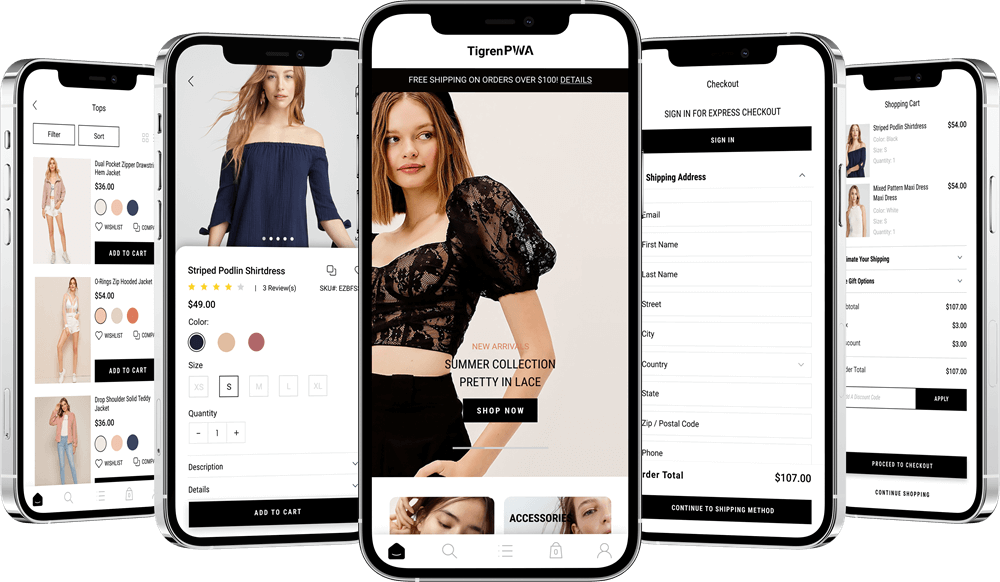 As a pioneering PWA provider, Tigren provides exclusive benefits such as high speed, smooth performance, and appealing design and offers professional technical teams and dedicated customer support 24/7.
When looking for innovative approaches to further enhance your Magento website, it is highly recommended for business owners to choose TigrenPWA as a trustworthy companion in the long run.
Wrapping Up
We hope that this article provides you with a deeper understanding of how long and how much it would take to integrate PWA technologies into your Magento sites. These valuable pieces of information will help you consider thoroughly and therefore come up with the most suitable decision on which Magento PWA solutions to choose.