As more people are shopping online, upgrading your web store for a smooth experience should be prioritized. With tremendous benefits, Magento PWA has been a prestigious choice of many brands such as Twitter, Forbes, Starbucks, etc. However, some owners are still uncertain about integrating their websites with Magento PWA. Following is a detailed analysis to help you understand which websites should integrate with Magento PWA Technology.
How Magento PWA Technology Benefits Your Website
PWA is the web application innovated to solve the mobile-first approach for business. This technology integrates features of modern browsers with an interactive mobile experience.
Magento PWA Technology offers a big package of benefits for your E-commerce business.
Add To Home Screen
This is a great feature to keep customers engaged. Users access a website through a browser on their devices. They will get a notice if they want to "Add to homescreen". The PWA is then installed on their phones as an icon within seconds. And the next time the user wants to access the PWA, they just tap on the icon on their devices.
Like-App Performance
PWA allows users to interact with websites in the same way as using native apps. The icon created on the home screen has your brand's logo, and it looks like an app downloaded from the app store.
The navigation is smooth and with like-app icons, no headers, and footers like responsive websites. When you release the latest version, they only need to refresh the page. The process can work in seconds.
Besides, you can reduce high costs for business owners by not building separate apps on CH Play, and App Store and avoiding commission fees from these providers.
Lightning Loading Speed
When integrating Magento PWA Technology, your website can have a faster speed. It brings a better experience for users and helps your page get higher rankings on SERP. If users have a poor internet connection, the rate is not affected at all. Plus, the more times a user access a PWA, the faster it loads.
Apart from that, PWA can work in offline mode. All information about the user's previous access is still available when the internet crashes. It allows users to keep shopping, and you can still earn orders from them.
Push Notifications
Instead of using plugins with limited subscribers and functions, PWA provides you with effective push notifications. It allows you to send notices to unlimited subscribers. Any messages about discounts and promotions can appear noticeably on mobile screens like native apps. PWA helps users recognize your brand better. It also increases the conversion rate for your business.
Friendly SEO
Magento PWA technology can boost your SEO ranking higher. Unlike native apps, which only link to the app store, SEO with PWA works like standard websites. Besides, it is ideal to adopt Google's new algorithm policy. Since 2015, Google has changed algorithms and prioritized websites with mobile-friendly approaches.
Magento PWA also enhances security for users. It follows HTTPS protocols and also benefits from security features built into web browsers.
You can inform customers by sending a push notification to refresh the web within seconds for new updates. This way is much more time-saving compared to native apps.
More importantly, the cost to integrate Magento PWA Technology is reasonable. You can find many providers with cost-effective solutions, such as the Tigren's PWA theme – $799 with 3-month ongoing support.
Which Magento Website Should Integrate Magento PWA Technology?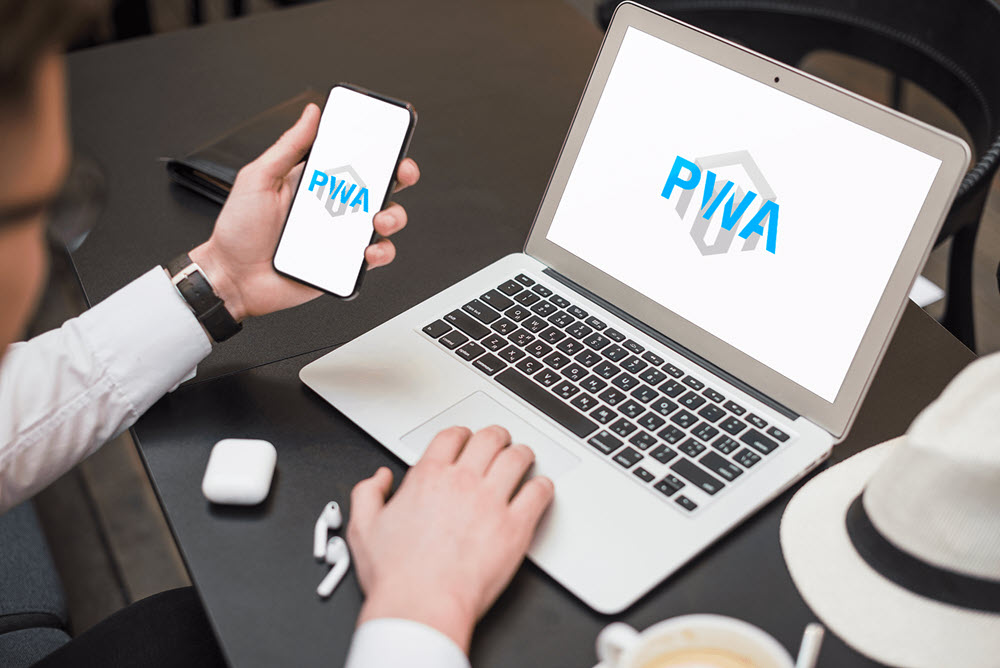 If your Magento website has one of the following signs, it is time to integrate it with Magento PWA Technology.
Websites That Load Slow
Faster loading speed makes customers more satisfied. The chance they stay on your site is likely to increase. If your website takes at least 4 seconds to load, customers may leave. It will affect your business negatively.
Fixing code, using extensions, or reducing images and material quality do improve the site's speed, yet they aren't efficient in the long term.
If you minimize the appearance and video quality on your website, the rate can increase to some extent. But it will make your site look unprofessional, and customers may not find it appealing.
Besides, Google evaluates website speed as one of the crucial ranking factors. With slow speed, your website may not appear on the top pages.
Magento PWA technology can work well to fix this issue. By integrating with PWA, you can boost lightning speed. Consequently, customers can enjoy a better experience. The conversion rate of your store will likely increase. PWA also helps you have a good ranking position in search engines with a fast loading speed.
Read More:
How Fast Is Magento PWA? Is It Faster Than Regular Magento Websites?
Magento PWA And Magento Website Speed Comparison
Websites With Mobile-Driven Traffic
More and more people are shopping online with their mobiles. It has become the primary channel for online shopping and changed consumer behavior.
For tracking which devices customers use the most to access your web, use Google Analytics. It points out essential metrics and generates precise analysis on your website.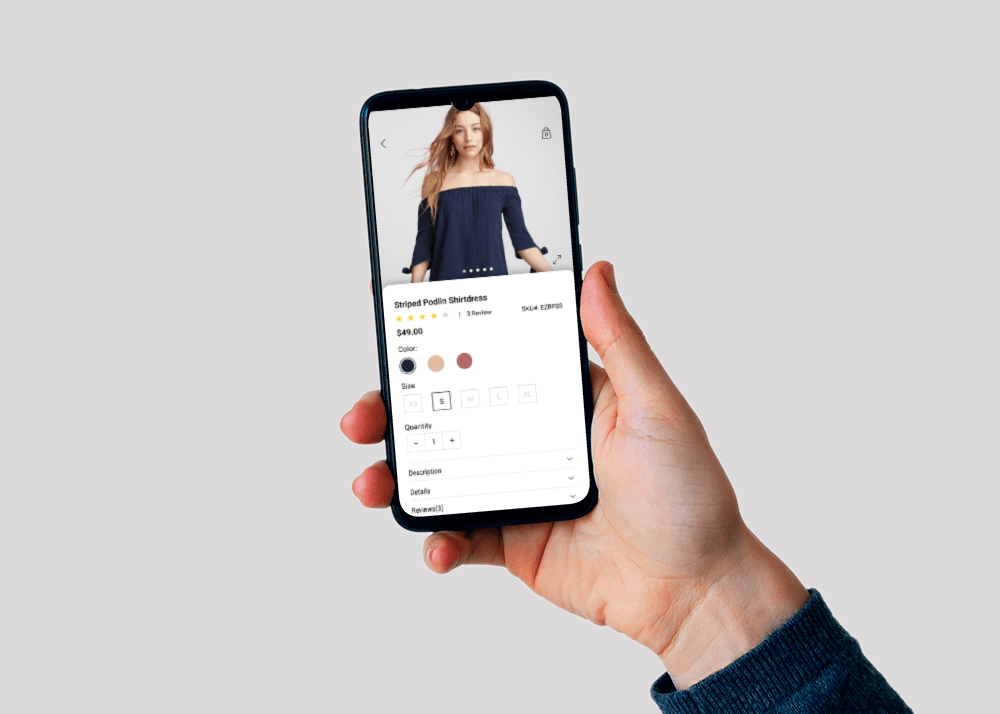 If mobile traffic accounts for more than 60%, you should consider using Magento PWA technology. PWA can make your store operate smoothly with many appealing features. When customers find your page engaging, the chance of recognizing your brand and purchasing is likely to grow. It helps boost your traffic and increases orders to your online store.
Websites With Low Rankings
Unlike native apps that can only link to the app store or standard websites with extended processing time, a Magento PWA website is more friendly to SEO. With many rich features, customers will certainly stay on your site longer. It helps your website have a higher ranking.
In addition, Magento PWA can adapt to the change in algorithm of Google. Google has updated a new algorithm to prioritize showing results of mobile-friendly web pages. They aim at promoting websites with high performance on mobiles. For this reason, the Magento PWA Technology is better than websites in SEO.
Read More: Magento PWA And Magento Website SEO Comparison
Websites Targeting At Offline Mode
The offline mode supports users when they can not access the internet but want to engage with information. Moreover, it helps them save a lot of battery and storage when surfing.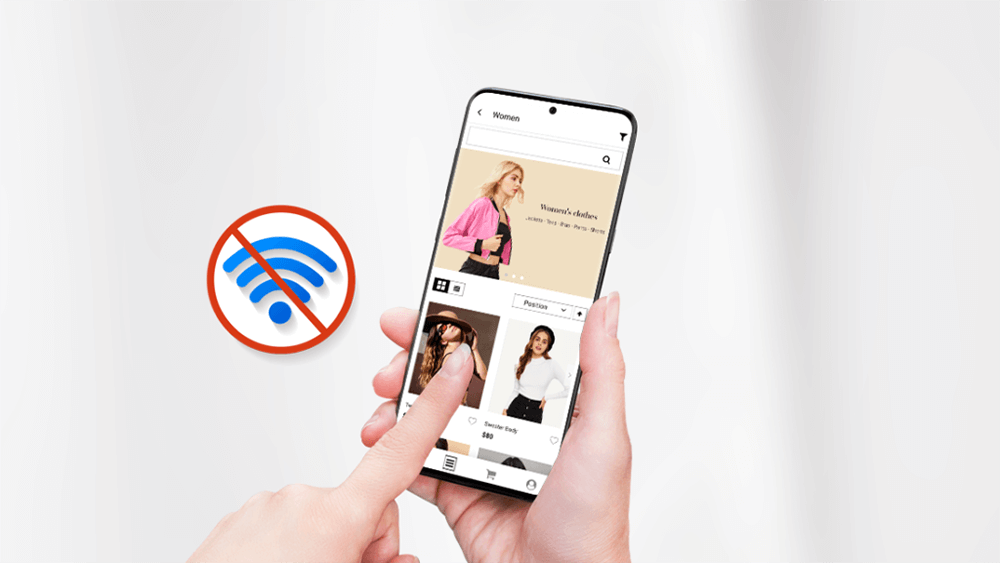 If your website can provide this ideal module, the rate of having more loyal customers will be remarkable. And Magento PWA Technology works efficiently in offline mode. That is what "progressive" highlights. Therefore, if you want to stay engaged with users, integrating your Magento website with Magento PWA Technology is an optimal choice.
Websites Whose Owners Want To Develop Native Apps With A Limited Budget
The purpose of using native apps is to bring a better experience for users. Businesses can promote their brands, update promotions and generate traffic more quickly. However, developing a native app requires a generous budget. You need to have a separate app for each system, Android and IOS. Updating any features also calls for independent research and development on two platforms. Besides, app owners need to pay a commission to the app stores for in-app purchases.
In contrast, Magento PWA Technology can satisfy you with an interactive like-app performance at an affordable price. You only pay one time. The PWA development takes several weeks (with ready-made themes) to months (for custom PWA). Besides, the fee is a lot cheaper, starting from $300 (for themes), while a single app requires at least $10,000.
There are a few PWA solutions for Magento websites. You can choose Magento PWA Extensions for less than $300. However, features are limited and unstable. Another choice is Magento PWA Studio – a toolset allowing the development and maintenance of a PWA storefront on top of Magento 2.3 and above. However, the storefront Venia isn't optimized for E-commerce.
The best solution for converting to PWA is a Magento PWA theme. It is easy to install with many features and attractive storefront designs, and high extension compatibility. The cost may go over $500, but you can customize your store more efficiently.
In conclusion, if you want to integrate your Magento website with PWA, you should use premium themes of high quality.
The Leading Magento PWA Solution Provider
Among many Magento PWA development companies, Tigren stands out as the best option. Our Magento PWA development solutions are varied to meet different needs and are cost-effective as well.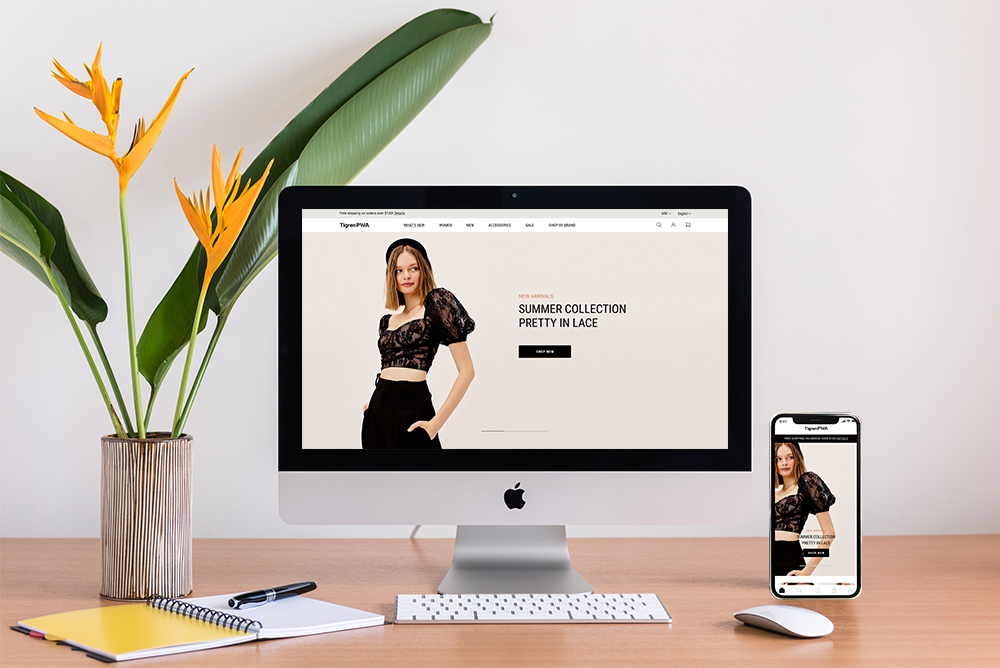 Wrapping Up
Magento PWA is an excellent solution for any E-commerce business. If your website has troubles with mentioned issues (speed, SEO, and mobile approach), you should integrate with Magento PWA Technology. It will help your store function more efficiently and bring a better experience for users. When picking a PWA provider, TigrenPWA is the best choice so far with cost-effective price and effective delivery. All the best to your business.
Read More:
10 Unexpected Benefits Merchants Will Get From Magento PWA