Have you ever found a shirt that looks perfect on the model but then gave up on it after trying it on since it's too tight or loose? Have you ever regretted buying some things you did not try before buying?
If yes, we guess you already know the importance of both real and virtual Try-Ons.
Thanks for trying before buying, you can know which suit you best and are worth your money.
While you need to try on make-up, sunglasses, clothing, jewelry, shoes, etc., your Magento store will need to try on the Progressive Web App (PWA) before you decide to upgrade it officially.
On the one hand, PWAs can impress you with many powerful features such as adding to the device's home screen, push notifications, app-like look, blazing-fast load speed, and SEO friendliness. On the other hand, those can be like "loose shirts" for your Magento website.
The best way to know whether the PWA technology is suitable for your business or not is to try it.
And the only chance for you to try on the Magento PWA is at Tigren!
Scroll down to find more about our One-of-a-kind PWA Try-On campaign for Magento stores.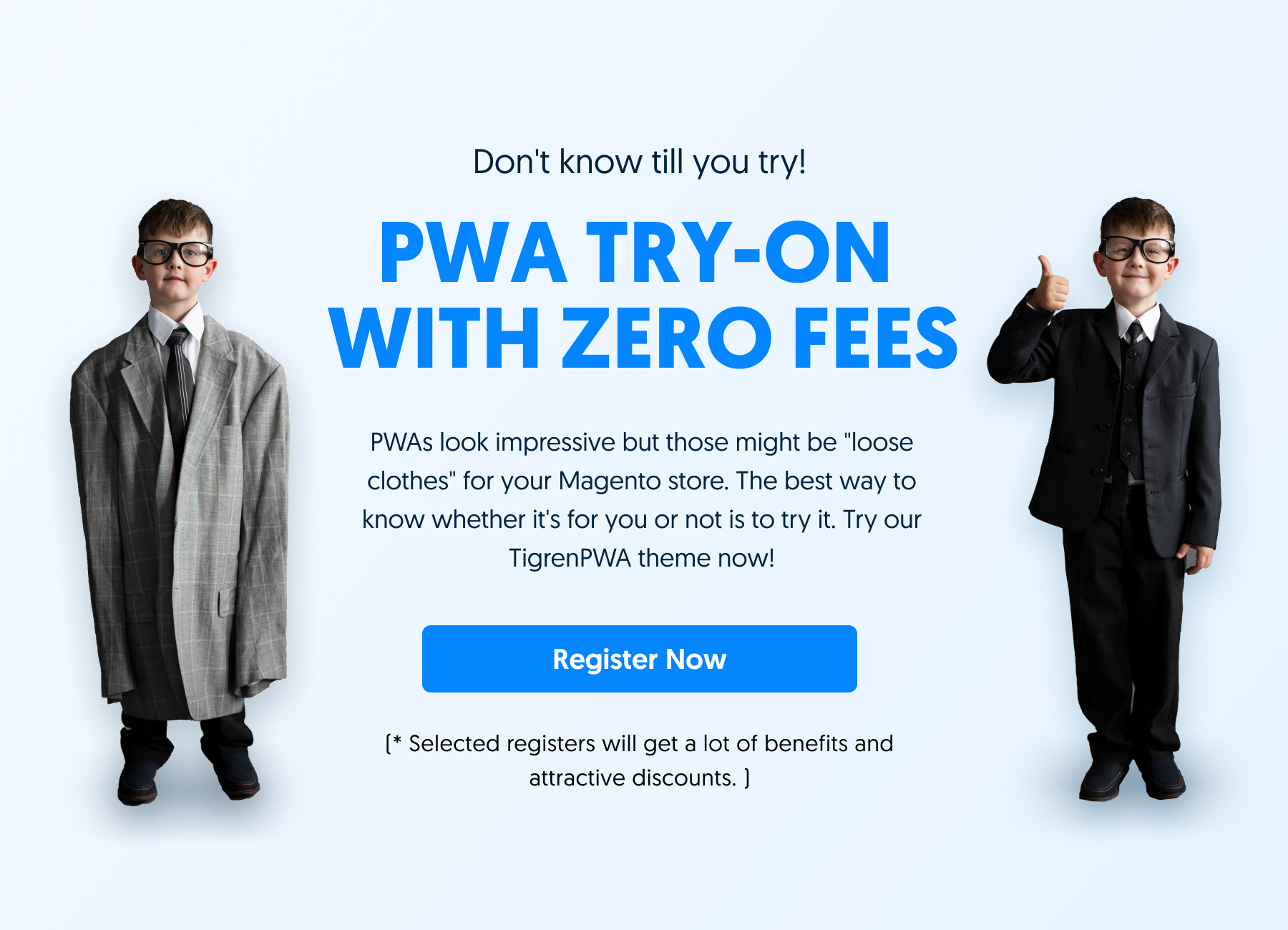 What Is Magento PWA Try-on About?
This is the first and only PWA Try-on Campaign that welcomes Magento stores to try, feel, and play with the latest PWA technology – through our ready-made PWA theme for Magento.
More specifically, the selected stores will have the chance to try our theme on to experience the PWA storefront & exciting features RIGHT on their store.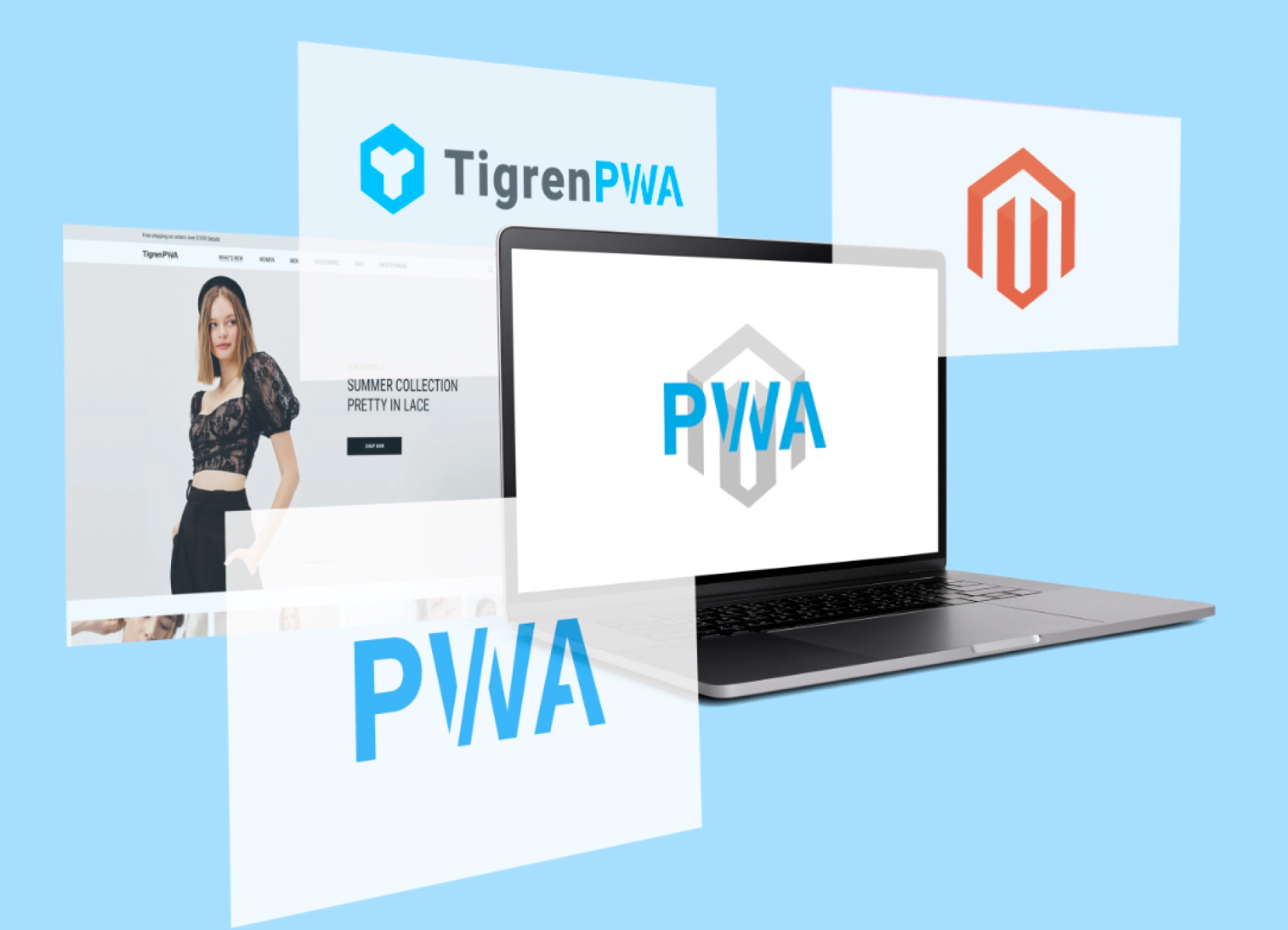 Especially, they don't have to pay a penny for the theme or the installation unless they are interested in it and want a thorough transformation. In other words, there is absolutely no fee for the try-on. It's up to the participants to decide to move on or stop – after having an actual experience with the theme.
What Is The TigrenPWA Theme?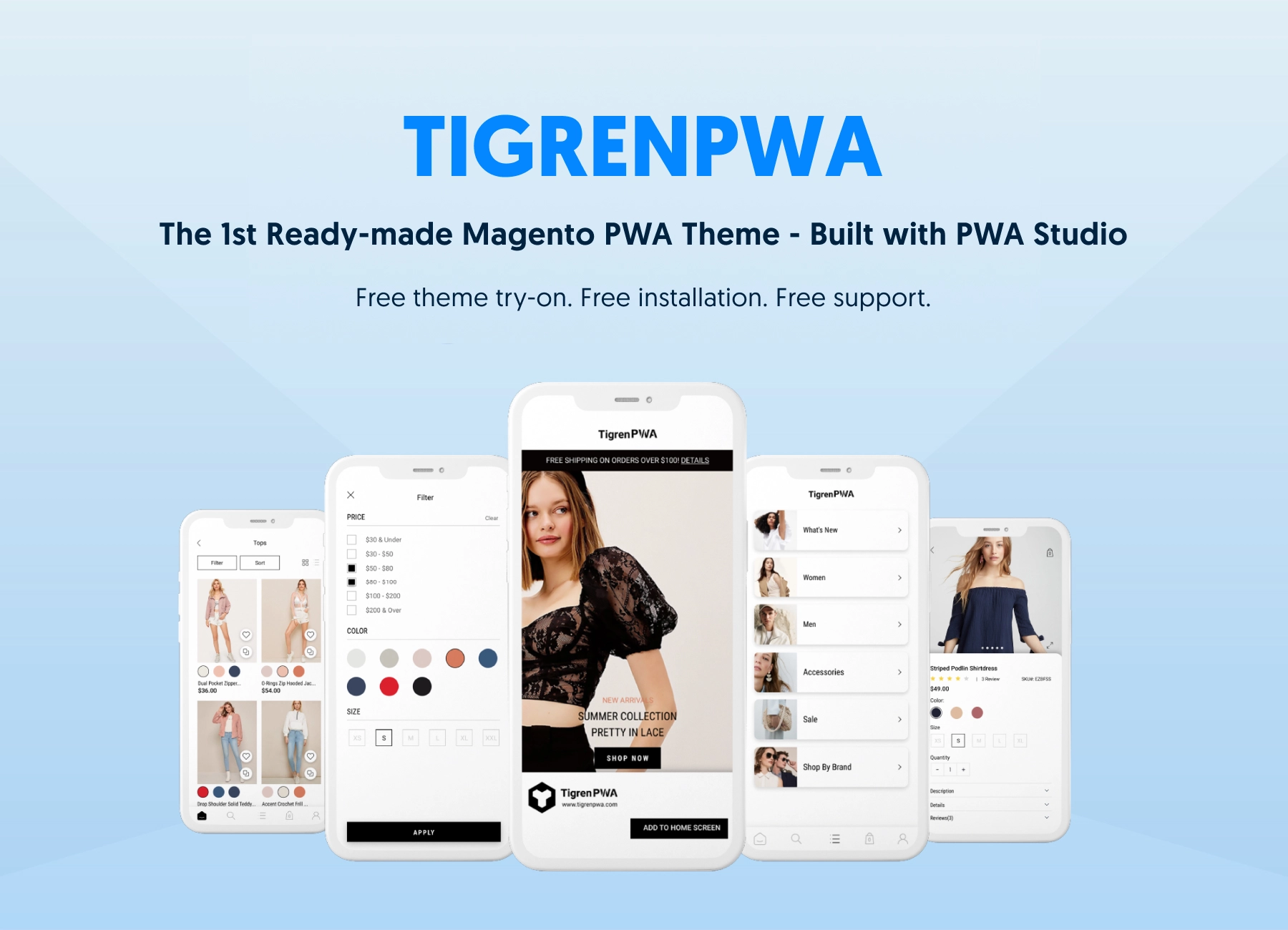 Tigren is of the very first companies providing Progressive Web App solutions for Magento. We started with the Magento 2 PWA extension and custom PWA development service in 2015.
Three years later, Magento introduced PWA Studio – an official tool for developing Magento PWAs, but it has many limitations. That motivates us to come up with a better solution – a theme based on the PWA Studio to follow all of Magento's high standards while tackling all the associated issues such as poor design and lack of core features.
Compared to other solutions for integrating PWA into Magento websites, the TigrenPWA theme has many advantages:
Affordable price
Free installation & post-development support
Be installed in a few hours
Flexible to customize to meet different needs
Fully supported Magento core features
Built-with advanced eCommerce functions
Packed with powerful PWA features
Different PWA storefront templates

Compatible with various Magento extensions

Applied headless architecture
Lifetime updates
…
What makes TigrenPWA outweigh other Magento 2 PWA themes?
First, most other PWA themes for Magento do not support enough default Magento features. As a result, your website will lack a lot of functions after upgrading to PWA using one of those. With TigrenPWA, your core features are safe.
Second, Magento PWA templates from other providers, especially the free/ open-source ones, will go along with a very high installation cost, customization, and support services. At Tigren, you don't have to pay for the theme installation and support. Also, your extra fee for customization (if any) is always reasonable.
In short, you will have more – pay less with the TigrenPWA theme!
Tigren's Motivations To Launch This PWA Try-On Campaign
The rising need for PWAs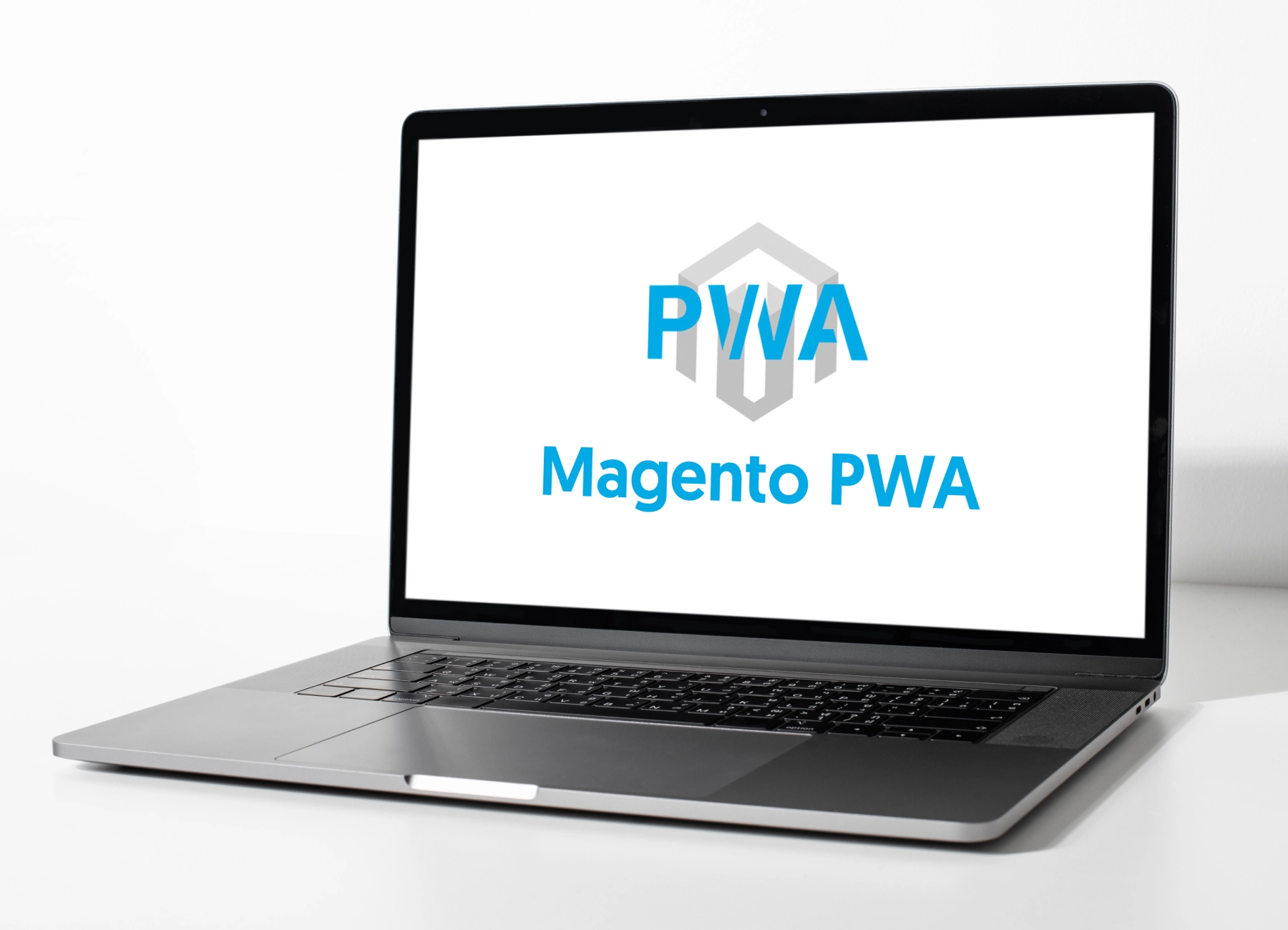 Progressive Web App development is the escalating trend in the web industry. It impresses us with blazing-fast load speed throughout any device, looks and feels like a native app without time-consuming downloads and updates.
Not only users but Magento store owners can leverage PWA capabilities. By using a single code base, PWAs take less time, money, and effort to build and maintain. Moreover, with the SEO- and mobile-friendly nature, PWA integrated sites are loved and highly appreciated by Google. Furthermore, PWA's push notification is a free but effective marketing channel that Magento businesses can use to engage and keep connected with their customers.
That's why a wide variety of eCommerce businesses worldwide have shifted from typical webs/ apps to the PWA platform.
Can PWAs Address Common Issues Of Magento Websites?
If you are a Magento website owner, you might be facing one of these issues:
Slow to frustratingly slow page load speed
Poor user experience, especially on mobile devices
Expensive but ineffective expenses on marketing and ads
High bounce rate
Low conversion rate
Poor SEO ranking
and you think that PWA integration is a perfect solution for current issues of your Magento store:
It will help your site load dramatically faster
It will impress your customers and make them say "wow" with cool features
It will replace your costly marketing channels thanks to the push notifications
It will improve your site's user experience, leading to more conversions
It will boost your Google rankings fast due to its user- and mobile-friendliness
On the other hand, you might have many doubts about this new technology:
Is that really worth my investment?
Will it work for my case?
What if it did not improve my site speed or user experience?
Is the PWA storefront with the headless structure challenging to use?
Which parts of my store will be changed after integrating with PWA?
How can I maintain and update the PWA afterward?
Can PWA work with regular Magento extensions and themes?
What is the best solution to upgrade my site to a Magento PWA?
…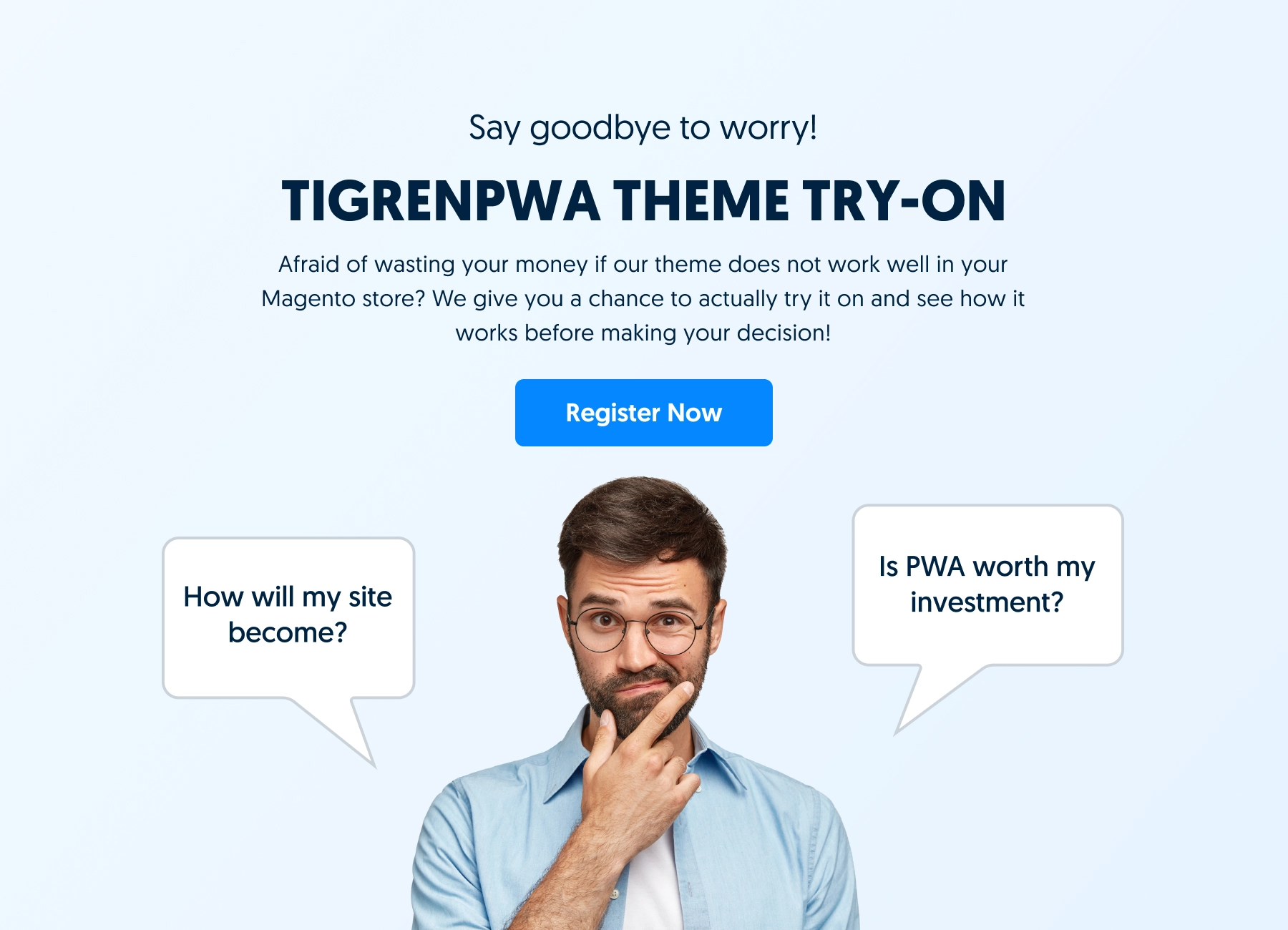 Most of our clients are like you. They think that PWA can be a perfect solution to many problems of their Magento store but still hesitate to make the transformation.
That's why our "PWA Try-on" campaign was launched to give you and other Magento store owners real experience with the Magento PWA. Then, you can make the right investment decision for your business, whether to convert your site to a PWA or not.
Why This Is A One-of-a-kind Opportunity For Magento Stores
There are many Magento PWA development companies and theme providers, but none of them have provided a similar campaign.
By joining the TigrenPWA Theme Try-on campaign, you can reap all the following benefits:
See how your store looks on the TigrenPWA theme, whether they are a "perfect couple" or not
Experience exciting Progressive Web App features (add to home screen, push notifications, fast load speed, instant updates, etc.)
Understand more about Headless structure (PWA storefront – APIs – Magento backend)
Discover how different it is between monitoring a Magento PWA and a regular Magento website
Get all your queries answered by our Magento PWA experts
Then, if you want to move on, we will give you some "gifts" to facilitate your integration:
50% discount on the TigrenPWA theme
Free examination of your existing site
Free consultation and quote for a complete transformation
5% off on the theme customization cost
Free 6 months of post-development support
Where can you find a better offer?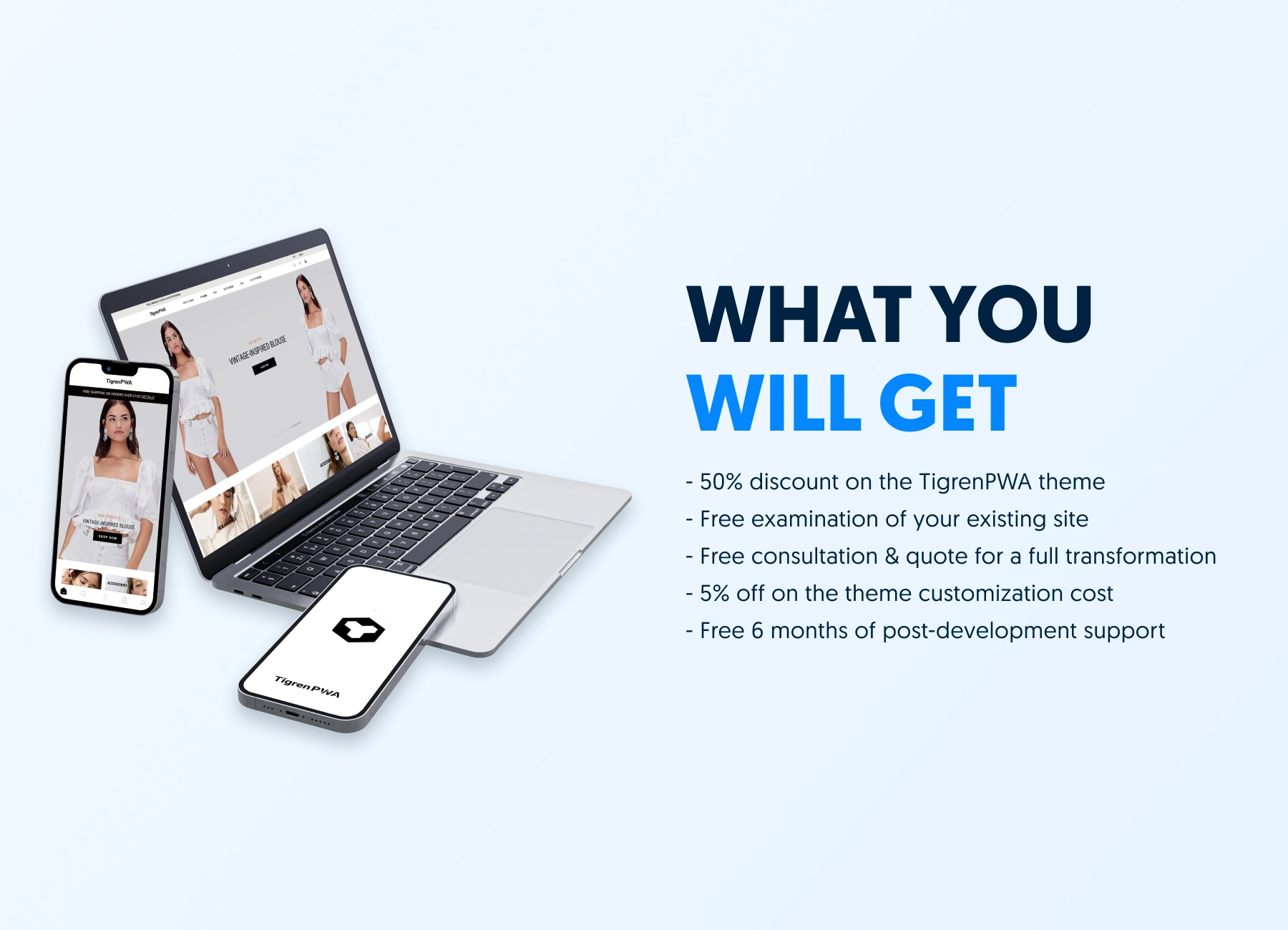 Who Should Grab This Opportunity?
If you are running a Magento 2 store and have an intention to upgrade it to an impressive Magento 2 Progressive Web App, don't waste a second. Register now!
After the try-on:
If you find out that PWA is unsuitable for your business, you can forget it and save thousands of dollars for the development.
On the contrary, the try-on can help confirm your expectations for the Magento PWA and build your confidence.
This Is A Limited Offer!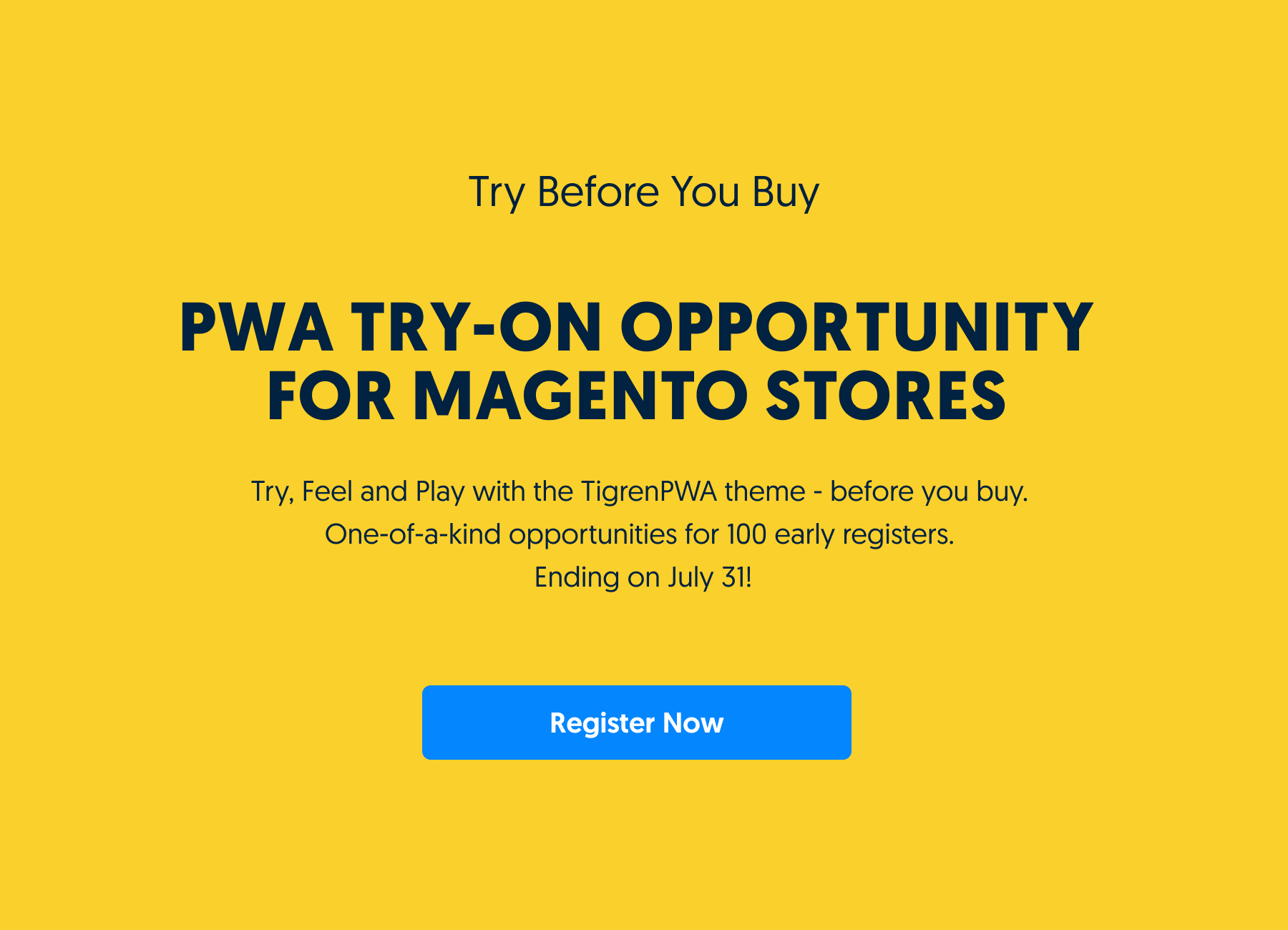 Our try-on opportunities are for 100 Magento store owners who genuinely care and register early.
The campaign starts now and will end soon at the end of July.
So, hurry up!
How To Be Selected Out Of Thousands of Registrations
Step 1: Fill in our registration form
Step 2: Wait for our confirmation email
Step 3: Provide us with your site information for the setup
Step 4: Experience the PWA version of your site
Step 5: Decide whether to move forward or not with a complete transformation
"What if I am not selected?"
If your store is not selected for some reason, we will send you a result notification email. The special thing is, you can still get an attractive discount when buying our theme!
There Are A Few Things To Note
1. Your daily website operation will not be interrupted
We will set up your PWA demo with your provided data on our server. You will be given access to both the PWA storefront and Magento backend. Therefore, you can experience PWA features on the new storefront as well as manage the site backend to explore any differences between a Magento PWA and a regular Magento website.
2. We have to say "sorry" to Magento 1 website owners
Our campaign is for stores based on Magento 2 only.
As you might know, Magento officially stopped supporting Magento 1 on June 30, 2020. As a result, current Magento 1 websites are confronting lots of issues such as no security patches, no updates, PCI non-compliance, poor performance, etc. Therefore, it's urgent that those should be migrated to Magento 2 before considering PWA integration.
Moreover, most of the available PWA solutions are for Magento 2, from PWA Studio, ready-to-use extensions or themes.
If you are running a Magento 1-based website, you can consider Tigren's Magento 2 Migration Service or our exceptional 2-in-1 service for Magento Migration Plus PWA Development. With over 10 years of experience in Magento development, we highly recommend you implement these two processes simultaneously to save significant time, money, and effort. Contact us for more details.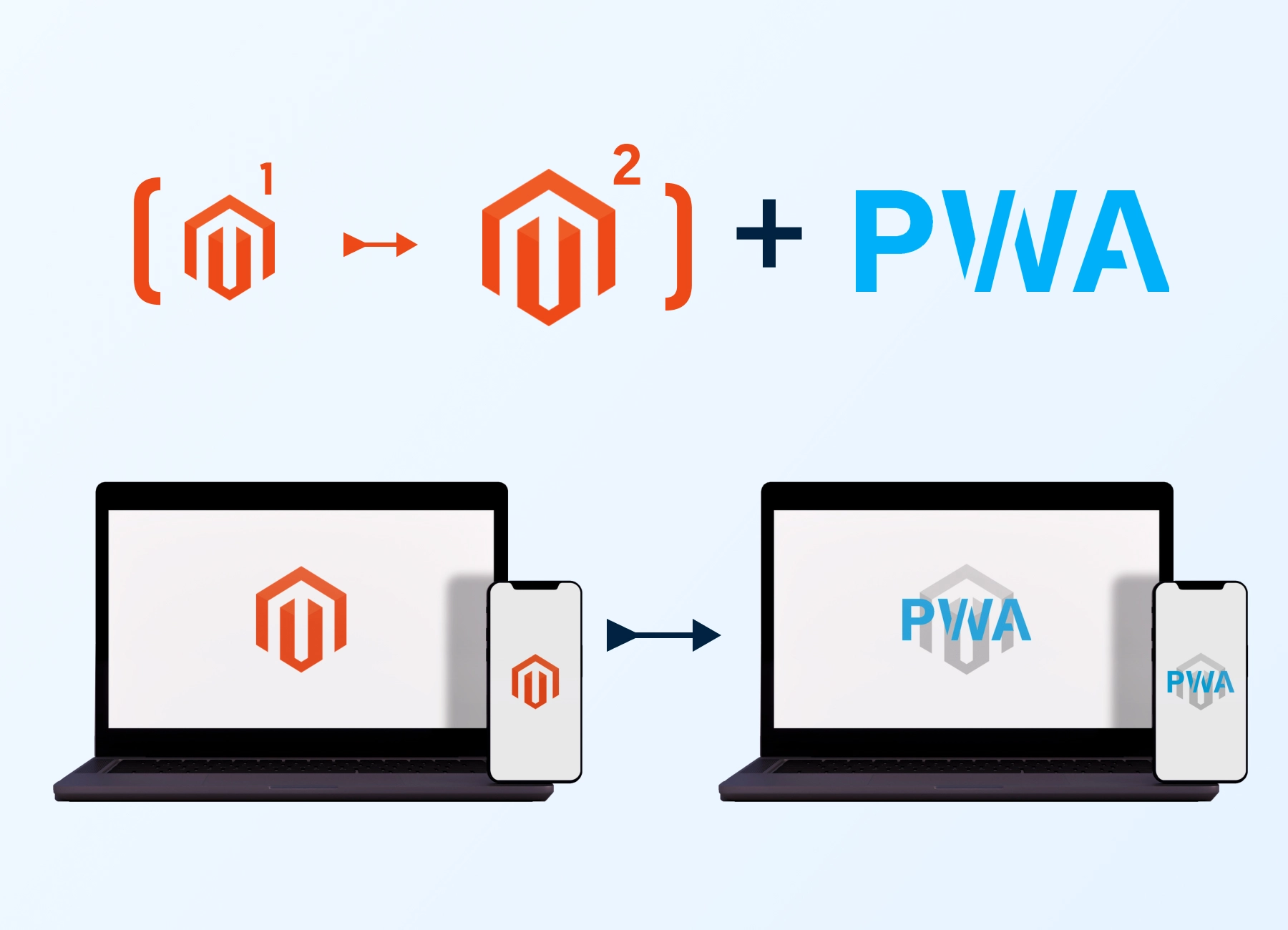 3. Not all registers are selected
As we have mentioned before, there are only 100 Magento stores that register early and meet our conditions will be chosen to try on the TigrenPWA theme.
If you haven't had a website yet and intend to build a Magento PWA from scratch, you can either try our general PWA demo or send us your request for consultation.
Another case is that if your online store is not built with Magento but with other eCommerce platforms, you can ponder migration to Magento – the best platform for PWA development.
Or, if you have a website without eCommerce functionality but are interested in PWA development, our PWA Try-on might not be appropriate. However, we can still provide you with a PWA solution for your particular need.
How To Get Started?
What are you waiting for? Register now!
You cannot find a similar PWA try-on opportunity anywhere else.
Our team is also excited to see how our theme is worn in your store!