More and more E-commerce merchants have become intensely aware of Magento Progressive Web App (PWA). Are you one of them driving the idea to integrate your Magento website with the powerful PWA technology? If yes, this article is perfect for you, with A to Z comprehensive guide on Magento PWA solutions and operation. Let's kick it off.
What Is Magento 2 Progressive Web Application (PWA)?
Magento 2 Progressive Web Apps is the perfect hybrid of typical Magento websites and Magento native apps.
Specifically, websites are built to grow businesses and optimize the user experience, especially on desktop devices. Native apps are developed to enhance UX on mobile devices.
As a result, a Magento PWA combines the function of websites and apps ideally. On top of that, with "progressive" technology and the open-source platform, Magento PWA holds more potential to escalate your business.
It can speed up, enhance performance, and boost SEO rankings while allowing app-like performance with easy installation for your online store.
PWA Studio is a set of tools that help you deploy a PWA storefront on Magento 2.3 and above. It uses modern libraries to create a system and framework compatible with Magento's principles.
Magento 2 PWA Demos
Magento 2 PWA Studio Venia Demo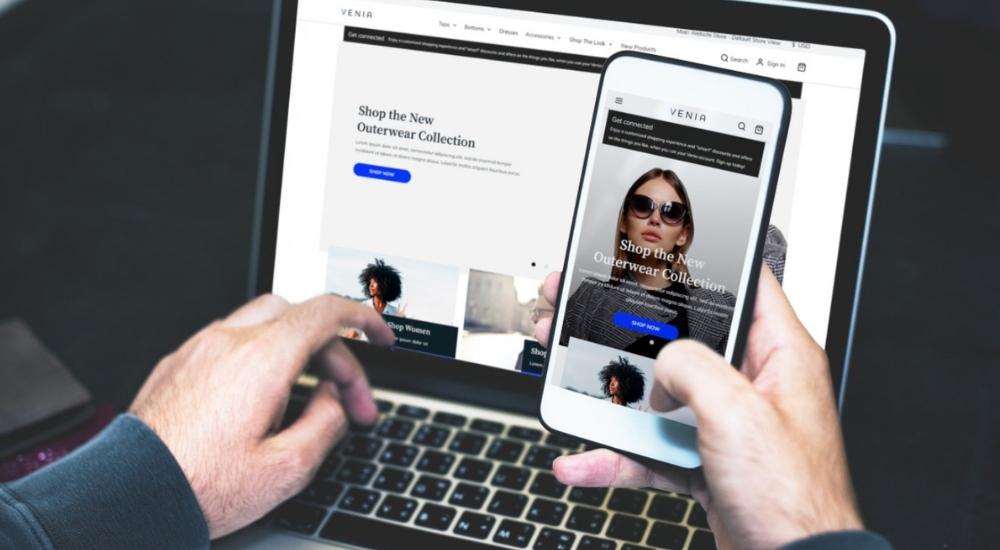 Venia is the official PWA demo from Magento. It helps people have a closer look into how a Magento PWA built with PWA Studio works and looks.
Like the Magento Luma theme, the Venia demo has a casual design with a simple layout, which therefore will rarely be applied to actual stores. Not yet, this PWA theme still lacks some core features of Magento.
Magento 2 PWA Theme – by TigrenPWA
As Magento Progressive Web App gains enormous popularity, more and more developers have offered PWA themes for Magento with varied demos. You can experience TigrenPWA (demo)– one of the best Magento PWA themes with an attractive design, fully supported Magento features, and an array of advanced built-in functions.
Magento 2 PWA Examples
Many famous brands have applied Magento Progressive Web App successfully. Here are examples of ShopEddies, American Eager, and Boonthavorn.
ShopEddies
They specialize in cars, trucks, RVs, and motorsports vehicles. The brand delivers smooth operation at lightning speed after converting the traditional site into Magento PWA with TigrenPWA. Along with that, their site enhances the user experience optimally with app-like performance and attractive features.
American Eager
It is a retail merchant in the fashion industry. Magento PWA has combined features of a website and a native app excellently to deliver a robust experience for their customers.
Boonthavorn
This is a well-known Thai interior furniture firm that began operations in 1977. Magento PWA has successfully dressed its website with powerful functions such as layered navigation, product labels, automatic related products, social login, blog, etc.
With Magento PWA, these sites have witnessed lower bounce rates, higher conversion rates, and ultra faster speed. Those are essential metrics to enhance customer satisfaction and increase their time on site.
Discover more examples of Magento 2 Progressive Web Apps.
Features Of A Magento 2 PWA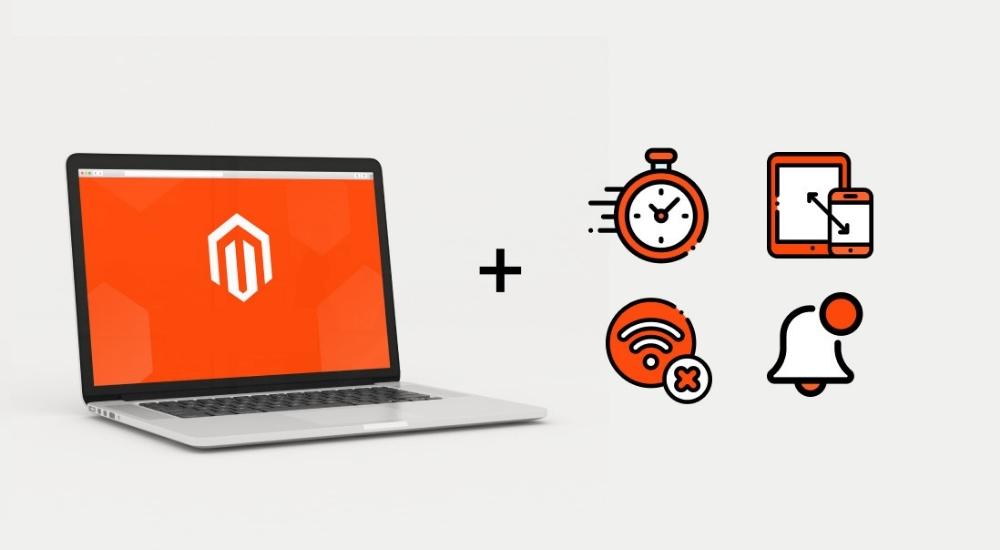 Magento E-commerce Features
A Magento 2 Progressive Web App has both features of a Magento website and the PWA technology.
Magento standard features include:
Product Browsing
Catalog Management
Customer Accounts
Order Management
Payment & Shipping
Search Engine Optimization
Marketing and Promotional Tools
Analytics and Reporting
A Magento PWA can have full or partial Magento functions depending on the solution and developer you choose.
For example, if you use the Venia demo from Magento, your website will have certain limitations.
Specifically, the Homepage will lack language & currency switchers, mega menu, add to wishlist/compare, and advanced search. And there are no list modes, price sliders, related products, or bottom navigation on mobile.
Some Magento PWA themes also have similar limitations. Consequently, it would help to choose the right provider and solution.
So far, TigrenPWA stands out as the best ready-made theme to deliver fully functional Magento features.
Progressive Web App Features
After converting into a Magento 2 Progressive Web App, your website can also have great PWA functions.
Lightning speed
PWA can enhance a robust experience for customers visiting your store with ultra lightning speed.
The loading time will be 2 to 3 times faster than a standard website, even when you have 1,000+ products.
It allows dynamic operation and is a great advantage to boose your SEO ranking and reduce the bounce rate.
Add to home screen
As mentioned, PWA prioritizes a mobile-first approach without requiring native app development.
It can save you thousands of dollars and months of development. PWA is also easy to access.
Users only need to navigate to the browser and click the "Add to home screen" button. A PWA will appear on the main screen and function smoothly like a real app.
Push notifications
E-commerce merchants want to keep customers interested and updated whenever they run new campaigns. And PWA can solve this issue extensively.
Rather than spending big budgets on tools like OneSignal, and Firebase with limited subscribers, sending push notifications from Magento PWA websites is effortless and free.
Even if you want to notice 100,000 customers or above, PWA can get the job done well. And it is easy to customize your message and keep users notified.
Offline mode
PWA can work well even when the Internet connection is lost. Loaded data is cached thanks to Service Worker, a superior technology in PWA. Therefore, your customers will not be interrupted while shopping with your online store.
Cross-browser compatibility
PWA is supported on the most popular browsers, including Chrome, Edge, Firefox, and Safari. This ensures users can get a top-notch experience regardless of the browser they're using.
Proven Magento PWA Benefits For Merchants
There are 10 significant benefits of Magento Progressive Web App for eCommerce stores owning it. Let's figure them out!
1. Improve shoppers' experience
Right after adding PWA on the mobile home screen, the customers will get the experience of using a native app with a quick shortcut.
This shortcut helps users access quickly to the store instead of opening their web browser and entering the website URLs as usual.
The PWA technology can boost the speed of your website within 1 – 3 seconds. And every time you launch a new update, users only need to refresh the page to see the fresh content.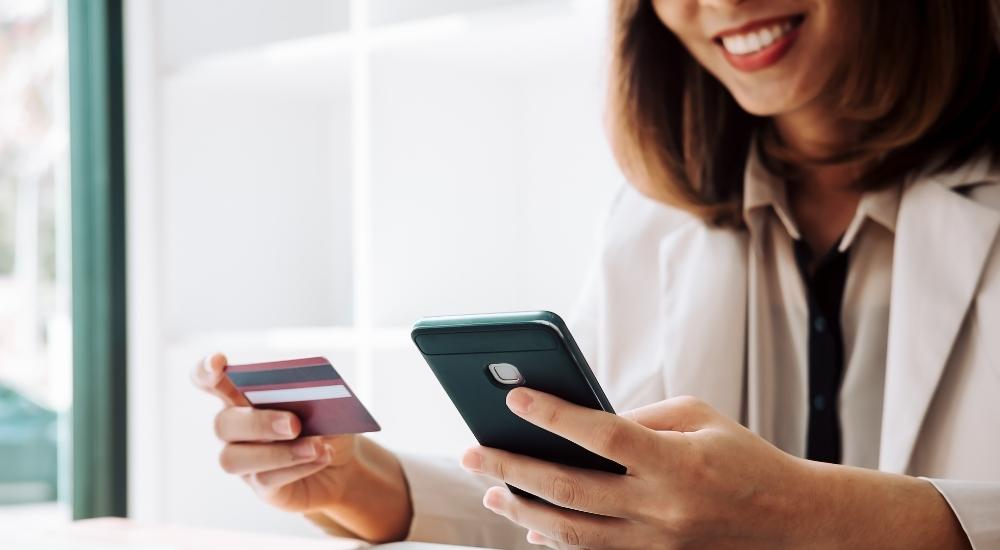 Moreover, there is no page that will reload on Magento Progressive Web App, just lightning Ajax loading to transit among pages/ content.
Additionally, when the Internet is not available, the users still can approach some cached content of PWA (offline mode).
Furthermore, background sync gives end-users the ability to hold up their actions (e.g.: login/ register a new account, submit form…) when losing the network connections and complete those when getting the Internet back.
As a result, the bounce rate can be reduced remarkably, and you are likely to welcome more visitors shopping on your online store.
2. Consume less time in developing/ launching/ updating
Only a single codebase is required to develop PWA for Magento 2. On the contrary, for native app development, the store owners have to do it on two separate codebases (for iOS and Android).
Moreover, when merchants tend to launch a native app, their app must pass the strict requirements of app distribution services. Once the app gets approval, it will be officially published. In comparison, PWA is able to be released whenever the merchants aim to do it.
In terms of renewing the native apps, the owners need to update and re-submit both of their codebases to the app stores. Whereas, it's much simpler and time-saving for PWA since only one source code needs updating without re-submission.
In general, 1-2 months is the time needed to develop a Magento PWA (with a ready-made theme), compared to at least 4-6 months to deliver a native app. In addition, the associated cost is much more effective compared to native apps. Therefore, PWA brings an incredible solution for Magento merchants who want to deliver a mobile experience to their users but have a modest budget.
3. Pay no fee on app distribution service
Since Magento Progressive Web App doesn't depend on any app service distribution, merchants do not have to pay the submission fee for years like native apps – $99/year for Appstore or $25/year for Google play.
Besides, AppStore even gets 30% of the total income if that is a paid app, and Magento stores will not have to pay a penny thanks to the PWA.
4. Reduce marketing and advertising costs
Exploiting the push notification function of Magento PWA is an effective solution for Magento stores to cut down on expensive marketing fees and receive better outcomes.
On one hand, PWA's push notifications bring a way to approach more customers in the shortest period of time. The merchant just needs to prepare a message within a few minutes on the Magento backend and send it right away to the customers. As long as the users' devices are connected to the Internet, they will instantly get the news that the store wants to deliver.
On the other hand, instead of spending a lot of money on traditional methods such as running ads (either on Google or social networks) or sending emails for every advertising campaign, Magento merchants now don't have to pay a single penny to have their content promoted.
5. Re-engage customers in the store
Another benefit of using Magento PWA's push notification is to grab users' attention and bring them back to the store.
The merchants can use it as a tool to remind the customer of the products that they have browsed recently, their abandoned cart, their wishlist, and so on.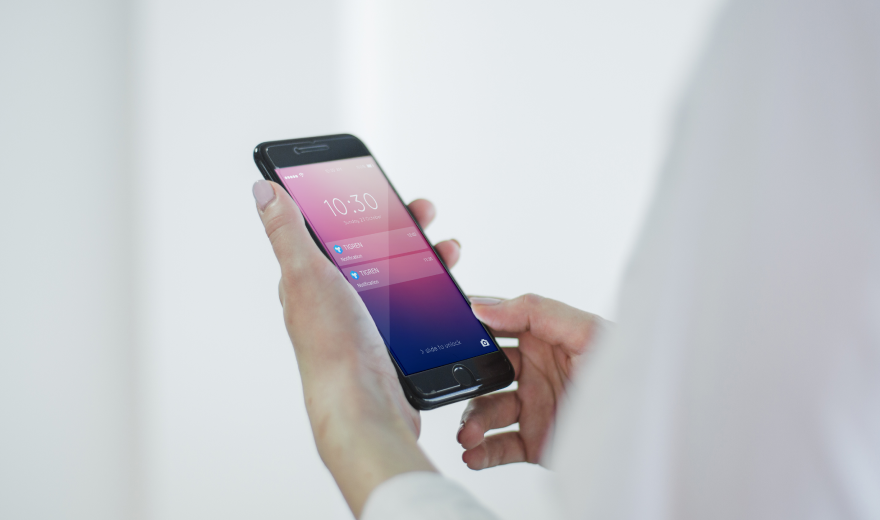 What is more, the store owners can show the customers that they really care by requesting valuable feedback or reaching out with meaningful "happy birthday" messages. In this way, the buyers will feel respected and be more likely to re-visit the store.
6. Support SEO for higher site rankings
With advanced features, lightning speed, and seamless experience, the on-trend PWA technology is ideal for boosting SEO & marketing performance for your site.
PWAs can be indexed by search engines since it's a web at its core with unique URLs.
In addition, it also allows merchants to share links on social media to increase website traffic, which is also useful for marketing campaigns.
Since Magento 2 PWAs have a specific URL for each of their pages, the business owner can still optimize the page content as well as build backlink.
In general, it is possible to implement SEO on-page and off-page techniques to raise the rankings and traffic of websites built with Magento 2 PWA.
7. Raise brand reputation in the e-commerce market
There are millions of iOS apps and Android ones, and this number keeps increasing every day. In terms of the Progressive Web App, the number has not been recorded as many so far.
So, when people look for a specific example of a "real" PWA, there are just a small number of results on the search engines. From other perspectives, this is a one-of-a-kind opportunity for Magento merchants who are willing to adopt Progressive Web App to be recognized.
In addition, PWA is raising its popularity among the Magento community since the introduction of Magento 2 PWA Studio. Owing to that, the launching of the first PWA for Magento 2 group will definitely draw a lot of attention.
8. Enhance the conversion rate
When people access a website, they always want to get its content displayed instantly with no delays and alerts like "please wait, the page is loading". The statistic shows that 53% of users will leave the website if the page does not load in 3 seconds.
The way Magento PWA deals with a fast bounce rate is by saving the structure of the website and reproducing it in the browser upon the user's request. As a result, it saves vital seconds and makes the only pleasant impression on every visit.
Put it differently, PWA plays a significant role in decreasing the bounce rate as well as increasing the conversion rate of the Magento stores.
9. Push customer's purchasing motivation
Service workers' features allow Magento 2 Progressive Web App to send push notifications to the customers even when they are not opening the PWA.
Hence, the buyers will be updated as soon as the merchants run a sale-off, promotion campaign, or release a new collection.
Then, people who receive attractive notifications will be encouraged to spend more money on those Magento stores.
10. Boost and maintain store performance
Finally, when it comes to Magento PWA benefits for merchants, it would be a mistake without mentioning store performance enhancement.
Firstly, Magento PWA contributes enormously to the whole store's performance improvement. Thanks to its underlying caching technology for served text, images, stylesheets, and other page content, PWA runs very fast.
Secondly, PWA also helps to maintain the high performance of Magento stores, especially when the site welcomes a high volume of traffic. The reason is that it can reduce server load time and prevent crashes or downtime.
You might like: 10 Surprising Progressive Web App Benefits For eCommerce Stores
Architecture – Magento 2 Headless PWA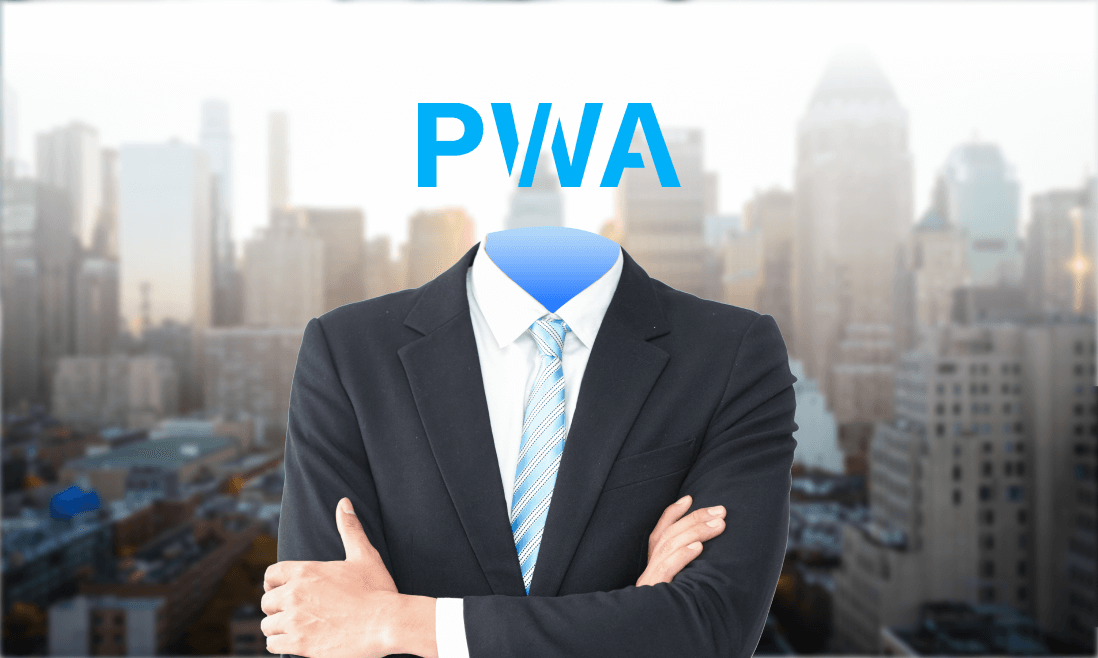 The default approach of standard websites is monolithic, meaning the front and backend are tightly connected. This structure has certain limitations.
Mainly, monolithic requires a large codebase that likely increases the workload for developers. You need to work on the entire system in any update.
In addition, any error in one layer can badly affect the performance of the whole structure, which is risky.
In contrast, Magento 2 PWA uses a headless architecture that separates a Magento website's front and backend. The headless structure has a massive package of benefits.
If you already have a Magento website, keep in mind that some functions or extensions of the old site may not work on the new Magento PWA. It can require more development deployment with the new PWA storefront.
Therefore, list any wanted-to-keep features and discuss thoroughly with the developer team to build a Magento PWA that meets your expectations.
Allow More Flexibility
The Magento 2 PWA headless architecture allows excellent flexibility since it decouples your front and back end.
A PWA storefront will replace the front end while the Magento back end is still functional. And APIs are used to deliver databases between these two systems.
If any code error in the technical layer is minor important, your store's performance will not be affected.
Reduce Workload & Save Resources
The headless structure of Magento 2 PWA can free developers from the storefront design. Departments like marketing may involve optimizing the interface for users without much effort.
Moreover, the front-end content can be reused on different platforms, saving you remarkable resources. The update process is also likely to speed up with the single codebase.
Level Up User Experience
Users can enjoy a faster loading speed and exciting features with Magento Progressive Web Apps. The headless architecture enables optimized interfaces on different devices to improve the user experience.
Magento PWA also allows low storage, smooth performance, and appropriate fonts and sizing on mobiles.
Which Magento Website Should Integrate Magento PWA Technology?
If your Magento website has one of the following signs, it is time to integrate it with PWA Technology.
Websites That Load Slow
Faster loading speed makes customers more satisfied. The chance they stay on your site is likely to increase. If your website takes too long to respond, customers may leave. It will affect your business negatively.
Fixing code, using extensions, or reducing images and material quality do improve the site's speed, yet they aren't efficient in the long term.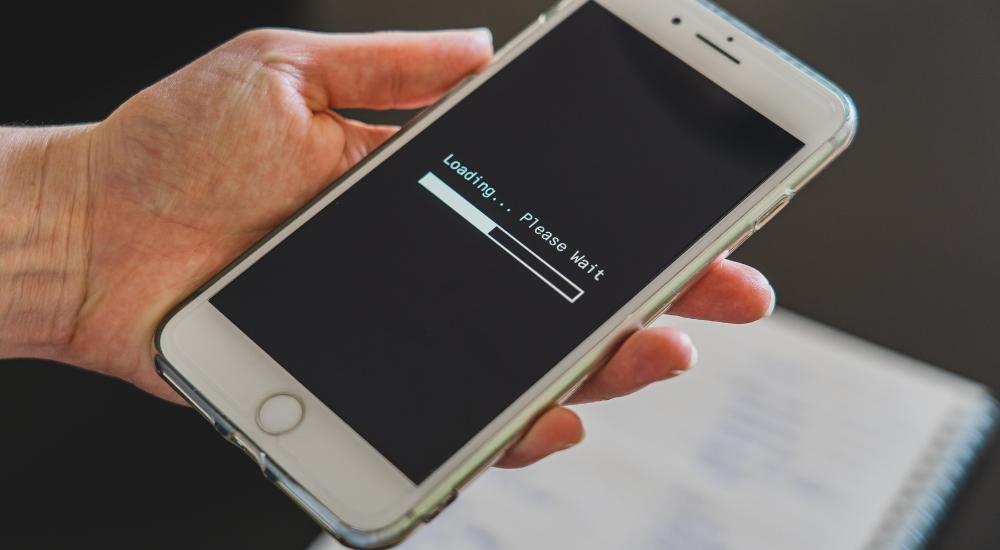 If you minimize the appearance and video quality on your website, the rate can increase to some extent. But it will make your site look unprofessional, and customers may not find it appealing.
Besides, Google evaluates website speed as one of the crucial ranking factors. With slow speed, your website may not appear on the top pages.
Magento PWA technology can work well to fix this issue. By integrating with PWA, you can boost lightning speed. Consequently, customers can enjoy a better experience. The conversion rate of your store will likely increase. PWA also helps you have a good ranking position in search engines with a fast loading speed.
Read More:
How Fast Is Magento PWA? Is It Faster Than Regular Magento Websites?
Magento PWA And Magento Website Speed Comparison
Websites With Mobile-Driven Traffic
More and more people are shopping online with their mobiles. It has become the primary channel for online shopping and changed consumer behavior.
For tracking which devices customers use the most to access your web, use Google Analytics. It points out essential metrics and generates precise analysis on your website.
If mobile traffic accounts for more than 60%, you should consider using Magento PWA technology. PWA can make your store operate smoothly with many appealing features. When customers find your page engaging, the chance of recognizing your brand and purchasing is likely to grow. It helps boost your traffic and increases orders to your online store.
Websites With Low Rankings
Unlike native apps that can only link to the app store or standard websites with extended processing time, a Magento PWA website is more friendly to SEO. With many rich features, customers will certainly stay on your site longer. It helps your website have a higher ranking.
In addition, Magento PWA can adapt to the change in algorithm of Google. Google has updated a new algorithm to prioritize showing results of mobile-friendly web pages. They aim at promoting websites with high performance on mobiles. For this reason, the Magento PWA Technology is better than websites in SEO.
Read More: Magento PWA And Magento Website SEO Comparison
Websites Targeting At Offline Mode
The offline mode supports users when they can not access the internet but want to engage with information. Moreover, it helps them save a lot of battery and storage when surfing.
If your website can provide this ideal module, the rate of having more loyal customers will be remarkable. And PWA works efficiently in offline mode. That is what "progressive" highlights. Therefore, if you want to stay engaged with users, integrating your Magento website with Magento PWA Technology is an optimal choice.
Websites Whose Owners Want To Develop Native Apps With A Limited Budget
The purpose of using native apps is to bring a better experience for users. Businesses can promote their brands, update promotions and generate traffic more quickly. However, developing a native app requires a generous budget. You need to have a separate app for each system, Android and iOS. Updating any features also calls for independent research and development on two platforms. Besides, app owners need to pay a commission to the app stores for in-app purchases.
In contrast, PWA Technology can satisfy you with an interactive like-app performance at an affordable price. You only pay one time. The PWA development takes several weeks (with ready-made themes) to months (for custom PWA). Besides, the fee is a lot cheaper, starting from $300 (for themes), while a single app requires at least $10,000.
There are a few PWA solutions for Magento websites. You can choose Magento PWA Extensions for less than $300. However, features are limited and unstable. Another choice is PWA Studio – a toolset allowing the development and maintenance of a PWA storefront on top of Magento 2.3 and above. However, the storefront Venia isn't optimized for E-commerce.
The best solution for converting to PWA is a Magento PWA theme. It is easy to install with many features and attractive storefront designs, and high extension compatibility. The cost may go over $500, but you can customize your store more efficiently.
In conclusion, if you want to integrate your Magento website with the Progressive Web App, you should use premium themes of high quality.
How To Build A Magento Progressive Web App?
There are three options to build a Magento 2 Progressive Web App.
Magento 2 PWA Themes/ Templates
So far, using Magento Progressive Web App themes and templates has been the most effective solution for e-commerce merchants.
Pros
It is easy to install Magento PWA templates. Many different storefront designs can suit your brand identity remarkably.
Besides, this solution brings appealing built-in features for Magento websites such as Live chat, Improved Layered Navigation, One Page Checkout, Banner Management, Instagram Feeds, and Fastly.
The theme can also be integrated with various extensions if merchants want to make it more advanced.
Cons
One drawback of using Magento PWA themes is the limitation of good companies. Only a few names in the market can deliver high-quality work with different offer packages.
Some can offer you free themes. But keep in mind that downloading the theme may be free. However, there can be additional installation costs.
Hence, picking the right provider with an effective cost may require thorough consideration.
As mentioned, TigrenPWA is a productive and cost-effective Magento PWA theme. We are a prestigious company specializing in web service and Magento development services for over 10 years.
Our solution can fulfill your need for a fully functional website with an appealing storefront. With $799, you can upgrade your online store with an astonishing level of efficiency.
Magento PWA Extensions/ Plugins
Pros
This is the simplest way to integrate PWA into a Magento website. There is no special requirement for the installation. And the price is favorable at below $500.
Cons
However, Magento PWA plugins will not change your site structure into headless. It can lead to a high workload and waste resources in future updates.
Moreover, a PWA extension may not deliver stable features and lightning speed for your websites.
This is why e-commerce merchants usually go for Magento PWA themes or custom PWA development.
Magento 2 PWA Custom Development
Pros
This solution allows you to work on a unique storefront design that matches your brand identity optimally.
Moreover, you can require advanced development to deliver highly efficient functions for your website.
In conclusion, Magento PWA custom development is an excellent solution if you want maximum customization.
Cons
Because everything is built from the ground up, it makes custom PWA development the most expensive choice. Not to mention, it would take quite some more time as well.
Magento PWA Development Cost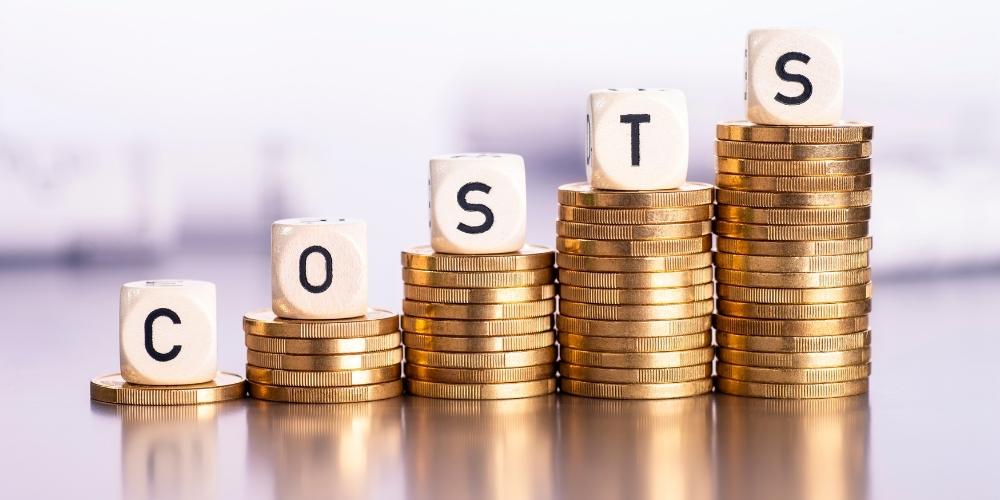 Magento PWA Extensions
Magento PWA plugin is the cheapest solution. The budget is often lower than $500. But keep in mind that the features are limited and unstable.
Magento PWA Themes
Some Magento PWA developers offer free themes. However, it is only accessible when you are technically professional. Otherwise, you need to hire their team at an unfriendly budget.
The cost for premium Magento PWA themes may range from $5,000 to $50,000 or even more. customization may or may not result in additional charges, depending on the complexity and the service provider.
Magento PWA Custom Development
Custom Magento 2 Progressive Web App development is the optimal solution, which calls for a generous budget.
Most developers can charge you $30,000 on average for a custom Magento 2 PWA. That's why choosing Tigren service is ideal for saving money while getting an optimal Magento PWA.
We can map out your idea and work effortlessly to make your storefront stand out from the crowd at a reasonable cost.
Magento PWA Development Time
Compared to native apps, Magento PWA requires less time to deliver. However, each solution of Magento PWA development expects a different amount of time to complete. The expertise of the PWA provider also has an impact on the development time.
It takes from 1 – 2 months to develop a Magento PWA theme. For Magento PWA custom development, the time frame will be 3 to 4 months.
Limitations Of Magento PWA
Although Magento Progressive Web App is a powerful solution for e-commerce businesses, it has certain limitations.
Limitations On iOS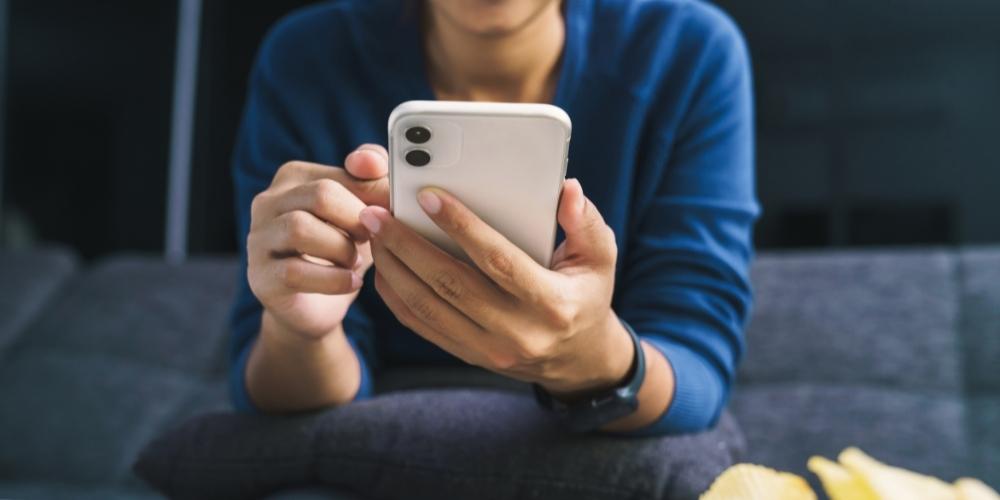 When consumers visit the website on an Android device, a message appears at the bottom of the screen to grab their attention.
Users will be requested to enable push notifications and add the PWA to their home screen if they click on this message.
The process is different on iOS devices. Instead of automatic reminders, users need to navigate to the "Share" button on the browser and click "Add to home screen."
The splash page will not appear as using Android devices, either. Other than that, Magento PWA only supports the iOS version above 11.3. Users with older IOS systems can't function Magento PWA on their devices.
Limited Options For Magento PWA Providers
For Magento PWA service, the choice of providers is not so wide. There are only around ten prestigious companies that can deliver high-quality service.
However, choosing a good provider with cost-effective solutions is not easy. If you need a suggestion, you can start with TigrenPWA – the premium Magento PWA theme for only $799.
The 7 Phases Of Magento PWA Development Life Cycle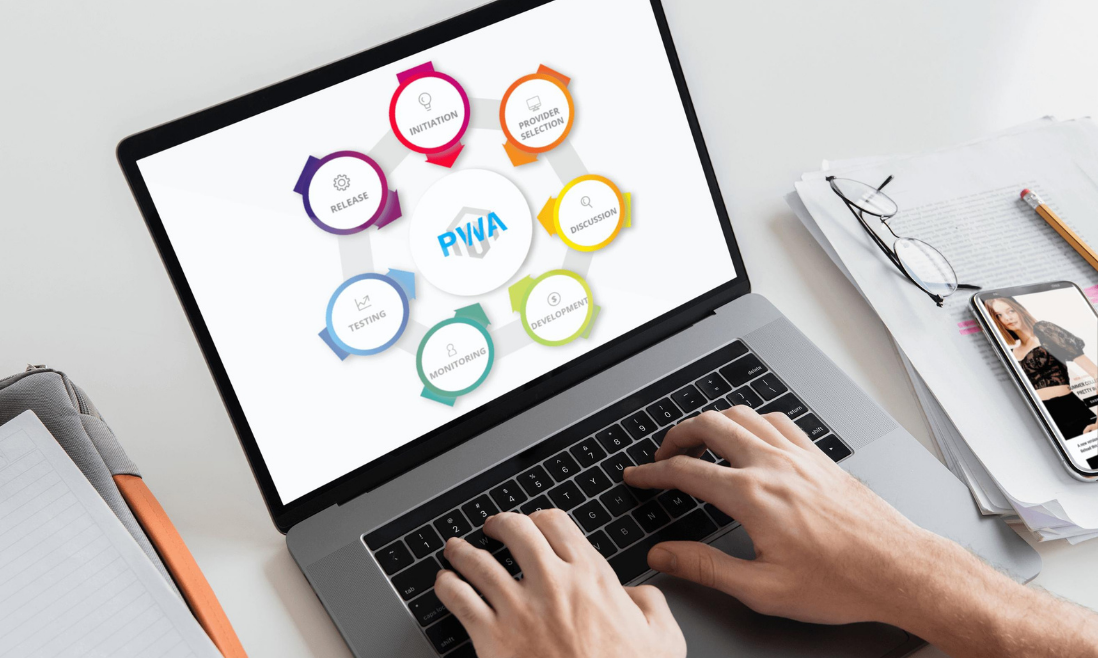 1. Initiation Phase
In this stage, e-commerce merchants should educate themselves to get the whole picture of Magento Progressive Web App.
If you already have a Magento website and want to integrate it with PWA, knowing how PWA can affect your site performance is critical.
It's recommended to list out your design options, features to keep from the old Magento site, and functions for the new storefront that you expect.
Make this step as detailed as possible and thoroughly discuss it with your developer team to prevent mistakes.
2. Provider Selection Phase
Choosing the right developer is critical in any collaboration to achieve your business goal, especially for PWA integration. Design, cost, and features are core elements you need to consider.
A few big names provide Magento PWA development services, such as Tigren. Each company offers a different price, package, and development time.
You may have seen free PWA theme offers, but there's nothing that guarantees their quality. And there may be hidden costs.
So in this phase, research the market ins and outs. It would help if you made an in-depth comparison of available Magento PWA providers on design, cost, and features. Go online and find out how these demo versions can meet your expectations.
3. Discussion Phase
After picking a Magento PWA development company, merchants need to discuss further the PWA project detail. The goal of this stage is to reach a final contract.
Confer your desire for the website interface, features, and budget in a transparent scheme. Breaking down specific milestones with an expected timeline is also essential.
And make sure that the Magento PWA company could qualify your requirements well.
Any misunderstanding needs to be clarified in this step. Involve your team to track and evaluate every option carefully.
4. Development Phase
This phase calls for the user interface design and PWA implementation. Keep in mind that the new design should be relevant to your brand and convenient for your target audience.
The developer needs to optimize critical elements like logo, homepage, product pages, checkout, etc.
And when it comes to PWA development, make sure they can integrate the full functions of PWA:
Push notifications
Offline mode
App-like performance
Cross-platform compatibility
Secure connection
The coding part of the technical system also needs to be well-maintained.
5. Monitoring Phase
Your team should keep track of the work based on the agreed timeline. It is essential to guarantee that the Magento PWA partner follows the project guideline strictly.
Besides, you also need to evaluate and implement necessary changes to meet your KPIs. Any issue raised in the process must be handled quickly to avoid wasting time and resources.
6. Testing Phase
Before launching the final version, you need to test the PWA storefront and backend thoroughly. Ensure that the theme matches your brand identity and that all Magento & PWA features work smoothly.
Besides, you need to review and analyze the demo version with your expected outcome.
It is great to answer these questions:
Does the new version keep all Magento features you want to maintain?
Is the PWA storefront easy to navigate?
Is the new store friendly for both desktops and mobiles?
Are rich built-in features included?
Is it easy to manage your product, catalog, and user account?
Is there any trouble with the storefront and the management system?
7. Release Phase
When you are satisfied with the new Magento 2 Progressive Web App store, it is time to bring it to your customers.
Creating a video to advertise your new service is recommended since users are more attracted by engaging photos and sound instead of long posts and articles.
Besides, you can take advantage of popular marketing channels like social media, email marketing, and website to reach more customers.
A few important notes:
Choose the right time for your target audience
Avoid significant events to grasp more attention
Create engaging content for marketing
Include contact information
The Leading Magento PWA Solution Provider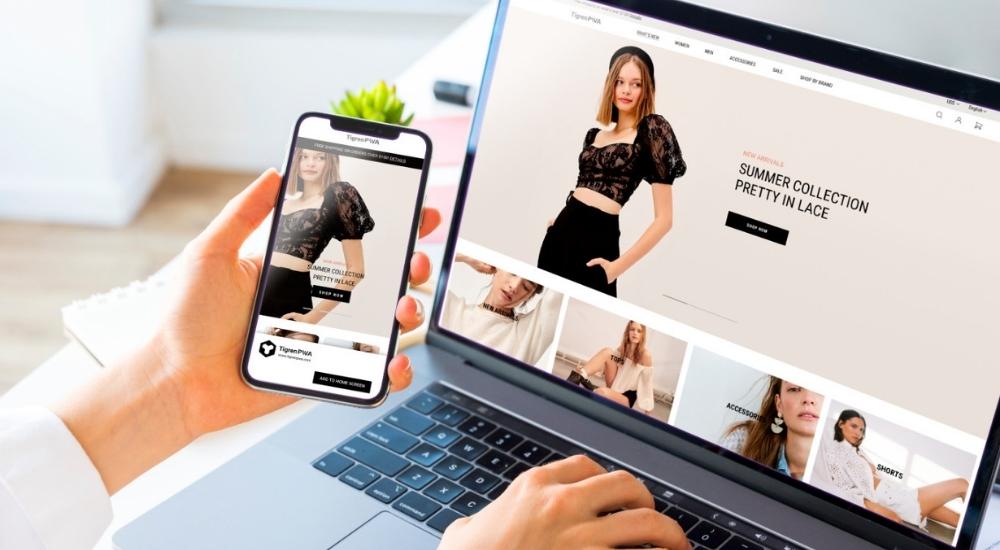 It is crucial to pick a trustworthy partner in developing an excellent Magento Progressive Web App. The right provider should be able to deliver:
An engaging design that matches your brand identity
Fully functional Magento & PWA features
A reasonable cost
Among top developers, Tigren stands out as the leading PWA development company. Our company has extensive experience in both E-commerce web and PWA services. We are proud of our premium Magento PWA solutions to help scale your business effectively.
If you demand a high-quality PWA theme for Magento at a reasonable cost, TigrenPWA is suitable for you. With $799, our theme can enhance a clear and engaging design while combining all core functions of Magento and PWA.
With our premium ready-made theme TigrenPWA and custom development services, many brands have successfully developed engaging Magento PWA stores and leveled up their user experience.
Or, if you call for a unique design from scratch, our skilled developers will not let you down. Together, we can make your idea into a premium theme with maximum customization. The result will surely drive your brand to stand out amongst competitors in the market. We have partnered with worldwide brands from Asia to Western countries.
Quick Comparisons
Magento 2 PWA Vs. Magento 2 Websites
How To Access
It is easy to approach Magento 2 websites. After checking all requirements, you can download and set up the latest Magento version. There are also many available themes to integrate with your Magento websites.
The development of the Magento 2 Progressive Web App is more complicated because each solution requires different skills and processes. With custom development, you need to develop more APIs to avoid conflicts between the storefront and integrated extensions.
Speed
For a big upload of 1,000+ products, there can be lag issues with standard Magento websites. But Magento PWA can fix this problem. It enables quick upload and lightning speed, optimizing the store owner and user's experience.
Functions
Compared to Magento websites, Magento 2 PWA has more enriched features:
Push notifications
Offline mode
Add to home screen
App-like interface
Responsive compatibility
Mobile-friendliness
Magento PWA can eliminate the website interface when customers add to the main screen. Its appearance is no different from a native app with responsive performance. Other than that, it only uses less than 1 MB of storage which is ideal for mobile users.
Development Time
Magento PWA requires several weeks to months for completion, depending on the solution you pick, while a Magento website can be set up in a week.
Cost
The Magento Open Source solution is free to download. However, you still need to pay for web hosting, development, and other additional costs.
With Magento 2 PWA, the price varies for each solution.
As mentioned, it can cost you below $500 for Magento PWA plugins, while other solutions call for $1,000 to $25,000 or even more.
Magento PWA vs. Magento Mobile Native Apps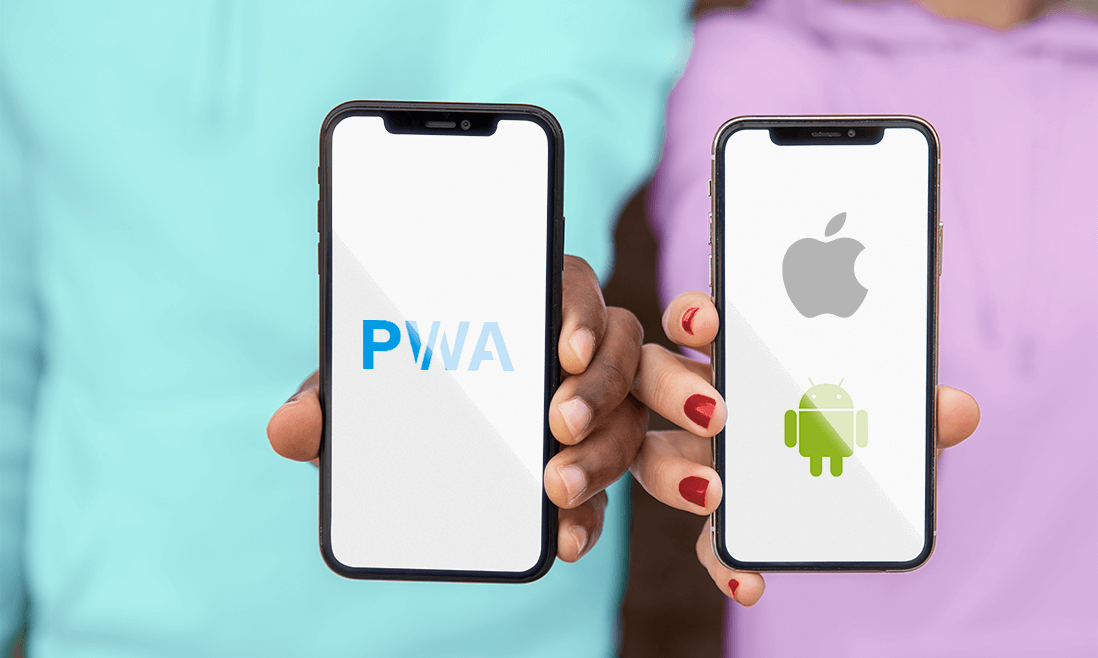 Development Time
To develop a native app, merchants need to work on two systems, including iOS and Android. For every update, the time is likely to increase.
On average, it takes from 4 to 6 months to complete a mobile native app. In comparison, the time is several weeks to 2 months for Magento Progressive Web App theme application and 4 to 6 months for custom PWA development.
Cost
It costs at least $10,000 for a single native app. And there are also submission fees for app stores when you are enrolled. The cost is around $25 for CH Play and $99/year for Apple Store.
Besides, you need to pay additional money for a specific number of subscribers to send push notifications. In the long term, the fee can likely increase.
In contrast, you only have to invest in Magento Progressive Web App development for one time. The cost is friendly, from $500 to $25,000, depending on the selected solution.
Additional fees are counted only if you want to make further customization and updates.
Final Thoughts
With the above analysis on Magento PWA solutions, you may certainly explore and grasp the huge benefits and operation of Magento Progressive Web Apps.
Integrating Magento websites with the on-trend PWA technology can make your online store function more efficiently and generate a higher conversion rate.
Contact us now to get the latest updates and recommendations for your Magento PWA project. Tigren promises to upgrade your website with astonishing designs and features.
Read more:
10 Best Magento PWA Development Company To Level Up Your Website