Magento is one of the best e-commerce platforms. With many superior features compared to conventional online sales website platforms, Magento is always the top choice for medium and large businesses that want to invest in establishing a professional and orderly website. But do you know Magento can provide physical goods but also virtual products? In fact, Magento sells services quite efficiently. Let's follow this article to pocket the most effective way to sell services on Magento.
Can You Use Magento To Sell Services?
Some people may think Magento is a physical-product-based e-commerce platform. However, virtual products or services on this platform are equally appealing, allowing businesses to reach a wider number of customers and increase revenue.
Define "Sell Services" On Magento
In Magento, service is classified as one of the virtual products, which is a product typically used to sell non-tangible items. Other types of virtual products include memberships, warranty options, gift cards, and subscriptions. We can consider virtual goods as another method to use simple products. In fact, it seems to be a basic product with no changeable or customized product choices on the front end.
Difference Between Selling Virtual Products And Selling Simple Products
As mentioned, virtual items are fairly similar to simple product types. Nevertheless, there are some peculiarities:
Digital products have no weight; that is what distinguishes them from physical products. You don't need to store these items. Instead, define the number of services or virtual wares you want to provide. Besides, as digital items are weightless, they cannot be shipped. Hence the order closure procedure is limited to invoicing.
Digital products cannot be downloaded. In other words, they are stored on your servers or cloud storage. This means you must consider creating a license policy that consumers can access.
Digital products can be included in a bundled offering or configurable products. For example, you can offer a virtual yoga class subscription, combine it with a yoga mat, and sell it as a grouped or bundle product. Virtual items might be basic or downloaded in packages. Obviously, shipping is an exception.
How Does Selling Services On Magento Work?
Service items have the same appearance as simple and downloadable products in the store's catalog. Buyers can exclusively perceive such goods as virtuals based on the value they provide.
Take the Gym membership as a typical example. When a customer gets a virtual gym membership, the business owner must keep track of this subscription. The checkout process goes on as usual. Specifically, the customer needs to specify the billing information. However, there is no need to select means of shipping as the items require no delivery. Moreover, order management is encapsulated in a single step. The order will be deemed finished once the invoice is issued.
4 Things You Must Know Before Selling Services With Magento
If you are contemplating whether selling services on Magento is a good idea, here are 4 things you shouldn't miss before using Magento to sell services.
The Costs Are Not Always Obvious
Aside from physical goods, digital products require additional planning, explanation, and illustration. As a result, getting buyers for digital items takes significant time and effort. It is more challenging to explain the expense because there are no tangible requirements to describe it.
Quality Concerns
Potential buyers may doubt whether a digital product's quality is worth the price. To overcome this, the website is critical in establishing a sense of quality and trust. A well-designed website with an 'about' section, clear contact information, and active social media accounts will help convince potential customers that they will receive a high-quality product for their money.
Harder To Market
Although this is not always the case, you may encounter difficulties when advertising and selling your virtual items. Extra consumer education is one example.
Product Development Is Time-consuming
A digital product requires extensive preparation and testing before being released to the public. To be more explicit, virtual goods must be fully tested and of exceptionally high quality from the start to be launch-ready.
How To Sell Services On Magento Websites
Once you have decided to sell services on Magento, you need to design it, set up your own Magento store, and start selling. So how to sell services using Magento Websites? This section will go through how to set up Magento to sell services.
Step 1: Create A Product
First, log in to your store's admin panel/backend. After that, you must decide what kinds of goods you want to offer. Click Catalog, then Products in the sidebar. In place of the Add Product button, a drop-down menu will appear. Choose Downloadable Product.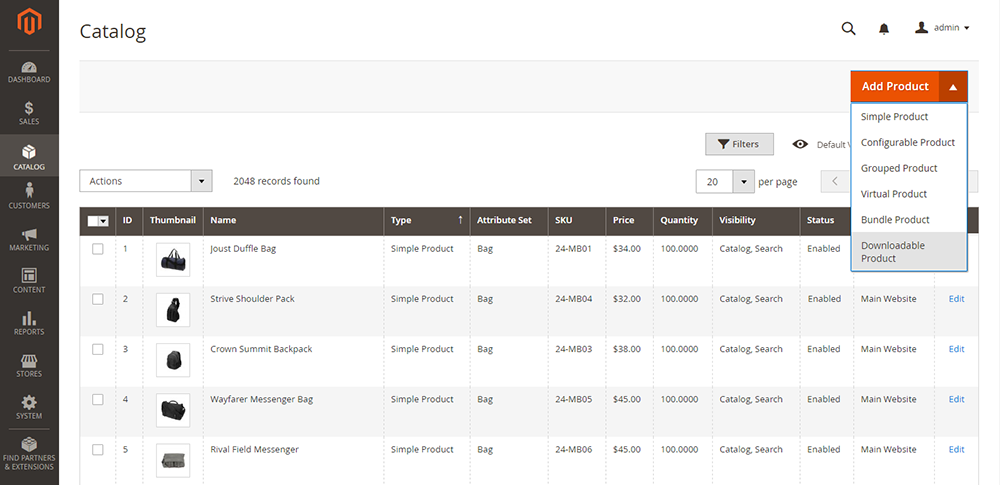 Step 2: Set The Attribute
You can see the sample data has a downloadable property with specific fields. You can use an existing template or create a new one with the attribute set. The downloadable attribute can be chosen from the drop-down list.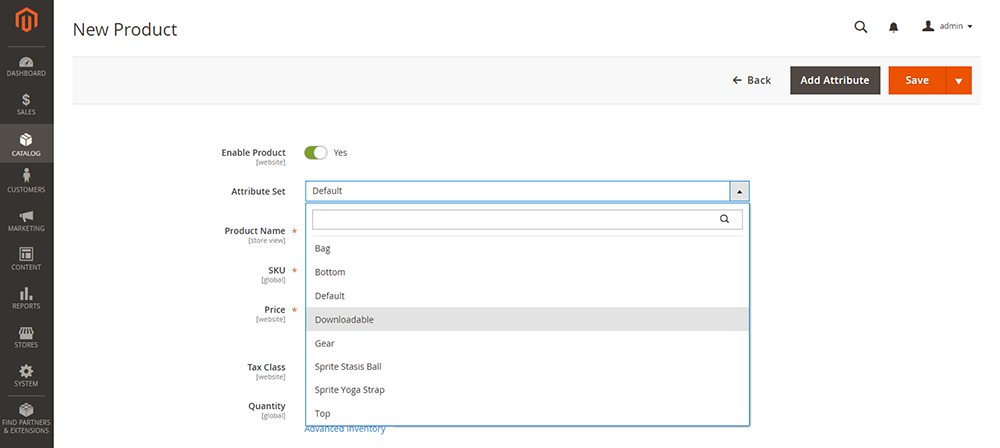 Step 3: Fill In Details
In this column, you must add pertinent information about your items, such as name, SKU, and price. The choice of shop view, where the downloadable items will be available, is in the upper left corner. Then save the goods once you've finished.

Step 4: Set The Fundamentals
Now, you may adjust the product's fundamental settings, much as with physical items. It comprises tax classes, quantity, and other features. Furthermore, it is entirely up to you to mark the commodity as taxable or non-taxable. If you exclusively want to grant restricted access to your digital items or services. Specify the number of each product. These products have an Out Of Stock status by default and no weight column (virtual items can't be shipped).
Set the default visibility to one, designate a category, and you can choose the product format, such as download or DVD. What's more, you can tick the checkbox of Set Product as New if you want to display the commodity in the new products list. You can also edit the characteristics to include extra custom fields for more information.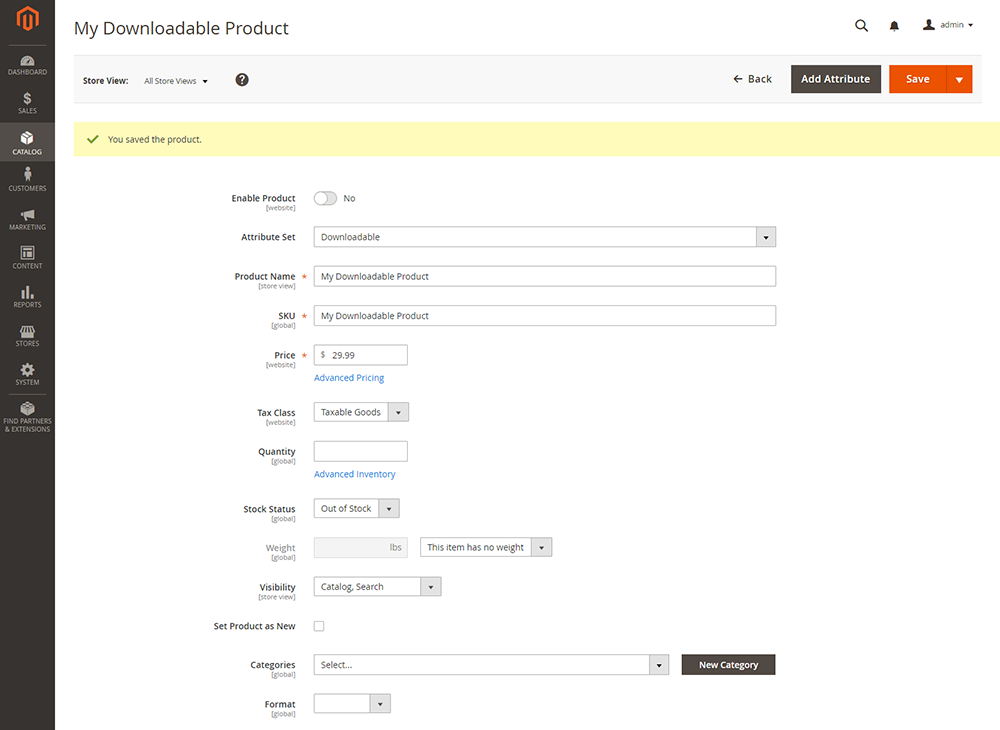 Step 5: Complete Downloadable Information
Next, modify the download settings in the product settings. By clicking on the checkbox of "Is this downloadable product?", the interface will appear in two parts. In the first part, you have to handle the download link and deal with the sample file in the second part.
In the first section, set the title of the download links and check the Links can be purchased independently checkbox if relevant. Then select the Add Link option to input the download link title and price. For those who have to download a file, you can post both the main and sample files or add a distribution URL. You may allow file sharing and specify the maximum number of downloads per customer.
To add a sample file, repeat the previous steps. You can also add numerous samples and rearrange them by dragging them up or down.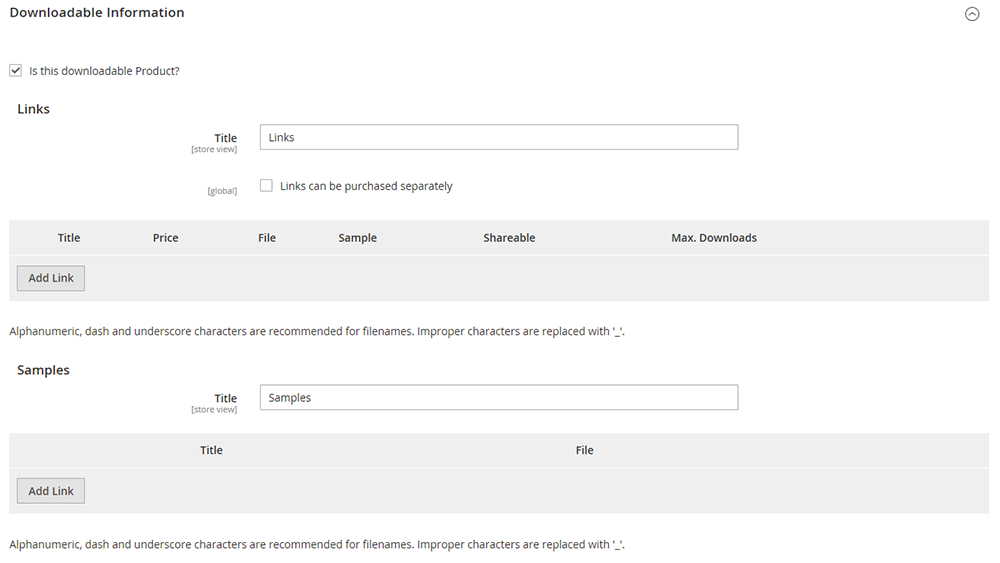 Step 6: Fill Out Product Description
Whether it is a physical product or a virtual product, product information still plays a crucial part in helping customers understand the product and avoid the possibility of unwanted returns or disputes. Therefore, you should complete the item information such as images, videos, content, search engine optimization, and related goods for upselling and cross-selling, while making it friendly to customization possibilities, commodities on the website, and gift alternatives.
Indeed, the importance of content in optimizing product pages for search engines cannot be overstated. Magento enables both short and extended descriptions. The brief description is utilized in the majority of RSS feeds and can also be found in catalog listings and other places. You may include URL Key, Meta Title, Meta Description, and primary keywords to optimize your digital items. Magento also enables you to upsell and cross-sell items by creating easy promotional blocks that buyers may be interested in. Additionally, you can use the design options to apply various product page layouts and themes.
Step 7: Present The Product
After completing the preceding procedures, your product is ready for release to the public. To activate the product, click Save. Then, you should select Customer View for product preview by clicking on Admin. It will launch the product information page in a new tab.

Otherwise, simply Save and close the product.

Things To Remember
The downloaded items can be uploaded to your server or linked to other servers on the internet.
Magento allows you to limit the number of times a consumer may download a product.
Customers may be required to log in before purchasing downloadable items.
When the order status is Pending or Invoiced, the downloaded items will be supplied.
Wrapping Up
So above are the steps required to help Magento sells services more effectively. Besides, we discuss what you should know before and after utilizing Magento. Remember that since you're offering digital products, the work of emphasizing an item's features or value is even more critical.
If you have any concerns regarding how to sell services on Magento or need Magento website development services, you can contact us, and our team would be happy to support you.