Since the internet is a powerful tool that empowers everyone, millions of people all over the world have already taken the plunge into self-employment. You can, too, with an appropriate online business idea and a lot of effort. Actually, starting a business of any kind is hard work, and it is even more challenging when selling products. As a result, many choose to start their business ownership with an online service.
In this blog, we will show you the reasons why you should go this way by giving you a demonstration of opportunities for this type of startup and a list of the most realistic ideas.
Why Choose Online Service Business?
Require less cost
It takes time, money, and effort to create and market a physical product. You still have to deal with packaging, shipping, and returns if you run an eCommerce business. Compared to building this type of business, being an online service provider is much easier.
You can do marketing with free tools on the internet or be a seller on an online marketplace with an acceptable commission rate.
Allow more freedom
You can start your online service-based business immediately because there is no need to prepare for purchasing materials, manufacturing, packaging, etc., like a product-based one.
Also, you can work anywhere with just a laptop, whether at a cafe or on your comfy bed, as well as tailor your service to meet the demands of each client. Flexibility is an online service business's great strength.
Have lower risk
Starting a new business undoubtedly comes with a certain amount of risk related to compliance, security, operation, finance, competition, etc. There is some uncertainty about whether things will go as planned or whether your firm will be as successful as you expect and plan for it to be, no matter how great your business idea or how well prepared you are.
Although taking risks is an unavoidable element of starting a business, the online service-based model is somewhat less risky than its counterpart. It does not require you to gamble with your time, energy, and a considerable amount of money with a high possibility that things will go wrong.
Less time-consuming
The best thing about this type of business is that you can do everything by yourself. You are the owner and the performer. Now you can decide your workload and even working hours.
While online retailers or merchants have to find employees, suppliers, manufacturers, and customers, you – a service provider only have to go and find your potential clients. This saves much more time and effort.
Best Online Service Business Ideas
Professional services
1. Digital marketing
The number of professions requiring digital marketing abilities grows as computers, smartphones, and other internet-capable devices become more ubiquitous. Many organizations' marketing strategies now place a strong emphasis on digital features.
If you're camera-savvy and competent at editing, you can always start making money with video editing. There are a plethora of projects and enterprises that require video production, whether for an ad campaign or internal use.
Besides video editing services, you can also think of offering social media marketing services. In a world where social media is changing every aspect of our lives, social media remains an essential component of its marketing strategy regardless of the company's scale. For this reason, starting a marketing agency is a good pick.
To do this type of professional service business, the most important key is mastering your digital marketing skills.
Tips for you
Keep yourself informed about current happenings throughout the world since up-to-date advertising will draw more attention. Being a part of what is hot on social media is a terrific marketing approach.
Following the most popular hashtags, articles, or activities can help your service business target potential audience groups, and reach out to them with proper approaches.
Your marketing business's success also hinges on consistency. You need to be consistent in your sharing on social media platforms to grow your customer base. Post things relevant to your business to demonstrate to your audience that you are a professional in the area.
2. Proofreading
If you enjoy reading and have a solid command of spelling and grammar, becoming a proofreader is a low-cost business you may start from home. Traditional and self-publishing writers, bloggers, course makers, businesses, government agencies, academia, and other industries all require proofreaders.
Doing proofreading service, you will act as a final editor who thoroughly reviews a piece of text before it is released. In addition to grammar and spelling, you may need to be fluent in both the source and target languages to deliver proofreading services to translation companies. Alternatively, you can get assistance from a free grammar checker to find any spelling or grammar errors in writing. The facility scans your text comprehensively and instantly highlights any grammatical mistake if found in the content.
Tips for you
If you want to be a professional proofreader, we highly recommend you to get training. Knowing what you are doing will give you a major advantage since there's more to proofreading than spotting typos. Plus, owning professional certifications, which you can add to your portfolio, will help you to make better deals with clients.
Besides, you will be able to sell your services more effectively if you choose a particular niche. You can insert targeted keywords in your website and social media copy to increase your chances of appearing in relevant search results of potential clients.
3. Translation
An online translation company is another idea for a successful service business. Although English is currently the most commonly used language globally, the increasing demand for other language skills is undeniable.
You can start by offering languages in which you are proficient, and as your business grows, you can hire more staff to cover other languages. The special aspect of translation job is that its clients can be found in both the public and private sectors. They can be medical offices, law firms, media companies, government agencies, financial institutions, insurance firms, and others.
Due to this diversity, the price range for translation services can be from hundreds to thousands of dollars. It depends on the language pairs, level of difficulty, area of documents and other requirements of your clients.
For example, Finnish-to-English, Japanese-to-English, Danish-to-English, English-to-Arabic, and English-to-Japanese are among the language combinations with the highest rate. You see, it is a well-paid job if you fill the right gap.
Tips for you
Utilizing the power of modern technology makes the translation process less time-consuming, especially when you have to deal with non-standard documents. Knowing how to use text editors, monitoring systems, converters, or self-written programs (E.g. CAT tool) will aid in improving not only your performance but also the translation quality.
4. Programming
Having programming knowledge might provide you with more benefits than you think. You can create your own products and websites, or in this case, assist those who are having problems with their tech.
In recent years, because of the eCommerce boom, there are more and more entrepreneurs who need technical support in website development. While web designers are in charge of the website's look and feel, web developers are primarily concerned with the coding. So, you certainly need coding abilities to sail this board.
Besides, you can consider providing services of online network installation and maintenance or app/software development.
Tips for you
Because technology is constantly changing, what we have learned and applied may quickly become obsolete. As a programmer, you have to keep improving your abilities and stay current.
5. Coaching
A home-based coaching business could be the job for you if you enjoy interacting with people and assisting them in achieving their goals. Face-to-face coaching with customers all over the world is now available thanks to video conferencing, which may be one of the reasons the coaching industry has flourished in recent years.
Want a unique idea? There are thousands of coaching business ideas and you can pick a special one that best suits your ability. As long as you find your potential customers, you can get started. For instance, you can become a coach for cooking, dancing, makeup classes, or a personal fitness trainer.
This is quite similar to tutoring or online teaching but the difference is that you need to have expertise in the area of choice.
Tips for you
One of the most important tips you need to remember that do not to share all of your knowledge at once. Give them what they need right now, on a schedule, and then advise them what to do next, depending on the case. This approach is more helpful for them than learning everything at once without practice in real life.
Secondly, offer a 12-month commitment instead of giving your clients a month-to-month program. They are unlikely to see immediate benefits, so if they aren't devoted, they will most likely quit within the first month or two.
Freelance services
In some cases, there are many services performed by freelancers who are experts in those fields. But in this blog, we are only referring to the ones that are considered side hustles. It means that you do not need to be a master of an area, you just need to be good at at least one skill to start your own business with the following ideas.
Services provided by freelancers are often at a more reasonable price, thus, are suitable for a different group of customers. They usually are students, undergraduates, or anyone who lives on a tighter budget.
1. Digital marketing
Besides opportunities for experts, the digital marketing sector also gives opportunities for those who have a talent for relevant skills and want to start a side business with them. For example, you can get started with affiliate marketing or influencer marketing.
Affiliate marketers work with businesses to help them grow sales. You can earn a commission by driving visitors to a merchant's website via an affiliate link. As those links can be posted everywhere (e.g. on your Facebook post, Youtube videos' description or Instagram's bio), there are no upfront expenditures. Paid advertising can help you reach more people if you can afford it.
Meanwhile, because of the popularity of social networks, one of the most profitable and appealing new jobs is a social media influencer. In this marketing approach, companies form relationships or conduct ad campaigns with these influencers.
Tips for you
The very first criterion you must meet in this type of business is trustworthiness. Remember that it is your repeat visitors who are the most valuable to you. They are the ones who will contribute to expanding your customer base.
Thus, you should be truthful and ethical with your audience, establishing true relationships through authentic content. Do not try to use spammy, dishonest affiliate advertising and promotions to gain profit from them.
Secondly, you should offer incentives to them to use your affiliate links. Your audience is smarter than you think. Instead of clicking on your links, they can contact the vendors directly, resulting in no referral credit for you. So you see, giving a bonus is a great strategy to boost your sales and make you different.
When it comes to getting paid advertisement partnerships with brands, having a large number of followers will be your most valuable asset. Posting regular material, updating all of your social media channels on a regular basis, and engaging with your audience are the greatest ways to build a huge following.
Finally, to attract brands to your profile, try tagging and mentioning them as well as using on-trend hashtags. Believe us, you will be surprised by the result.
2. Writing
Starting up a writing service business does not mean that you must take a job that requires professional skills, such as a proofreader. You have many more options, from a CV writer, content writer to a screenwriter writer.
In fact, all jobs require writing skills in different ways, so you can always find a suitable niche.
Tips for you
In the advertising industry, there's a saying that: "A message aimed at everyone often appeals to no one". And that's true! To communicate effectively, you must first understand your audience. Knowing your audience makes it easy to respond to the most common question: "What's in it for me?"
Another thing you must know is to decide what you want to accomplish before typing a single word. Do you just wish to pass on some information? Do you have a challenging concept to explain? In every situation, you cannot deliver the message to your audiences if you do not know what you are going to write.
3. Tutoring
Back in the past, private tutoring was a face-to-face service. In the digital age, in-person tutoring has been replaced by online tutoring, which is now a multimillion-dollar business.
Today, the opportunities for educators are not only limited to the domestic market since they may teach students around the world from the comfort of their own homes. In this way, online tutoring has become a fantastic business concept that may help you generate a lot of money.
You can work as an online tutor in two ways: become a partner of online tutoring websites, which eliminates the need to find clients, or offer your services yourself. There are also two methods to deliver your knowledge to students: live lessons and pre-recorded lessons.
Tips for you
A picture is worth a thousand words. Consider providing several recorded lessons on your portfolio or one free lesson for the students who are interested in your courses.
This is a win-win proposition: students will be able to experience the class atmosphere and your teaching style themselves while you will have a chance to demonstrate your ability to them.
4. Graphic design
If you have some design skill sets, you might work as a freelance graphic designer and provide a variety of services. This job will give you opportunities to collaborate with your client to create visual content that delivers their brand message to their target audience.
You could specialize in one or provide a wide range of services such as designing logos, book covers, social media graphics, presentations, packaging, infographics, or illustration.
Tips for you
You will need a portfolio of work, or at the very least some samples on your website so potential customers may see examples of what you can do for them.
If you do not want to find customers on your own, you can sell your design work on a logo marketplace like Designhill or ArtWeb, which connects companies and designers. Websites such as Fiverr or Upwork are good choices to help you market yourself and reach out to customers easier.
5. Voice acting
Today, many companies use voice-overs for a variety of purposes, including marketing campaigns and online lessons, and narration for audiobooks.
You can offer voice-over services for commercial videos, TV programs, animation projects, and more if you have a voice talent. Producing audio content is one of the easiest jobs that you can perform from the comfort of your own home.
Tips for you
First thing first, take care of your voice. You are making money with it so try to stay in a good health condition, schedule frequent checks with your doctor, avoid getting cold and having a sore throat.
Make sure you spend your budget on a perfect recording studio with a good microphone, a good set of headphones, and the right recording software.
Producing several demos is also a great idea as clients will be curious as to what they may expect from your service. You can ask your clients for the usage of the latest project that you have contributed to.
Lastly, diversify your service offerings by improving skills in audio production and post-production. Your client will be pleased to save money by not having to pay a third party for those extra services.
The Importance Of Having A Website
To professional services business
Regardless of industry, a company's online presence has a significant impact on its performance, and an online professional service business is no exception. A great online presence, particularly a website, can make or break your opportunity to generate revenue.
Having a nice website allows you to make a great first impression and reassure customers that you are a legitimate company, resulting in higher credibility. In reality, customers are more likely to use your services if you clearly define who you are, what you represent, and what you stand for.
Further, you have a chance of appearing in Google search results once you are online and have an SEO-optimized website. In other words, a website provides you with the opportunity to significantly expand your customer base.
To freelance service business
Normally, most freelancers will only register profiles on freelance job search sites. However, because freelancers today are increasing in a vast number, you need to do something to make a difference.
Taking into account this fact, having a website to show a portfolio of your products and previous projects, your contacts is a good idea. This way, you can approach customers directly without spending money on paying the middlemen. So you can say goodbye to the 20% on each of your transactions for Fiverr.
In short, building a website is a great means that might help you stand out from the rest and contribute substantially to your success.
Tigren
There are a dozen of ways to choose from when comes to developing an eCommerce website and using website development services is one of them. Tigren's E-commerce websites design and development services can be considered an effective solution. The Vietnam-based company has earned a reputation as a trustworthy provider after nearly 10 years of working in the market.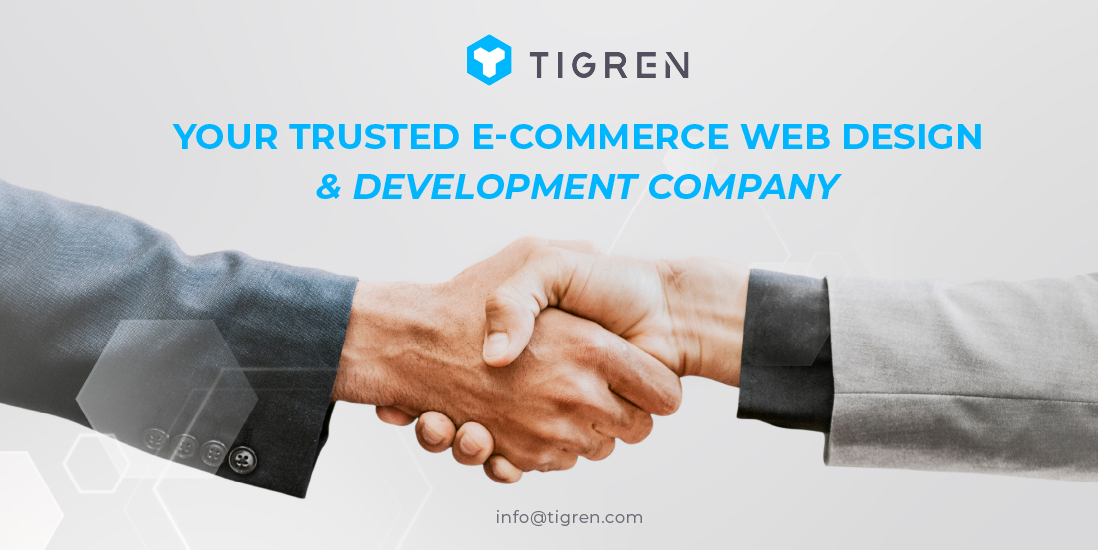 FAQs
How to start?
Wish to earn an income
Know your strengths
Choose your best skill
Start selling yourself
How much money do I need to start?
Almost $0. As it was said, building up an online service business demands just a little amount of capital or even, zero cost since you can finish every single step by utilizing free tools on the internet. So what you need is an Internet connection and a device (mobile, computer) to connect to it and then get started with your business.
Do I need any certification or degree?
No. But we highly recommend you to have some, especially when your aim is earning money from professional services. Proving that you are qualified will help to build your customer trust, and you can get better deals for your service.
How could I advertise my services?
Word-of-mouth recommendations play a very important part in your potential customers' decisions. With them, you will not have to invest in advertising or marketing for your services. Thus, try to learn some personal branding skills and introduce your services to your relatives, friends, or co-workers.
Also, you can market yourself on social media channels such as LinkedIn, Facebook, or Instagram or on service marketplaces. After you have had several successful projects, ask your clients to recommend you to others in their network. It's another excellent way to get to potential clients.
Which websites could I use to sell my services?
LinkedIn, Fiver, Upwork, Freelancer, Guru, etc.
The Bottom Line
Apart from the common ideas that we have suggested, you can go out and find another niche in the market to build your online service business. Remember that the bigger the market is, the fiercer competition you will have to face. In contrast, if it is not big enough, you will not able to earn enough to keep your business working effectively. So consider these factors carefully and make a good preparation for your service business, then you are good to start!