Despite being created recently, Progressive Web Apps (PWA) has quickly become the leading web development trend of many big brands globally. This is partly because the benefits of the Progressive Web Apps for eCommerce websites are numerous and practical. Those strengths significantly affect company revenue and customer loyalty.
So what is a PWA, and why is it so crucial to your business? Scroll down to find out all the answers in this article!
What Is A Progressive Web App?
Progressive Web App (PWA) is a term introduced by Google Chrome Engineer Alex Russell in 2015. It is developed based on popular web technologies (HTML, CSS, and JavaScript) like other web apps.
In essence, a PWA is still a website. However, although its core is a web application, it can provide user experience similar to native apps.
Since the PWA is not a native application, it does not need to be downloaded and installed via an app store. Moreover, it is not limited to any device or platform. PWA can be used on both Android and iOS. You can also add it to your desktop besides the phone screen.
PWA is a perfect combination of app and website to optimize the user experience. This allows users to use the features on the website in an actual application.
10 Surprising Benefits Of Progressive Web App For eCommerce
More than 52% of global traffic today is via mobile devices. Therefore, Progressive Web Application is entrusted by many experts as the first choice in phone's sale triggering due to its strengths. Let's dig this!
1. Low development cost
Typically, you have to spend a considerable development budget on the native app building process. This funding should be from $50,000 to $250,000. Besides the building cost, you will need to prepare another 20% of the development fee to maintain your app on application markets such as App Store or Google Play.
A native app may be too costly for you if you are a small business owner. In this case, PWA is your solution. Its development fee is only around $5,000 (for a custom PWA). You see how much you can already save with a PWA!
In addition, by not needing to go through application platforms, PWA will save you up to 33% of costs incurred, such as upgrading or maintaining applications. This is one of the undeniable benefits of progressive web apps for eCommerce!
Read More: A Complete Guide To Progressive Web Application Development Cost
2. Short development time
PWA has two undeniable benefits: its optimized time-to-market in general and time-to-develop in particular. The development time of this app is only a third of the native app.
Specifically, PWA can be completed after one month if the developer uses a ready-made theme. However, in the case of building completely from scratch, the longest development time is from 2-3 months (depending on the complexity of the PWA)
This great convenience is since PWA's programming language is relatively easy to write compared to that of iOS and Android. Besides, developers do not need to write separate software for each operating system.
3. High engagement with push notifications
With PWAs, push notifications are considered a background feature, just like a regular app. This feature is executed through Service Workers, the web browsers' background process.
Push notifications are usable even when your internet connection is not stable. The PWA will download data from the server when there is a network connection. Then, this cached data will be retrieved when the network is available again, making these notifications possible even when offline.
Push notifications contribute significantly to the effectiveness of marketing activities for businesses. They drive significantly more engagement than traditional methods like email.
Many businesses resulted in a visible increase in conversion rate thanks to it. For example, Lancome's purchase rate increased by 12% after using this feature.
Besides, a study by Smashing Ideas showed that PWAs increase customer engagement rates by 50% compared to native apps. This is partly due to the power of web push notifications coupled with the super-fast loading speeds of PWAs.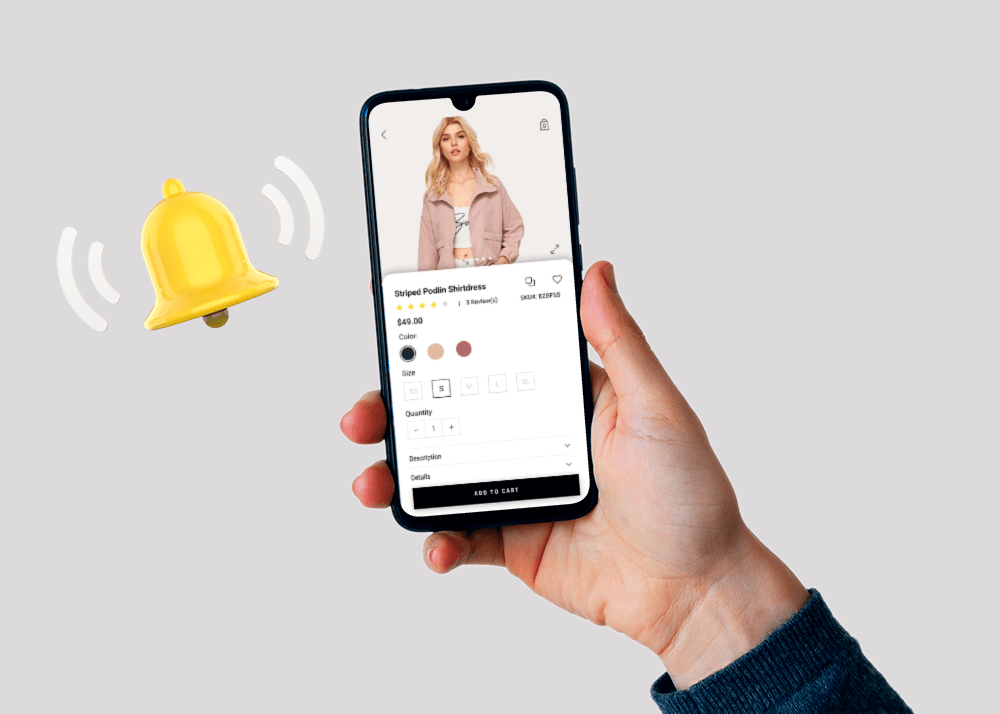 4. Behave Like Native App
The app-like features and interfaces are other big progressive web apps' advantages. Designed to behave like a native app, PWA fully offers users the full-screen experience of a regular app's look, feel, and functionality. It can even conveniently display the features users are usually used.
Specifically, PWA can fully and systematically support users throughout their buying journey. It can also remove the redundant elements that regular websites can't. With the appearance of an app, customers feel safe and more secure than using a website.
5. Surprising Speed
Speed ​​is one of the main factors that determine whether customers will stay on your application or not. Studies have shown that 53% of customers will leave a website or in-app purchase if it takes more than 3 seconds to load.
However, this is not a problem for PWAs. It can reduce page load time by ten times compared to a regular website.
If combined with other strengths of PWA, high loading speed will be of great significance for stimulating purchases. According to beezer, the bounce rate of PWA is less than that of the native app by approximately 20%. This is a huge number!
Read More: How Fast Is PWA?
6. SEO-friendly
As with Native Apps, the information will be displayed in search engine results and App Stores. In other words, the application's pages cannot be indexed in search engines.
However, it is easier to improve SEO with PWA because it is an online website itself. Search engines like Google can crawl the PWA and rank its content thanks to this strength.
With just a simple Google search, your customer will easily find your company and product information.
Read More: Does Progressive Web App Integration Help SEO?
7. Better Customer Experience
According to a report by TOP 30 PWA, progressive web apps can increase conversion rate by 36% compared with native apps. All thanks to the ability to enhance the customer experience of this special application.
One of the best user experiences with a PWA is its offline mode. Customers can still access pages they have already loaded with the PWA. Many research shows that this feature helps increase the time users stay in the application by 40%.
Working offline is not only a privilege of a few unique applications anymore. Thanks to Service Workers, it has already worked well on PWAs using cached data.
Because of this, the interruption rate during the purchasing process decreased noticeably. This is one of the most powerful progressive web apps' benefits.
8. Less Disk Space
The biggest minus point of traditional applications is that it takes up too much space and memory. Not enough phone capacity is one of the main reasons preventing customers from trying new applications.
PWA will easily solve this. It still allows users to have the entire experience like an application without consuming too much memory space on the device. PWAs can compress data to 80-90% (typically ten times lighter than the native app).
For example, a native Twitter app size is about 100MB. After converting to a PWA, its capacity is only more or less 1MB, 100 times smaller.
In addition, PWA's file size is much small than normal applications, so users consume less data, download less and install faster. Thanks to this quick and easy operation, the user experience will be significantly enhanced, increasing sales.
9. Instant updates
Most PWAs can update themselves automatically and instantaneously after just one click. All users have to do is reload the page or accept to update.
It takes only a few seconds and is so simple that users hardly need to care when this process finishes.
This is different from native apps, where users need to take 3 to 5 steps to access the app store and update themselves. After that, they have to wait about 5 – 10 minutes for the installation process.
Read More: How To Update A Progressive Web App?
10. Optimized installation process
65% of customers globally are reluctant to download enterprise applications. This process is not only time-consuming but also memory-consuming for many customers.
According to Smashing Ideas, no download time and the pin to home screen process are PWA's huge plus. Thanks to this strength, PWA can increase its service usage rate from 20% to 250% compared to a native app.
With PWA, users will not need to install the application. This process is optimized, so all you need to do is pin it, open it and use it.
Bottom Line
With all the benefits of progressive web apps for eCommerce listed above, it's not difficult to understand that PWA is currently a trend many businesses are interested in.
It is uncontroversial to say that investing in a PWA is sure to yield significant measurable returns. The superiority of features and the optimization of time and cost to market have solved many headaches businesses problems when developing native apps. Therefore, it is not surprising that many experts consider PWA to be the future of both mobile applications and websites.
Of course, to own an outstanding PWA, you'll need professional help, and Tigren is one of the top PWA service providers you can turn to. We are experts in developing Magento PWA. Our clients come from all over the world, and our PWA development projects have helped boost their sales remarkably. If you are interested, do drop us a message, and we'd be happy to contact you.
Above is the complete information about the strengths of PWA, hope you find it useful! Thanks for reading!
Read More:
Outstanding Progressive Web App Ecommerce Examples