Magento is the world's second most popular e-commerce platform, accounting for 18% of the market. It is a versatile, open-source, and agile solution that helps online sellers increase their sales. Progressive Web App technology is the top frequently mentioned topic among Magento merchants. So what do you know about Progressive Web App for Magento Open Source? Why are Magento merchants eager to integrate this technology into their online stores?
Magento Open Source & Its Common Business Types
Magento Open Source
Magento Open Source is a free eCommerce platform that provides small businesses with all the essential capabilities to build a unique online store from the ground up.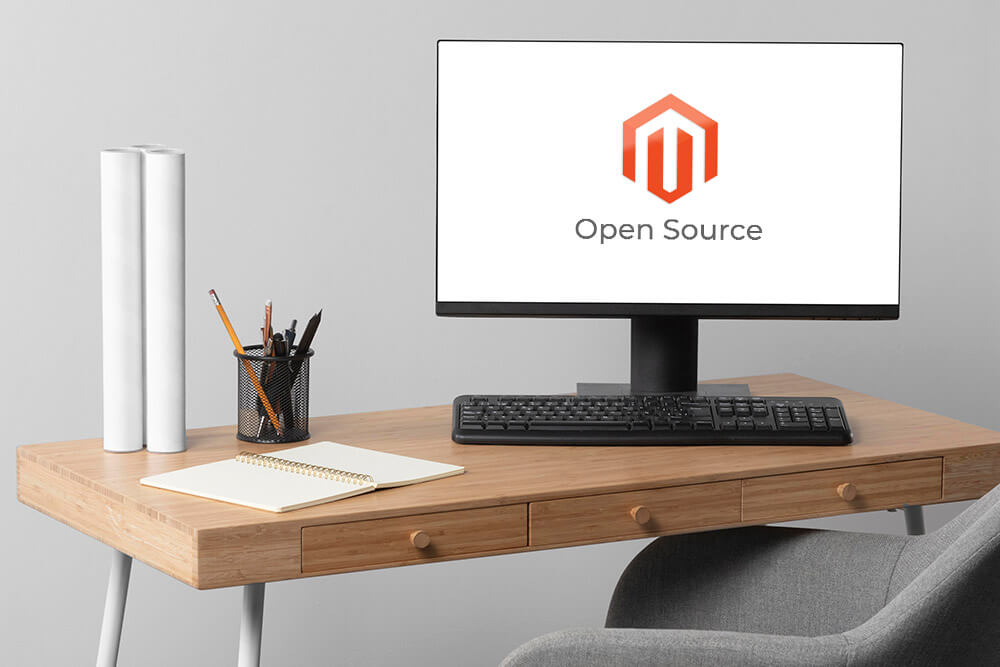 What does Magento Open Source offer?
Magento Open Source provides you with everything you need to launch a feature-rich and highly scalable online business to compete with other sellers in the market:
Integrated checkout, payment, and shipping
Mobile optimized shopping
Global selling
Catalog management
Extended functionality via App Marketplace
Instant purchase
Site search
Page Builder
Not only that, but Magento has a thriving extension market that provides extra functionality to optimize your store performance.
Who is Magento Open Source for?
Magento 2 Open Source is a robust stand-alone solution. The Open Source Edition is most likely the best solution for a start-up or SME because it allows you to set up to handle an e-commerce website quickly. Especially if the purpose of your business is selling to end-users or a B2C company, Magento Open Source is the right solution.
Although Open Source lacks some of the functionality found in Commerce, you can find extensions to integrate on Magento Marketplace to optimize the efficiency of your website.
Why Pick Progressive Web App To Improve Magento Open Source Stores?
What Is Progressive Web App?
A Progressive Web App (PWA) is built on top of website systems but provides the same experience as a Native App.
When users access the PWA website via their mobile browser, they can install the PWA website on their phone. Then, they can then return to the website by tapping the website's shortcut on the main screen, just as they would with a native app.
Why do B2C online businesses and SMs need Progressive Web App?
For B2C online businesses – PWA upgrades users' shopping experience
It's no secret that user experience is crucial to the success and profitability of B2C online businesses. 88% of online shoppers say they will not return to a website after having a terrible experience.
So, online businesses across industries are swiftly integrating Progressive Web App technology for their online stores.
So, how does PWA provide a better user experience?
To begin with, Progressive Web App creates an e-commerce website that looks and feels like a native app. It follows a mobile-first approach, ensuring mobile users have a top-notch experience. This helps you to catch up with the growth of mobile commerce.
Second, thanks to precaching, the page load speed of a PWA is two to three times faster than that of a standard website. Accordingly, the pages that customers have visited will be displayed almost immediately on their next visit. 53% of mobile users abandon a website if it takes more than 3 seconds for a page to load, so PWA can be the solution for slow websites.
For SMBs – deliver the benefits of both web and apps at a low cost
To meet your customers, it is vital to expand your online store across multiple platforms. However, developing both a website and an app is insanely expensive for SMBs.
To begin, the cost of developing a website ranges from $5,000 to $20,000. And to create a native app, you need to spend between $1,000 and $100,000.
Meanwhile, developing a PWA only costs you the same amount, or a little higher, than regular web development. You only need a modest investment to reap the benefits of the web and native apps. Then, you can delight your customers regardless of the device they're using.
Progressive Web Apps outperform both regular web and native apps
PWA has an offline mode, allowing users to access your website even when they are not connected to the Internet.
PWA can be updated with a click.
PWA is more secure than a website because it employs HTTPS rather than HTTP.
PWAs use less storage space than native apps.
In a nutshell, Progressive Web App will empower you to differentiate yourself from competitors, increase your competitive edge, and take your business to the next level.
How To Convert Magento Open Source Websites To Magento PWA?
Investing in developing a Progressive Web App is unquestionably the best decision right now. So, how do you go from a Magento Open Source Website to a Magento PWA?
There is one caveat here that you should be aware of.
PWA integration methods are currently only available for Magento 2 Open Source. Thus, to convert, your website platform must be Magento 2.
So, migrate as soon as possible from Magento 1 to Magento 2 to integrate the PWA for your online store.
3 methods for integrating Progressive Web App into a Magento Open Source website
Magento 2 PWA Extensions
It is not preferred because it simply adds PWA-like features to the website. Push notifications and offline mode are usually ineffective, and the website's interface remains unchanged.
Magento 2 PWA themes and templates
Using a Magento 2 PWA theme is the most popular option for Magento Open Source. PWA Magento template facilitates bringing an online store that blends the full features of Progressive Web App and Magento default functions. 
Furthermore, this method is enriched by a plethora of advanced e-commerce features such as one-step checkout, improved layered navigation, shop by brand, banner manager, product labels, and live chat.
Check out a Progressive Web App demo using the Magento 2 PWA Theme here.
Custom Magento 2 PWA development
You can also choose custom Magento 2 PWA development to create a Magento 2 Progressive Web App based on your ideas. This method is more expensive than the previous two. However, you will have a Magento 2 PWA tailored to your specific requirements and featuring a unique brand identity.
TigrenPWA: An Optimal Solution For Developing Progressive Web App For Magento Open Source
Tigren provides the most cost-effective solution for converting a Magento website into a Magento 2 Progressive Web Application.
Our TigrenPWA Theme will assist you in developing a compelling Progressive Web App in the shortest amount of time. We also provide a custom Magento 2 PWA Development Service to meet your specific requirements.
If you are ready to begin evolving Progressive Web App for your Magento Open Source website, don't hesitate to contact [email protected] for a free consultation and expert advice on your Magento PWA Development projects.