Ecommerce PWA development is an emerging trend in recent times. Many businesses have even used this technology as an alternative to native apps. This is because Progressive Web Apps possess suitable characteristics for online businesses.
Nevertheless, there is still a misunderstanding about ecommerce PWA development. Some entrepreneurs have heard about the potential of ecommerce PWA and want to apply it to their business but are hesitant because they do not fully understand it.
Have the same thinking? Don't worry because this article will solve all your questions!
What Is PWA Ecommerce Development?
Ecommerce PWAs are ecommerce websites that apply PWA technology. It enhances users' experience by giving them an app-like look and feel. In particular, since the PWA is distributed through a website and not just run on a web server, it can be installed on the user's device.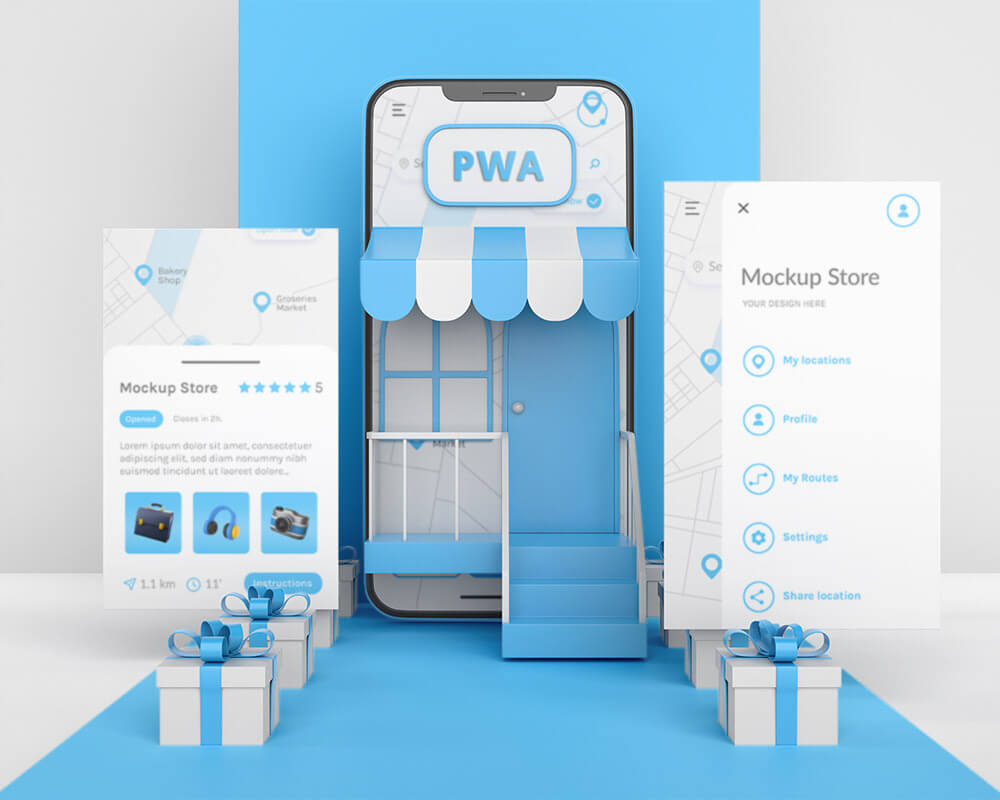 In addition, because it uses a web codebase, PWA gives users an optimal experience on most devices (phones, computers, tablets, etc.).
If users access it from a desktop, PWA appears as a regular ecommerce website but with an optimized loading speed. On the other hand, the eStore's interface is arranged like an ecommerce native app (also with fast loading speed) on mobile devices.
Key Features Of Ecommerce PWAs
PWA experts divide the functionality of this application type into two main components, common ecommerce functions, and PWA functions.
These features allow businesses to conduct business activities through websites regarding ecommerce functions, including order processing, payment acceptance, shipping and logistics management, and customer service.
Regarding PWA functions, if you decide to build a PWA, you will get some basic features: push notification, offline mode, app-like interface, add-to-home-screen, auto-update, etc.
PWA Ecommerce Examples
Although Google has only introduced ecommerce PWA for less than 10 years, many businesses have trusted and applied it. Here are 2 brands that have successfully used this technology:
ShopEddies: This is an e-business that specializes in providing auto parts products. They operate in the US and Canada. In 2020, Shopeddies decided to switch to PWA. After the integration, the website is optimized, helping to increase the conversion rate and improve the user experience.
Starbucks: In 2017, Starbucks recognized the need to create a more convenient and consistent experience for customers. A year later, they released the Starbucks PWA. This PWA provides all the features Starbucks' customers can think of. It has achieved positive results, such as doubling the number of daily active users and increasing engagement and revenue.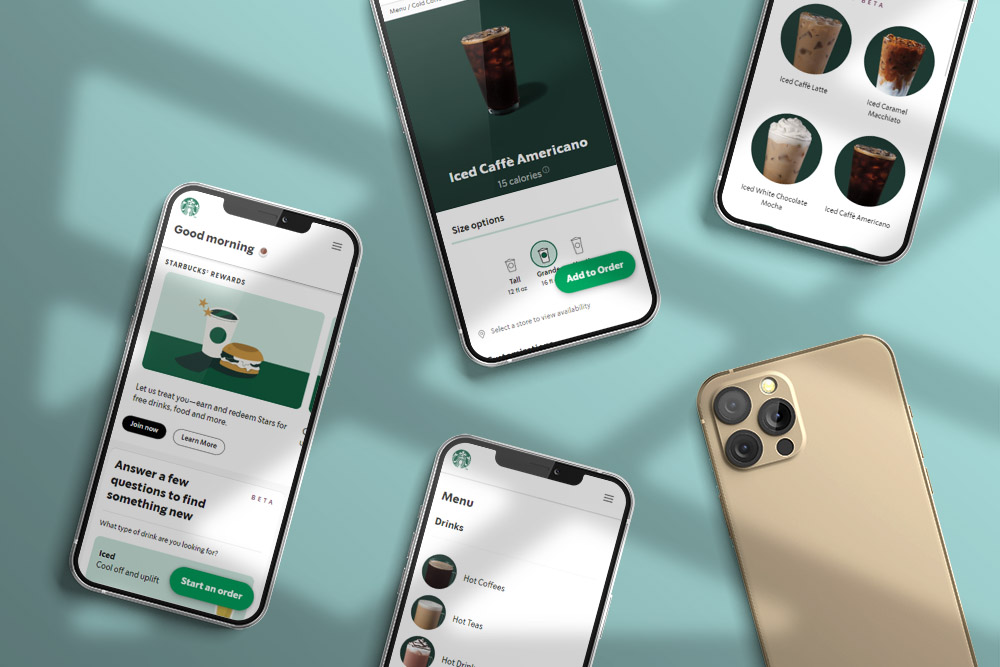 Why Should You Invest In PWA Ecommerce Development?
We will analyze it based on the typical eCommerce customer journey to clearly show you the potential of an eCommerce PWA.
Customer awareness attraction
The first is about customer reach. PWA has many advantages in customer acquisition compared to a web app or native app.
PWA is still a website so it can attract traffic through search engines. However, because PWAs are fast and highly secured, search engines often favor them more. As a result, PWA offers more exposure to customers.
Impact customer consideration
After you have brought customers to your website, the next job you need to do is to keep them long enough and convince them to discover what you're selling.
To do this, you need an attractive and optimized store interface. It would help you to make your customers immense in browsing your products.
Ecommerce PWA is fully capable of meeting this requirement. It has an optimized interface that can give an app-like look and feel. Your website layout will be arranged logically and attractively, encouraging buyers' curiosity.
Convince customers to purchase
PWA helps you build a fast and smooth shopping experience. Studies have shown that customers may leave any website which exceeds 3s loading.
Ecommerce PWA has a lightning loading speed. Components that customers are interested in (text, video, picture, etc.) are prioritized to load first. As a result, PWAs deliver a better customer experience.
On the other hand, PWA has a friendly and convenient store interface thanks to its app-like appearance. Therefore, customers can navigate around your online store quickly regardless if it's their first time.
Finally, the customer buying flow is enhanced with minimal disruption. For example, with offline mode, customers can continue browsing even with an unstable connection. All their activities on the PWA will be saved. In addition, if your customer log in with an account, their information is automatically filled for faster payment. This reduces fuss and increases conversion rates.
Encourage retention
PWAs have potent tools to help business owners attract their customers to re-purchase. Some of the most typical are push notifications, add-to-home-screen, and customer accounts.
With push notifications, customers are quickly notified of a new product, sale, or voucher. To increase their persuasion, you can create personalized coupons for them.
Add-to-home-screen is also a feature that may stimulate customer demand if they install it. Your app will stay on customers' smartphones, indirectly reminding them to browse your app when they use the phone.
Finally, the account function allows better data collection. Thus, you may use data to develop more successful strategies later.
Best Platform For PWA Ecommerce Development
Although several platforms support PWA eCommerce development (Magento, Shopify, etc.), Magento is evaluated as the best.
First, Magento is the only platform that currently invests in researching and developing a professional PWA building toolkit, Magento PWA Studio.
Other platforms like Shopify, WooCommerce (WordPress), and BigCommerce have no exceptional support for PWA.
Second, PWA Studio with Magento brings many benefits to businesses. Besides being optimized for PWA building, it is constantly updated to suit new eCommerce technology trends. In addition, you can get timely support when needed, thanks to its large community. PWA Studio also offers a demo version so that you can experience it for a better decision.
Finally, even if you don't use PWA Studio, many other solutions serve the Magento web and PWA building process. Typical examples are Magento PWA themes, Magento PWA extensions, or hiring Magento PWA development companies to build custom PWAs.
A Credible PWA Development Agency
Suppose you want to find a PWA eCommerce development agency specializing in the Magento platform. Then no need to look for any other business because Tigren is here. We are confident we can be a great companion. Find more about our PWA eCommerce development services to get started!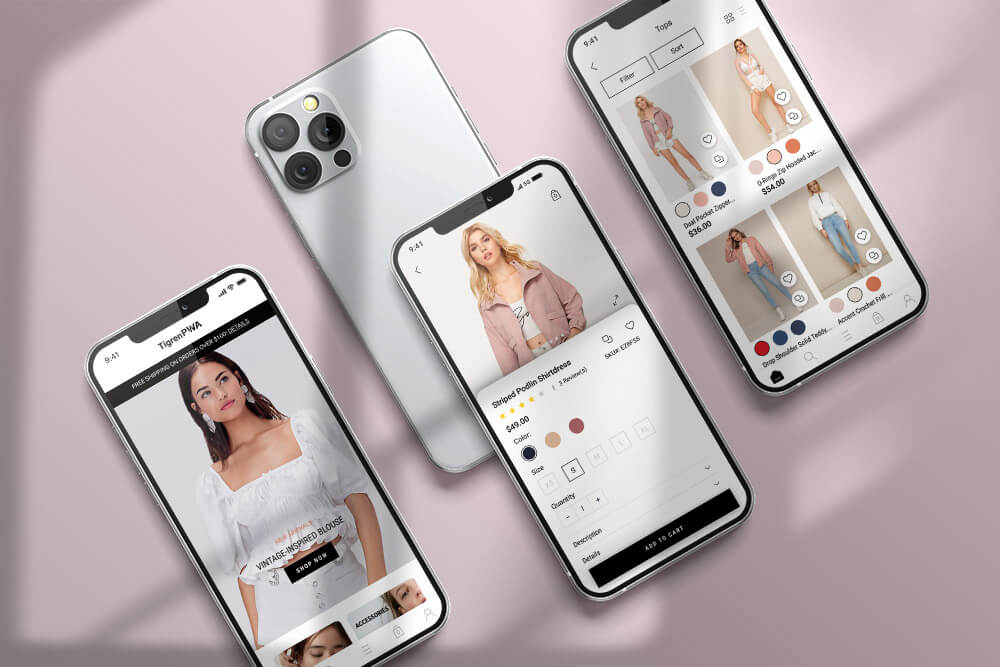 We have ten years of experience providing eCommerce solutions for online businesses. Our developers have successfully developed an optimal PWA eCommerce development process. This process will help you get a PWA with minimal time and budget. Moreover, we offer post-development support, so you are confident with your new PWA.
Bottom Line
It can be seen that PWA eCommerce development is an inevitable trend in online business. It can bring too many benefits to both buyers and sellers. With PWA, many enterprises have successfully increased their conversion rates significantly.
However, the process of building a PWA is quite complicated. Therefore, to have a good and powerful PWA, you must partner with a reliable PWA eCommerce development company. Carefully consider choosing a partner based on the actual state of your business.
Read More:
10 Surprising Progressive Web App Benefits For eCommerce Stores