Over the last 5 years, we have seen a significant increase in the number of Magento e-commerce stores over the world. This would be good news for Magento officials, developers, and agencies but probably not for Magento store owners since they have to try more to be standout. There are a number of big brands using the Magento platform and gained huge successes such as Samsung, Ford, Olympus, Nike, Christian Louboutin, Lenovo, Warby Parker, etc. From their achievements, we learn that it's essential to hold a good balance between usability, functionality, and content on websites. To know how to do it more specifically, let's have a look at the next part.
1. Appealing Magento E-commerce Stores Design
Needless to say, an effective web design plays a pivotal role in the successes of Magento e-commerce stores. The way you present your products and services can tell your customers whether your brands are trustworthy or not.
What you need to do is develop a design concept of your future store, including its structure, layout, colors, and typography, etc. in such a way that they can complement each other for a harmonized overall look.
A well-architecture design would bring about a fascinating look with usability for the visitors.

2. Responsive Website Layout/ Mobile-friendly Design
The design of Magento e-commerce stores must be not only attractive but also optimized for user experience.
Nowadays, more and more people tend to access online stores via their smartphones or tablets rather than traditional desktops or laptops. Therefore, it's fundamental for your site to be responsive – presented nicely regardless of the devices. Otherwise, you would lose a great number of potential users and sales as well.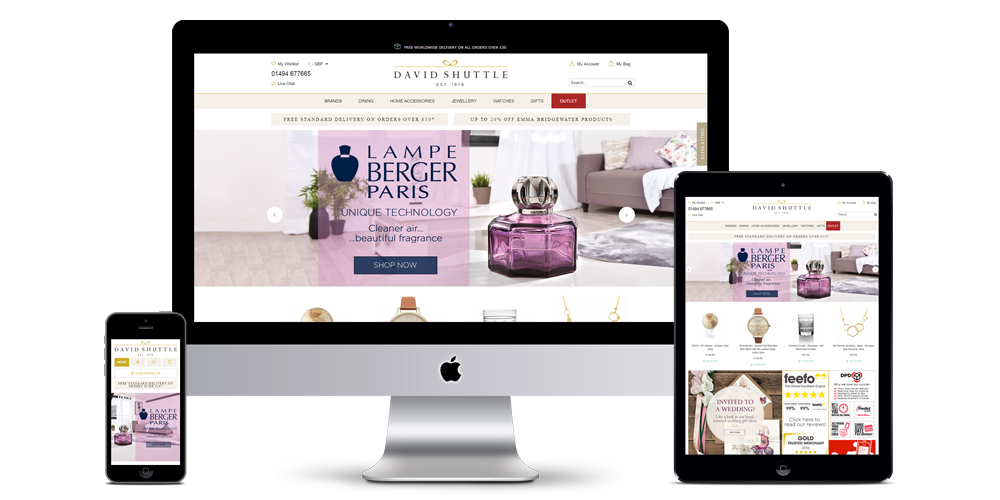 Moreover, even when some Magento e-commerce stores have a separate mobile app, developing a responsive website is still necessary since not all of your purchasers are willing to download and use the app.

3. Customer-Centered Approach
For any Magento e-commerce store, applying the customer-centered approach is always effective to gain outstanding results. This means that your business must deliver quality products, respond promptly and respectfully to all customer complaints and product queries while considering client needs and satisfaction your major priorities. There are some strategies to improve your relationship and connection with the customers, for example:
You have to ensure that your staff would be able to handle any difficult situations so as to satisfy your buyers. Also, instant response is an essential factor for operating your store.
Blogging is also an effective tool to engage with your visitors and give them a persuasive reason to come back.
Take advantage of all social media channels when releasing new products and holding promotions. As the result, you can drive more traffic to your Magento e-commerce stores at ease.
You should make the best use of e-mail marketing to inform all your subscribers about news, giveaways, promotion campaigns, and so on. The email list should be built from the order history of your store rather than buying from an external source.
4. Website Content Is King
Captivating content is crucial for your store presentation. Hence, you have to pay attention to writing compelling product descriptions with detailed information to make the readers click on the "Add-to-cart" button immediately.
However, it's taboo to overdo it since too much text can easily distract your customers.
Besides, online shopping is mainly about a visual experience so that all of your product images and content should be original and high-resolution.
Another recommendation is that when displaying your products, you should utilize several photos presenting different angles of the items and these can be zoomed in in order to make your buyers "feel" more about the products.
5. Focus On Search Engine Optimization
 
Regardless of how wonderful your products and services are, if you make light of SEO for your Magento e-commerce stores, everything would be meaningless. Therefore, it's crucial to make your shop visible to all of your potential buyers and let them know more about what you are providing.
Moreover, to be indexed more quickly by search engines, it's recommended to make your URLs clean to avoid unnatural links and update the default metadata info of your store.
Thoroughly check meta titles and descriptions appearing in Google search.
As a result, SEO can help to enhance your e-store ranking in search engine results significantly owing to the strategies embedded in your Magento website.