The eCommerce industry is more competitive than ever, and businesses need a combination of expertise and commercial sense to succeed. Since 2012, Tigren has provided unique eCommerce solutions to help numerous business owners launch their online ventures with minimal time, money, and effort. Our goal is to become one of the world's leading eCommerce solution providers for small and medium-sized businesses. To achieve our vision and provide even more value to our clients, we're excited to announce our official partnership with Beehexa, a leading integration solution provider.
Beehexa is an integration solution provider that developed the HexaSync Integration Platform to help companies connect their applications (both SaaS and legacy systems) to operate their businesses smoothly, automatically, and effectively. With HexaSync, businesses can create seamless integrations between their systems and workflows, saving time and resources while improving efficiency and accuracy.
Discover The Power Of HexaSync
HexaSync is an Integration Platform as a Service (iPaaS), which is a suite of cloud services enabling the development, execution, and governance of integration flows connecting any combination of on-premises and cloud-based processes, services, applications, and data within individuals or across multiple organizations. HexaSync provides a robust, scalable, and secure solution for businesses of all sizes to integrate their systems and workflows.
How does it work?
HexaSync works as middleware to pull and push data back and forth between multiple systems. The data is synchronized based on the user's choices and each system's API permissions.
HexaSync can work with both API and non-API applications, making it a versatile solution for businesses using modern platforms or older software. With HexaSync, businesses can automate their processes and workflows, reducing manual errors and increasing productivity.
HexaSync's main features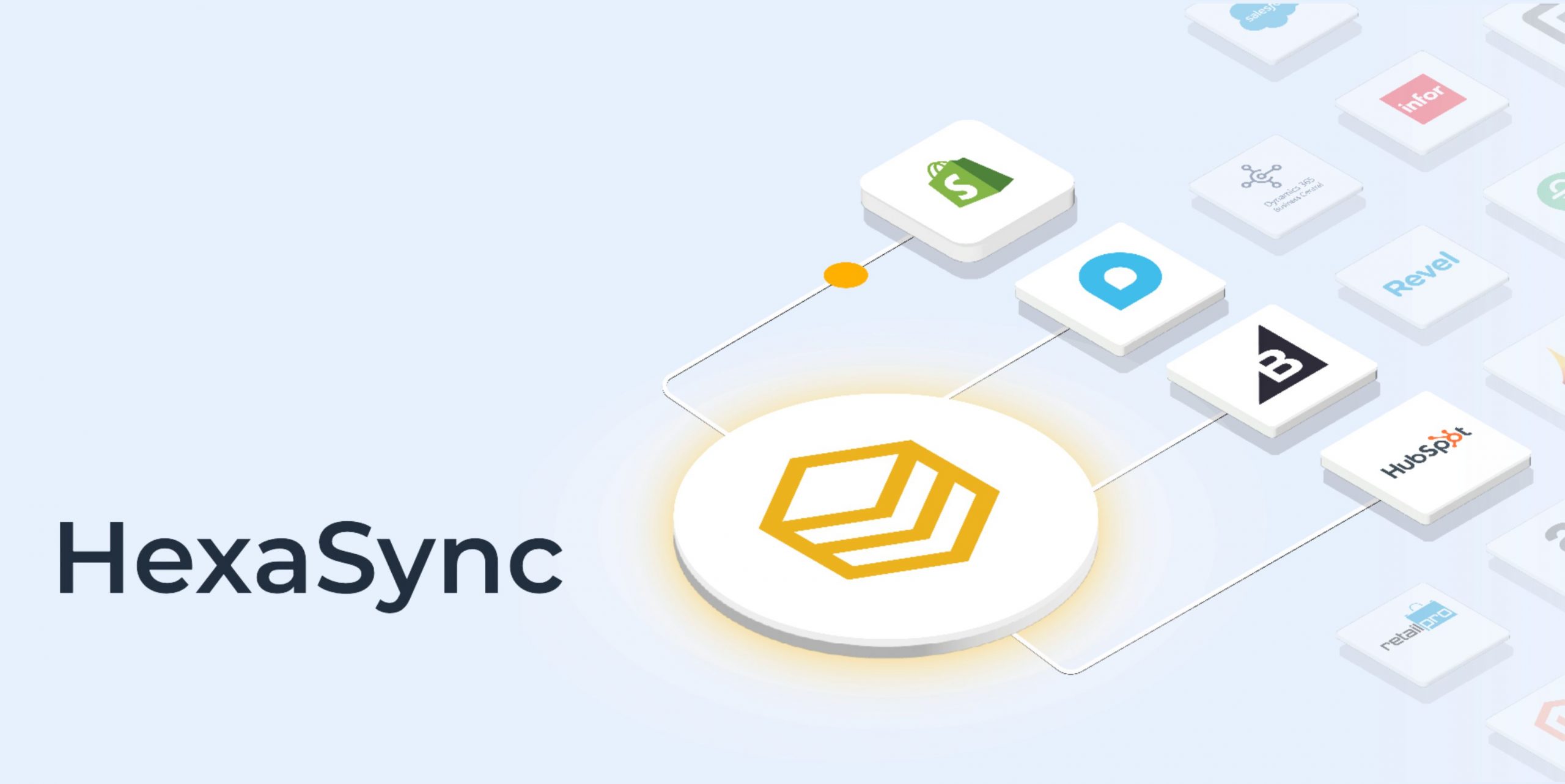 Middleware: Handle Integration Complexity with Ease
A light application-independent software that simplifies the complexity of integrations by handling the communication and data transfer between systems.
EAV Design Pattern: Flexibility in Data Modeling
The EAV (Entity-Attribute-Value) design pattern is incorporated into HexaSync to provide more flexibility in data modeling, allowing for easy customization of data attributes and relationships.
Message Queue-Based Architecture: Reliable, Scalable, and Performant
HexaSync's message queue-based architecture simplifies the coding of decoupled applications and provides better performance, reliability, and scalability by allowing messages to be queued and processed asynchronously.
Customizable Handlers: Visibility Into Your Orders
HexaSync's customizable handlers allow for better visibility into the status of your customers' orders, providing insights into the order processing workflow, and making it easy to troubleshoot any issues that may arise.
Cell-Based Mapping: Precise and Reliable Data Synchronization
HexaSync's cell-based mapping enables high-precision mapping of single-cell data for a reliable synchronization between systems, ensuring that data is accurately transferred and updated across all integrated systems.
Async Integration: Real-Time Synchronization
HexaSync's async integration keeps your business updated with real-time synchronization, allowing you to receive and process data as soon as it's available, ensuring that your business processes are always up-to-date.
Compatible with POS Applications: Seamless Integration with Your Storefront
HexaSync is compatible with POS applications, allowing you to connect your eCommerce storefront with any POS applications with ease. This ensures that your inventory, orders, and customer data are always in sync across all your systems.
See HexaSync in action
Magento integrations:
Shopify integrations:
In addition to Magento and Shopify, HexaSync seamlessly integrates with a range of other platforms, including BigCommerce, WooCommerce, Wix, Squarespace, and more, enabling businesses to connect their eCommerce platforms with ERP, CRM, POS, marketplace, accounting software, and other systems.
How Tigren & Beehexa Simplify Ecommerce Integrations
Tigren's role in this partnership is to provide businesses with customized eCommerce solutions that meet their specific requirements, while Beehexa's role is to ensure seamless integrations between their systems and workflows using the HexaSync platform. By working closely with each business, Tigren and Beehexa will provide comprehensive, customized solutions that improve their efficiency, accuracy, and profitability.

Together, Tigren and Beehexa will help businesses create seamless integrations between their e-commerce platforms and other systems, such as ERP, CRM, POS, accounting software, and other applications. This will enable businesses to automate their workflows, saving time and resources, and improving their efficiency, accuracy, and profitability.
The partnership between Tigren and Beehexa brings substantial benefits to merchants of all sizes, enabling them to leverage the strengths of two industry leaders to achieve their eCommerce goals. With our combined expertise and solutions, we're confident that we can help businesses simplify their eCommerce integrations and thrive in the competitive eCommerce industry. Contact us today to learn more about how we can help your business succeed.