How do you get your customers to know you and your service? It's all about e-commerce website development. It is easy for the med and large companies to take on a website development project, but the small ones may run into more obstacles, like high costs, limited time, etc. Of course, there is always a solution to a problem. This article is about showing you the top 10 e-commerce development companies for startups. Owning a quality e-commerce site is no longer mission impossible!
Key Strenght Of Quality E-commerce Development Companies
When it comes to choosing the ideal buddy to help you develop your e-commerce website, there are 4 things to consider. You can see that the top 10 e-commerce development companies all possess these characteristics.
Quality of products at a competitive cost
You should look for the best services at affordable prices based on your budget.
To measure whether the products are good or not, a company needs to perform extensive testing throughout the entire development lifecycle and strive to decrease any non-conformance in software, apps continually, and websites using product reports as monitored at each management review.
Expertise
Before hiring any e-commerce development company, you should evaluate whether an e-commerce development business has skilled and competent developers with proven results in the industry. Without having a team of professional developers, it will be unable to manage your project adequately.
To determine the capabilities of a company, you should browse through their portfolio. This will give you an idea of the company's previous projects. This is solid evidence of the company's ability in design and development services, as well as its years of experience, previous projects, and clients.
Delivery of products
When choosing an e-commerce development business to work with, on-time delivery is critical. An eCommerce development project should always meet the deadline on time.
And if there are any delays, they should not last more than a few days. However, if you are not quick, you risk wasting your resources, time, and money.
Service after-sales
Web development is unlikely to end when you expect it to. Your website will require constant upgrades and maintenance from the development staff for successful operation.
Moreover, changing development partners for updates is neither cost-effective nor time-saving. Therefore, changes and upgrades would be simple for the original developer team.
Top 10 Ecommerce Development Companies For Startups
If you still spend time searching for your ideal partner, this post is for you. Now let's look at the top 10 e-commerce development companies for startups.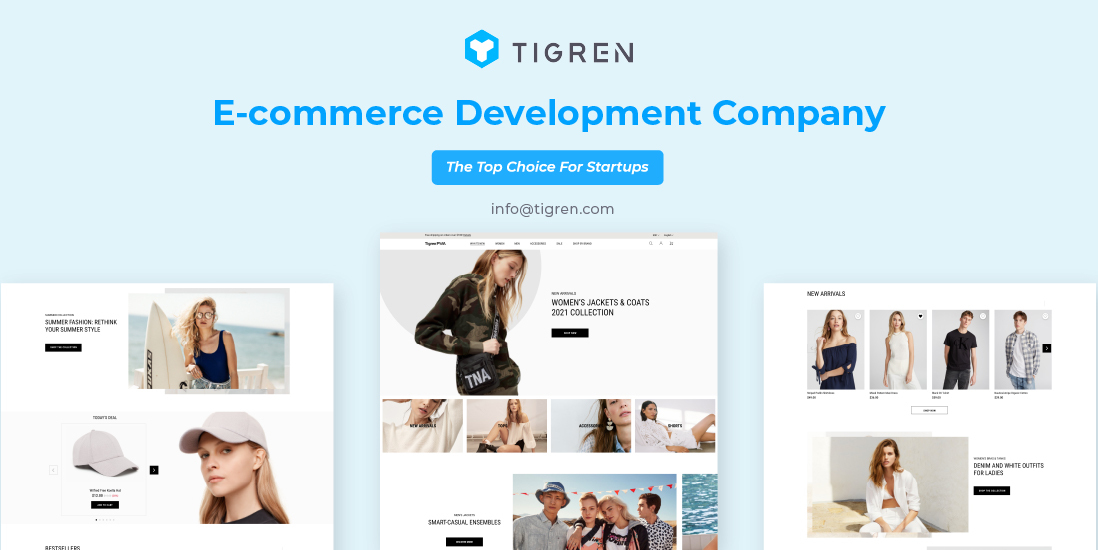 Tigren is a prominent e-commerce website design and development agency established in 2012. Tigren provides various e-commerce development services at an affordable price, specializing in the Magento platform. This is one of the most recommended web development companies for small businesses and startups.
Services: eCommerce website design and development, progressive web app development, hybrid app development, ongoing support, themes and extensions development, etc.
Achievements: Tigren has worked with thousands of clients and partners worldwide. Check its portfolio here.
Magento IT Solutions was founded in 2009, and the leading analytics agencies have repeatedly recognized it. Key customers of Magento IT Solution are located in more than 20 countries with 70% repeat business.
Services: eCommerce website design, development, customization, maintenance & support.
Achievements: 1800+ finished projects, 70+ resource strenth, 20+ countries
Codup is a full-service digital agency founded in 2012. Codup's team of over 100 employees works with various technologies, platforms, and programming languages to create custom solutions that address a client's business challenges.
Services: Customer Service Solutions, WordPress development, B2C and B2B e-commerce development, Business Process Automation.
Achievements: more than 3000 projects completed, 100+ member team, 1000+ clients worldwide.
Flexi IT is a software development firm situated in Ukraine with over seven years of experience. Flexi IT builds high-quality bespoke web solutions and offers various WordPress development services to companies worldwide.
Service: E-commerce web development, WordPress web, theme, plugin development, Woocomerce site, theme development, website network creation.
Achievements: Flexi IT has been working with Victoria Fishel, Thore Behrens, and Dr. Orlev Levy-Nissenbaum.
Since 2003, Carmatec has worked with businesses of various sizes worldwide. Expert consultants, infrastructure engineers, software programmers, project managers, and business specialists make up the Carmatec team. The Carmatec team also works in the cloud computing arena, developing cloud applications for cloud service providers and setting up and maintaining cloud infrastructure.
Services: Mobile App Development, Software Development, Website Development, Web designing.
Achievements: 10.5 K website instances, 5.2M in marketing budgets, 2.4M managed IT hours, 4K cloud servers managed.
WebMeridian is a full-service Magento development company that specializes in designing, installing, and maintaining eCommerce sites. It was founded in 2015. Magento, Shopify, WooCommerce, React.js, and other framework-based solutions are part of the WebMeridian technological stack. Magento is their primary platform.
Services: Staff Augmentation, Migration to Magento 2, Custom Magento Development, Support and Maintenance.
Achievement: 200 Magento projects, 30 new branded shops, 8 new Magento themes.
KitelyTech is a technology consulting, design, and development organization based in the US. KitelyTech employs highly competent designers and developers, architects, project managers, and testers, all of whom have undergone a stringent recruitment procedure.
Services: Mobile Application Development, Custom Software Development, Branding, and Graphic Design, E-Commerce Development, Web Design,
Achievements: Top 15 Web Design Firms in Charlotte, Top 30 IT consulting companies on the market in 2020
iSync Evolution is a digital transformation and IT solutions firm based in Ahmedabad, India. Since 2013, iSync Evolution has successfully provided solutions for various technological platforms and industrial verticals.
Services: mobile app development, digital marketing, e-commerce portal development.
Achievements: iSync Evolution has been working with key clients, including Cedric, Lavinia, Arek, Maria, Mark, Mike, Ola, Nick, Mohammad, Faran, Calin, Bruce
RaiseTech is a well-known technology firm that specializes in the development and management of Cloud, SaaS, and E-commerce websites and apps for next-generation business success.
Services: Cloud App Development, Cloud Architecture, SaaS Development, DevOps Services, E-commerce Development, Magento Cloud Development, WooCommerce, WordPress, Data Management Services.
Achievements: RaiseTech has worked with Student Brands, ConvertBox, ThinxNet, SafeVision, СellarratWine, and Cram.
CodersDev is one of the most well-known software development firms with a solid foundation of skilled developers and engineers. The CondersDev team provides startups and small companies web and mobile development services.
Services: Magento development, mobile app development, website design, user experience, software development, AWS, internet of things, Salesforce, Sitecore, ruby on rails, and Shopify.
Achievements: 5000+ projects, 1000+ IT Professionals.
Wrap Up
When it comes to running an online business, hiring the top e-commerce development firm is necessary if you want to move forward quickly.
However, there is no one-size-fits-all solution for all businesses or online retailers since it depends on their budgets and goals.
You need to think about it thoroughly and select the best solution referring to these top 10 e-commerce development companies for your company's present situation.
Related Articles: