With billions of online shoppers, the ecommerce market continues to expand day by day. It has extensively shifted the buyer' journey from brick-to-mortar stores to electronic shopping. And thanks to proper strategies, lots of brands have achieved great success. The top ecommerce sites in the world (updated 2022) listed below will give you inspiration for your online business.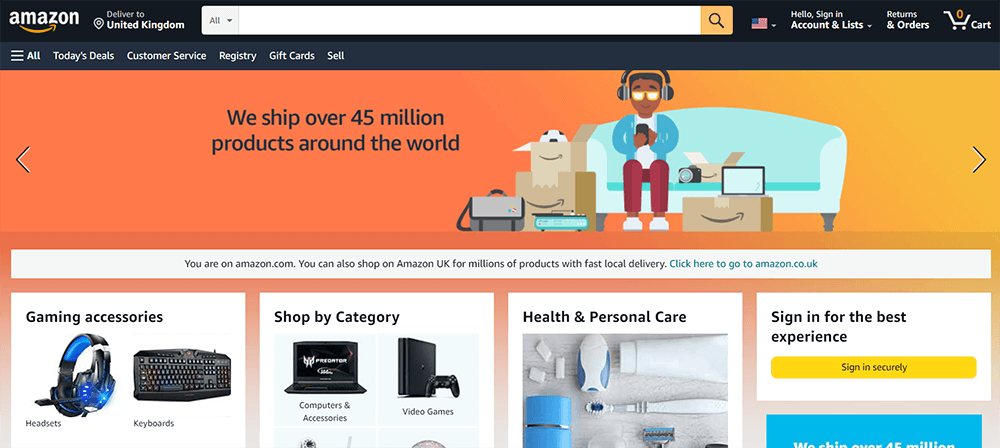 It's no surprise that Amazon is the first ecommerce site mentioned. Established in the US by Jeff Bezos, it has found a successful path from a Washington garage in 1994 to a multinational technology company that thrives as one of the most influential forces nowadays.
Every single second, Amazon trades roughly $11,000 on its platform. In 2020, the company delivered over 350 billion packages. So far, Amazon has expanded its operation in 13 countries, mainly focused on the US and UK markets. The firm is attracting more and more worldwide sellers through the program Amazon Global Selling.
On average, Amazon generated 2.2 billion in traffic over the last three months of 2022. This number brings sellers a huge opportunity to drive more leads to their products and services on the platform. With over 1,100 distribution centers, the logistics operation of Amazon is smooth and convenient for both sellers and buyers.
In addition, the application of automatic machines and technology has enabled Amazon to "make history" with 150 million subscribers for Amazon Prime shipping. In 2021, the company recorded a revenue of $469.8 billion. The number is forecasted to keep rocketing with the dominance of Amazon in e-retail and cloud service (Amazon Web Services).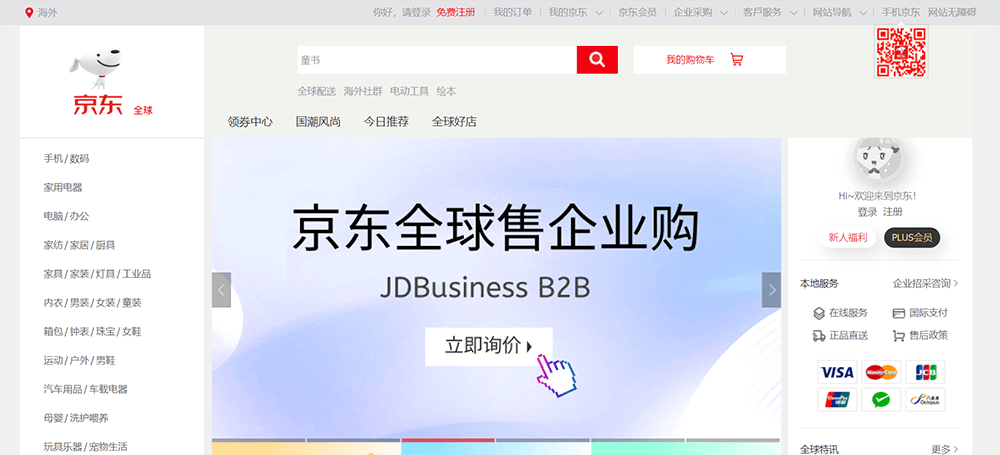 When thinking about the largest online retailer in China, many may pick Alibaba. But the correct answer is JD.com. Richard Liu established the company in 2003. In 2021, JD recorded over 570 million users. The firm is known for its unrivaled nationwide logistics network and sophisticated data-driven delivery technologies.
JD.com also leverages a network of over 1,300 warehouses with over 24 million square meters, including warehouse space of cloud warehouses managed under the JD Logistics Open Warehouse Platform. The company has successfully applied AI and smart supply chain technology to boost the efficiency and accuracy of delivery in a country of over 1 billion people.
The monthly traffic on the platform over the first three months of 2022 was164 million. In 2021, the net revenue of JD was an impressive total number of $149.3 billion. JD smashes through its Singles Day record with $54.6 billion in sales and counting in 2021.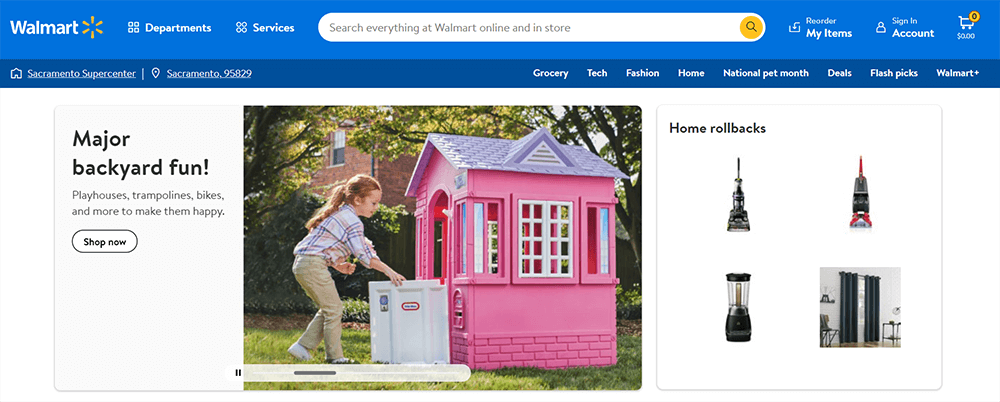 Walmart is an American multinational retail corporation established by Sam Walton in 1962. As of January 31st, 2022, Walmart has had 10,593 stores and clubs in 24 countries, operating under 46 different names. Walmart is known as the second to the best leader, following Amazon in ecommerce.
While the global pandemic has shifted people to online shopping, Walmart also strategizes to grow electronically. The Walmart Plus program has enabled it to catch up with an increase in digital sales thanks to the same-day delivery approach. In the US, the company accounts for 10%-15% of the ecommerce market share, while Amazon leads with 50%.
As of April 2022, Walmart attracted more than 149,230 sellers. The platform has witnessed monthly traffic of over 400 billion in 2022. And the total revenue of Walmart in 2021 was $43 billion from online retail.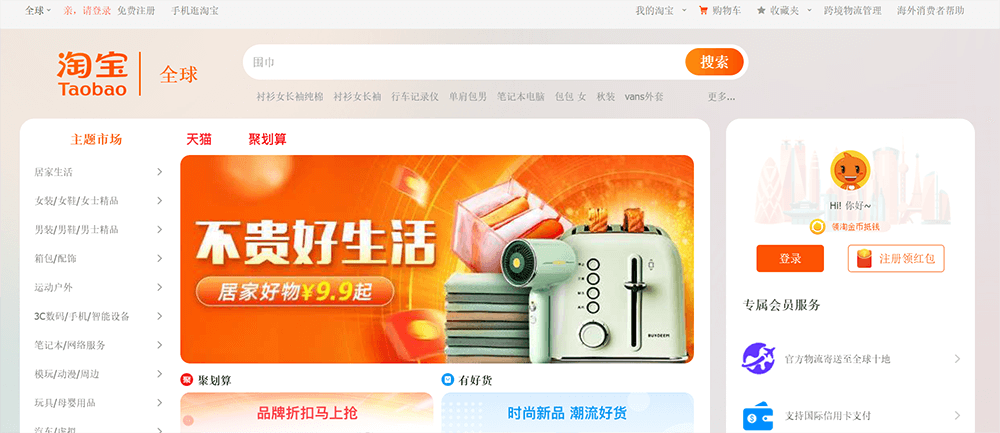 Taobao is a Chinese online platform headquartered in Hangzhou and is a member of Alibaba Group. It focuses on both B2C and B2B businesses.
Customers can find anything on Taobao, from clothes and cosmetics to even live glowworms. The company has helped Alibaba maintain a leading position in China's ecommerce market. Taobao is used by most Chinese and has an increasing number of global users.
There are roughly 1 billion product listings on Taobao, with over 600 million monthly active users and nearly 60% of ecommerce sales.
Taobao Live has boosted digit growth in active users and live streams, three times bigger in 2021 than in 2020. And in 2020, the company witnessed a gross merchandise volume of $61.7 billion. That's why many people refer to Taobao as China's Amazon.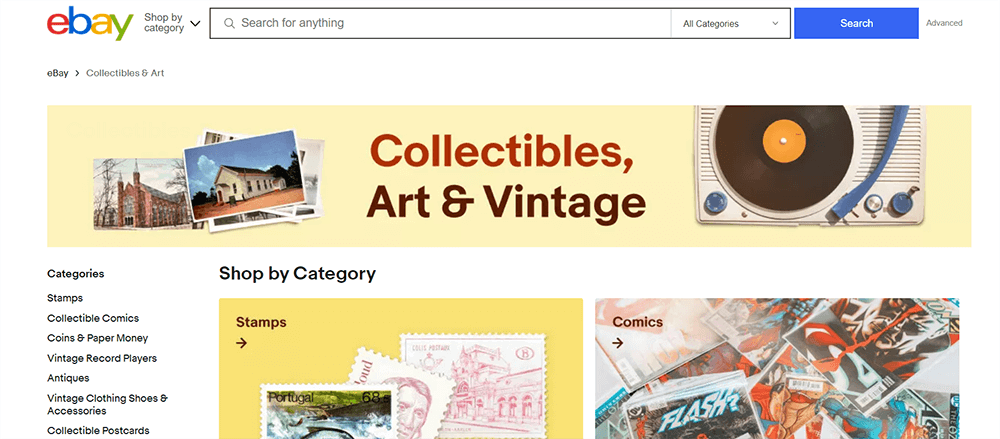 eBay is an American multi-billion corporation founded in 1995. The website provides a dynamic marketplace to connect millions of sellers and buyers worldwide in more than 190 markets. eBay's platform has undergone adjustments in recent years, similar to Amazon's.
It established a structured data-based group listing technique that required vendors to include product identifiers in their listings. This makes it simple for visitors to locate the lowest price for a specific product.
So far, eBay has had approximately 1.6 billion live listings and over 182 million active users worldwide. The market share of eBay in the US lists it in the third position, behind Amazon and Walmart.
With 750 million traffic monthly, eBay is a huge platform that has driven big sales. The company's revenue in 2021 was $10.42 billion.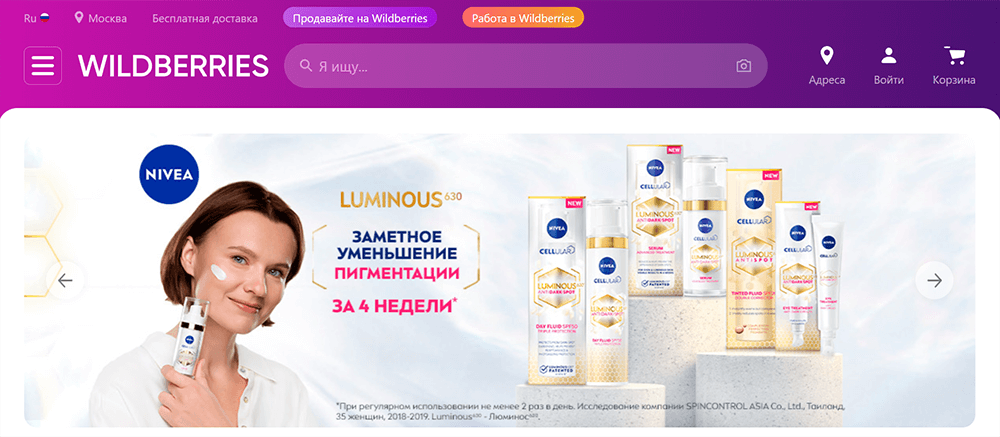 Wildberries is a giant ecommerce company that populates the online market in Russia and Europe. It was established in 2004 in Moscow by Tatyana Bakalchuk while on maternity leave from teaching.
Wildberries carries 37,000 different brands of clothing, shoes, cosmetics, household items, children's goods, gadgets, books, jewelry, cuisine, and more. On average, the platform processes 750,000 online orders per day.
It has witnessed a rocket rise in revenue not only in Russia but also in other 15 European countries. In 2021, the firm's turnover increased by 93%, reaching approximately $11.5 billion.
In the last three months of 2022, the website recorded over 230 million monthly visitors from the Russian market.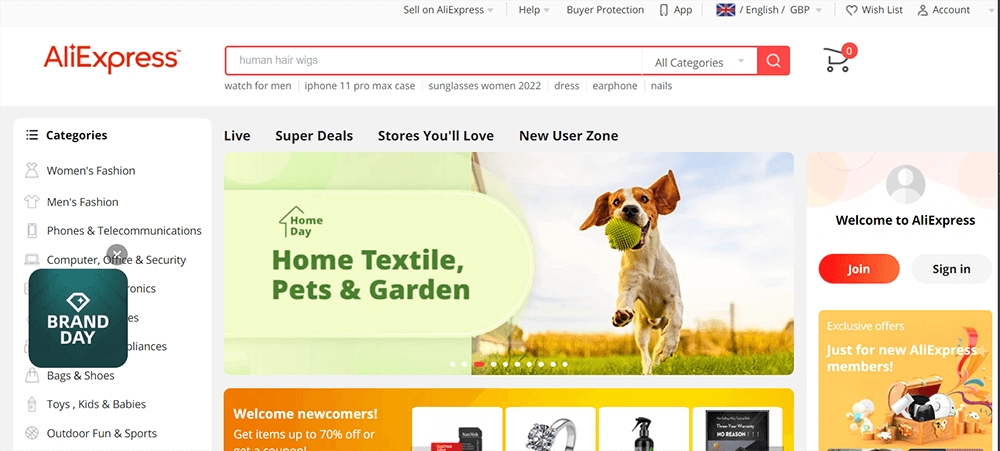 Aliexpress is another Chinese subsidiary of Alibaba Group. It is an online platform for both retailers and consumers. There are many offers from factories in China, and people can get items at really low prices. As of December 2020, Aliexpress attracted more than 150 million buyers.
The latest record has found roughly 420 million visitors in monthly traffic to the website. Aliexpress is now available in more than 190 countries and regions.
The top 5 of its customers outside China are Brazil, Russia, the US, Spain, and France. Aliexpress contributed significantly to the revenue of $72 billion of the Alibaba Group in 2020.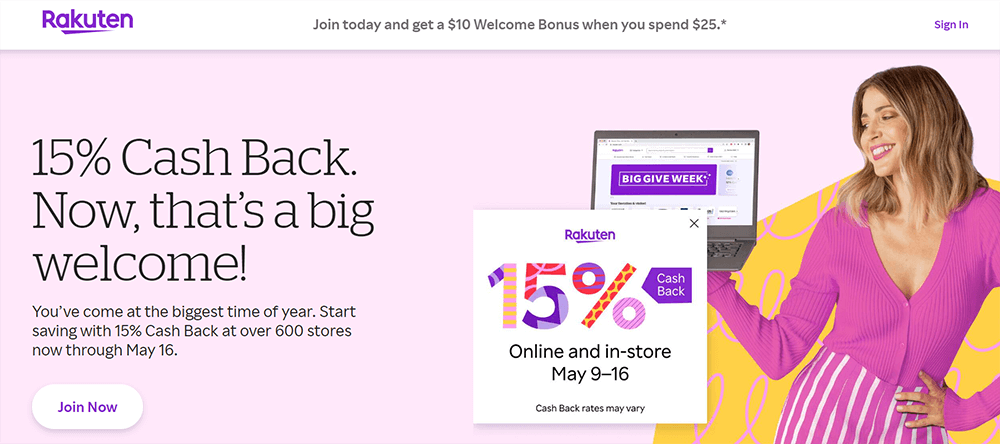 Rakuten is Japanese electronic commerce and online retailing company founded by Hiroshi Mikitani in 1997. The term Rakuten means "optimism" in Japanese. In 2010, Rakuten expanded its operation outside Japan with many high-profile acquisitions in France, Canada, and America.
Today, it has become the number one ecommerce platform in Japan. The number of online shoppers who use more than two Rakuten services increased remarkably from 64.9% in 2017 to 72.3% in 2019.
And in the first three months of 2022, Rakuten attracted average traffic of 45 million. The company's revenue in 2021 was $15.3 billion.
According to Nikkei Asia, Rakuten Group aims to double its domestic ecommerce turnover to 10 trillion yen ($78.9 billion) by 2030.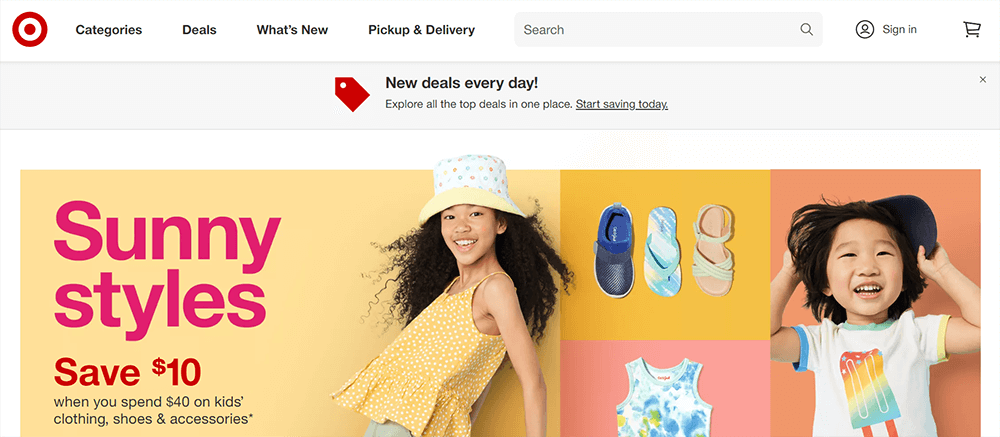 Target was established in the 1960s. They have grown extensively over the last 18 years, with more than 400,000 employees in 50 US states and the District of Columbia. From brick-to-mortar stores every 10 miles in the US, Target has expanded its business by reaching online shoppers.
Target Online debuted in 1994. Since then, it has marked reputable achievements with impressive growth rates, especially during the Covid19. Due to the same-day delivery strategy, Target has succeeded with a $13 billion growth over 2020 and 2021.
In 2021, Target's revenue was $104.61 billion, of which digital sales account for nearly 20%. The monthly traffic to Target.com is around 164 million for the first three months of 2022.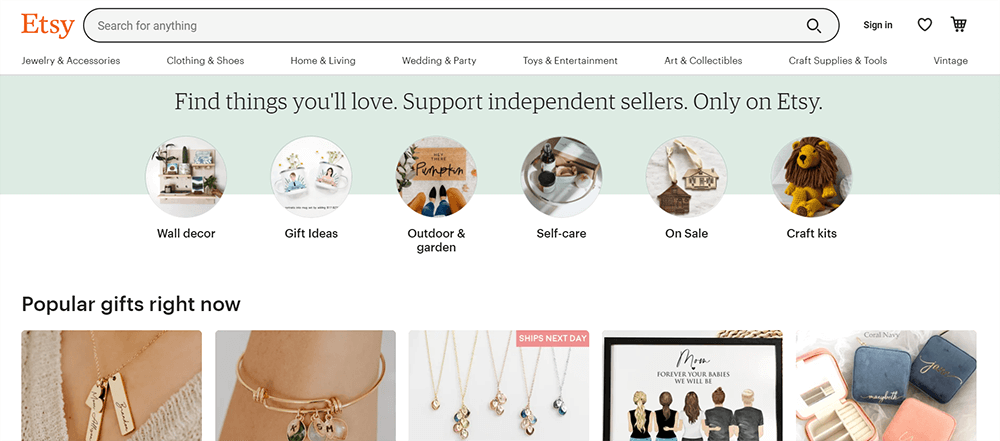 Etsy was founded in 2005. It is an ecommerce company homed to handmade, vintage, crafted, and unique items. Over time, Etsy is getting bigger and has a solid position among online businesses.
Despite being smaller than Amazon and eBay, Etsy embraces its particular products by connecting over 7.5 million sellers with more than 96 million active buyers. The company also develops advanced technologies and machine learning applications to bring the best shopping experience for users.
Etsy Inc. has grown its sales by 538.2% in the last five years, from $365 million in December 2016 to $2.3 billion in December 2021. The monthly traffic to the website will reach over 370 million in 2022. Etsy surprised investors by reporting a statutory profit of $3.4 per share, which was 11% higher than expected.
Final Thoughts
The ecommerce industry is growing crazy, with over $870 billion generated in 2021. But one interesting fact is that there is still so much room for online businesses to develop. The chance to thrive with an ecommerce store is for everyone.
And with the undergoing of advanced technologies, merchants can make a great success by catching up with top ecommerce trends for their online stores.
If you are planning to invest in an ecommerce business, or renovate your online store, do not hesitate to reach Tigren. With over 10 years of experience, our high-quality services will fulfill your expectations.
You can find various solutions on our website, from web design, ecommerce packages to Magento PWA and app development. At Tigren, we relentlessly focus on bringing the best-in-class projects at affordable prices to make your business stand out.
Look no further! Contact us at [email protected] for more updates and discussions about the ecommerce industry.