As the online world continues to evolve, so too does the way businesses sell products. In this article, we'll take a look at the top 16 selling platforms for online businesses. These platforms are trusted by businesses of all sizes and offer a range of features and functionality that makes selling online a breeze.
These selling platforms have outstanding advantages for everyone. So whether you're just starting out or you're looking to take your business to the next level, make sure to check out these top 16 selling platforms!
Why Do You Need A Selling Platform For Your Sales?
Your company's branding and promotion are both aided by owning a website. When potential consumers visit your e-commerce store or hear about your brand before purchasing your goods or services, they are more likely to leave reviews or share their experiences on social media, which may increase the number of people who buy from you.
By operating a company from home, you can attract more devoted clients from all across the globe. You aren't confined to your particular market. Here is a comprehensive list describing the most significant eCommerce benefits if you run a small to medium business and are still hesitant about whether to invest in digital transformation.
Upgrade in sales
24*7/365 more sales are created by the availability of goods and an unlimited consumer market. You instantly sell more and can modify your inventory to meet the needs of your clients when you aren't constrained by the local market or the size of your physical store.
By building an eCommerce website or joining a global marketplace, you can sell your products or offer your services to customers abroad. You can save a lot of money and grow your business more quickly by spending less of your budget on running a store and producing more money concurrently.
Improved product and service availability
Retailers have a better chance to connect with their clients and promote their businesses when their goods and services are featured online. Due to the availability of online listings and price comparison on eCommerce selling platforms, your goods and services are continually visible.
Moreover, you can assist individuals who turned to the internet to source goods since they couldn't find them locally. Online businesses allow you countless options to present your products in an appealing manner and stand out from the competition because websites are visual mediums.
Lowered running expenditures
The most cost-effective method to expand your retail business is through eCommerce. It is incredibly cost-effective and does not require a significant amount of upfront money.
When compared to purchasing or renting actual business space, purchasing a domain, hosting, or paying for web design and reliable eCommerce services is less expensive in the long run. Drop-shipping services are available by several eCommerce platforms to vendors, which reduces storage and delivery costs.
A wider variety of customers
Without question, eCommerce selling platforms assist vendors in connecting with customers throughout the world and expanding their product distribution. Your company is expanding internationally, and since it is online, you may sell to customers anywhere in the world.
Your ability to influence people and places is limitless. Not only can expanding your business boundaries boost your income, but it also promotes business expansion.
Top 16 Best Selling PLatforms In 2023
Start your own online store
It is critical to evaluate your unique requirements when searching for an eCommerce selling platform. Do you want a website that has a lot of interactivity? One that allows you to create your own templates? Or one with built-in analytics?
Being one of the most well-known open-source eCommerce platforms in the world, Magento was first introduced in 2007. The platform's great level of customization, adaptability, and scalability are its best qualities.
Numerous well-known companies choose Magento, such as CocaCola, Nike, Moschino, Christian Louboutin, Byredo and many others. Users can create online storefronts that they can completely customize and control using this robust platform.
Tigren is one of the leading Magento development companies that have over 10 years of experience in developing eCommerce websites with this popular platform. We can help you to design a user-friendly and functional website that will meet your business' needs. Our team of experts specializes in designing and developing high-quality Magento stores, from beginning to end. We also offer a wide range of Magento services that include progressive web app integration, search engine optimization, upgrades and updates, ongoing support, and more.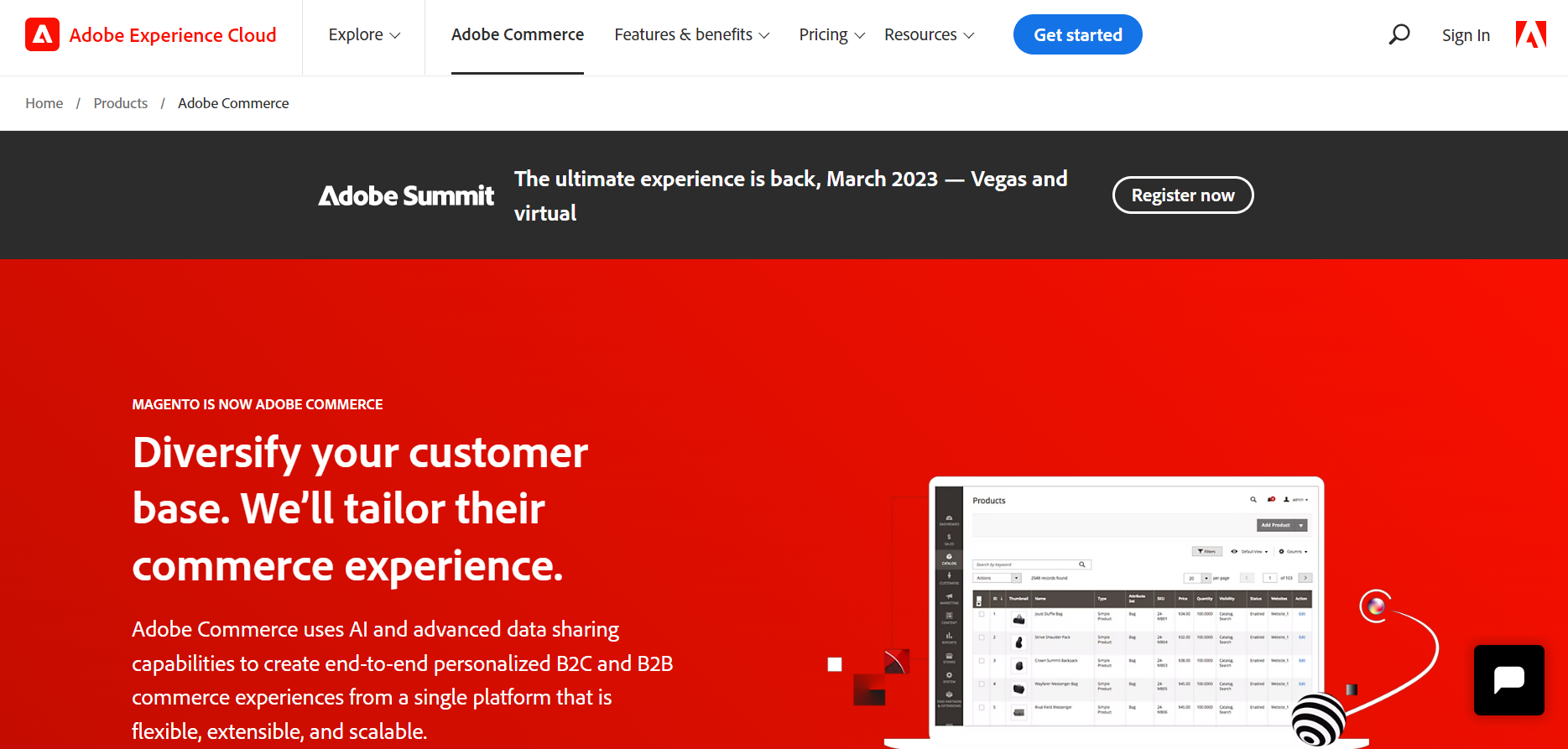 Pros of Magento
Flexibility
A large community of users
Scalability
Cons of Magento
Expensive: development rental costs as Magento is relatively difficult to install and run (even the free version)
Technical knowledge needs
Pricing
Magento Open Source: Free to download and use
Magento Commerce: Find more information here
Development expenses
Shopify seems to be the most user-friendly and reliable website builder when it comes to creating your own online store. Over 2 million users are currently using Shopify around the world.
Since Shopify is entirely hosted in the cloud, you can access it from any connected, suitable device, and they'll take care of all software and server maintenance for you. You now have the freedom to manage your company from any location with an internet connection. They concentrate on what they excel at: making it simpler to launch, manage, and expand a business.
Some well-known companies in the world that use Shopify to assist their business are Rebecca Minkoff, Gymshark, Hiut Denim Co.,… These enterprises have proved that Shopify is one of the largest eCommerce platforms.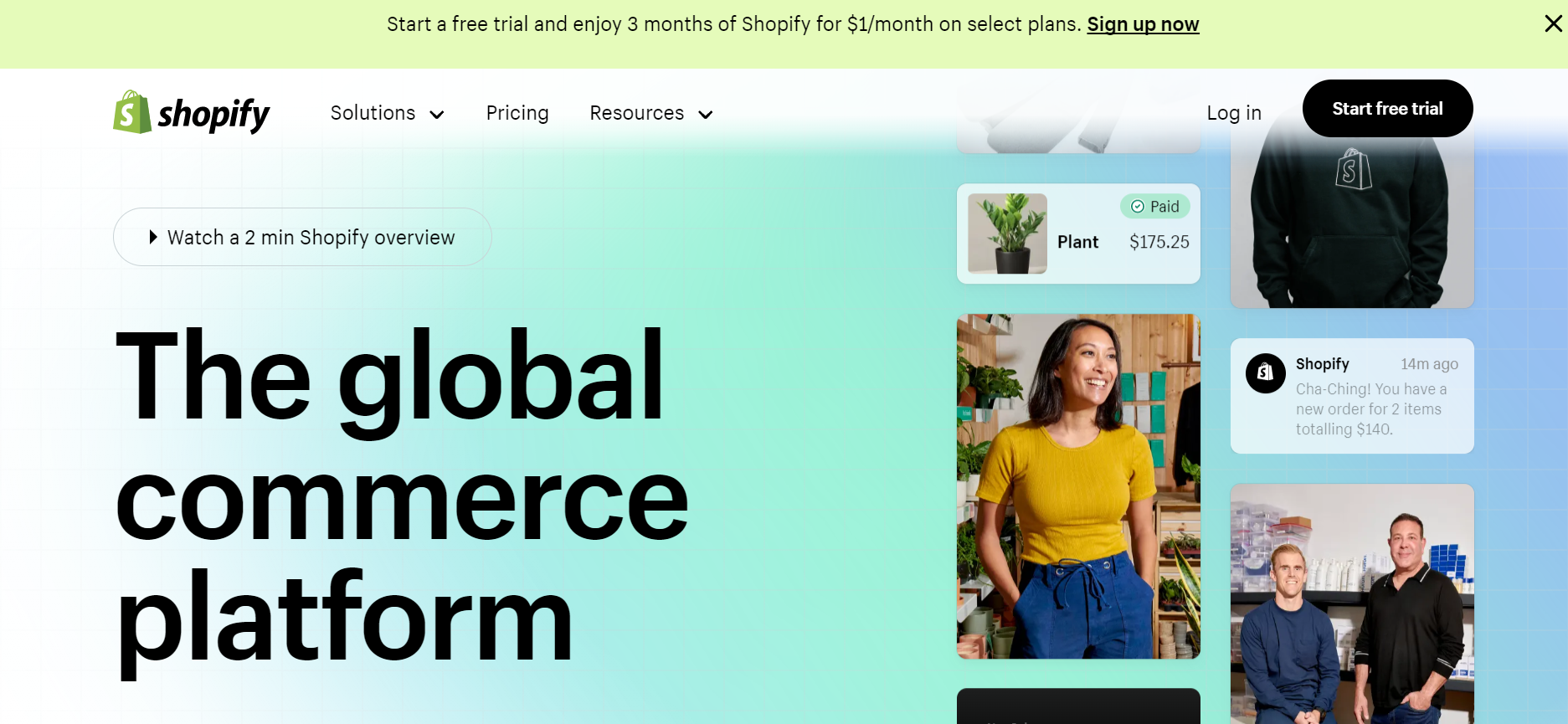 Pros of Shopify
User-friendly platform
Fully-hosted solution
Free learning resources
Quick and secure payment
Cons of Shopify
Harder to customize
No email hosting
Pricing
One of the most widely used eCommerce platforms available is WooCommerce, and for good reason: it's simple to use and can be customized to meet any type of business. WooCommerce is free to use, however you might have to pay for additional plugins.
WooCommerce is the most widely used eCommerce platform, powering 26% of all websites. Unlike the platforms described above, WooCommerce is not a unique eCommerce platform. It is merely the WordPress eCommerce addon.
WooCommerce is the most versatile, yet it is still quite powerful. Furthermore, even though the functionality is not WooCommerce's strong suit, it offers all the features of a traditional e-commerce platform.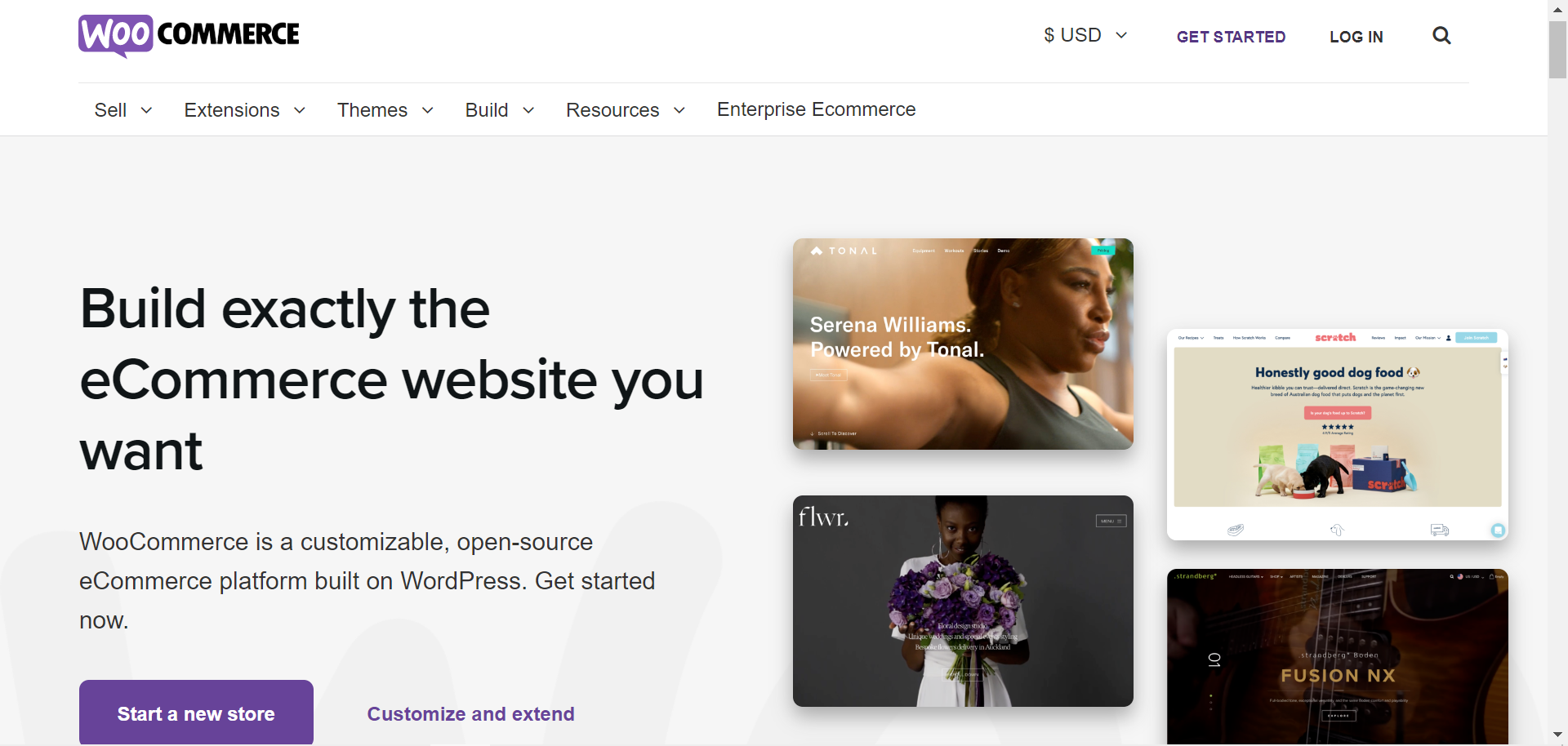 Pros of WooCommerce
Numerous customization possibilities
Superb adaptability
Great security
Cons of WooCommerce
Slow performance
Bad themes
Pricing
BigCommerce is the platform of the firm that offers services including creating online stores, SEO, hosting, marketing, and security for small- to enterprise-sized businesses.
Contrary to Magento, BigCommerce is simpler to use even for novices who lack a solid technological foundation. Using pre-made themes, this out-of-the-box solution enables you to swiftly design and launch a new store. Very little customization is possible.
Their business exists to aid retailers in increasing sales. Every choice BigCommerce makes and every result they evaluate is dependent on how effectively it benefits its consumers.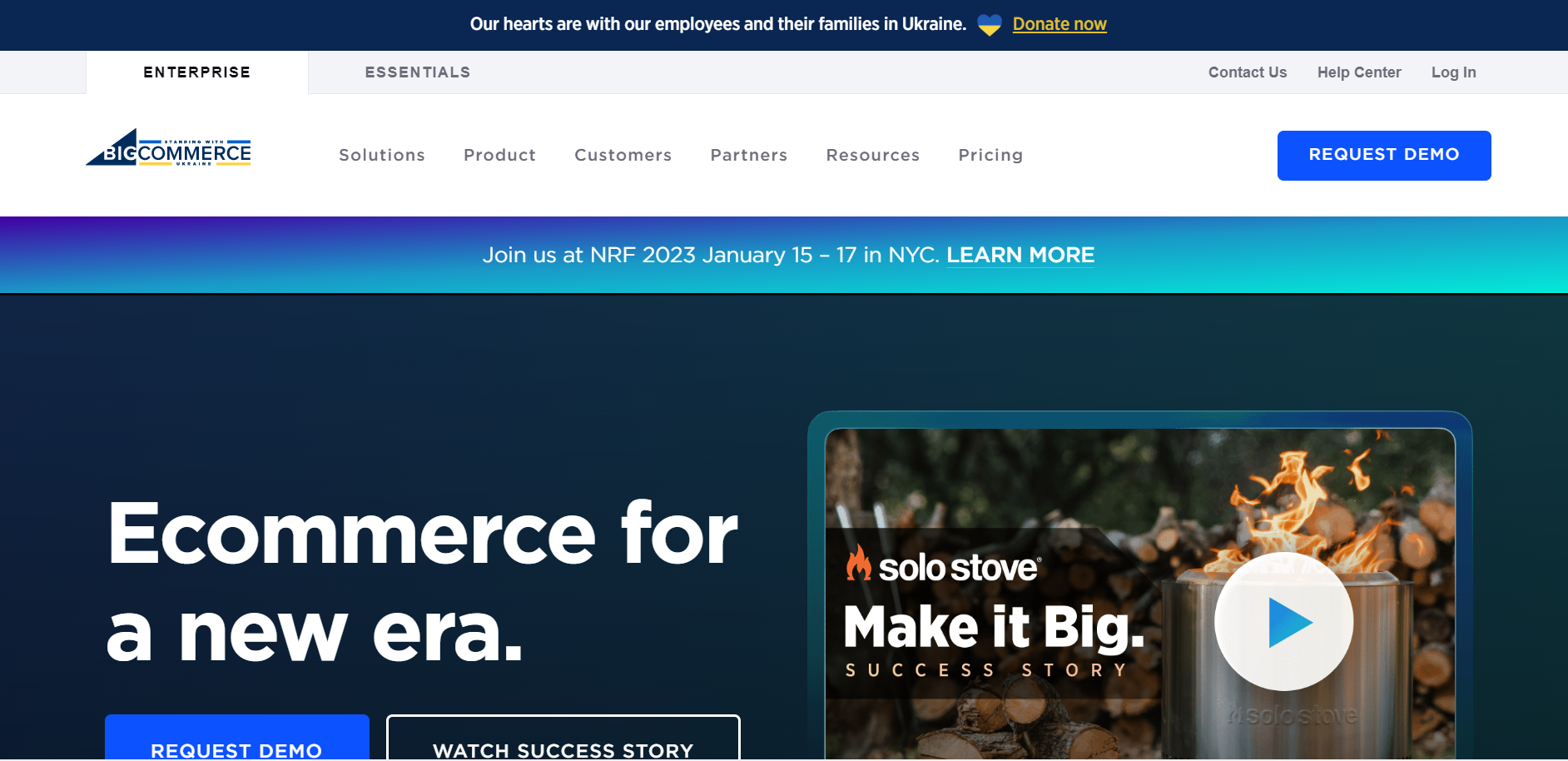 Pros of BigCommerce
Various using features
Scalability
Cons of BigCommerce
Lack of email marketing tools
The annual sales threshold
Pricing
A free eCommerce platform called OpenCart has seen tremendous growth over the years. With millions of users all throughout the world, it's also one of the most widely used solutions available.
You may also choose top-notch themes and modules with OpenCart to improve the operation of your online store. The OpenCart marketplace has more than 13,000 modules and themes that may help you start, run, and expand your business. Additionally, there are available service connectors, payment methods, delivery methods, promotions, social networking, marketing, accounting, reporting, sales, and language packs.
You may obtain regular updates and free downloads with Opencart without paying a monthly charge. Additionally, OpenCart users can access paid or free community help to seek guidance as needed. The purpose of this e-commerce platform, which makes use of specialized modules and plugins, is to offer web developers a reliable solution. Thus, OpenCart powers the operations of thousands of eCommerce businesses throughout the world.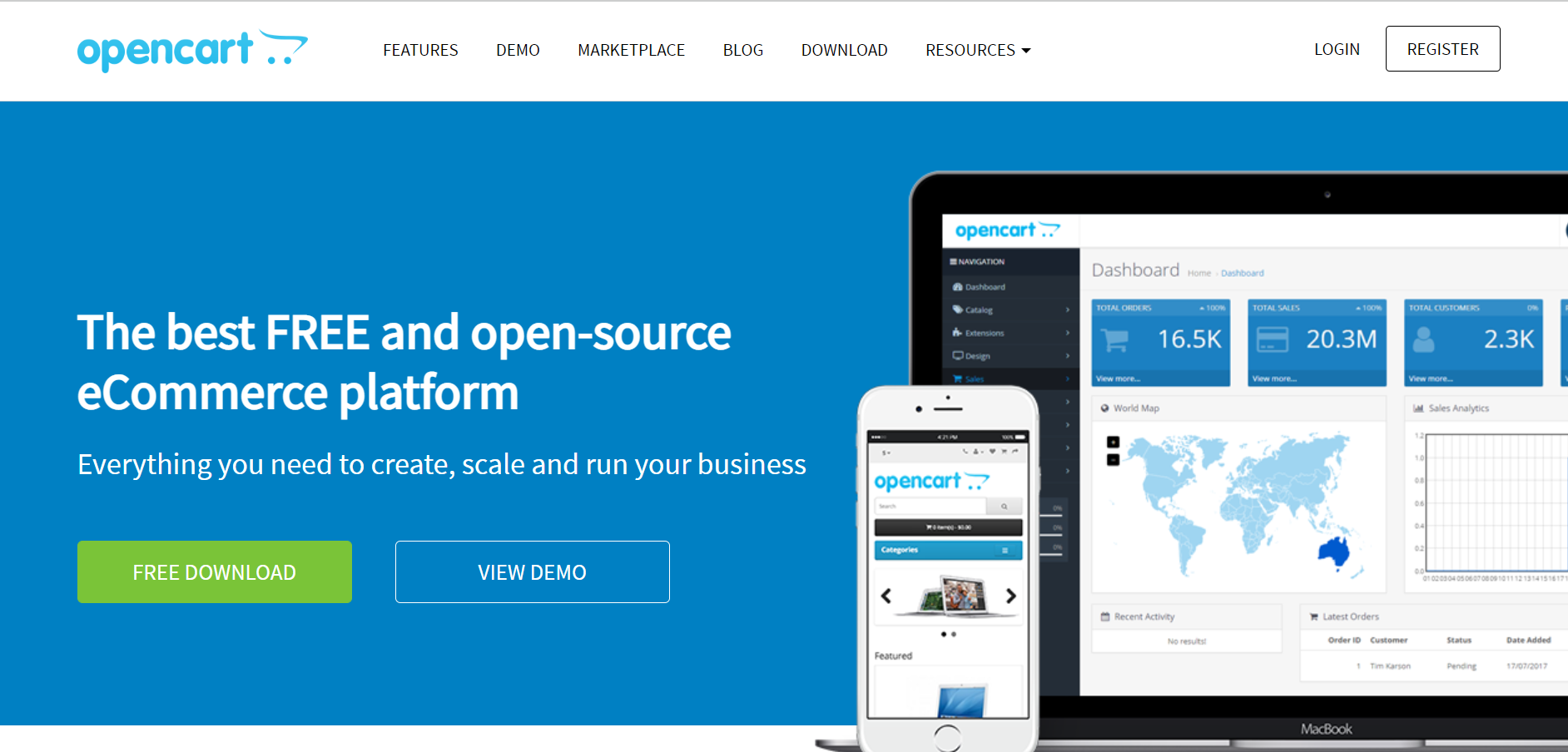 Pros of OpenCart
Plenty of extensions
High Customizability
Cons of OpenCart
Lack of SEO functionalities
Limited marketing features
Pricing
Sell on marketplaces
Selling on marketplaces is not a strange thing for everyone in the era of digital availability. There are a number of trustworthy and famous marketplaces where you can sell your products or services. Here are some of the most popular ones that you could put on your list:
Unquestionably a trustworthy and popular website, Amazon draws more than millions of visitors each month. For your customers, selling on Amazon naturally fosters a feeling of familiarity and confidence.
Additionally, a large number of visitors increases the likelihood that your things will be seen. You may sell online more quickly and earn more money each month by simply adhering to the fundamental Amazon product photography requirements.
The ability to run a business on Amazon is available to anyone who sells practically anything, from selling short stories as eBooks to handmade items. Simply make sure that your price range is aggressive enough to compete without significantly reducing your profit margins. Small business owners may find it a little more difficult because prices in this selling platform are so competitive.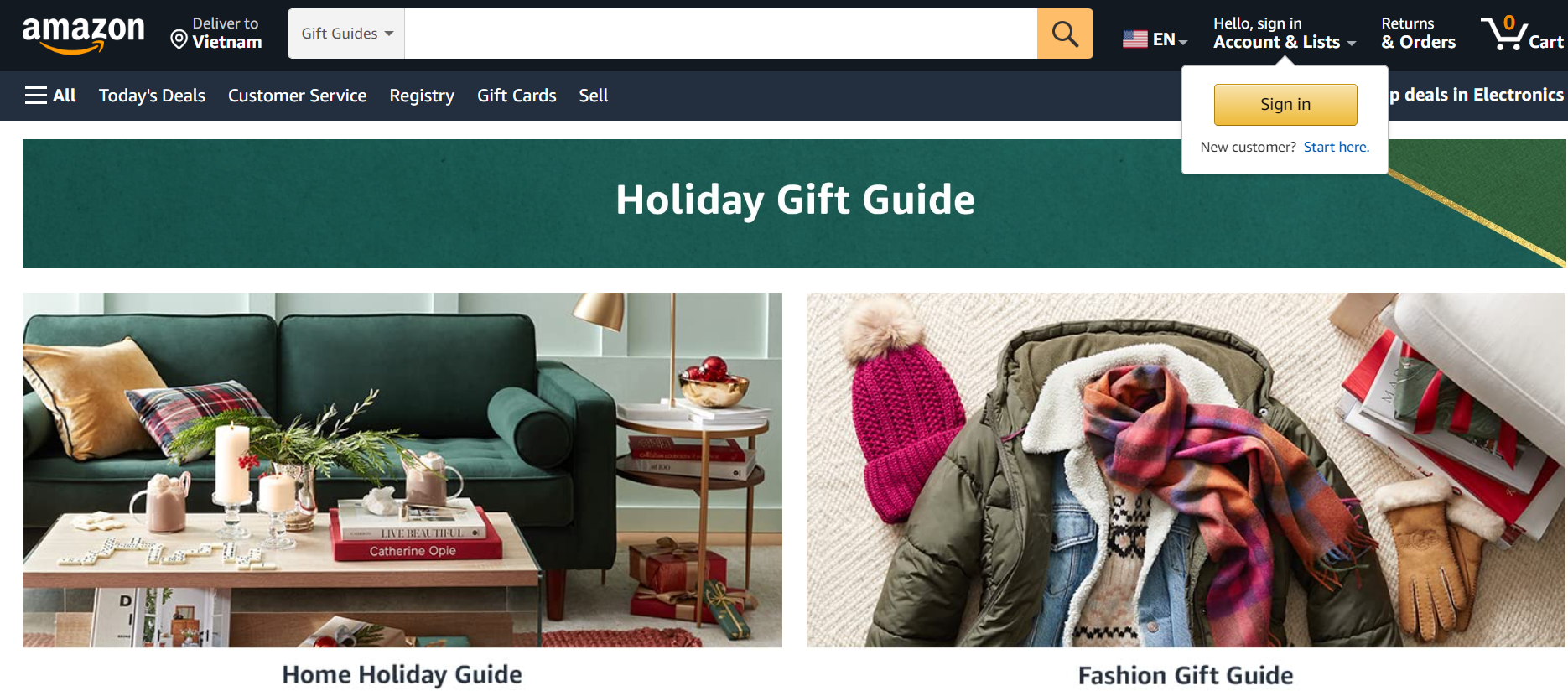 Pros of Amazon
Larger sales
Global scalation
Low marketing cost
Cons of Amazon
High competition
Complex data feed
Selling fees
Pricing
Person: $0.99 per item sold plus any additional selling costs
Professional: $39.99 per month plus any applicable selling fees
eBay is one of the top sites for online selling platforms because it began with postings that resembled auctions. eBay now provides "buy-it-now" options to sellers who do not want to wait for an auction to end. Customers may also make "best offers" on some items listed for sale, which sellers may accept or reject based on their own preferences.
Like many other top eCommerce platforms, eBay upholds strict criteria for seller performance in terms of item quality, description accuracy, shipping timeliness, and other factors. As a result, it is crucial for sellers to maintain a high level of positive feedback ratings in order to be successful on eBay. Negative feedback ratings could be the end for startups.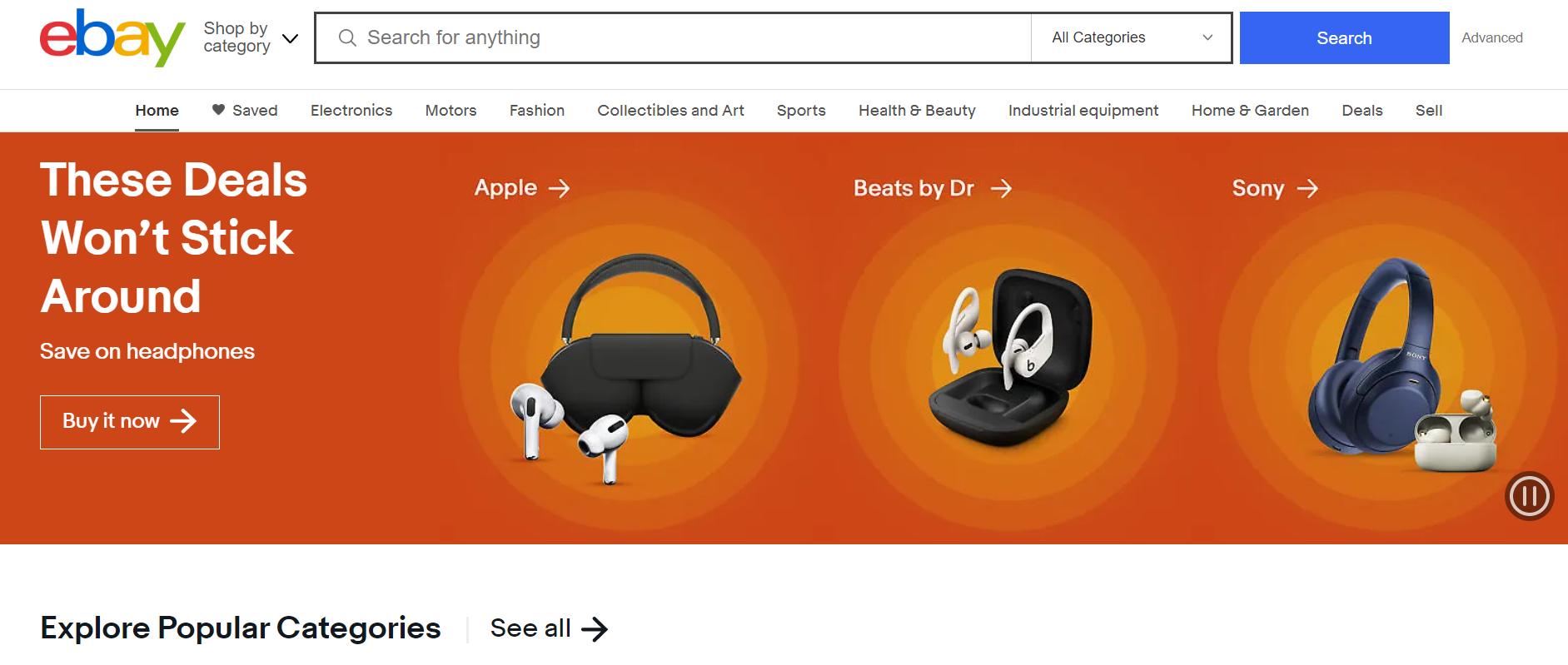 Pros of eBay
Reach a variety of customers
Ease of use
Cons of eBay
Rule and policy restriction
Much competition
Pricing:
Although this Seattle-based business is still a relatively new player in the world of online shopping, it is succeeding greatly. Bonanza is a sizable and booming network of online stores with more than 50,000 sellers and more than 35 million unique items. It was honored by Entrepreneur.com in 2016 as one of the "Best Entrepreneurial Companies in America".
Any retailer with an online product to offer should use Bonanza. Additionally, as compared to the competitors, the costs for selling on this site (known as the Final Offer Value) are rather affordable. It is absolutely worthwhile to look into the incredibly helpful calculator they offer for figuring out the fees.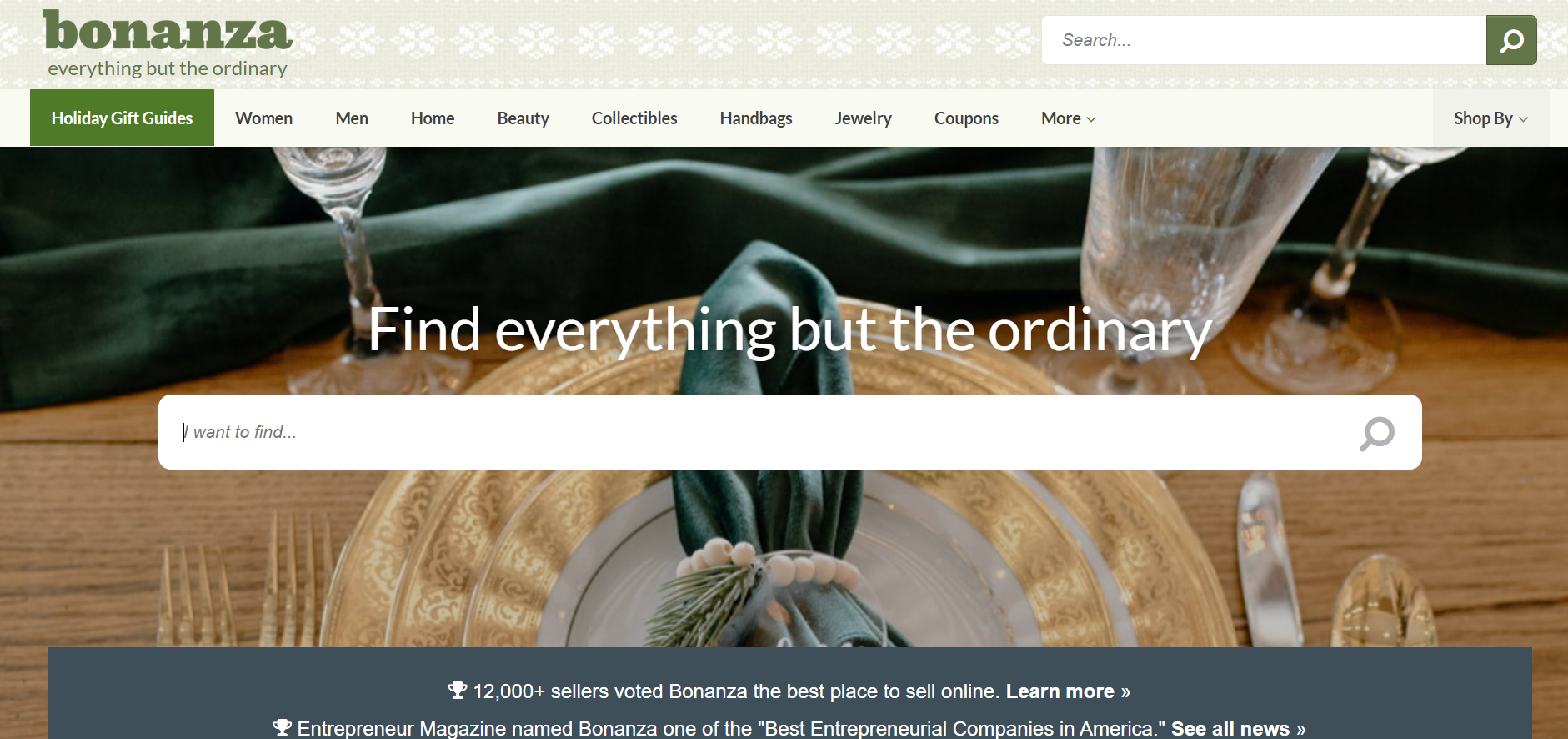 Pros of Bonanza
Cons of Bonanza
Marketing cost
Possible scams and fraudulent activity
Pricing
Find more information here
Chairish is a website made specifically for selling art and furniture, as its name suggests. Simply take a picture of your furniture, add a title and a description to your listing, and then decide on a price.
When you list your goods on Chairish, curators will check them to see whether they conform to their standards. After that, they alter the images you've provided and put the goods up for sale. There is no need to worry about transporting large furniture pieces because Chairish also handles the logistics. If it suits you, you can also choose your own shipping method.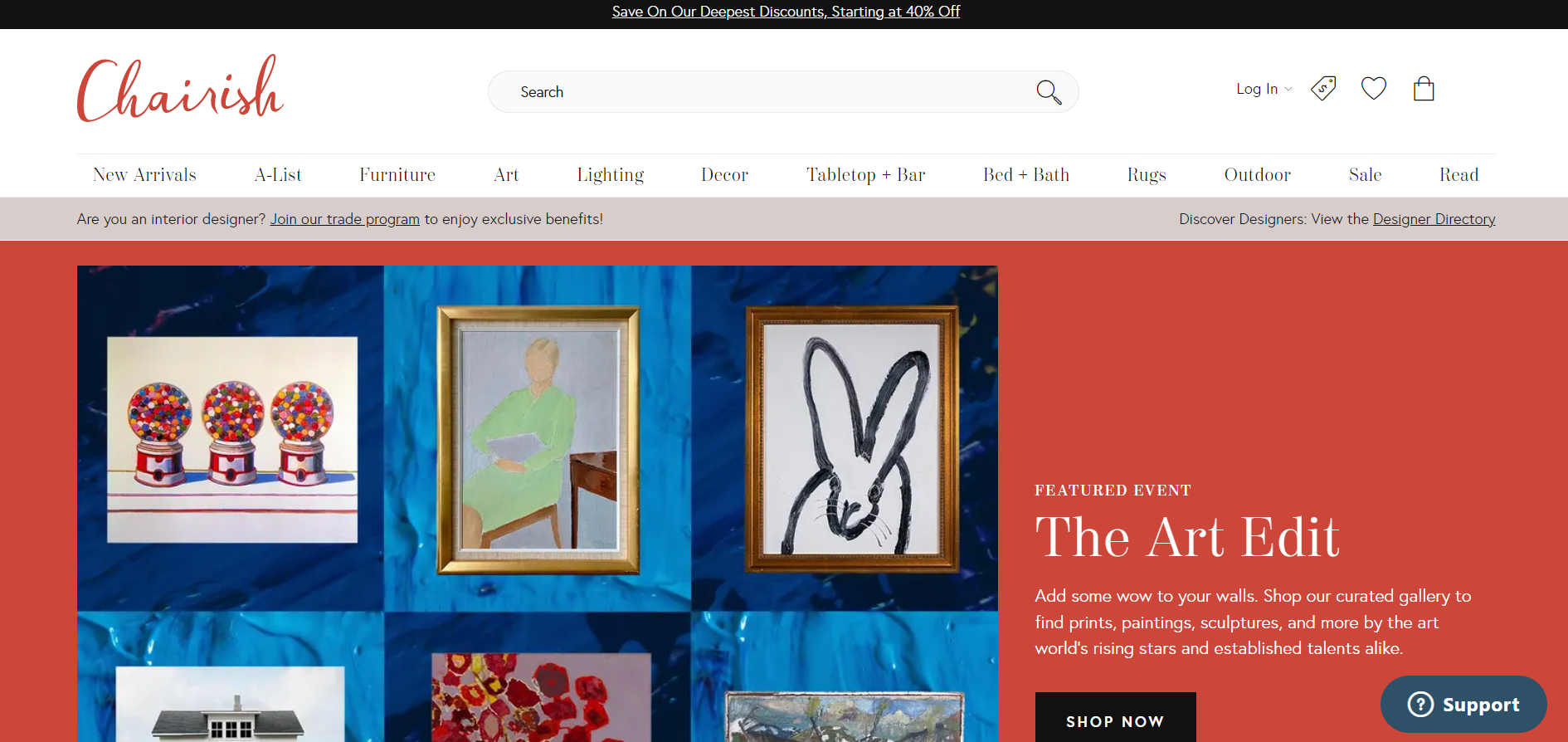 Pros of Chairish
Shipping service
User-friendly interface
Cons of Chairish
Pricing
Check the pricing of Chairish here
The pioneer of online selling platforms is Walmart, which began as a retailer in the US. An average of approximately 230 million customer visits each week.
Walmart's online platform has an exceptionally high barrier to entry when compared to websites like Amazon and eBay, which is thought to be a significant differential. Businesses must have high seller feedback ratings in order to sell in the retailer's marketplace.
Sellers must pay a Referral Fee when they sell goods on Walmart Marketplace. The Referral Fee is calculated as a portion of the overall sales revenues produced by the sale of each item sold via the affiliate program.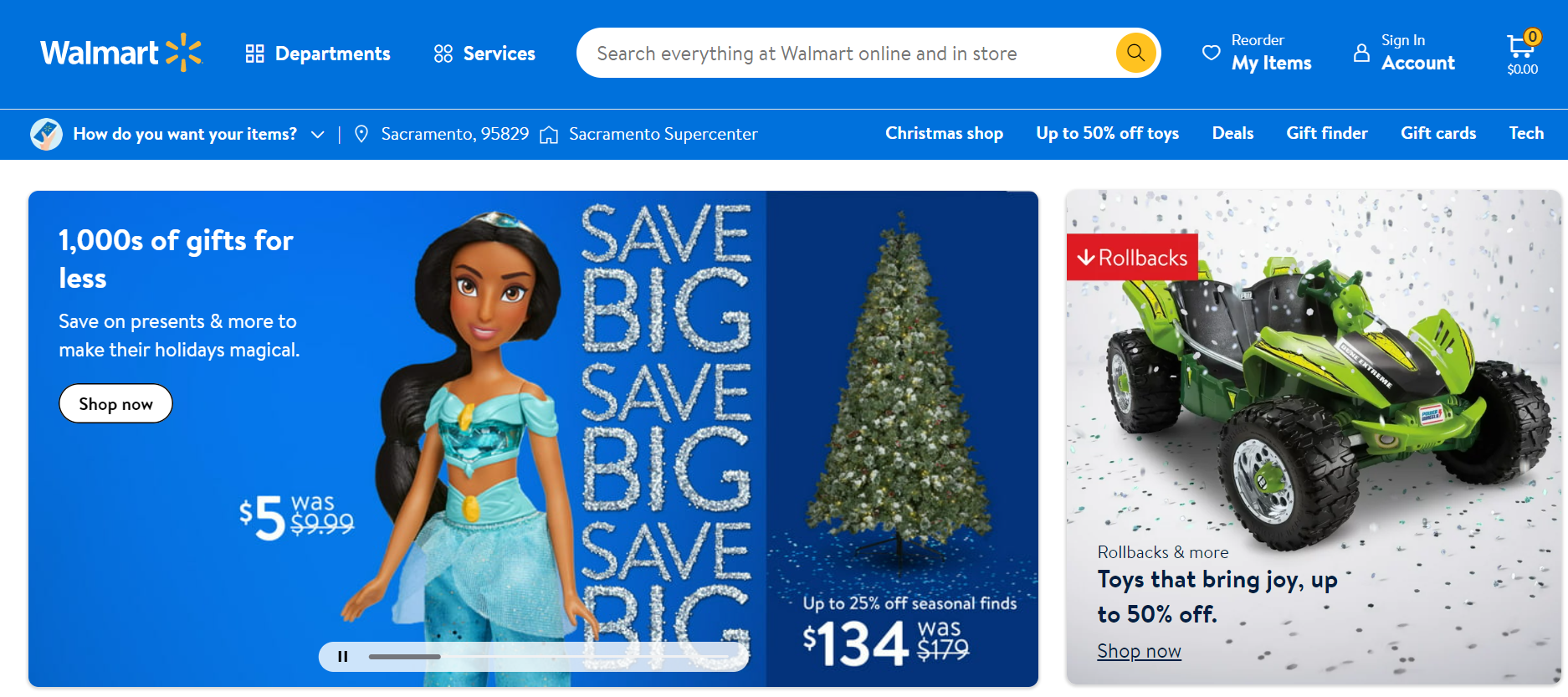 Pros of Walmart
Time and money saving
Good quality products
Perfect customer service
Cons of Walmart
Harmful effects on local economies
Plastic containers and packaging
Pricing
Depending on your categories
Many artisans have used Etsy, which promotes itself as one of the top venues for sales, to build lucrative online shops where they sell their handcrafted goods and vintage collectibles. According to the website, it connects millions of consumers and sellers. Etsy also has very low startup expenses because sellers can market their goods for as little as 20 cents for each listing, which results in a small initial expenditure.
A commission charge and a credit card processing fee are subtracted from the item's purchase price when it sells on Etsy. Another benefit of Etsy is that it essentially frees up sellers to advertise their goods on other websites. You will get compensated if one of those off-site adverts results in the sale of your product.
Pros of Etsy
Simple to install and maintain
A built-in audience of visitors on Etsy
Cons of Etsy
Brand image and loyalty issue
Increased competition
Pricing
Get information on pricing here
Craigslist was first created in 1995 by Craig Newmark to offer neighborhood information in the San Francisco Bay area. It is currently a popular online shopping destination for many people and companies.
This online marketplace is best suited to local sellers who prefer to handle their own transactions because there are no listing or selling fees. It can be a great choice for selling items like furniture that are too large or expensive to ship.
Because they may interact with the buyers and sellers face-to-face, there is a tiny social component that some users prefer about Craigslist. In addition, you don't have to pay shipping or network fees and you can get cash in hand. Craigslist might not be for you, though, if you're anxious about being conned or don't want to be directly involved in the transaction.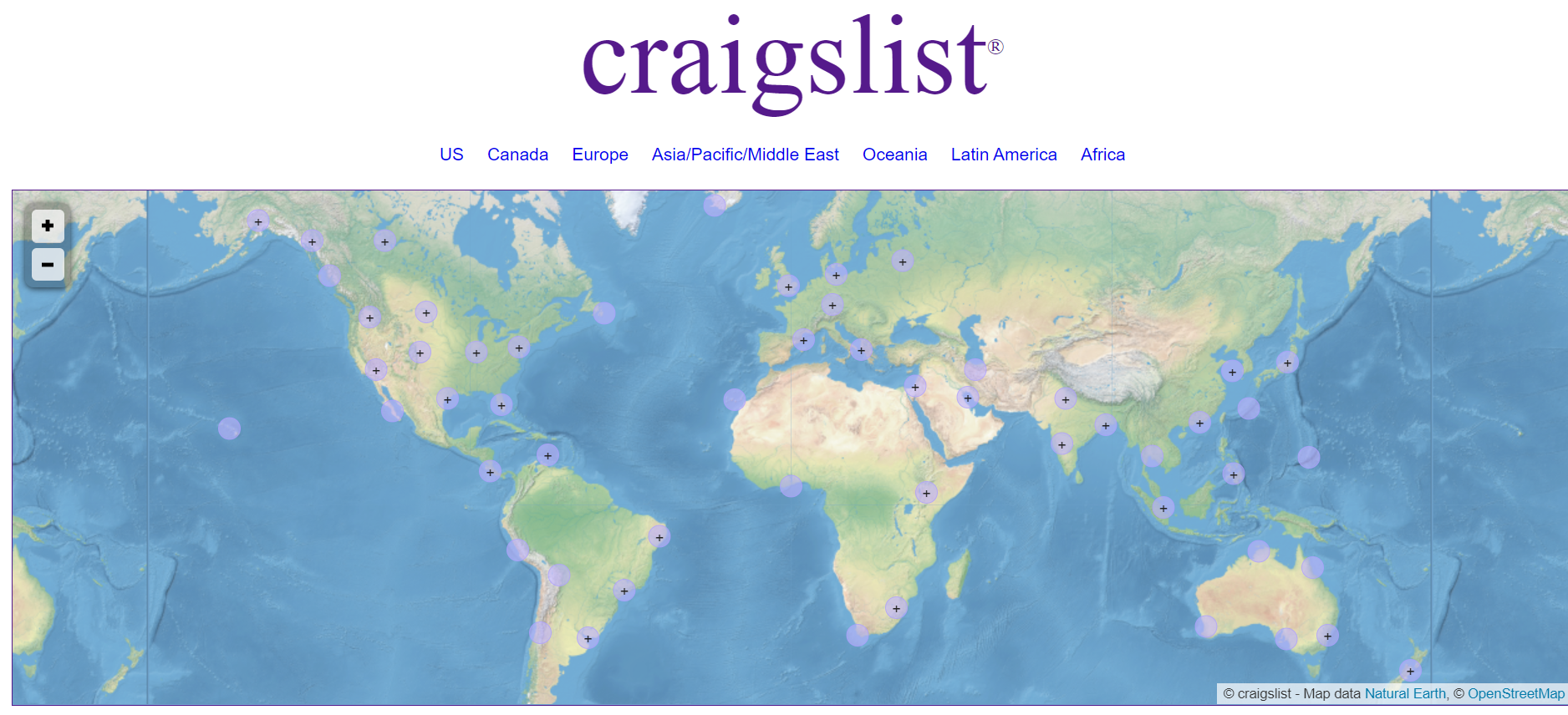 Pros of Craigslist
No setup or monthly fee
Entirely local channel
Cons of Craigslist
No automated posting
Notorious for scammers
Pricing
Certain categories on Craigslist are not free and require from $3, depending on your area
The Facebook Marketplace is a well-known online marketplace that was established in October 2016 to facilitate the exchange of goods amongst members of different communities.
The company's recent decision to aid online shops is one of the most exciting features of Facebook Marketplace. It's interesting to note that Facebook has collaborated with online commerce platforms like Shopify to make it simpler for online retailers to be accessible on the Marketplace.
Despite the fact that there are no listing fees, there are some requirements that you must meet in order to succeed as a merchant in the Marketplace.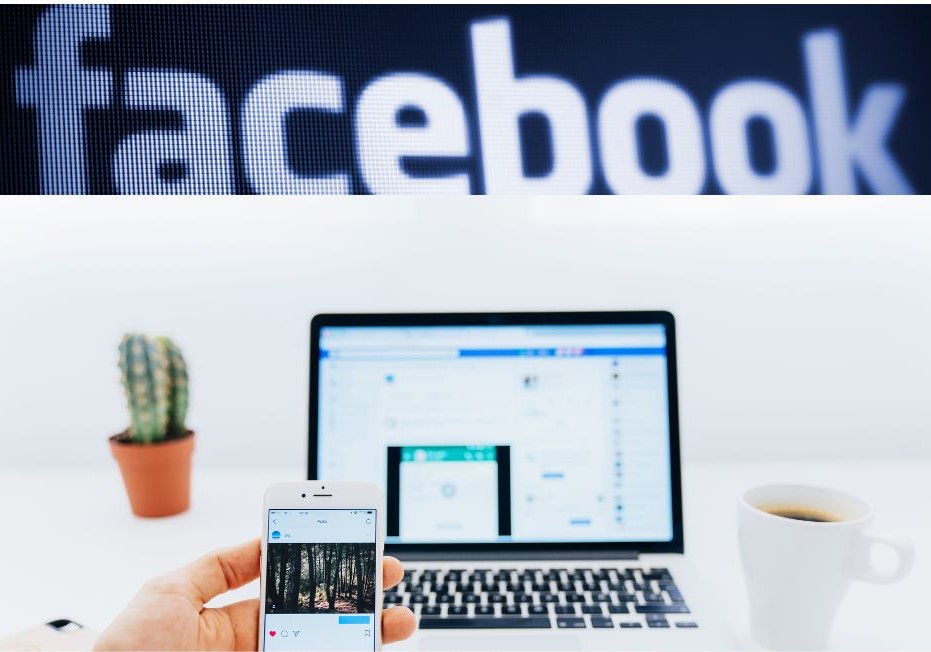 Pros of Facebook Marketplace
Buying and selling made simple
Easy to configure
No hidden fee
Cons of Facebook Marketplace
No buyer protection
No storage place
The risk of scams
Pricing
Similar to Craigslist, Nextdoor is a sourcing and selling platform where neighbors can freely exchange information about what's happening in their communities. This information might range from announcing a block party to bringing in trash cans late.
In addition, Nextdoor provides a venue for people to sell their goods online for a modest price. On Facebook Marketplace and Craigslist, respectively, there are no listing or membership fees required; however, just like on eBay and Craigslist, you must meet your consumers and conduct trades in person.
This online marketplace appears a little safer than Craigslist because you have to register and create an account. As a result, compared to other modes of communication, it is more private and has fewer frauds.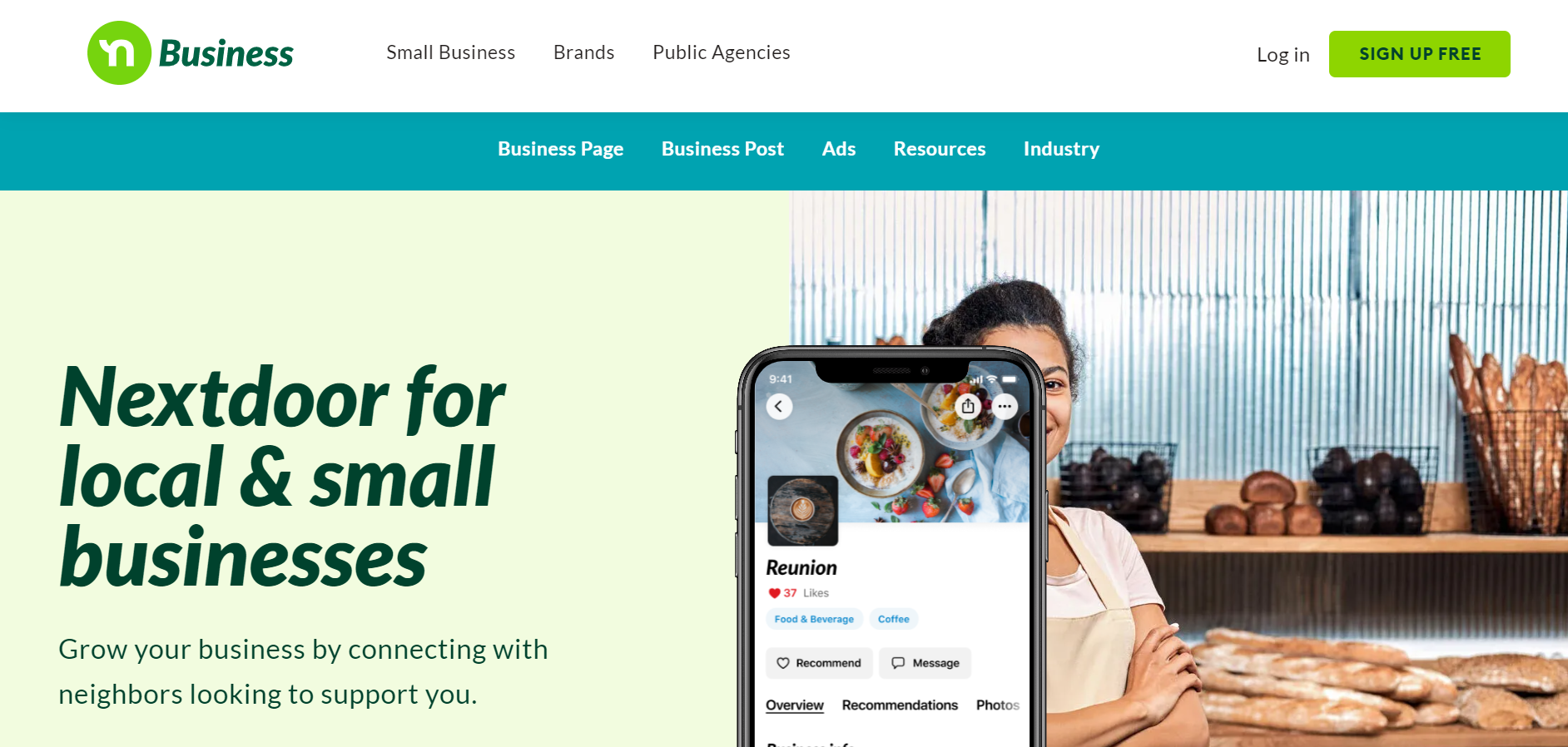 Pros of Nextdoor
Free to use
Unambiguous local insights
Cons of Nextdoor
The app's users are the only audience
Challenging getting traction
Pricing
Similar to online markets like Etsy and Bonanza, Ruby Lane was created to connect buyers and sellers of art, antiques, vintage items, and jewelry. For a specialized market, the 1.1 million unique visits this online selling platform receives each month are amazing.
Despite having a worldwide audience, the majority of website visitors are from the US, UK, Australia, Canada, and Germany. If your target market is women over 40 who identify as "collecting enthusiasts," Ruby Lane might be a great choice. 85% of users identify as such.
Ruby Lane appears to draw more informed and focused purchasers who might be more likely to spend money than those who are just browsing eBay for deals. Additionally, you can rely on prompt, effective customer service and a speedy resolution of problems here.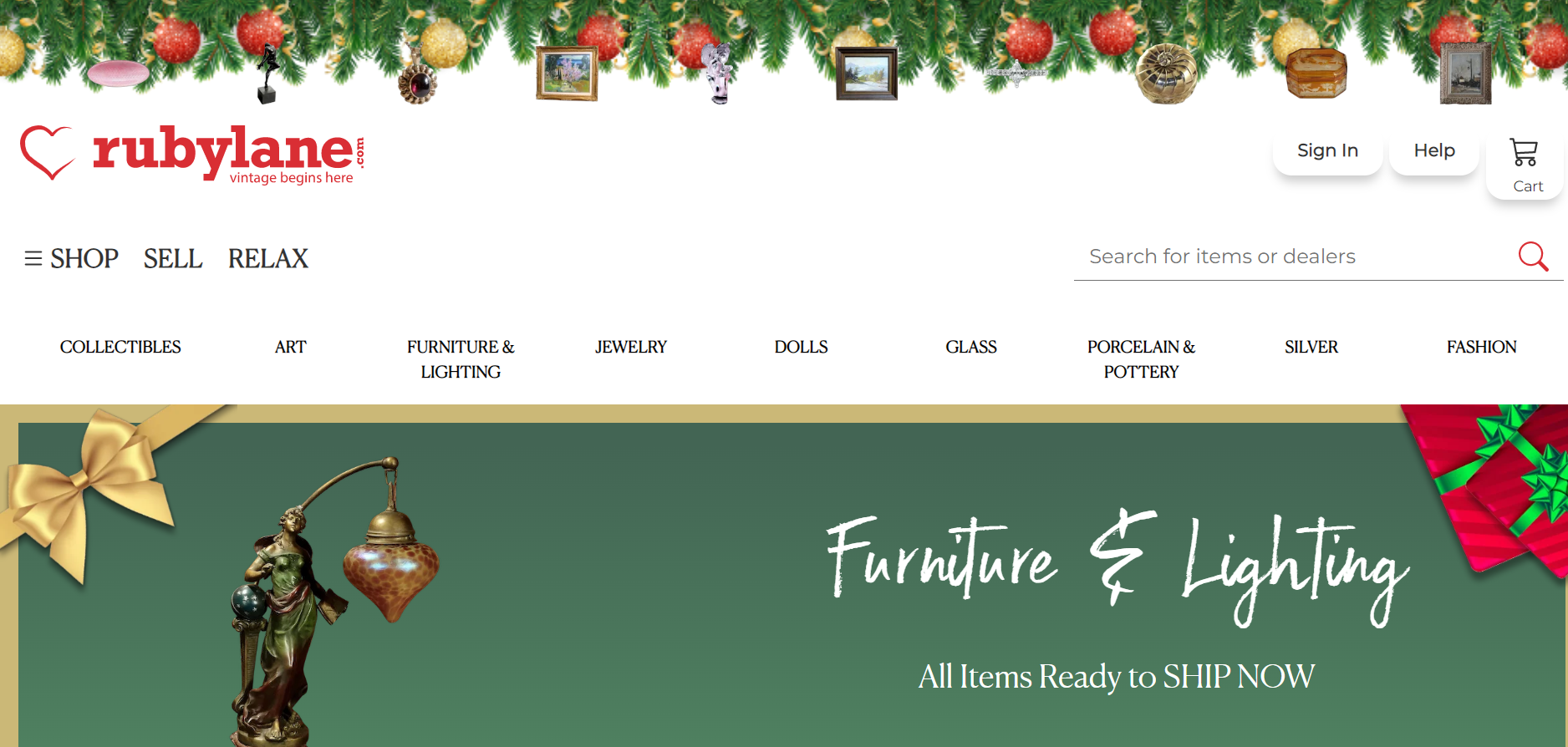 Pros of Ruby Lane
Lower seller fees and commissions
The greatest websites to sell your antiques
Cons of Ruby Lane
Simple for them to locate and replicate your goods
Extremely competitive
Pricing
Maintainance fee: $25/ month
Service fee: 9.9% based on the Purchase Order total
One of the top platforms in California for online sales, Newegg has fulfillment centers all throughout North America and Canada as well as a global presence in more than 50 other countries. It claims to be the leading marketplace for all things technological, such as gadgets, computers and related hardware, smart home products, entertainment, and gaming gear.
Additionally, it is simple for retailers to create extensive and informative product pages and connect with up to 36 million potential customers. The majority of Newegg's customers are between the ages of 18 and 35, so if this is your target market, Newegg could be a great choice.
To be successful in your activities, Newegg advises you to utilize its numerous marketing tools, including its various seller programs and daily offer mailings. Additionally, make sure you provide outstanding customer service and are not selling any unlawful items.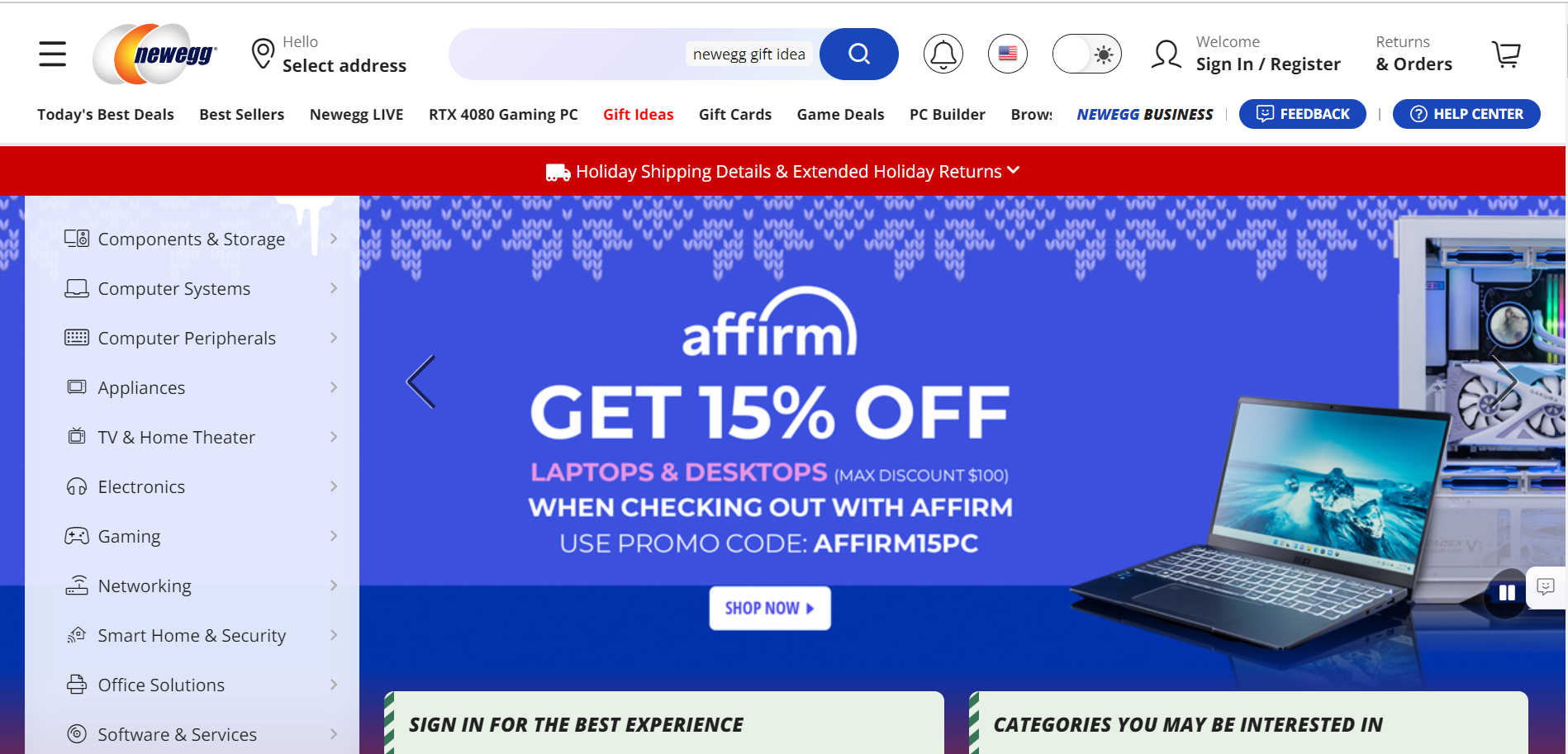 Pros of Newegg
Wide range of products available
Good deals
A variety of creative services
Cons of Newegg
Issues with third-party sellers
Problems with returns and refunds
Pricing
Standard: Zero fees
Professional: $29.95
Enterprise: $99.95
FAQs
What are the best selling platforms for small businesses?
There are a lot of great options for small businesses when it comes to selling their products online. However, the best selling platforms vary depending on your specific needs and preferences.
If you're looking to start selling on your own website, then consider using Magento Open Source, Shopify (Basic/Shopify plans), or BigCommerce (Standard/ Plus plans). These platforms either require a free license or come with a low monthly cost.
Alternatively, if you want to sell on more than one marketplace, marketplaces that require free or low selling fees (and other fees) with a large number of users such as Amazon may be the better option for you.
What are the key criteria for choosing the right selling platforms?
Scalability
When it comes to choosing a selling platform, one of the most fundamental factors is its scalability. You should go for a platform that can easily scale up as your product list grows.
Will the platform be able to handle more products in the future? If so, does it come with any extra fees? Many platforms require an additional fee for increased scalability, but overall they should be reasonably priced.
It's also worth considering how easy it will be to add new products in bulk onto the platform – if adding many items is difficult or time-consuming, then you might not want to use that particular platform.
Budget setting
Consider your willingness to invest in your eCommerce selling platform. Make sure to account for the "non-obvious costs" associated with installing a new solution when establishing your budget. Consider fees for maintenance, advice, setup, and similar charges in addition to the obvious ones like licenses and development.
What is the best free online selling platform?
There are a number of great free online selling platforms available these days. Each has its own strengths and weaknesses, so it's important to choose one that will work best for your business.
Regards online marketplaces, some of the most popular options include Facebook Marketplace, Craigslist, and Nextdoor. All of these platforms allow businesses to post products for sale as well as search for products from within their respective websites.
In terms of eCommerce platforms for website development, Magento Open Source is the best free one. It has an easy-to-use interface and lets you create complex sales processes, manage orders, ship products, and build up customer database. Additionally, it offers built-in marketing capabilities that can help you increase your visibility on the web and drive more traffic to your site.
Another free selling platform is WooCommerce. WooCommerce is based on WordPress, a popular and well-known platform that powers millions of websites worldwide. It has a wide range of features, making it perfect for start ups or small businesses who want flexibility and lots of options when building their storefronts.
Wrap up
When you choose the right eCommerce selling platform, it can be your key step to success. These platforms are designed as an extension of your mind and allow you to run a successful business without much hassle. However, it's important that you pick the best one for your needs and invest time in researching each feature before settling down on a product.
With so many options available today, choosing the right one can become quite difficult. But don't worry! We have curated a list of the top 16 selling platforms including both eCommerce platforms for building your own business website and online marketplaces, which will help narrow down your decision.