The COVID-19 pandemic is having a growing impact on consumer buying intention. Over 90% of people use the Internet to make purchasing decisions. Accordingly, more e-commerce marketing approaches have been increasingly influential. Consequently, merchants are striving to dwell, enhance, and promote their online stores. As a result, applying effective and trending e-commerce marketing strategies is more meaningful than ever.
Stay updated with marketing trends will help your online store stand out from the competition. Superb marketing e-commerce strategies can drive traffic and enlarge sales and conversion rates. Thus, this article will gravitate toward state-of-the-art e-commerce marketing campaigns of 2022. It can substantially improve the allure of your online stores.
Before digging in any further about the main topic, let's skim through the overview of e-commerce marketing strategies.
What Are E-commerce Marketing Strategies?
E-commerce marketing strategies are the methods, plans, and campaigns that the business leverages to market its products and services.
Accordingly, merchants use different marketing tools and trending e-commerce marketing strategies to promote their brands and products. And the primary purpose is to reach as much as target customers as possible.
Why Does E-commerce Marketing Campaigns Matter?
Undeniably, marketing is the key determinant to the success of an e-commerce business. You will rapidly lose customers if you persistently use brick-and-mortar marketing strategies.
In the fast-changing digital age, embracing compelling marketing ideas is critical. It assists online stores to entice more and more customers and leads the competition.
Take a look at the leading e-commerce companies such as Alibaba, Amazon, eBay, and Walmart. The secret behind their success is impressive and innovative e-commerce marketing campaigns. They always know how to stir up the public with creative and engaging marketing plans.
Consequently, staying updated with advanced e-commerce marketing methods will significantly unleash the power of your online store.
Trending E-commerce Marketing Strategies In 2022
Hence, keep reading to be enlightened about the innovative e-commerce marketing method. Stay updated with these new trends to make your online shopping store shine and stand out from the crowd.
A/ New Ecommerce Marketing Approaches
1. Mobile Shopping Marketing instead of Desktop Shopping Marketing
With the rapid growth of technology, there was a dramatic shift in the buying habits of modern users. Rather than using desktops to shop, users prefer to use mobile phones.
Thereby, focusing on mobile-first marketing strategies is a game-changer for your company. In other words, a ridiculous mobile marketing plan can propel your e-commerce brand to new heights and increase sales.
44% of users now shop online through mobile phones. Furthermore, mobile phones account for 65% of online store traffic and 53% of sales revenue.
As a result, mobile marketing is the most effective method of attracting customers. It can be challenging to engage and connect with your diverse user base online without a reliable mobile marketing strategy.
To do so, first ensure that your website design is mobile-friendly. Make sure customers can view product images, scroll through pages, click buttons, search for products, and enter payment information smoothly on mobile devices. Not only that, but creative ad designs and marketing videos also need to be optimized for mobile users.
2. Try-on haul videos instead of introduction videos
Using a classical product introduction video to promote your brand is outdated in today's digital age. Users are no longer interested in or trusting this type of purchasing.
When shopping online, the most legitimate fear of users is whether or not the product is as depicted in the image. They cannot touch, hold, or try on the product as they would in a physical store. As a result, there is a growing demand for more practical product introduction videos.
Therefore, online retailers are attempting to investigate try-on-haul videos. Creating try-on-haul videos is a crowd-pleasing marketing technique these days.
Try-on-haul video is a brand-new idea for a product introduction video. In these videos, influencers or KOLs evaluate product quality and pricing. Even more, they also review their shopping experience.
Correspondingly, try-on-haul videos often relate to fashion, beauty products, and home decor.
The influencers have millions of fans and followers. Hence, try-on-haul videos are appealing effortlessly.
Consumers have become increasingly interested in the opinions and shares of influencers. They are much more likely to purchase a product recommended by a KOL or an influencer.
As a result, try-on-haul videos consistently elicit consumer trust and engagement.
#3 Push notifications instead of Email Marketing
Email marketing is a very familiar marketing strategy for all merchants. Most online stores use it to send reminder emails to customers, such as wish list reminders, new arrivals, and special offers emails.
Accordingly, email marketing is beloved because it offers high personalization with targeted messaging. It helps customers feel respected, cared for, and in touch with your website. Skyrocketing customer engagement will help you expand your return on investment.
As online retailers flocked to email marketing, this strategy has become less efficient. Customers now completely disregard promotional emails. They even mark them as spam because they receive too many at once.
Thus, email marketing has become counterproductive, if not downright annoying for users. Many users even unfollow an e-commerce site simply as they receive excessive email.
Thereby, if you do not want to get into these problems, opt for a push notification marketing strategy. Push notification marketing is a relatively innovative and alluring strategy nowadays. It is an excellent alternative to email marketing.
The most significant advantage is that it is relevant, convenient, and speedy. Not only that, but push notifications also have higher visibility than emails.
More than half of mobile users have push notifications enabled. Customers are as busy as a beaver, so notification marketing is a more comfortable way. It allows you to reach more people without annoying them.
Besides, push notifications, like email marketing, provide a high level of personalization. You can wholly customize the content you want to send to each end-user.
Here's how to enable push notifications for your e-commerce site.
#4 Google Shopping Ads instead of Google Ads
Google Ads enables e-commerce websites to appear at the top of search results. It is a pretty old and traditional marketing technique.
If you want to innovate your current e-commerce marketing strategies, do not overlook Google Shopping Ads.
Google Shopping Ads empowers the showcase of product listing ads at the top of search results. It is outperforming other search ads due to the value it brings to e-commerce websites.
These Google Shopping ads are particularly forceful. It exhibits high-quality photos with product price details.
Besides, these product listing ads tend to appear at the top of search results listings. Thus, shopping ads can maximize the visibility of users.
Furthermore, click-through rates for Google Shopping ads are typically much higher. Thereby, more clicks equal more significant e-commerce website traffic and revenue.
On the other hand, Google Shopping Ads will be appropriate for large online stores with thousands of products. Furthermore, running Google Shopping Ads is relatively expensive. The cost to run Google Shopping Ads is based on the number of clicks on the product link.
#5 CPA Marketing instead of Affiliate Marketing
An affiliate marketing program is now used by 81% of brands. Affiliate marketing leverages publishers and influencers to sell your products. Accordingly, they will promote your product and earn a commission from each successful sale.
Among them, CPA marketing is a more advanced form of affiliate marketing. It gives higher returns on investments and more extensive traffic to your e-commerce store.
Fortunately for you, most e-commerce businesses are unaware of CPA marketing. As a result, it is a hidden treasure that can provide you with quick results and an advantage over your competition.
CPA (Cost Per Action) is a type of affiliate marketing. You will pay affiliates or publishers a commission when customers take action via their affiliate link.
These actions could be making a purchase, filling out a form, signing up for a trial, completing a survey, purchasing a product, or installing an app.
You only need to spend money when and only when an order is generated. Then, the CPA model ensures higher advertising performance. CPA Marketing is the most likely way to reach the broadest possible audience faster.
Besides that, CPA marketing provides your company with a strong peak ROI. It eventually enhances guaranteed sales. According to statistics, CPA marketing results in a 21% higher average order value.
#6 Instagram Marketing instead of Facebook Marketing
Social Media Marketing is currently the global-crushing marketing campaign. Simply put, this trending e-commerce marketing strategy promotes products through social media platforms. It includes Facebook, Instagram, Pinterest, Twitter, Linked In, and so on.
With more than 90% of people using social media, this method will help your business reach new customers. It is also the fastest way to spread awareness of your brand.
In the meanwhile, Facebook has 2.5 billion monthly active users and 5 billion downloads. So, it is the most impactful social network for marketing today.
With an ever-increasing audience, Facebook is an indispensable platform for any marketing efforts. Instagram, on the other hand, popped up and quickly dominated 2022 marketing campaigns.
There are 1.16 billion potential Instagram ad audiences and 90 million users clicking on Instagram product tags each month. Thus, Instagram can draw a shimmering future for your marketing strategy. Instagram is a buzz among shoppers, particularly among young people. If your online store caters to users under 30 years old, this is the gold mine for you.
More and more online stores are already weighing Instagram to expand their social media marketing. More than 2 million advertisers currently use Instagram to push business outcomes.
So, if you want to pique the interest of a young audience, you should start marketing on Instagram right now.
#7 Voice search instead of Text Search
To revamp your content marketing campaigns, you should spotlight the latest technology – voice search. It is a step forward in the advancement of how we use search engines.
As mobile phones become savvier, customers are interacting with content in new ways. Hence, voice search and visual search are fashionable interactive methods that make users crazy.
Users can use voice search anytime and anywhere, even while they are driving. Besides, voice search is speedy. It is more convenient and enthralling than a traditional text search. It is why global users are adorably enamored with this technology.
Thereby, voice search optimization provides customers with engaging experiences. It also enhances the number of customers who visit your e-commerce website. Eventually, using voice search allows you to bridge the gap with your competitors.
B/ More E-commerce Marketing Approaches
Those mentioned above are new approaches to helping you revitalize your company's marketing campaign. Refreshing your marketing strategies will undeniably increase the attractiveness of your online store to customers, drive traffic, and increase leads.
The article that follows will highlight other e-commerce marketing campaigns that may be beneficial to you.
1. Marketing automation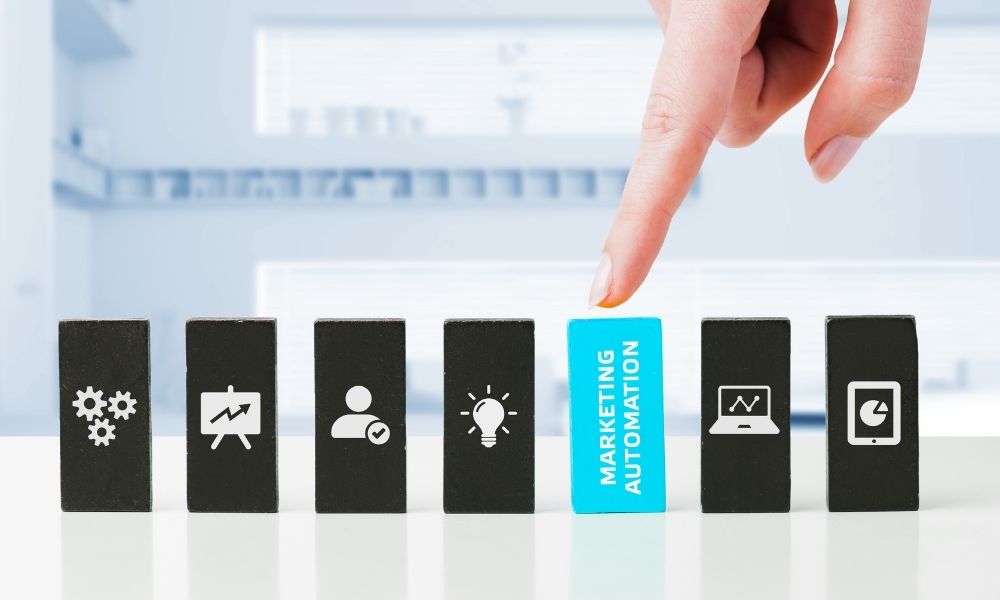 a/ What exactly is marketing automation?
Marketing Automation uses automated software to communicate product messages to customers. They make the marketing chain run more smoothly, optimally, and effectively without too much time and effort.
A simple example of marketing automation is an automated email sent to users after they successfully sign up for an account. Instead of sending emails one by one manually, the process is entirely automatic.
b/ What makes Marketing Automation stand out?
Widen Customer Relationship
To begin, Marketing Automation can help enterprises in encouraging customers to stay with them. As they will stick with your brand for a long time, they will convert from potential customers to loyal customers.
High personalization
Personalization is the second advantage of marketing automation.
Automated marketing makes customers feel more respected as they can receive personalized emails. Thus, customers will be more thrilled and trusting of your products and services as a result.
Time-saving
Moreover, marketing automation saves you a considerable amount of time. You will no longer need to repeat the process of manually composing and sending emails.
In the age of artificial intelligence, the higher the automation, the better off you are. Marketing automation is still a relatively new approach for many businesses. Yet, it promises to be a powerful assistant for your marketing plan.
2. Retargeting Marketing
a/ What exactly is Retargeting Marketing?
Retargeting Marketing will be an essential strategy if you want to focus on building relationships with your store's loyal customers.
To start with, Retargeting is an online advertising strategy that attracts users who have previously visited your website.
Retargeting Marketing will re-show ads to those who have already purchased from your e-commerce site. This campaign is designed to entice them to return to the store and place additional orders.
You can use retargeting marketing to promote best-sellers or introduce new collections to your customers. However, this type of marketing is not directed at new customers. Instead, it aims at customers who have recently viewed your e-commerce website.
b/ What makes Retargeting Marketing stand out?
Boost the conversion rate
Retargeting is very impactful because it directs to people already aware of the brand and expresses their interest.
As a result, it is a critical strategy for encouraging users to return to your website. And the result is the conversion rates fly.
Strengthen brand loyalty
Retargeting marketing draws visitors back to your e-commerce site after they have placed an order. It imprints your brand deeply in customers' minds. Thereby, it converts them into loyal customers for your online store.
Thanks to the retargeting campaign, 30% of potential customers become loyal customers successfully.
Bottom Line
The above is the top trending e-commerce marketing strategies that you need to take an eye on in 2022. Here's a roundup of the notable marketing trends of 2022:
#1 Mobile Shopping Marketing instead of Desktop Shopping Marketing
#2 Try-on haul videos instead of introduction videos
#3 Push notifications instead of Email Marketing
#4 Google Shopping Ads instead of Google Ads
#5 CPA Marketing instead of Affiliate Marketing
#6 Instagram Marketing instead of Facebook Marketing
#7 Voice search instead of Text Search
Most companies strive to produce the latest, unique, and high-quality products continually.
But there are too many new products on the market. It means that there are more choices for users. Therefore, it is a significant challenge to persuade people to buy.
Consumers are also used to using dull and lifeless methods of marketing. It doesn't seem sufficiently appealing. Thus, your business needs to spot trending e-commerce marketing strategies to attract buyers.
Hopefully, after reading this article, you can follow trending e-commerce marketing strategies to excite your customers.