When Magento 2 was released for the first time, many people doubt its stability and adaptability. Therefore, most of the e-commerce businesses choose to keep running on Magento 1 instead of taking risks. However, since Magento 2 continues releasing many updated versions with an array of attractive features and functions, better from time to time, upgrading website to Magento 2 has become a hot controversy than ever.
In this article, we will give both pros and cons of the upgrading website to Magento 2 and help you to make the decision easier.
Benefits Of Upgrading Website To Magento 2
Improved Performance
Have you ever wondered why some websites can load faster than others? In Magento, that's due to Full Page Cache, a feature that caches an entire web page to make future pages load faster. Magento 2.0 relies heavily on an extension called Varnish Cache to speed page load times in both the enterprise and community editions.
Of all the improvements in Magento 2.0, the addition of Varnish is probably one of the most important in terms of driving shopper satisfaction. Varnish makes the difference between a page loading in less than a second versus waiting several seconds for it to render.
Full-page caching built into the platform means pages load much faster, 1-2 seconds compared to the 5-10 seconds for non-caching pages. It can also better handle many catalog pages without slowing down. This makes it scalable for large stores and able to grow with an online business.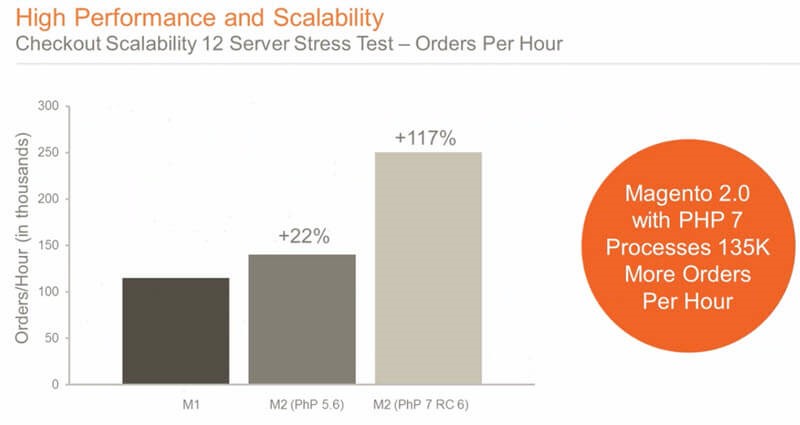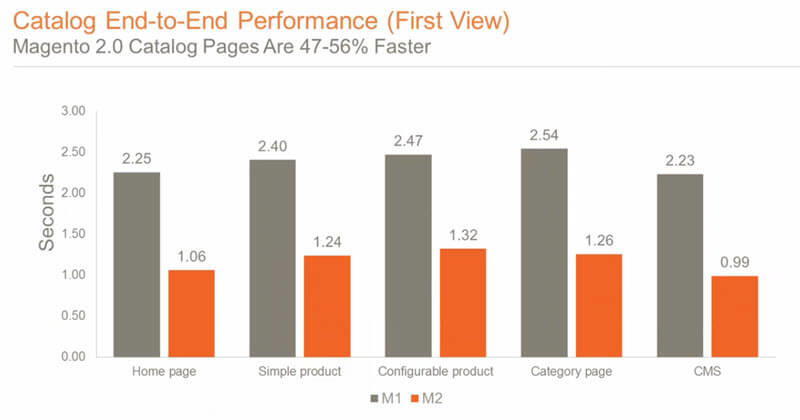 In addition, updates within Magento 2 are designed to work a lot quicker, making it easy for Magento users to take advantage of new features as they're released.
More User-friendly Checkout
The checkout process in Magento 2 is more streamlined, making it quicker and easier for customers to go from cart to completed order. It's highly customizable and requires fewer steps and customer information. Reducing the checkout time is huge for reducing abandoned carts and increasing conversions.
When a purchaser goes to checkout, they are brought to a default guest checkout screen where they enter an email address. If this matches an existing customer, they are given an option to checkout faster with saved information. Guests can create an account in one click from the order Thank You page. These features encourage repeat customers.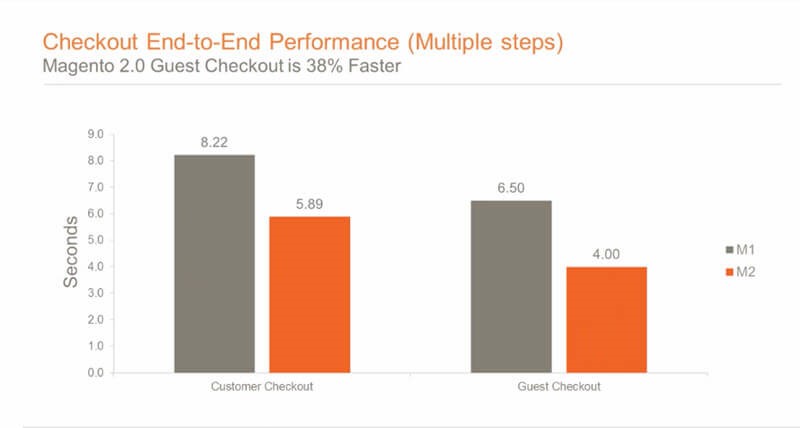 Most of Magento 1 stores had to alter the checkout process in some way to make it more user-friendly. Now, better checkout options are built into Magento 2. This means every store built with Magento 2 will by default have a more intuitive checkout process.
Convenient Admin Interface
The new admin interface is designed to help reduce the time managing an online store. It's a lot more user-friendly and easier for new team members to learn.
Admin is able to customize the admin panel so important business information can be accessed quickly. This makes each admin panel personalized for each user to increase productivity when managing products, orders, and customer data. Creating products in the admin panel is easier than before with 4x faster product import capabilities.
The admin interface of Magento 2 now includes drag-and-drop layout editing. This means you don't need extensive coding knowledge to modify an online store's appearance. Create a beautiful store in half the time.

More Mobile-friendly
Mobile responsiveness is key to improving sales, as more and more customers are shopping on smartphones and tablets. The Magento team recognized this and made mobile responsiveness a priority in the core Magento 2 platform.
It comes with new responsively designed (and SEO-friendly) themes, integrated video, and easier checkout. These all improve the look and function of Magento stores on mobile devices, thus encouraging mobile sales.
In addition to the front-end of the site, the admin panel is touch-screen friendly so you can manage your store on the go.
Upload Product Videos
You can now easily add a link to a video for your product, complete with a title, description, and a preview image. This marks a move away from having to previously worry about customizing the whole process yourself with code, and you no longer need to worry about hosting the video or its performance.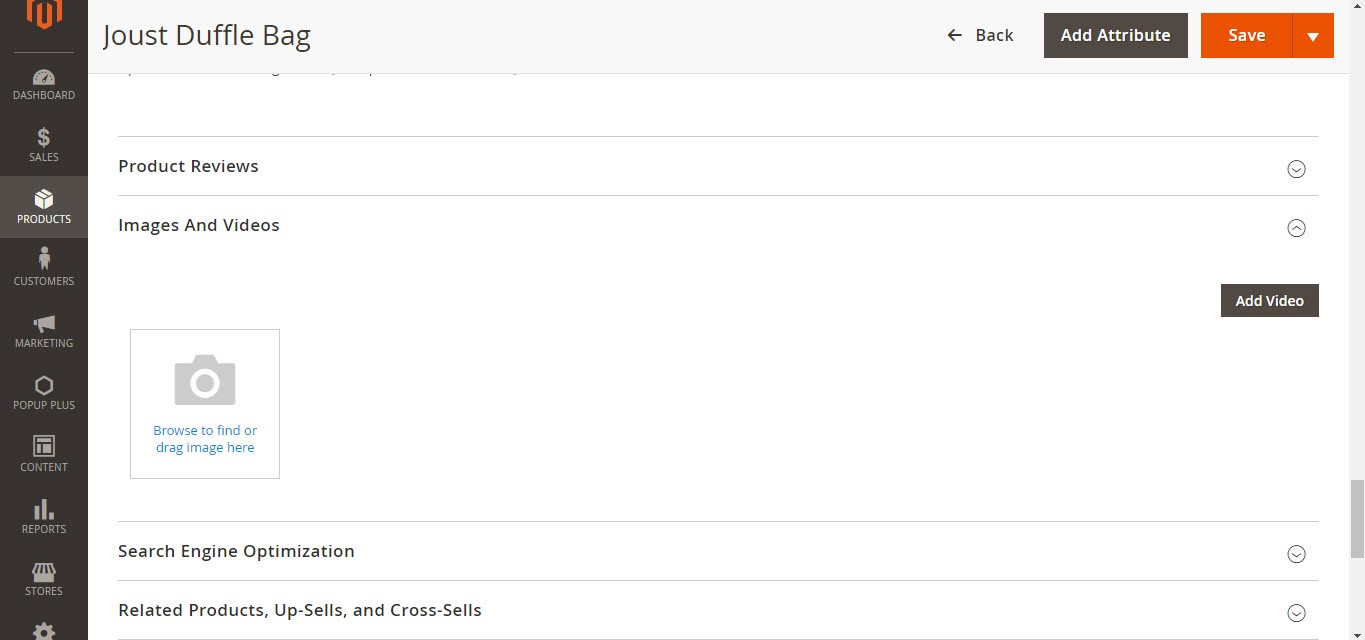 Integrated Ajax Add-To-Cart
With Magento 1, every time a customer added a new product to their cart the page would have to reload; an outdated and inconvenient process, especially if they're after a large number of products.
With Ajax Add-to-Cart, the need to reload the entire content on a page is eliminated, and while this may seem like a minor tweak, it will improve your customer's experience immeasurably and may even increase the number of products customers add to their cart.
Elastic Replaces Solr
SOLR, Magento 1's search engine of choice, was difficult to customize due to the lack of a configuration panel but has now been replaced by Elastic for Magento 2. It easily integrates with Magento, the configuration is easier and quicker with a much better solution for amending indexing settings.
Security Improvements
When you migrate to Magento 2, you will enjoy greater security integrations and easy PCI compliance. Magento supports most payment gateways including PayPal, Braintree, and Authorize.net, as well as WorldPay and CyberSource for Magento Enterprise Edition 2.0 users.
Associated Issues With Upgrading Website To Magento 2
Considerable Cost for Transformation
Magento 2 will be expensive to set up and operate with so that you should plan your budget carefully.
Potential Technical Issues
Merchants will encounter several technical difficulties with Magento 2. In order to improve performance and flexibility, Magento 2 is equipped with a number of advanced technologies which make it more complex.
Therefore, it requires more expertise to set up this platform. Moreover, the hosting for Magento demands a professional admin for administration. With all these difficulties, merchants must invest more money and effort into it.
New extensions required
You must prepare to acquire new extensions because your current ones cannot be transferred to Magento 2. This process can be quite a hassle as you constantly search for trustworthy providers and qualified modules. Plus, every acquisition needs money and so does your extension purchase.
All things considered, upgrading the website from Magento 1 to Magento 2 might be highly beneficial for your store. However, if the cost is not a big problem for you and you own/hire a professional technical team, there is nothing serious to concern.
If you are in need of upgrading website to Magento 2, Tigren E-commerce Agency is willing to help. We will help you to transform the site in the shortest time with the most reasonable cost. Contact us now by sending an email to [email protected] or sending us a Contact form.
See Also:
The Beginner's Guide To Start A Successful E-Commerce Store
Small Vs Big Website Design and Development Company: What is the Better Option for Start-Ups?
5 Steps To Choose An Excellent Website Design And Development Company
How Much Does It Cost To Build A Magento Website?
Magento vs WooCommerce. A Quick Comparison.

[ratings]