Having a brick-and-mortar store is undeniably beneficial to your business, yet what is trendy nowadays is your entrepreneur's website or app. Given the huge transformation into the digital business, you are probably confused with thousands of web and app development companies. We got your back! Money should be carefully and wisely spent! Here are the top 4 web and app development companies we selected for you.
Top 4 Web And App Development Companies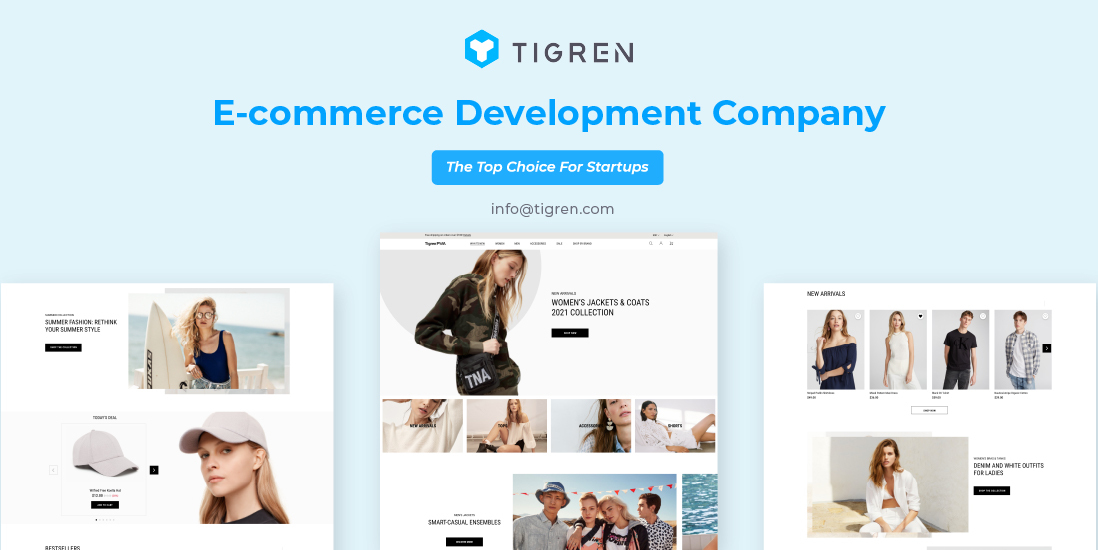 After 10 years, Tigren has become one of Vietnam's leading web and app development companies.
We offer excellent website/ hybrid app/ pwa design and development, extension development, maintenance, and support services at competitive prices.
Tigren's customers come from diverse fields, varying from healthcare, beauty to technology, and the list goes on. Many have chosen to partner with us (Sinsation Cosmetics, Torque Gaming, Crown Security Products, Ski & Board Online, and many more) for 3 factors: Good quality; precise and reasonable price; fast lead time. This is why we always are the top choice for outsourcing the development of big businesses, even small ones, and startups.
Headquartered in Ukraine with over 20 years of experience, Frontmen is trusted by big names such as LG, Honda, Microsoft, P&G, and McDonald's.
Starting from $5,000, apart from web Development (web apps development; custom software development; e-commerce development), the company also provides quality mobile and software development and design and research services.
A visually attractive portfolio is a huge plus for Frontmen when you visit its website because it has a team with excellent art taste.
A name from India with more than 10 years of domain expertise, Aalpha calls itself India's leading web & mobile app developer. It's entrusted by The World Bank, Securitas, Swiss Re, and many international organizations.
With a competitive price range starting from $1,000, Aalpha has a long list of services to offer: the company does not limit itself to web and apps Development. It also covers Blockchain, Python, Laravel, Android app development, custom software development, IoT solutions, and offshore outsourcing.
Established quite earlier than the rest, until 2022, Lantern has had 17 years of experience in the web development field.
It is one of the Shanghai-based companies that offers seamless web and app development services to businesses of all sizes and backgrounds for $5,000.
Lantern focus on the Education, Finance, Hospitality & Leisure, IT, Medical, and Retail industries. Its notable clients are Pandora, Roche Pharmaceuticals, Stellar Works, John Lang LaSalle, WHO, and Starbucks.
The company also received many awards such as Awwwards, CSS Design Awards, etc. Lantern is even more renowned for its transparent work frame, cutting-edge technologies, and highly client-friendly attitude during and post-project.
Tactics To Select Suitable Web And App Development Companies For Small Businesses
DON'T: only look for famous companies
Fame is usually an indicator of credibility and quality, but that may not always be the case. They may be favored for their services, which is great, but there would be cases when it's because they're better at marketing and building up their online presence in general compared to the actual services they offer.
Consider key aspects asides from a company's popularity. We need to look at the portfolio, the clients' feedback and the variety of experience and versatility in the field besides years of experience to see how truly well the company is doing its job. Check some of the clients' websites to see their works' quality.
DON'T: equate money with quality
Excellent service is expensive, but the other way is never proven. Various factors make up the service price, but it's not necessarily the quality or the skillful employees or the state-of-the-art tools, etc. Therefore, do use the price as an indicator of quality, but don't put your absolute trust into any firm just from that.
As a small business, you should consider web and app development companies that offer various packages at reasonable prices. Remember to check the transparency of the price policy (what is included and whatnot, extra fees for additional services, etc.). Additionally, check out their work process because that plays an essential in helping you choose the price. Make sure that your investment is worth it.
DON'T: neglect the post-service
A professional web and app development company would maintain ongoing client relationships. By that, we mean the post-service should be carefully checked because building an app or web isn't just that. The said web/app will need maintenance, update, or fixing, and this requires the developers to accompany the whole way even when the web or app is done creating.
So, a quality that you should look for in a web and app development company is they are willing to be here with you in the future to provide the necessary support for the website or app to evolve as your business grows.
Sum Up
Choosing a company to design your website or app is something you need to do correctly because it's a significant investment in the era of digitalization. We hope our recommendation and advice can help you shape the wisest choice when it comes to outsourcing a web and app developer.
Related Posts:
Top 40 Best Web Design Companies For Small Business