Along with eCommerce's growth, a website has become an indispensable part of a retailer's business activity. Accordingly, agencies' website development services have also become more diverse. Despite many choices for businesses, website design packages pricing is still quite expensive. Many people wonder if this is a good sense of finance.
This article will answer the question and introduce a great web design package if you also have the same question. Scroll down to learn more!
Should New Online Businesses Hire A Web Development Agency?
First, we should clarify whether a new online business should invest a few hundred to several thousand dollars to own a website.
Reduce web development time
If you plan to build a high-quality website yourself, we recommend stopping. It will consume plenty of time with an immense workload.
Let's talk about the web interface first. It is the face of your brand, so be extremely careful and thorough when developing. There are many things that make up a good store interface, not just beautiful design elements.
For example, it must match your brand's characteristics (brand image, color, and personality) and your target customers' characters. Only when having enough of these factors, will your brand survive in the customer's memory.
The process of creating the supporting layer is equally tricky. You will have to build a website entirely from scratch in HTML, CSS, and JavaScript web programming language. This process takes up 80% of the total building time.
However, if you hire a web development agency, you won't need to do these things. Your companion will get everything done for you in just 5 to 10 days. You can do other work such as making a business plan, importing goods, packaging, etc., to start your business as soon as the online store is ready.
Optimize cost to market
When developing a website, the cost-to-market is another essential factor to pay attention to. This directly affects the capital turnover of the business. The lower fee your shop is completed with, the sooner you can earn profit from it.
A web building agency is a collection of individuals with experience and skills in website development. Therefore, you don't need to worry much about budget overruns.
Your web will be built on the agreed package budget. In other words, they will complete the product as economically as possible for you.
On the other hand, errors in the development process will also minimize, thanks to developers' skills. This also helps to reduce the costs incurred during construction and after launching.
Finally, websites created by experts will be of very high quality. Thanks to that, its UX and UI will also be excellent.
This is the first condition to have a high conversion rate and retention rate for an online store. With a website having an optimal cost and superior performance, soon, you will have a stable income from your business.
3 Tips To Pick A Good But Affordable Web Design Packages
Although outsourcing can bring countless benefits to your online store, not all agencies provide quality services. You need to be very careful when choosing a partner.
Check the company portfolio
This action will give you the most comprehensive view of the agency's past customers. From there, you will be able to assess their capacity and suitability for you correctly.
For instance, if you are a small business, but the partner company only had large business clients before, they are not necessarily a good choice. Firms like this often require high costs for their services.
Thoroughly check the whole development process cost
Some businesses have quite complicated quotes. Remember to check carefully for any unusually high fees or possibly hidden costs.
Sometimes businesses have cheap website construction costs but require a large website setup price. This may cause you to be mistaken about the actual cost, leading to wrong choices and inaccurate financial plans.
Look for agencies in Southeast Asia
Sometimes web design package from other continents is a perfect choice. This is especially true for new businesses that need good services at a low cost.
In Southeast Asia, the hourly working price is cheaper than America's, from $50 to $100. This disparity is not necessarily because of the qualification difference but the living cost.
Common Website Design Packages Pricing
Although we have grasped all the strengths and tips of working with an agency, choosing good web building services at the right price has never been easy. Therefore, we will list some website building services fees so you can choose more easily.
Currently, the cost for web development services is around $1,000 to $5,000. For example: Foxxr – $2,500 to $5,000, Byteknight – eCommerce store – $699 a year, and Tigren – $2,499 to $5,499.
The website design packages pricing depends on the included offers and the agency's geographical location. Southeast Asia is usually the most affordable, and the Americas region is the most expensive.
Website Design Packages Pricing For New Online Businesses
You can use it because the price does not determine the service quality. Different regions have very different expenses, so their package fees are also dissimilar.
Moreover, low-cost web development combos can still meet all requirements if your business is new and does not have many resources. It can also provide an optimal customer experience with a beautiful interface.
If you also have limited capital and want to find quality service packages, consider Tigren. We provide website design packages at an affordable price but fully meet the standard and advanced requirements. There are currently two packages:
The first one is a "Take-off" with only $2,499. You can choose a pre-made theme, optionally change the banners, logos, and symbols.
In addition, the website will be fully integrated with basic features, accept 1000 products and have Magento's default payment gateways. The time to build is 2-3 weeks, and you will get free website hosting for three months.
For the $5,499 Fly package, Tigren will build your web in 4-6 weeks and integrate more powerful features. You can import unlimited product numbers and make adjustments to almost any element on the web.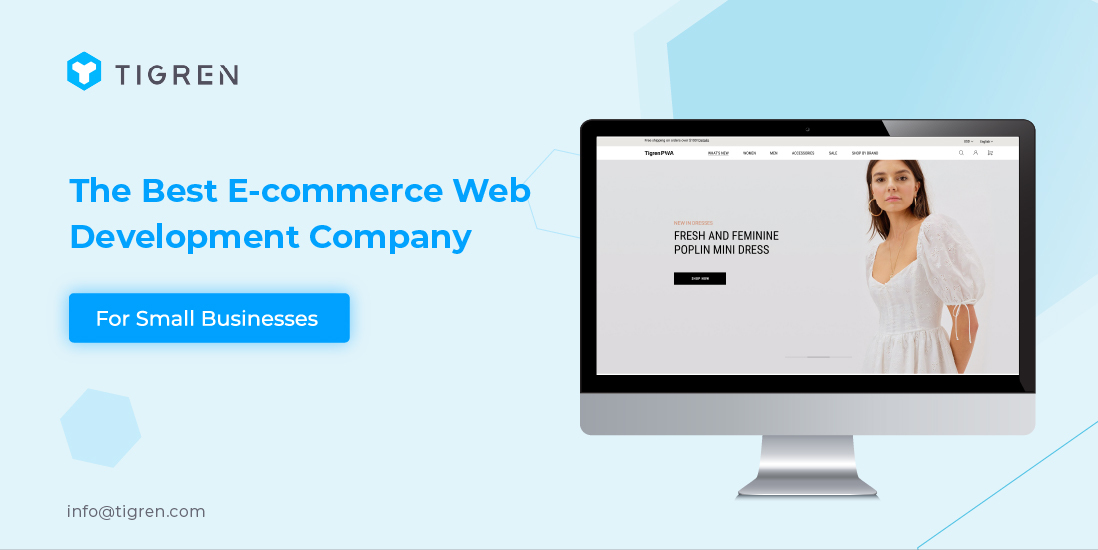 Bottom Line
The importance of a website for eCommerce cannot be denied. However, finding and choosing quality services at the right price is not easy for an online start-up. To make the correct choice, entrepreneurs need to consider many factors. However, if you choose the right business, you will own a website with incredibly high profitability!