Magento 2 Sales Email Pro (Multiple Order Emails)
SKU
Magento 2 Sales Email
The Magento 2 Sales Email Pro gives you a special tool to create a great deal of order email versions to send to different customers based on their order details. This extension is a perfect alternative for the Magento Core function when only one email template is sent to all buyers, from guests to wholesalers. As a result, this Magento Email Extension will help you to become a professional seller and bring better service to your clients.
Send the right emails to the right customers
Set up priority for each email template
Receive a notification in the admin email when there is a new order
Create different email templates based on customer groups, product attributes, shipping, and payment methods
30-DAY Money Back
FREE Lifetime Updates
30-DAY Free Support
What Problems Does
Magento 2 Sales Email Pro

Solve?
Send the right sales emails to the right person.
To begin with, the Magento Core only allows you to create and send only one email template for all customers in your store. It means that no matter who your customers are (guest, general, retailer, wholesaler), which products they buy, which methods of shipping and payment they use, they will receive the same new order confirmation/ shipment/ invoice emails. This is such a considerable constraint of the core function.
It is also the reason why the Magento 2 Sales Email pro extension exists – to help you solve this headache problem. The extension allows you to create a bank of email templates and set specific conditions for each email based on the order details. Consequently, the customers will receive different sales emails depending on their cart, chosen shipping, payment methods, etc.
For example, the order confirmation email for a guest who purchases a pair of shoes and selects COD payment will differ from that of a wholesaler who buys hundreds of bags and pays through PayPal. If we treat both of them in the same way, or in other words, always send them identical order confirmation emails, it would be irrational, right?
This Is How It Does
In the back-end, you are able to create as many sets of sales emails as you can at ease. The more templates you have made, the more appropriate your emails' contents will be to the receivers. It's worth noting that an email set contains not only the New Order Confirmation Email but also the Invoice and the Shipment ones. Therefore, to create a complete sales email set for a certain customer group, you must create 3 different Order/ Invoice/ Shipment email templates first.

Step 1: Create new email templates (Order/ Invoice/ Shipment)
You have to go to the Admin Panel and create a new email template in the Marketing section (Admin Panel > Marketing > Email Templates > Add New Template).
Here you can choose among available templates of Magento Core and customize it as you want. For instance, if you would like to create a distinct New Order Email For Retailer, you can use the available New Order template and modify its subject and content appropriately.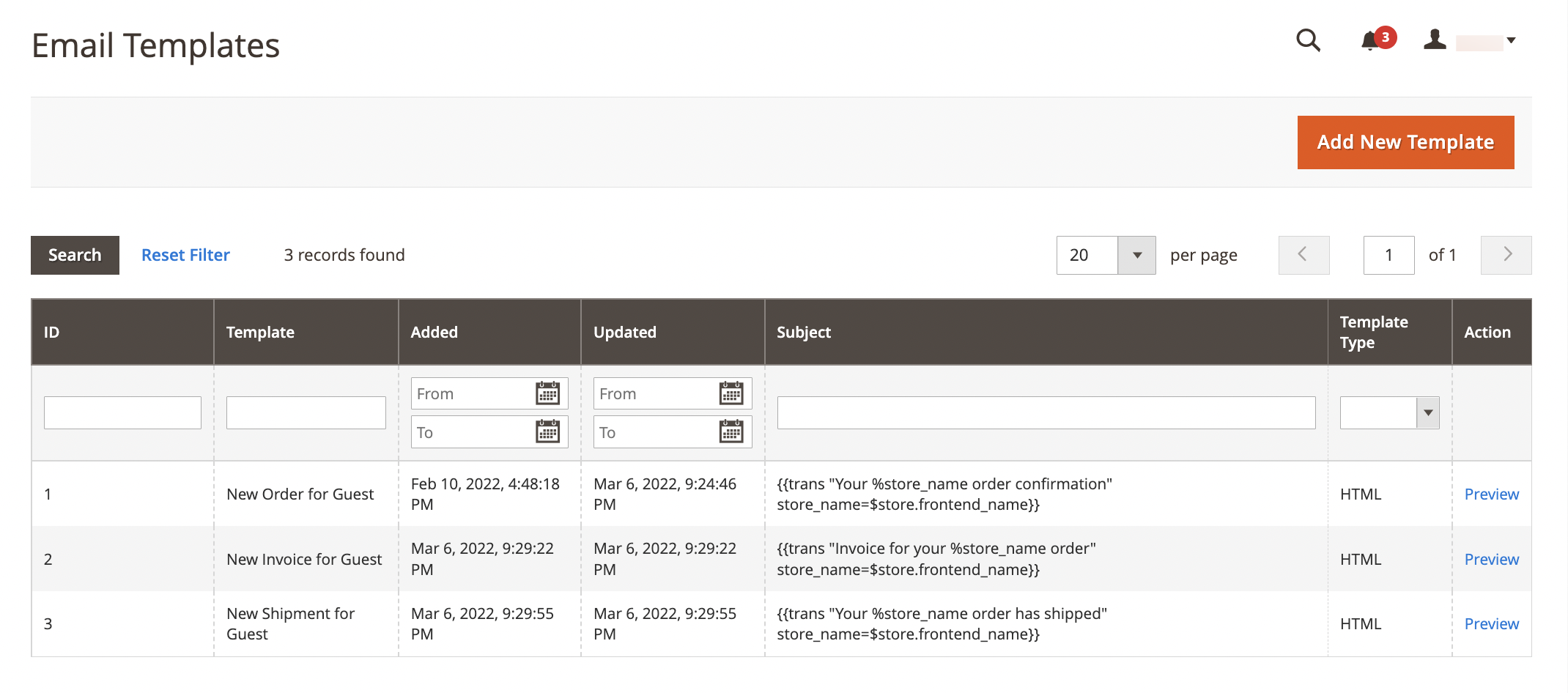 Step 2: Create a unique set of sales emails with the created templates
1. Set general information
You have to add some basic information for the sales email set, such as the name, short description, and priority. When there is an order that matches the conditions of many established sets, the one with higher priority will be sent only.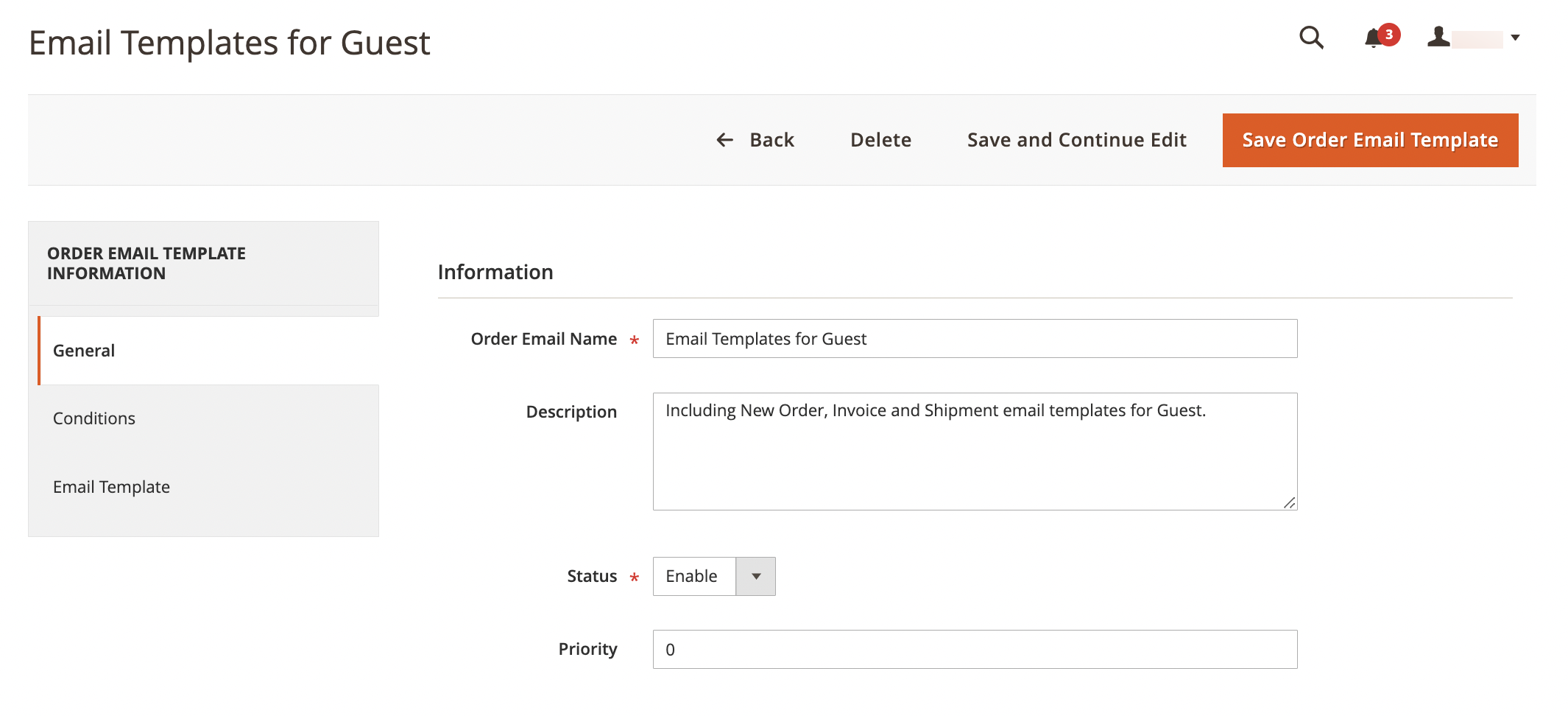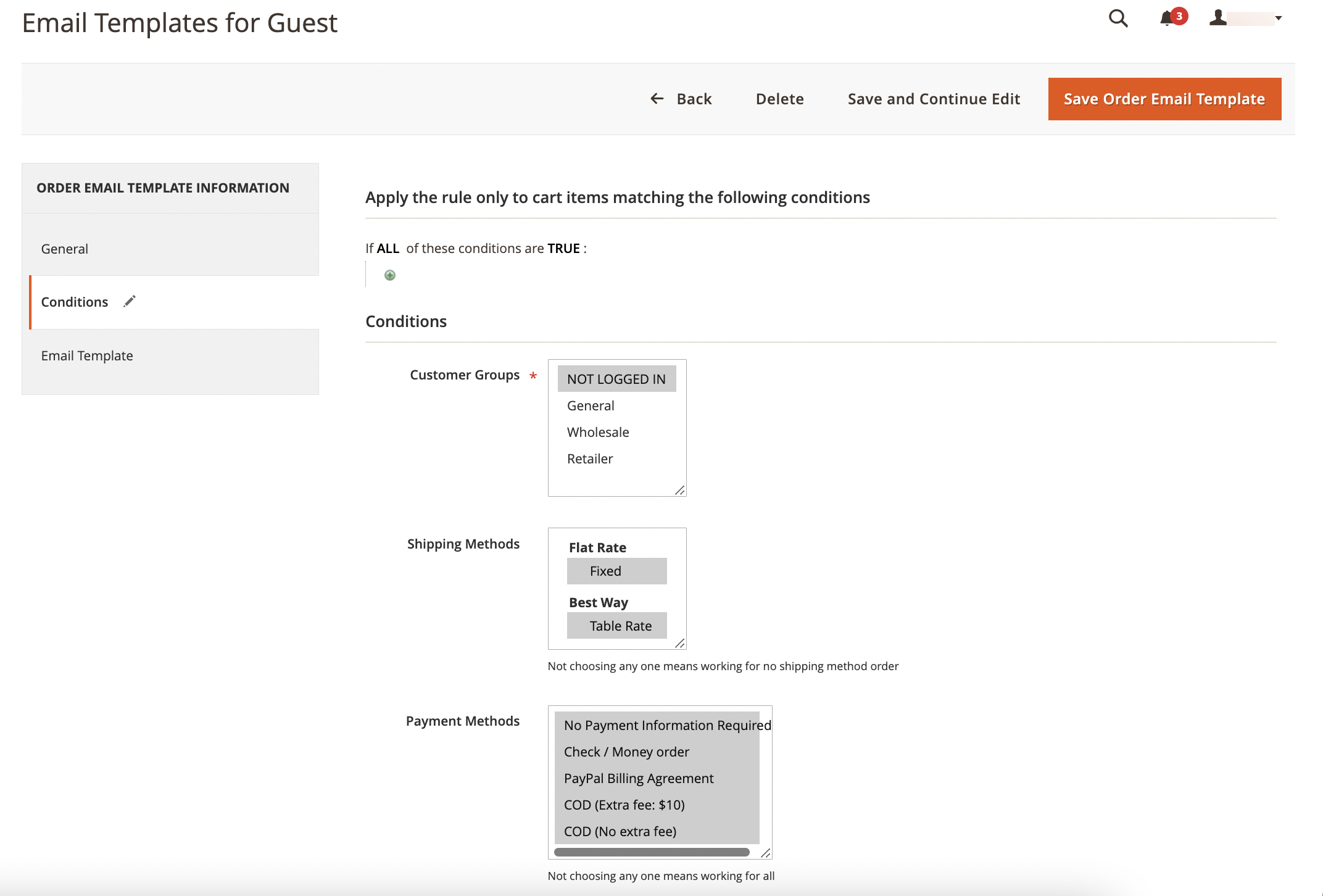 2. Set specific conditions for applying this multiple order emails template
This is one of the most fundamental features of the extension. You will be able to set rules and conditions for the products, group of customers, shipping, and payment methods.
In each type, it is allowed to select more than one option. For example, you can select both Not logged in (guest) and General in the Customer Groups section.
When an order is made, the system will analyze to define which predefined set of rules it matches and then send a corresponding email template to the purchaser.
3. Choose the templates you have created
The final task is to add the Order/ Invoice/ Shipment templates you have created before into the multiple order emails template. Also, you need to set up the admin email that receives notifications of new orders.

Useful Tips To Make
Magento 2 Sales Email

Your Advantage
1. Make Key Buyers Feel That They Are Special
Owing to the Magento 2 Sales Email Pro Extension, you can easily realize big buyers – wholesalers among all visitors. It would be so wasteful if you do not take advantage of this chance to gain their loyalty and keep them buying in your store.
A good suggestion is to attach more information such as promotions, discounts or preferential treatment for this special group to encourage their further purchasers.
2. Persuade Customers To Do What Is Beneficial For Your Store
Typically, the storeowner will favor certain types of payment or shipping methods in spite of providing many options for shoppers to choose from.
For example, you might prefer the method of paying through PayPal to COD or other payment methods. Hence, you should show thankfulness in the email to those who used the PayPal system and encourage them by giving a small discount the next time using this method. At the same time, you can introduce significant features of PayPal to motivate buyers who haven't believed in using PayPal.
To sum up, if you can utilize the Magento 2 Sales Email Pro extension wisely, it is a great email classifier and a great tool for improving your service and bringing extremely more benefits to your store.
Full Features
Get notification of new orders (to admin email)
Create multiple email templates
Create multiple sets of email templates (order, invoice, shipment emails)
Set conditions for each set of email templates (products, customer groups, shipping/ payment methods)
Set priority for email sets
Enable/ disable email sets
Receive highly relevant order confirmation/ invoice/ shipment emails.
Why It Must Be Tigren's
Magento 2 Sales Email Pro
Extension?
Cost Saving
Essential Functions
Enthusiast Support
Version 1.2.0
Updated (Compatible with Magento 2.4.x)
Version 1.1.0
Updated (Compatible with Magento 2.3.x)
Version 1.0.0
Initial release