Choosing the best e-commerce platform that fits your needs might be difficult because there are so many of them accessible. In this article, we will explore the best auto parts website templates for various e-commerce platforms like Shopify, WooCommerce, Magento, and others.
Each platform has its strengths and weaknesses, and we will assist you in finding the perfect fit for your business needs. These website templates offer visually appealing and easy-to-navigate online stores that will attract customers and boost your sales. Let's explore the realm of auto parts website templates together!
Why Is It Crucial to Have a Good Auto Parts Website Template?
Having a high-quality auto parts website template is crucial for various reasons. One of the most important is that it helps create a positive first impression on potential customers. The design, layout, and overall appearance of your site can play a major role in establishing credibility and trust with your audience. Here are some high-quality and reliable auto parts websites that you can refer to.
Moreover, an excellent website template can also improve your clients' user experience. If your site is disorganized, challenging to navigate, or lacks important features, your customers may quickly become frustrated and leave without making a purchase. With a well-designed website template, your customers can easily find the products they need, learn more about them, and complete their orders without any hassle.
Finally, a good website template can boost your search engine rankings. The effectiveness of a website's design and user experience are just two of the many elements that search engines like Google and Bing consider when evaluating its relevance and authority. A well-designed website template can help your site perform better in these areas, which can lead to higher rankings in search results and increased traffic to your site.
Best Auto Parts Website Template & Theme For Different Platforms
The section will thoroughly analyze 10+ templates from WordPress, Magento, WooCommerce, and Shopify to help you determine the best fit for your websites.
Best Auto Parts WordPress templates
1. Ajzaa by Mymoun
The Ajzaa WordPress Theme is specially designed for companies in the auto parts and car accessories industry. Developed by an elite author, this theme offers a range of features to help businesses create their own professional website without requiring coding knowledge. Using the Ajzaa theme, you can quickly and easily create a website for your auto parts business, whether you're selling new or used parts.
2. Chromium by Themes Zone

Chromium is a robust and sophisticated Automotive Elementor WordPress Theme designed primarily for online stores that sell automobile accessories. However, it is also a great choice for any automobile-related website, including car repair shops, car washes, auto repair service companies, oil changing companies, and more. Chromium is also a good theme for auto blogs, auto dealer websites, auto trader catalogues, and any other company involved in the auto repair sector.
3. Motor by Stockware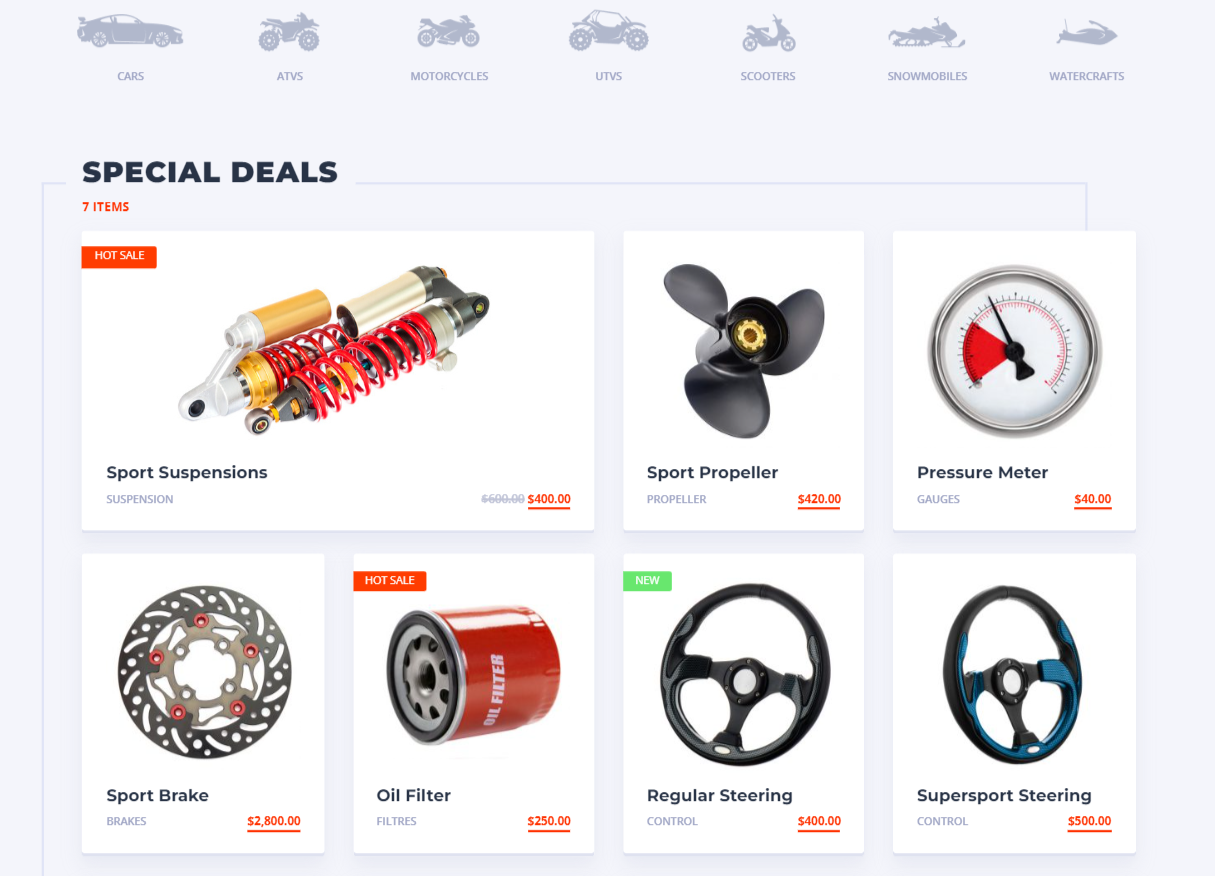 Motor is a top-notch WordPress WooCommerce Theme ideal for dealers, retailers, shops, and mechanics. It's an excellent theme for selling equipment, accessories, cars, motorcycles, snowmobiles, quads, ATVs, UTVs, and spare parts. The theme boasts a unique design, drag-and-drop page builder, full responsiveness, and a WooCommerce shop, making it a great option for businesses looking to establish an online store.
Best Auto Parts Shopify templates
Shopify is a popular e-commerce platform that offers a variety of website templates and themes for auto parts websites. Here are some of the best Shopify templates and themes available for Shopify:
1. Brator by SmartDataSoft

The Brator WordPress Theme is an ideal solution for any automotive-related business looking to expand its online presence and increase profitability. This powerful theme provides every feature needed to create a successful online business while maintaining your unique vision. In addition to other automotive and car-related services, Brator is developed specifically for auto parts stores, auto mechanics, car repair shops, car washes, garages, automobile mechanics, mechanic workshops, auto painting, and auto centres.
2. Caren by Codecarnival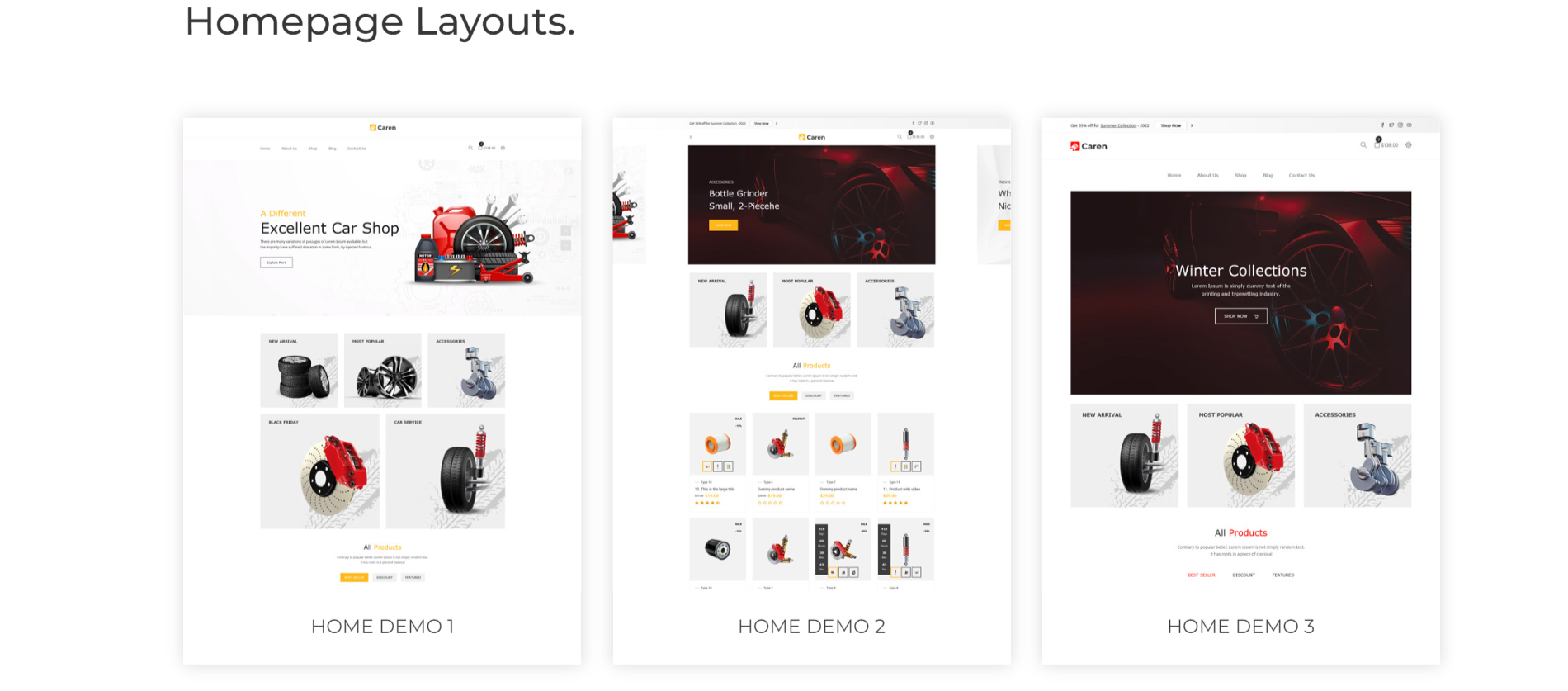 Caren is a strong, adaptable, and aesthetically pleasing Shopify theme made exclusively for online sales of auto accessories. This exceptional website builder provides all the necessary features and functions for a captivating online shop. With Caren, you can create a professional-looking eCommerce store that includes essential eCommerce features for an auto parts website. The theme comes equipped with three unique homepage variations, each with a modern, clean design and all the necessary sections to showcase your content in an impressive manner.
3. Carme by BootXperts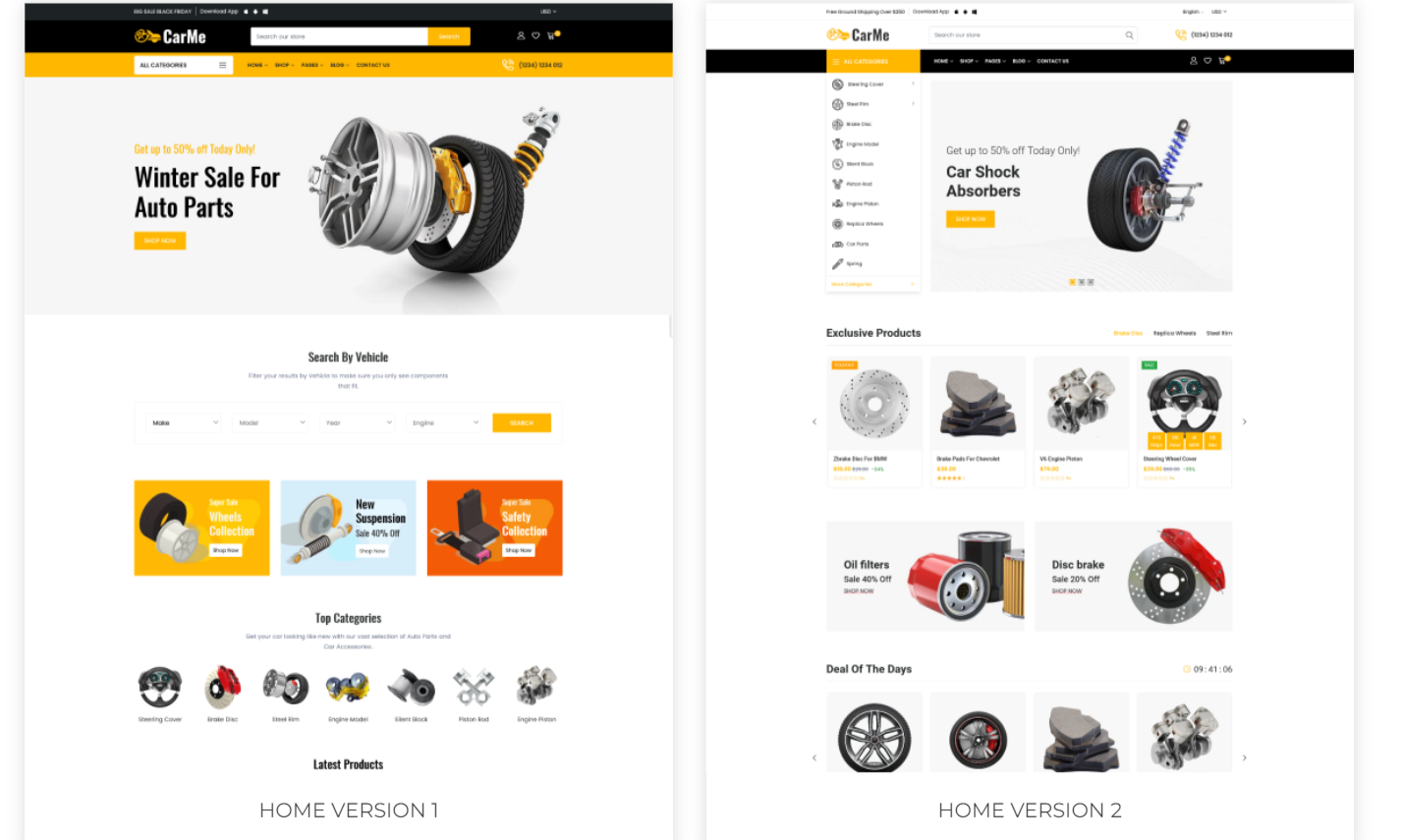 Carme features a sleek and contemporary design and offers four distinct homepage variations, including an RTL version. Additionally, the theme provides several shop page variations and essential pages such as the cart page, checkout page, wishlist page, product page, and compare page, among others. With Carme, you can build a highly functional and visually stunning online store to showcase your automotive products.
Best Auto Parts Magento templates
1. Aero theme by Plaza-themes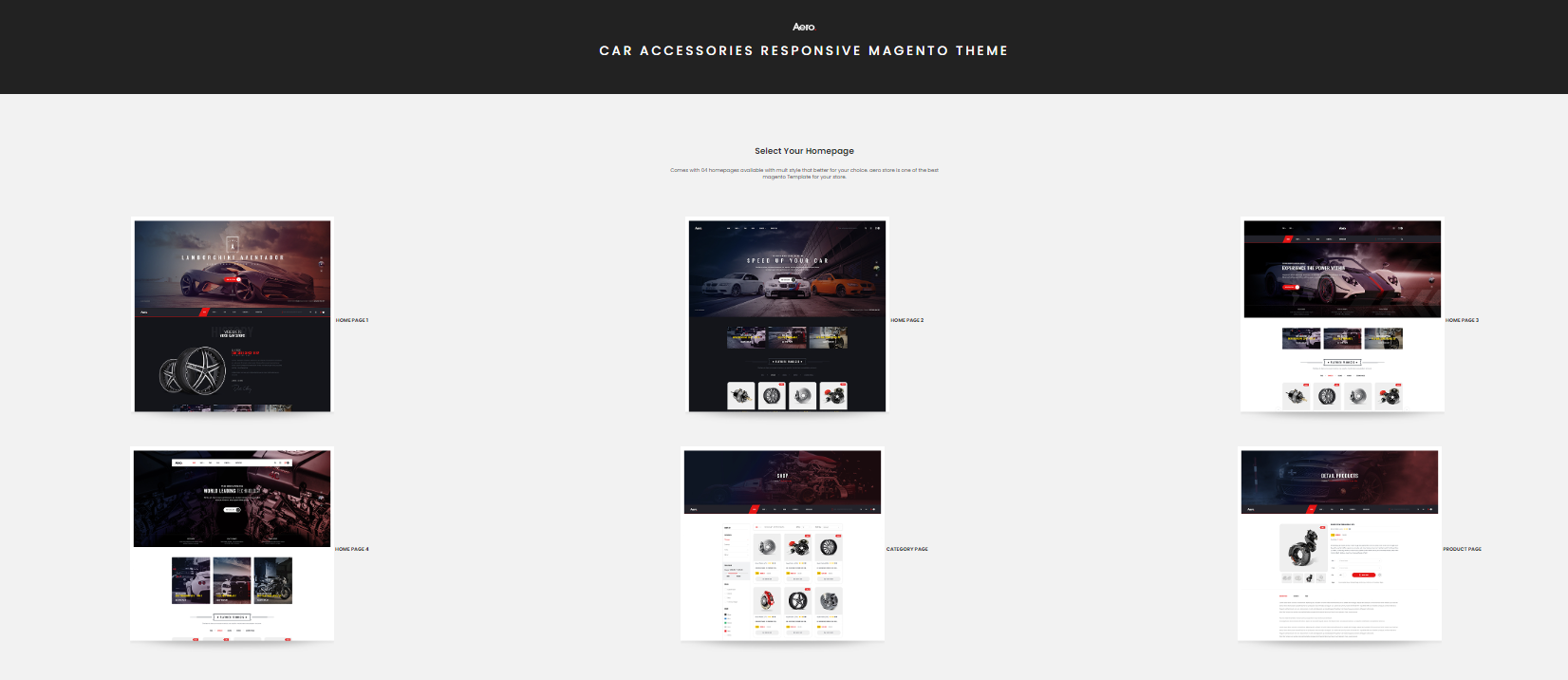 The Aero car accessories theme is a visually appealing and user-friendly Magento theme that is easy to install and use. The theme provides free updates on a regular basis to address bugs and add new features. It is highly customizable and designed specifically for auto parts business websites with dedicated contact, location, and product page sections.
2. Cartown theme by Nwdthemes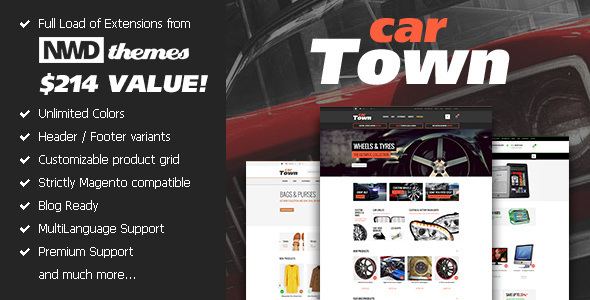 Web developers will appreciate the versatility of this e-commerce template, with multiple header options and layout styles available for customization. You may easily alter the homepage slideshow, social sharing buttons, Google fonts, payment symbols, navigation, and background images to create a special online shopping experience. With all these features, the Cartown Premium Responsive Magento Theme is sure to help your website stand out as a top online shopping destination.
3. Accessories Car theme by Plaza-themes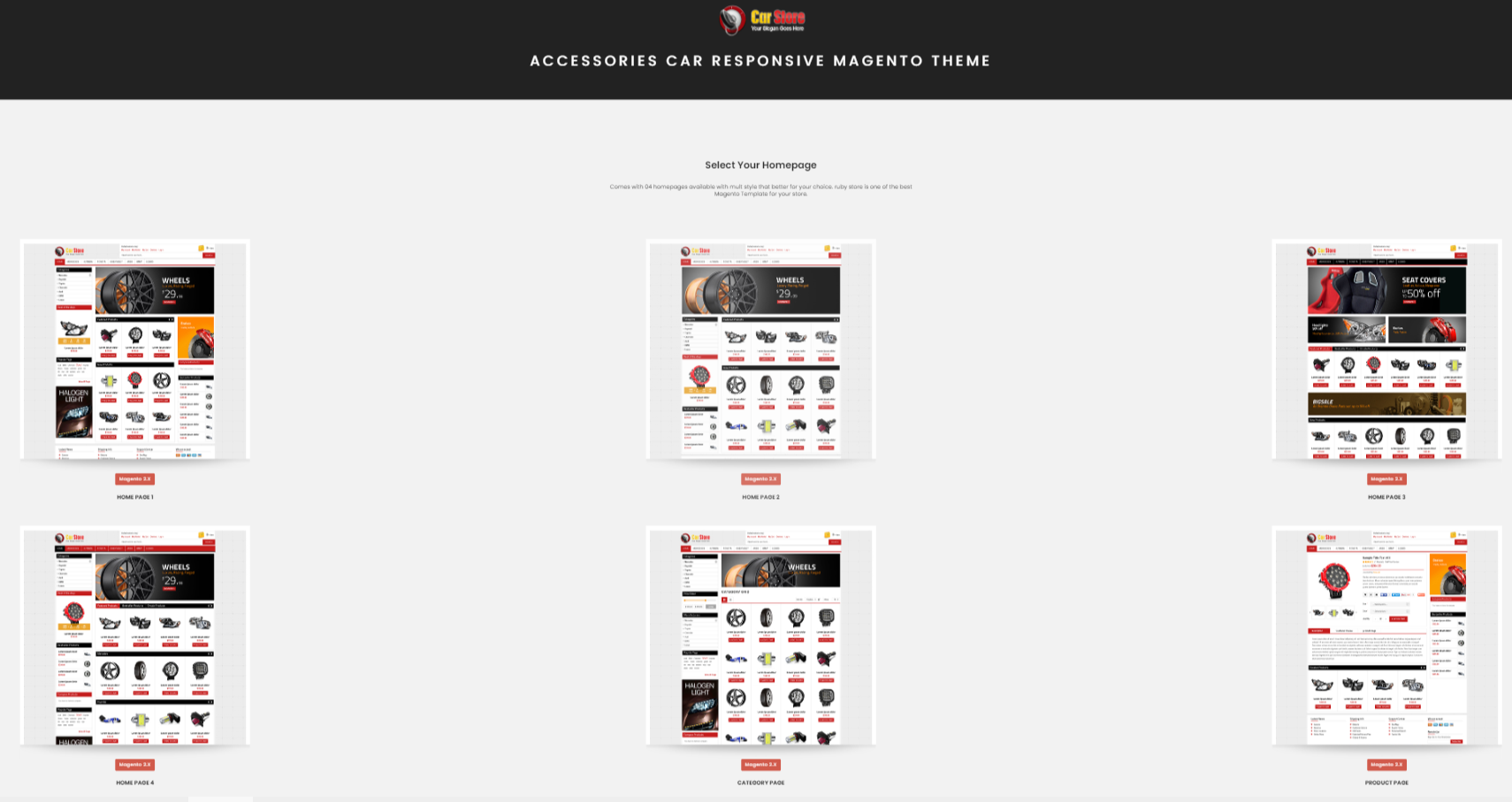 Plazathemes is excited to announce their newest Magento Template, specifically tailored for online auto part stores – Carstore. For stores with a wide variety of products and categories, this template is ideal. Its clean and organized layout is designed to showcase your products in the best possible way, with a white background that accentuates their quality.
You can refer to more Magento Auto part templates here.
Best Auto Parts Woocommerce templates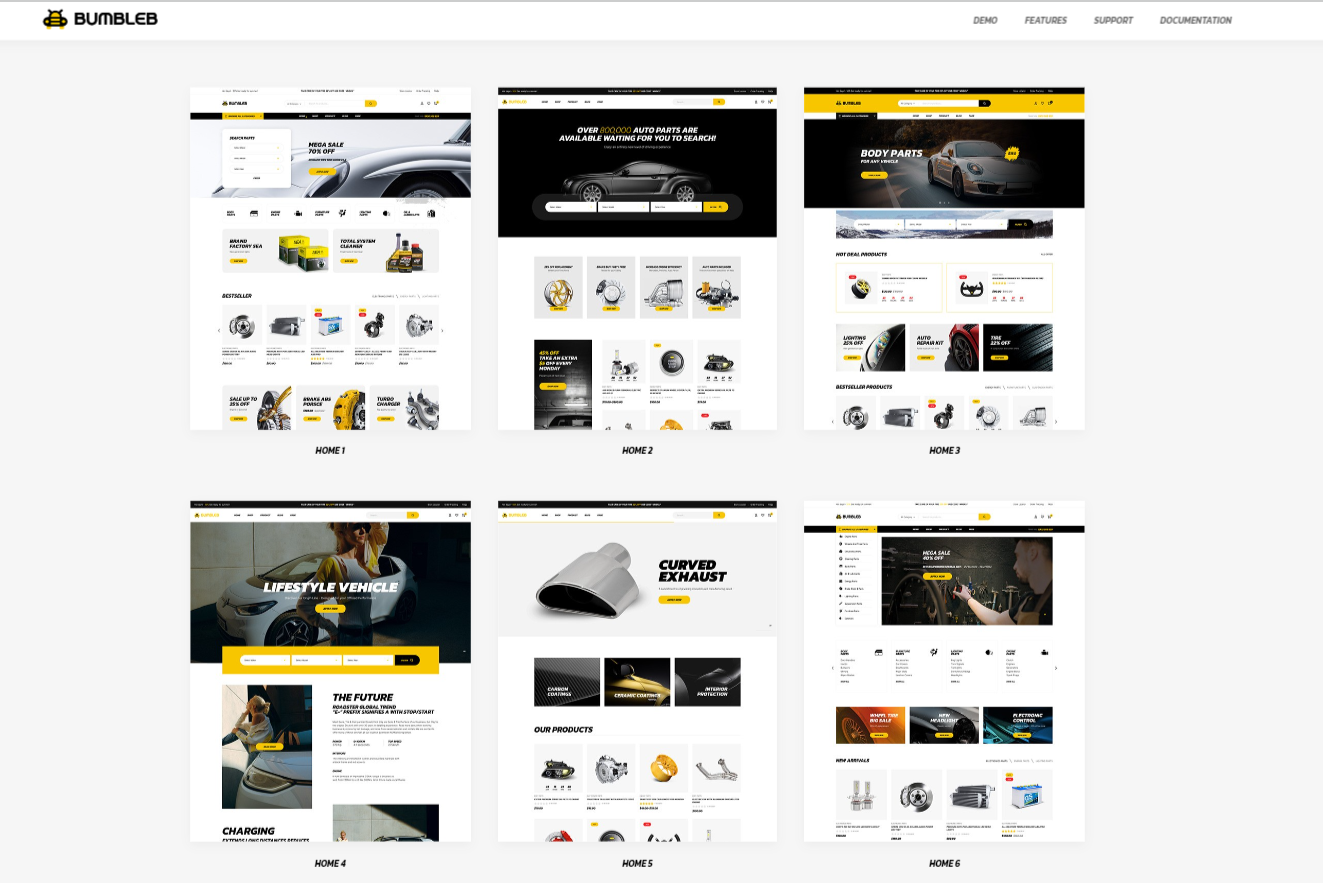 With the latest version of Bootstrap as its backbone, this theme boasts an impressive and suitable design for any online store. Bumbleb emphasizes the alignment of products by category, while also highlighting key web components that enhance the shopping experience. It features an integrated design that accentuates special products. Built on the Elementor plugin, Bumbleb offers an intuitive drag-and-drop customization experience. Furthermore, it is compatible with three multi-vendor plugins (MultiVendorX, Wc Vendor, Dokan), allowing you to create multiple vendor websites with ease.
2. Autovio by ThemetechMount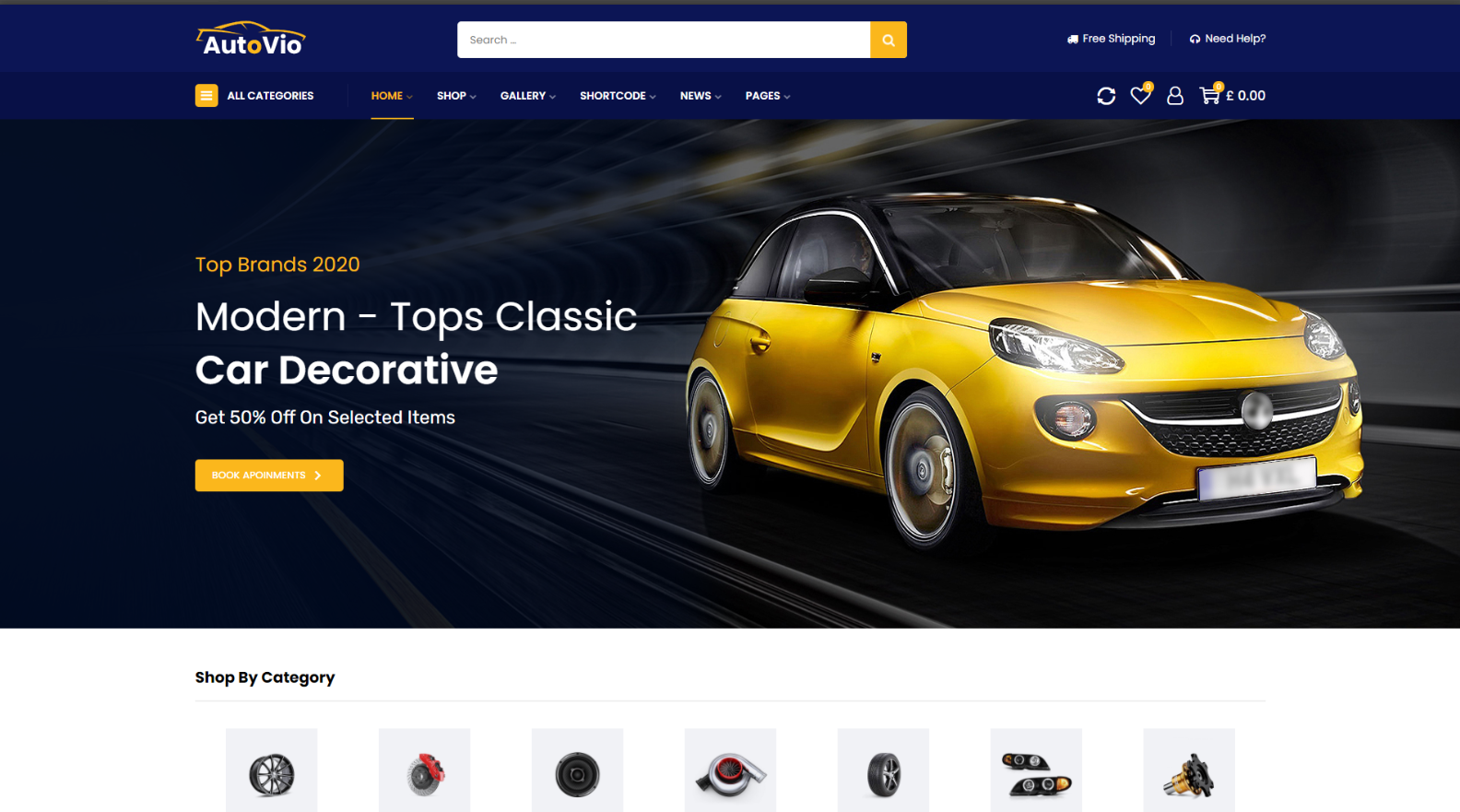 Autovio is a versatile and visually appealing WooCommerce Theme that offers a multitude of features and options. It boasts a responsive layout, Mega Menu, WPBakery Page Builder, Slider Revolution, Quick View for products, Ajax search and cart, and one-click demo import, among many other features. With three stunning layouts and powerful modules, this theme's innovative design can easily customize to suit any new or existing online store.
3. Chakta by KibTheme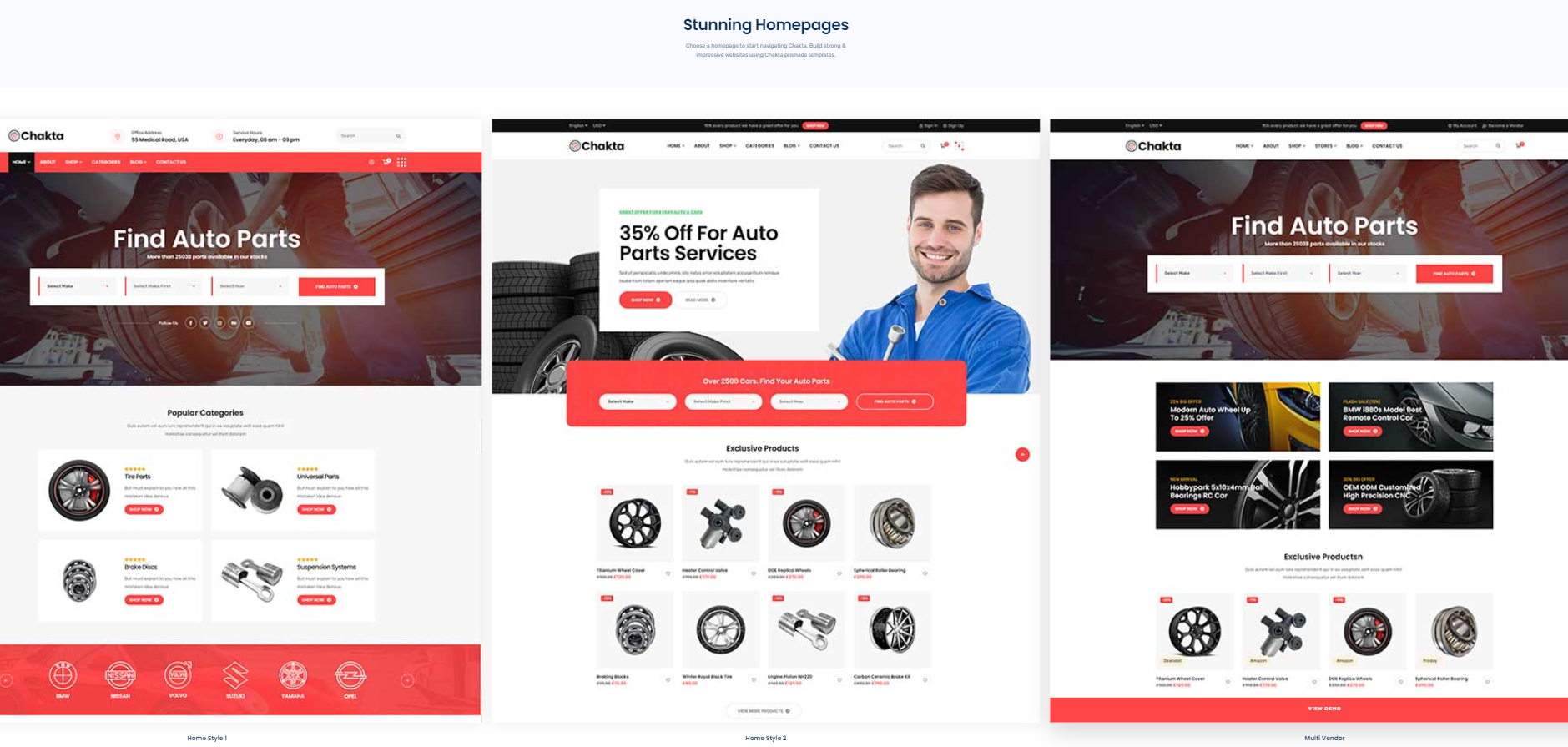 The Responsive Auto Parts Store & Tyre Shop & Vehicle Parts Shop eCommerce Elementor WooCommerce WordPress Theme is one of your best options. With this theme, you can build your site in just a few hours, even if you have no prior experience building or managing websites. Featuring high-end components and intuitive design, this theme makes it easy for anyone to create a professional, attractive online store for their auto business.
How to select the proper auto parts website template?
It can be difficult to choose the best auto parts website template, but the following advice will enable you to do so:
1. Define Your Needs, Budget & Assets
Identify Your Needs: It's crucial to determine your precise requirements before looking for website designs. Consider your website's objectives, your target market, and the features you'll need to make it user-friendly.
Look for Responsive Templates: Your website needs to be accessible from various devices, including desktops, tablets, and smartphones. A responsive website design will automatically change to fit the size of the screen being used by your visitors' devices.
Check the price: Budget is also an important consideration when choosing an auto parts website template. There are many website templates available at different price points, so it's important to determine how much you are willing to spend.
2. Understand Terminology & Options
Evaluate User Experience: A good website template should provide a seamless user experience. Look for templates that are easy to navigate, have clear calls to action, and are optimized for fast loading times.
Consider SEO: Look for auto parts website templates that are SEO-friendly, meaning they have proper headings, tags, and meta descriptions.
Check Customizability: The template you choose should be customizable to fit your brand's identity. A wide range of customisation options, including colour schemes, typefaces, and layouts, should be available in templates.
Bottom Line
In conclusion, having a great auto parts website template is essential for the success of your online business. Whether you choose Shopify, WooCommerce, Magento, or another e-commerce platform, there are many excellent templates and themes available to help you create a visually appealing and user-friendly website.
With the right website template and a well-planned strategy, you can create a successful auto parts e-commerce store that attracts customers, increases sales, and grows your business. We hope this article has been helpful in guiding you toward the best auto parts website template for your needs, and wish you the best of luck in your e-commerce endeavours.